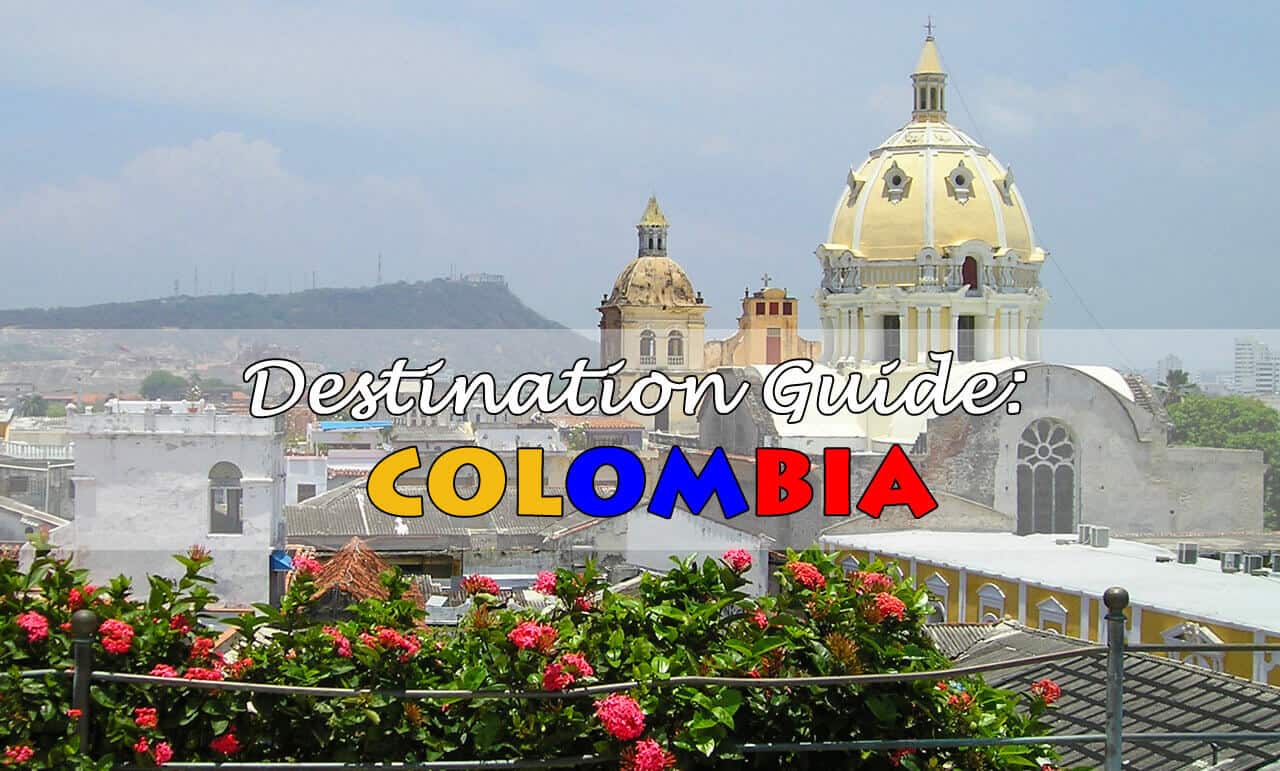 The best places to Visit in Colombia
Colombia is one of my favorite countries. Multiple mountain rangers mean great geographical and climatic diversity; within just a few kilometers you can experience desert, wet rainforest, hot humidity, and dry heat. Parts of the country have lush coffee fields, other parts have high plateaus and cool temperatures. Geographically speaking, I found Colombia like visiting several different countries in one. And not only is the geography varied, the scenery is also quite spectacular.
I also loved the Colombian people who I found friendly, open, and welcoming. Like all visitors, I was wary considering the country's violent history. Although precautions have to be taken, I always felt safe during my travels through Colombia (I've been there twice, for a total of 6 weeks). I've never seen as many soldiers as I've seen in Colombia. Add to all this beautiful beaches and the most impressive colonial city I've ever visited and there are many reasons to love Colombia.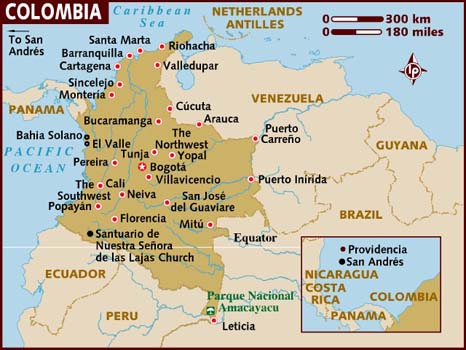 ---
---

Places to See
Cartagena
A UNESCO World Heritage Site and is a 'must See' on any visit to Colombia. It has an incredible old town filled with churches, monasteries, plazas, palaces and mansions. Buildings have overhanging balconies, often overrun with colourful flower bushes, and huge wooden doors behind which large courtyards are revealed. At night, restaurants set up their tables in some of the popular plazas. Having dinner in one of these plazas is very romantic. Make sure to walk on top of the walls for views over the town as well as the sea. There are a few bars/cafes there where you can have drinks and enjoy the views. There are too many plazas and highlights to mention here – but make sure to get a good map and wander the old town and its streets. You can actually spend 2 full days doing this, stopping occasionally to visit a museum (see the naval museum "Museo Naval del Caribe" and the gold and archeological museum "Museo del Oro y Arqueologia") or to have a drink or ice cream at the plentiful cafes and bars. The old town is especially pretty early in the morning and at dusk (and when the temperatures are a bit more supportable!).
A few sites outside the old town that can't be missed: Castillo de San Felipe de Barajas is the greatest and strongest fortress ever built by the Spanish in their colonies. It is huge, has good views over the old town and harbour, and has a network of tunnels you can walk through. It is a short 20 minute walk from the Old town. Convento de la Popa is a small convent built on the only hill in the city. But the reason to come here are the stunning views over Cartagena. If you look towards the other direction, you'll see the poorer sections of the city. Take a taxi to get here from the Old Town.
It is also worth taking a boat tour of the harbour. Make sure it includes stops at Fuerte de San Fernando and Bateria de San Jose – these two forts protected the city from attack in the 1700's.
** I strongly recommend staying in a hotel in the Old Town and not on the modern strip of Bocagrande.
Cartagena warrants at least 3 days.
Recommended: This 4 hour City Tour. A combination of driving and walking, you'll see all the highlights of the city. A catamaran tour is also a lot of fun, there's snorkling involved.
Accommodation. Both times in Cartagena I've stayed at Casa India Catalina. Really nice, perfectly located, good value.
---
---
East of Cartagena – Santa Marta, Parque Nacional Tayrona, Taganga, and Ciudad Perdida
Most people visiting Cartagena try to make it to some of the attractions further east: Santa Marta, Parque Nacional Tayrona, Taganga, and Ciudad Perdida.
If you're going to Santa Marta, stay at the beachside suburb of El Rodadero. It makes for a good base, especially for Parque Tayrona and Taganga. The beaches are nice and the vibe relaxed (although it can get very busy during holiday periods when Colombians flock here).
Accommodation in El Rodadero: we stayed at the Del Mar Hotel. Very nice
Related: What to See and Do in El Rodadero & Santa Marta
Parque Nacional Tayrona. A beautiful park featuring a wild coast, large rounded boulders, and secluded bays backed by the high hills of the Sierra Nevada de Santa Marta. A particularity of the geography is that parts of the park (particularly around Canaveral) are rainforest – a few kilometers to the west (see Taganga) the climate is desert-like. A problem in the park is lodging; you have a choice of staying at the park's very expensive Eco-lodges or at the very run-down camping facilities further down the beach. My recommendation: come here very early and spend the day hiking the interior of the park and visiting the various bays and beaches – but leave mid-afternoon. As mentioned above, you can use El Rodadero as a base.
More: Parque Tayrona, Colombia. And a night at the Eco-Habs
Taganga (pictured below) a few kilometers east of Santa Marta/El Rodadero, is worth a day trip. It is a small fishing village in a deep, horseshoe-shaped bay. It is popular with backpackers (it has a reputation of a druggie hangout) and has a young, hip vibe. It also has high hills filled with cacti that are fun to hike and which afford great views over the coast.
More: Why Taganga (Colombia) is worth a Visit
Ciudad Perdida (ie. 'Lost city") was 'discovered' in 1975. It was built by the Tayrona Indians between the 11th and 14th centuries, a large city at the time. Built over a 2 km area, it is located about 40 km southeast of Santa Marta in the high, lush hills of the Sierra Nevada de Santa Marta. There are no routes to get here, only trails. The Trek to Ciudad Perdida is popular with Adventure travellers – it takes 3 days to get there, 3 days back . Tours usually in groups of 4-12 people. Expect to get dirty and sweaty. The best place to book a tour is at one of the many travel agents in Santa Marta.
---
---
Medellin
Colombia's 2nd largest city (after Bogota) was the home of Pablo Escobar and the base of Colombia's illicit drug trade. The city has a very violent past. Today it is booming and is increasingly popular as a base for expats drawn to its natural beauty, temperate climate, friendly people and laidback lifestyle. The city is known as the Capital of the Tango. Medellin and Cali also have a longstanding feud – both cities insist they are home to the most beautiful women in Colombian. The city has some interesting museums, grandiose churches, and some interesting topography on the outskirts – it is Colombia's paragliding center due to its rugged topography and favorable winds. See Cerro Nutibara, 2km from the city center, for incredible views over the city. 2 hours away from Medellin, make sure to visit the Piedra del Penol, a huge rock hill that has great views over the surrounding countryside.
Accommodation: Binn Hotel (5 star at excellent prices)
Tours: A Full-Day tour from Medellin that takes you to Piedra del Pinol as well as to the beautiful town of Guatape. If you're curious about Pablo Escobar, this 4 hour Pablo Escobar Tour is very popular.
---
Zona Cafetera
The Zona Cafetera (translated to "coffee region") is beautiful: lush, hilly, even mountainous. Highlights here include visiting Los Nevados National Park where you can hike up 5325m volcano Nevado del Ruiz (can be done as a 10 hour day tour from Manizales), visiting Parque Nacional del Café (tons of activities including zip-lining and horse riding), going to thermal baths (Termales de Santo Rosa and Ecotermales San Vincente) or visiting a coffee plantation. Good bases in the region are Manizales (the largest town and the center in the region) and Salento (a lovely little town). This is a gorgeous area and was one of my Colombian highlights.
Accommodation in Manizales: Hotel Estelar El Cable or aparthotel Millennials. Both are excellent.
Accommodation in Salento: Hotel Salento Plaza
---
---
Bogota
Colombia's biggest city features the historic La Candelaria district, the country's best (and biggest) gold museum (Museo de Oro), a cable car to the top of Montserrat mountain (for city views), and some great colonial churches. Urbanites will find a great variety of restaurants and cuisines and plenty of nightlife options. Because of its altitude, Bogota can be surprisingly cold – bring a sweater!
Accommodation recommendations: Hotel Casa de la Vega and The Candelaria House. Both are excellent.
Tour: This half day city tour. Inexpensive. Recommended. Also: see the incredible Zipaquirá Salt Cathedral on this 5 hour tour.
---
Popayan
One of Colombia's most beautiful colonial towns. Situated in a pretty valley, it has churches, museums, and streets lined with whitewashed colonial mansions.
Hotel recommendation: Hotel Los Balcones.
---
---
Cali
Cali is the country's 3rd largest city and is famous for its Salsa dancing, nightlife, and beautiful women (note what I mentioned in the Medellin section). Many tourists love to party in this city. Cali also has the best zoo in all of Colombia.
Hotel recommendation: Hampton by Hilton Cali
Views on Cali
---
San Andres and Providencia
The Islands of San Andres and Providencia, about 750km north of the mainland, feel much different – the culture here is a fusion of Latin American and English Caribbean and everything moves at a much slower pace. You'll know you are in the Caribbean when you get here.
San Andres, the larger of the two islands, is 12.5 km by 3km. We actually walked from the airport to our hotel in about 10 minutes – it's that small an island. There's not a heck of a lot to do but chill out on some fantastic beaches and to go snorkeling and scuba diving. Visiting Johnny Cay, a small islet just off the island (but within the coral reefs that protect the northern coast of San Andres) is a highlight. The white sand beach is magnificent.
Accommodation: We stayed at the Bahia Sardina which was fantastic. Right on the beach as well as the boardwalk.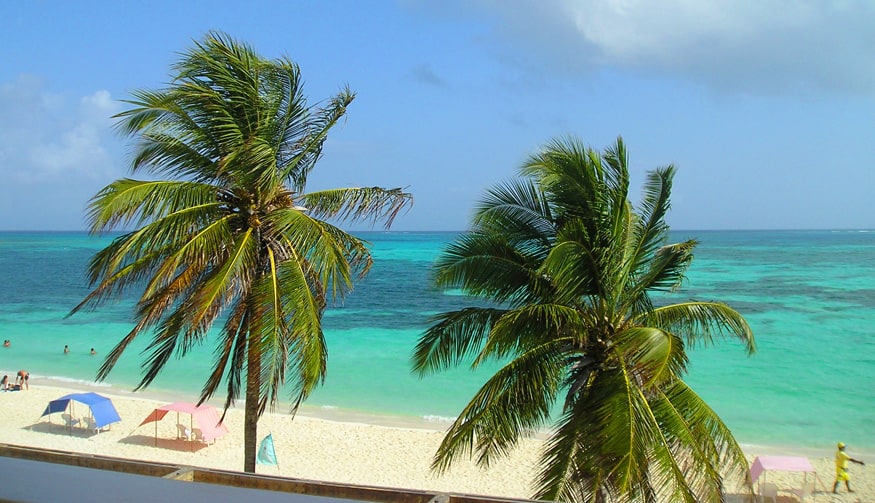 Providencia is even smaller and even more laid back. Not very many tourists get here – it requires a flight from San Andres. Those who do get here find this place to be their paradise away from it all. Things to do: snorkeling, diving, hiking up 320m high El Pico for great views, and horseback tours. They have an iguana festival in June. Another event is the annual crab migration in May-June. Yup, doesn't get much more exciting than that in Providencia!
Accommodation: Crab Cay Boutique Lodge
---
---
Ps. If you find our blog helpful, please consider using our links to book your flights, hotels, tours, and car rentals. Have a look at our Travel Resources page.