Greetings from Brno, Czech Republic!
We've done tons of travelling over the last few weeks flying from Chiang Mai to Doha to Zagreb. After a weekend in Zagreb we flew to Prague, from where we took the train to Brno. This is how it all looks on a map.

Getting a FREE hotel stay in Doha
On our last Newsletter 3 months ago I mentioned that we would have 13 hours between flights in Doha. I wasn't sure how we'd manage that, especially when told that there are NO storage facilities at Doha Airport. We have 3 computers between us and I didn't look forward to lugging them around the city for 13 hours while sightseeing.
It was only while doing research that I found out that if you are flying Qatar Airways and have 12+ hours in transit in Doha, that you are eligible for a free hotel stay. And it's not just any hotel, it's a 4 or 5 star hotel.
Terms and conditions here (super easy!)
Booking your hotel (again, super easy!)
We ended up staying at the 5 Star Souq Waqif Boutique Hotels. It was fantastic. It was 44C and humid when we arrived in Doha. It was midday, during Ramadan, and everything was closed. Thank god we had the hotel room. We showered, lounged in bed drinking fancy coffee and watching CNN, walked around Doha about an hour before deciding it was too hot – then went back to the room and napped for a couple of hours before going back to the airport.
The offer for a free hotel room is set to end December 31, 2018 (but they've said that before – it was originally due to end Dec 31, 2017. So just check before booking). But for us it was: 1) a great way to break up a long trip, 2) luxury we haven't had in a long time, 3) a chance to see a bit of Doha. I'll admit: Qatar Airways is not our favorite airline. But as long as they have this offer I would consider booking them to enjoy this stopover. I almost wish we had planned for another day in Doha.
.

.
---
---
Zagreb (and an Airbnb recommendation)
From Doha we continued on to Zagreb.
We arrived at 6:30 am and got to our Airbnb apartment around 7:30 where our host was waiting for us.
We've had bad luck with Airbnb stays in Zagreb. I've previously written about one here. But this one is fantastic and I recommend it to anyone visiting Zagreb. Here's the link.
Remember my last post on Random Acts of Kindness? We got a chance to pay some of that kindness back in Zagreb when we came across two hopelessly lost Americans trying to make their way to the Museum of Broken Relationships. We ended up walking them there, getting to know them a bit along the way. Nice people.
When people are nice to you, you want to be nice to others. That's the way it should be.
/.
Zagreb to Prague to Brno (and what airlines do these days)
We had considered taking the train from Zagreb to Brno, connecting through Budapest, but it was a 12 hour trip and we just weren't up for another long travel day.
Instead we flew Zagreb to Prague with Czech Airlines. Cost $135 Canadian each (about $105 US) which is a good fare. First time we see this: Czech Airlines charges for any checked in baggage. Have never seen that before and I didn't want to pay.
Me: "can we just take our baggage on the plane?"
Check in: "do you have any liquids?"
Me: "No".
Check in: "No problem".
So between us we took 4 rather large pieces of carry on aboard the plane.
* Which is better than our recent experience flying Scoot from Singapore to Chiang Mai. Maximum weight for checked in baggage was 10 kg and between us we had to pay $80 for overweight baggage charges (both our bags were 14 kg). And although cabin sized, Scoot didn't allow us to take our bags onboard. Who's ever heard of a 10 KG max for checked in luggage?
Watch out, pretty soon you'll have to pay to use the plane bathroom. And they'll probably charge you by the weight of your discharge.
————–
Arriving in Prague, we bought SIM cards from Vodafone (there's a shop in terminal 2) and then, using it, called ourselves an Uber. We took it to the train station and an hour later we were on the train to Brno (a 2 ½ train ride). By mid-afternoon we were in Brno.
Below: first thing we saw upon arrival in Prague? This huge Wolfhound. Which is so typical because we have never seen a country where you see as many dogs in social places: trams, buses, bars, restaurants…I love that about the Czech Republic.
---
---
On Brno
Brno is a pretty place and very quiet compared to Prague. We've been impressed by the cleanliness of the old town and, of course, the transportation system (a 10 minute tram ride gets you anywhere you need to go). I say "of course" because we've always loved the transportation systems in the Czech Republic.
A few photos: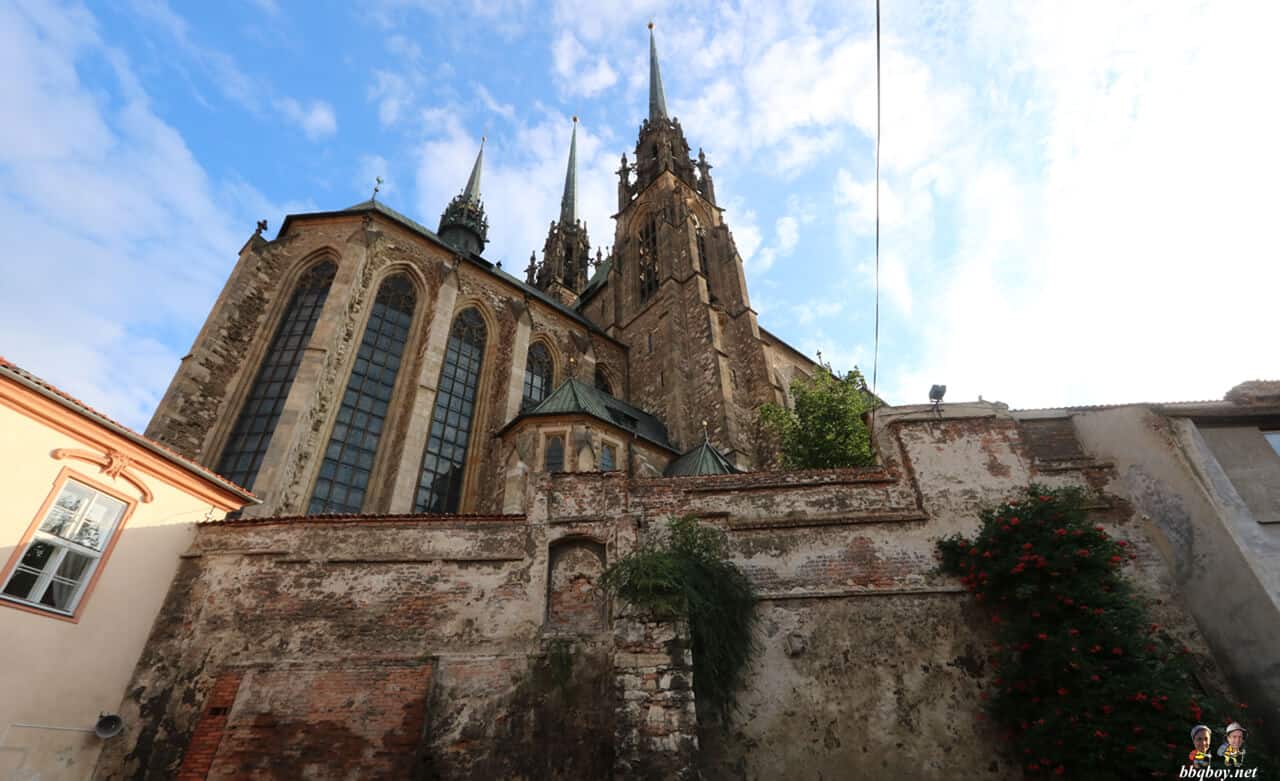 I'll have a lot more on Brno in coming weeks.
Lissette is dumping Facebook
Lissette has over 5000 Facebook friends, with 1000 waiting in queue (last I checked I have 113 friends). So what is she doing? Dumping Facebook entirely. She's had it with all her friends the perverts sending "pokes", calling her "baby", sending her dick photos, or asking her to send them personal photos. Her page was supposed to be a creative outlet. She's 51 years old. When did Facebook become a dating site? As a man I'm embarrassed for the losers out there. Get a life.
It became too much and the more friends she got on Facebook the more she felt that she was friend-less. Which is already a sore point with our full time travel lifestyles. And when Lissette isn't happy with something she burns it down to the ground and starts over. So she's deleted her FB account (by the way do you know that when you delete a FB account that it takes 14 days for them to actually delete it?)
Lissette takes most of the photos on this blog. She's also a great writer. But Facebook isn't the venue for that. Maybe it used to be but that's no more. She might actually start her own blog and, if she ever does get a Facebook profile/page again, it will be private.
It's funny that this all happened when I just joined Instagram. Most bloggers have an Instagram page. I felt I had to try it out. Jeez, if Facebook is vacuous then Instagram is even more so. Remember that post I wrote about the kinds of blogs I hate? Well, that's Instagram – lots of young, good-looking people taking photos of themselves with some kind of landscape or beach in the background (is it really that important when the focus should be on them?). The first week told me all that I needed to know about Instagram – my followers exploded to 250 without me doing anything….then within days kept trickling down to the 160 or so I have now. It seems that the game on Instagram is to follow people – any people – so they follow you back. And then you unfollow them. So when you see someone with 25,000 followers who are only following 100 people then you know the game they're playing.
There's always 'real' people and 'real' connections. But it just feels that social media is getting more and more vacuous. Maybe it's time to get rid of all our social media accounts?
.
---
---
Plans for the coming months
We'll be visiting a few countries that are new to us over the next few months: Poland, Ukraine, and Georgia. We'll be spending roughly a month in each country.
The above will take us to October and Prague (where we always go back to for medical/dental czechups. Ha).
In November Lissette and I go our separate ways: she goes back to Croatia (maybe??) while I visit my mom in Mexico and my son in Montreal. He's graduating university so I'll be there to see the graduation ceremony.
Last year I had an exciting solo trip taking El Chepe through Copper Canyon. I'm planning another solo trip this year – and thinking of spending 3 weeks in Morocco in late Nov/early Dec. I'm envisioning some kind of hiking/adventure trip. Would love to see the mountains and desert. Anyone have any suggestions?
Lissette and I will meet back up in Europe before Christmas and we're planning a train trip in Jan/Feb that will take us from Budapest through Serbia and Bulgaria (with some 1-2 week stops along the way) to Istanbul. But that's a long way off…
*Note: we're back to doing the "Schengen shuffle", where we are allowed 90 days out of 180 days in the Schengen zone. It generally means we have to balance our time in Western and Central Europe with non-Schengen destinations in Eastern Europe or outside Europe.
Upcoming posts. And what would you like me to write about?
Our next post will be on our favorite Netflix shows. Over the last 4 years we've watched a lot of Netflix (in fact I can't handle watching TV anymore. Can't bear the commercials). We've also got a few more posts on our recent trip through Malaysia and Singapore before we get into our European adventures.
Somebody asked me a question when we were in Chiang Mai doing Muay Thai. "Do you ever miss working?". I thought it was a funny question to be asked. It made me think of all those people looking to escape the daily 9-5. Or those, like some of the younger people I met, who do everything to avoid it entirely. I'll write on that sometime soon. Coming back to Europe has also brought back thoughts on Split, our year there, and the "need" for a base sometime in the future. I'll write about that as well.
As a reader, is there something you'd want me to write about? Something you're curious about? I ask because when you travel as we do you assume things. Then we get hit with a question/comment like we did this week: "I've never travelled outside of the US and Canada. What's it like?" (that's kind of an open ended question. Always better to be specific) or "Why do you stay in Airbnb apartments and not hotels?". It made me realize that people don't live the same lifestyle and that there are many a lot of questions/issues that people have that I probably haven't addressed. I'm always open to suggestions on future posts.
---
---
Blog makeover
After 4 years of the same theme, we're going to have a complete makeover coming on the blog in the coming days/weeks. I'm super excited about it – the look will be slicker and photos larger. You see the large unused margins on the page right now? That will be gone. It'll mean a lot of blog cleanup: resizing photos, cleaning up some incompatible code…so there might be a bit of disruption on the blog over the next few weeks. But the end result will be a much more visually pleasing blog.
Ok, that's our update. Thanks for reading!
Note: I usually do one of these newsletter every 3 months or so. You'll find them all right HERE.