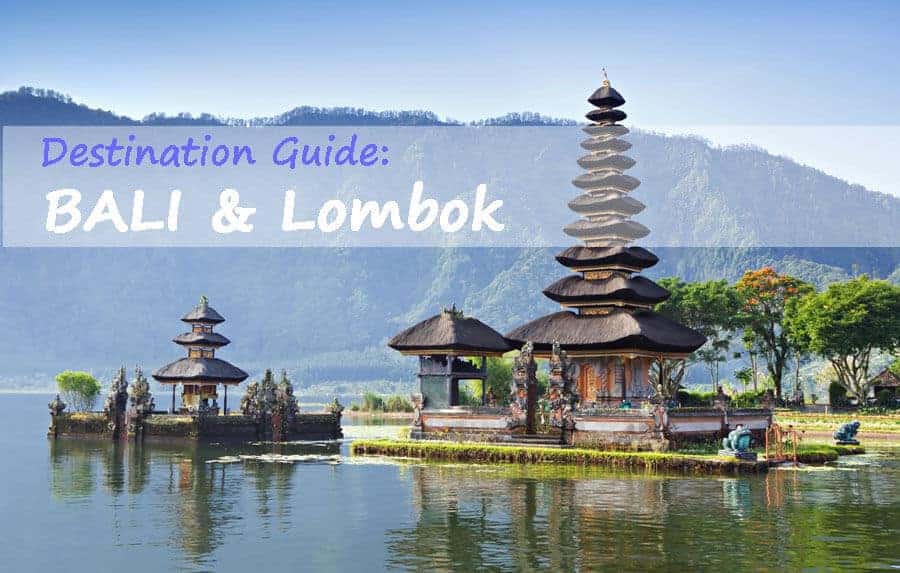 Travel Guide to the Best of Bali & Lombok.
Bali and neighboring Lombok geographically are situated at the center of the Indonesian Archipelago. On a clear day, the neighboring volcanic islands can be seen to each other. Although the landscapes are similar and there's much in common, the experiences a tourist will enjoy can be vastly different. Bali is known for its colourful and often crowded experience. A tourist hotspot for westerners, Bali is the more 'outgoing' island, eager to share its religious culture and also its local economy. Tourism hit Bali's shores much earlier than Lombok's, but both islands embrace the eager traveller. Lombok's southern beaches are still pristine in parts, while Bali's are packed with eager beachgoers.
---
---
.
The Best Places to See in South Bali
Kuta
Kuta is the most developed of all Bali destinations and popular with western tourists. Bars and restaurants are plentiful, and the narrow laneways leading to stalls selling local crafts and other goods are a highlight. It's a busy place however and very commercialized, but remains a good base for exploring the local surroundings.
The sun setting on Kuta Beach as surfers take to the waves makes this spot popular. If you prefer shopping with an international feel, try the strip along South Kuta Beach. Alternatively, close by Seminyak, extending north of Kuta offers some stylish fashion boutiques.
Denpasar
The provincial capital of Bali, Denpasar is a mix of history from Dutch colonial times to the struggle for independence. Architecture has an Arab, Chinese or Indian feel to it in Jalan Gajah Mada, the main strip, and there are statues lining the streets commemorating the independence the people fought for.
Highlights of Denpasar include the open-air markets of Pasar Badung, Pura Jagatnatha temple and the Bali Museum for its architecture and collections of Balinese art.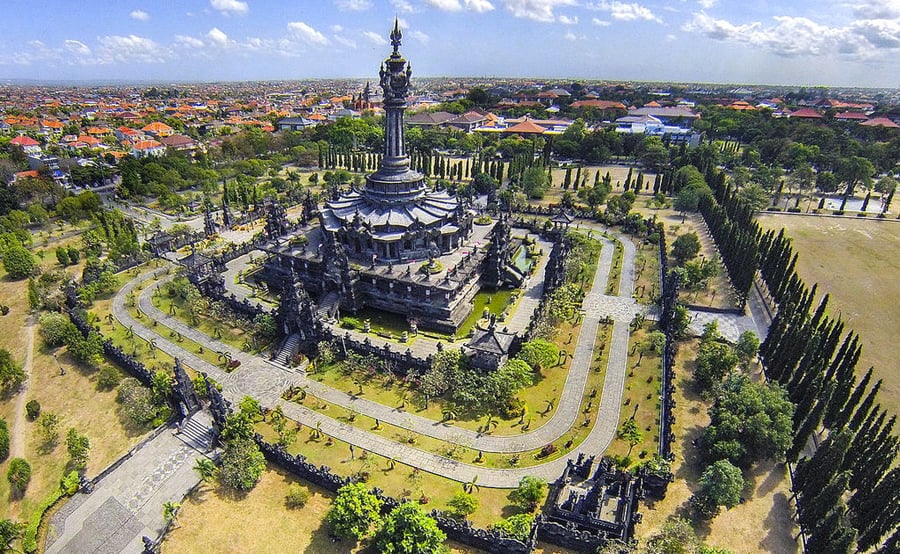 ---
---
Nusa Penida
Stepping away from the commercial personality of South Bali, is Nusa Penida, the quiet and underdeveloped island. Its charm appeals to those with a spirit of adventure. Compared to the mainland, this island is relatively untouched by tourism, and is actually feared by some Balinese for being home to the "King of magical powers," Ratu Gede Mecaling.
Nusa Penida's landscape can be arid in places, but its limestone hills and clifftops are appealing.
Although facilities are scarce on the island, the crystal-clear waters and marine life attract divers and snorkelers. You can reach the island by public ferry and fast boat.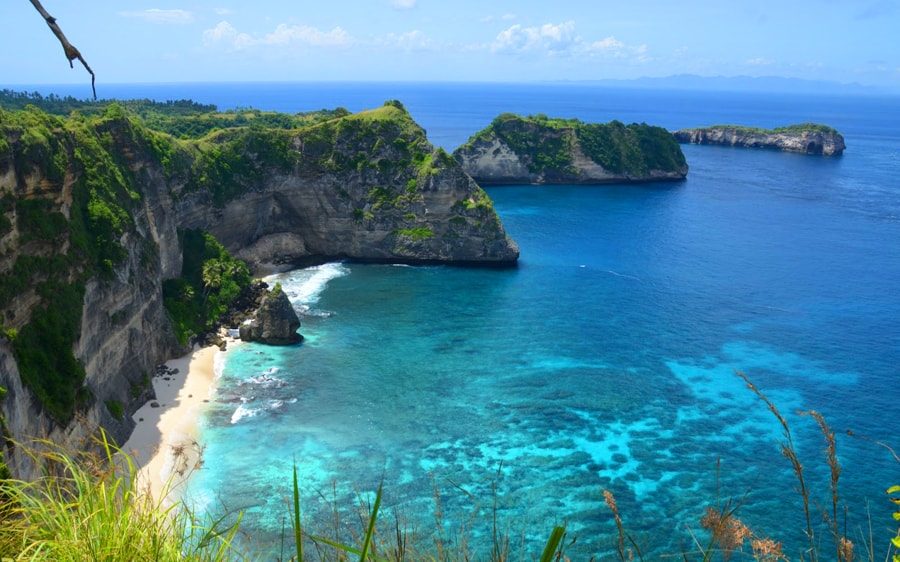 Visiting Pura Luhur Uluwatu – Bali's most sacred place of worship
Pura Luhur Uluwatu is Bali's most sacred temple. It's also the more stunning place of worship as it is situated atop a cliff edge where you can watch the waves crashing against the rocks below. If there's one temple to visit during your stay in Bali, this is the one.
The stairways stretching 600 ft. above the sea are impressive structures in themselves, not to mention the unusual main gate entrance sporting the fanged demon to ward away evil spirits. Elaborate carvings are on every turn, and particularly those of Ganesha, the elephant-headed guardian, will give the tourist a sense of awe.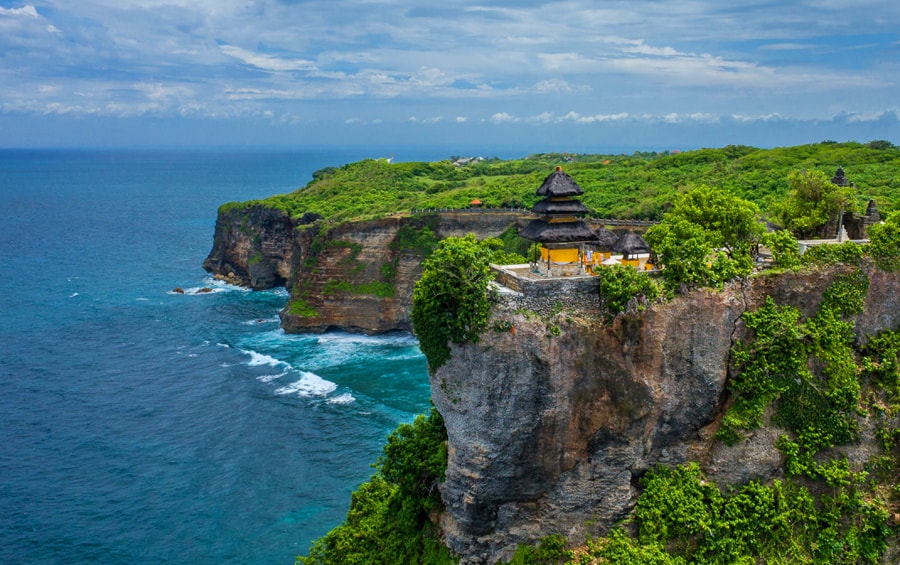 ---
---
Central Bali
'
s Cultural Heart
Ubud
Ubud is the cultural centre for traditional art, music and performance. Museums, art galleries and architecturally interesting buildings line the main streets of this town. This location is considered among early intellectuals as the "real Bali." In the earlier part of the 20th century, it attracted many foreign artists.
These days, it's more developed for tourism, nonetheless the religious and cultural heart still beats. You have the royal palace of Ubud, dating back to the 1890s, Puri Saren. There's the stunning Pura Taman Saraswati temple with its centerpiece lotus pond, and for the nature buff, follow Monkey Forest Road to the end for the Monkey Forest Sanctuary. Here you'll discover long-tailed monkeys in their natural habitat while exploring the temple complex and cemetery, known for its carvings dedicated to the dead.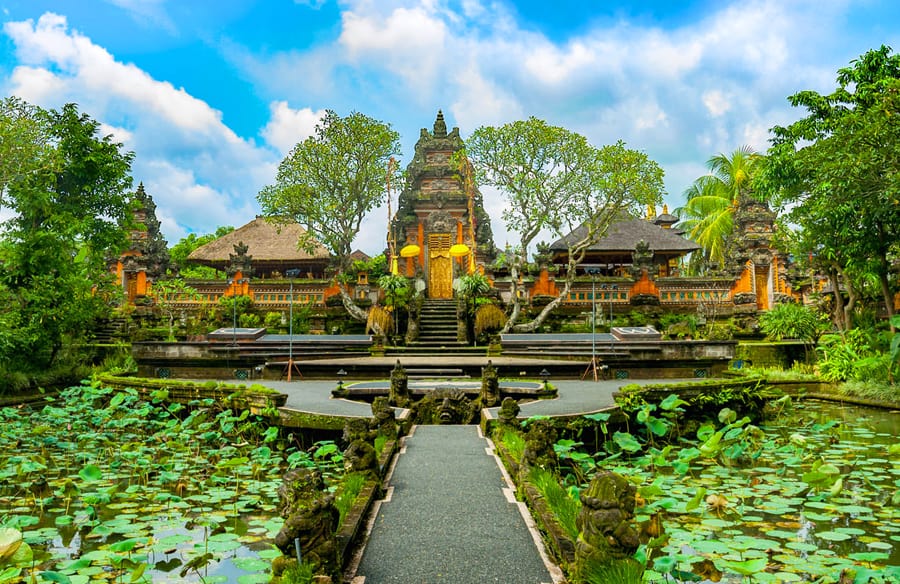 Sebatu Village
Balinese culture at its finest, Sebatu Village is regarded for its classical dance and music. Take a walk through the historical area and explore the temples to the northern ends, and the woodcarving studios open to tourists on the western ends.
The bathing springs are worth a visit, where a temple and carp pool are also featured.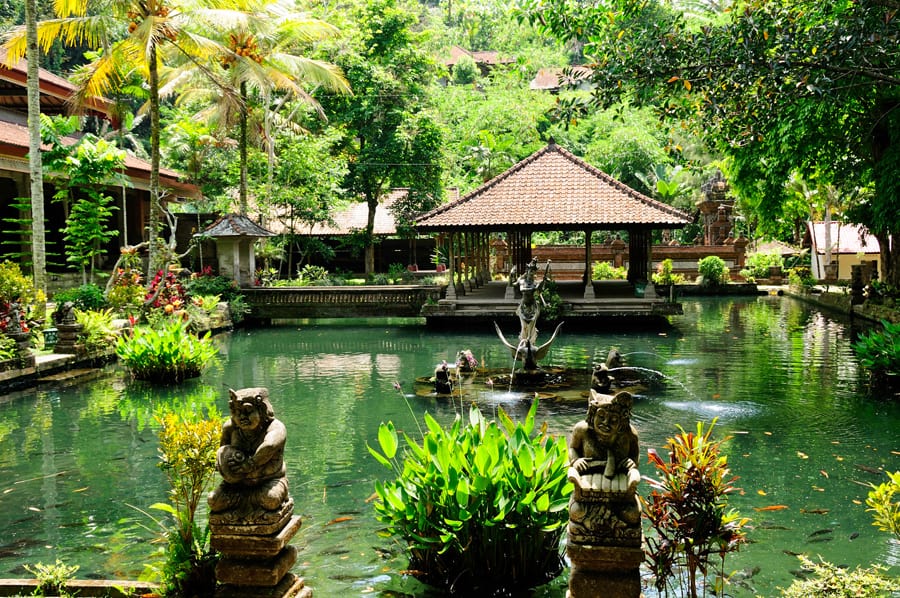 ---
---
The Art and Culture of Celuk and Sukawati
Celuk is the heart of the gold and silver smith trade. Most of the jewelry bought across Bali is made in this village. Studios line the main road and jewelry can be made to order – but is sometimes quite expensive after surcharges of up to 60 percent are added to the price.
Sukawati is more for those who prefer the craft goods and woodcarvings. The village is also culturally important, housing many of the nobles back in the day.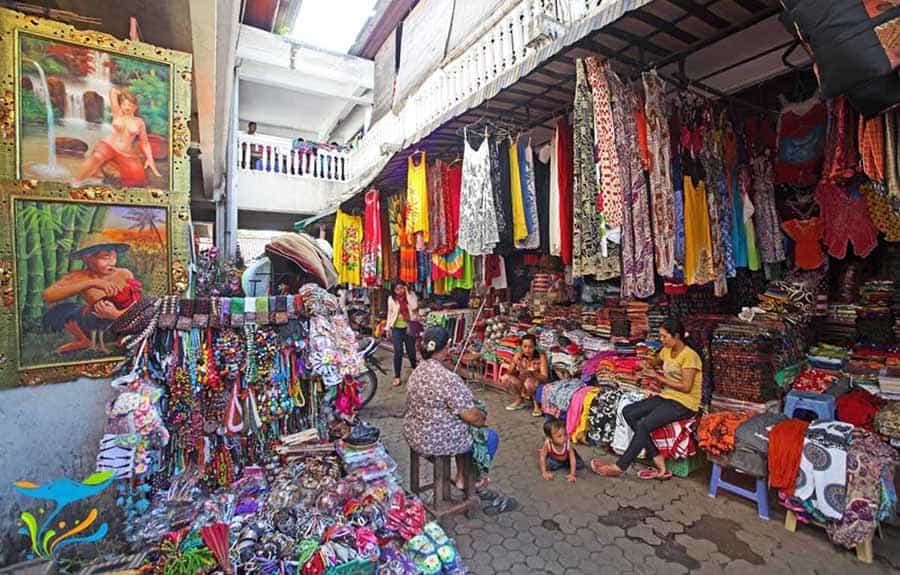 Ayung River Gorge and the Rice Terraces
Ayung River Gorge features Grade II and Grade III rapids. The adrenalin junkie will delight in the swirling vortexes of foamy water rushing around while white-water rafting. Over 33 mighty rapids make up the river, where hidden waterfalls, pristine waters and scenery flourish.
North of the gorge and situated in Tegallalang are the emerald green rice terraces. The village itself is also worthy of a day spent visiting the Pura Griya Sakti temple, the holy springs or just to enjoy lunch at the spectacular Kampung Kafe.
THE TOP TOURS TO EXPERIENCE IN BALI AND LOMBOK

The Old Kingdoms of East Bali
Volcanos
Gunung Agung dominates the East Balinese landscape. Standing at a massive 9,888 ft. above sea level, this is Bali's most significant volcano, where ancestral spirits are believed to dwell.
You can climb Gunung Agung, starting either from base camp Besakih or Pura Pasar Agung. The latter only takes 3 to 4 hours, while Besakih is around 6 hours. Both will require reliable guides as the terrain is steep and in parts heavily forested. Weather can also be unpredictable.
The more active volcano, however is Gunung Batur. It features four craters for exploring and Lake Batur down below at its base. All walks are easier than Agung, ranging from one to three hours, and are less hostile. Still, a guide is recommended for those less familiar with the area.

The Royal Courts of Bangli
Bangli is a former royal court city dating back to the 14th century. Situated in the hills towards Gunung Batur, the town features a place of worship set within a complex of eight terraces called Pura Kehen.
The landscape, coupled with its extensive history of royals and religion makes it worthy of the pilgrimage. Don't forget to visit the temple of the dead, Pura Dalem Pengungekan.
---
---

Tenganan Bali Aga Village
Although closed to tourists and those not local to the community after dark, Tenganan can be explored on foot during the day. The highly traditional and ritualistic village can be discovered via its moderately cobbled main street, which on the way will highlight village houses, a meeting hall for unmarried village men and local community life.


North and West Bali
Banjar
Although a highlight of this area is the popular temple Pura Tanah Lot, to the north, Banjar, is a historically significant town overlooking the Bali Sea. Not only did the Banjar War occur here, when the locals resisted the Dutch invasion, nearby Pedawa serves as a reminder of the Javanese occupation in 1343.
These days, however, tourists can enjoy bathing in Air Panas, a natural hot spring of sulphurous water. This sacred area is believed to help heal or ease skin complaints.
The Brahma Vihara Ashrama Buddhist monastery is worth visiting for its Thai influences.
---
---
Singaraja
This colonial-style town is Bali's main commercial center of the north. It features a mix of Chinese temples and mosques, and is situated on the Bali Sea. This harbor town is also well set out and easy to explore. You have the market place that offers local food delights and crafts. And for those interested in religious architecture, catch a tourist bus to the impressive Pura Meduwe Karang temple.
Medewi Beach
This west coast surfer's paradise features breaking waves of up to 23 ft. The black sands give a lasting impression to the visitor walking the beach during sunset. The Pura Rambut Siwi temple, a half hour's walk west of the beach is relic-like, and further on you can discover the caves where other temples are located.
---
---
Lombok
Although less developed than Bali, discovering Lombok's natural beauty will appeal to those preferring pristine beaches and trekking. Getting around the island can be challenging with only minimal public transport, however. For those who want to explore the island, hiring your own vehicle with its own local driver is highly advisable, as roads can be steep, narrow and remote.
If you're unfazed by the transport side of things, Lombok has much to offer, both culturally for its Muslim Sasaks and Hindu Balinese, and with its varied landscape.
The tourist hotspot is Senggigi beach, the ideal place for base camp. Easily accessible from Senggigi is Mataram to the north, Gunung Rinjani's 12,224 ft. volcanic peak located north central, and Gili Isles for your snorkeling pleasures.
Gili Isles comprises of 3 islands no more than 2 miles across, and offers an abundance of marine life and coral reefs. You can access the islands easily from Lombok's Bangasal harbor.
You also have the pristine 132 ft. Sendanggile Waterfalls to admire, and coastal villages such as Labuhan Lombok.
Lombok's very own Kuta is more a rugged coastline than the commercialized Bali urbanscape. Here, the visitor can enjoy golden-white sands and some quiet time after booking into either budget accommodation or the luxurious Novotel.
---
---
Costs
The easiest way to move around Bali and Lombok is by car rental, or alternatively the very inexpensive public transport. However, public transport isn't always convenient. Few bemos (buses) are available after dark and the transportation system is designed for locals rather than tourists.
Fares are low though. A bemo within a town costs around Rp 5,000 (40 US cents) and between towns on longer stretches, around Rp 10,000 (80 US cents). Taxis are a little more expensive and generally have a surcharge of 30 percent, while tourist shuttles can be priced anywhere between Rp30,000 and 100,000 ($2.25 – $7.50 USD)
If you opt for car hire, traffic lights are a rarity in some areas, and paying for parking will cost a small Rp 2,000 – 5,000. (15 – 40 US cents).
For lodgings, you can opt to stay in a villa, traditional low-key homestay or one of the more luxurious hotels or resorts. A room with a view in Bali's Grand Hyatt will cost the average traveller a standard rate of $135 USD for a 49 sqm room with a private balcony. Villas are an alternative, but can be pricy. The Ulin Villas in Kuta offer boutique rooms from Rp 4,500,000 per night ($338 USD) with breakfast included, but are well worth it. If you are looking for something a little more private and off the beaten track, another great option are these villas in Canggu. They start at $225 USD per night.
For a cheaper alternative, try a traditional homestay or budget hotel. A traditional homestay for 2 people with breakfast included is normally around $7 – $10 USD per night, but beware that some only offer cold water bathrooms.
Bali has a plethora of options when it comes to dinning, too. Gabah Indonesian Cuisine in Bali offers a menu priced between Rp 63,000 and 125,000 ($4.75 – $9.40 USD). A local café will be priced a lot lower, again. If you set aside $40 USD per person per day for meals, you'll sup like a king.
Flying In. Ngurah Rai International Airport, officially known as I Gusti Ngurah Rai International Airport (airport code: DPS), is the main airport in Bali, located 13 km south of Denpasar. We book all plane, train, bus and private transport using 12Go Asia. They're the best booking site in Asia.
Bali and Lombok have something to offer to everyone. Shopping, beaches, outdoor exploration, entertainment, spa resorts, local and international cuisines, temples and nightlife
…

if you want more bang for your buck, Bali and Lombok are the way to go.
Ps. If you find our blog helpful, please consider using our links to book your flights, hotels, tours, and car rentals. Have a look at our Travel Resources page.
---
---