The Ultimate Travel Guide to Australia.
There is no better place to revive your sense of adventure than Australia. From pristine beaches and breathtaking national parks to sophisticated cuisine and vibrant culture, the Land Down Under is simply packed with once-in-a-lifetime experiences. Ask anyone who has been to Australia before, this is the place you long to return!
The sixth largest country in the world, Australia is bigger than Western European countries all together. It would take months or even years for you to explore this majestic continent. With this Ultimate Travel Guide to Australia, we will help you decide where to start if you are thinking of travelling to Australia.
Backpacking Australia? Here's the Ultimate Guide to everything you need to know
.
Top places to visit in Australia: Overview of the Australia states
.#1 New South Wales (Sydney)
If you have never been to Australia before, Sydney with its iconic Opera and Bondi beach is probably the first place you arrive at. New South Wales is a perfect introduction to Australia.
Recommended accommodation in Sydney (warning. Sydney is expensive). Veriu Central (very nice hotel with great location. Good price by Sydney standards). Milson Serviced Apartments (gorgeous apartments looking over Sydney harbour bridge. Book early)
Tours/Tickets: The Hop On Hop Off bus. See all the highlights of Sydney and Bondi beach. Recommended (we're always big fans of Hop On Hop Off buses).
But what are other places to see in NSW besides Sydney?
8 hours from Sydney is the town of Byron Bay. From having a breakfast at the working farm Three Blue Ducks to skydiving at beautiful beaches, you will enjoy every bit of it. Take a 3.7-km. walk through the Cape Byron track for the best view over the ocean and hinterland.
The Blue Mountains are the World Heritage site and are only a 90-minute drive from Sydney (see this tour). Embrace the nature's beauty while walking, hiking or having a meal at one of the rustic villages, such as Leura and Blackheath.
Whether you are a wine-lover or not, you just have to go to the Hunter Valley, the oldest wine region in Australia. Select from 120 wineries for wine tasting, celebrate local produce at the top-notch restaurants, visit gourmet markets, take a cooking class, or ride in a hot air balloon. If that's not enough for you, make your trip memorable by going to the Hyams Beach, the whitest beach in the world.
---
---
#2 Queensland (Brisbane)
It goes without saying, the first thing that comes up to one's mind when thinking of Queensland is the Great Barrier Reef. Make sure you go snorkelling or diving at the Great Barrier Reef, you simply cannot miss this amazing experience! The Whitsunday Islands is another great spot for fun water activities (Airlie should be your base to the Whitsunday Islands).
recommended accommodation in Airlie: Heart Hotel and Gallery Whitsundays(very nice modern hotel),Sunlit Waters Studio Apartments(aparthotel).
Tours: A Full-Day tour by catamaran of the Whitsunday Islands (from Airlie). Recommended.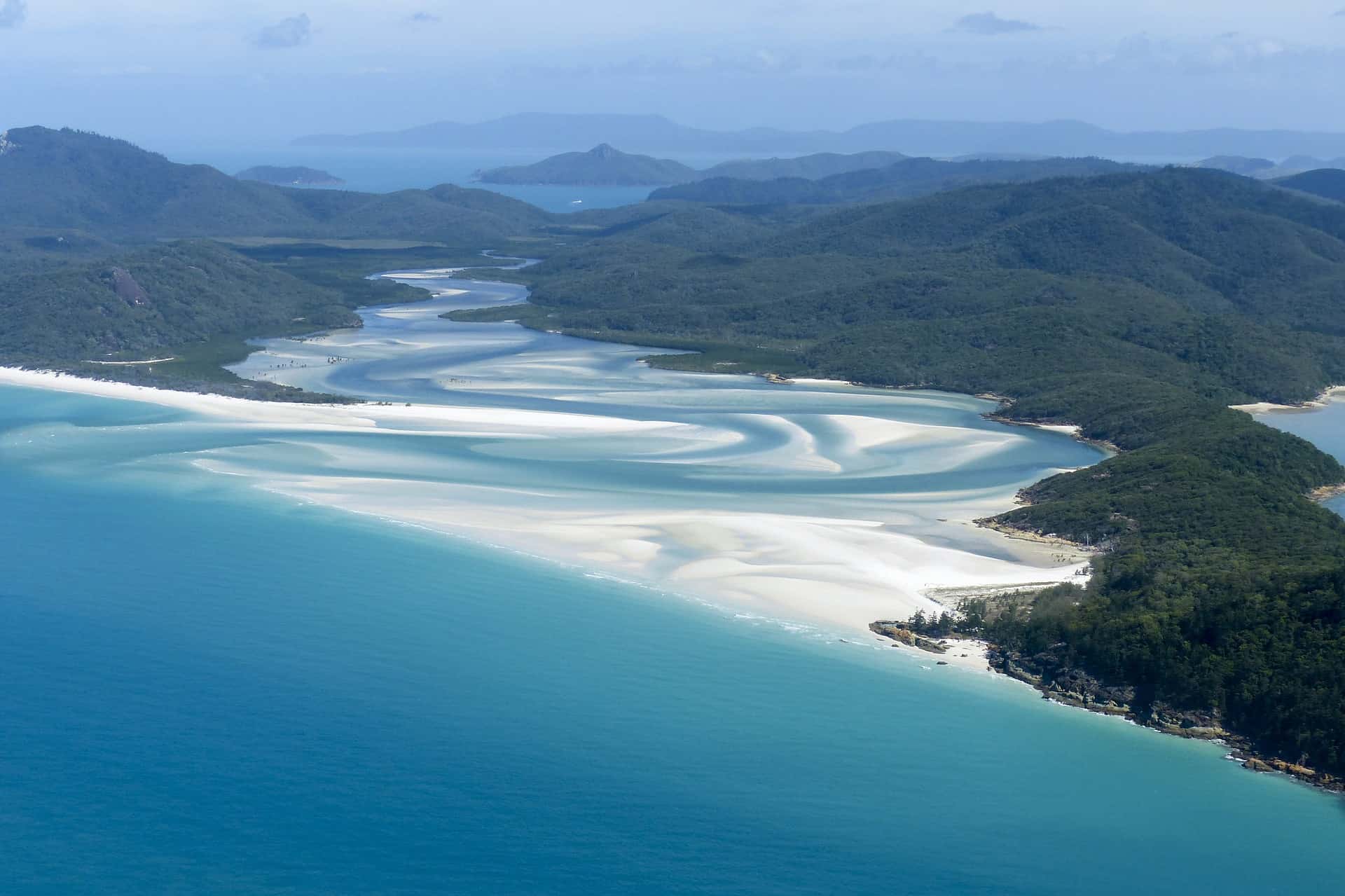 If you are a fan of 4WD drives, head to the Fraser Island for biking, hiking, fishing and boating in the wilderness areas along the coast. On the contrary, the capital of the Queensland – Brisbane, is a big city, yet remains a small town atmosphere.
recommended accommodation in Brisbane:Meriton Suites Herschel Street(fully-equipped aparthotel with great location and good prices) orRoyal On The Park(very good hotel in excellent location)
Burleigh Heads National Park (Gold Coast) is a paradise for those who love hiking and walks. If you leave early in the morning, you will be lucky to see a beautiful sunrise and watch surfers trying to catch the first morning wave.
See the Great Barrier Reef using Cairns as your base. Also, take sky rail ride from Cairns to Kuranda, you will get to observe the untouched rainforest from above. To continue the rainforest adventure, visit the Daintree National Park, the planet's oldest rainforest that has the highest concentration of threatened and endangered flora species.
Cairns accommodation: The Abbott Boutique Hotel or Cairns City Palms (good value aparthotel).
Tours: 9 hour catamaran tour of the great Barrier Reef from Cairns.
To go off the beaten path and experience the Queensland Outback, visit the Boodjamulla National Park with its impressive cliffs, green river and activities to do like camping, kayaking and hiking. Also in Savannah Way, you can find the Undara Lava Tubes and learn about the Australia's volcanic history.
#3 Victoria (Melbourne)
Even though Victoria is the smallest state in Australia, it is packed with amazing experiences that you can have within a short time frame. Melbourne, the capital of Victoria, is an award-winning city and boasts visual, cultural and gastronomic delights. If you are looking for relaxation, head to the Daylesford Macedon Ranges, a region with natural mineral springs that offers exclusive spa treatments. Spare some time to visit historic villages and heritage sites in the area.
Recommended accommodation in Melbourne: The Savoy Hotel on Little Collins Melbourne
Continue to the Yarra Valley with its lush vineyards to have a premium wine tasting experience. On your way, do not forget to stop by the Healesville Sanctuary to get up close to the Australian wildlife in their natural environment.
One hour from Melbourne, you can start your trip along the Great Ocean Road, one of the best routes to take if you are looking for a coastal drive treat. It is not so much about the destination, but the journey you get to experience on your way. Unspoiled beaches, spectacular cliffs, unique coastal towns and cultural sites will make your trip unforgettable. See this tour.
---
---
.
#4 Western Australia (Perth)
Perth, the capital of Western Australia is known to be one of the friendliest and most liveable cities in the world. Perth attractions range from snorkelling at the crystal bays on Rottnest Island, wildflower watching in Kings Park, to discovering the mysterious Pinnacles desert. Other must-sees are the charming town of Fremantle, Swan Valley with its world-class wineries, and Perth Hills where you can reconnect with the nature.
Accommodation recommendations in Perth: Tribe Perth or Alex Hotel. Both are very comfortable choices. A good budget choice is Comfort Hotel Perth City.
Tour: This Rottnest Island bike and ferry combo. They'll pick you up at your Perth hotel. Recommended.
Head from Perth to the South West of Australia to learn more about the region. You can choose Margaret River as your destination for a surf at spectacular beaches and a gourmet escape. For those who love aquatic adventures, a trip along the Coral Coast could become the time of their life. Go snorkelling, watch turtles nest or follow the humpback whales at the Ningaloo Reef and Exmouth.
Broome, the jewel of Western Australia, is a great place to choose as a base if you decide to travel to the North West. See the dinosaur footprints, watch the iconic Cable Beach sunset, observe the Staircase to the Moon, and embrace the spiritual Bungle Bungles in the Kimberley region.
.
#5 Northern Territory (Darwin)
Darwin is the youngest capital city in Australia, which became a multicultural city in the past few decades. It is easy to access from the South-East Asia, and this geographic peculiarity enriched the city with Asian cuisine and customs. Among the highlights are the Mindil Beach Markets, the Darwin Botanic Gardens, the Darwin Wharf Precinct, the open-air Deckchair Cinema, and the Museum and Art Gallery of the Northern Territory.
Darwin accommodation: Darwin City Hotel
Tours: The Hop On Hop Off (good and cheap way to see all the city's highlights), this tour lets you see "jumping Crocs", and this tour takes you to beautiful Litchfield National Park (bring your swimsuit so you can swim in the falls).
Northern Territory is home to the Red Centre of Australia, which is a part of land covered by deserts, rock formations and striking gorges. One of the most famous attractions is the Uluru Tjuta National Park. The legendary Outback town called Alice Springs is also located here and is a popular spot for wilderness safaris.
Kakadu National Park, the World Heritage-listed site, is located in the tropical part of the state. It is well known for its Crocodile Dundee scenes, the scenic Katherine Gorge and Litchfield National Park, and the aboriginal Arnhem Land settlements.
---
---
.
#6 South Australia (Adelaide)
Everywhere you go in South Australia, something special will be awaiting for you. The land of stunning beaches, nature's wonders, wilderness and desert beauty, South Australia is also a haven for food enthusiasts. Adelaide, the capital of South Australia, is one of the most charismatic Australian cities that boosts a diversity of culture, cuisine, arts, and architecture.
Recommended accommodation in Adelaide: ibis Adelaide or Adabco Boutique Hotel Adelaide.
Recommended Tour. This full day premium wine tour in the Adelaide Hills.

Kangaroo Island is a nature's treasure named, as you might have guessed, after these furry marsupials. Besides kangaroos, here you can encounter koalas, penguins, seals, and a wide range of birds in their natural habitat. Pristine beaches are perfect for swimming, snorkelling and diving. You can spot sea dragons in the turquoise waters and many shipwrecks that lie offshore.
Along the Limestone Coast, you will find the Mount Gambier with four stunning crater lakes and a World Heritage Site – Naracoorte Caves. Take a day trip to Barossa Valley for picturesque landscapes and artisan food culture, and this romantic getaway might become your favourite experience in South Australia.
.
#7 Tasmania (Hobart)
By now, you are probably thinking that there are too many things to do in Australia. I haven't even mentioned Tasmania. The first thing that comes to your mind when you think about Tasmania is probably a Tasmanian devil, but there is so much more to this island than just this.
Almost half of Tasmania's territory lies in the World Heritage Areas and national parks. These days more and more visitors are attracted to the island by its mysterious nature of wild rivers and lakes, well-preserved heritage towns, and gourmet delights.
Explore the alluring Freycinet, Cradle Mountain-Lake St Clair, and Franklin-Gordon Wild Rivers National parks by hiking, bird watching and white-water rafting. If you want to travel back in the history to the Convict era of Australia, visit the old settlement of Port Arthur. End your day with a traditional meal like a piece of Flinders Island lamb or a scallop pie, and consider your trip to Australia complete.
Recommended accommodation in Hobart: St Ives Motel Apartments or Ibis Styles Hobart.
Tours: Port Arthur day tour from Hobart. This full day Bruny Island tour includes beautiful landscapes, lighthouses, and food tasting. It's Tasmania's most popular island.
---
---
.
Practical Information
Getting there
Australia is a huge country, so even if you live here, getting from one place to another might require booking a flight. For example, a domestic non-stop flight from Sydney to Perth would take you 5 hours.
If you are flying long-distance, the airfare from your departure country to Australian cities will not differ too much, so think about logistics from a perspective of what region you want to explore first. Australia is an isolated continent, therefore, expect to have a long flight. Make sure to spare some time for a jetlag and adjusting to a new time zone.
The main gateways to Australia are Sydney, Melbourne, Brisbane and Perth.

Cost
Australia is definitely on the expensive side of Asia Pacific. If you are coming from the travellers' paradise of South-East Asia, be ready for a big jump in your expenses!
Depending where you are flying from, the plane tickets might be the biggest expense when travelling to Australia. If you have time and patience, shop around to find the best deal and buy your tickets well in advance.
The most expensive time to travel to Australia is their summer, which is the period between December and February. If you are on a tight budget, consider going to the Land Down Under just a little out of the peak season.
There is quite a difference between AU and US dollars, so make sure to check the rates before your travel. To estimate, a cappuccino would cost you 4 AUD, while a meal for two in a mid-range restaurant – 60 AUD.
Accommodation
There is an abundance of accommodation options in Australia. Besides all kinds of hotels and Airbnb homes, Australia has something special to offer. You might have never heard of glamping (FYI: "glamourous camping"), but Australia is one the best places in the world to try it out. At least for one night, experience a fancy way to camp and embrace the nature's wilderness in Australia.
Like anywhere else in the world, accommodation in Australia is more expensive in cosmopolitan cities and city centres. If you are short on time, look for a good deal in the city centre to be close to major attractions, restaurants and public transport. But if you are on a tight budget and have enough time to stretch your vacation, consider staying further away with a good connection to the main sights.
Transportation
Public transport in Australia will take you everywhere you need. Some of the big cities (e.g. Perth) even provide free public busses that can take you around the city centre and other suburbs. Note that the transportation on the east coast is cheaper than on the west coast of Australia.
Considering thousands of kilometres between some of Australian cities, you might need to deal with long distances. In this case, the easiest way would be to book a flight, but is this the best choice? If you want to explore more of the country, go for trains, busses, car rentals, or…hire a campervan! What could be better than stargazing on the roof of a hippie campvan in Australia?
If you decide to hit the road and explore the Outback, you might have a restriction on a daily kilometrage or driving through certain areas. Make sure to find out all the important information about the region from your vehicle rental company.
It's a good idea to rent a car in Australia. I use Rentalcars.com for all my car rental needs (they dig up the best prices from all the major car companies).
Food
You might be wondering what food in Australia is like, and there is no obvious answer. Take a fascinating mixture of European cuisine with a modern twist and add a little bit of Aboriginal notes to it, then you will get what is called an Australian cuisine!
For a gastronomic adventure, make sure to check out these cities and regions in Australia: Hunter Valley (North of Sydney), Margaret River (Western Australia), Hobart (Tasmania), Adelaide (South Australia), Noosa (Queensland), Bangalow (NSW), Daylesford (Victoria).
It is trendy for Australian restaurants to support local agriculture, dairy and cattle farms. There is also a wide variety of Australian wines, the quality of which is similar to Italian and French wines. Check out the nearby farmers' market or local winery, and enjoy your gourmet escape!
---
---
Travel Tips for Australia
Where to eat, hotels to stay, things to see and other important information make your stay in a new country comfortable and easy. If you are planning to travel in Australia for a while, getting a SIM card instead of living out of Wi-Fi at the cafés is a great idea. The main mobile providers are Telstra, Optus and Vodafone.
Look up Free Things to Do
Australia's tourism is growing with each year, and the authorities are stimulating this growth in many ways. When travelling to a new city, check out free things to do there, and you will find stuff starting from free museum entrances to free events and festivals.
Check out the availability of vehicles to use for free
Many car and campervan rental companies need help with relocating their vehicles from one city to another. Instead of hiring people to do that, they just publish lists of available vehicles that travellers can help relocating and pay a zero fee. Thank the size of Australia for that!
Obtain an Australia Sightseeing Pass
In many tourist centres, you are able to purchase an Australia Sightseeing Pass that will give you access to discounted tickets for sights and transportation.
Go on an Australia Working Holiday
To make sure you have enough time to explore the country and settle in Australia, go on a working holiday. There are many agencies that can assist you with the application process. It is also an amazing opportunity to learn about the culture and people in Australia inside out.
Register for a Medicare Card
This is a tip for those who are planning to stay in Australia for a few months or more. If you are from Norway, Finland, Sweden, Italy, the Netherlands, Belgium, Malta, Slovenia, the UK, Ireland or New Zealand, you can apply for a Medicare card in Australia. It will help you with the cost of medical treatments during your stay in Australia.
Conclusion
Australia's diversity, reflected in its history, people, cuisine and nature, is what makes travelling here such a rewarding experience. We cannot guarantee that a lifetime will be enough to explore this country, as it is enormous and there are always new things coming up. But what we can guarantee is that once you visit the Land Down Under, you will always be lured to return!
This Guide to Australia is contributed by Irene Seah. She is a contributor writer for the Perth Tourist Centre website. Irene has been travelling non-stop for the past three years. Two of her biggest passions include writing for travel blogs and travelling to new places during the off-season.
Ps. If you find our blog helpful, please consider using our links to book your flights, hotels, tours, and car rentals. Have a look at our Travel Resources page.
---
---