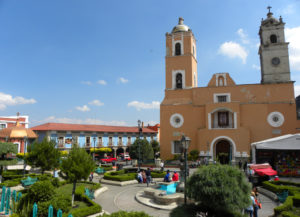 What you should know about Real del Monte (Mexico)…
Real del Monte (also called Mineral del Monte) is one of Mexico's 132 Pueblos Magicos. It's a pretty town with some interesting history as well as a location close to 2 other Pueblos Magicos (Huasca de Ocampo and Mineral del Chico). It also has an oddity: the local food specialty is based on something brought over from Cornwall in England.
But I'll be honest: Real del Monte doesn't rank high on our list of Pueblos Magicos.
More on all that further below.
---
---
A little history
Pachuca (the large city situated about 30 minutes away) and Real del Monte became famous when the Spanish discovered silver and gold in the 1500's. It is said that the mines in this region produced about 1.2 billion ounces of silver and 6.2 million ounces of gold in their history. That's 6% of all the silver mined throughout the world during the last five centuries!
The period under Spanish rule resulted in the churches, colonial architecture and plazas that you see in the town center.
When Mexico gained independence in 1821, the mines were in bad shape mainly due to flooding. English investors and miners from Cornwall came to run the mines. They solved the flooding issues and by the mid-1800's the municipality was the richest in the state. At that time there were approximately 350 Cornish employees (as people from Cornwall are called) working in the mines. Interesting fact: it was these Cornish immigrants that introduced football (soccer) to Mexico. They also introduced Pasties (stuffed pastries that look similar to empanadas) which have been Mexicanized to the "Pastes" you now see sold all over town. Real del Monte even has a museum of Cornish Pasties.
The settlements of Pachuca and Real del Monte have been nicknamed "Mexico's Little Cornwall".
---
---
---
Highlights of Real del Monte
The highlight really is the center of town. Some photos.
---
---
Other things to do:
Visit the Panteón Inglés (The English Graveyard), located on a hill about 2.5 km from town. It is known for its beautiful tombstones (there are approximately 400 headstones representing the approximately 750 Cornish buried here).
Visit some mines. You can go to both Mina de Acosta and Mina La Dificultad and see both on guided tours. At Mina de Acosta you can take an elevator that takes you 400 meters underground.
To see the above: there is a tourist trolley that takes you to the Panteón Inglés and the mines. You might have to wait a while however…(I'll detail that below).
Eat a "paste". They're stuffed with almost anything: meat, potatoes, onions, chicken…we even had one stuffed with sausage (unfortunately it was a hotdog sausage. It wasn't very good). This post covers Paste in detail.
---
---
Why we weren't that impressed by Real del Monte
If we weren't impressed by Real del Monte it wasn't because it's not a pretty town or that it doesn't have history. Because it has both. Rather, our issues had more to do with cleanliness and organization.
Real del Monte has to be the dirtiest Pueblo Magico I've visited. Pueblo Magicos receive funding from state and federal governments for maintenance and beautification efforts. And you see that when visiting a pueblo magico – they're usually immaculate compared to your average Mexican town. So we were a bit surprised to see old churches seemingly abandoned (and closed to the public) along with streets desperately in need of cleaning. Real del Monte also has a big stray dog problem which is a bit sad.
You need a car to get around. Aside from the small but charming center, highlights are hard to get to. I mentioned above the tourist trolley – the stop is at the end of the main street, right next to a taxi stand (it's also the spot to take minivans going to Pachuca). We were there on a Saturday and wanted to take a tour. When asked, the driver told us that the tour would only start when he had 25 passengers. We waited about 5 minutes and, looking at the other 8 people already waiting, decided to give up on the tour. It didn't look like we would get to 25 people anytime soon…
We had thought of taking a taxi to the Basaltic Prisms of Santa María Regla just outside Huasca de Ocampo but we had no luck with that either. There were no taxis at the taxi stand. As I say, this was on a Saturday…
Real del Monte just felt a bit backwards and disorganized. It's a beautiful region and if you have a car you should by all means come here: go see the Basaltic Prisms, see Huasca de Ocampo, and visit Mineral del Chico. We met a few Mexicans who love this area. But you really need a car to appreciate it all. That's what you really need to know because without a car you might find yourself feeling a bit stuck…
Practical Information
Where we stayed: This Airbnb. Very, very nice and very much recommended.
Eating: We had one of the best meals we've ever had in Mexico at the Real del Monte restaurant. If you end up in Real del Monte, go there and order the Molcajete Minero.
Getting to Pachuca: At the end of the main street, next to the taxi stand, is a minivan stand. There you can take a bus (they leave every 15 minutes) to Pachuca. It takes about 30 minutes.
---
---