Photos showing why we keep falling in love with Prague
This was our 3rd time in Prague. The first time we spent 3 months here. Last year we came back and spent a week. This time we came back for a month, getting some dental work done and falling in love with the city all over again.
Here are a whole bunch of photos taken over the month of March, including a few photos of Prague covered in snow and some Easter preparations.
Yes, there are lots of tourists (depending on where you are) and it can get tiring – but we actually left the city appreciating it even more that we have previously. Prague's an incredible city.
Above: Náměstí Republiky square.
Above: Old Town square with the Tyn Church in the background..
Above: stained glass, St. Vitus Cathedral..
Above: Buildings in the Old Town..
Above: views of Prague Castle, the Manesuv bridge in the foreground

Above: National Theatre and trams
Above: morning views from our Prague apartment (rented on Airbnb).
.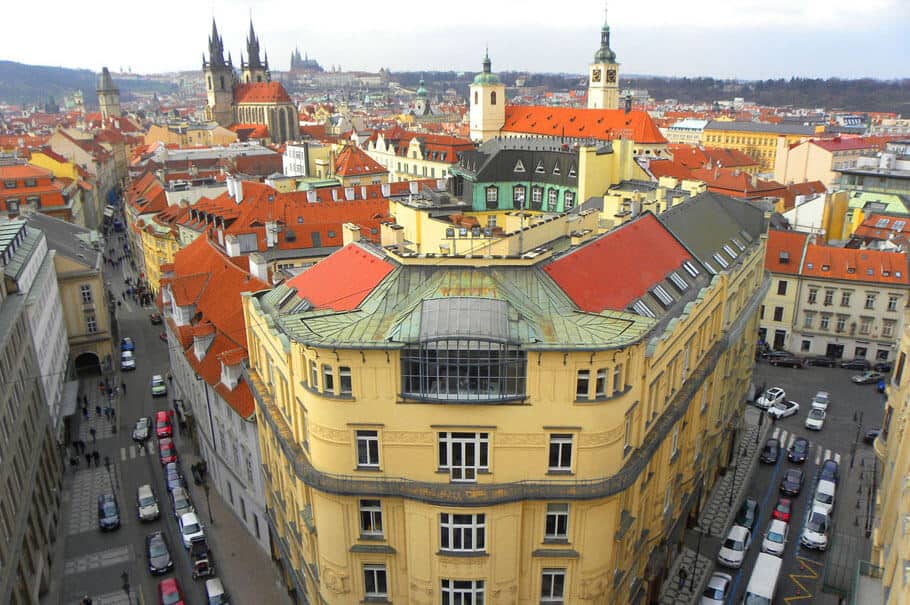 Above: Views from the Powder Tower..
Above: Spanish Synagogue..
Above: Old Jewish Quarter
Above: Views on the Vlata River, at "swan point" right next to the Franz Kafka museum.

Above: Views from under the Charles Bridge
Above: Views on Charles Bridge and Old Town from Střelecký Island (Střelecký ostrov), also known as Shooter's Island..
Above: Tesla was a state-owned company that produced electrotechnical equipment in the old Czechoslovakia. This stained glass decoration can be found in a shopping center off Wenceslas Square
Above: Tunnel of books found in the Prague Municipal Library
Above: John Lennon Wall..
Above/Below: I had always wanted to see Prague under a cover of snow. We had 1 day where it snowed and actually stayed on the ground for about 24 hours.
.
Above: Astronomical Clock, Old Town Hall Tower
Above: Sun setting behind Petrin hill..
Above/Below: the incredible buildings of Prague. In some cities you'll see maybe a block or two of buildings like this – in Prague you'll see blocks like this everywhere.
Above: Savoy Cafe, one of Prague's oldest cafes..
Above: We always love walking the stretch between the National Theatre and the Dancing House..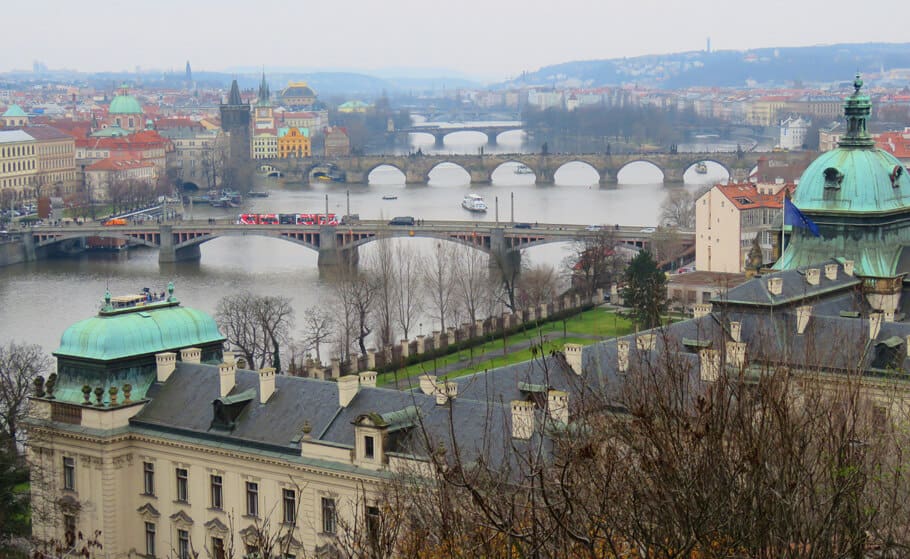 Above: Another of our favorite walks is between Letna Park and the Castle. Great views at a fancy cafe called the Hanavský pavilon

Above and below: In mid-March we saw Easter decorations getting installed. A few photos of Easter eggs of all sizes.
Above: Views of a tram, with Prague Castle in the background (taken near the Rodolfinium)..
Above: Swan, the Charles Bridge in the background..
Above: Typical apartment block in Prague..
Above: stained glass, St. Vitus Cathedral..
Above: The National Theatre..
Above: a couple of historic hotels on Wenceslas Square. The Grand Hotel Europa unfortunately is closed (maybe undergoing renovations?
Above: Views on the Charles Bridge.
Above: Views of Prague from the Strahov Monastery..
Above: Right next to the Malostranska tram stop there are these beautiful trees that might be willows (?). Standing underneath is like being behind a curtain of leaves

Above: The weather started to get nicer during the last week of March and many people were out, including the damn segways. Views from right in from of the Main gate to Prague Castle.

Above: Note the intricate statue on the building on the left. So much incredible architecture in Prague
Above: Selfie in front of Tyn Church. Summer is coming….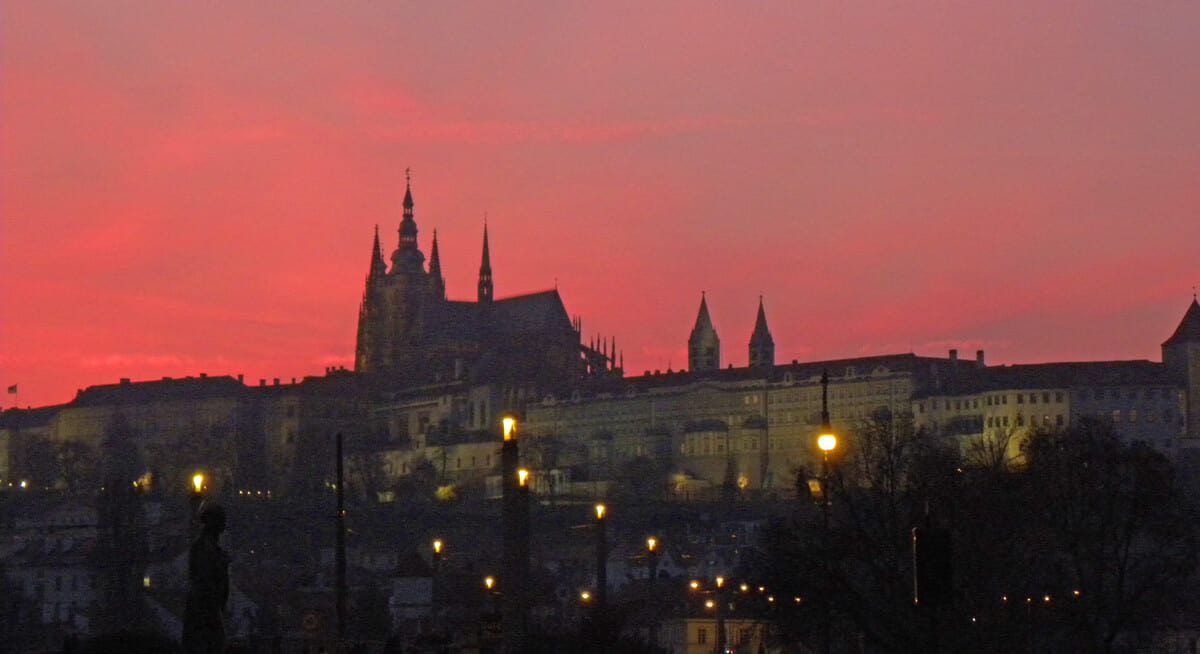 Above: a final sunset over Prague Castle.
.
Practical information
Accommodation
Airbnb. We stayed in this apartment for a month, paying CAD 1167 (That's $900 US right now). Great location, fantastic views (you'll notice some of the photos above taken of Prague Castle), the apartment was a bit rustic in some ways but fine for our needs. Good value. This other apartment, a block away was more expensive but fantastic (we only stayed one night due to a screw up on dates in the other apartment) . One of the nicer apartments we've ever stayed in, totally recommend. If you've never signed up for Airbnb, use our link and save $35 on your first stay.
Hotels. A couple of suggestions in the mid-range category: The Blue Oak. It has a perfect location on the castle side of the river. Another very nice hotel at a good price is Dolce Vita Suites on the Old Town side of the river. Both are excellent. A great Budget choice is the Czech Inn Hostel.
Flying In
We wrote a detailed post on Prague Airport and how to get into the city. Prague's Airport is officially Václav Havel Airport Prague (code: PRG).
Below: We use CheapOair to find the cheapest and most flexible flights
Restaurants
The Kolkovna Olympia restaurant, right next to the above apartments, has great Czech food and beer at very affordable prices.
The Savoy Cafe, right next door to the above restaurant is very popular as one of Prague's oldest cafes. We found the cakes and coffee ordinary though.
Have you been to Prague? What did you think of it?
Like This Article? Pin it!
Ps. If you find our blog helpful, please consider using our links to book your flights, hotels, tours, and car rentals. Have a look at our Travel Resources page.