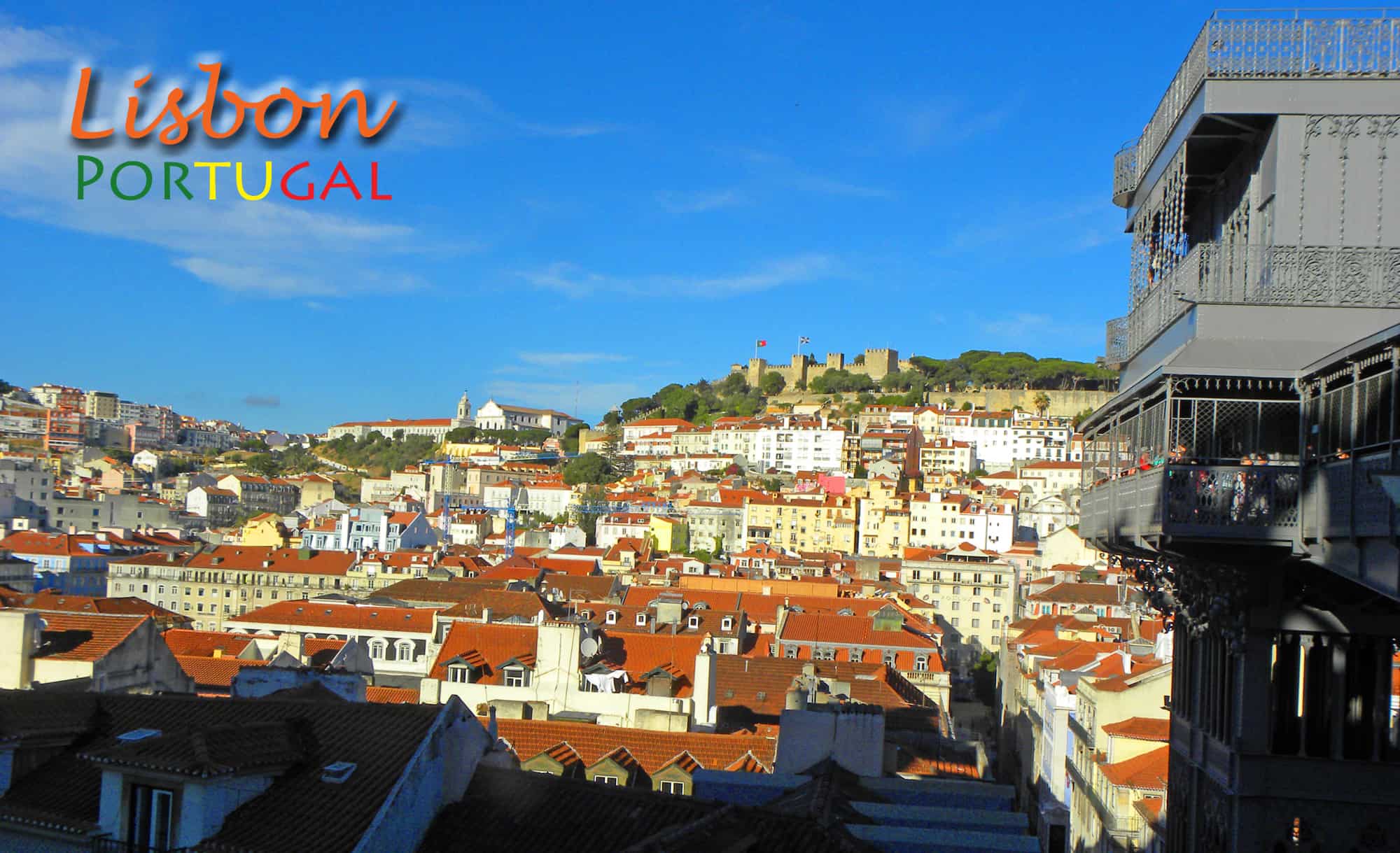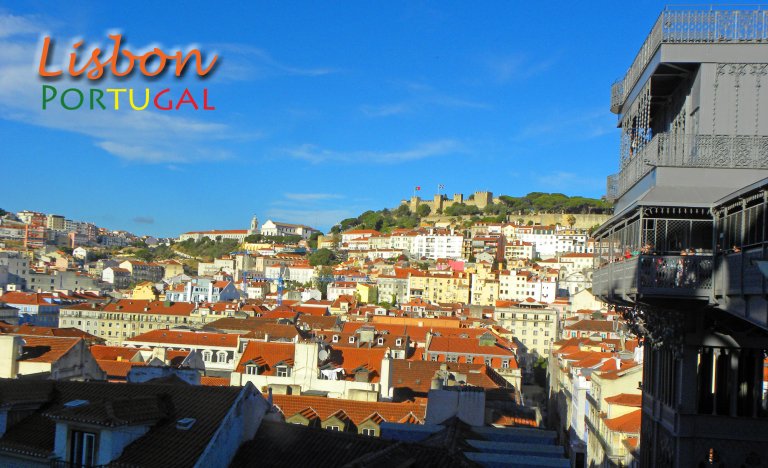 We spent the month of August in Lisbon. For me, it was a return to a city that I had visited 25 years ago. Lisbon is a very popular place these days, attracting tourists with its beautiful architecture, tiled streets, sunny days (it is known as the sunshine capital), historic sites, and cuisine. This Photo Essay will give you an idea of what you'll see strolling around the Portuguese capital. I'll also cover the highlights of Lisbon as well as the most scenic viewpoints (something else Lisbon is known for).
I'll be honest. We didn't enjoy our time in Lisbon. Part of that was Lisbon itself, but most of it resulted from other factors. I'll cover that as well. But that's not to say that Lisbon isn't a beautiful city – because it is.
Warning: This is a long post. I had initially wanted to do several posts on Lisbon. I've decided to wrap it all up on one post.
---
---
Some photos.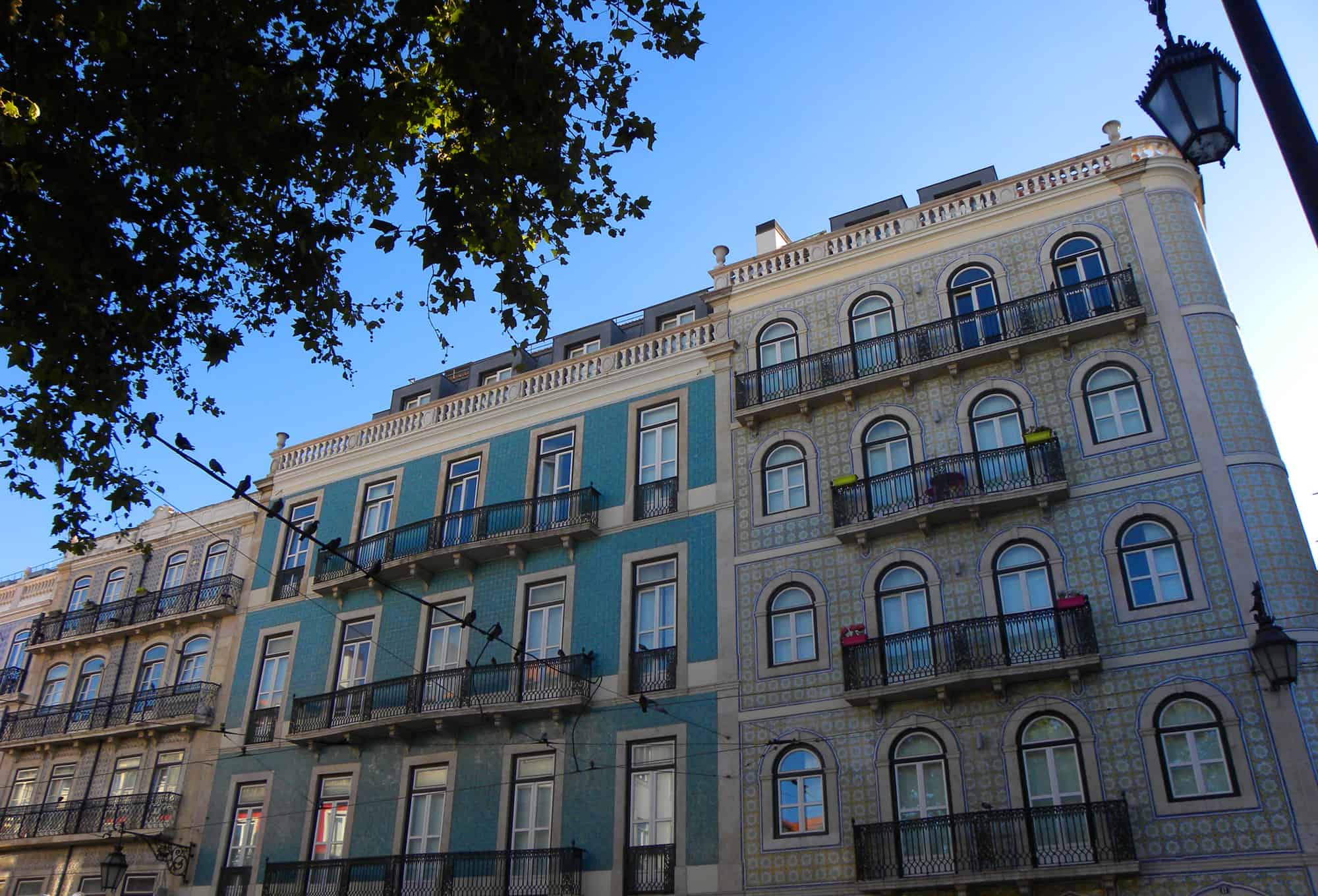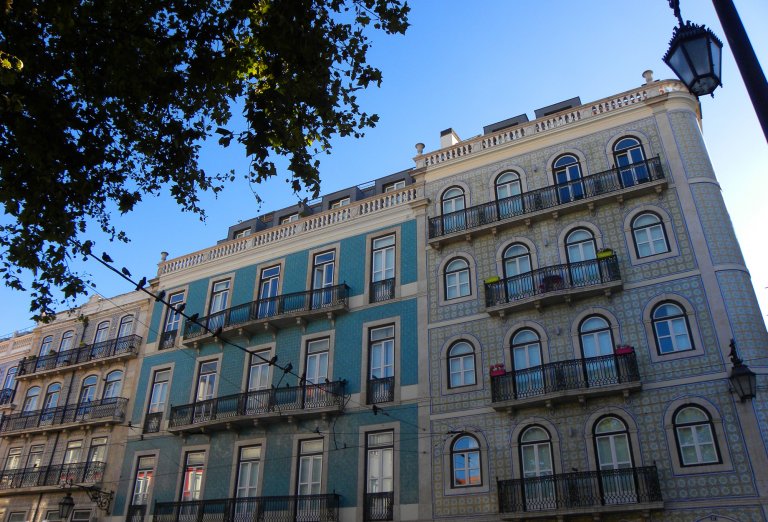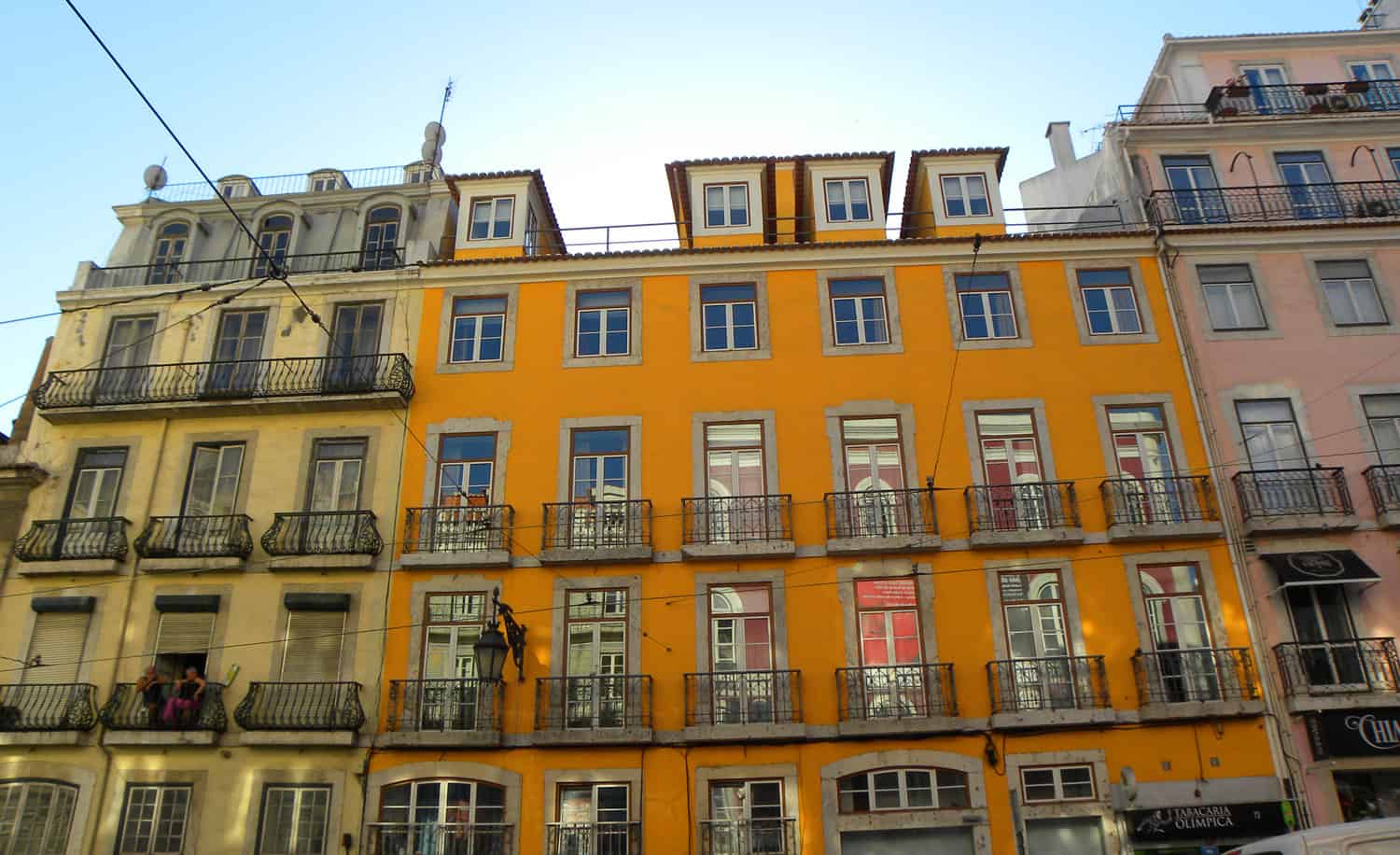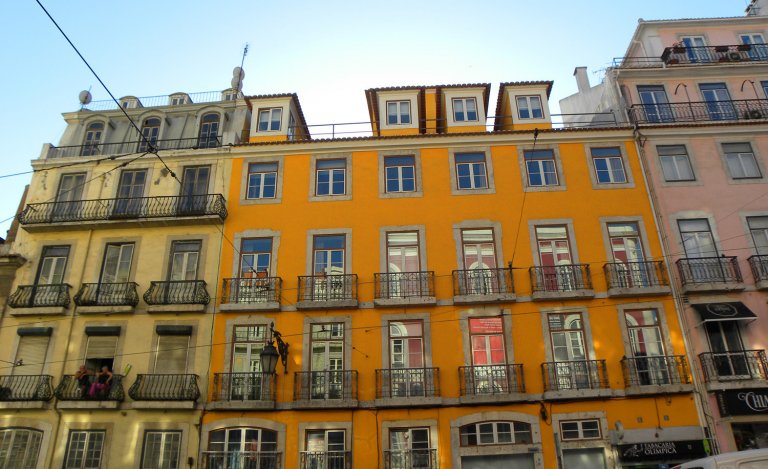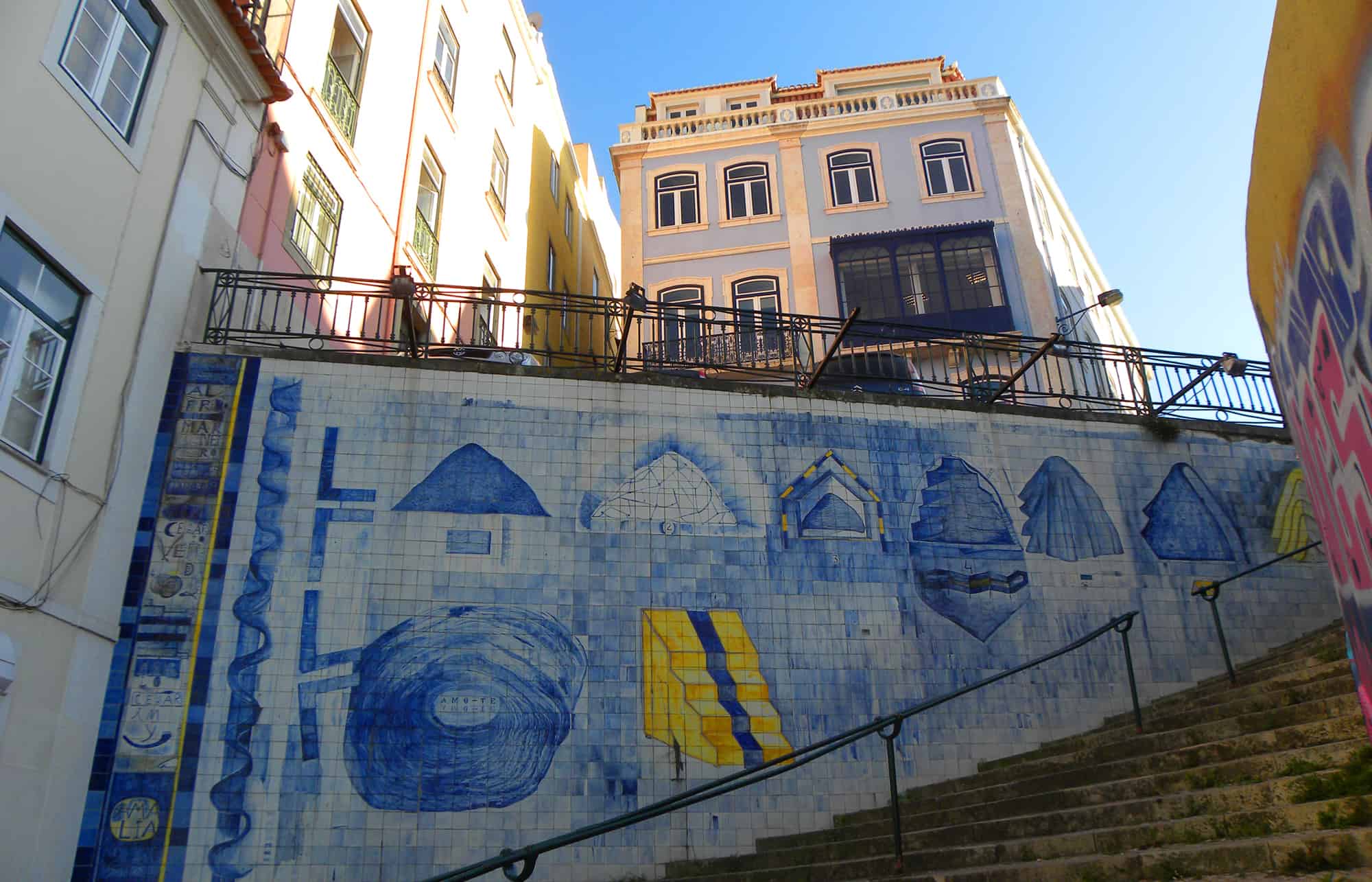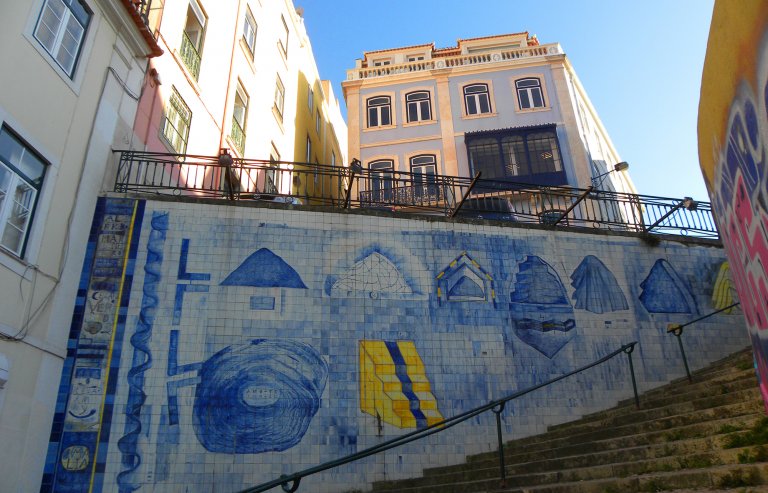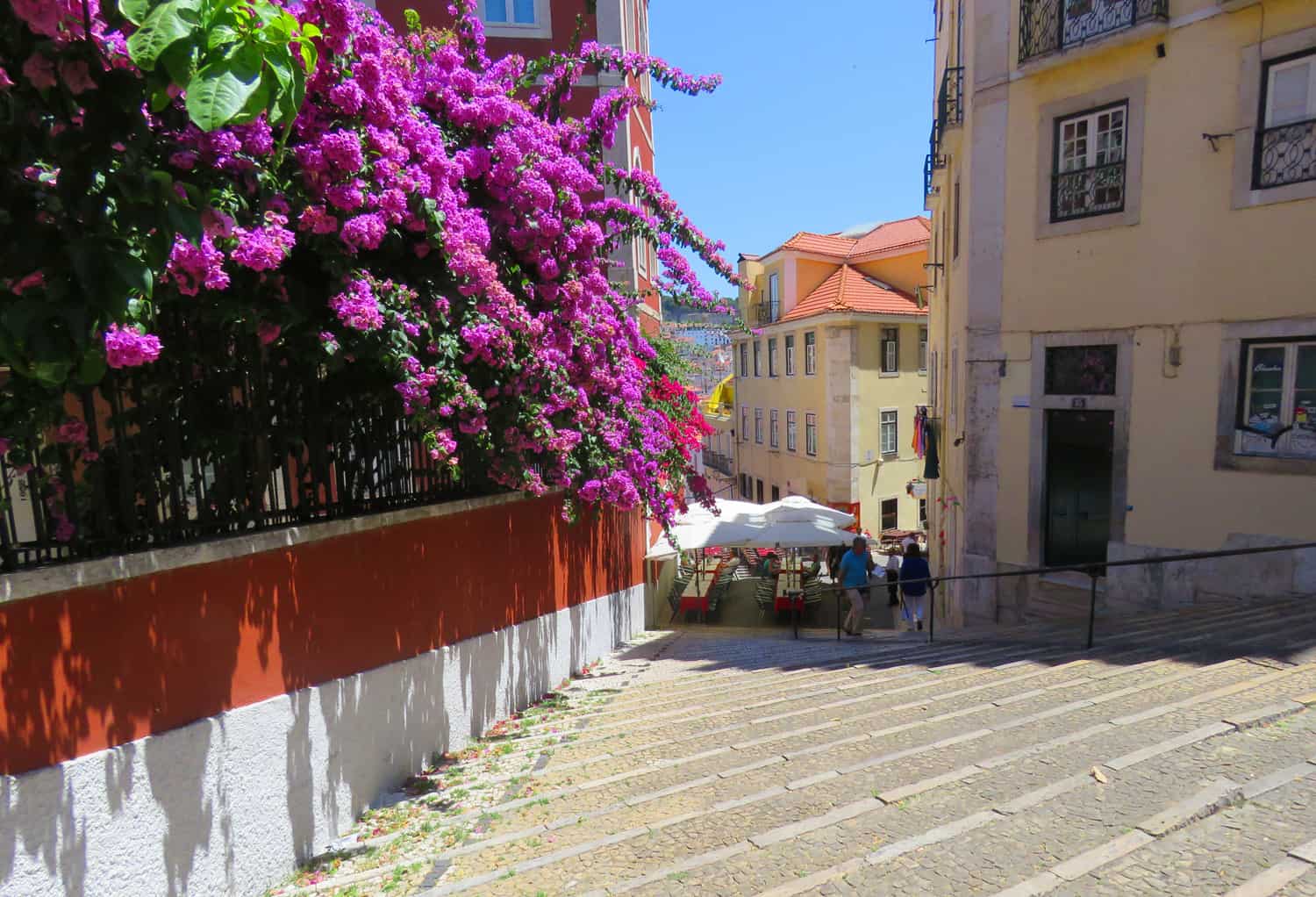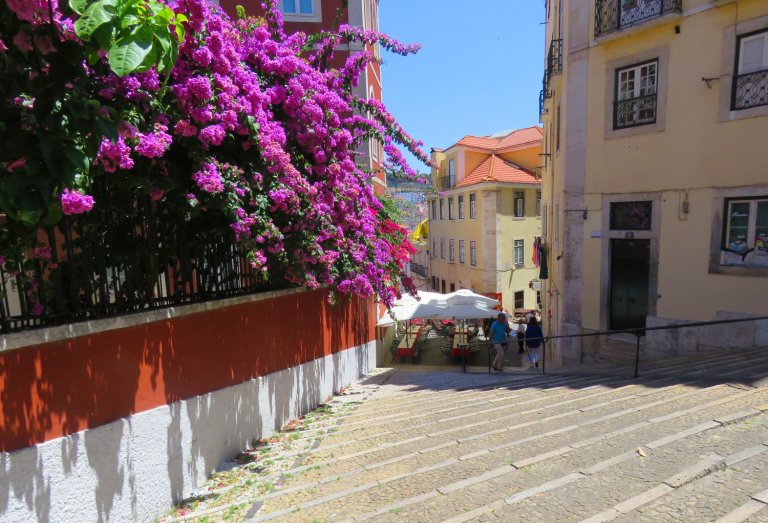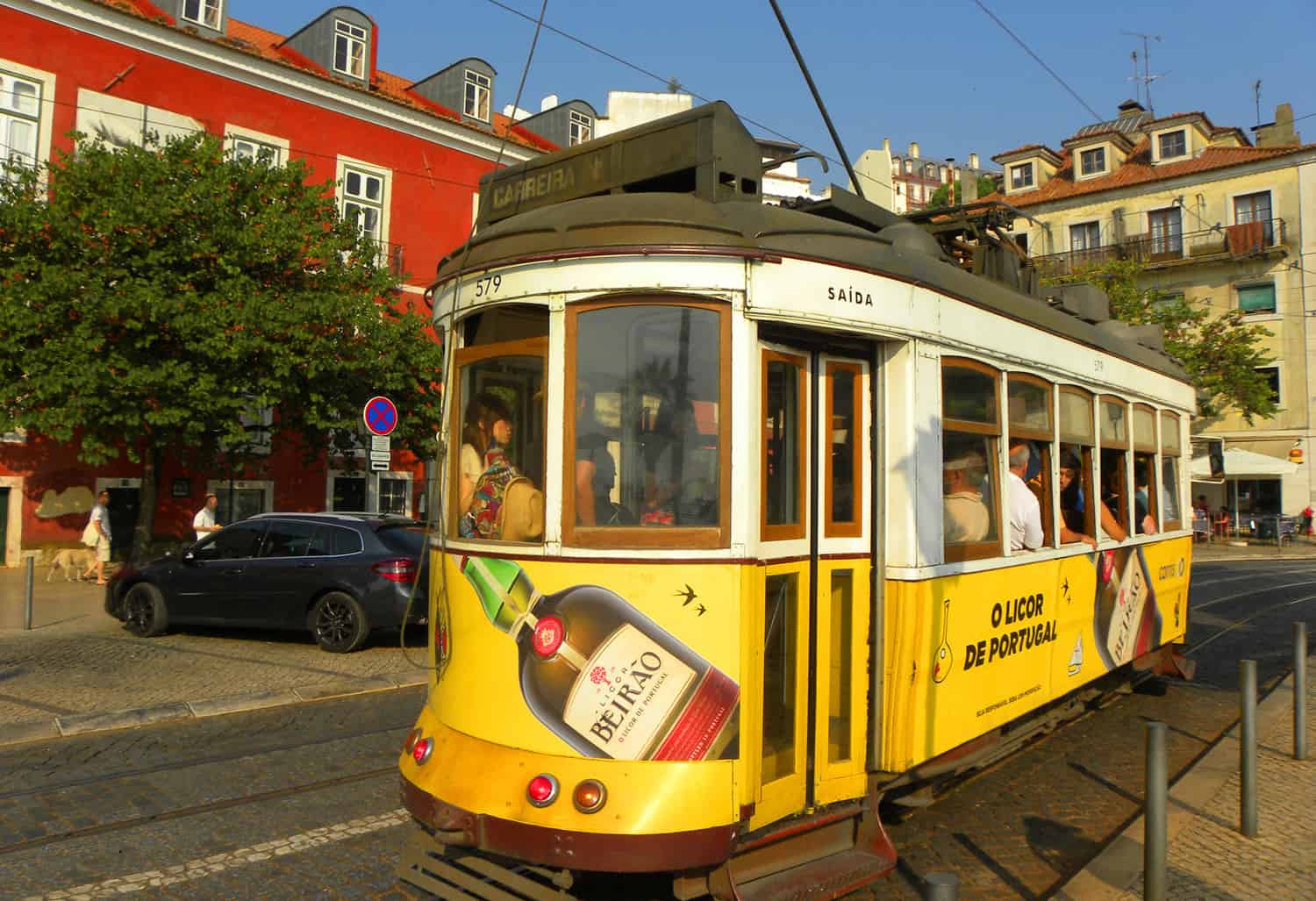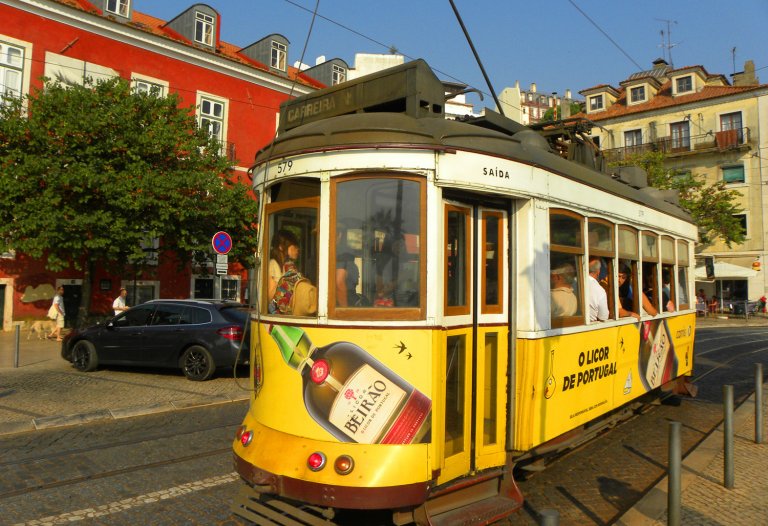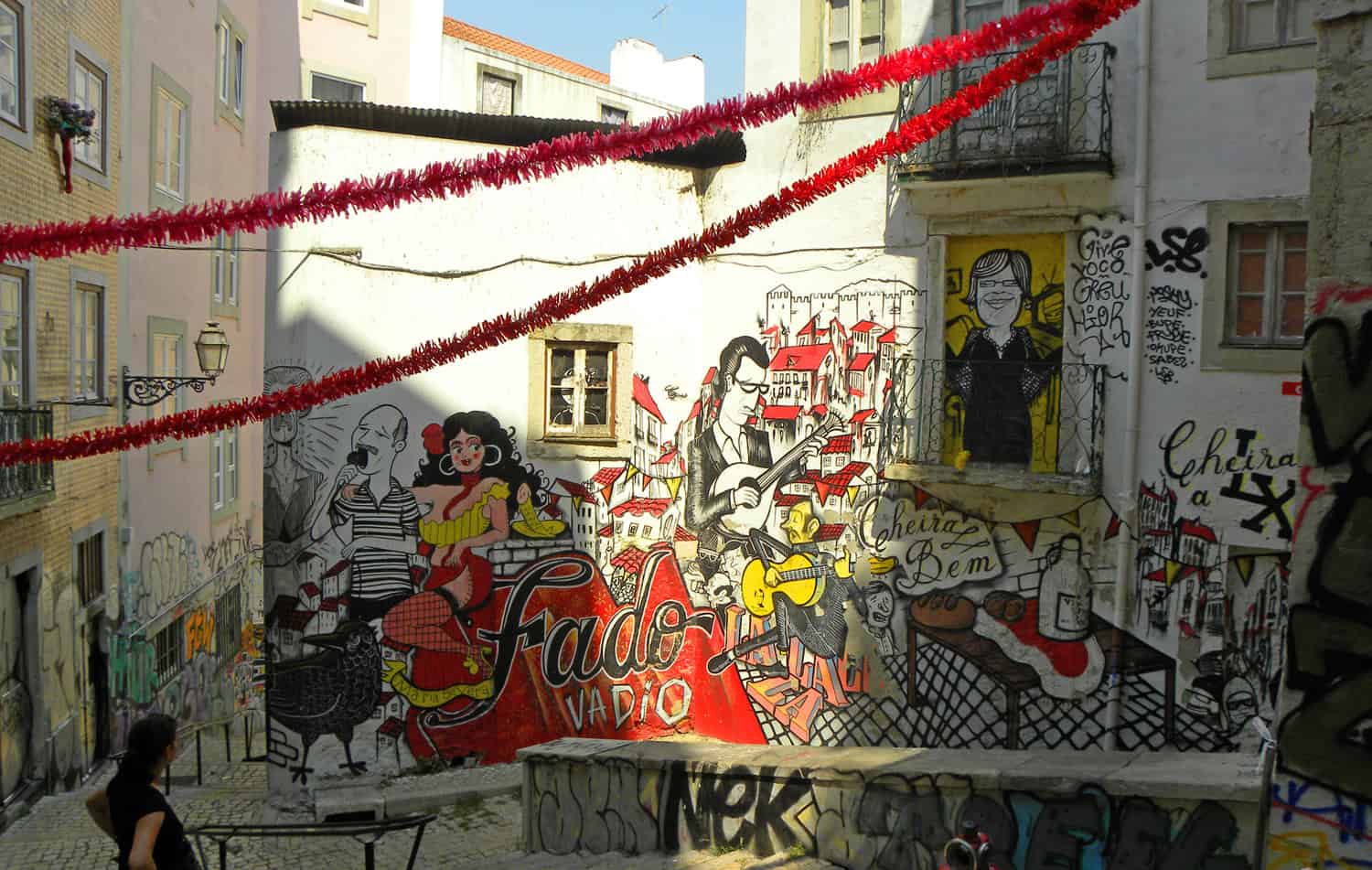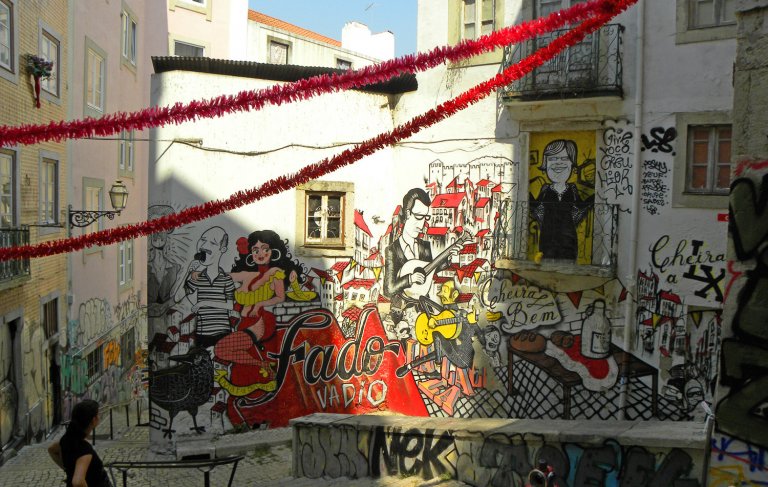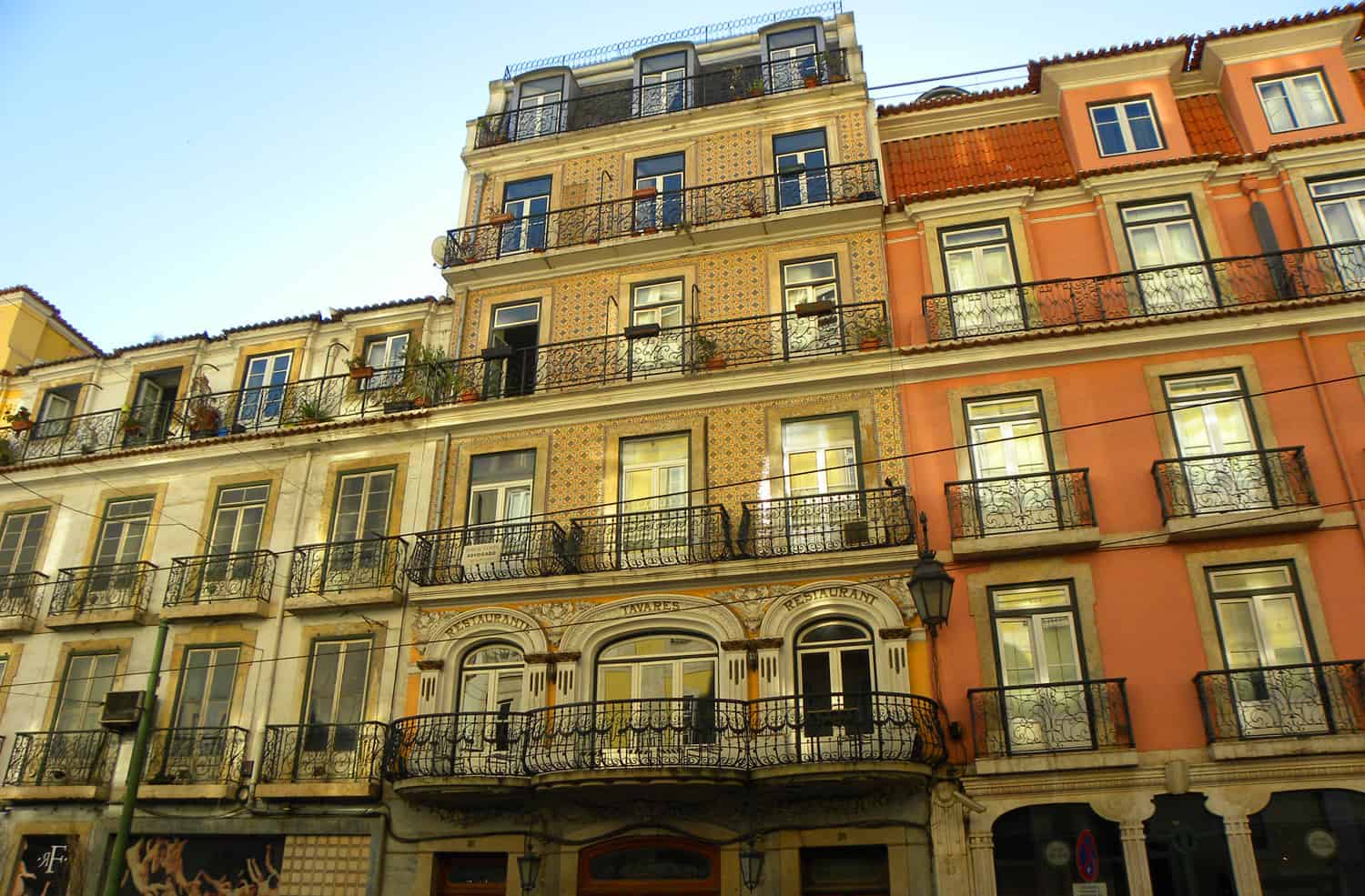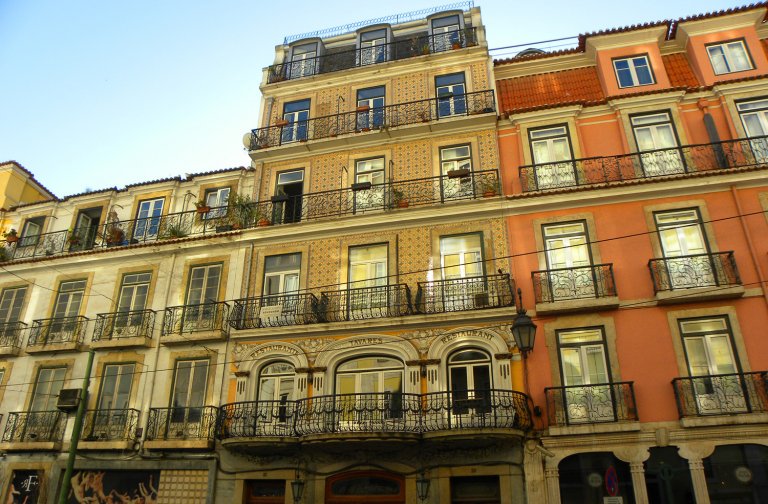 ---
---
Highlights in Lisbon


.
1. Jerónimos Monastery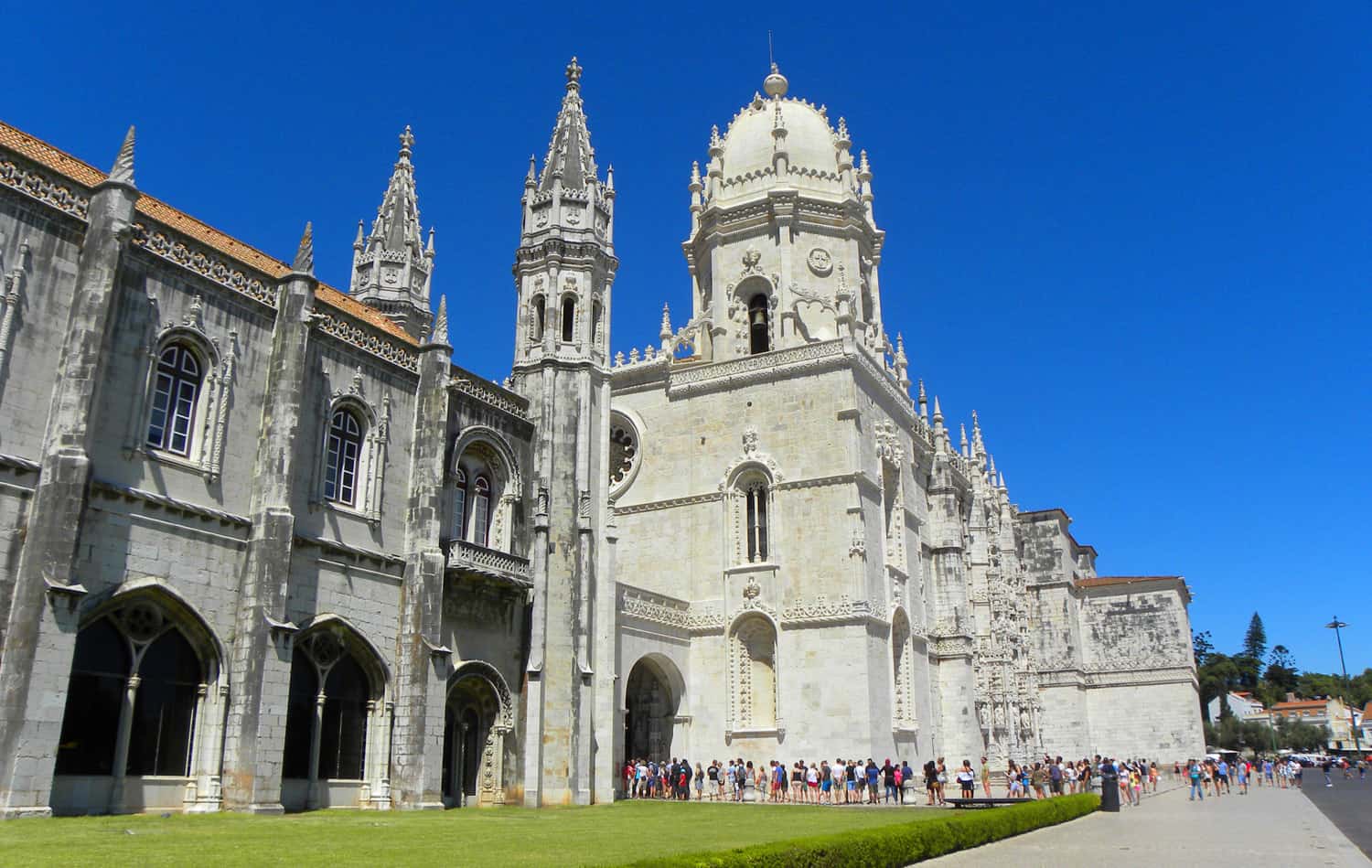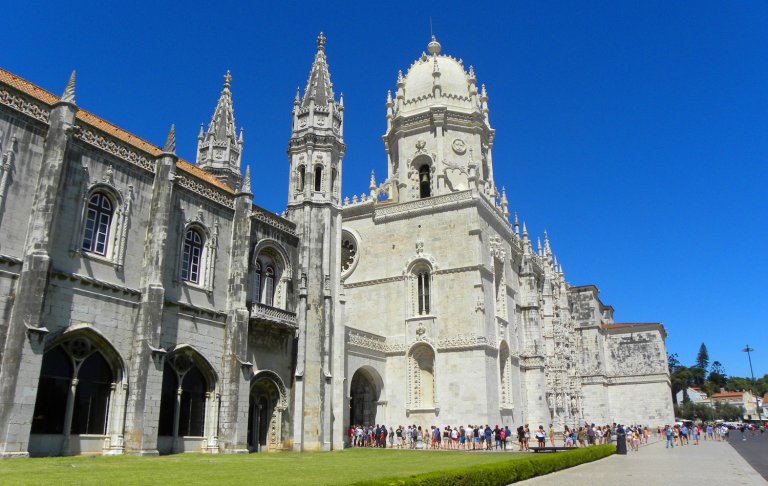 A UNESCO site, this monastery was built in 1502 to commemorate Vasco de Gama's journey to India. The cloisters have incredible detail, each column differently carved with coils of rope, sea monsters, coral, and other sea motifs. It symbolizes a time of world exploration at sea. Within the monastery is the church of Santa Maria, a spacious church with high, intricate columns and a beautiful vaulted ceiling. De Gama's Tomb lies within the church.
The Jerónimos Monastery is just incredible. It was our sightseeing highlight in Lisbon and is an absolute "must-see".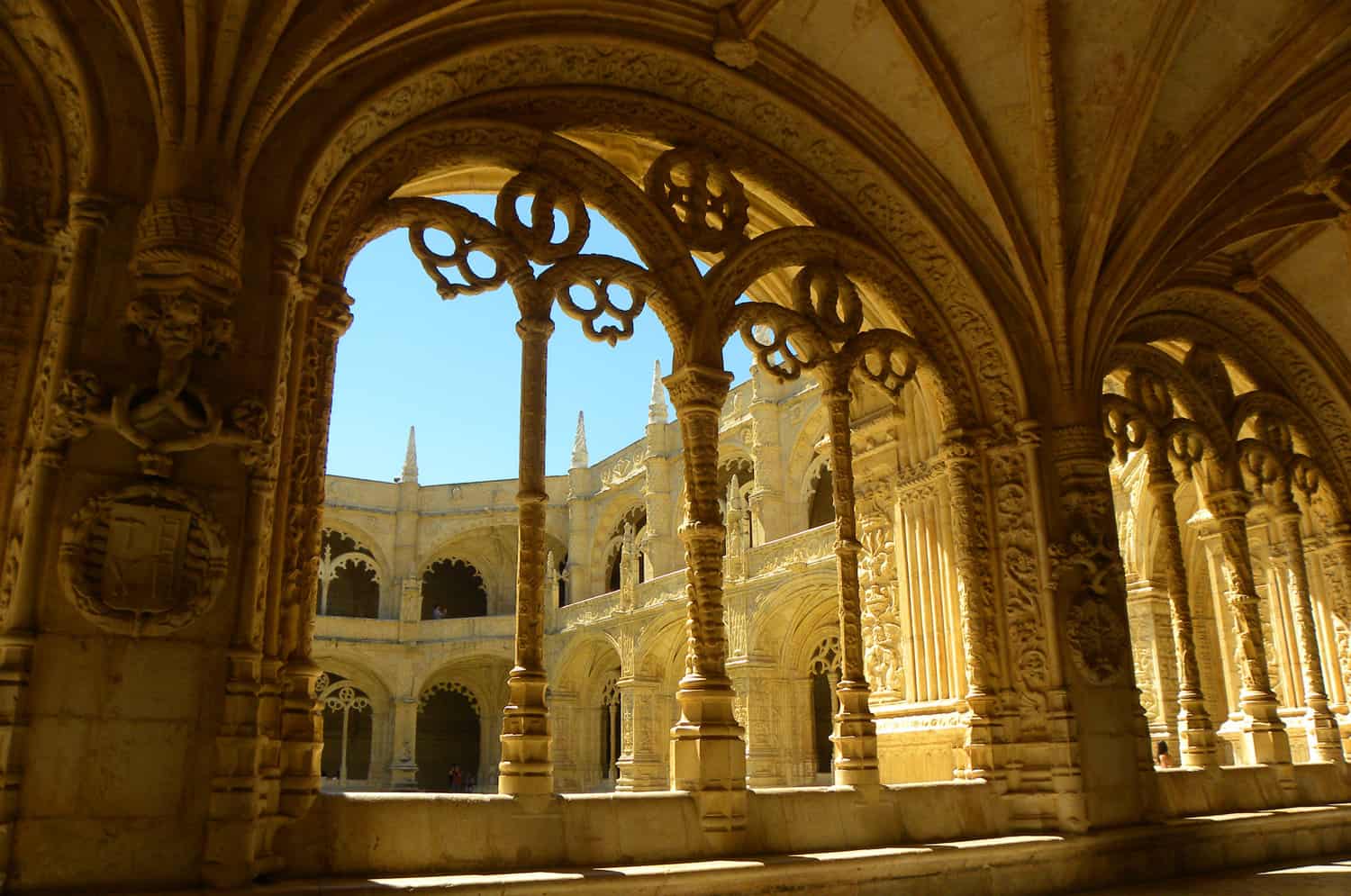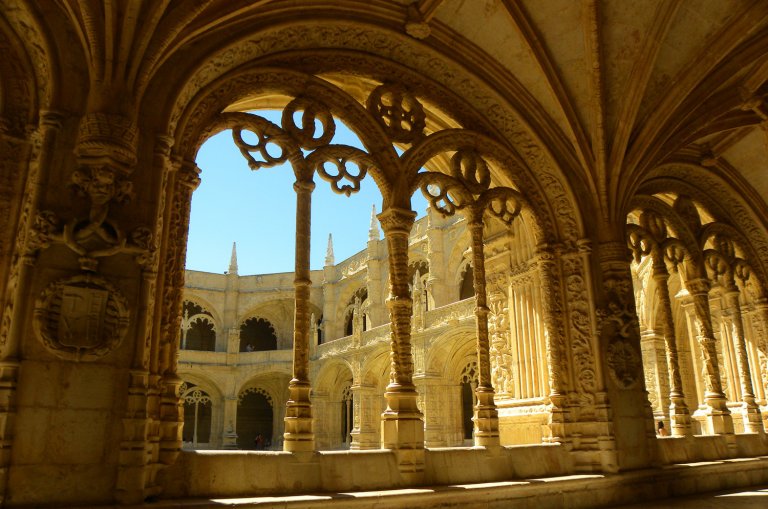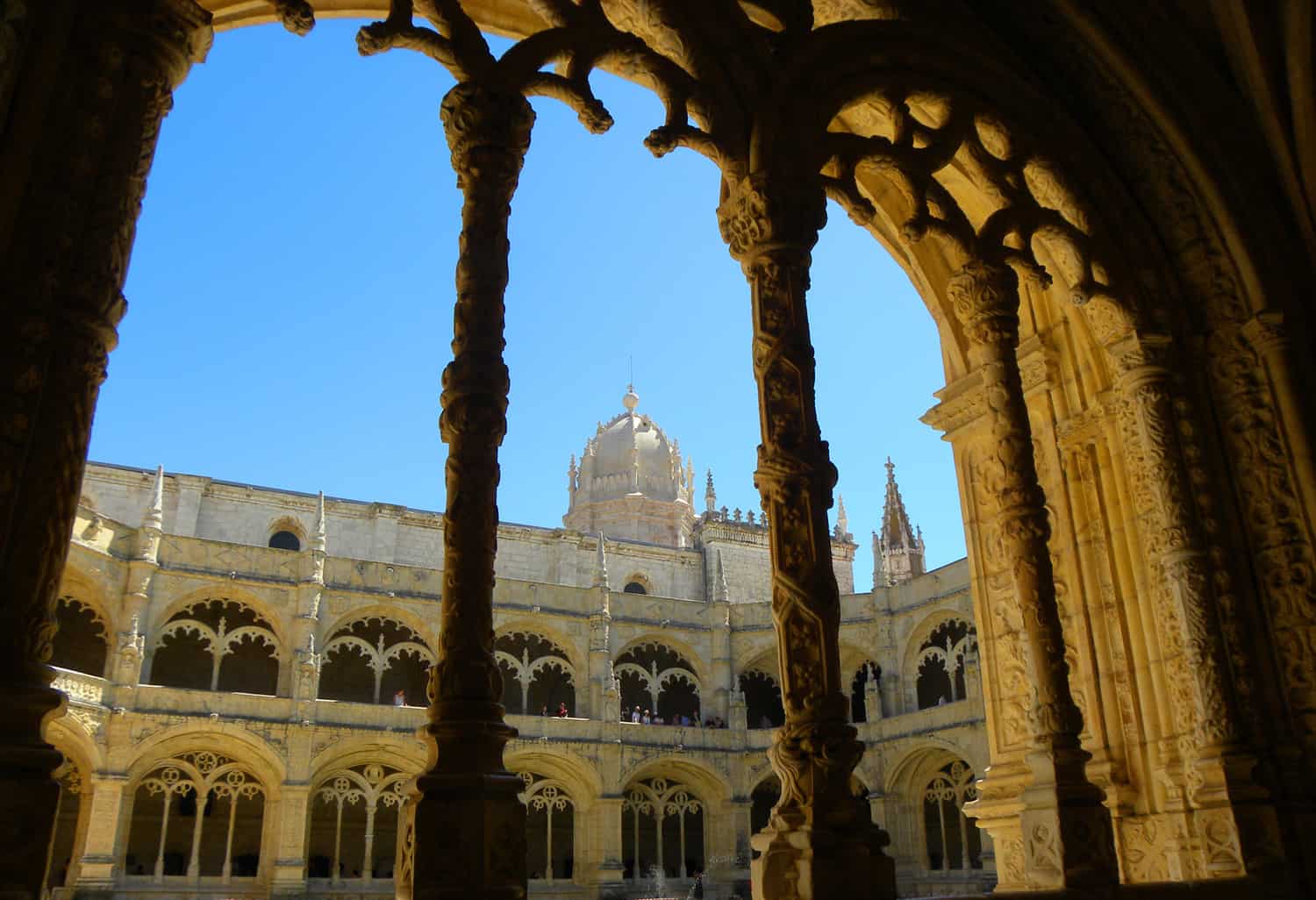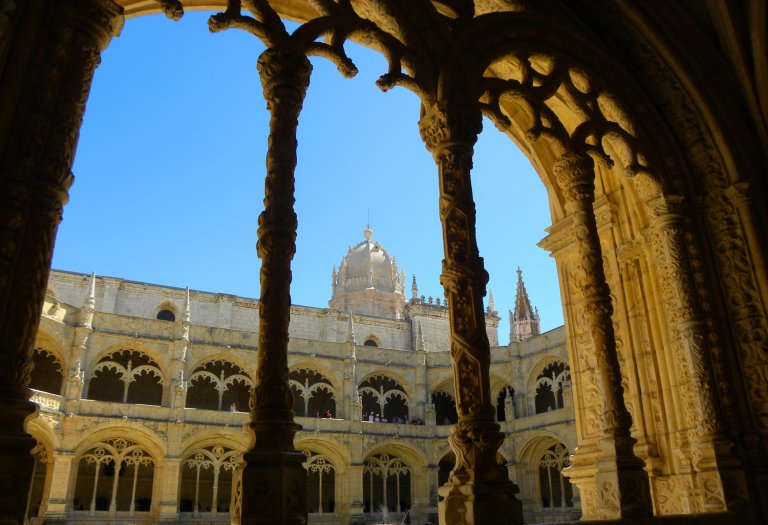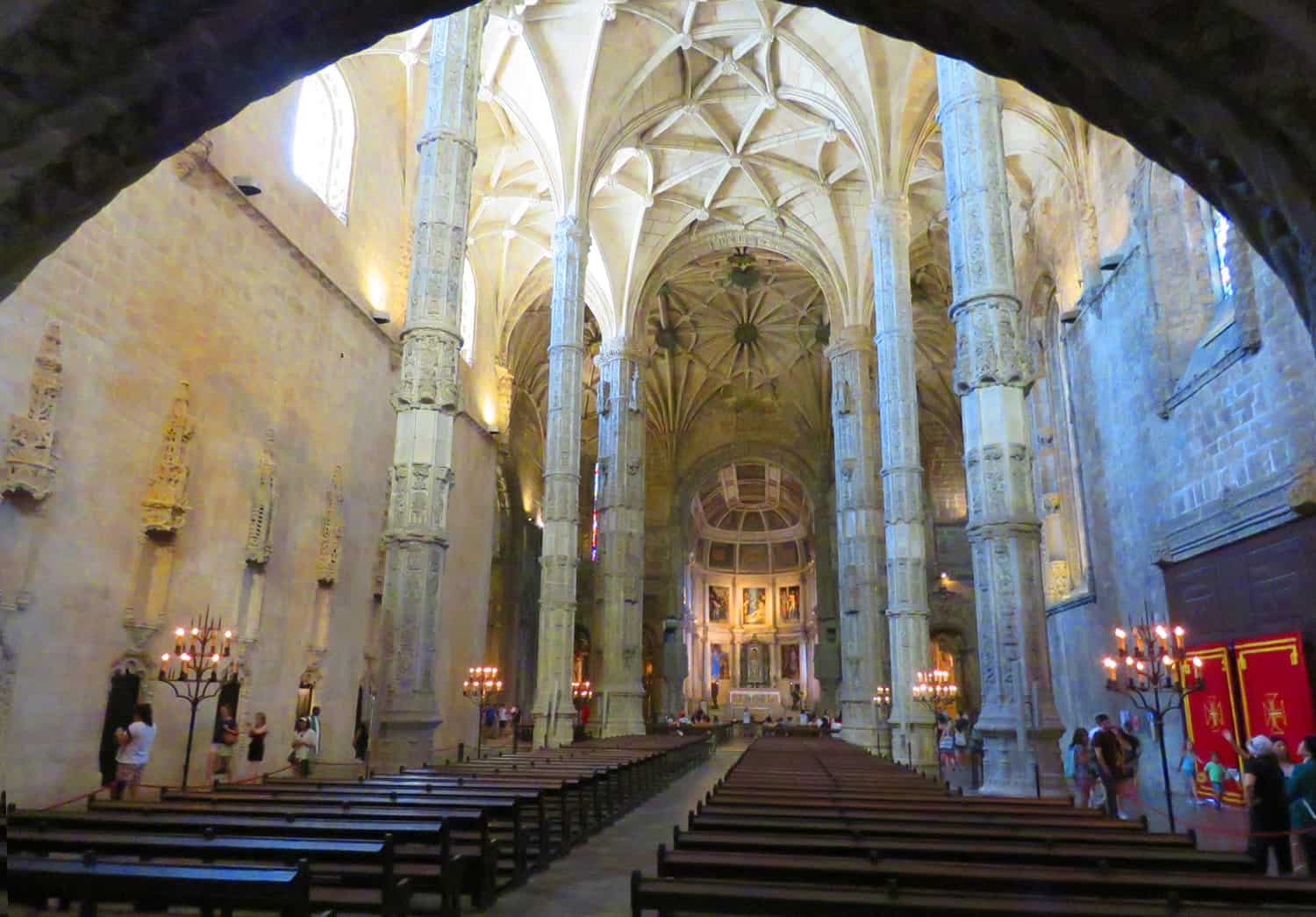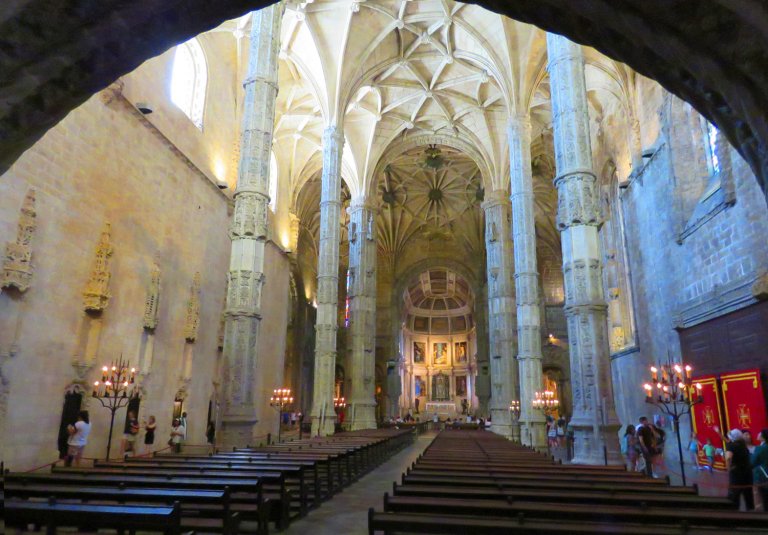 ---
---
.
2. National Tile Museum (Museu Nacional do Azulejo)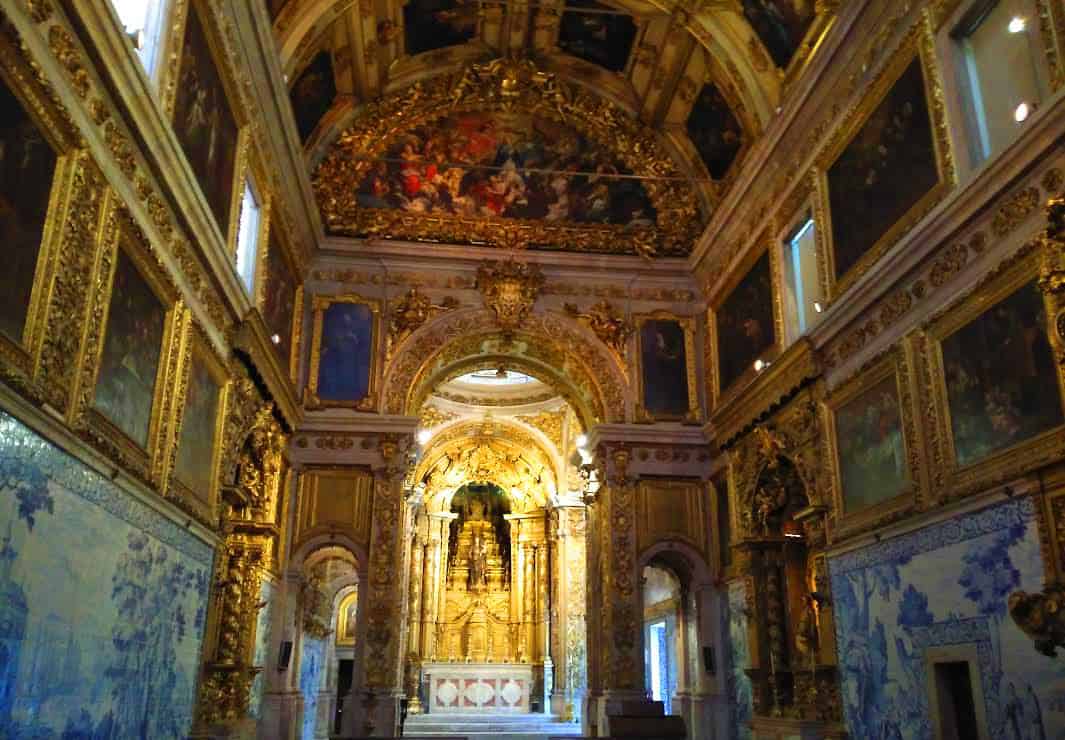 The National Tile Museum is housed in the 16th century Convent of Madre de Deus. The tiles (many dating back to the 15th century) are great – but the highlight for us was the site itself. The convent holds the Madre de Deus church which is small but spectacular with its tile work, baroque architecture, and a beautifully panelled ceiling.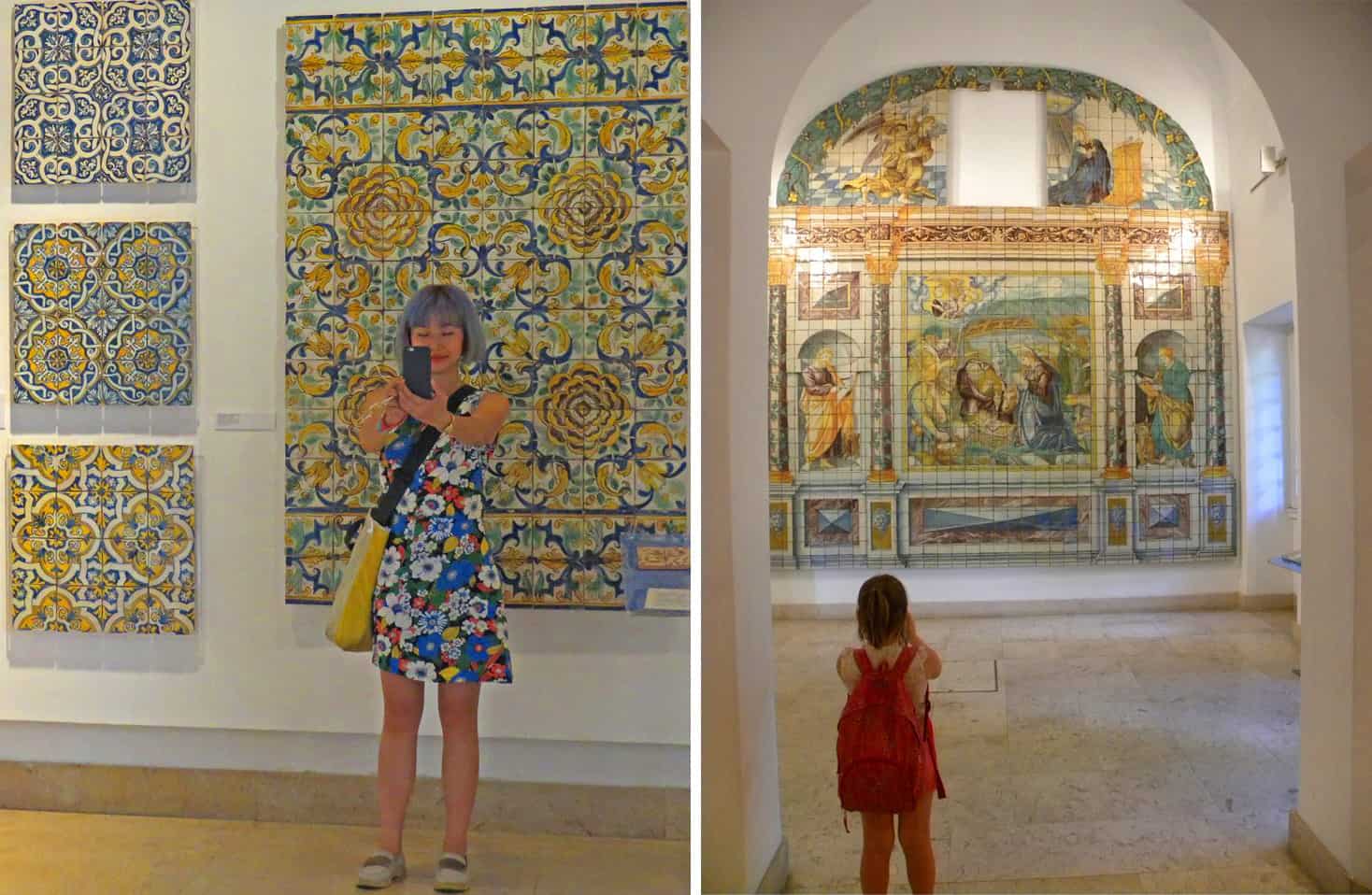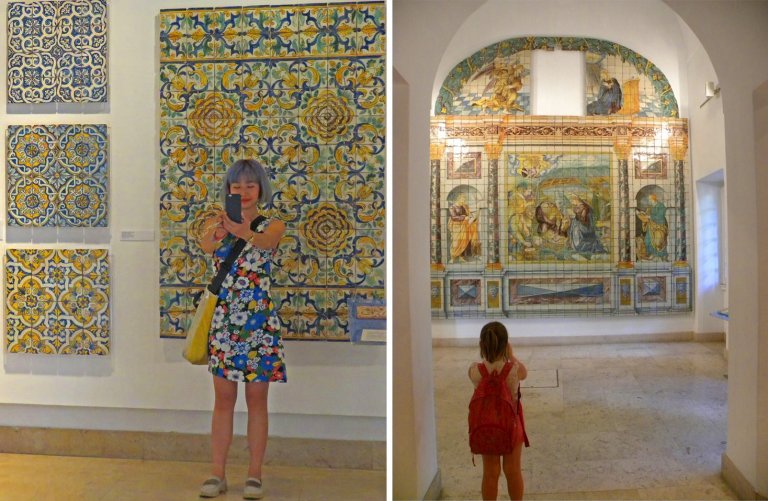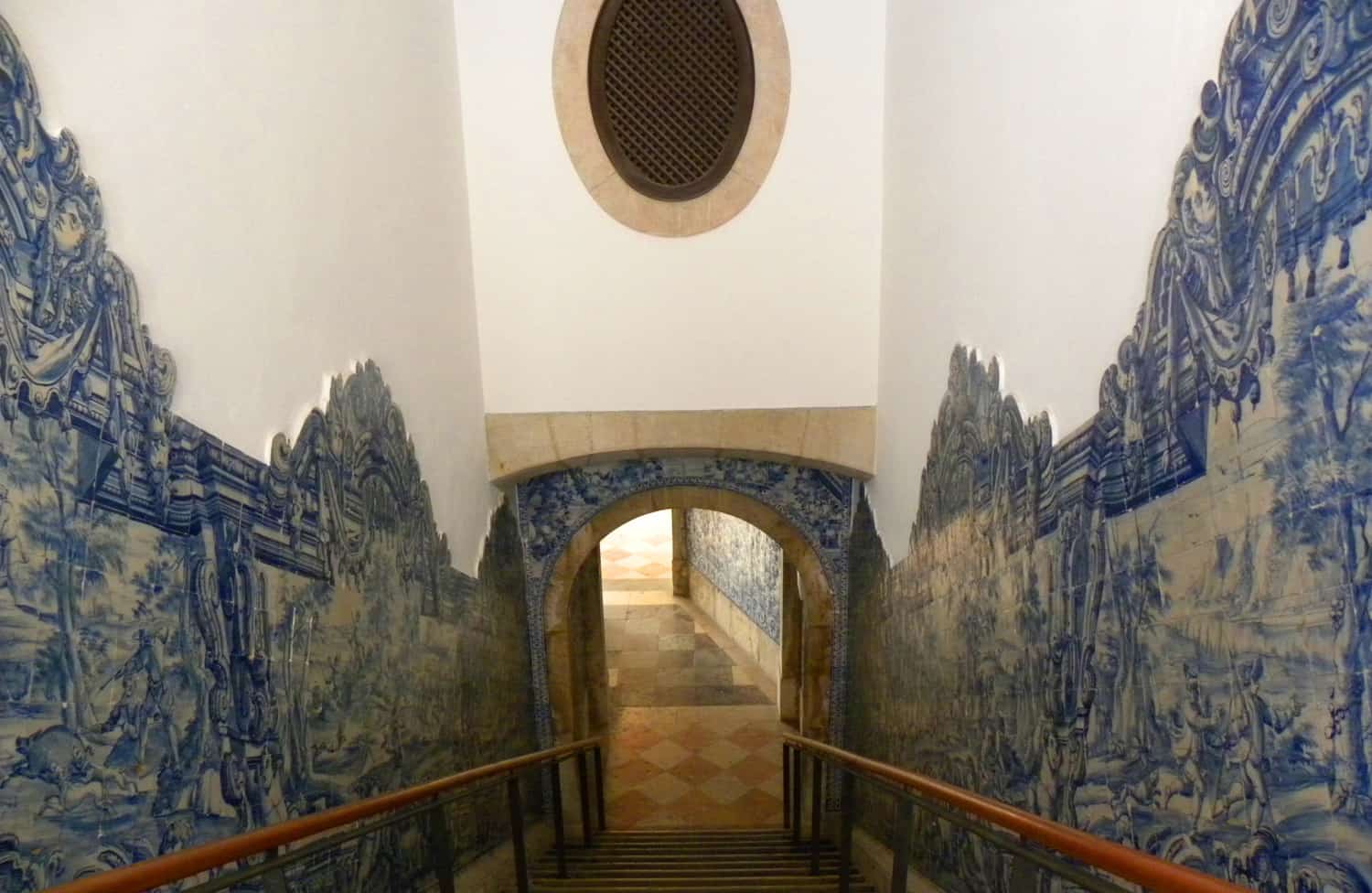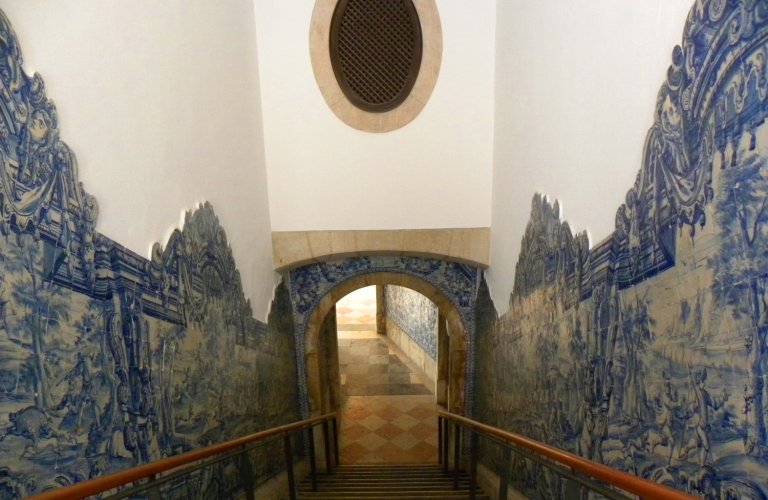 .
3. Santa Justa Lift (Elevador de Santa Justa)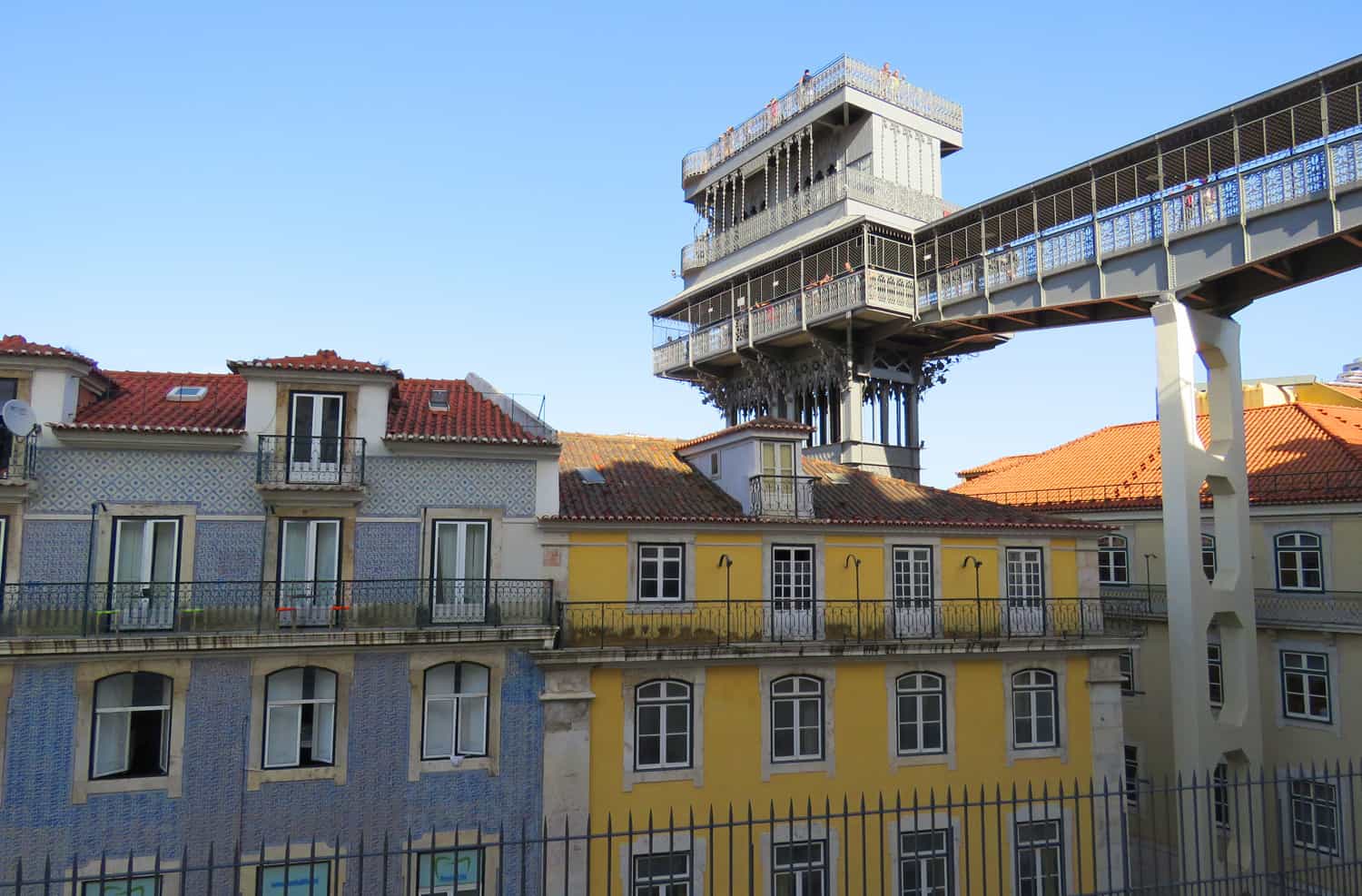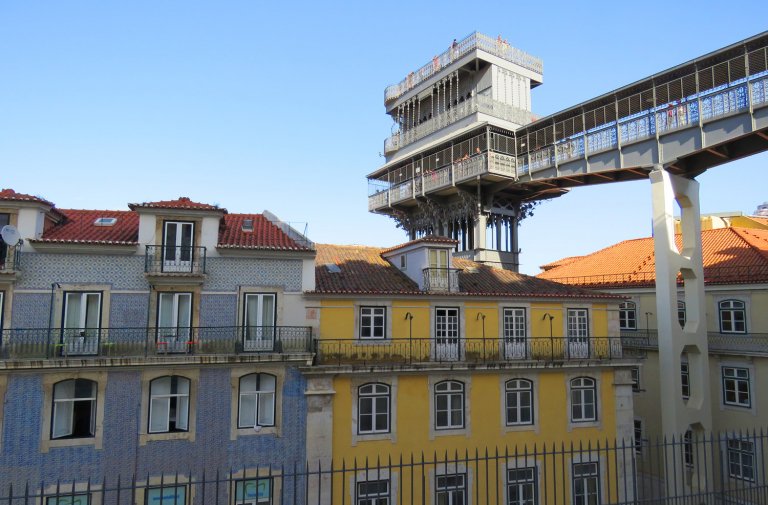 This elevator connects the lower Baixa (downtown) to the Carmo Church in the upper Bairro Alto. It's a really cool structure, designed by a French architect who worked with Gustave Eiffel in the construction of the Eiffel tower. The upper level of the elevator has some of the most impressive views in the city, including of the Carmo church.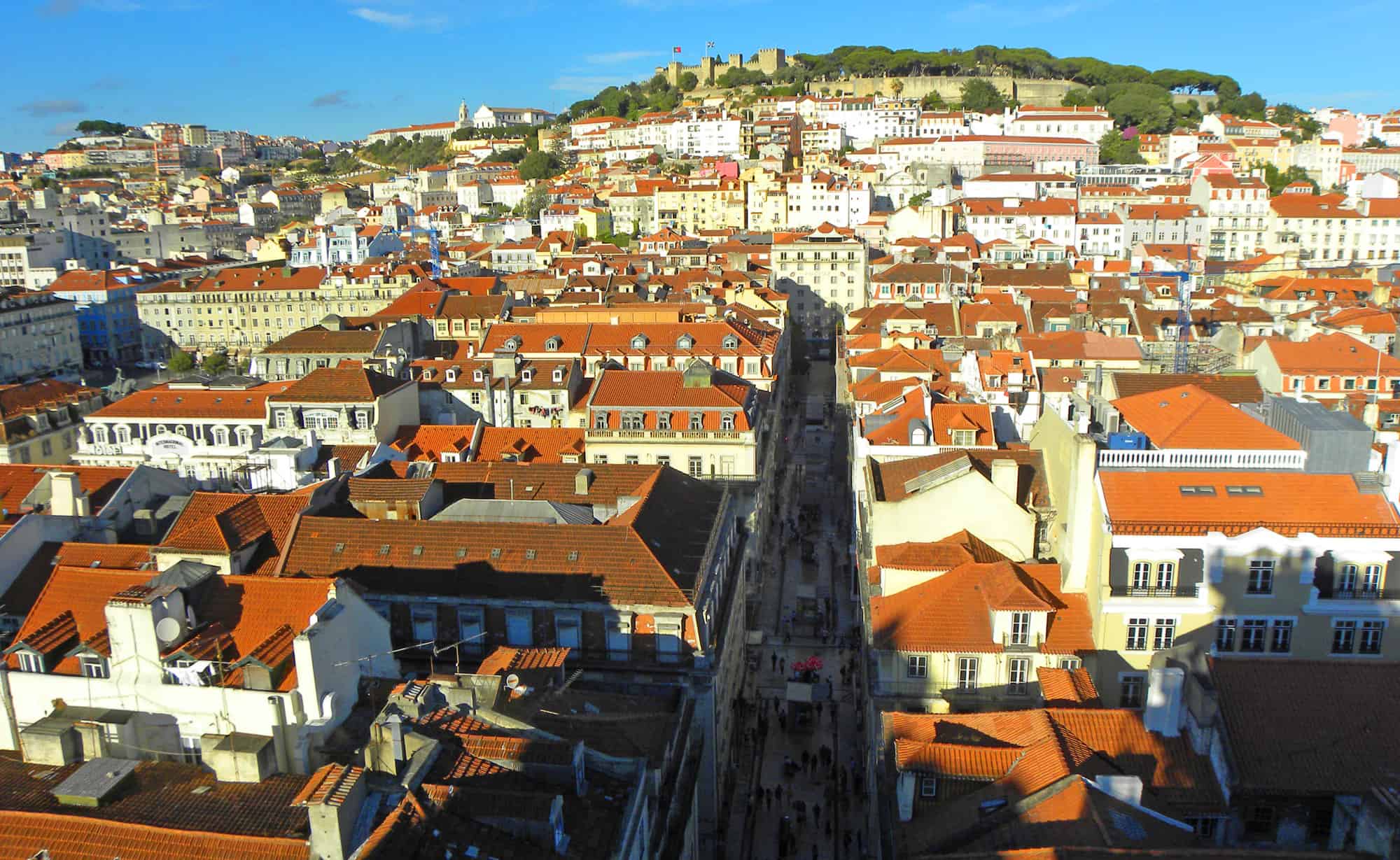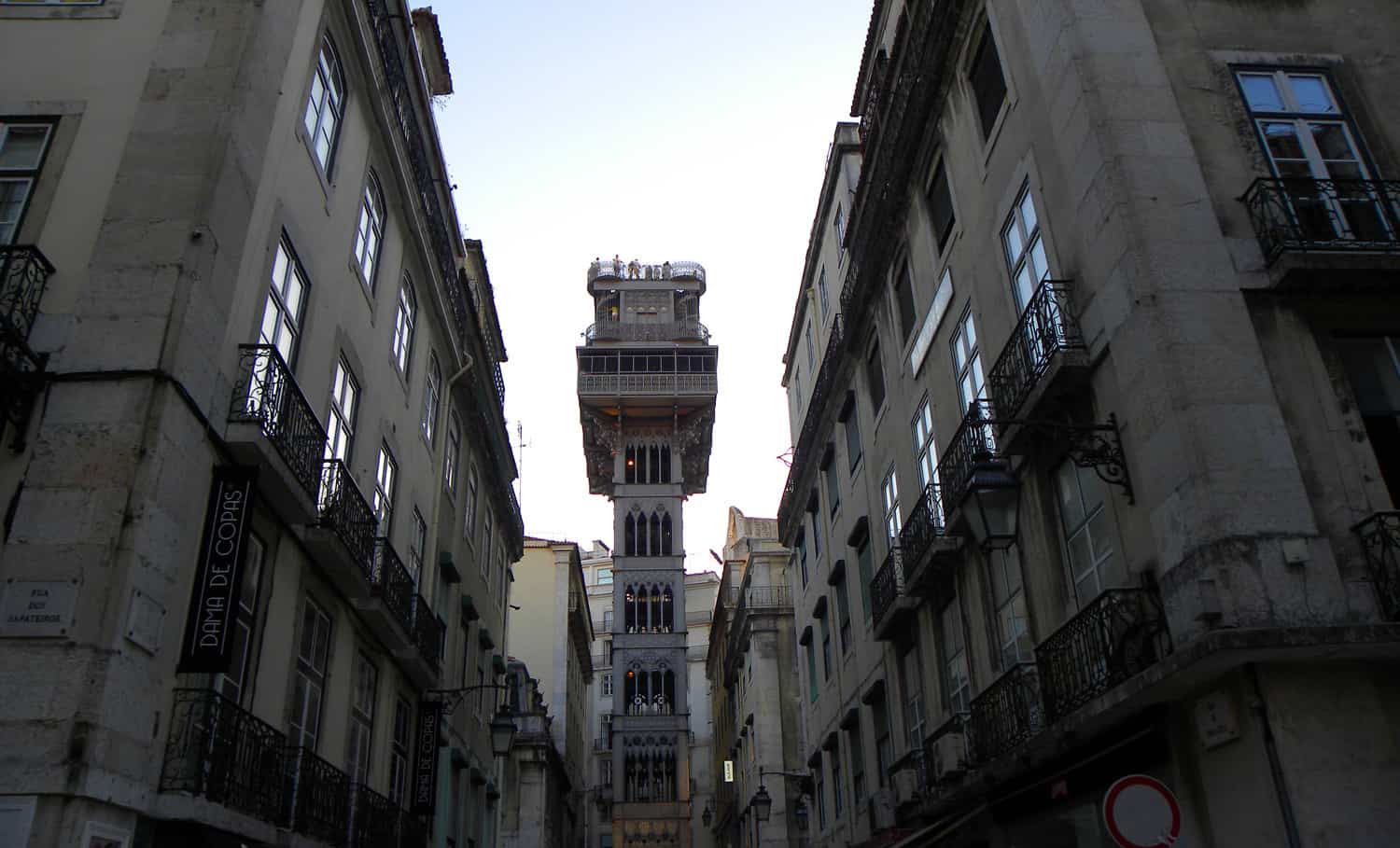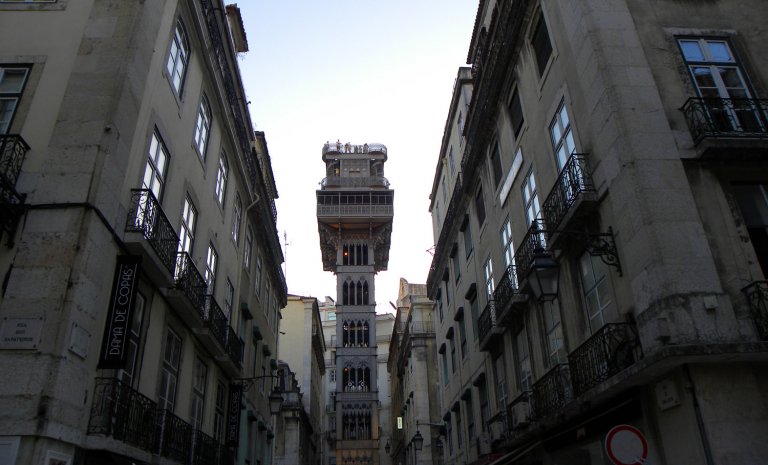 ---
---
.
4. Carmo Church (Igreja do Carmo)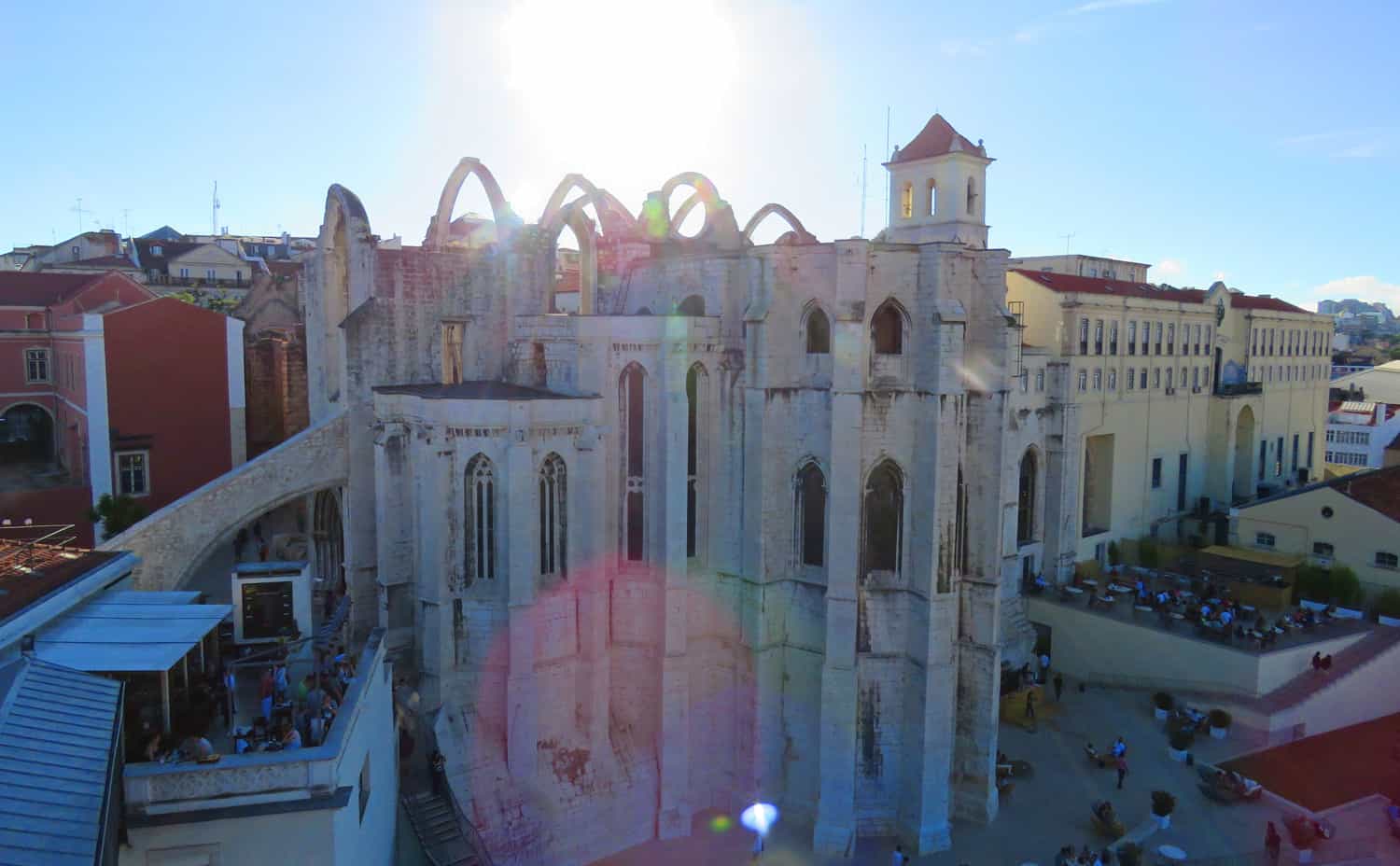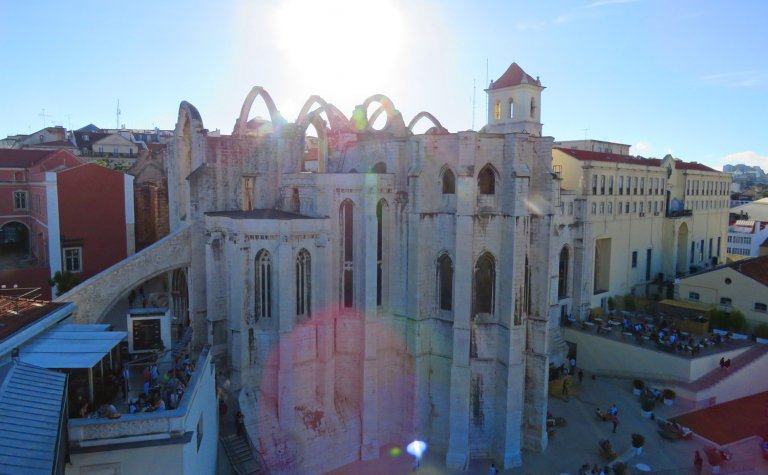 This church, finished in 1423, was once the city's most important church. On November the 1st 1755 a massive earthquake hit Lisbon. The church's roof collapsed, killing hundreds who were gathered there for worship. The church was never rebuilt. Today it houses an archaeological museum.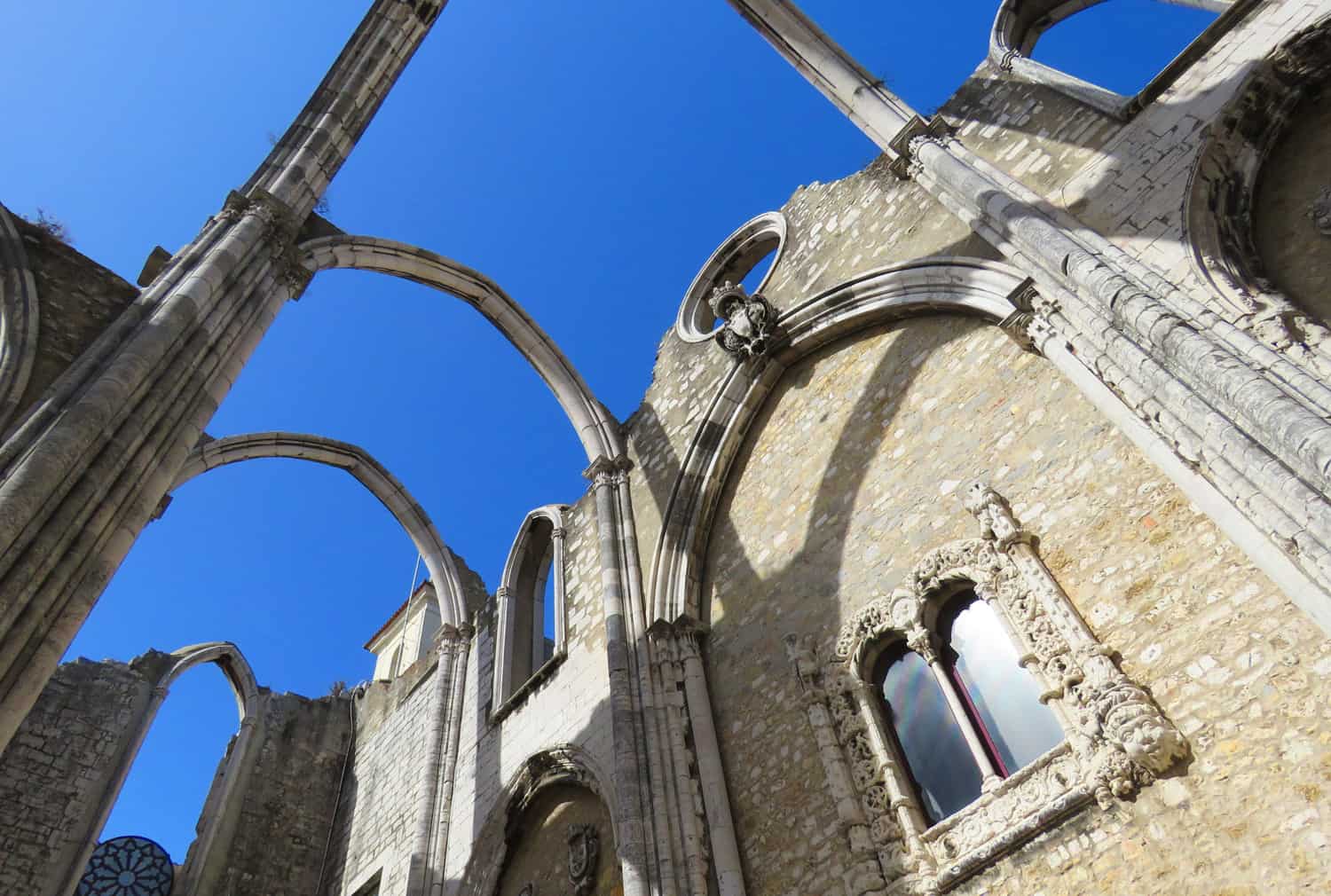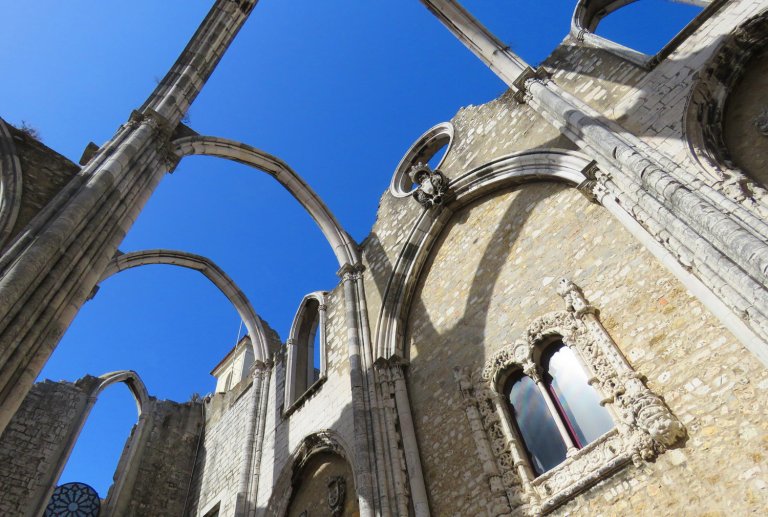 .
5. São Domingos church (Igreja de São Domingos)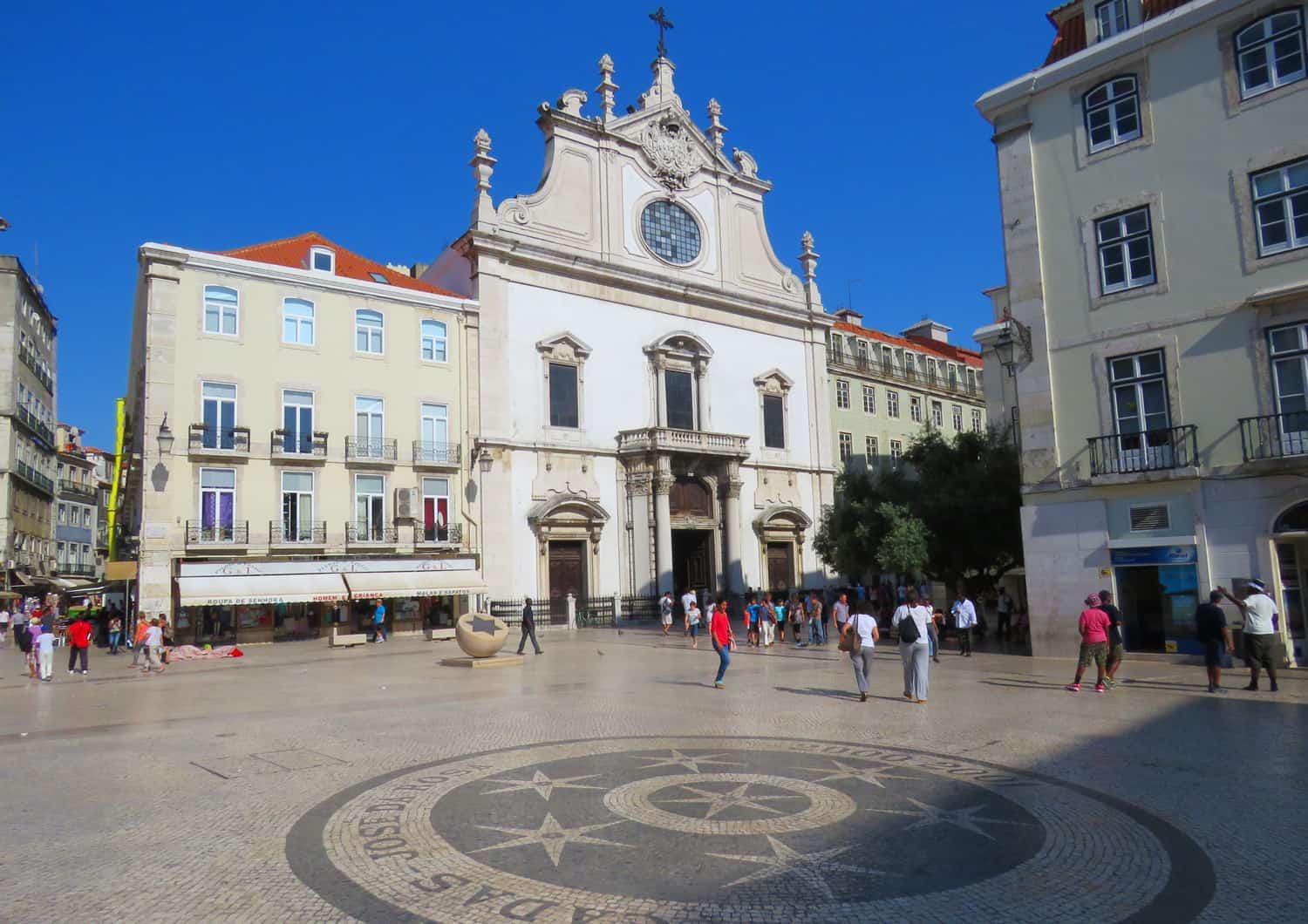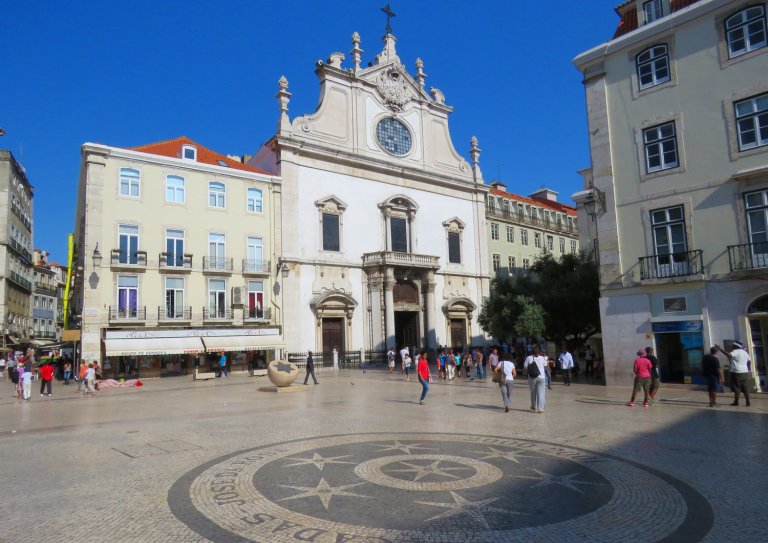 Famous for all it's been through: an earthquake in 1531, another in 1755 (the one that destroyed most of downtown Lisbon), and a major fire in 1959. This church looks really old and beaten up, unlike many restored churches you see these days.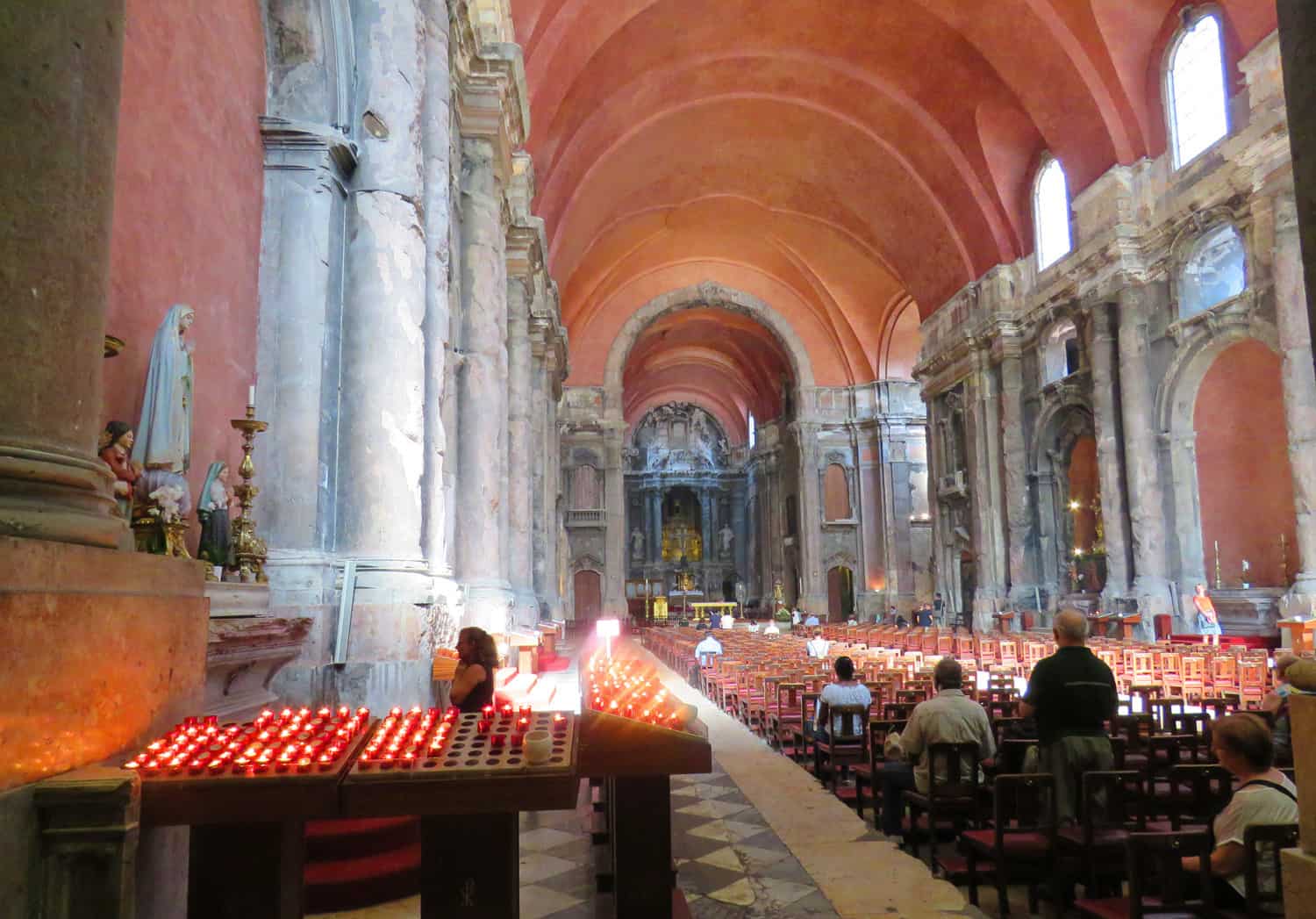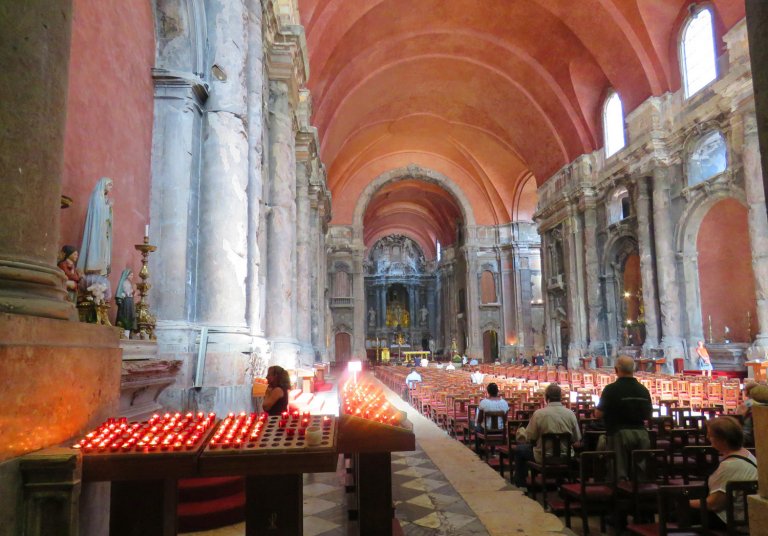 ---
---
.
6. Igreja de São Roque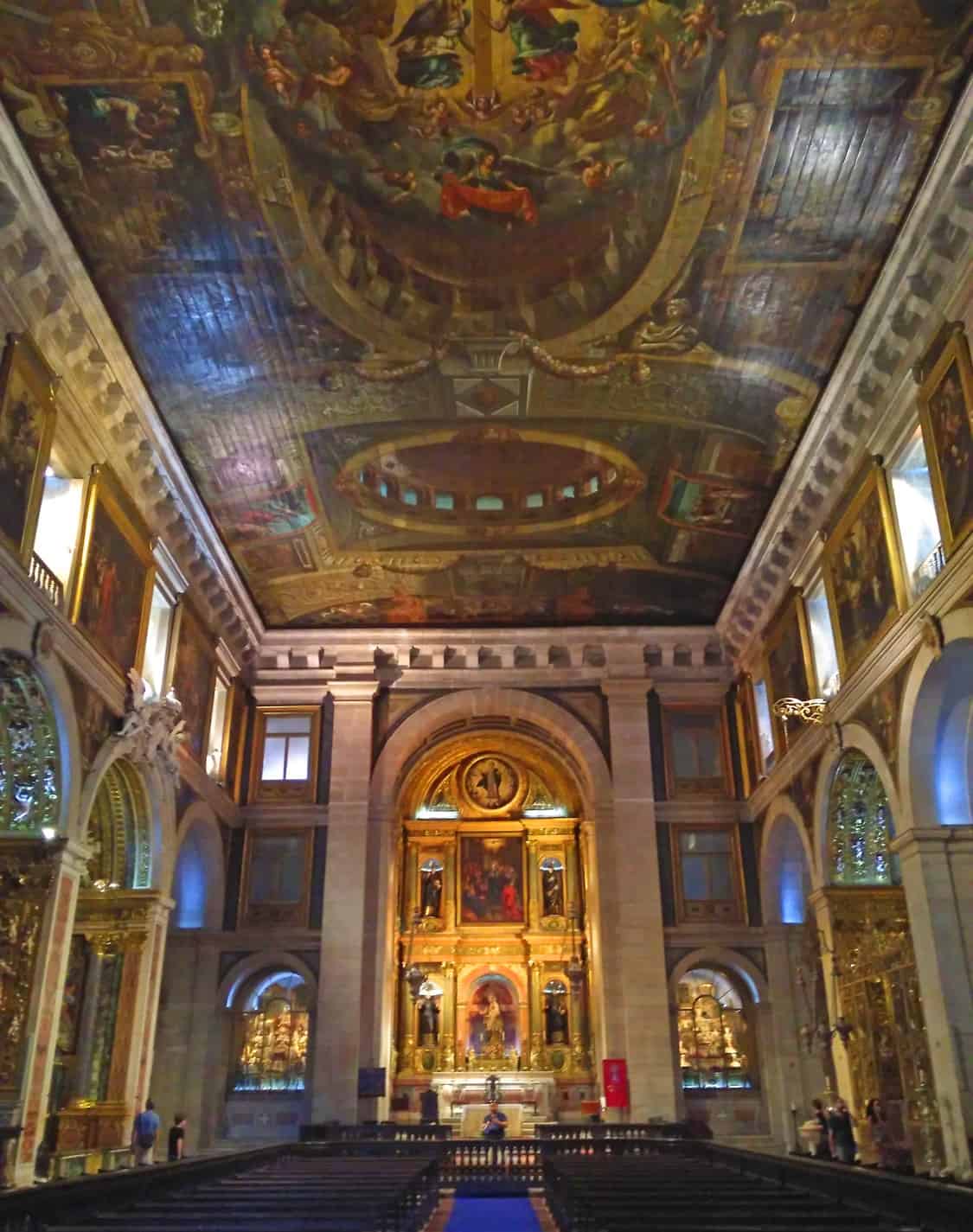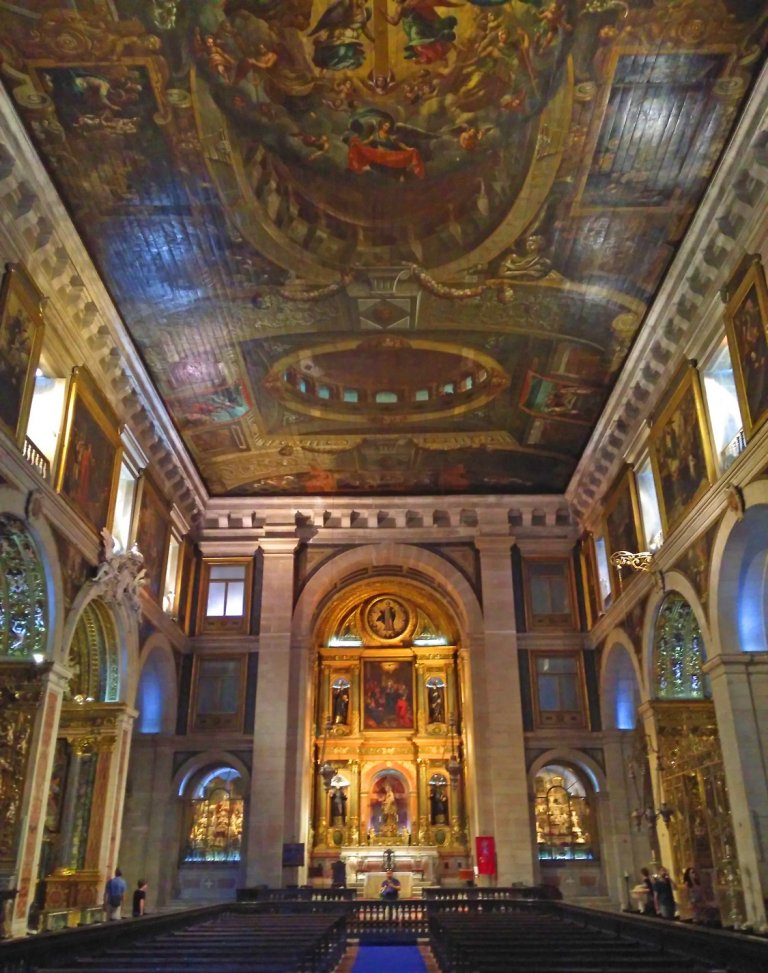 The Church of Sao Roque is known for having the most impressive church interior of any church in Lisbon. Located in the Bairro Alto.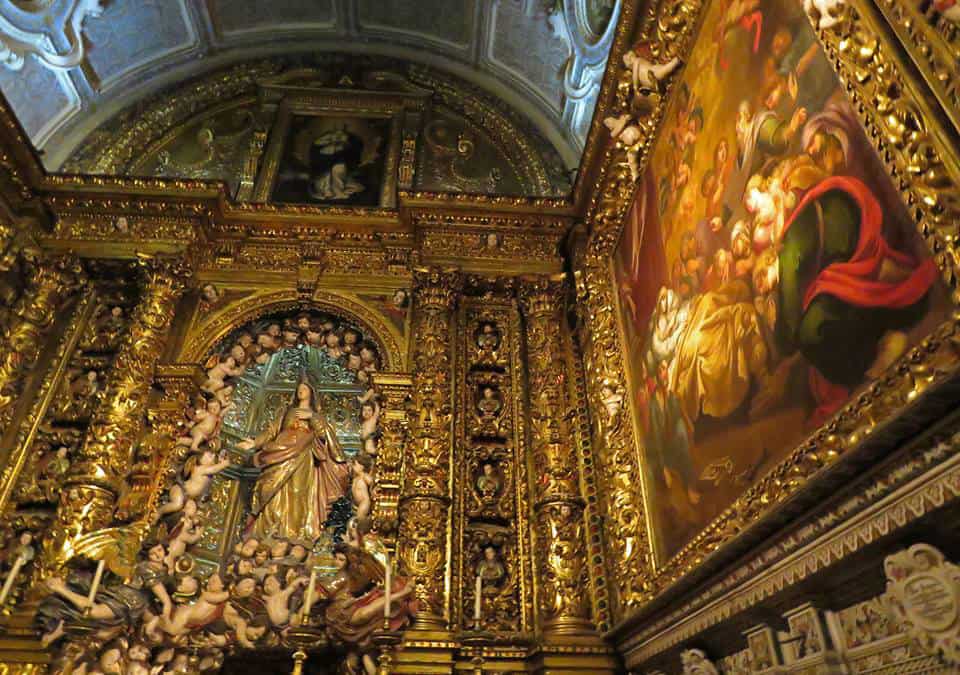 7. Praça do Comércio and the Arco da Rua Augusta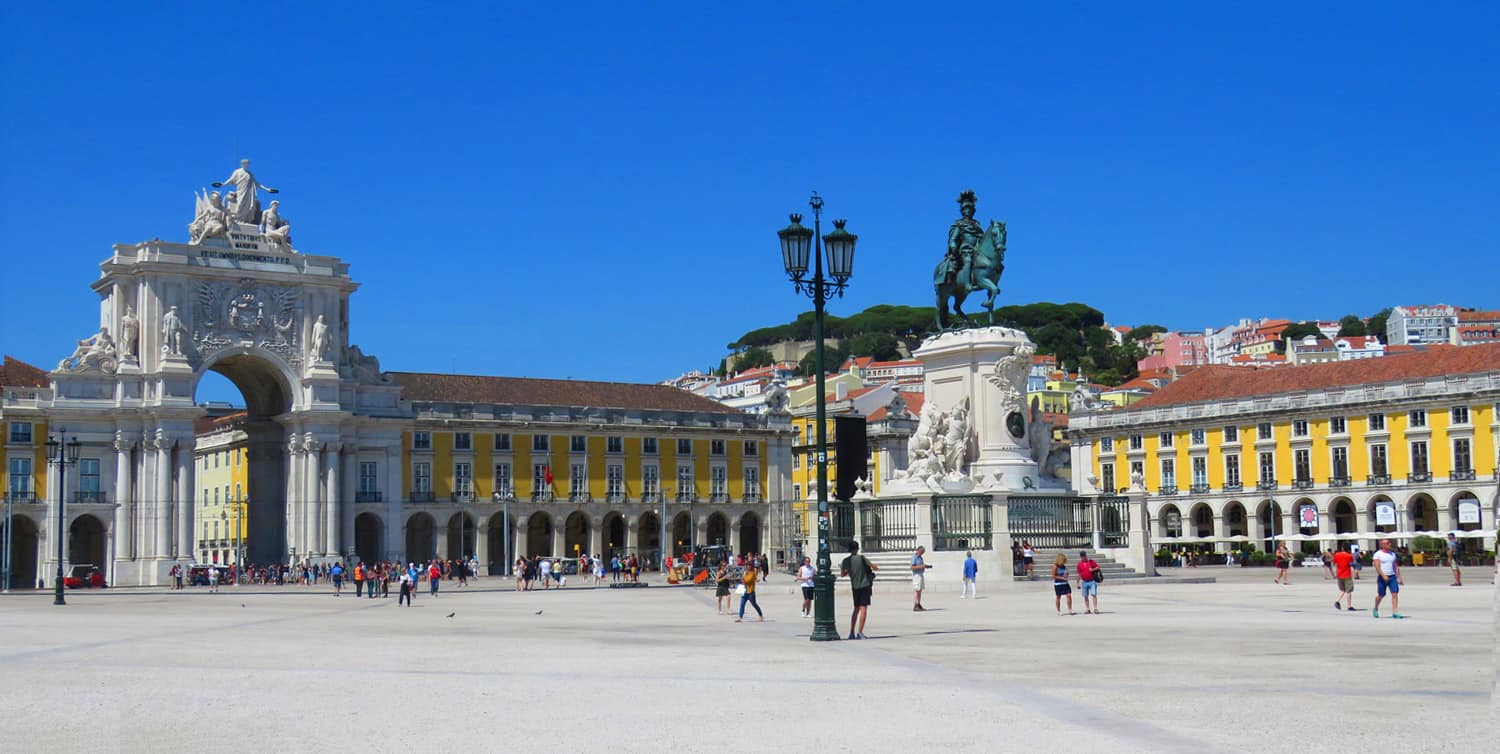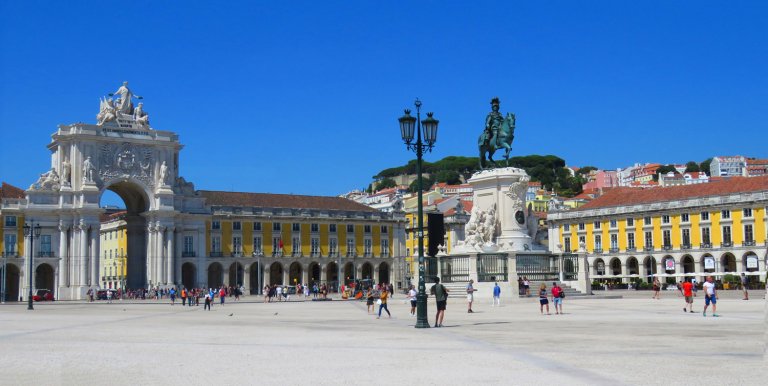 Praça do Comércio, Lisbon's largest square situated next to the river. People will crucify me for saying this – but it's not very interesting. But you'll eventually find your way here when walking around downtown. The highlight is the Rua Augusta Arch which was built to mark the reconstruction of the city after the 1755 earthquake (you can take the elevator up to the top of the arch for views of downtown. I cover that further below). The Rua Augusta leads from the square through the Baixa (downtown) to Rossio square.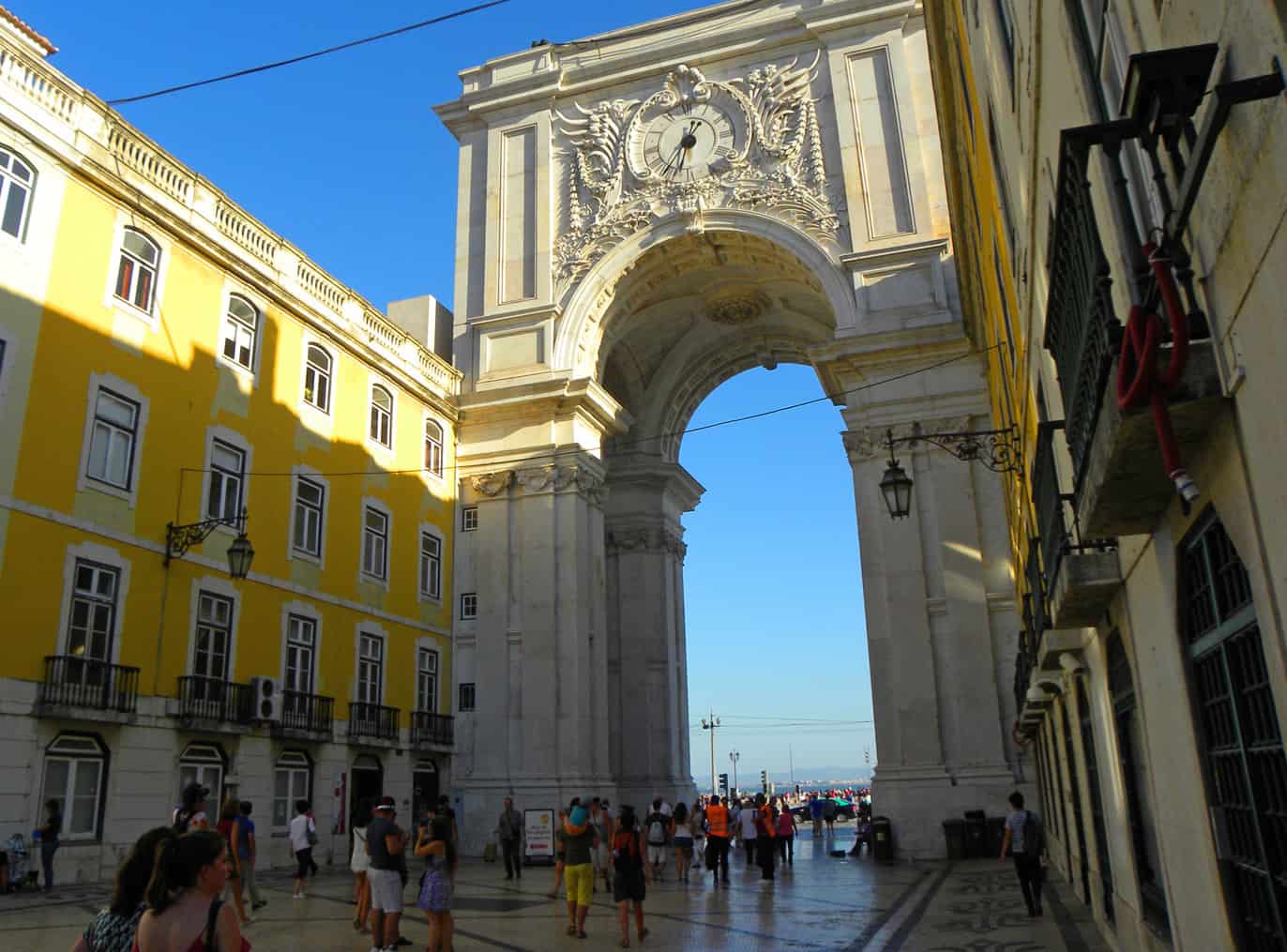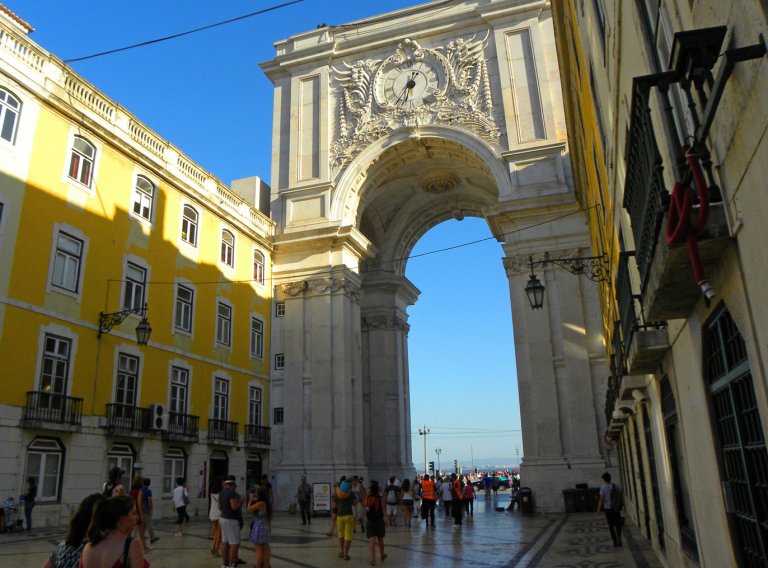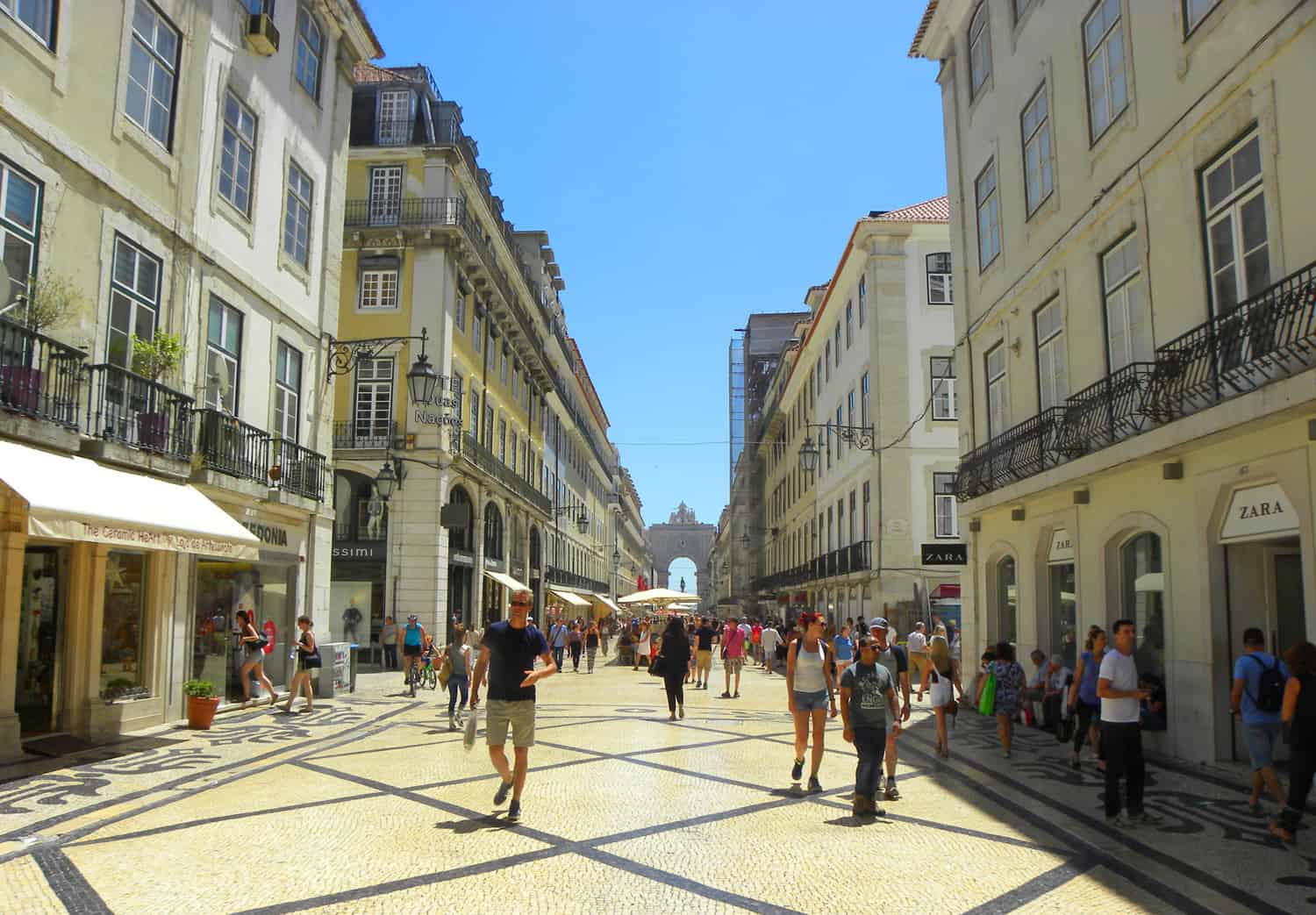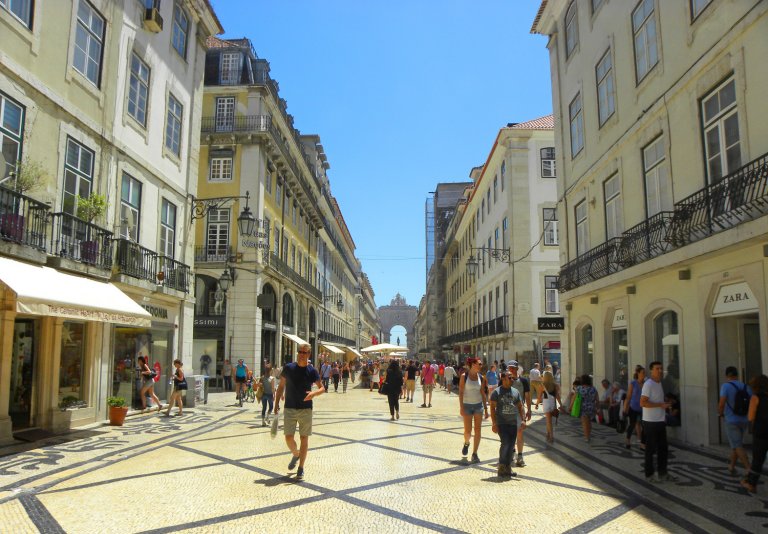 ---
---
.
8. São Jorge Castle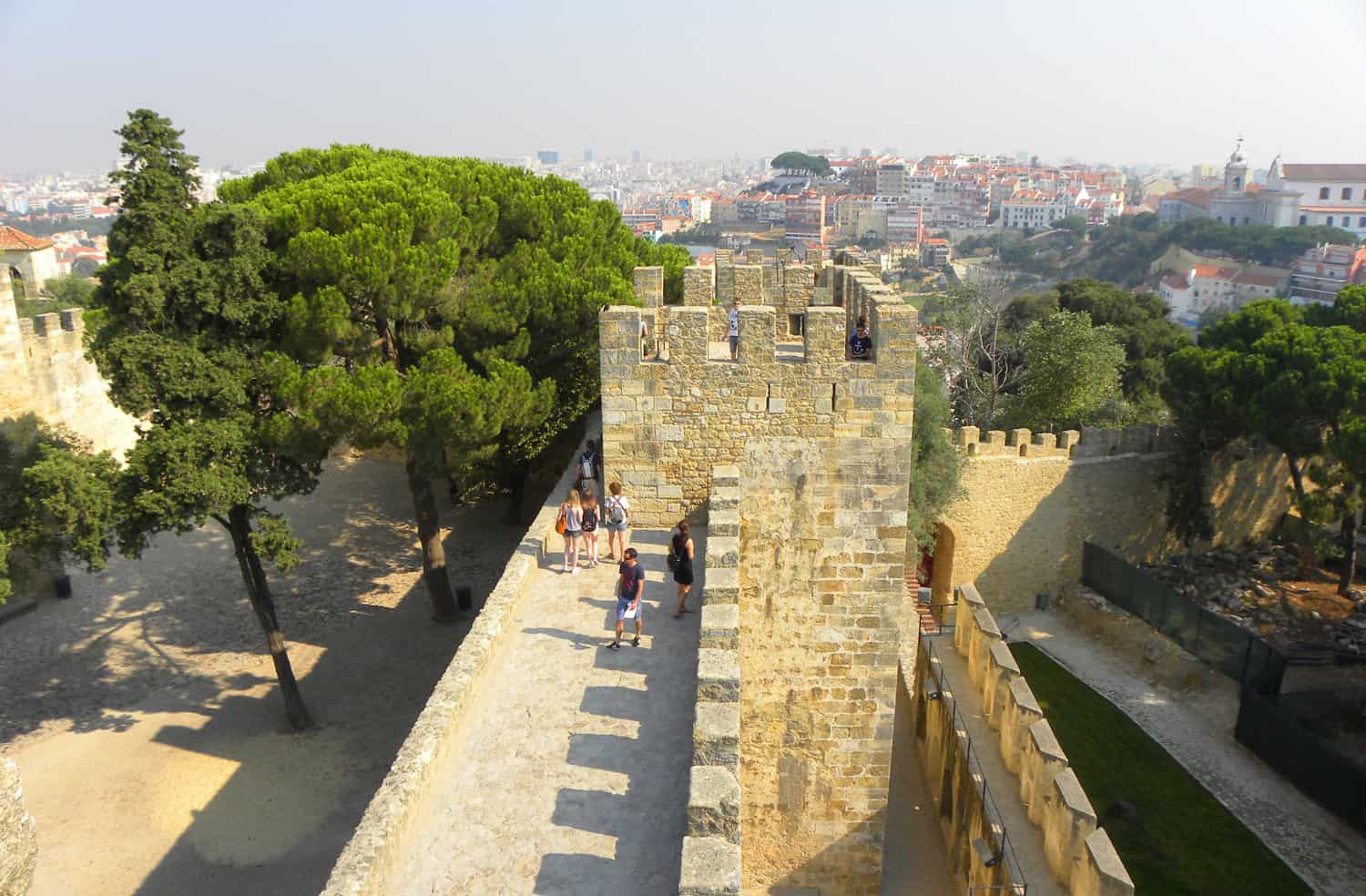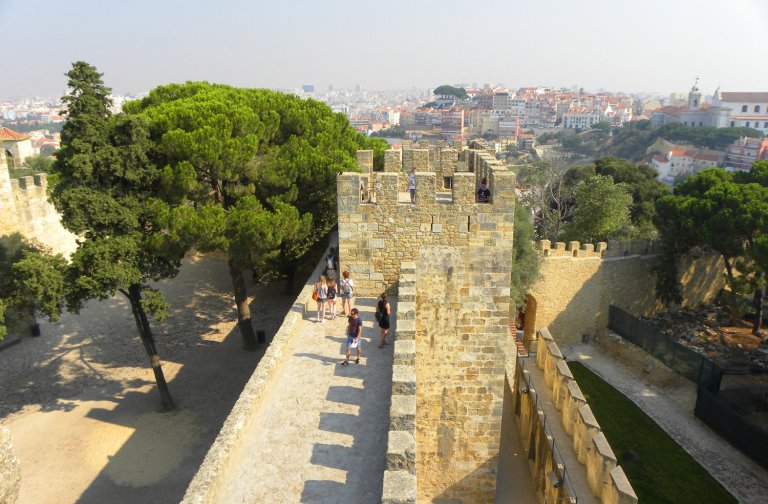 The most popular tourist site in Lisbon is São Jorge Castle. Built by the Moors in the 10th century, it was conquered by Christians in 1147 and would become the fortified residence of the governor when Lisbon became capital of the Kingdom in 1255. The castle sits on a hill overlooking central Lisbon and has great views in all directions.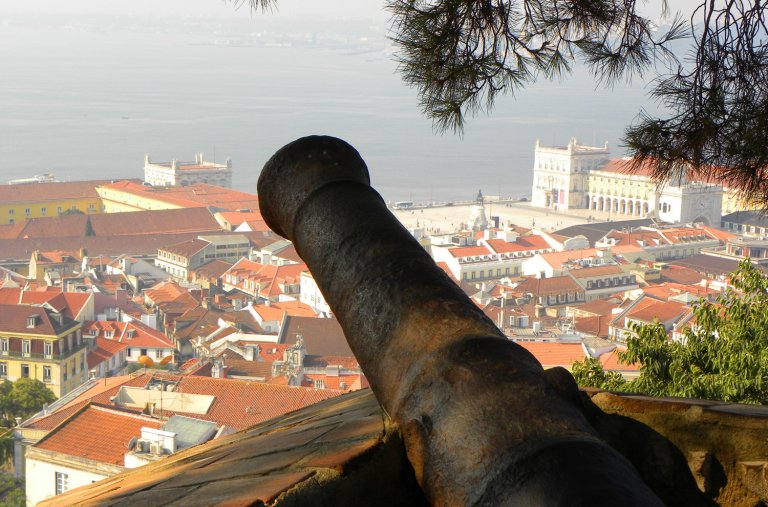 Other sites of Interest


.
Lisbon Cathedral (Sé de Lisboa).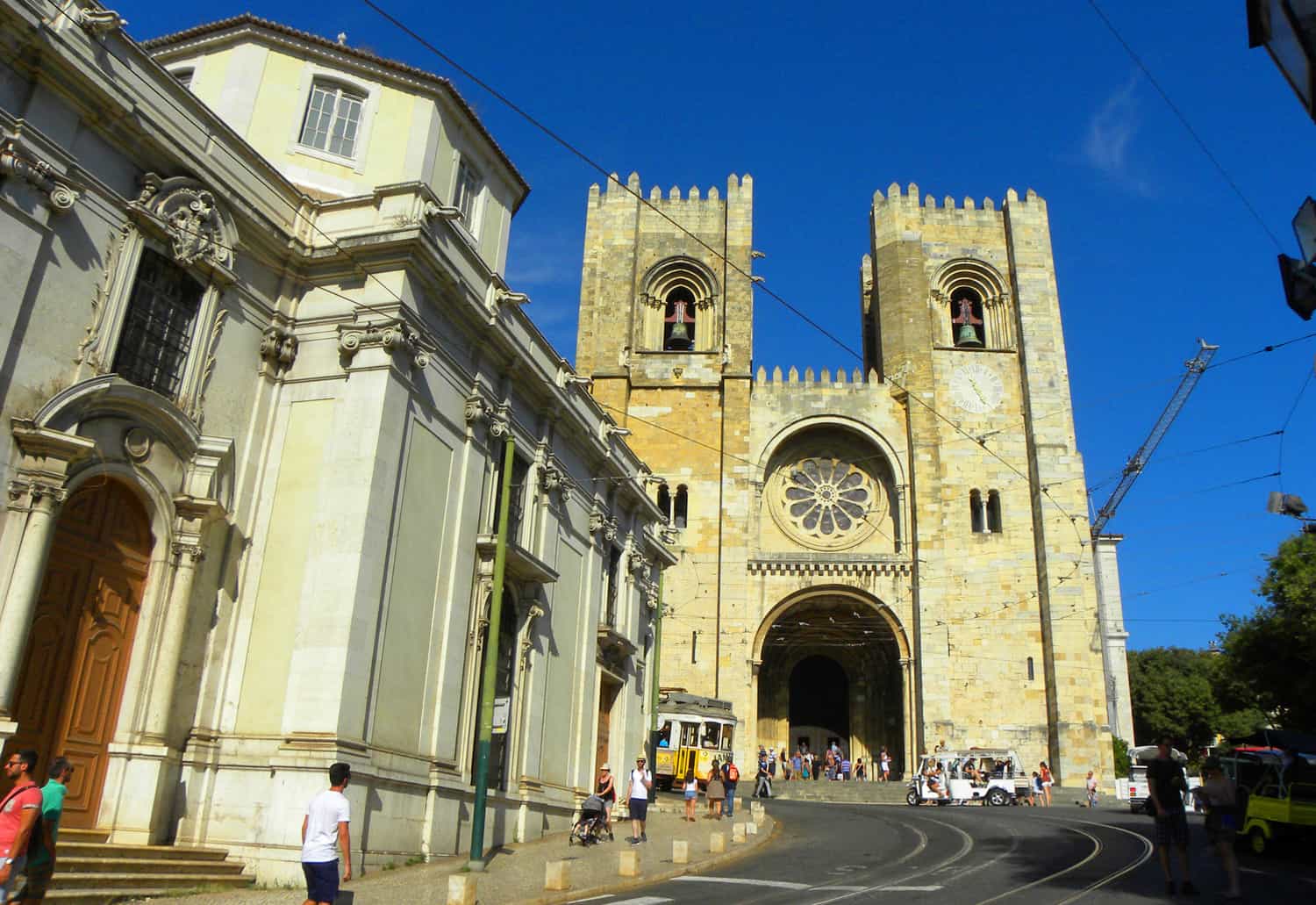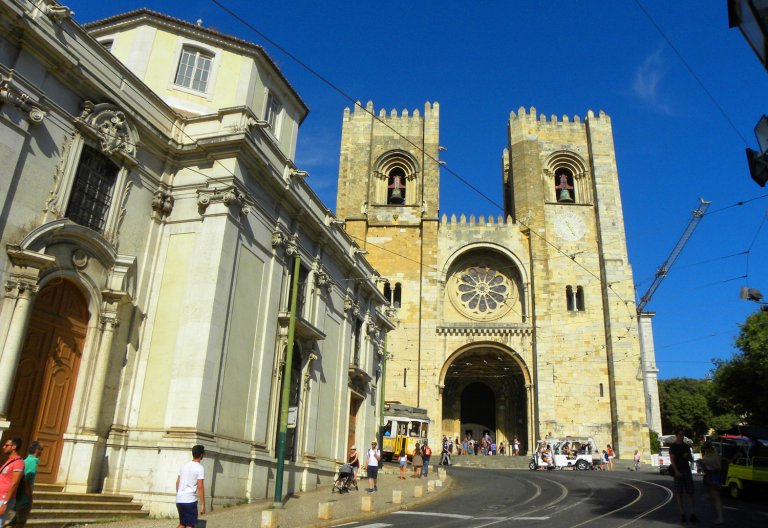 Belém Tower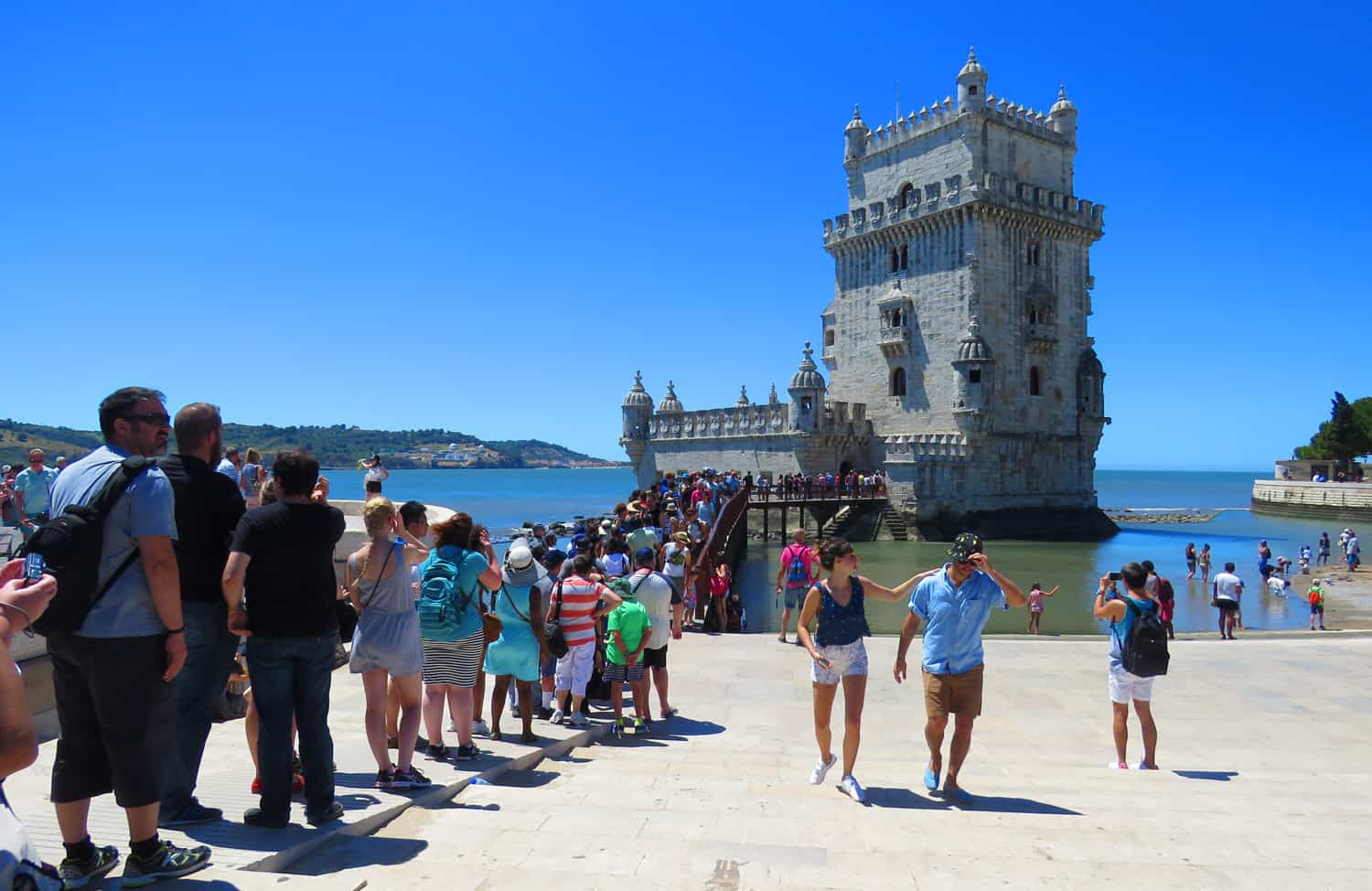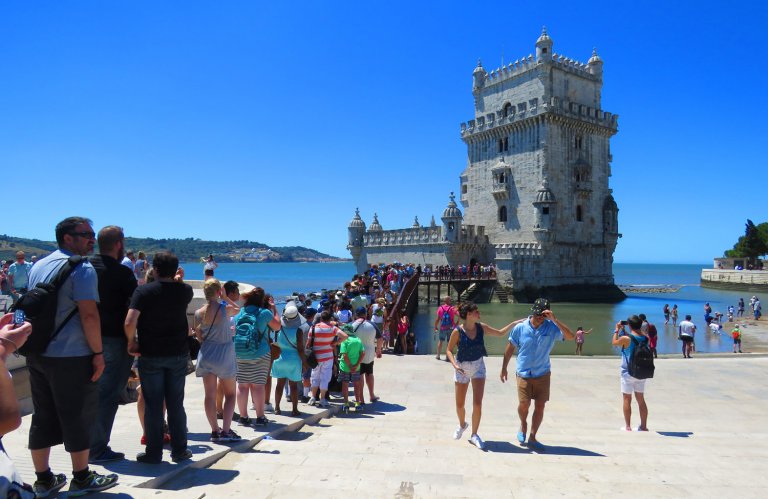 .
Rossio Square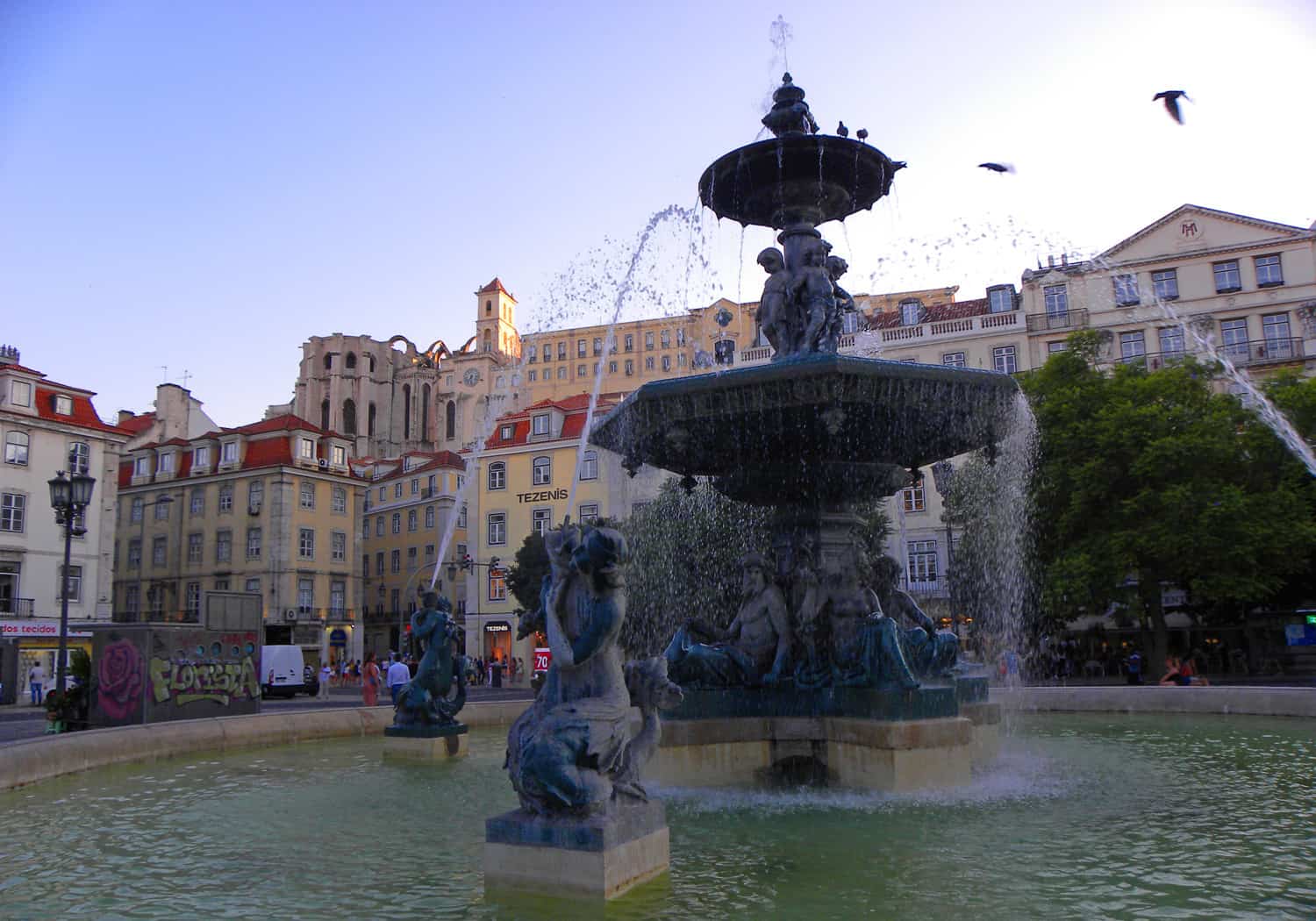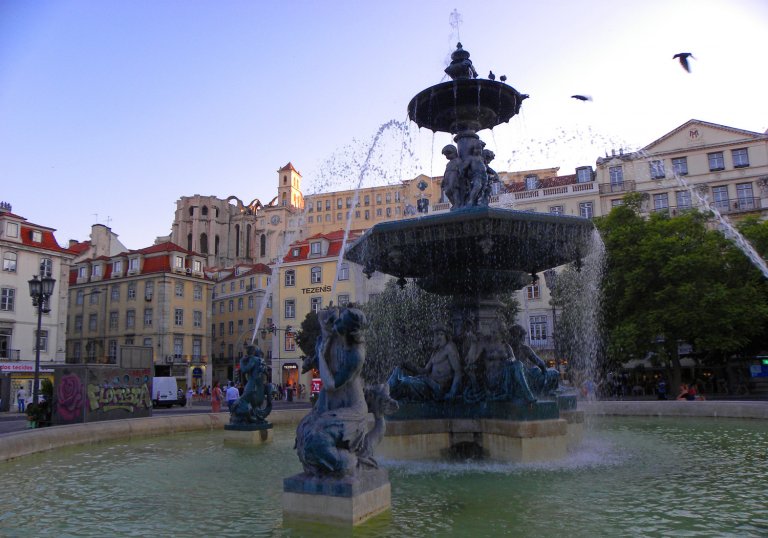 Rossio train station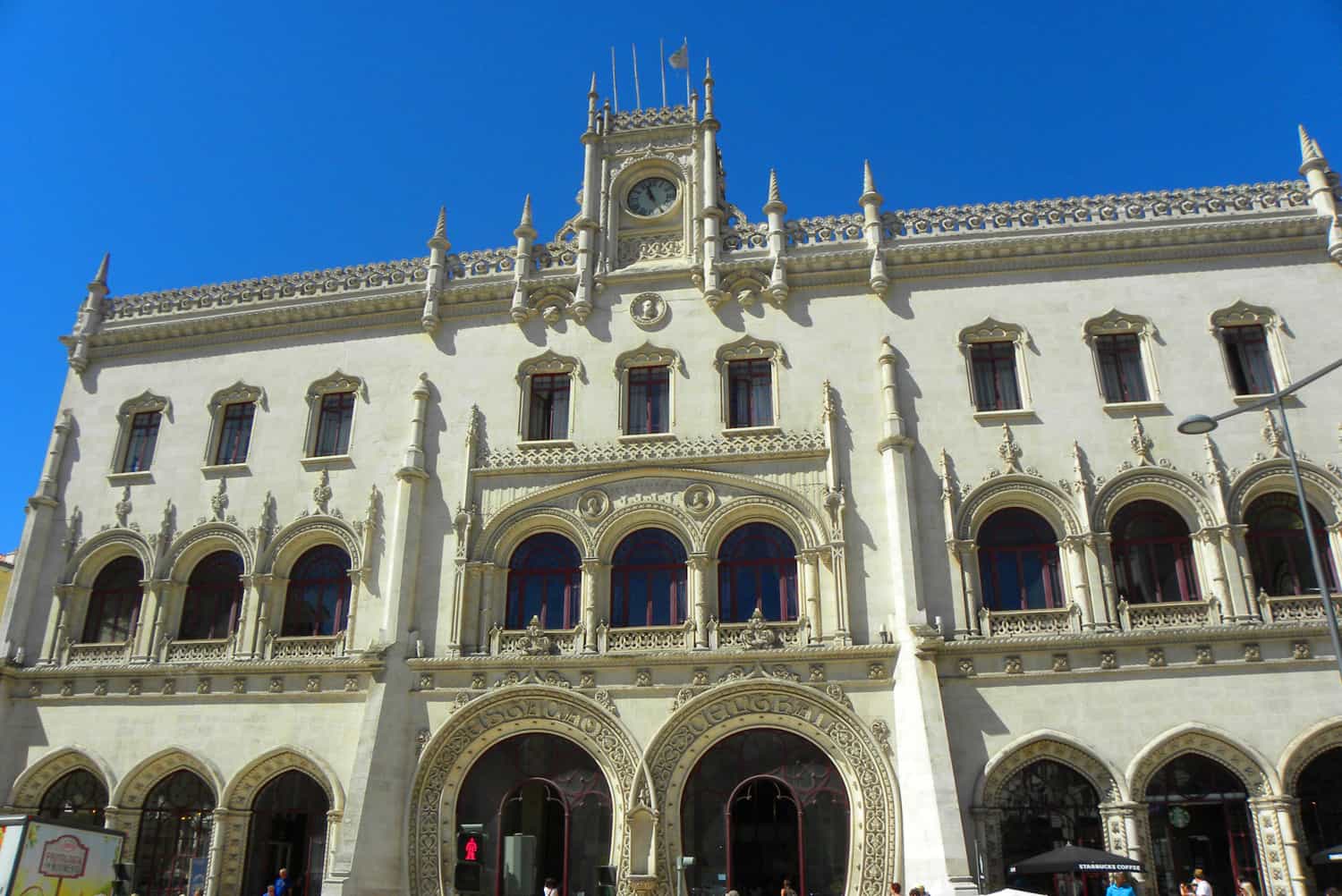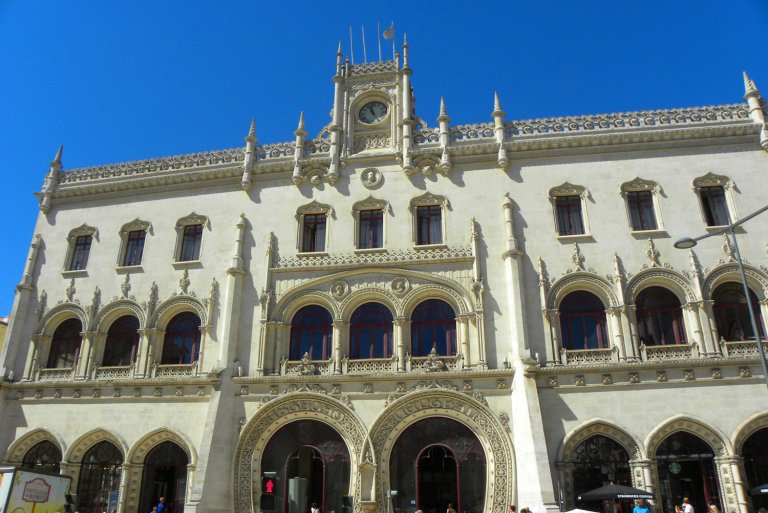 Other sites of Interest: Lisboa Story Center at the tourist information on Praça do Comércio (for a good 1 hour walk through the history of Lisbon), Discoveries Monument (in Belem – was under renovations when we went), Caloust Gulbenkian Museum (collection of Eastern and European art. Known as one of the best art museums in Europe), Lisbon Oceanarium (known as one of Europe's best aquariums). We were recommended the Ajuda National Palace by a local.
.
---
---
Best Miradouros (Viewpoints) in Lisbon


.
Lisbon is famous for it's many Miradouros where you can enjoy differing views over the city. Almost all have a little café where you can sit down, usually shaded by trees, and order a beer. Visiting the various viewpoints is one of the favorite activities of tourists.
My intention was to do a whole post on the best Miradouros in Lisbon. We didn't see all of them but saw most – and after doing that I decided just to do this summary.
.
1. Miradouro de São Pedro de Alcântara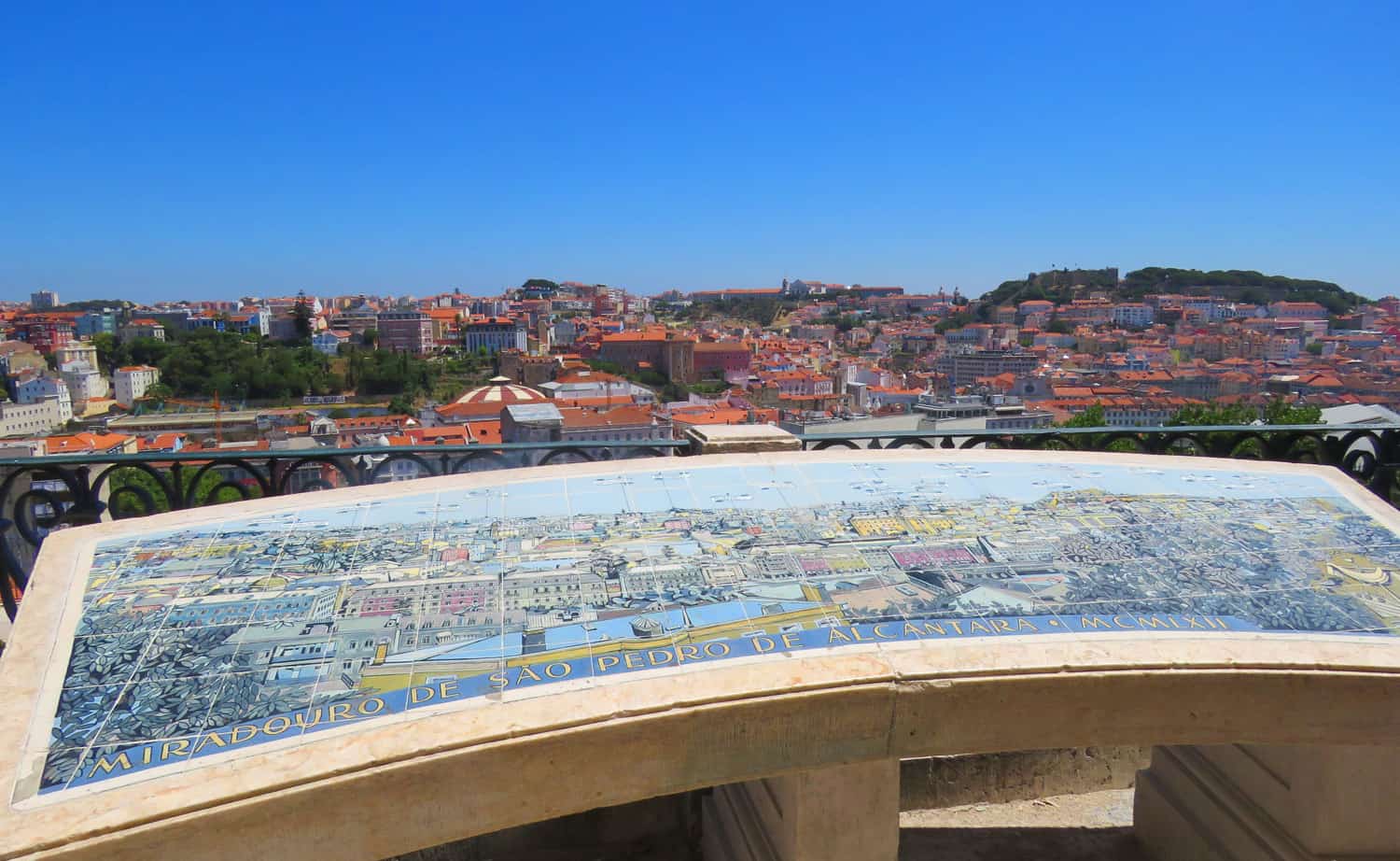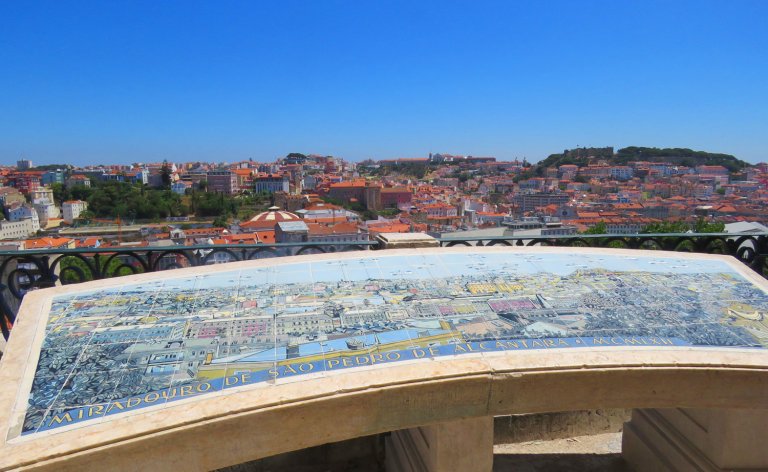 This Miradouro, about 5 minutes from where we stayed on the Bairro Alto, was overall our favorite. It is a large and pretty viewpoint with a fountain, café under trees, and most importantly, great views over the city.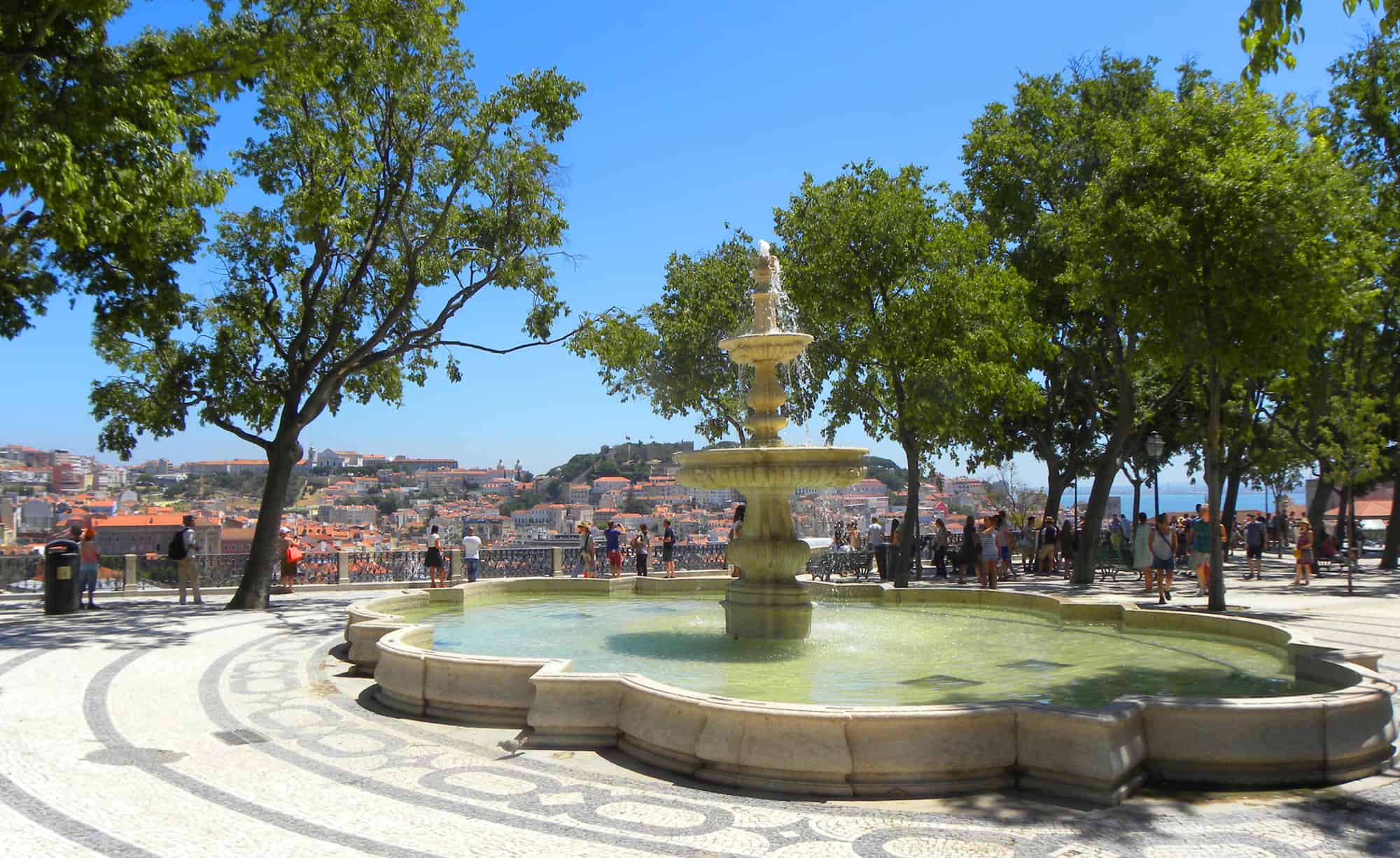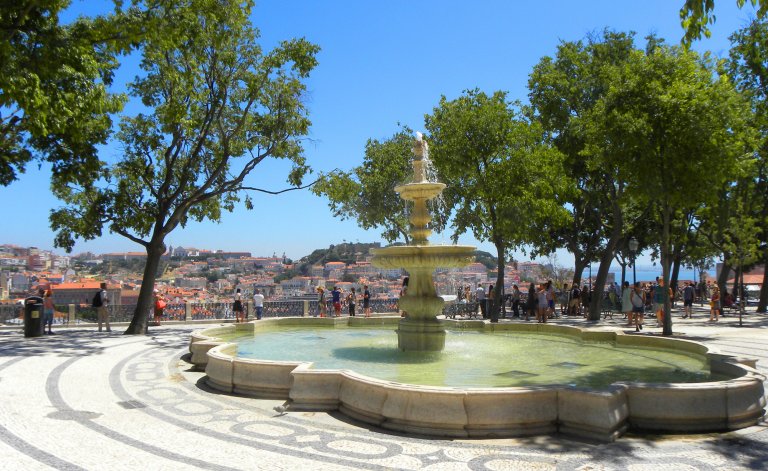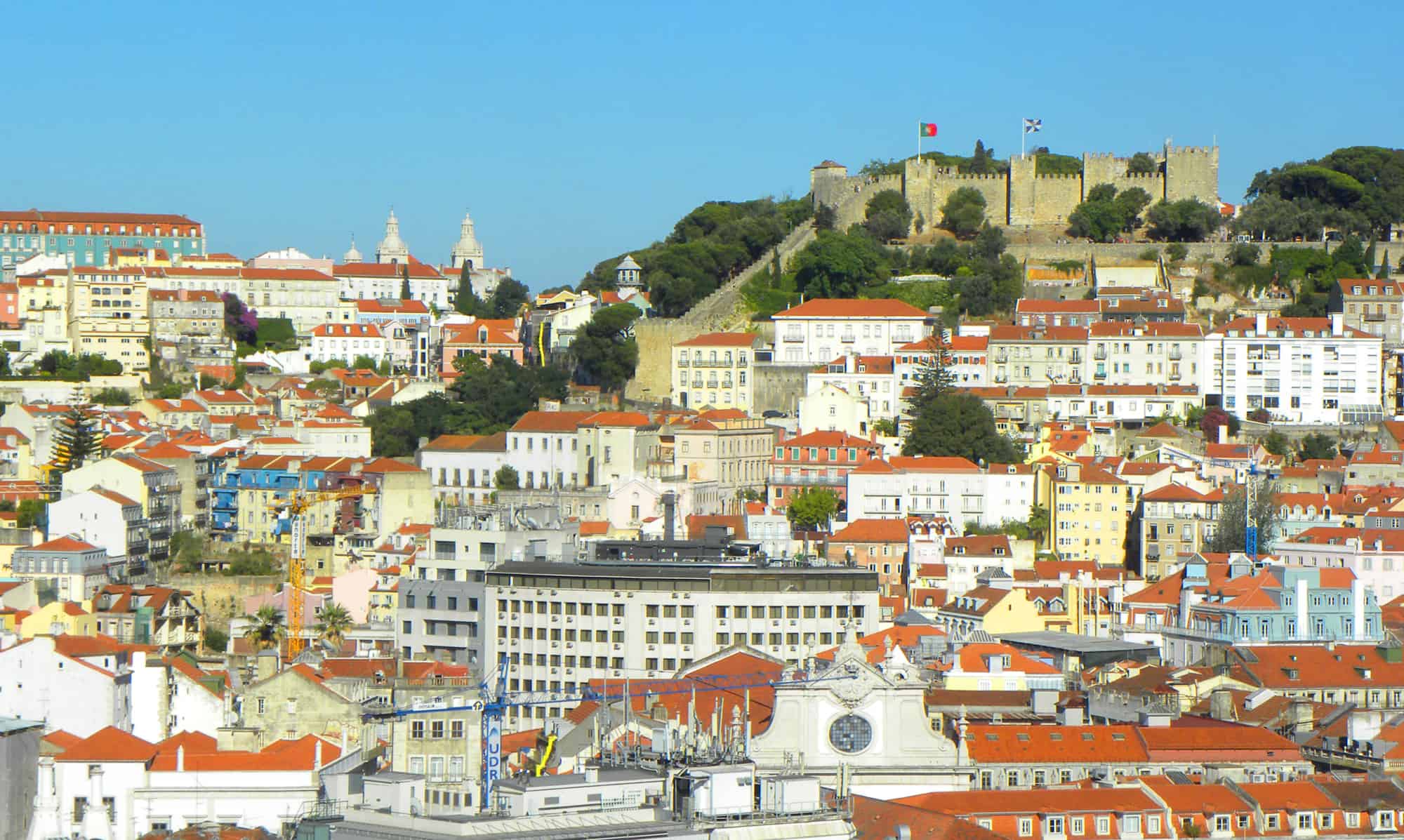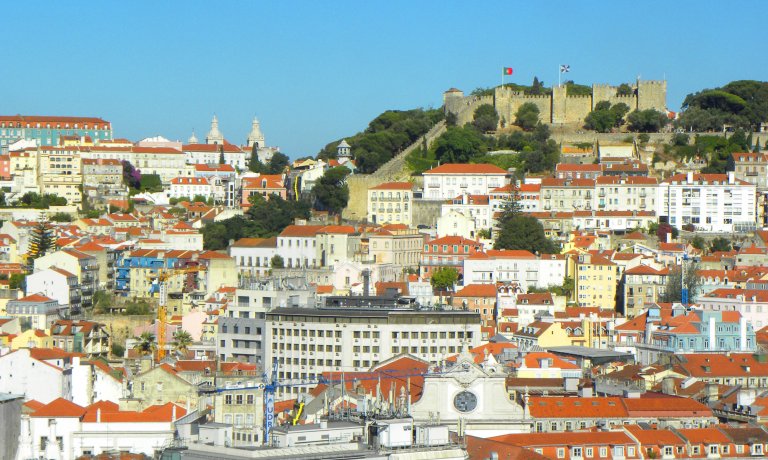 .
2. Miradouro do Castelo de São Jorge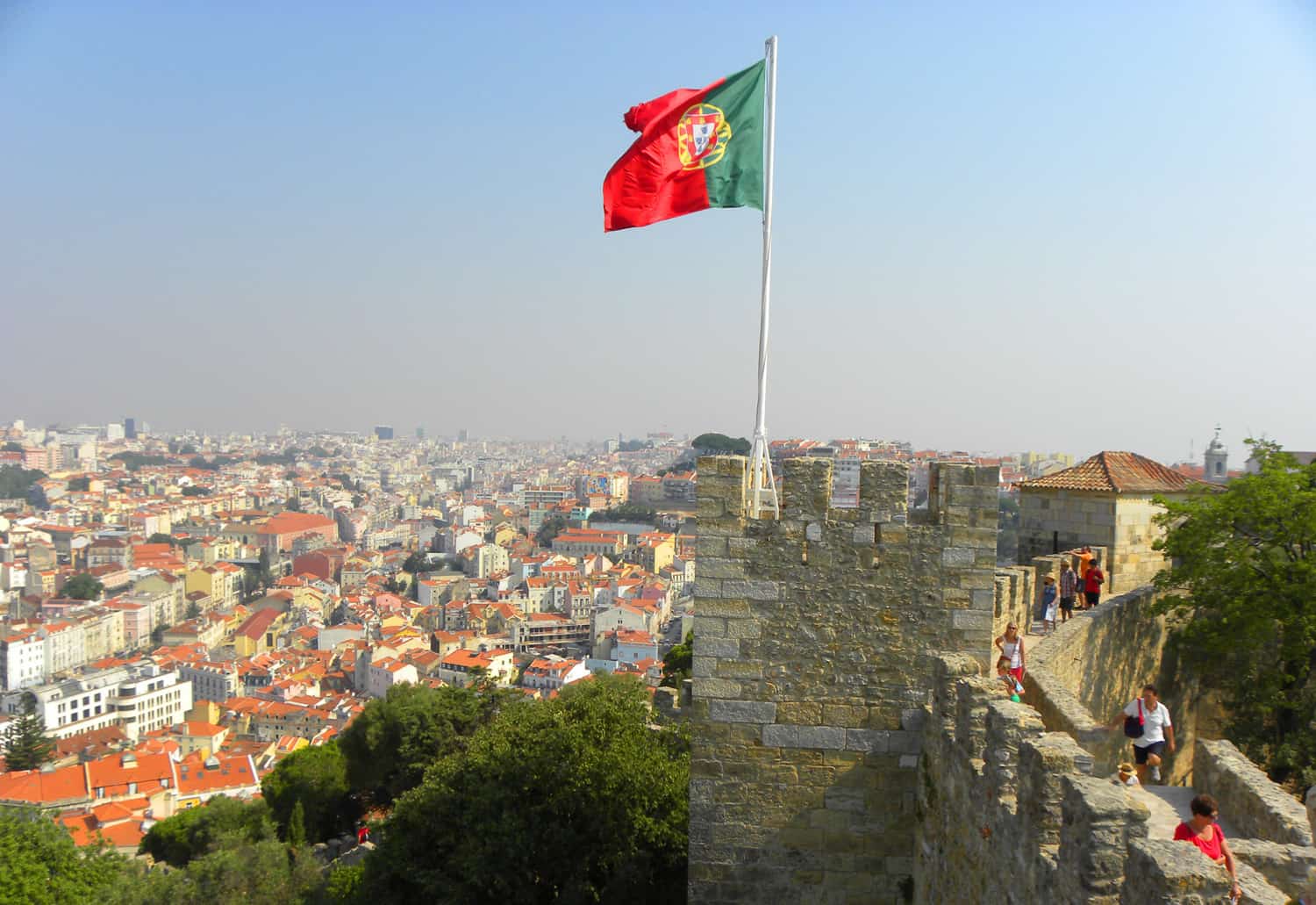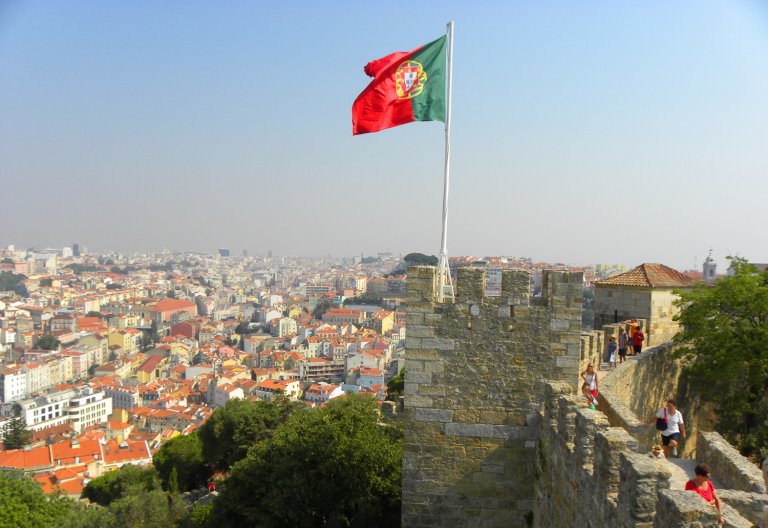 I've mentioned the castle under the highlights of Lisbon. The single best reason to see it are for the views. It lies almost perfectly across from the above mentioned Miradouro de São Pedro de Alcântara.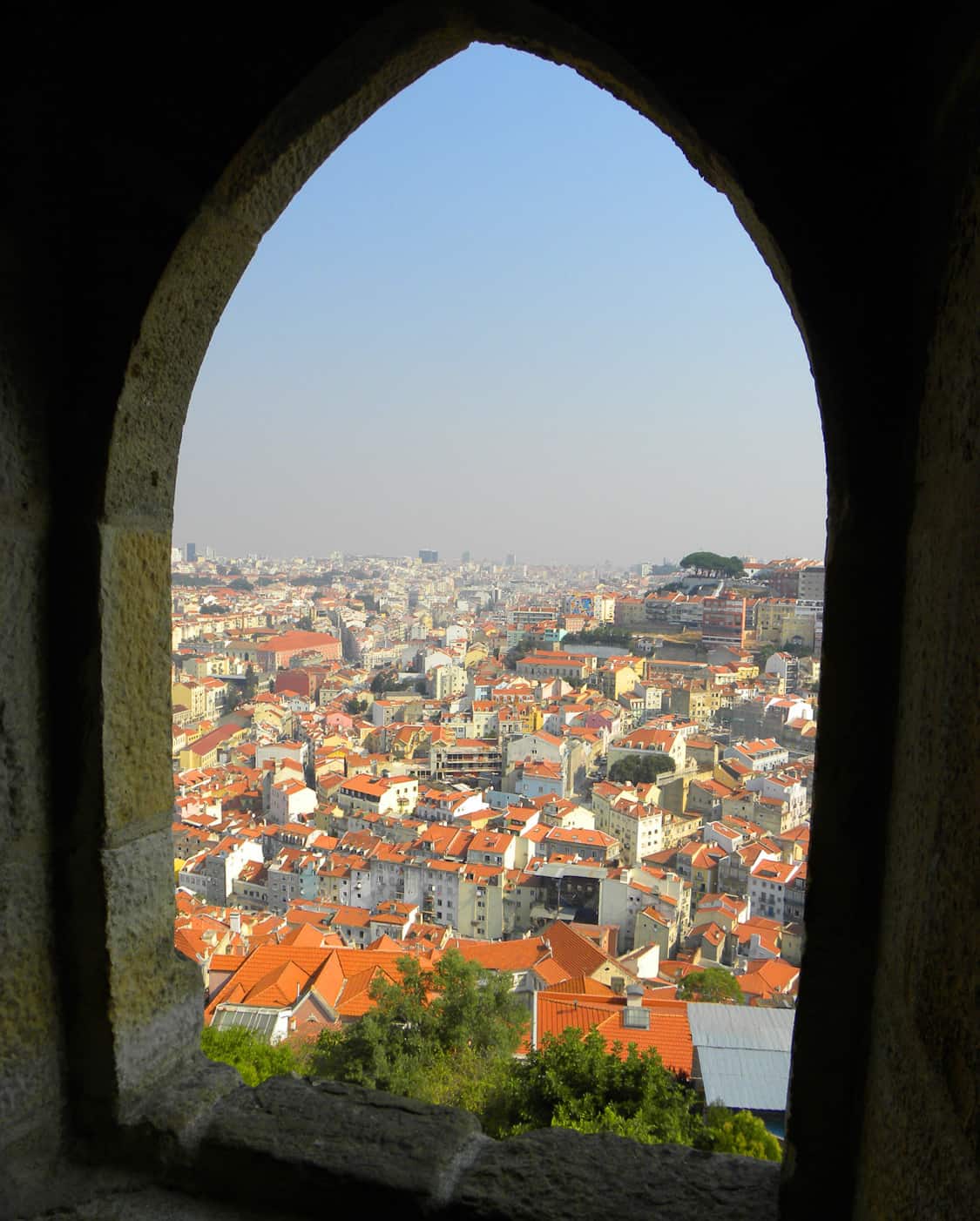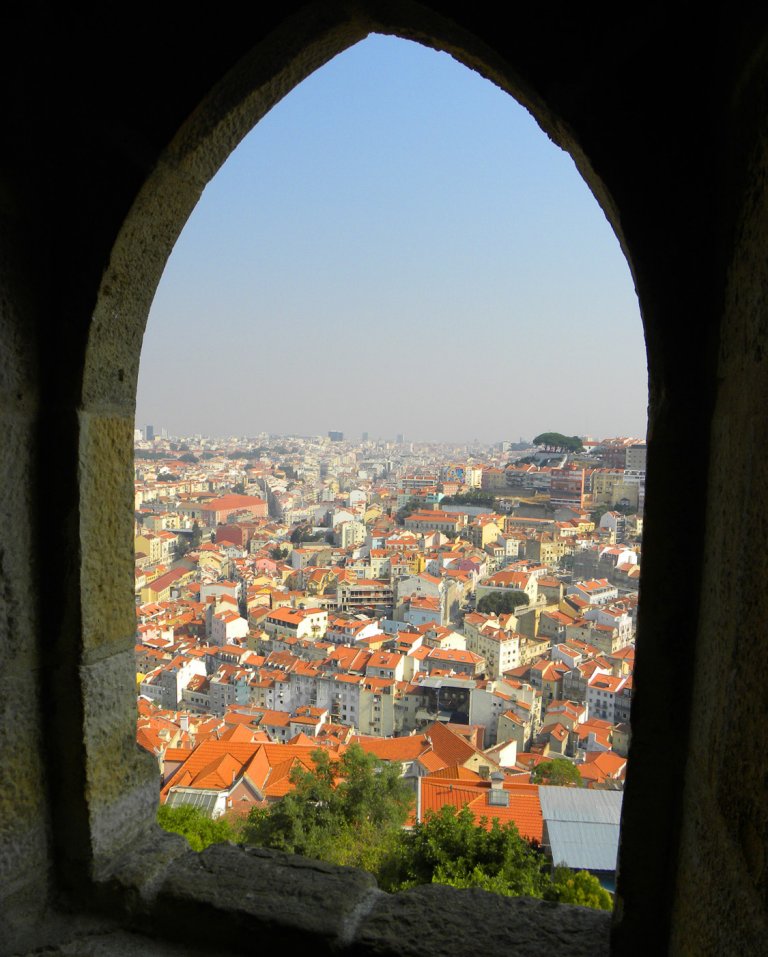 ---
---
3. Santa Justa Lift (Elevador de Santa Justa)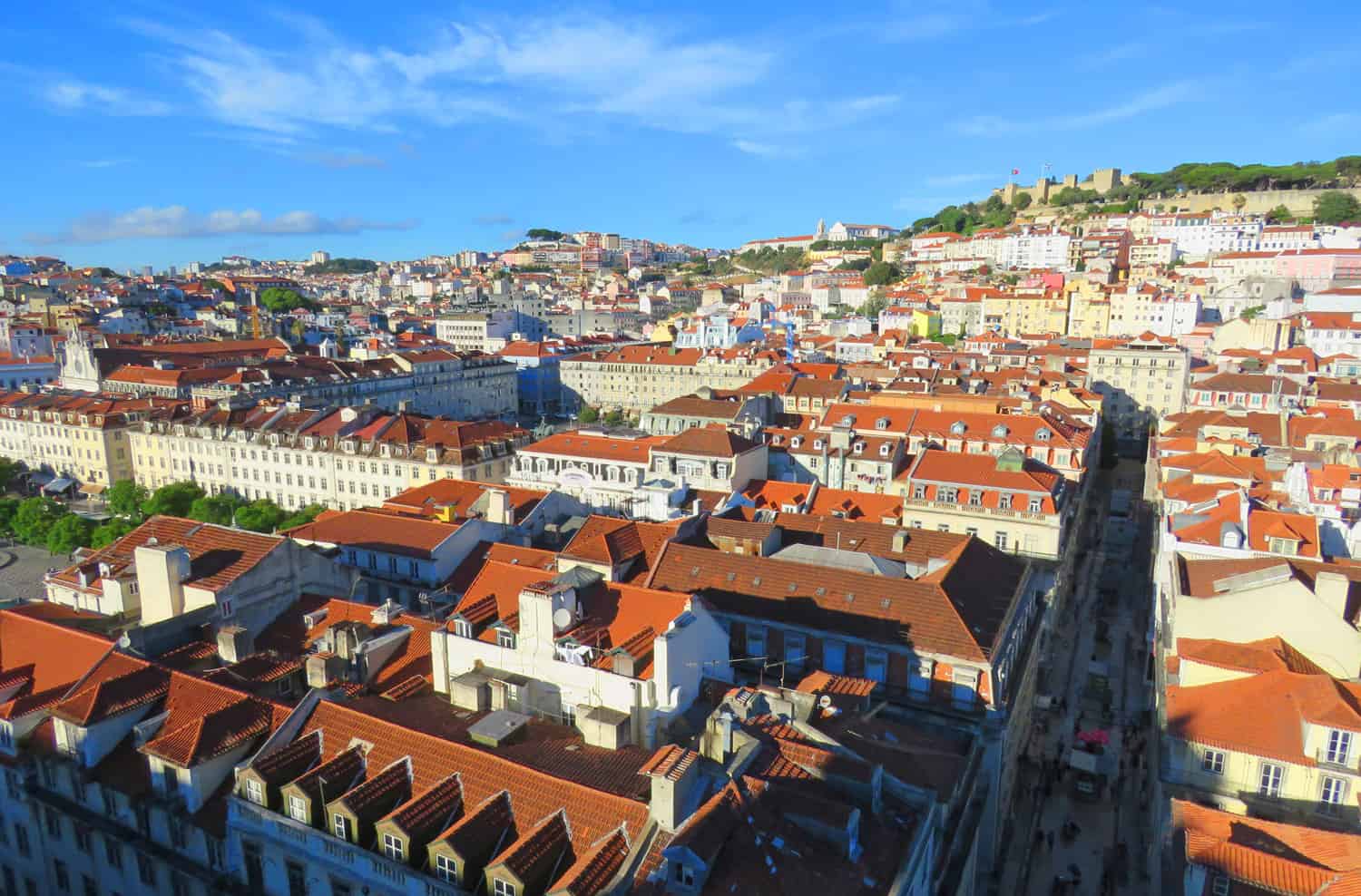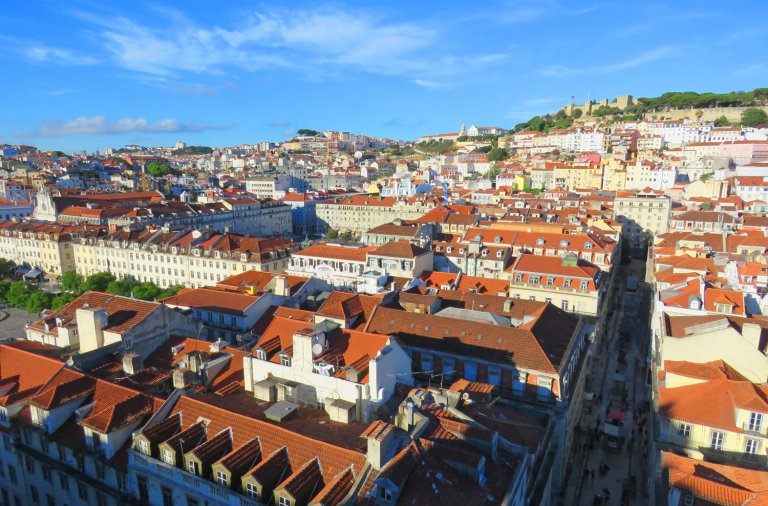 I covered the Santa Justa Lift in the highlights section. It is not technically a miradouro but it has some of our favorite views in Lisbon. Make sure to pay to go up to the top deck (I think it was 1.50 Euro)
.
4. Miradouro da Senhora do Monte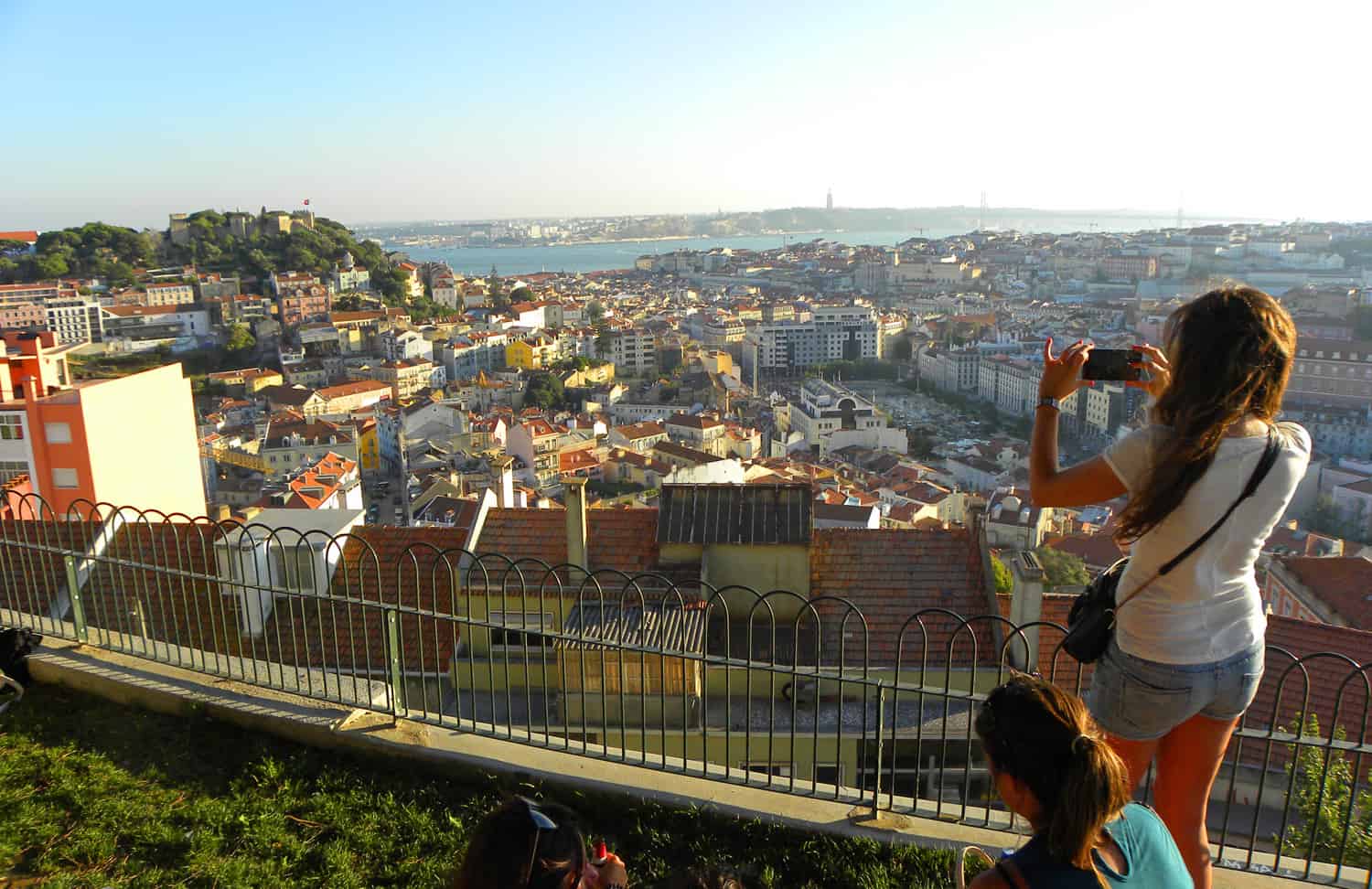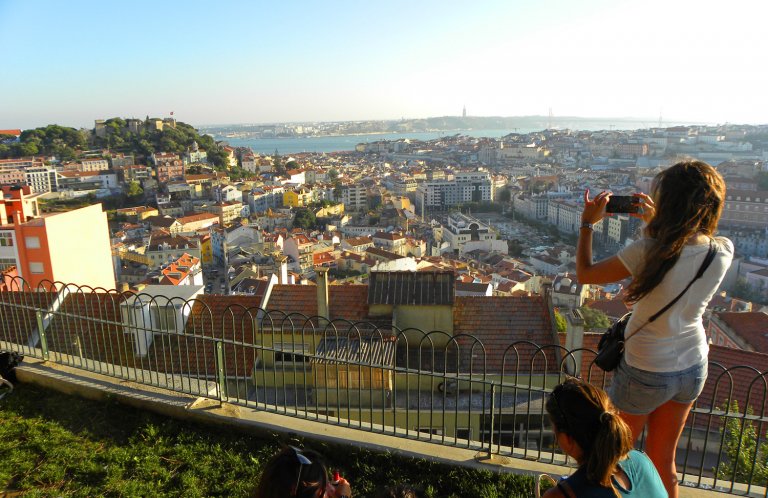 I thought that the Miradouro da Senhora do Monte had nice views over the center of town looking towards the river.
.
5. Miradouro de Santa Luzia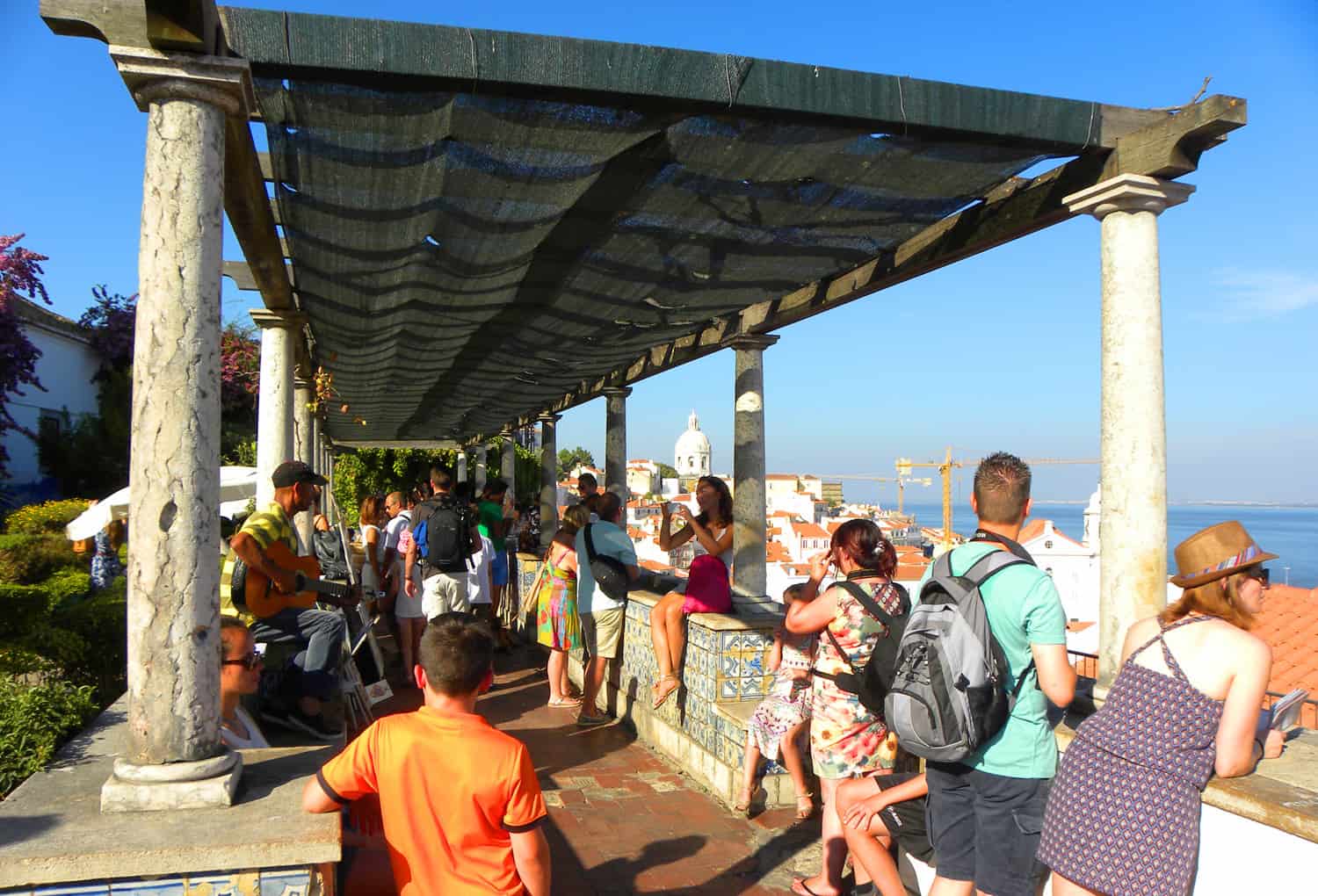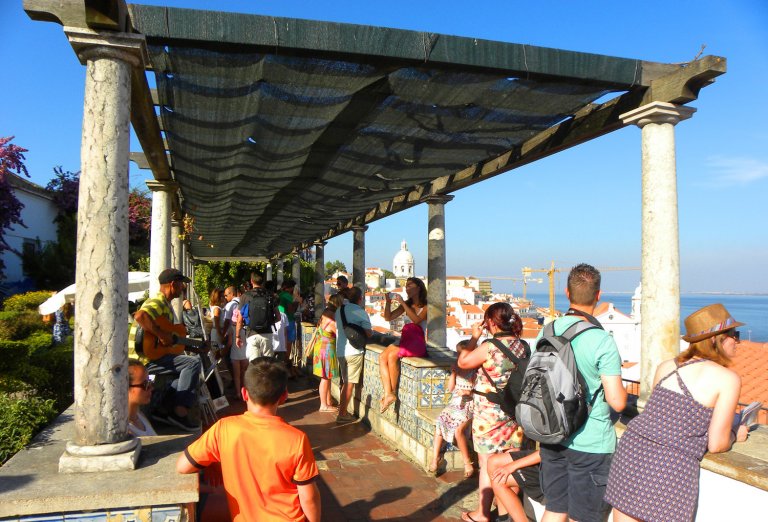 One of the most famous, iconic viewpoints in Lisbon. I came here 25 years ago and sat down on a bench alone. It epitomized Lisbon for me. Today there are tons of tourists, Senegalese touts and "singers" trying to make a buck.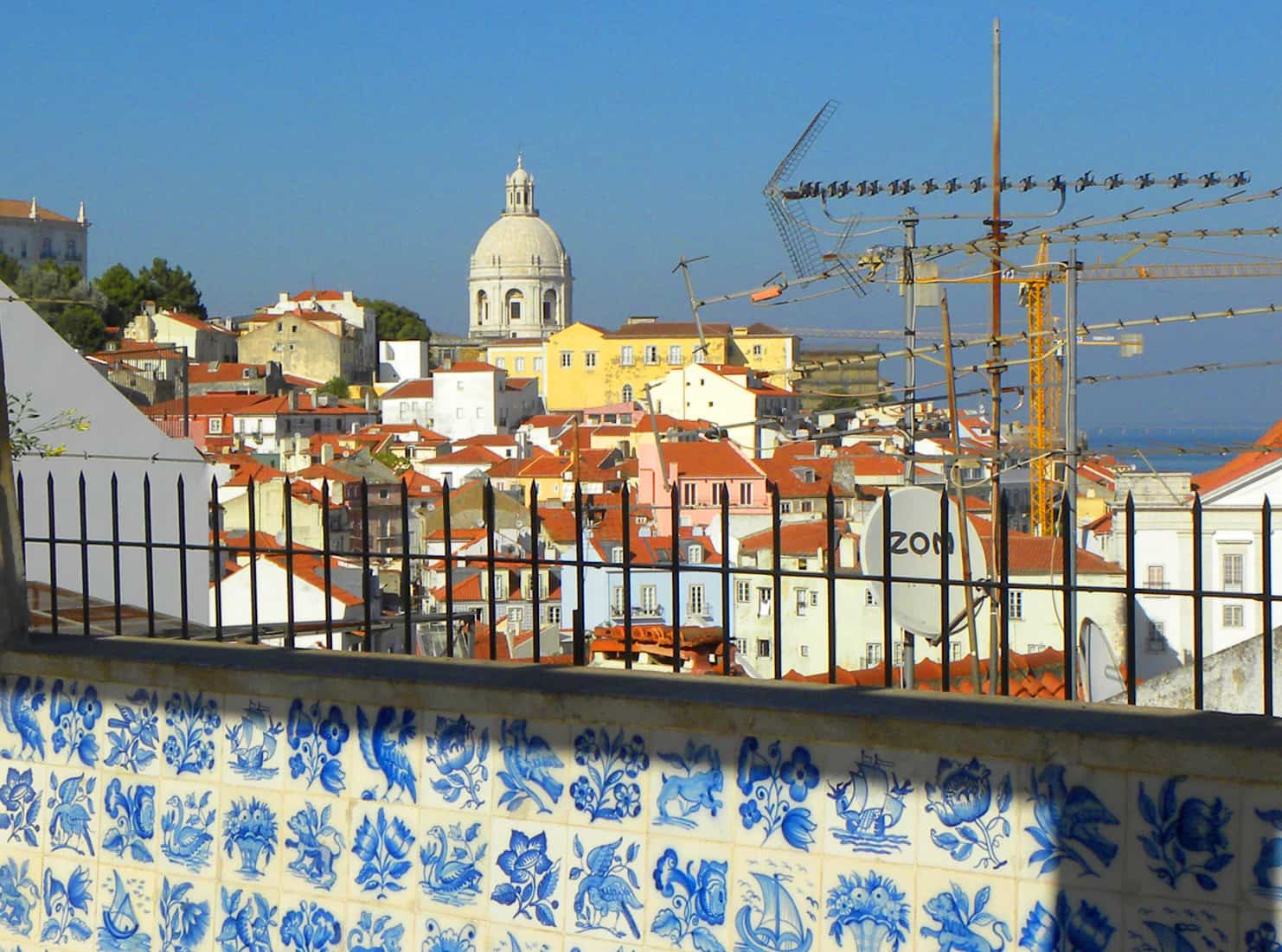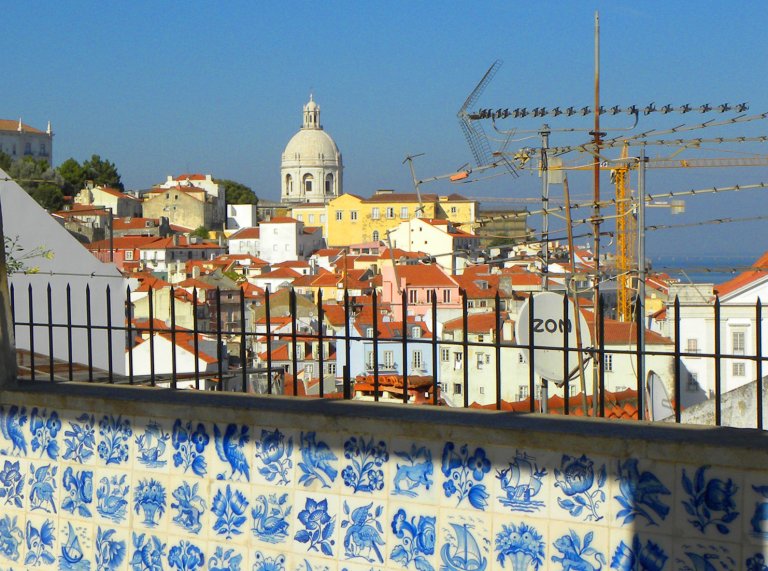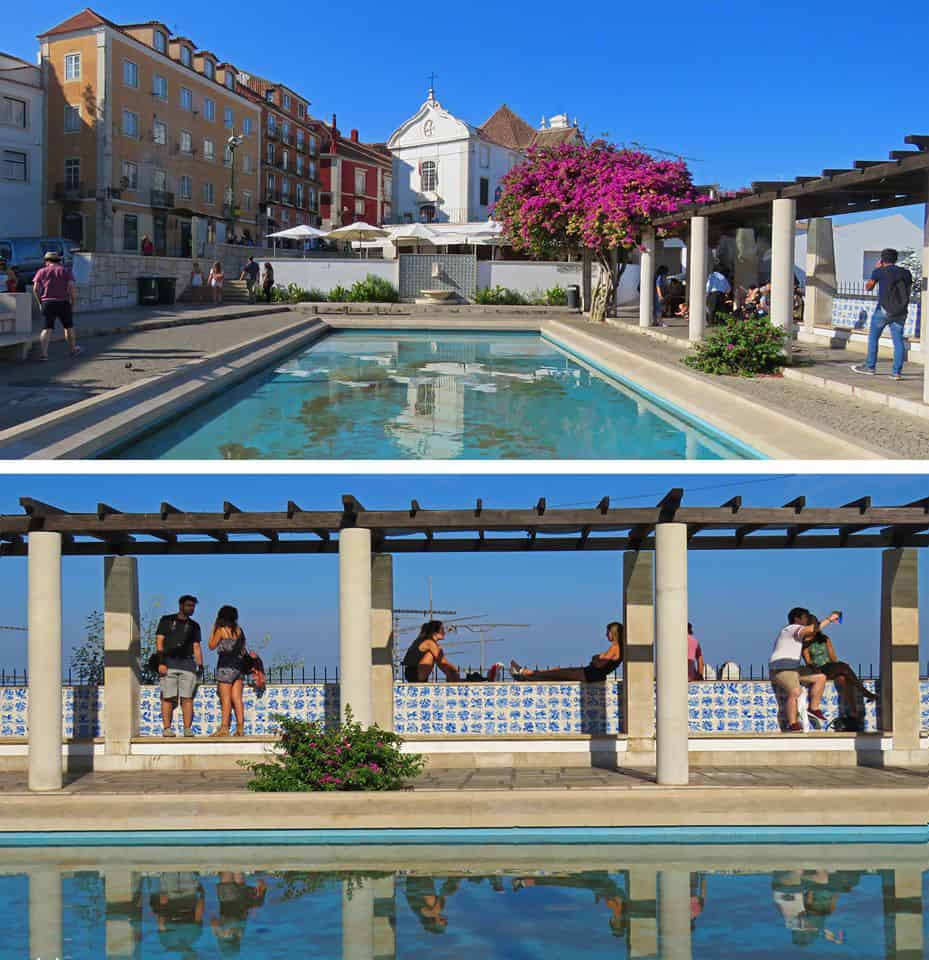 ---
---
.
6. Miradouro das Portas do Sol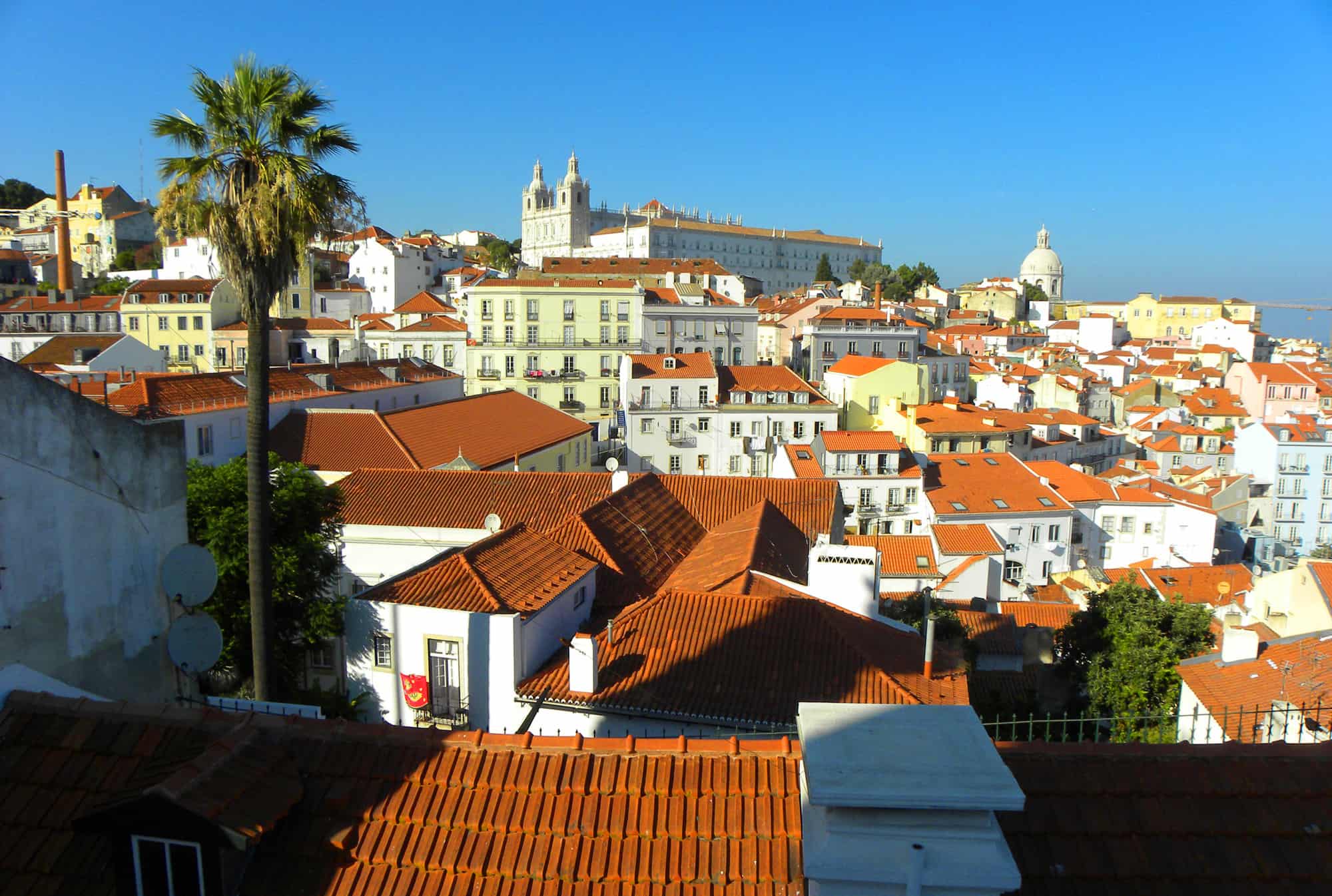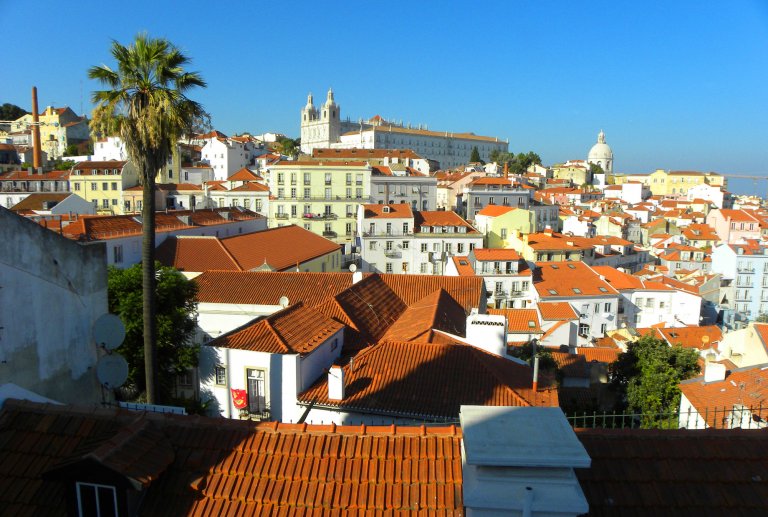 A few minutes walk from the above mentioned Santa Luzia miradouro, this lookout lacks in atmosphere but actually has better views.
.
7. Miradouro Jardim do Torel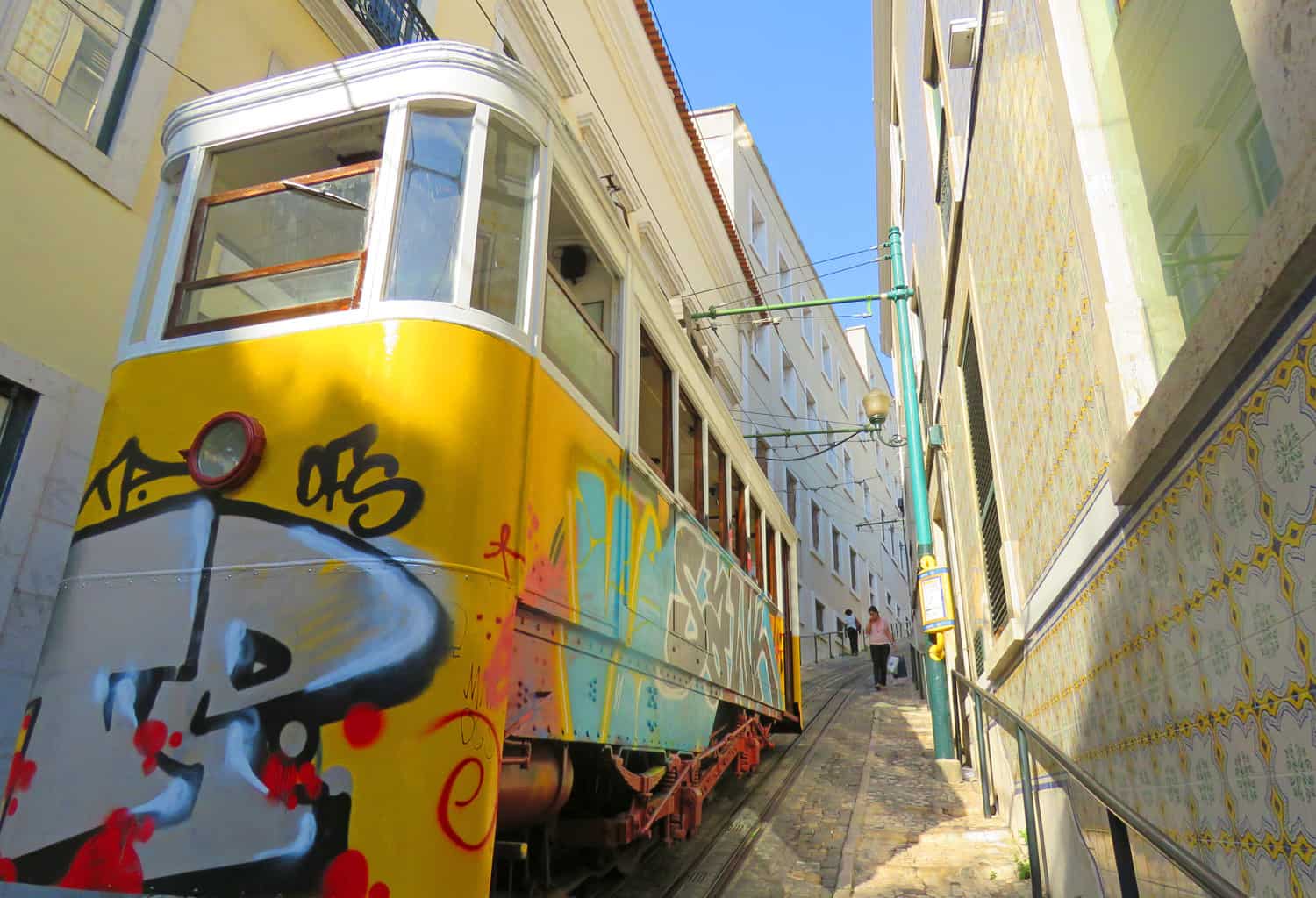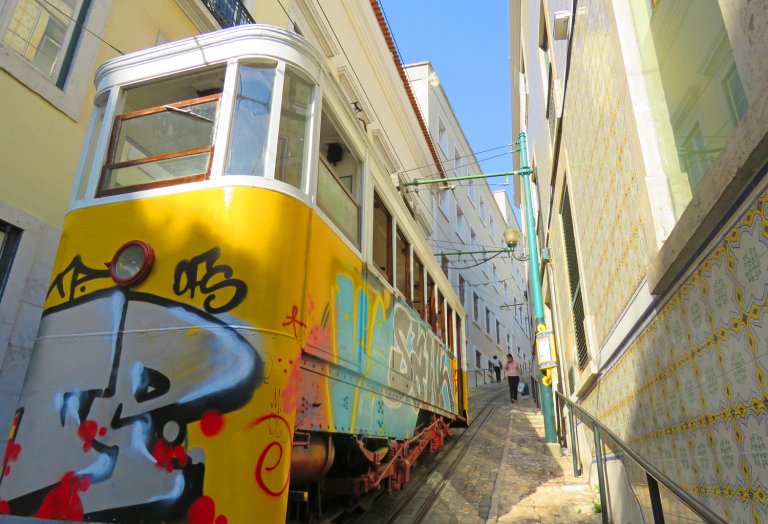 Getting up here is best done taking the Lavra elevator (above). A 5 minute ride will take you up the hill from where it is a 3 minute walk to the Jardim do Torel (which is a pretty little park). I won't tell you that the views are great – but it is one of the quietest of the Miradouros and you'll see locals reading in the park. I enjoyed it for the views of incoming planes. There's also a snack bar where you can get a beer to cool down.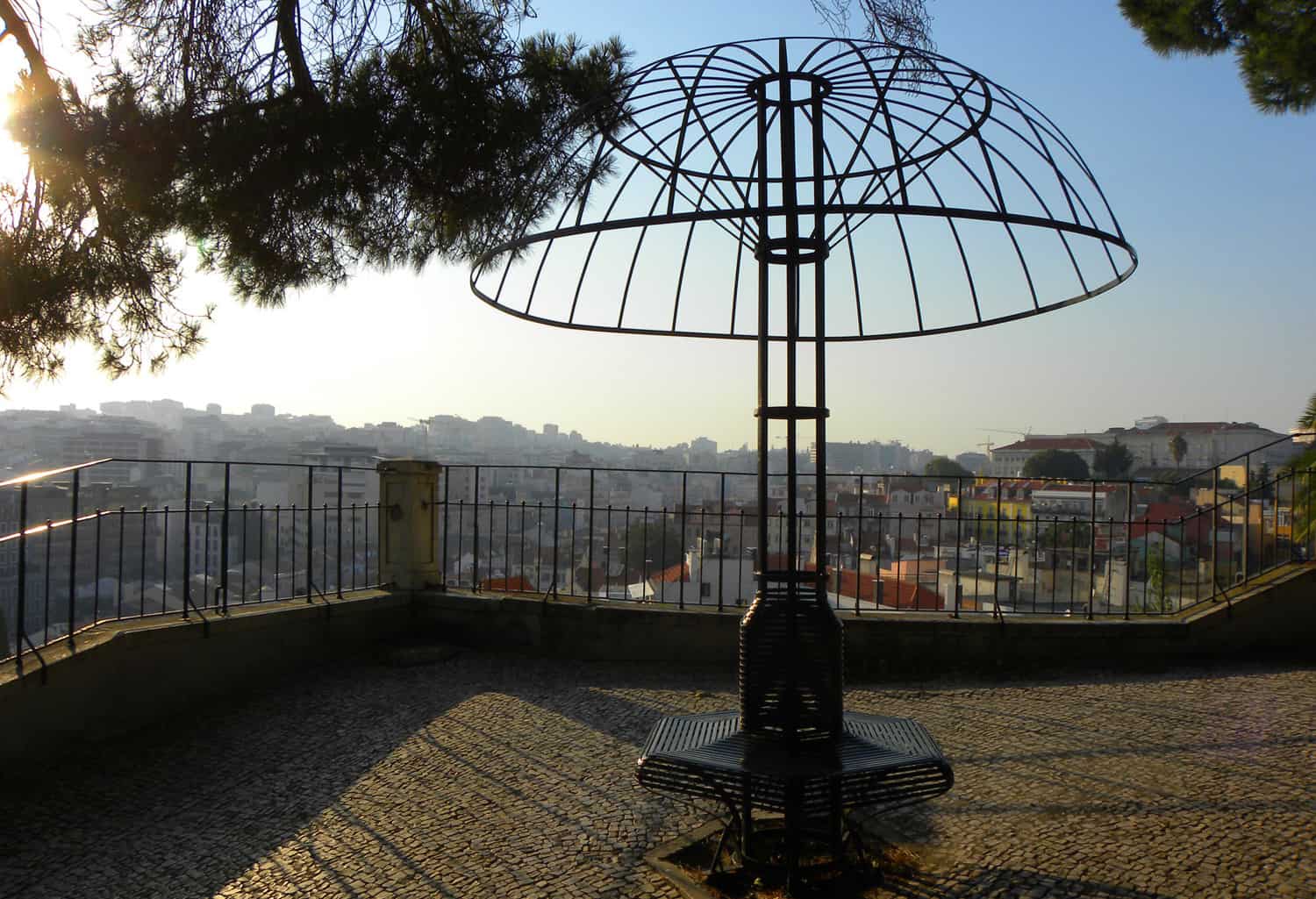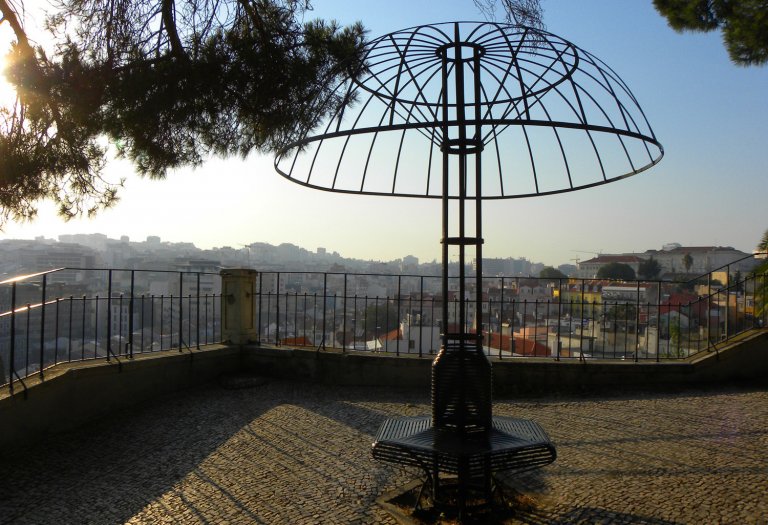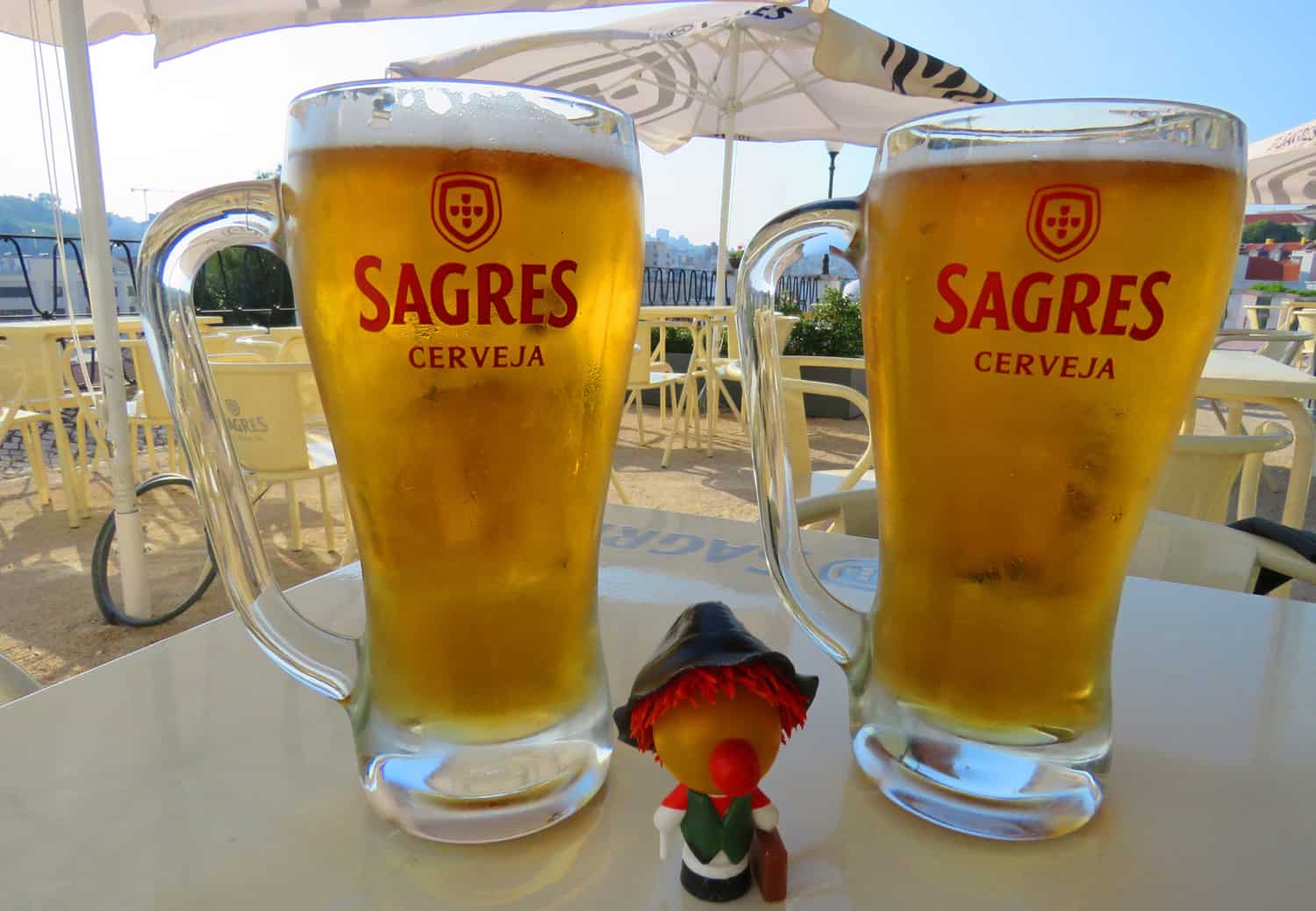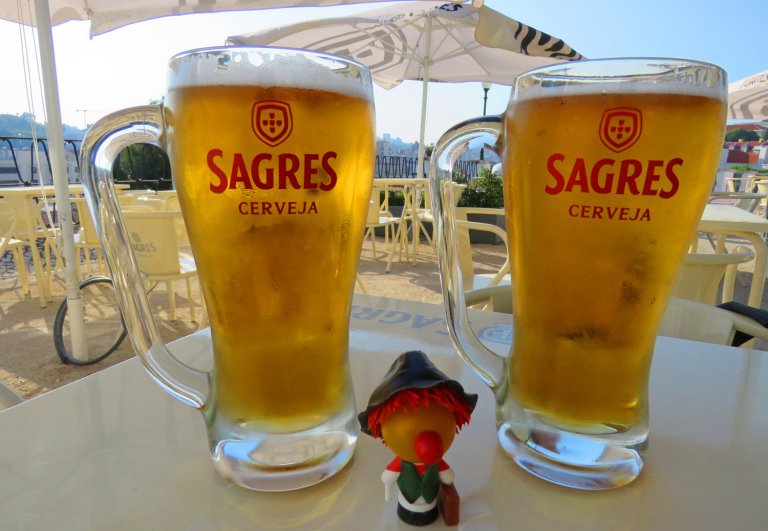 .
This page locates most of the Miradouros for you. I found it useful. A few disappointments: Miradouro de Santa Caterina which everyone says is the place to see sunsets. Jam packed with young people and dealers trying to sell you drugs. Dirty and the views are nothing special. We went up the Arco da Rua Augusta (mentioned in the highlights further up) and the views were surprisingly disappointing considering its location.The Miradouro da Graça was undergoing construction when we went and again was filled with young people and drug pushers (I don't think we've EVER been offered drugs as much as we have in Lisbon). Nice views but similar to those at the Miradouro da Senhora do Monte which I covered above.
.
.
---
---
Our feelings on Lisbon


.
As stated at the top, we didn't enjoy our time in Lisbon. Part of that was Lisbon itself, but most of it resulted from other factors
I'll say right off the top that if you are staying in Lisbon 7 days or less none of the below will probably apply to you. You'll walk around, enjoying the sights on your short stay, and will most likely come away with the opinion that Lisbon is a beautiful place (which it is!). For us however, as full-time travellers who stay somewhere for a month (or more), there were aspects of Lisbon that left us with a bad taste in our mouths.
Our accommodation. We stayed on Rua da Alegria in the Bairro Alto. What looked initially like a comfortable apartment ended up being our worst ever Airbnb experience. We have never stayed in a place where you can actually hear people talking through the ceiling. Never mind when they walked around with high heels, dragged furniture around, dropped stuff on the floor or came home at 2am to start fighting (there was one night where we thought we would have to call the police). We found out that most of the building (including the apartment upstairs) was rented out by their owners as Airbnb apartments. Neighboring buildings also seemed to be full of Airbnb apartments. A few readers have mentioned to us the "Airbnb-nization" of neighborhoods. This was our first experience with it. The problem when you stay in an "Airbnb neighborhood" is two-fold: tourists who act like loud monkeys with little concern for neighbors, Airbnb hosts who just don't care about their property or providing quality accommodation.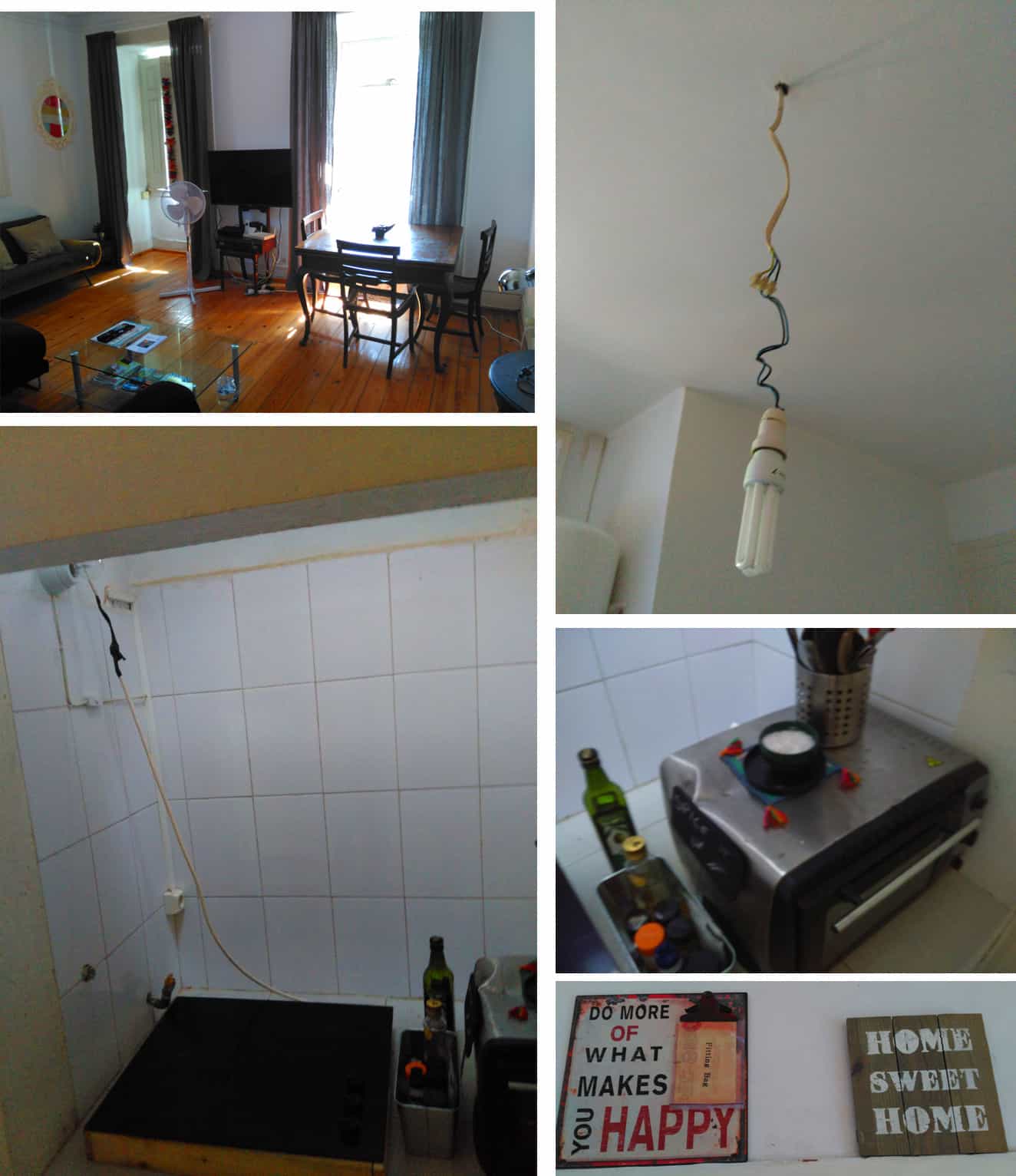 It may have been fine for a few days but the constant noise and bad sleep wore on us.
Tourists and the local experience: The amount of tourists in Lisbon was astounding. Walking through the Baixa was like walking through a traffic jam of tourists. Walk the Alfama, or go to any tourist site, and there were lines and crowds everywhere. Take the famous 28 tram at 8:30 in the morning and it will still be crowded, standing room only. We were more likely to hear French or Spanish walking around than Portuguese. With the tourists came the riff raff: the touts selling cheap trinkets and the dealers offering drugs on street corners. As mentioned above, we were never propositioned for drugs as much as we were in Lisbon. We met friendly locals when we joined a local gym…but those local experiences were rare during our month in Lisbon.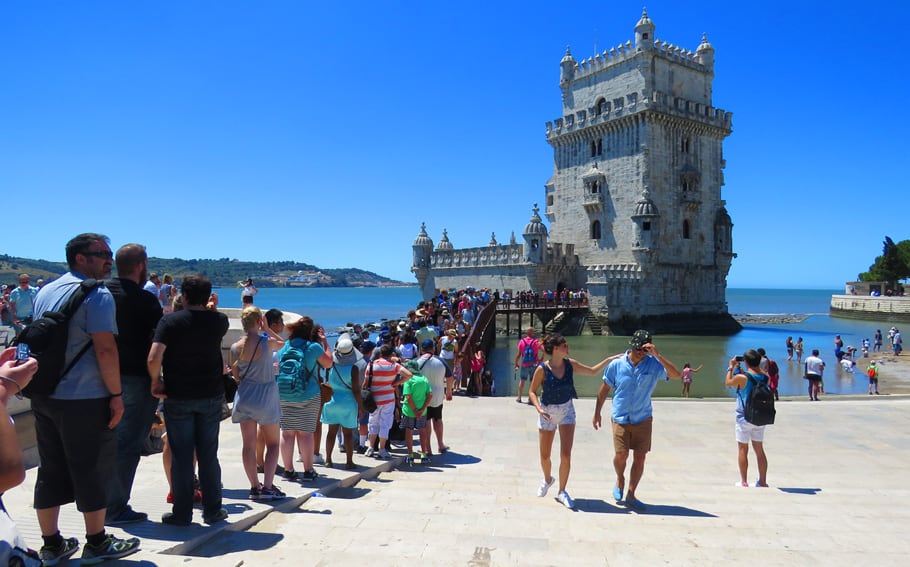 What I remember from my previous visit to Lisbon 25 years ago was how charming it was. Lisbon was all about charm. It may have been rough around the edges at the time, but it all felt authentic. There was no authentic experience this time around.
---
---
Practicality of having Lisbon as a base. Lisbon was the most impractical bases we've ever had in our last 2 years of full-time travel. The closest grocery store to us (a Minipreço) was a 10 minute walk away, up a hill and down another, and was always jam-packed (again, mostly with tourists). It was small and had little selection. We thought that our host was mistaken. There had to be a bigger grocery store right? We went to 2 tourist information centers (on Praça do Comércio and Praça dos Restauradores) and were told at both that there was nothing larger in central Lisbon. That we should go to the Centro Colombo in the newer part of Lisbon. Where to buy bathroom products like face creams, deodorants, nail polish, baby powder? (ie ordinary drugstore stuff). Well, there are tons of pharmacies in central Lisbon selling overpriced Vichy creams (29 Euros for a small jar) and expensive cosmetics. But it was ridiculously priced. Again, at the tourist information center: "go to Colombo". So we took the metro to Centro Colombo, 8 metro stops away. And yes, we found everything we needed at half the price (there's a huge store there called Continente). But I've never seen a major city where we had to go so far out of our way to find basic essentials.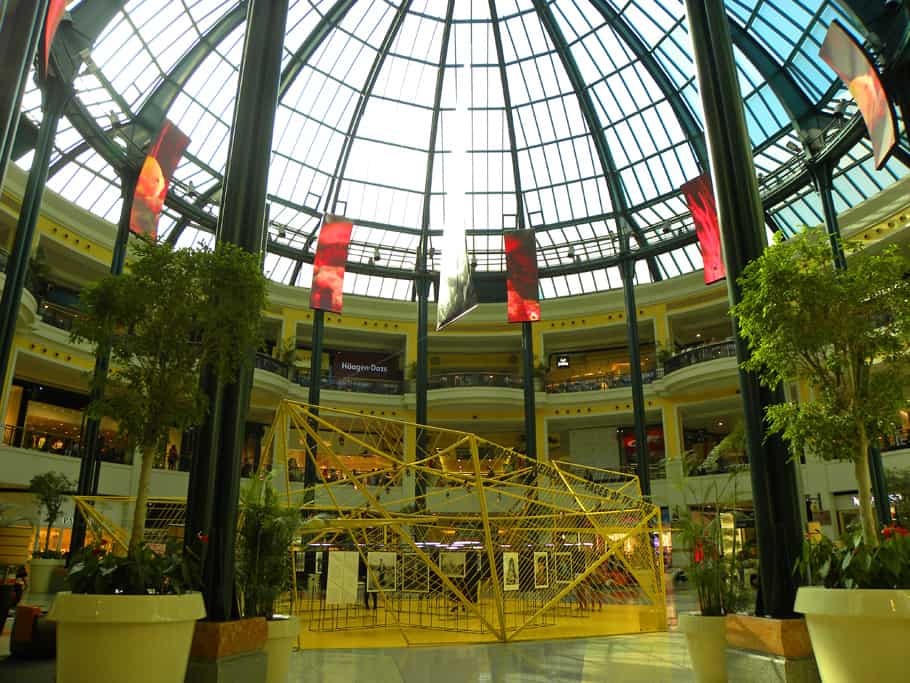 In fact most of the downtown area is filled with restaurants, gift shops, bakeries and cafés. All catering to tourists. But there were very little of the practical kinds of stores necessary for travellers like us. We ended up doing most of our grocery shopping at the mini grocery stores on our street, all owned by friendly Bangladeshis.
The "Wow" factor. I know I'll get people angry with this. But the fact is that of the tourist sights in Lisbon few produced much of a "wow" factor for us. The Jerónimos Monastery is incredible, the Tile Museum and Madre de Deus Church are impressive, and the Santa Justa lift is interesting. But other than these I can't say we were really blown away by any specific sites. What we actually loved the most in Lisbon were the pretty squares and parks, most with fountains and shaded with lots of trees, surrounded by beautiful buildings and colorful tiles. We would often sit in a café in one of those squares and just enjoy seeing the locals living life with their dogs and kids. I think it was this we enjoyed most – it wasn't visiting "the highlights" or trudging up hills with the tourist hordes. I think the beauty of Lisbon lies in the total ensemble and not the individual sights themselves.
The above is our opinion. Maybe our miserable accommodation and lack of sleep shaped how we feel about Lisbon and made us biased. But that was our experience*.
* We have a few fellow bloggers who felt the same way about Lisbon in the summer but who liked the city much more when revisiting during low tourist season. I would really recommend that you avoid June – September. Maybe we would have had a totally different experience.
Ps. Tip: We usually enjoy Hop On, Hop Off Buses. But don't get mixed up between City Sightseeing (good!) and Grey Line (lousy!). Grey Line intentionally painted their buses almost exactly like the City Sightseeing Buses. You can't tell the difference unless you really look hard. Don't make the same mistake we made. Take City Sightseeing, not Grey Line.
ADDENDUM: We've had many helpful comments below. The overwhelming sentiment is that tourism has increased a lot over the last few years and that summer is not the time to come. Another thing is we found helpful: the guidebooks will tell you to stay in the Baixa, Chiada, Alfama or Bairro Alto districts. That's fine if you are staying for a few days – but as many commenters have stated (which supports our experience) these areas are not the most practical if staying longer as we did. You might want to stay outside the center somewhere close to a metro stop (some have mentioned the Marquês de Pombal, Areeiro, Saldanha, Santos, Lapa, Campo de Ourique and Estrela areas). Many people have also mentioned that tourism and Airbnb apartments are ruining the city.
Thanks for the many helpful comments.
.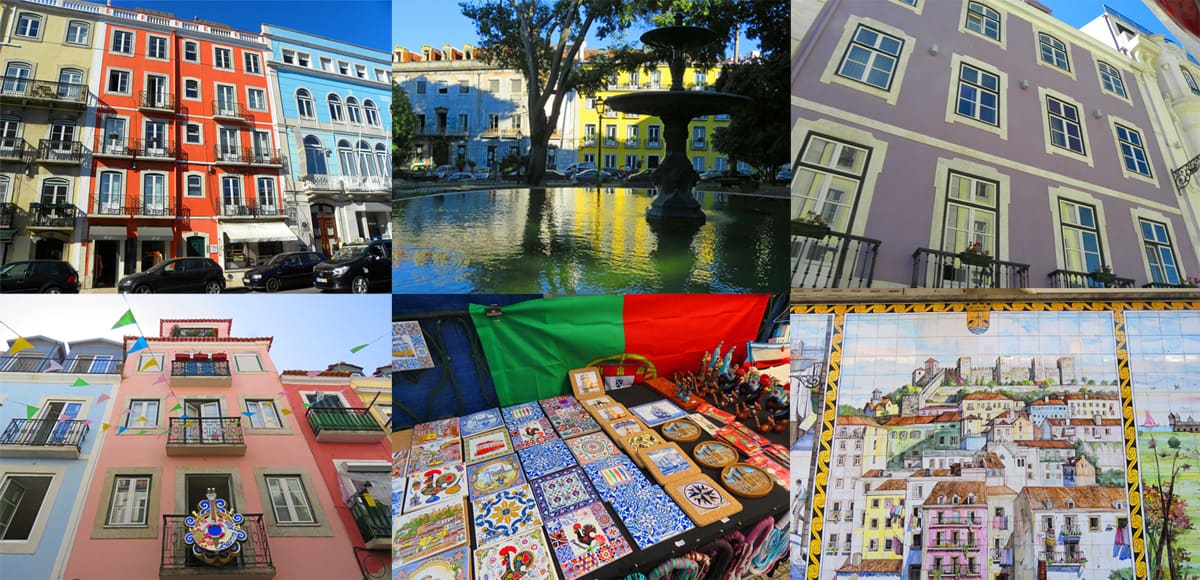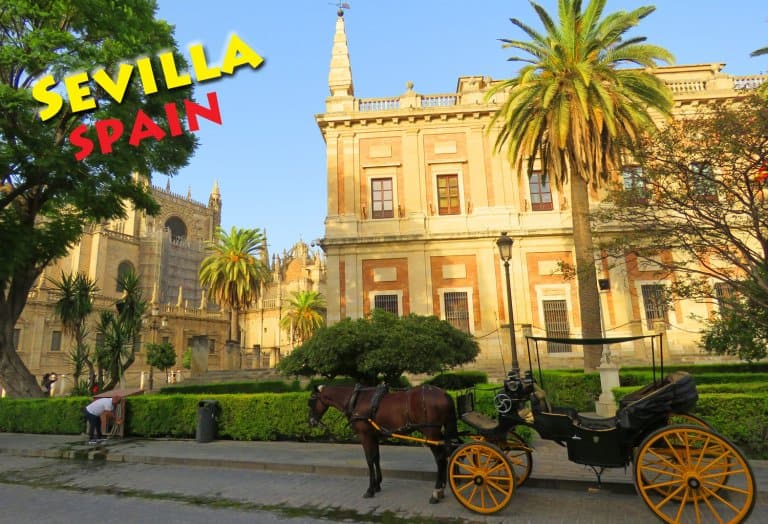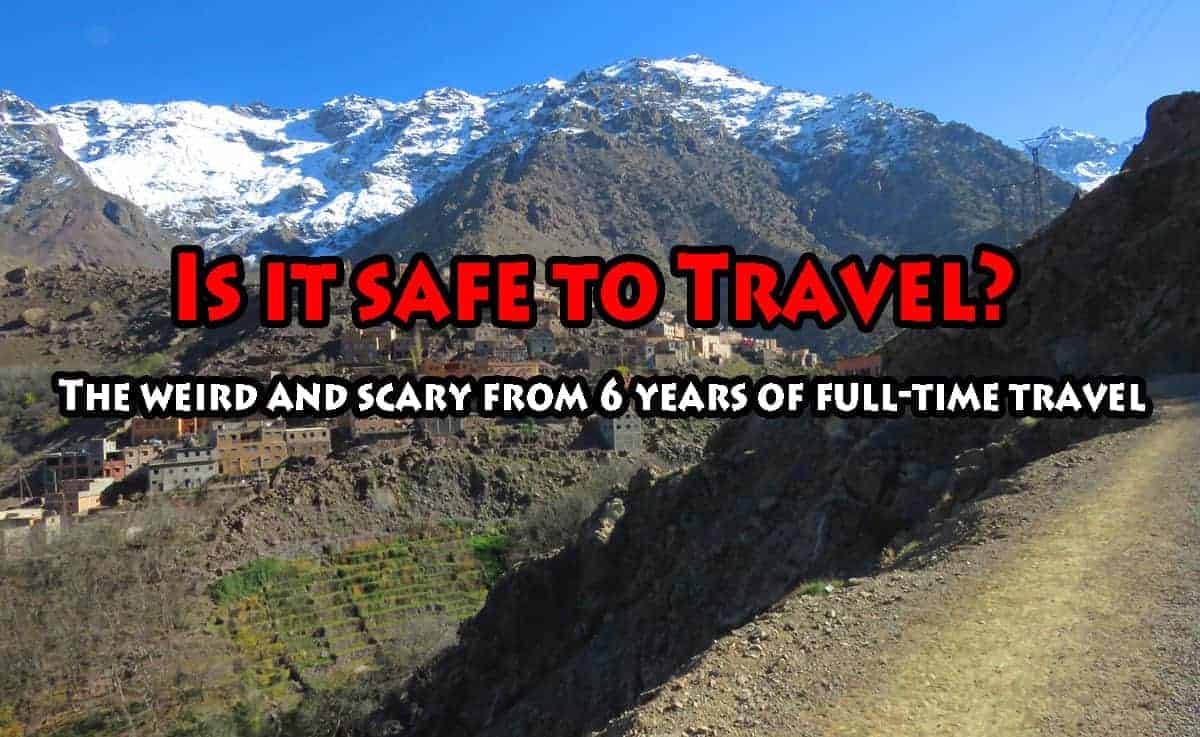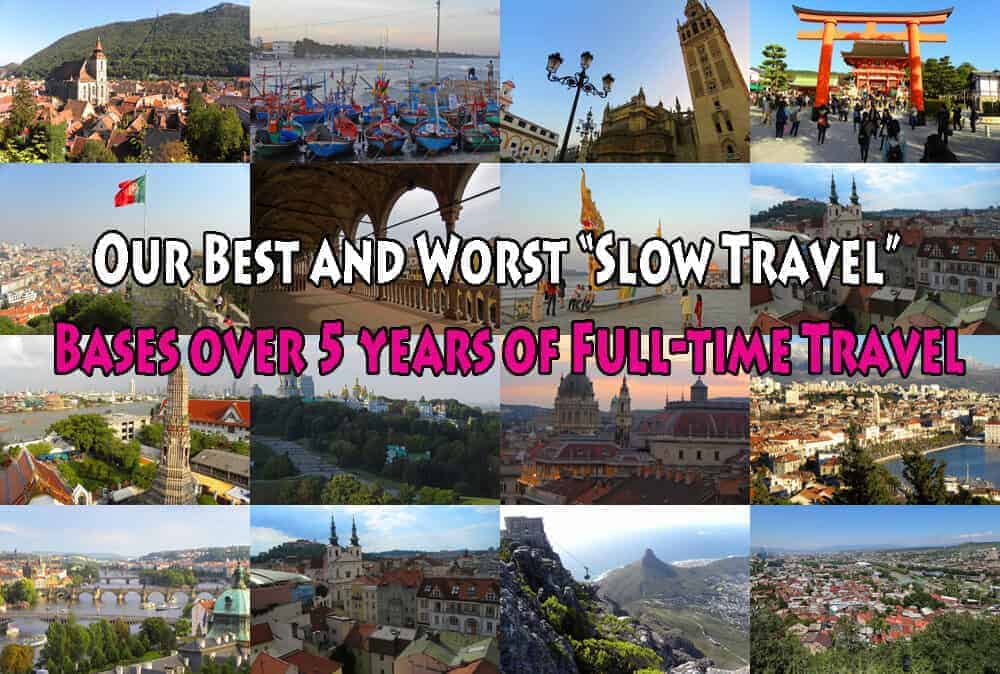 Ps. This is not the typical post on this blog. I try to be more positive. BUT, If you find our blog helpful, please consider using our links to book your flights, hotels, tours, and car rentals. Have a look at our Travel Resources page.