One of the things we always have to do when planning our time in Europe is juggling between Schengen and non-Schengen zones. When it became apparent in March that we wouldn't have to go back to Canada for the summer, we decided that we would spend most of the summer (May to July) in Croatia. That meant planning another month (April) within the Schengen zone*.
* for those unfamiliar with the rules, I'll break that all down at the bottom of this post.
.
We had a couple of scenarios.
1)  I thought of maybe dividing the month of April between Regensburg (Germany. We love Germany) and Verona (Italy). Looking at Airbnb we were surprised at some of the prices we saw: the average nightly stay in Regensburg came out to about $100 CAD/night (about $80 US). Verona was even more expensive, averaging $120 CAD/night (about $95 US). Overall, for a month that came to total rent of slightly over $3000 CAD (about $2350 US). That's way over our budget.
.
2) So then I decided to look at choosing one location for a month. I've mentioned this before: we usually stay somewhere a month because rates on Airbnb are usually much cheaper on a monthly basis. In most cases, you'll actually pay approximately the same staying somewhere for a month (28 days as defined by Airbnb) as you would staying somewhere for 2 weeks on a nightly basis. This is not always the case depending on the owner or the market (in Cape Town for example there was barely a discount staying somewhere a month) but in most markets this is what we've found.
So I looked at monthly rates. In both Regensburg and Verona I found nice apartments within the $2300-2500 range CAD ($1800-$1950 US). Closer to our range but still expensive (by the way, an apartment in Venice is in the $5000 CAD/month range. Ouch).
.
3) I researched cities within the Veneto region, less popular tourist places that are stops on the major train routes. And that's when I first heard of Padova (or Padua, the anglicized version of the name). Padova is actually a popular spot among Italian tourists and has many highlights including: Saint Anthony's Cathedral (a cathedral visited by millions of Catholic pilgrims every year), the Pretto della Valle (Europe's biggest square), and the UNESCO Heritage site botanical gardens (the first botanical gardens in the world). It has a lot more sites in its old historic center. I'll include some photos below as well as some informative links for those interested in visiting Padova.
.
Prices in Padova were much more in our price range and I found 2 apartments that are great value in different ways.
1) Because of an accidental double-booking in the 2nd apartment that I'll cover (below), we spent 3 nights in this fabulous apartment. It's one of the nicest apartments we've ever stayed in and Nicoletta (the host) is a warm, wonderful lady. It's also right next to the historic center. For $106 CAD (about $85 US) it was a great value. Nicoletta might also give you a good deal on a longer term stay if you ask.
2) The 2nd apartment is very different: situated next to the train station (3 min walk) it is not luxurious, is a bit quirky, and does not look great from the outside.But it is a great value dollar wise at $1361 CAD all-inclusive for 28 days. That's $1065 US. It's next to a gym (which we've joined for a month) and is an INCREDIBLE base to explore neighboring cities (you can get to Venice in 30 min, Verona in 40 min, and Bologna in 1 ½ hrs. We even went to Rome in 3 hours). It's nice to get off the train and walk 3 min to the apartment. Eloisa, the host, even gave us a tour of the historic center. Plus she gave us bikes that we could use to explore the town.
I recommend both apartments above.
.
So I went from: a) over $3,000 CAD/month that I would have paid splitting the month between Regensburg and Verona, to b) $2300-$2500 CAD if I had chosen either Regensburg or Verona as bases for a full month, to c) $1361 CAD by choosing a smaller, less-popular city nearby.
The point is that you can save money on Airbnb by 1) booking an apartment for a month (ie 28 days min) and 2) staying away from very touristy places.
.
In the end, Padova has been a great base: just the right size, well-located, and not jam-packed with tourists (and we would see a lot in Verona, Bologna, Venice and Rome).
.
If the cost savings are not enough to convince you, have a look at these photos of Padova (I also have a pretty cool video at the bottom).
Above: Palazzo del Podesta, in the historic center                                                 Below: just steps away is the Palazzo della Ragione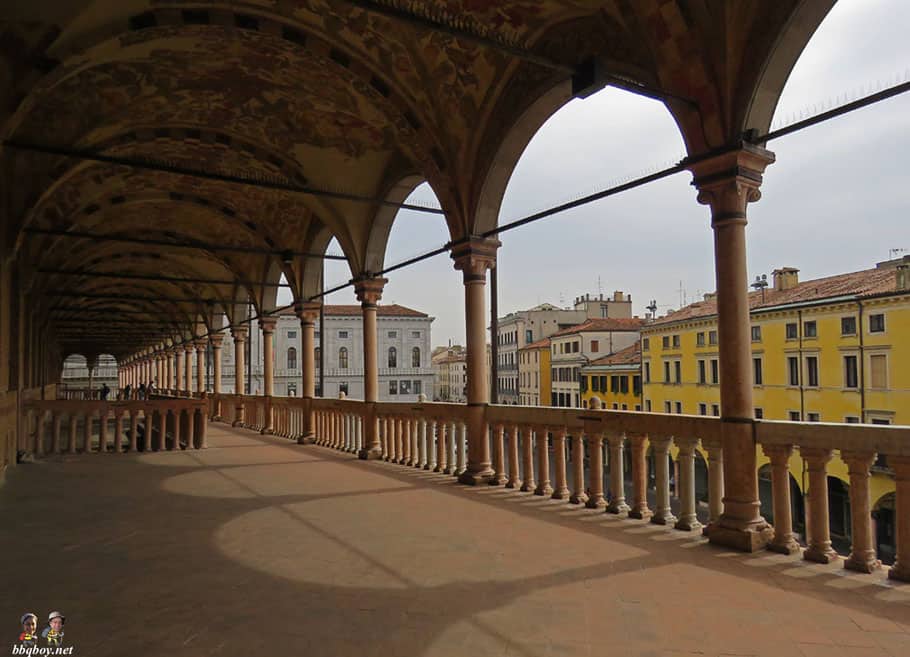 .
Below: Cafee Pedrocchi, the most famous cafe in Padova.
.
Below: Saint Anthony's Cathedral. Just fantastic. Unfortunately they don't allow you to take photos inside.
.
Below: Prato della Valle, the largest square in Europe.
.
Below: Saint Anthony's from the Botanical Gardens, a UNESCO World Heritage site.
.
Below: Views of  the basilica of Santa Giustina (yet another church in this small town).
.
This is the first video I've done on my new GoPro. Love it, now if only I could figure out Premiere Elements for the editing. Still, you should enjoy this short video:
* Credit to Lissette for coming up with the song. Thought it was so fitting…
.
Can anyone recommend a simple ,user friendly editing program? As I told someone yesterday, I felt like putting my head through our glass table working with Premiere Elements 9.
——————————————————————————————————————————————————————————————-
Practical information
On Schengen Zone: for non-EU nationals the rule is that you are allowed 90 days within a 180 day period, that period starting when you first enter. Croatia is for now outside the Schengen Zone and has it's own rules (although they also allow 90 days for visitors from Canada, the US, and the EU). In our case, since we want to spent May, June, and July in Croatia it means we can't go in the country too early because it would also mean leaving earlier. And since we arrived in the Schengen Zone in late January, we still have until late April to stay within the zone. By maximizing our time within the Schengen Zone, it allows us to enter Croatia at a later date (note though that once we've left the Schengen Zone in late April – having done our 90 days – we cannot enter the zone again for at least another 90 days).
Countries within the Schengen Zone.
Airbnb. You now get a $35 US credit off your first Airbnb stay if you sign up using our link. Just click on the icon below.
Padova information
Tourist office: Padova has a tourist information office at the train station which we've found very useful. They also have one in the middle of the historic center, close to the Palazzo della Ragione. Their website.
Getting around in Padova: Padova has one tram line which passes right by the train station (every 10 minutes) and will take you to all the main sites in the historic center. There's a booth to buy tickets for trams and buses right where you step out of the train station.
Map of Padova: HERE.
Detailed Tourist Information: Wikitravel has a detailed page on Padova.
.
——————————————————————————————————————————————————————————————-
If you haven't subscribed yet and want to get our posts and newsletters sent to your email, just insert your email address below: