Happy New Year! This is our first post of 2016.
Our mission on this day was to explore the Atlantic Coast of Cape Town from Mouille Point to Camps Bay. We knew that it covered quite a distance and figured that we'd have to take a taxi for some bits…We started walking and just walked and walked, the views getting better and better as we went along. In the end we walked the whole thing: 8.5 km (5.3 miles). It took a little over 3 hours.
Lots of photos in this post. In Mouille Point and Sea Point we met a lot of interesting people and they dominate the photos below. Then we entered the exclusive areas of Bantry Bay and Clifton, seeing fancy condos and gorgeous sea views. We finished off our walk entering Camps Bay, home of the most expensive real estate in South Africa. You'll see why.
Below: what we covered on our walk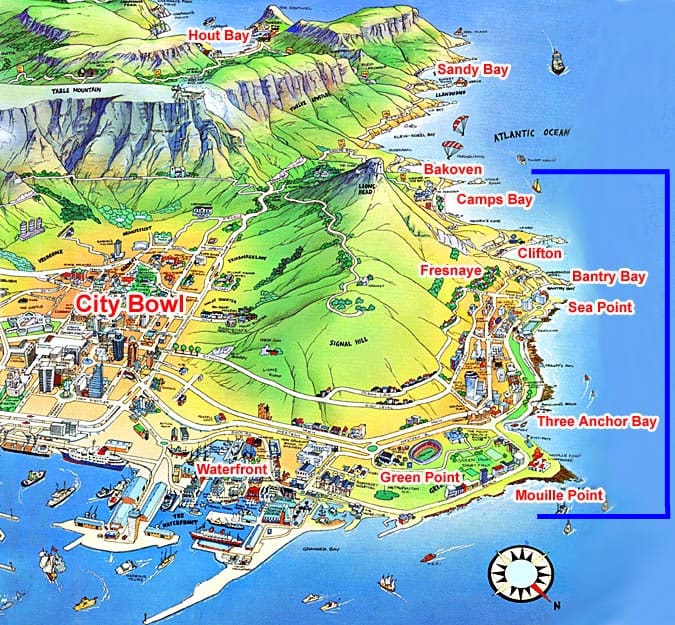 .
Photos (in order)
Below: views in Mouille Point, our starting point. That's the peak of Lion's Head down the coast.
 .
Below: separating Mouille Point from Sea Point is Three Anchor Bay. Sea Point is a populated green area where we met a lot of friendly people who just seemed to want to pose for us. 
.
Below: along the Sea Point Promenade, which runs from Mouille Point all the way to Bantry Bay.
 .
Below: fit guy posing for us.
 .
Below: cactus and sailing boats.
 .
Below: lady with her daughter.
 .
Below: Towards the bottom end of Sea Point is a huge public swimming pool. This is the Sea Point Pavilion. You'll see a few cafes and some small specialty food stands.
 .
Below: further south is Sunset Beach. Note the 'no gun' symbol on the sign. 
.
Below: looking north up Sunset Beach.

.
Below: Rocks between the different Bays.
 .
Below: Lion's head in the background. We're approaching Bantry Bay and the coastline is getting more scenic and the housing fancier. 
 .
Below: girls in the cold waters of Queen's Beach.
.
Below: Public art (that's not a real bench). 
 .
Below: Turning the corner to very exclusive Bantry Bay.
 .
Below: some really fancy condos and hotels. But there's no beach on Bantry Bay.
 .
Below: another bend brings you to the really, really exclusive Clifton area. 
 .
Below: Fancy condos, beautiful beaches (some of the most popular in Cape Town) and the Twelve Apostles in the background.
 .
Below:  Wouldn't it be great having generous friends who wanted to let you house sit for a while? 
 .
Below: Views of Clifton 1st beach. There are 4 beaches in Clifton, all separated by boulders.
 .
Below: More exclusive apartments – and tons of security.
 .
Below: although super rich, locals from all over Cape Town take mini buses just to get to the Clifton beaches. 
 .
Below: Clifton 3rd and 4th beaches. 
 .
Below: Another bend in the coastline brings you to a bowling club and views of Camps Bay (and the Twelve Apostles) in the background.
.
Below: Camps Bay beach.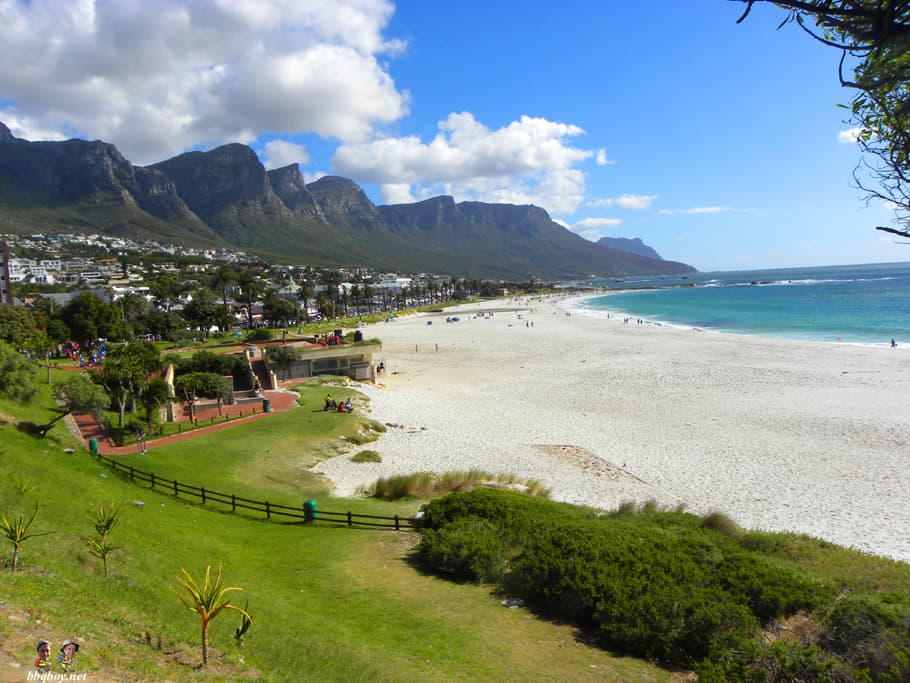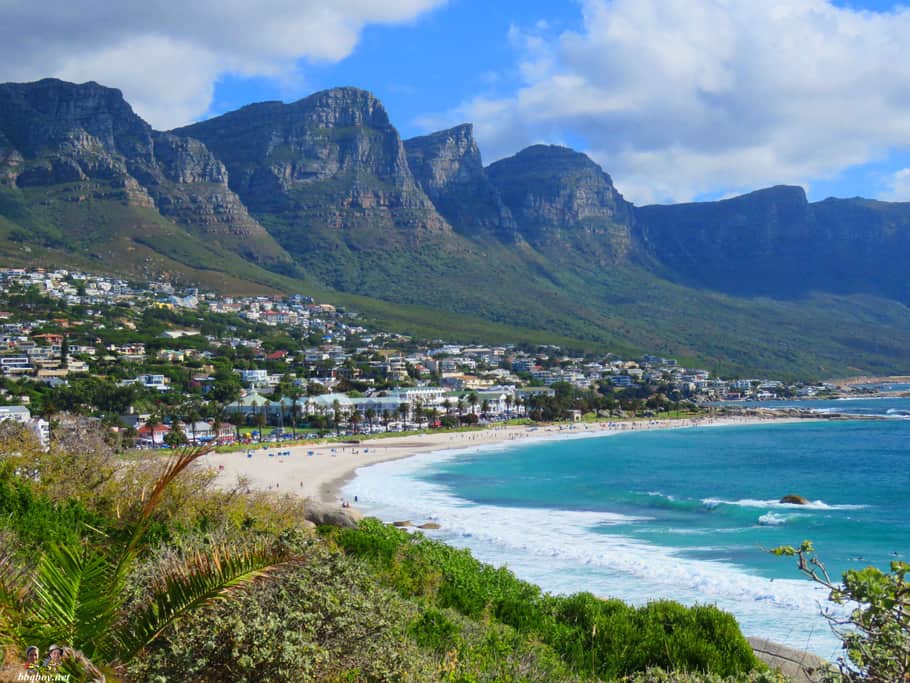 .
Below: Camps Bay has the highest property values in all of Africa, prices falling in the Beverly Hills range. It has a magnificent location below Table Mountain and the Twelve Apostles and is a nice place to come for a drink and dinner (and to watch the sunset). 
 .
Below: This guy was out with friends celebrating his last days of being a bachelor.
 .
Below: sunset over Camps Bay.
 .
That's it, 8.5 km of Cape Town Coastline. Am I the only one that wishes he could live here year long?
.
.
Looking for accommodation options in Cape Town?
Have a look at AccommoDirect.com for great Camps Bay, Sea Point and Cape Town accommodation deals.
.
——————————————————————————————————————————————————————————————-
If you haven't subscribed yet and want to get our posts and newsletters sent to your email, just insert your email address below: