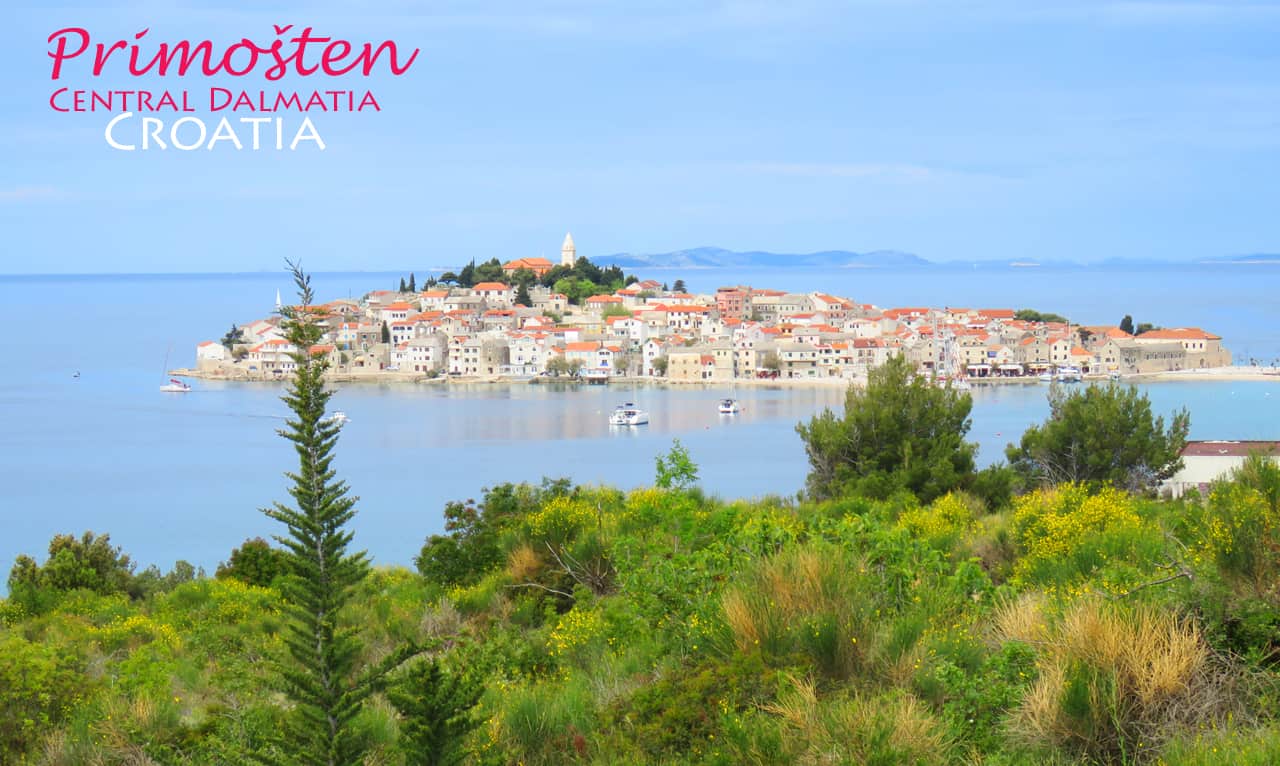 I had never heard of Primošten – It was only last week, when planning our road trip to Šibenik, that I heard about this pretty little town/island.
If you are coming from the direction of Trogir/Split, you'll get a spectacular first view of Primošten (Photo up above). Orange roofs, blue sea, white beaches – it's the idyllically typical Central Dalmatian town.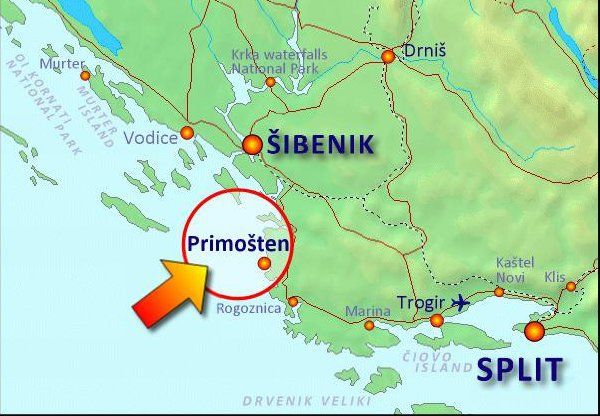 Primošten dates back to the mid-1500's. Initially it was an island connected to the mainland by a large wooden bridge which could be lifted in the case of enemy invasion (The Turks were threatening the whole region at the time). Later the bridge was replaced by an earth bank and the island was no longer an island but a peninsula.
Today Primošten is a quiet little town where the main industry is tourism. It is perfect as a short day trip from Šibenik or Trogir. There's not a heck of a lot to do in town except see the Church of St. George (St. Juraj), lie on its white-pebble beaches or relax at the restaurants and cafes along the shoreline. I was thinking though that Primošten could make a really nice base for someone who wants the vibe of a small town but the proximity to nearby attractions (Krka, Trogir, and Šibenik are very close, even Split, Drnis and Knin are within an hour).
Below: It's a small town. A short walk brings up to the Church of St. George (St. Juraj).
 .
Below:  St. Juraj is a very pretty church with colourful murals.
 .
Below: there's a cemetery around the church – as well as nice views in all directions.
 .
Below: also interesting are the stone roofs…something I haven't seen (or maybe noticed) anywhere else.
.
Below: It's very quiet within the town walls. You'll see a few gardens walking around.
 .
Below: restaurants along the harbour.
Below: more views of the beach and sea. Just a really beautiful place.
See our very short video on Primošten:
.
Getting to Primošten
– Getting here by car is easy by just following the coastal road E65 (also sometimes indicated as 8). It took us an hour to get to Primošten from Split. Worthwhile stops along that route: Trogir, Primošten, Šibenik.
– The same route is easily done by bus. There are frequent buses stopping at Primošten from Split, Trogir and Šibenik.
Summary: A really pretty place (that kind of reminds me of a smaller Rovinj) that is really worth visiting even if only for a few hours.
——————————————————————————————————————————————————————————————-
If you haven't subscribed yet and want to get our posts and newsletters sent to your email, just insert your email address below: