A Guide to Novi Sad





We've mentioned before that we like the gritty charm of Belgrade

(a city we've been to twice now). But just a bit north of Belgrade is a city that has been chosen to be a European Capital of Culture in 2021. That city is Novi Sad. And it couldn't be anymore different than Belgrade.
Novi Sad is Serbia's 2nd largest city with a population of about 250,000. It is located about 80km north of Belgrade, about an hour's drive by bus. Novi Sad is a very relaxed kind of place with pedestrian streets, colorful buildings, and a multitude of squares and churches. You'll find plenty of nice restaurants as well as a lot of sidewalk bars and cafes. Whereas Belgrade seems grey, imposing, and cold at first sight, Novi Sad almost has a Mediterranean vibe in comparison.

Note: Belgrade and Novi Sad are as different as 2 other cities we visited recently: Sofia and Plovdiv in Bulgaria. And Plovdiv (which was the 2019 European Capital of Culture) is actually quite similar to Novi Sad in many respects.
---
---
Highlights of Novi Sad
Petrovaradin Fortress
Novi Sad's most famous landmark, nicknamed "Gibraltar on the Danube". It was here that, in 1716, the Austrians fought off a Turkish army of 150,000 men (about double the Austrian forces). It marked the end of the Turkish threat in Central Europe.
The fortress is the 2nd largest fortress in Europe. It took 88 years, from 1692 to 1780, to complete Petrovaradin. The fortress has about 16km of underground tunnels. Visitors today can take guided tours which will take you through 1-2 km of the tunnels.
Note: This full-day tour from Belgrade covers the highlights of Novi Sad including Petrovaradin Fortress. Recommended.
Related: Castles and Fortresses that you may have never heard of
Liberty Square (also called Freedom Square)
Novi Sad's main square is beautiful. You might also see a few things that'll make you go "Hmmm".
On one end of the square is the Catholic "Name of Mary" Church. Anyone who's been to Zagreb will immediately see the similarities with St. Mark's church, particularly in the beautifully colored roof tiles.
In the middle of the square is a statue from famous sculptor Ivan Meštrović. Again, anyone who's been to Croatia is familiar with the works of Meštrović (when living in Split we would pass his statue of Grgur Ninski almost every day. Meštrović was in fact Croatian). Here, in Novi Sad, his sculpture is dedicated to Svetozar Miletić, a Serbian lawyer, author, and former mayor of Novi Sad.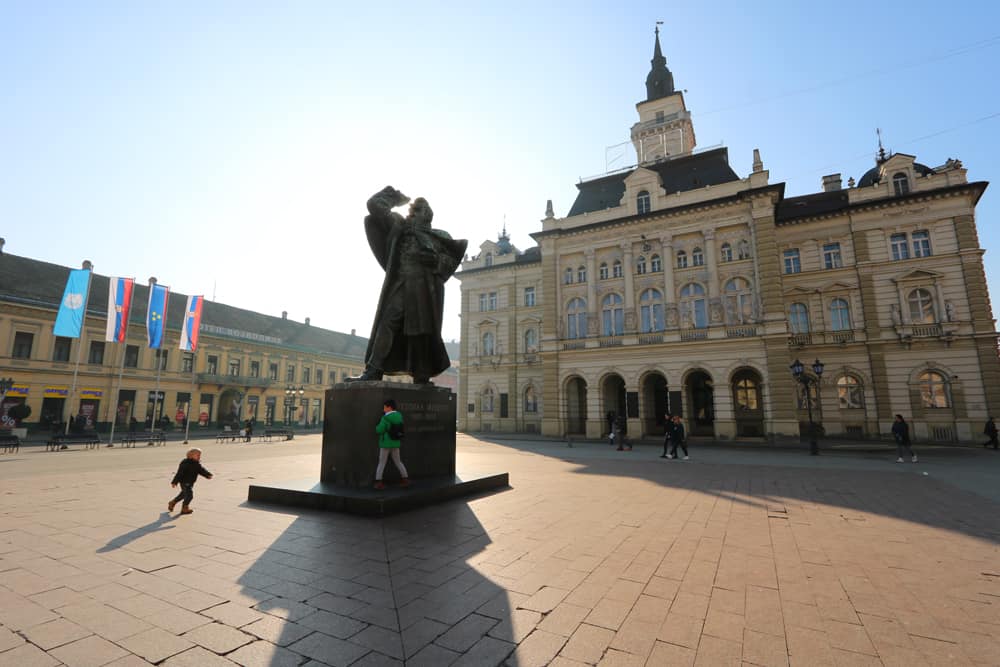 On the opposite end of the square from the Name of Mary Church is the City Hall building, built in 1895. It's actually a copy of the City Hall building in Graz (Austria).
The whole square is beautiful, with banks, hotels and museums in different colors.
---
---
Other highlights in Novi Sad's Old Town
Novi Sad has a few pedestrian-only streets filled with pretty squares, colorful buildings, and churches. A short walk from Liberty Square you'll find the Bishop's Palace which is another impressive building. Right behind is the small but beautiful St. George's Cathedral. It's the main Orthodox Cathedral in Novi Sad. In the old town you'll also find Dunavski Park (Danube Park) which is another symbol of the city.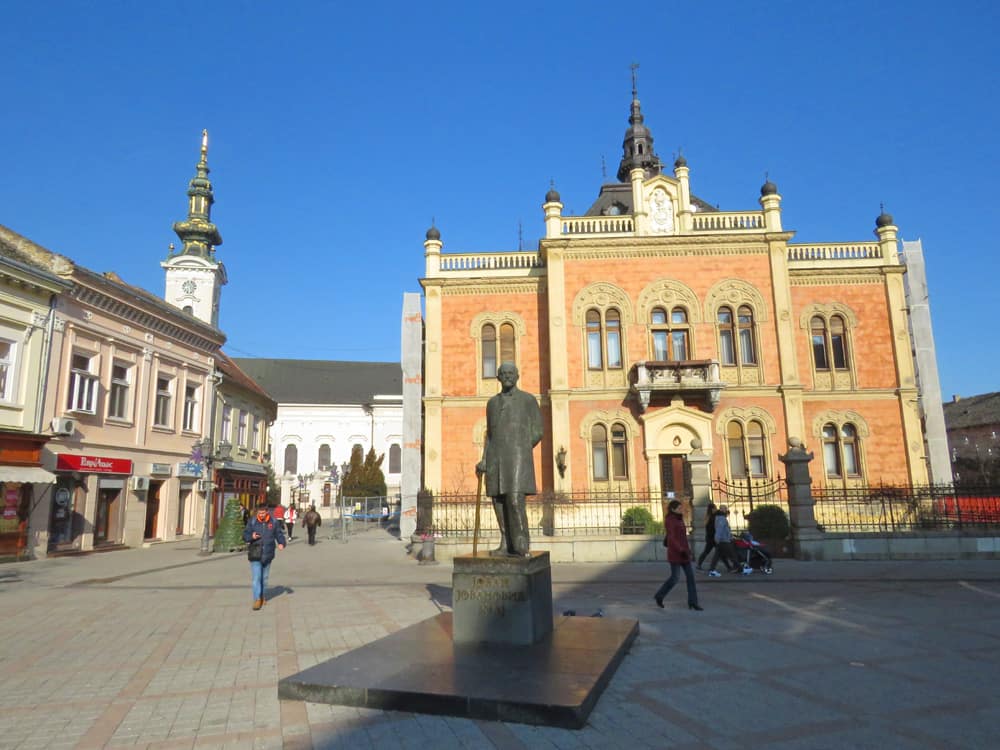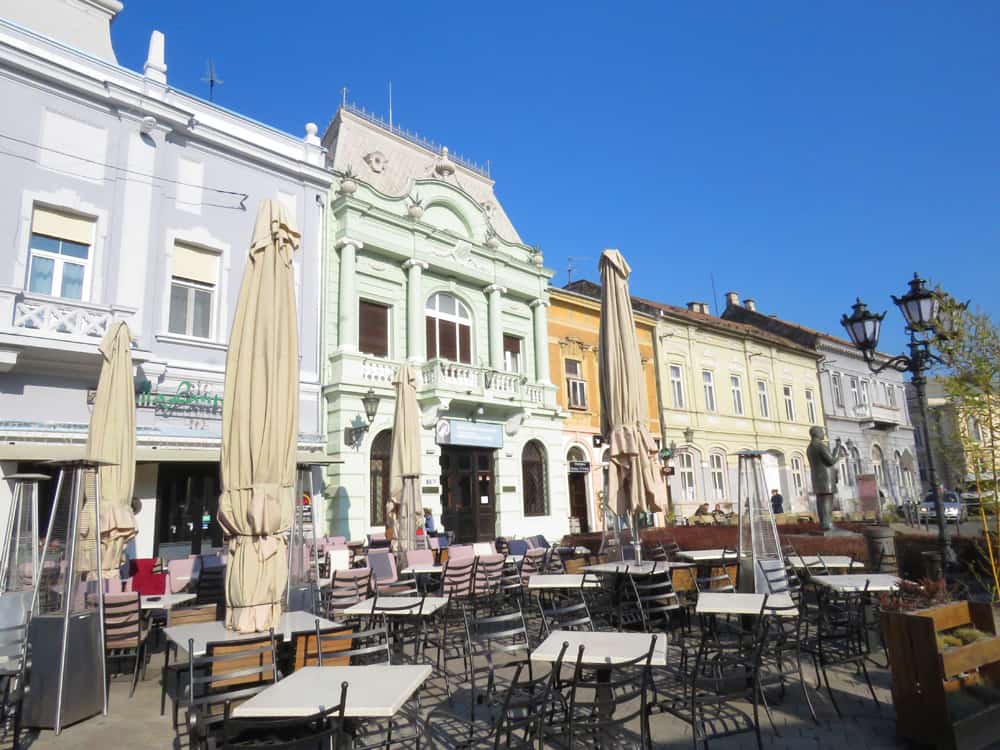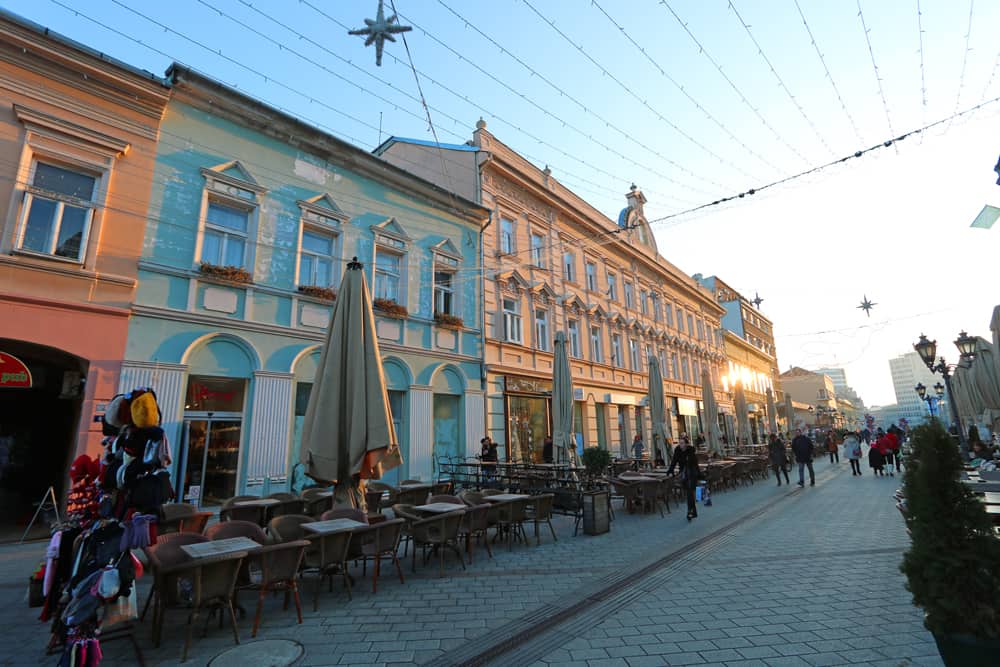 ---
---
Just outside the old town, just past the Serbian National Theatre, is the best museum in Novi Sad – the Matica Srpska Gallery. It features the most valuable collection of Serbian art in the world. You'll see paintings, sculptures, religious art, as well as modern art. If you can make it to a museum in Novi Sad, it should be this one.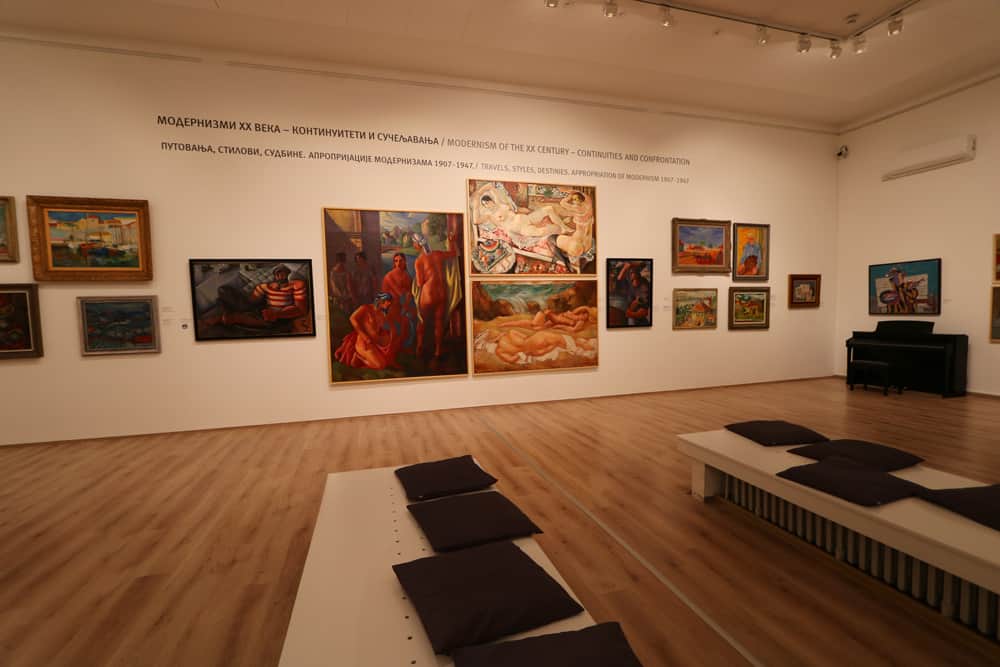 How long do you need to see the sights in Novi Sad? 2 days should do it, it's not a big city at all and the location of the highlights are concentrated. But if you're in no rush, Novi Sad is a nice city and a good place to chill out for a few more days (we were there a week and really enjoyed our time).
---
---
Recommendations in Novi Sad
Restaurants
Veliki. Excellent breakfast, good traditional Serbian food. Popular.
Petrus. Really good lunch and dinner, European menu. Also very popular.
G.IMI. Excellent upscale restaurant.
Fish & Zeleniš. Mediterranean food
Wine&Deli. French, Italian, tapas
Lanterna. Italian
Gusan pub. Lots of beer, excellent burgers and fried chicken.
Zak. French food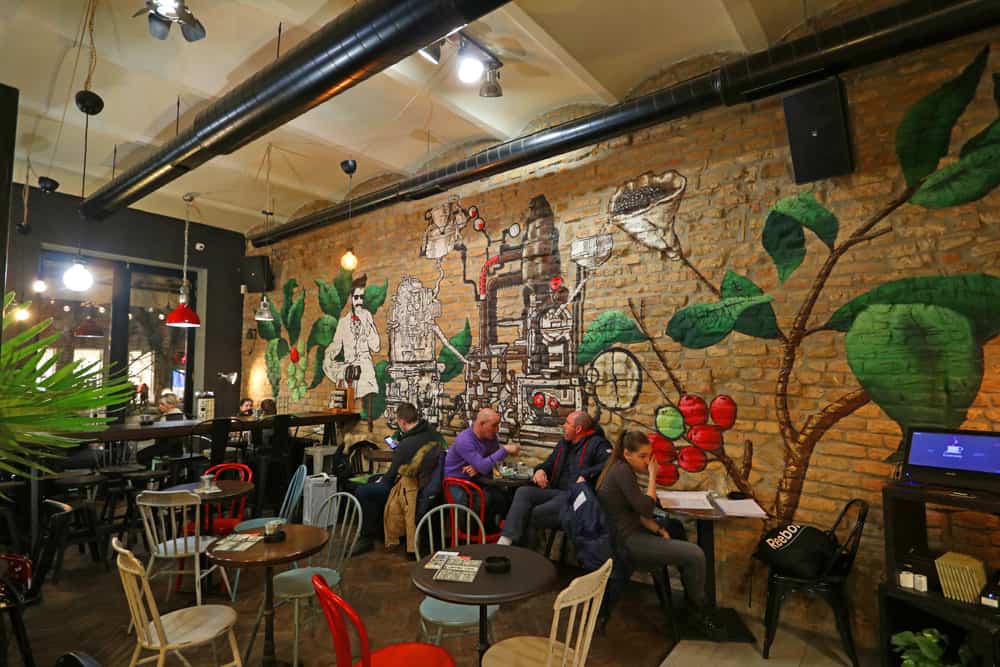 Best Cafés
Coffee Cups, Loft, Pogon, Izlet in Dunavski park.
Accommodation
Garni Hotel Centar, Garni Hotel Mediterano, Hotel Fontana. All excellent hotels located in the center.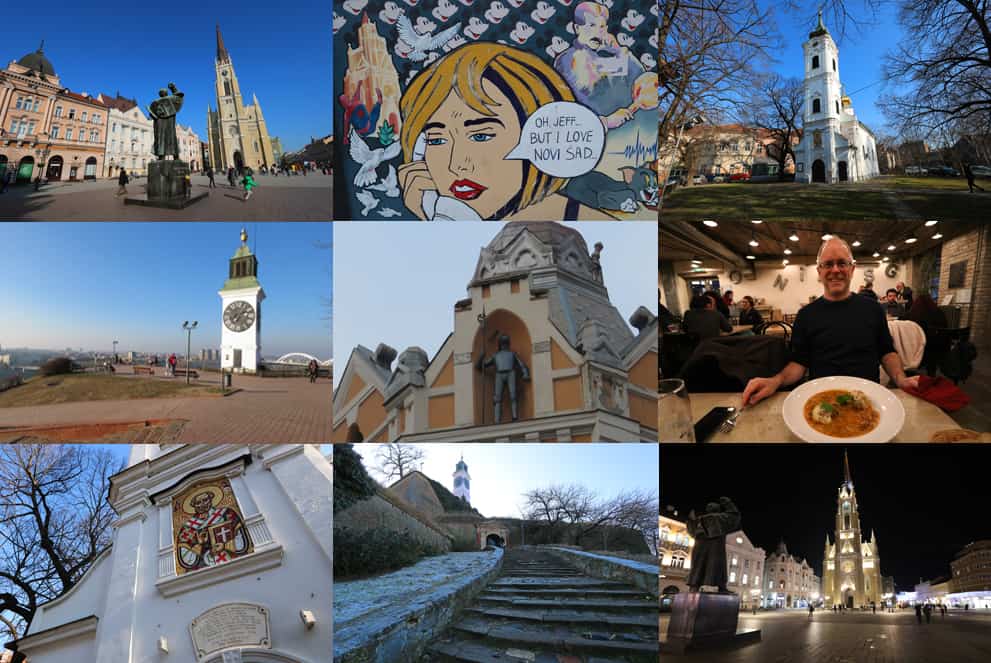 ---
---
Why we really like Serbia
This was our 2nd time to Serbia. A few years ago we spent a week in Belgrade. I wrote at the time about our impressions of Belgrade. This time we saw the country from south to north, entering Serbia from Montenegro on the famous Bar to Belgrade railway. The nature in the south is stunning, full of mountains and lakes.
Our 2 weeks in Serbia deepened our appreciation for the country. We've realized that we really like Serbia.
Why?
We find people friendly and welcoming. We had a few people strike up conversations with us on this trip, curious where we're from.

The level of English is very good in Serbia, making it an easy country to travel.

Serbia is where the Balkans meet Central Europe. We discovered cafés with that old world charm that you find in Central Europe. Same with restaurants. And unlike places like Croatia, you see locals in restaurants and cafés, mostly because of my next point…

Serbia is inexpensive. And that's primarily because you don't have the tourist pricing you see in Croatia and Montenegro (which might not seem high to the tourist but which are totally out of whack with the local economy in those countries). Prices in Serbia haven't been inflated by huge tourist volumes and pricing is in line with the local economy.

Serbia is definitely off the tourist trail. You won't see the tourist hordes here, which is another big plus.

Another plus: Serbia is increasingly becoming a medical tourism destination. They are said to have excellent medical/dental facilities. Serbia is also know for thermal baths and spas.
The bottom line is that Serbia is a country we would come back to.
---
---

Ps. If you find our blog helpful, please consider using our links to book your flights, hotels, tours, and car rentals. Have a look at our Travel Resources page.