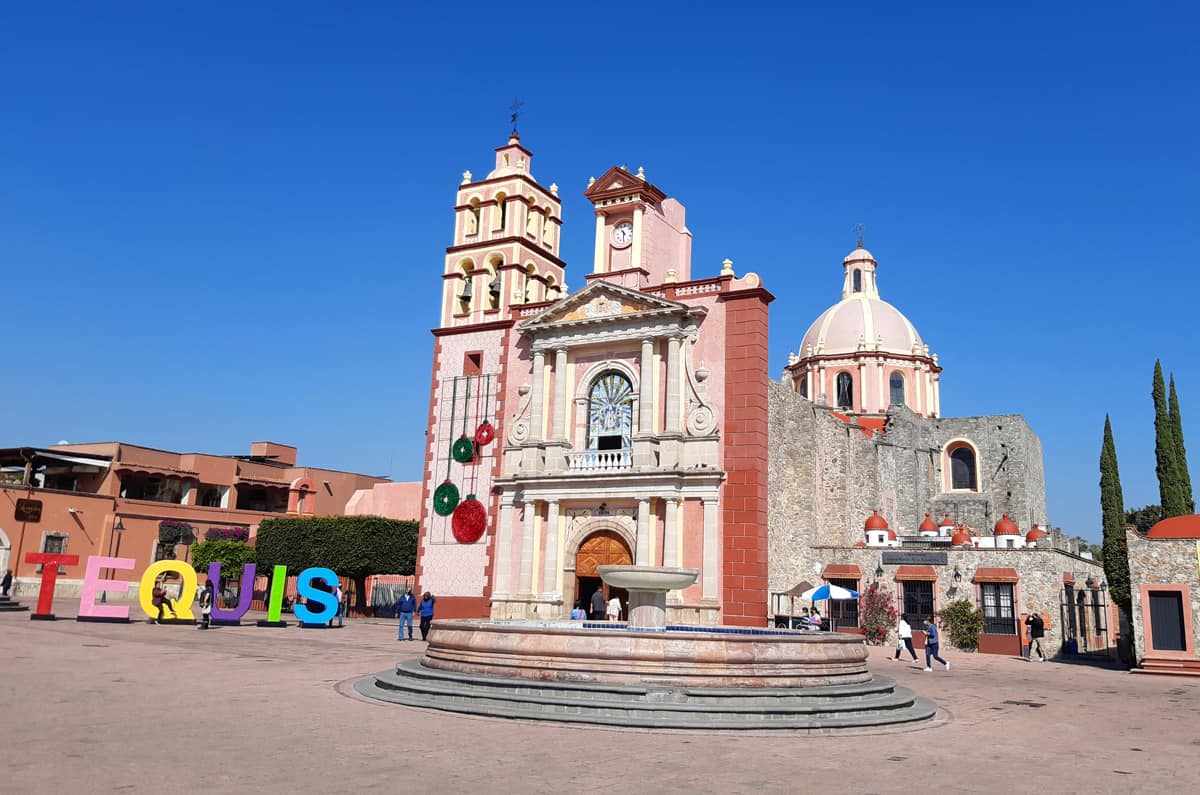 Only 30 minutes from Bernal, Tequisquiapan (Tequis for short) is another beautiful Pueblo Magico.
The highlight is the town square, Plaza Miguel Hidalgo. It is a huge square surrounded by arcaded colonial buildings, many housing restaurants, cafés or wine bars – I was surprised to find out that wine and cheese are a big thing in Tequisquiapan (there's a wine and cheese route through the region. More at the bottom of this post). Freixenet (the large Spanish wine producer) even has a wine bar just off the square.
---
---
In the plaza is one of the prettiest churches you'll see anywhere, the Templo de Santa Maria de la Asuncion. It looks like a cake with pink frosting on it. The rest of the plaza is full of trees, flowers and benches. It's one of the most prettiest, most peaceful zocalos (main squares) that you'll see in Mexico.
The surrounding streets are full of little stores and are also full of color. Tequisquiapan is a nice place for short exploration ("short" because the center really is very small). Apart from the square and the few streets around it, there's not really much to do or see.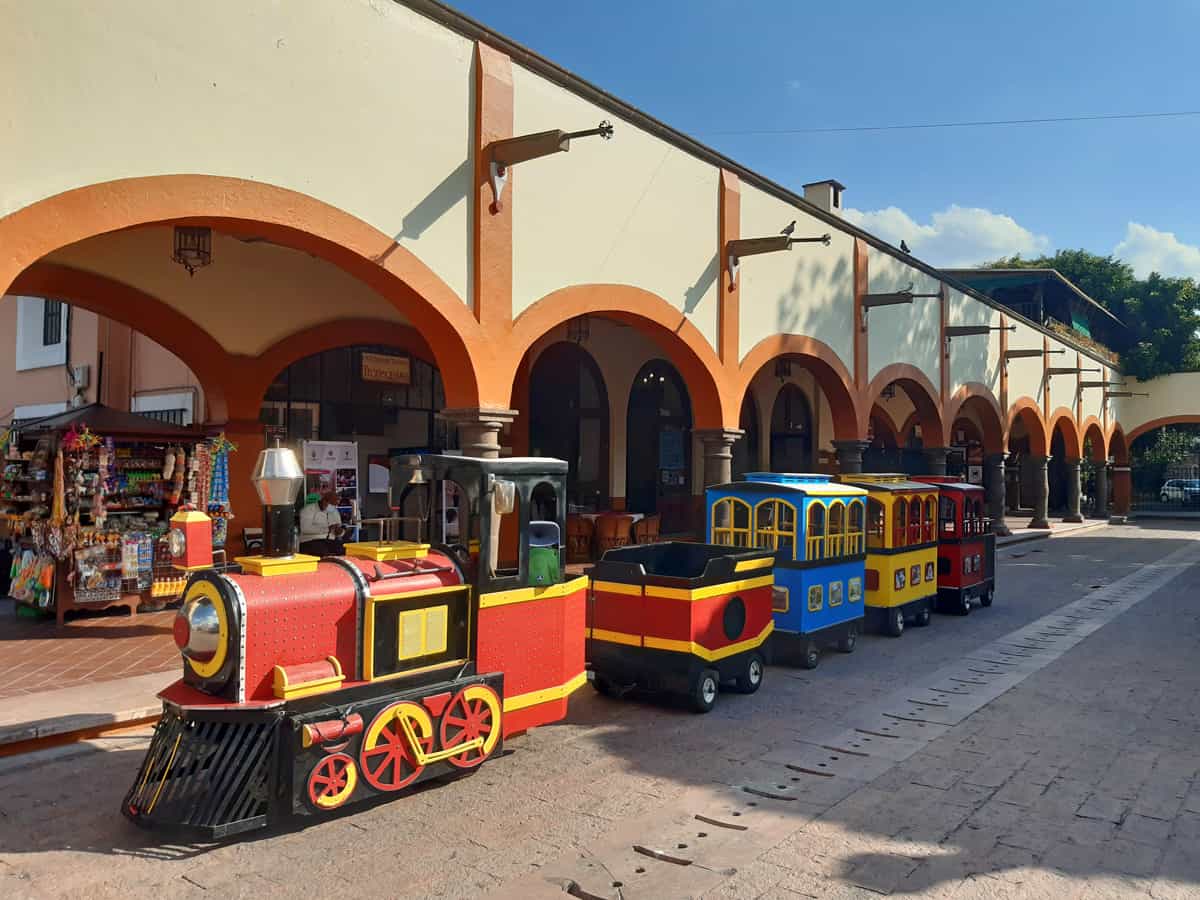 ---
---
The Artisan's market (Mercado de Artesanias) was on my list of places to visit for souvenirs. It was a disappointment to tell you the truth, the majority of things looking tacky and mass produced. More interesting is the "México me Encanta" museum which is collection of miniature figurines and scenes depicting typical Mexican life. The detail is incredible and you can't help but be impressed. If you're not rushed for time you should go have a look (it's just a couple of blocks from the main square).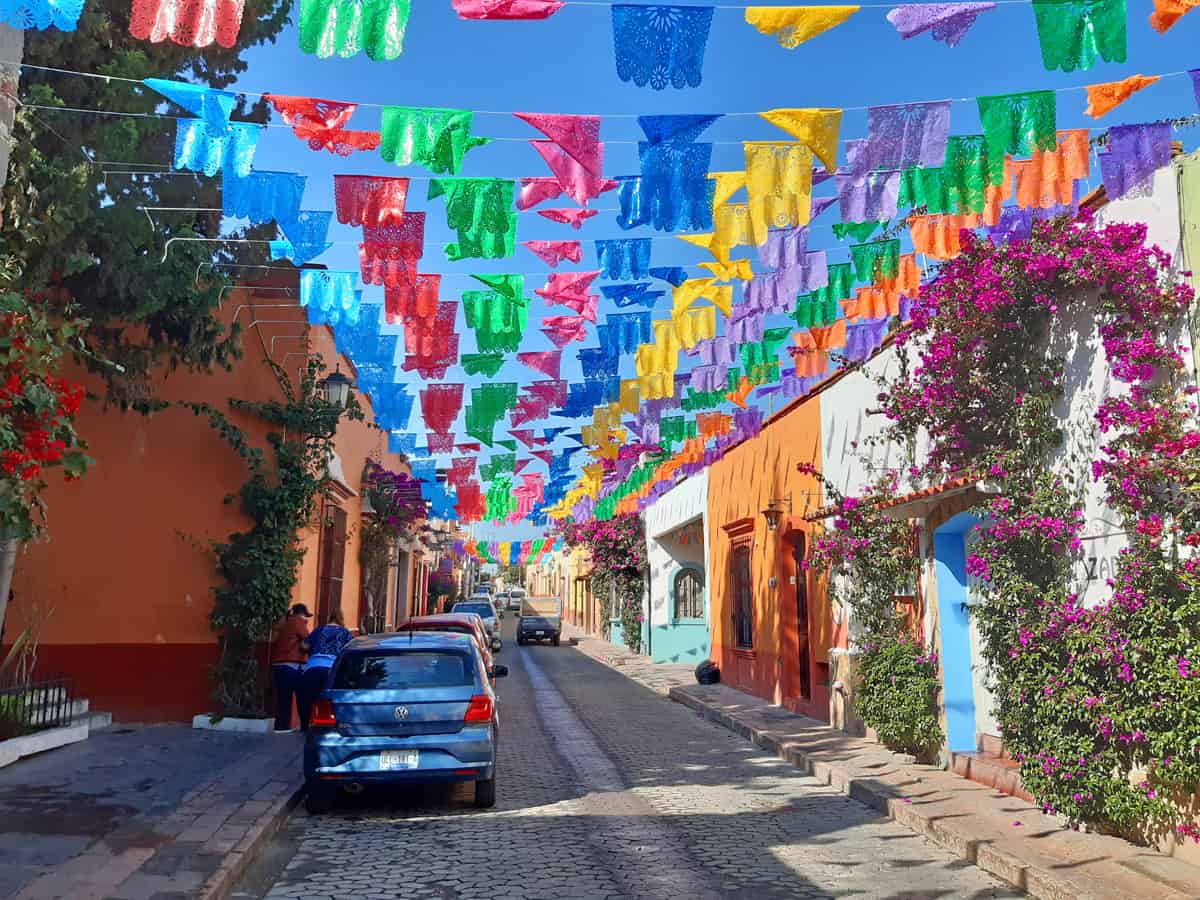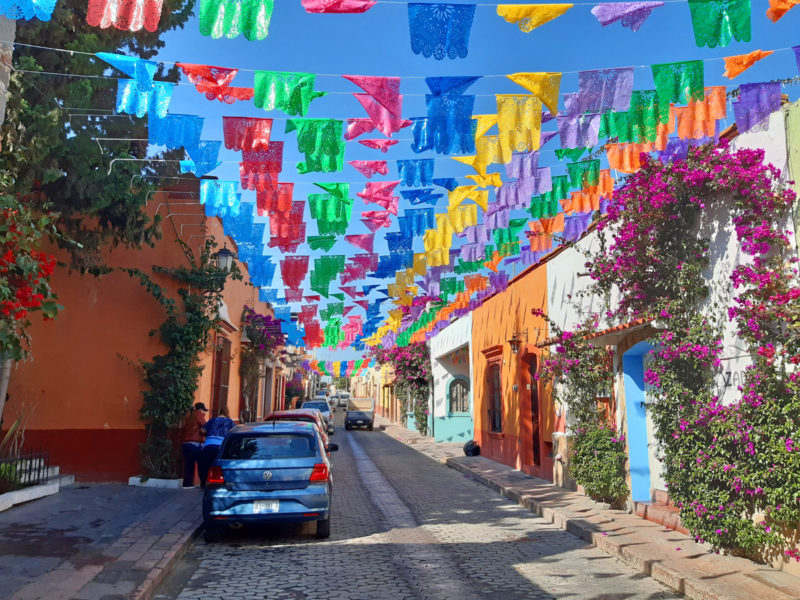 Visiting both Bernal and Tequisquiapan
We enjoyed both towns. Both are very small but incredibly pretty. Bernal was my favorite because of the hike up the Pena de Bernal but if you're in the area I think both towns should be seen.
Knowing what I know now: I would visit Tequisquiapan for a half day before going on to Bernal. A taxi between the 2 towns takes about 30 min and costs no more than 300 pesos ($15 US). I would spend 1 to 2 nights in Bernal, visiting the center and also making sure to climb the Peña. Both towns make for a fun weekend trip (it can be done in 1 day but I think spending at least night in Bernal is ideal, especially since we loved our hotel there so much).
Some distances and costs to give you an idea:
Queretaro to Tequisquiapan: 1 hr by taxi, expect to pay roughly 600 pesos ($30 US). If taking bus: there are no direct buses, you have to go through San Juan del Rio. Expect it to take 1 hr to San Juan del Rio and from there 30 min (on another bus) to Tequis. Very cheap.
Tequisquiapan to Bernal: 300 pesos ($15 US) by taxi, about 30 min. No direct buses.
Bernal to Queretaro: About 1 hr by taxi, about 600 pesos ($30). Or you can take direct buses that run regularly.
---
---
About Queretaro's Wine and Cheese Route
You'll find stores and bars selling cheese and wine in Tequis. Both are of very good quality (we were very surprised by some excellent Mexican wines).
If you have your own wheels, it's worth doing Queretaro's wine and cheese route. All about that here.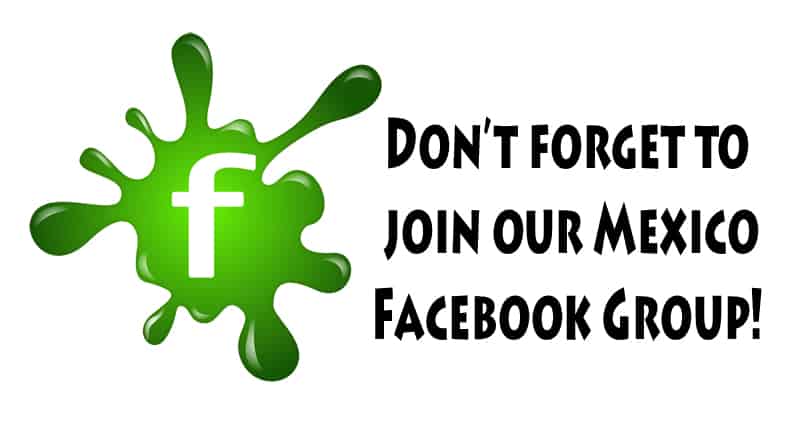 Ps. If you find our blog helpful, please consider using our links to book your flights, hotels, tours, and car rentals. Have a look at our Travel Resources page.