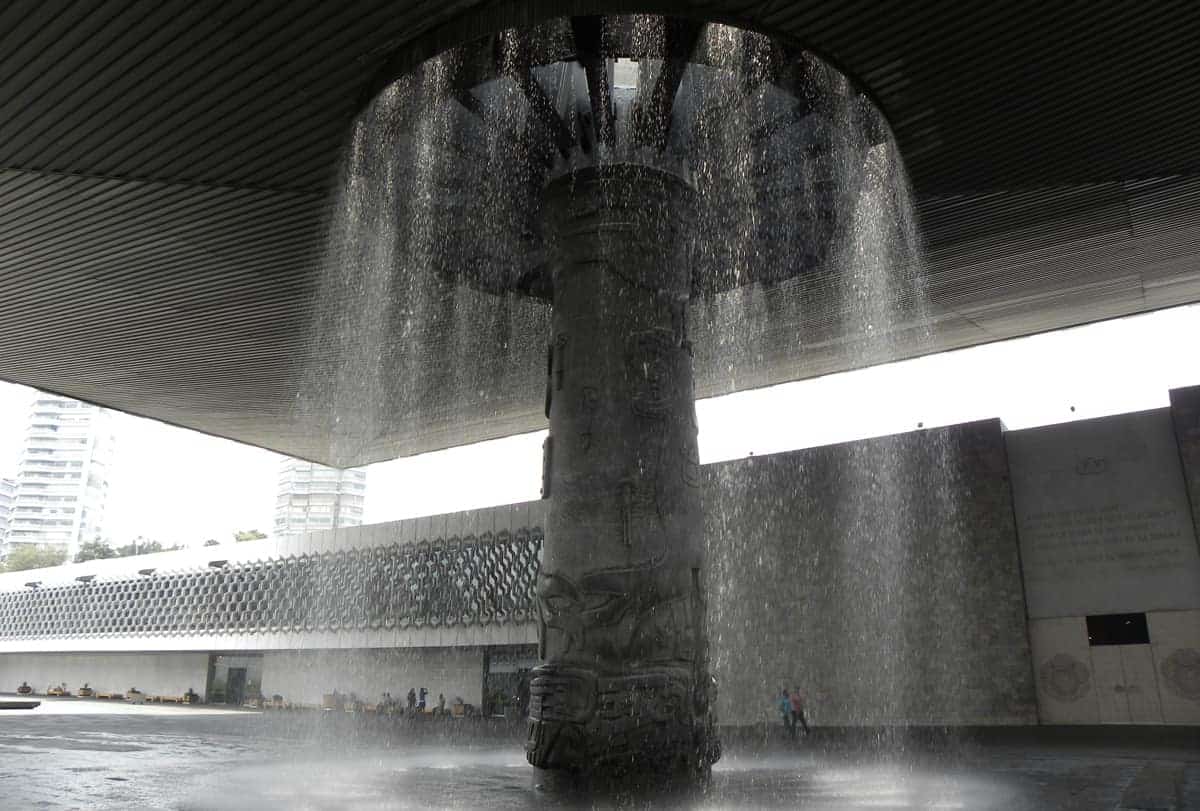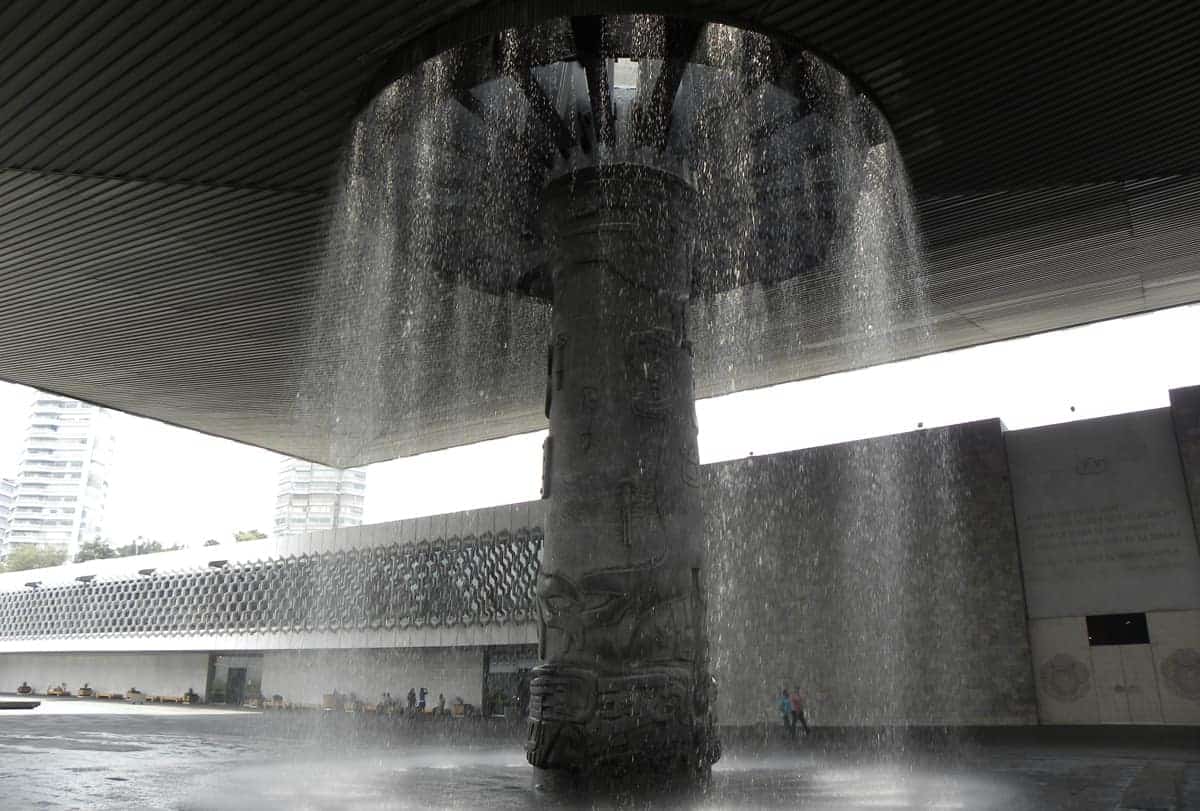 Things to See and Do in Mexico City (Part 2)
I'm going to get into trouble for this post.
I've previously written about things to see in mexico City: 48 Hours in Mexico City.
This time we visited the famous Mesoamerican ruins of Teotihuacan, a place I was that was at the top of my list after having previously visited Monte Alban (outside Oaxaca) and Cholula (outside Puebla). As you can probably guess by the title of this post, the experience was a disappointment. I'll explain that in this post as well as give you some tips on getting a more rewarding Teotihuacan experience (things I wish I had known on this visit). I also cover some other highlights: the incredible National Museum of Anthropology, the Frida Kahlo Museum and the Postal Museum. Lots of photos and some Getting Around tips.
* I was travelling on this trip with my mother who lives in Mexico. Every year I visit her and we explore different parts of Mexico
.
Teotihuacan
Located 48 km from Mexico City, Teotihuacan was the largest Mesoamerican city in the Americas. It was inhabited between 100 BC and 700 AD and at it's peak (around 450 AD) it covered an area of about 30 square km and had a population of approximately 150,000. The city was connected by a large avenue known as the Avenue of the Dead which takes you from the Temple of Quetzalcoatl on one end, to the Temple of the Sun (the largest temple) about two-thirds of the way through, to the Temple of the Moon at the other end. These 3 Temples evoke the mysticism of Mesoamerican culture: the worshipping of the gods, the huge pyramids built to appease them, and grisly human (and animal) sacrifice. The history is fascinating.
Unfortunately the experience wasn't.
Our biggest mistake was entering Teotihuacan at Gate 2.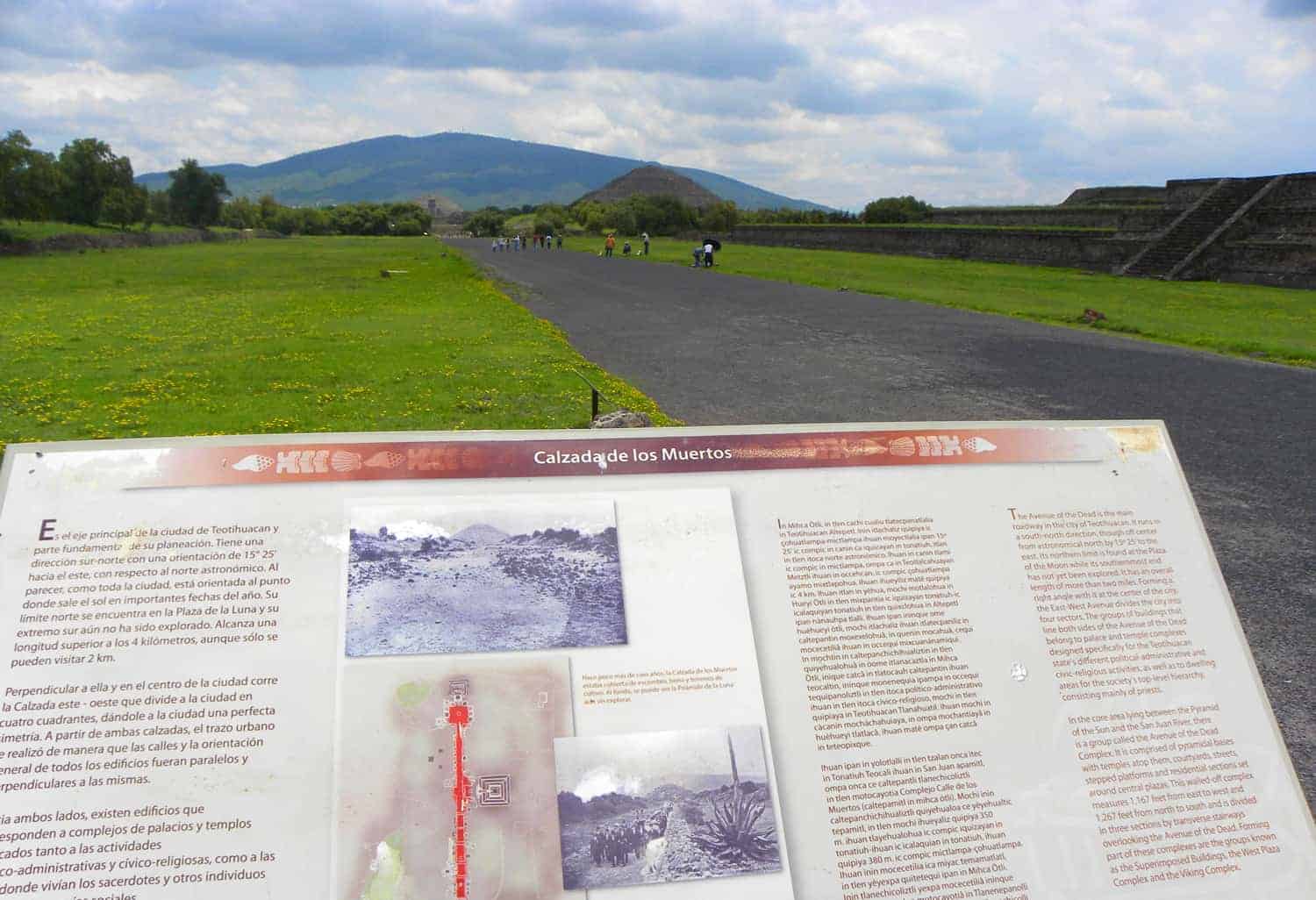 We weren't impressed. Ahead of us lay a long cement road. Low-lying Temple ruins lay off to the side.
Mom: "Totally uninspiring".
Me: "Big piles of rocks".
I know that above comments aren't fair. But we just weren't very impressed by what we were seeing.
Mom lasted about 25 minutes, enough to see the Temple of Quetzalcoatl and walk about 200 m down the Avenue of the Dead. "I think I'll just go sit somewhere and have a coffee" said she. I continued on by myself down the cemented road, passing stray dogs and vendors selling tacky trinkets, until I reached the Temple of the Sun. I climbed up, enjoyed the views, and decided to go find Mom. I had also had enough.
These are the best of a whole bunch of uninspiring photos.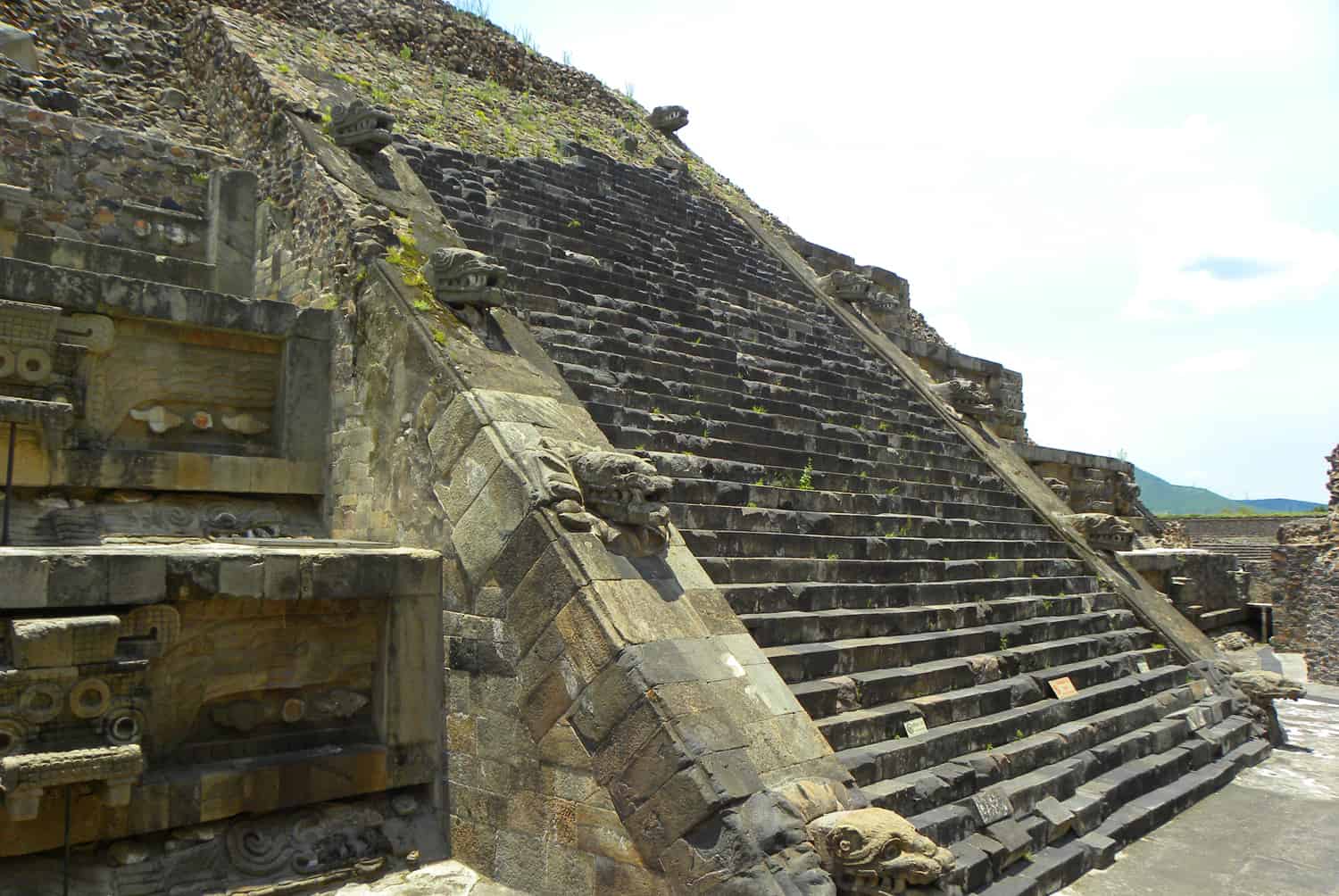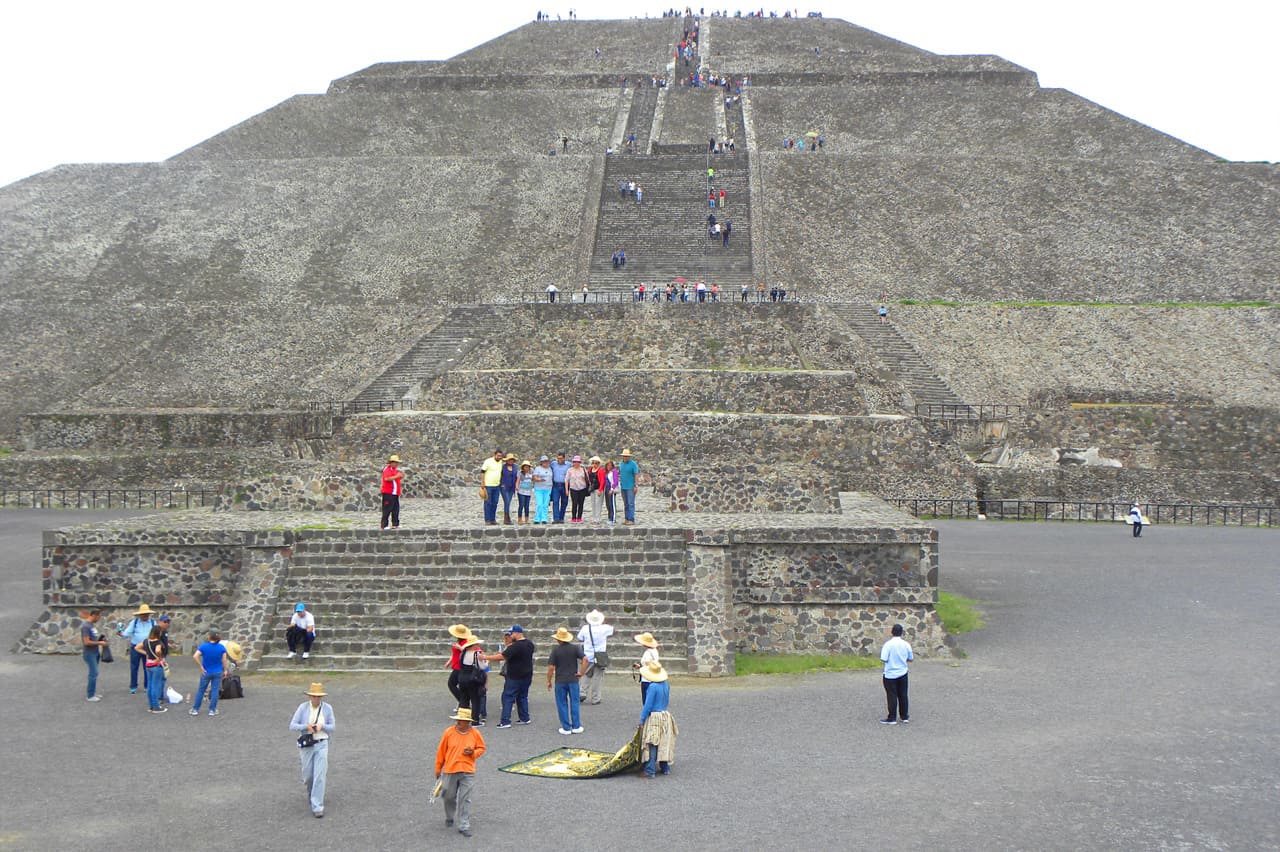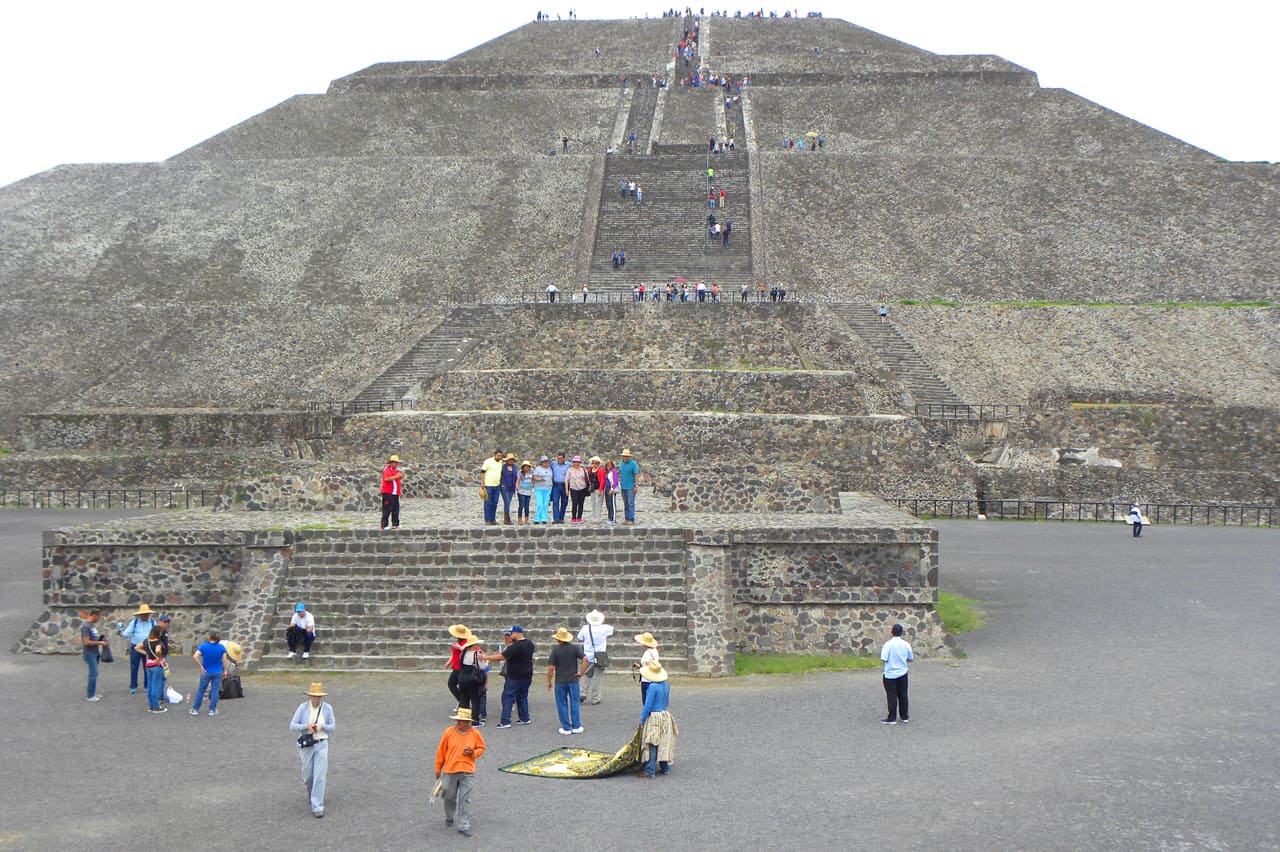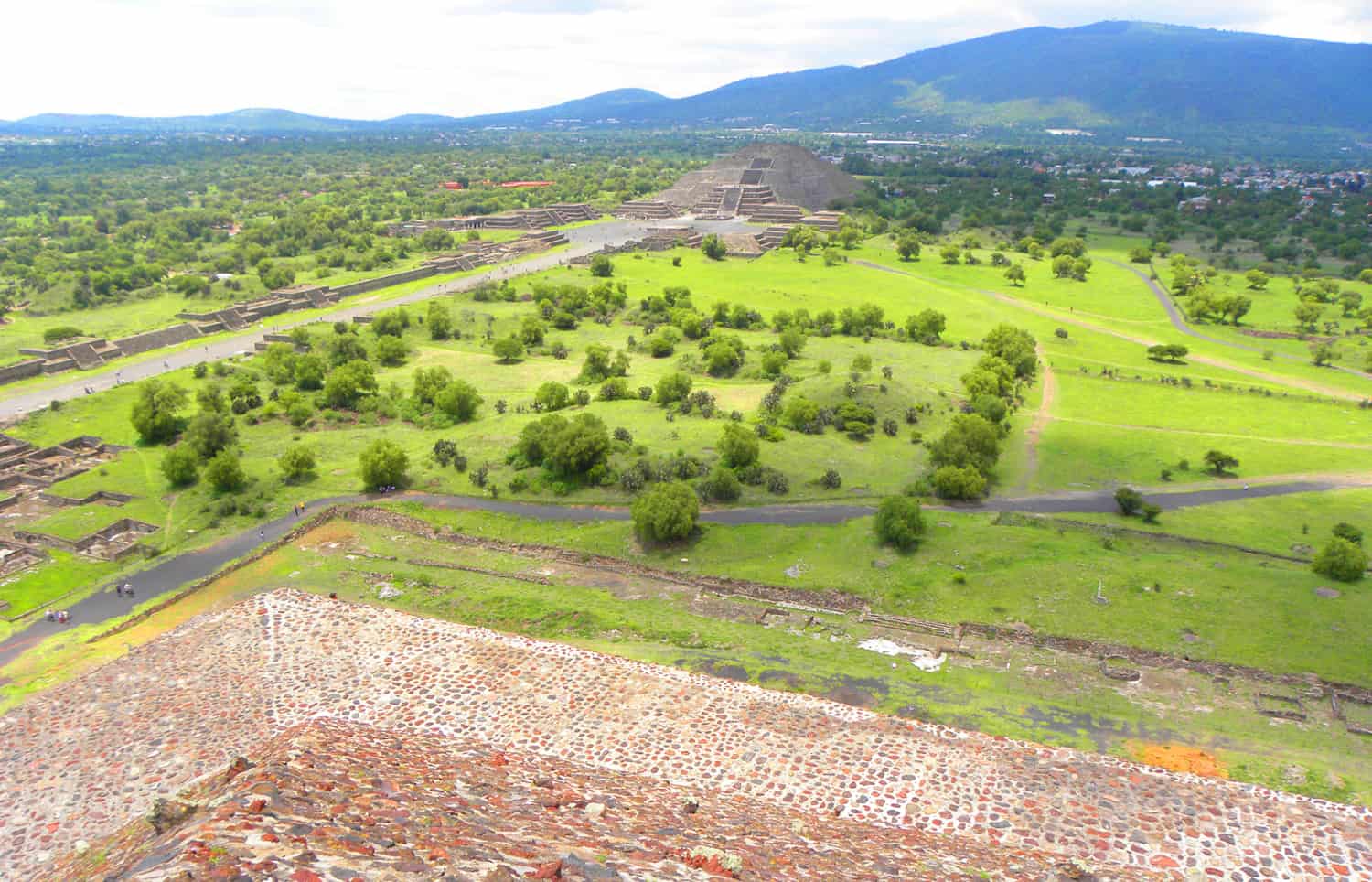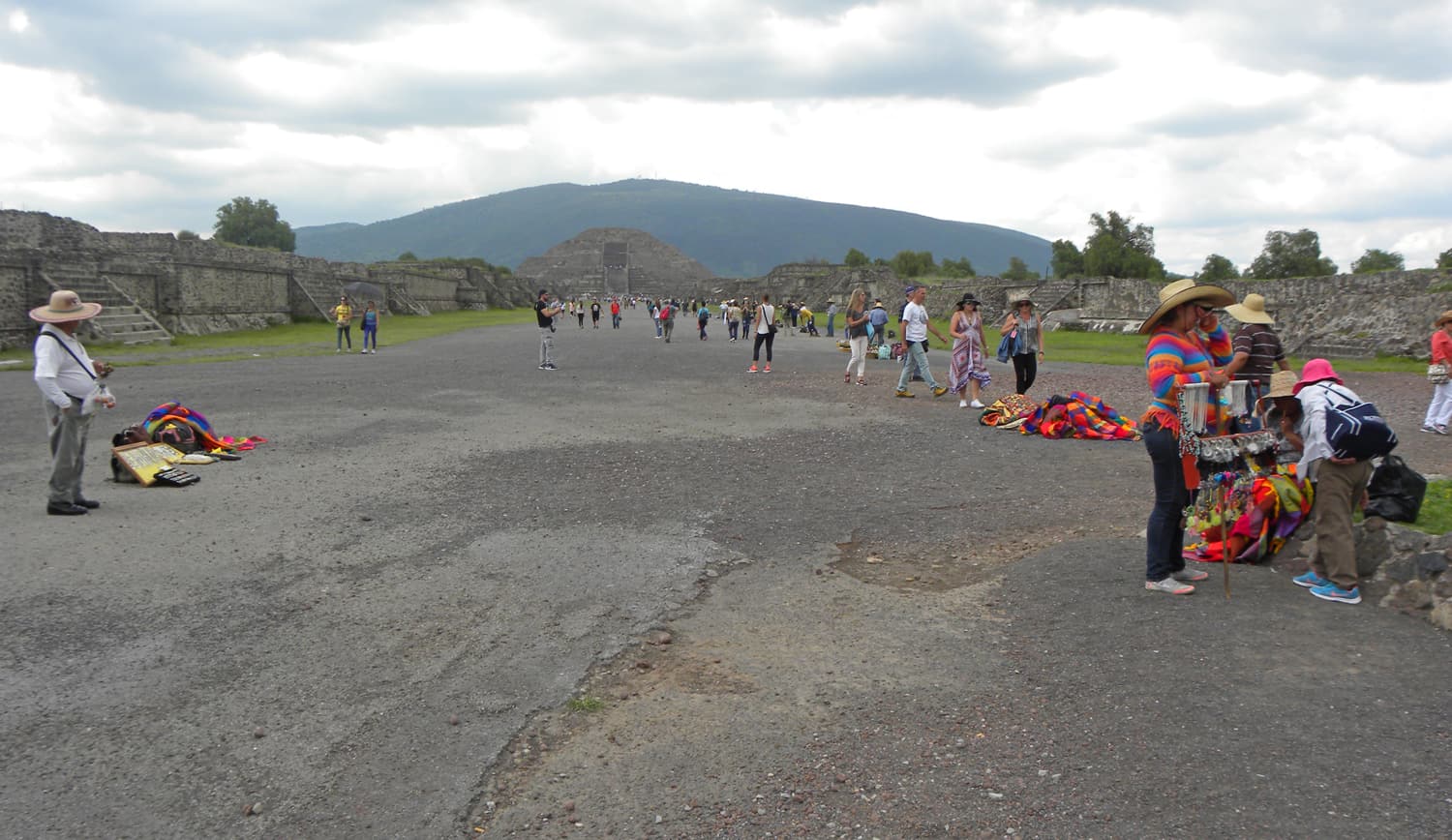 I have a few gripes about Teotihuacan. Unlike the sites of Cholula and Monte Alban (which I found incredible) there are vendors all over Teotihuacan. If they're not pushing you to buy tacky plastic souvenirs they're making jaguar sounds with some kind of mouth piece they're also trying to sell. Mom: "no benches, no shade, not even a nice cafe. The river passing through the site smells like raw sewage. Can you imagine what these people living here hundreds of years ago would say about our civilization?".
I browsed the internet and have yet to find anyone who has been disappointed visiting Teotihuacan. It gets great reviews on Trip Advisor. But I somehow find it impossible to believe that we are the only people to find Teotihuacan disappointing*….
* My friend Tony commented below and I'm including it here. He enjoyed Teotihuacan and has some good tips on how to best explore the site.
a) have a guide – what a difference it makes, putting everything into context, illustrating the pertinence of things (everything)
b) Enter at Gate 3 at the north end (near the Pyramide de la Luna" ) – much smaller crowds, easy entry, visit of the Palacio de los Jaguares + Templo de los Caracoles + Palacio de Quetzalpapaloti, then onto "Luna" before "Sol". And , not least, there is a large home style restaurant, café + Bar within a 150 metres or so of the entrance, just outside the park (which lets you back and forth as you wish)
c) Climb both Luna + Sol – v different – the "city" layout, perspectives etc are made to see from "Luna"
We didn't even visit the lower (south of Sol) part of the ruins – lack of time but also 'cos the guide mentioned we would probably find them disappointing after what we had already seen! They are really only of interest to the 'professionals' she said … (There you have it ..)
d) If nothing else impresses, its also just the immensity of the place – and a wonder as to how it was all constructed without metal tools, without pack animals of any type (which even the Egyptians had for their Pyramids).
We obviously screwed up in the way we saw Teotihuacan. We're planning a return trip in 2023 and will have an update…
..
Want to really get a great understanding of Teotihuacan? See the Museum of Anthropology in Mexico City (below).
.
---
---
National Museum of Anthropology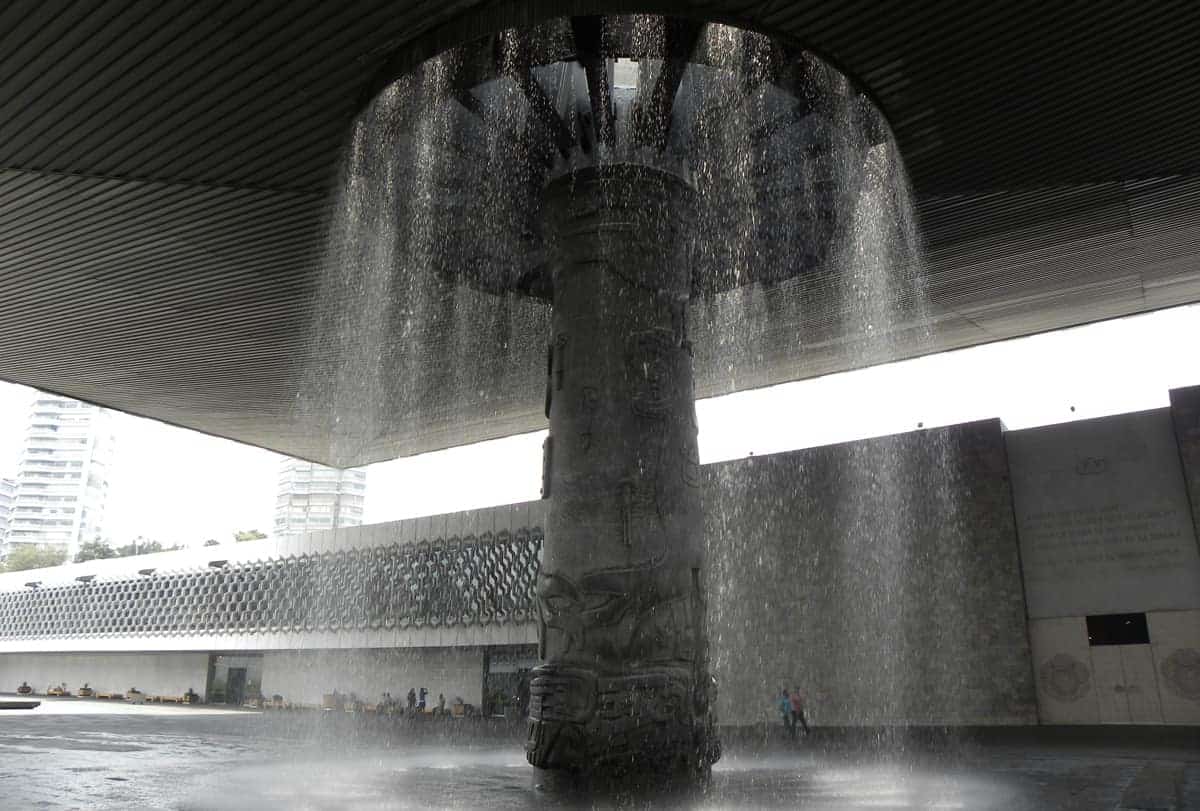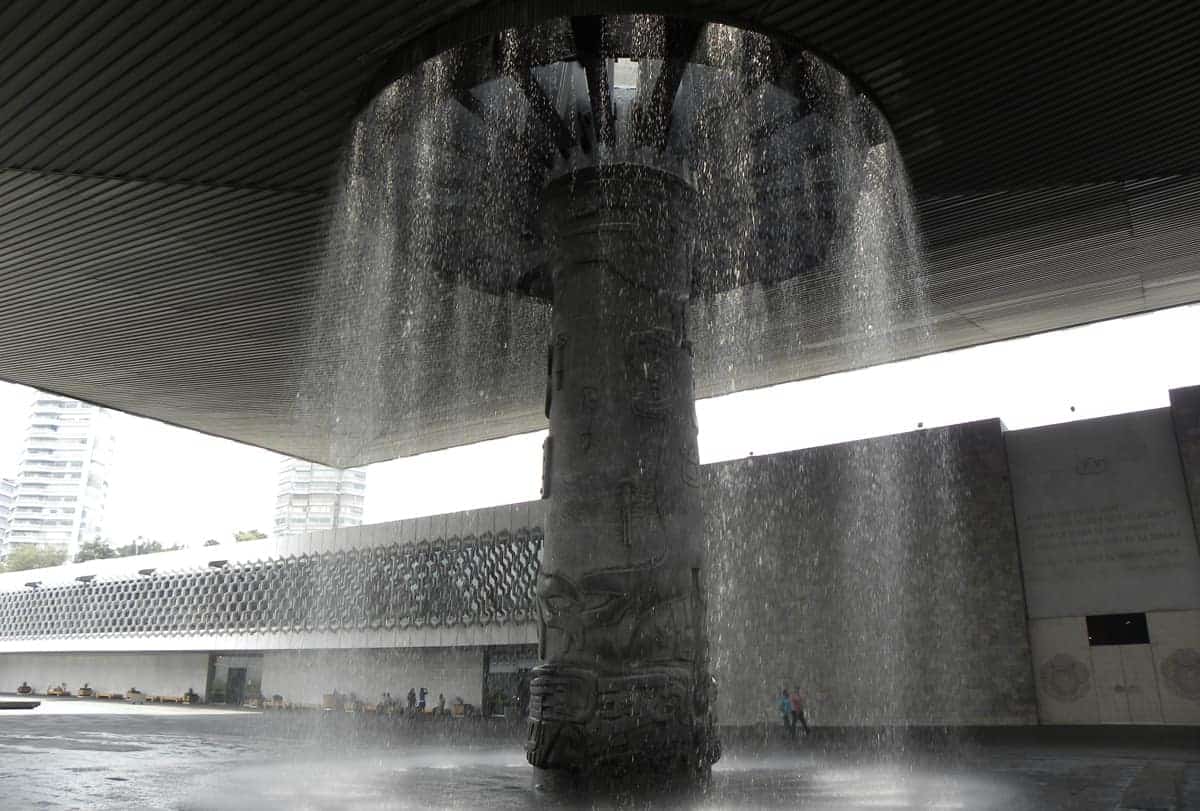 Mexico City's Anthropology Museum is a world class museum, the best Anthropology Museum I've ever visited. It details the history of Mexico, from the first people who migrated to the area, describing the evolution of humans through the ages and regions of Mexico. It also covers all the major archaeological sites in Mexico: the Mayan temples in the Yucatan and Chiapas (Chichen Itza, Uxmal, Yaxchilan, Tulum, Palenque), the Zapotec and Mixtec sites in the Central Valley of Oaxaca (including Monte Alban), the civilizations in Northern and Western Mexico…and has a whole section on Teotihuacan which includes artefacts that you won't find at Teotihuacan itself. Through the use of large replicas (see the replica Temple of Quetzalcoatl below) and descriptive signage it gives you great insights on what life was like in the city. It is excellent.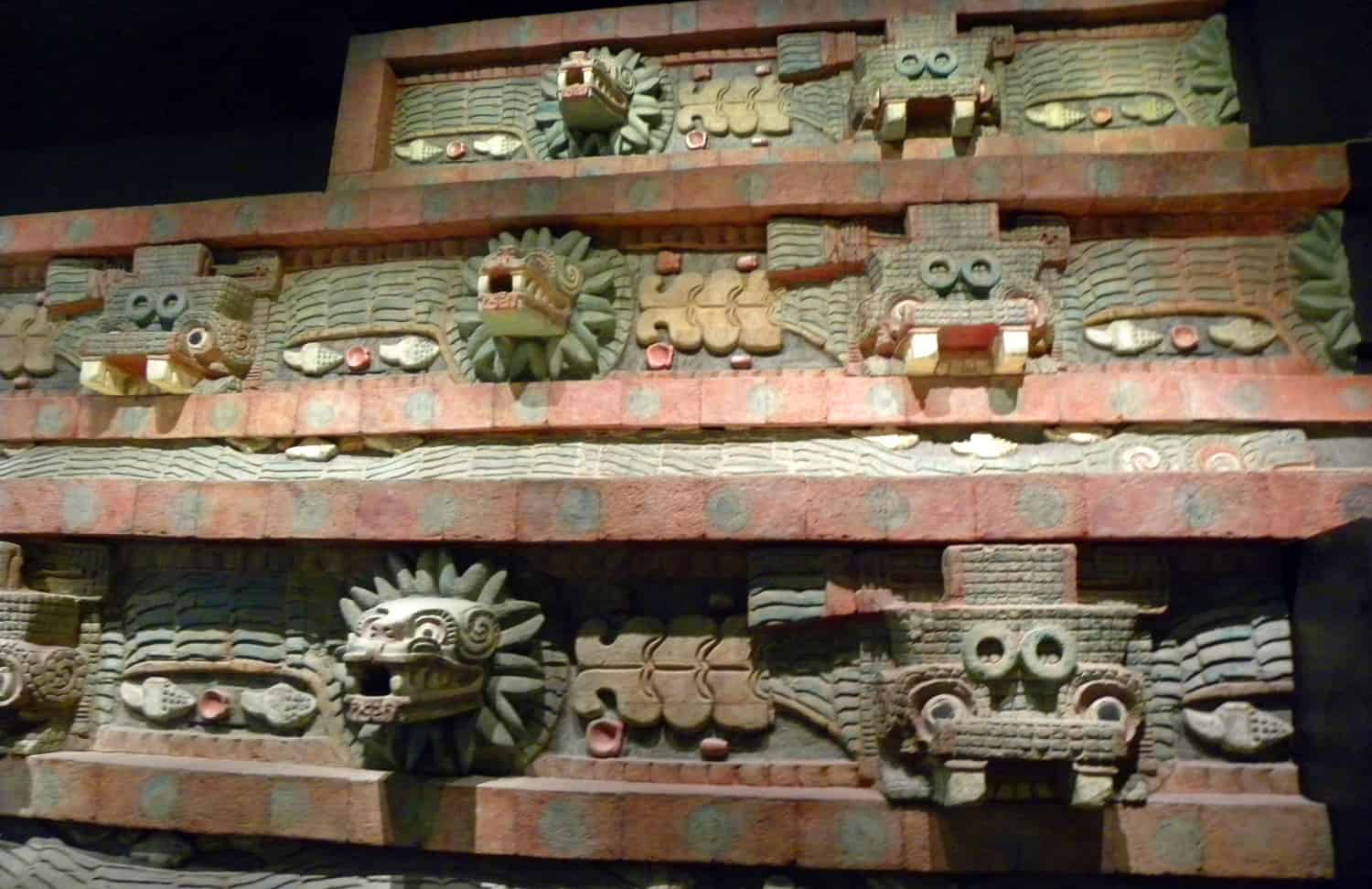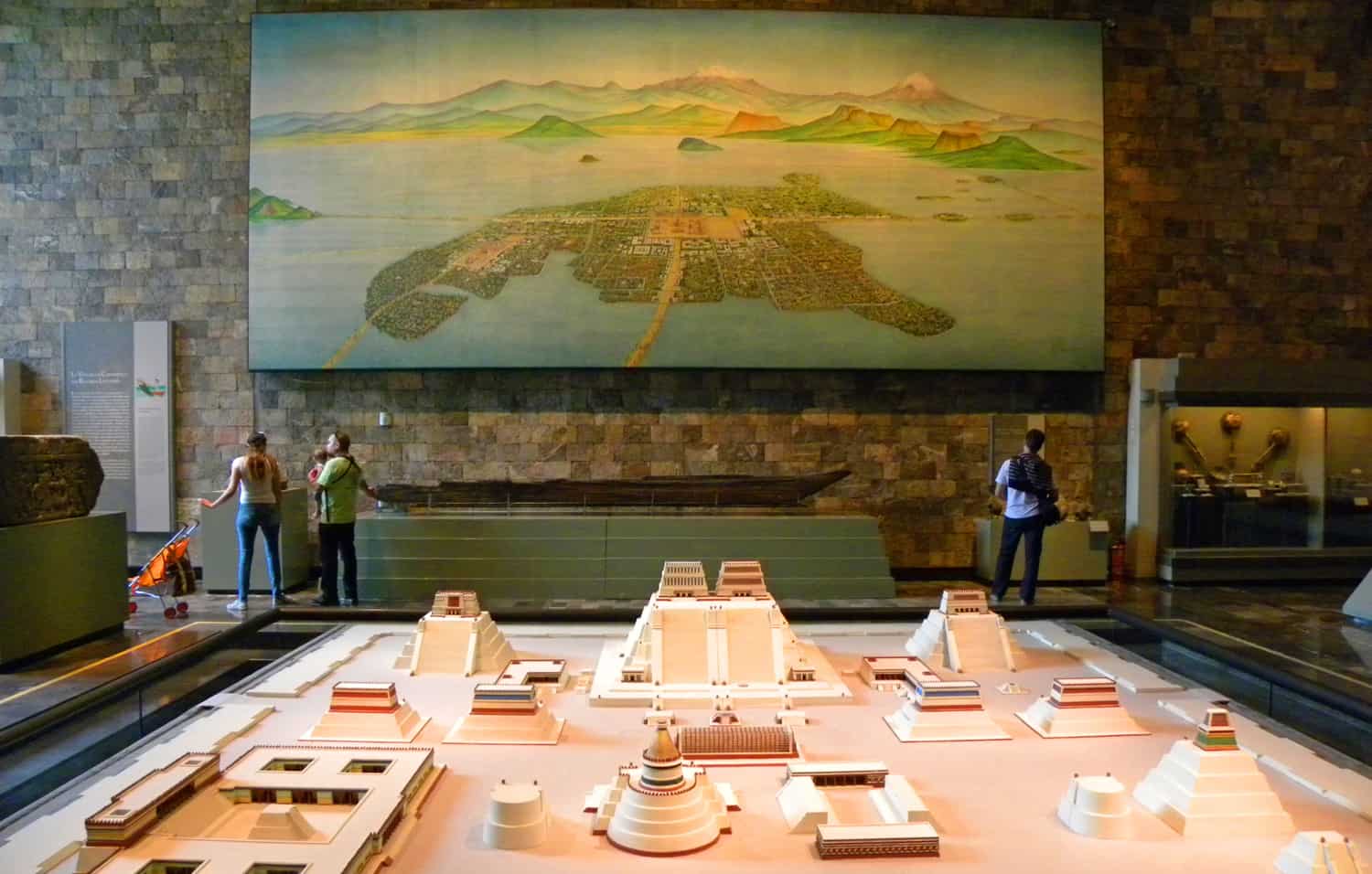 .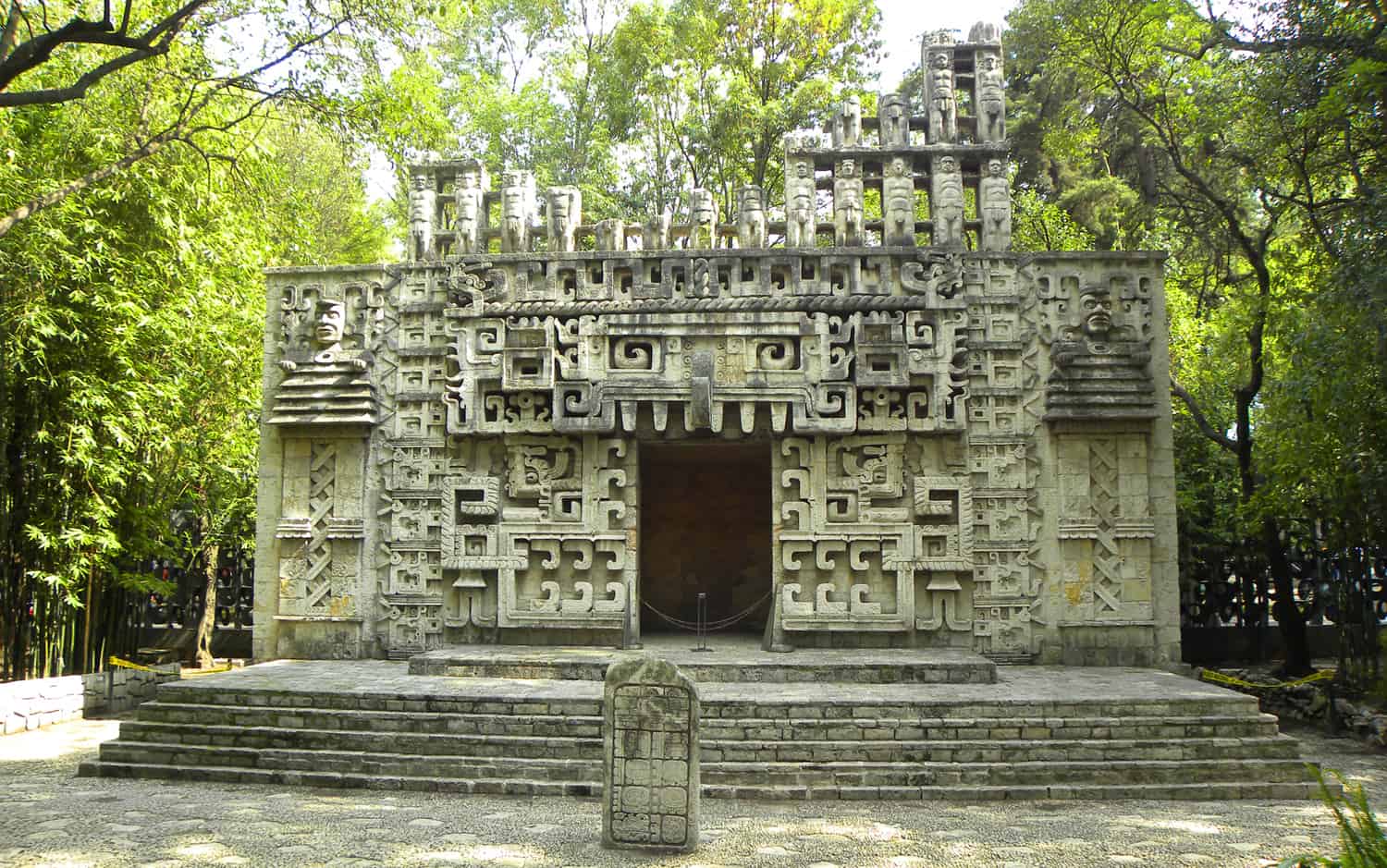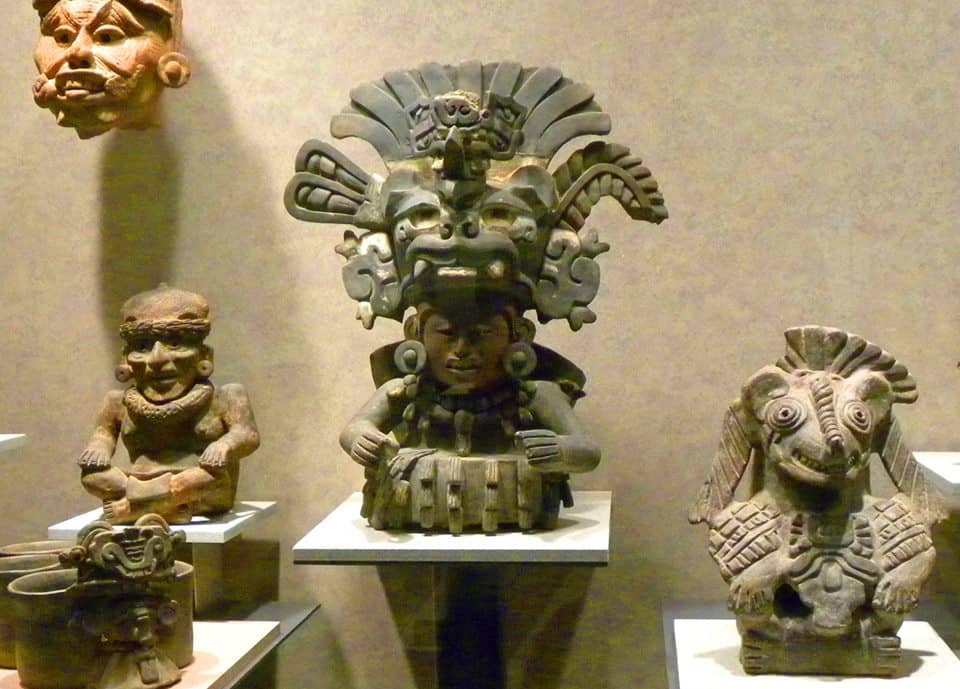 You can spend all day at the Anthropology Museum and not see everything. I would actually come here again – there is so much to see and the few photos I have above don't give it justice. I think a visit is essential to understanding Mexico.
.
.
---
---
Frida Kahlo Museum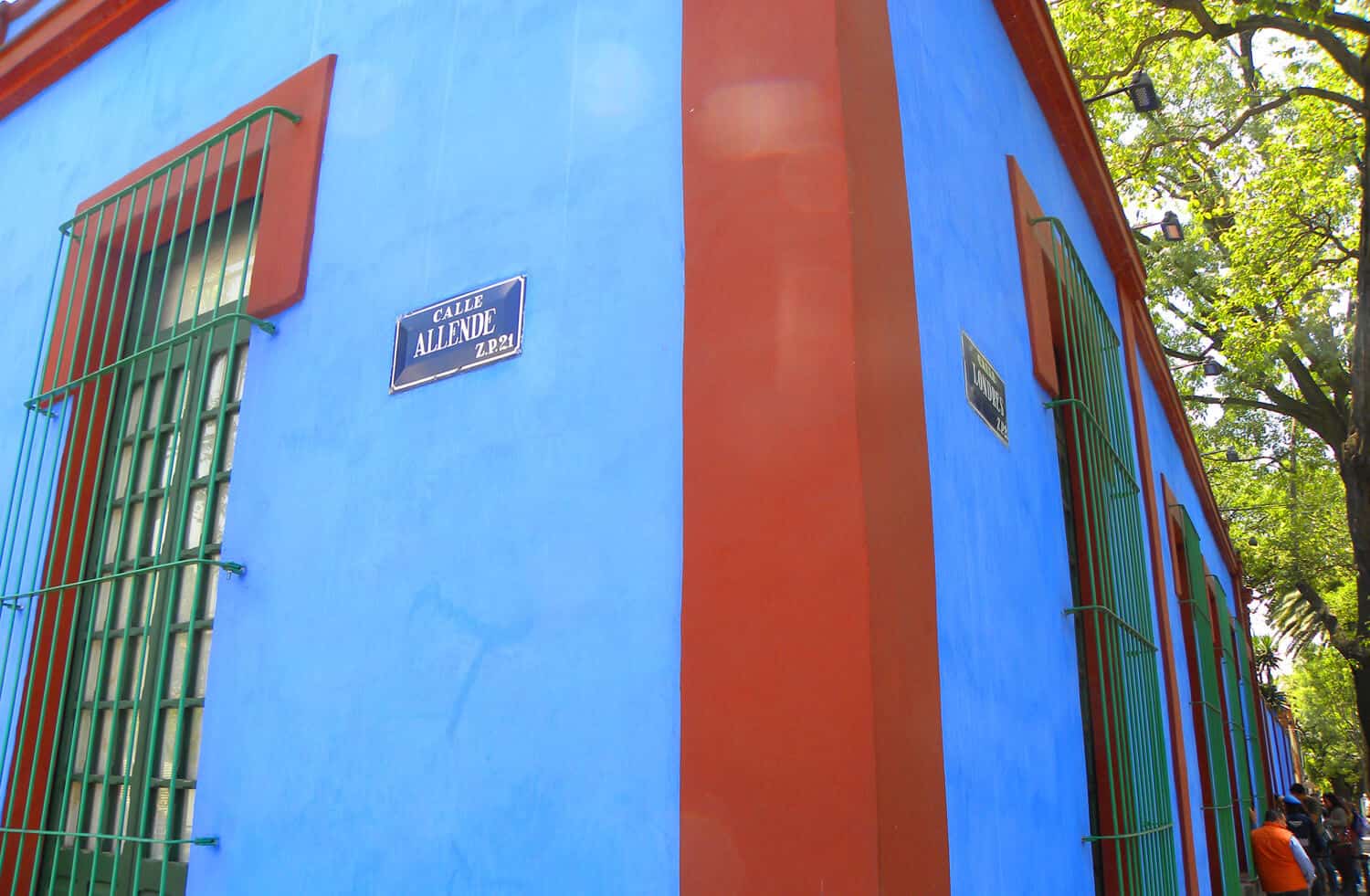 Frida Kahlo is a very popular figure in Mexico despite having having died over 70 years ago. This museum, the house where she was born and spent much of her life, is one of Mexico City's most popular museums and it is dedicated to her life and work.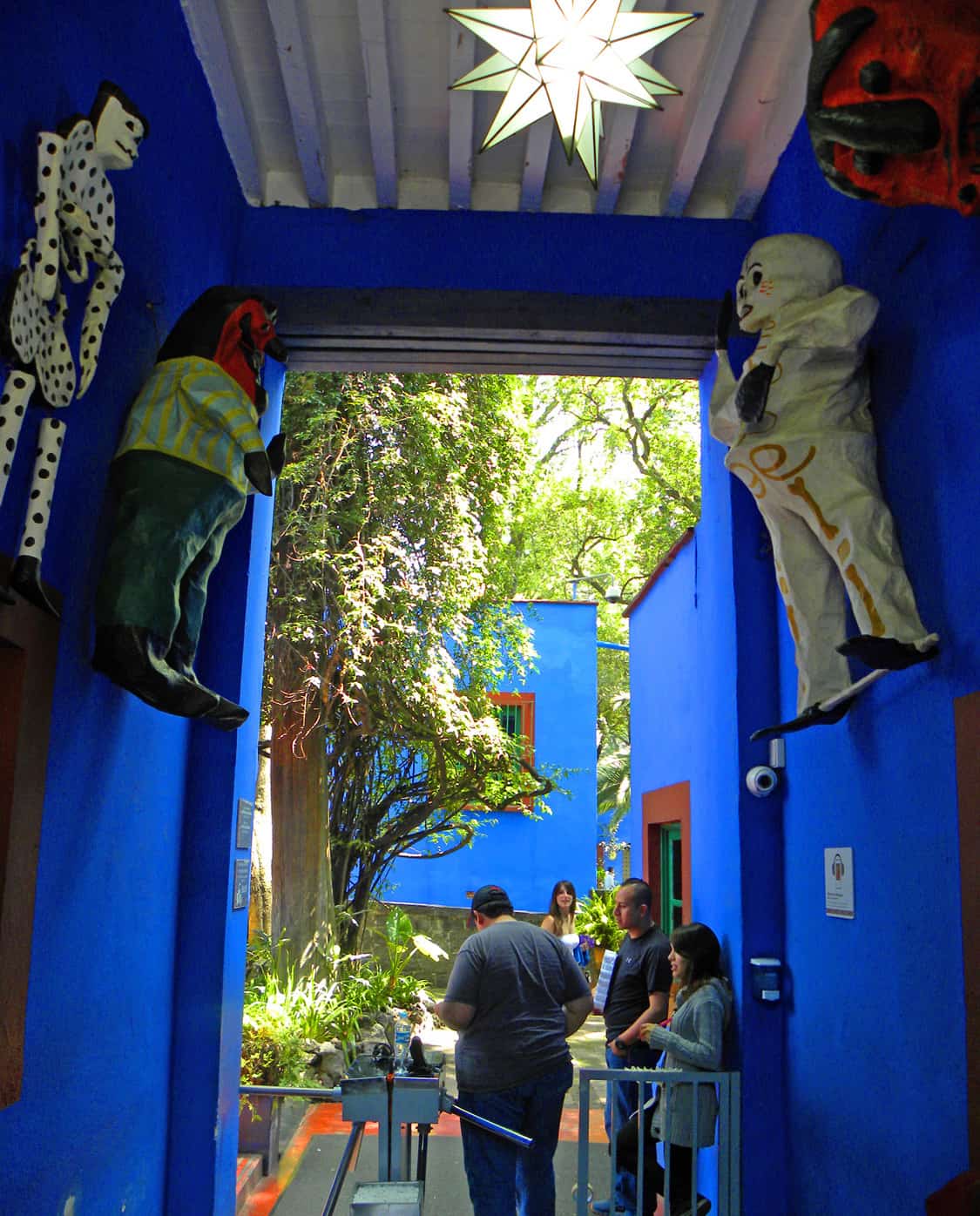 Frida had a painful life: at 6 years old she contracted polio which made one leg shorter and skinnier than the other. At 18 she was in a bus which had an accident with a trolley. She had serious injuries including a broken spinal column, a broken collarbone, broken ribs, 11 fractures to her right leg and a crushed and dislocated right foot. A handrail also pierced her abdomen, rendering her incapable of ever having children. She was in constant pain in her life (she had 35 surgeries, mainly on her back) and it is reflected in her work. A few days before dying in 1954 (at the age of 47) she wrote in her diary "I hope the exit is joyful – and I hope to never return".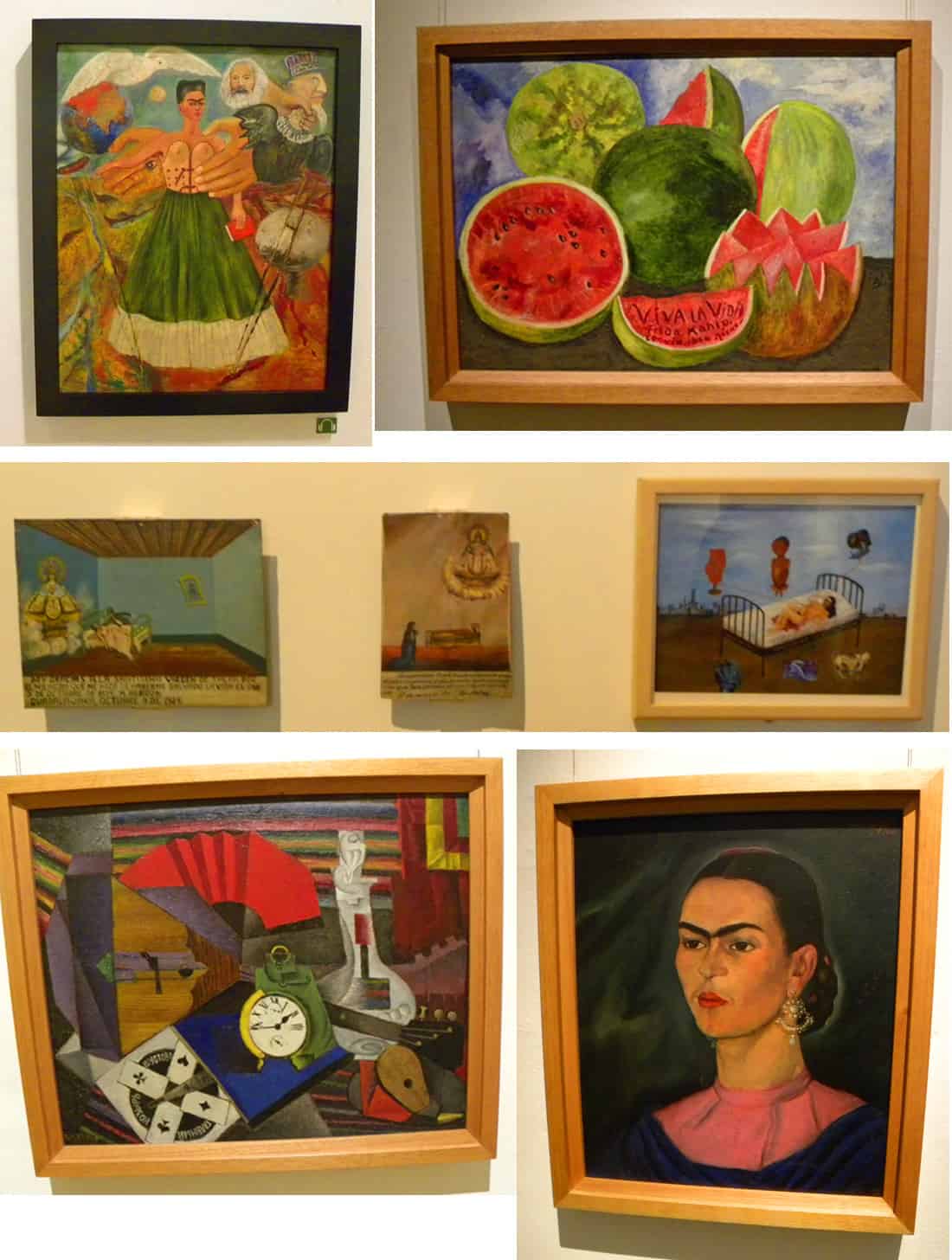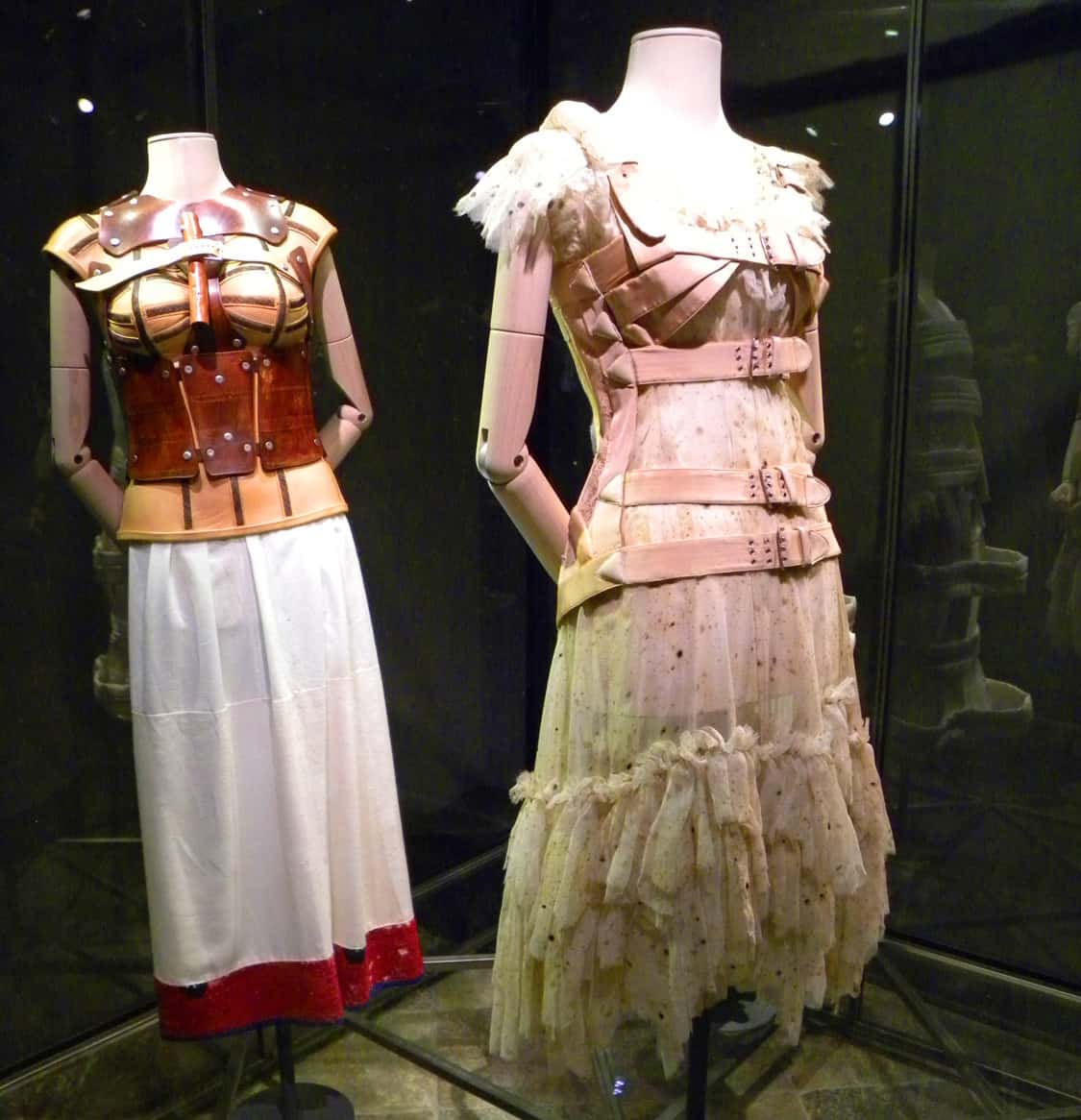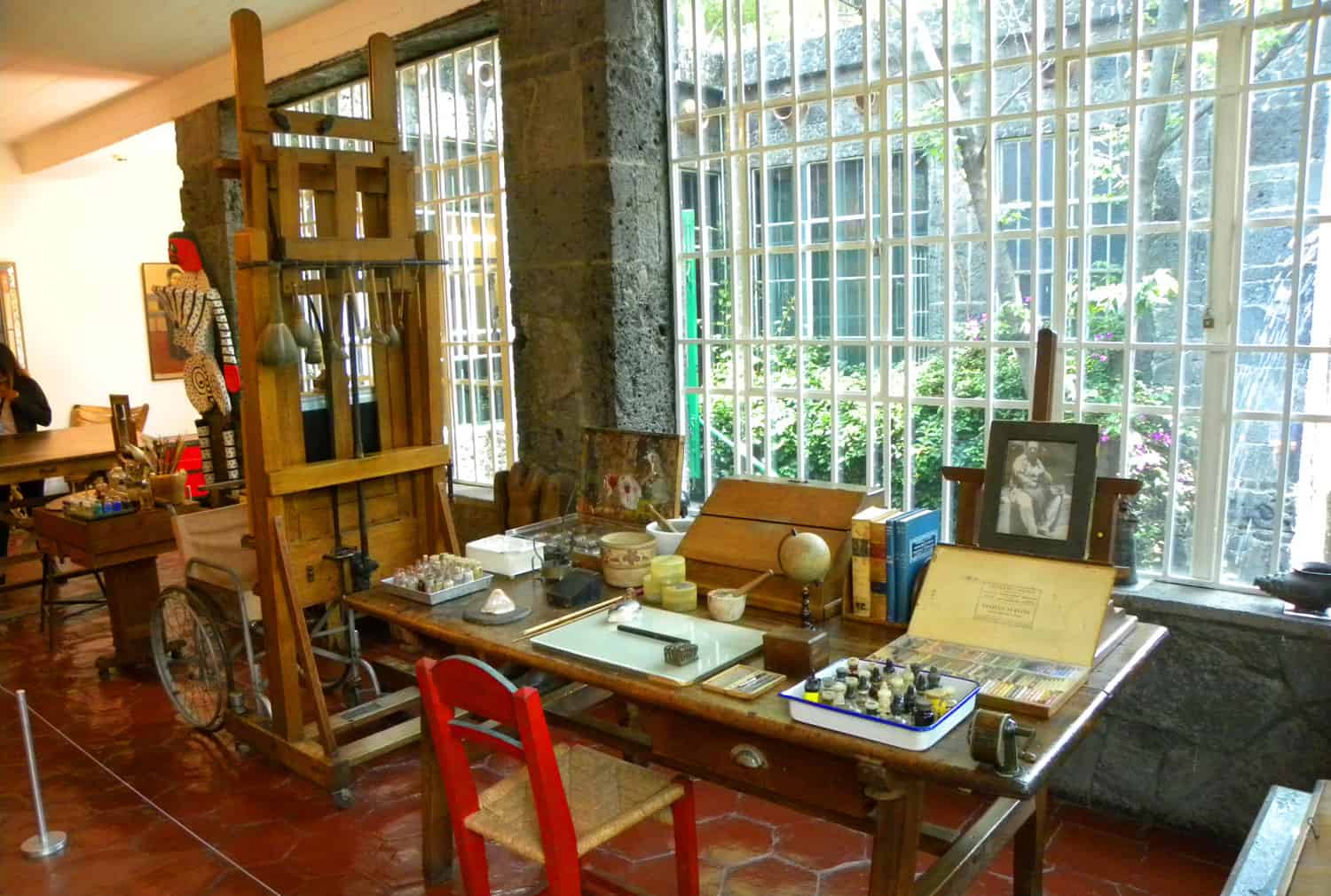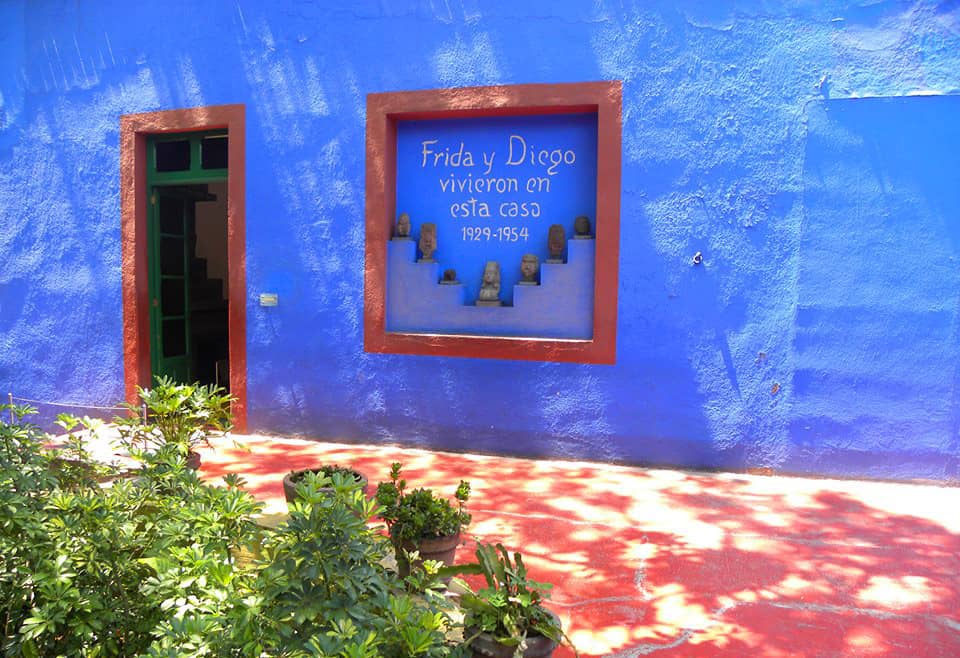 Don't come to the Frida museum for art – it doesn't contain her best paintings. But anyone interested in Frida or her life will enjoy this museum. Note: the Frida Museum can have a long lineup. I really recommend this 6 hour tour. You'll skip the line, have a guided tour, plus see other highlights of Coyoacán and Xochimilco
.
.
---
---
Postal Museum (Palacio Postal)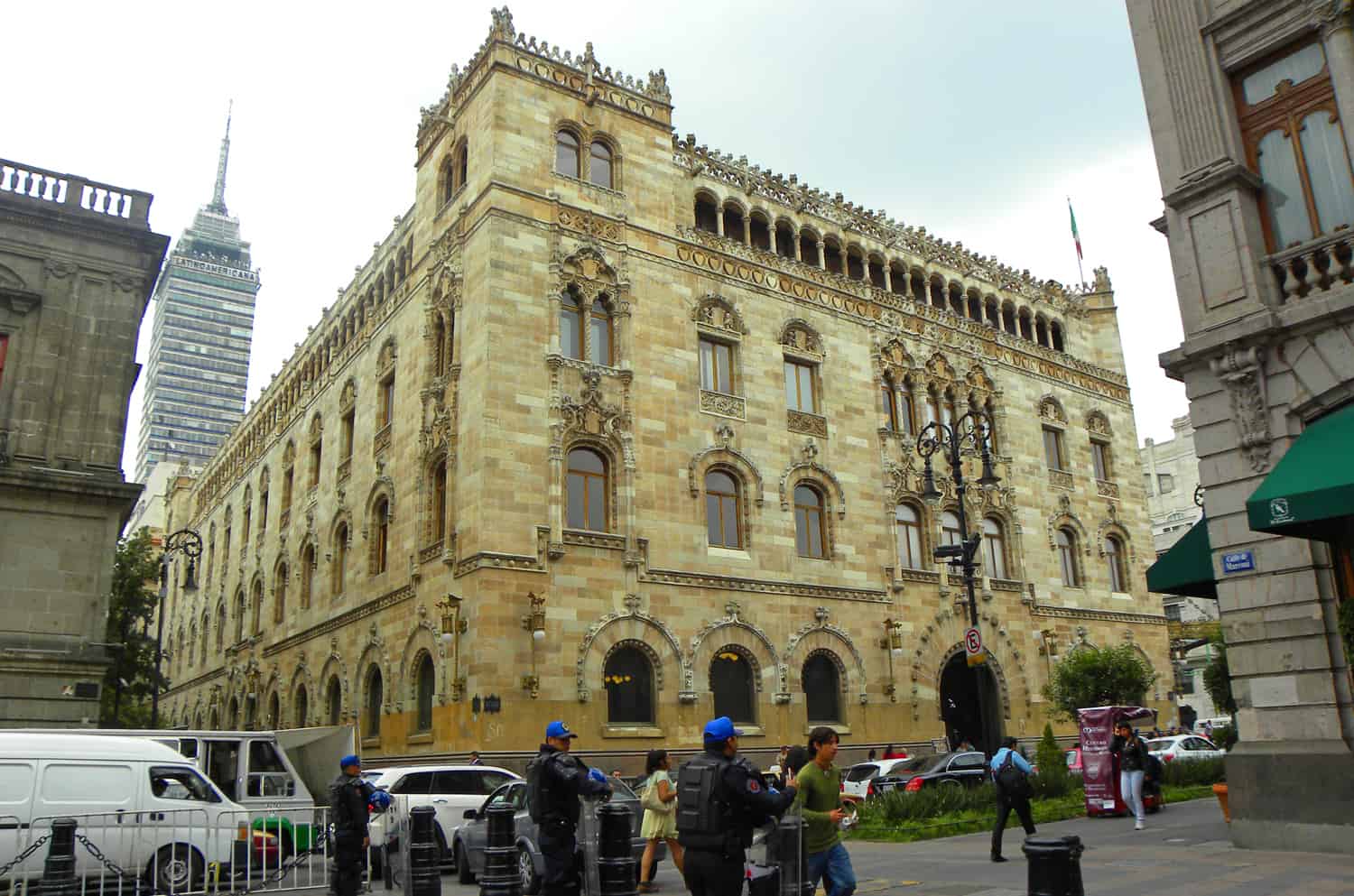 We discovered this museum entirely by accident when walking around Mexico City's historical center. Finished in 1907, it was built by an Italian architect and is a mix of architectural styles and materials (from both Europe and Mexico). It's a gorgeous building. Best of all, entrance is free.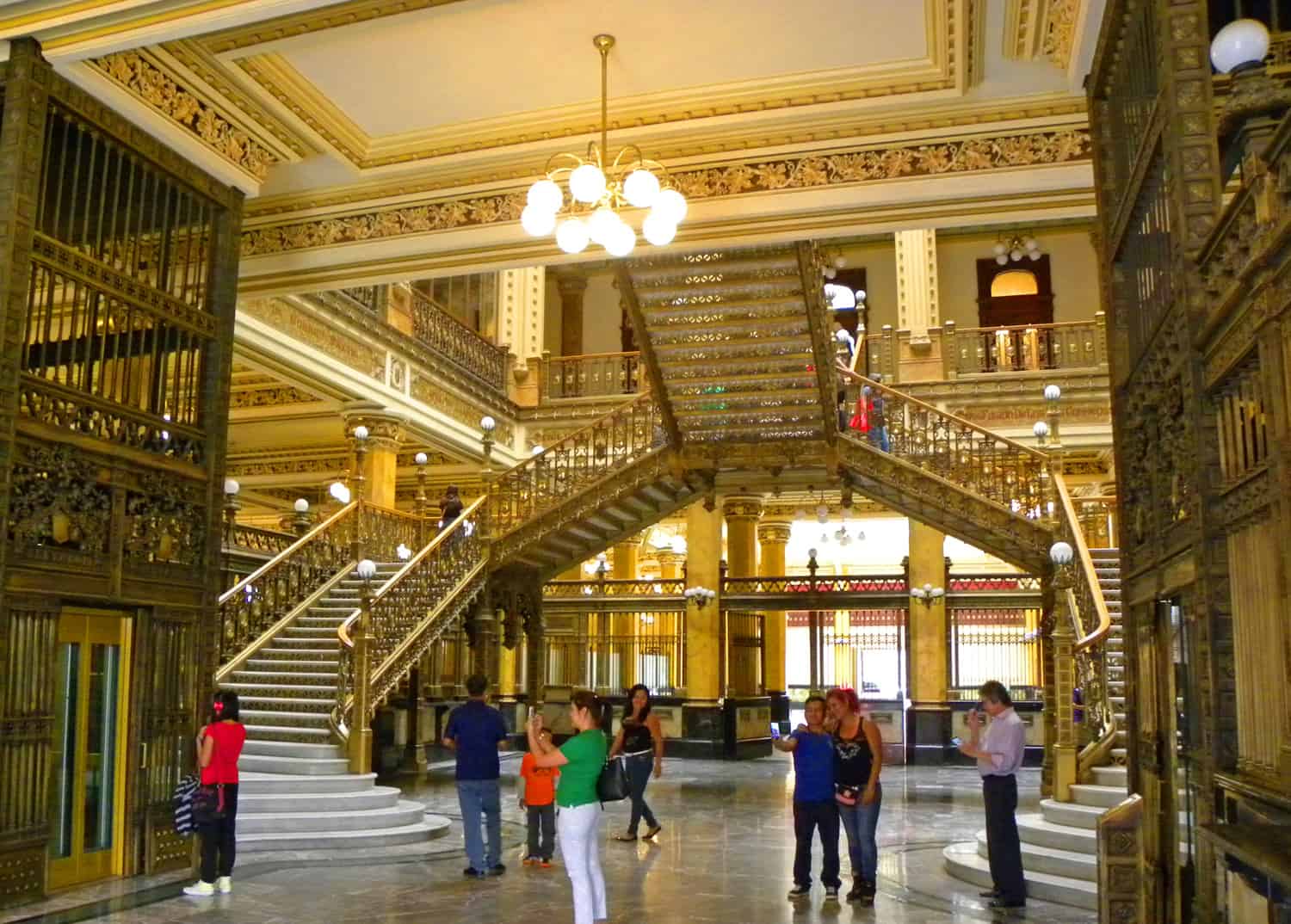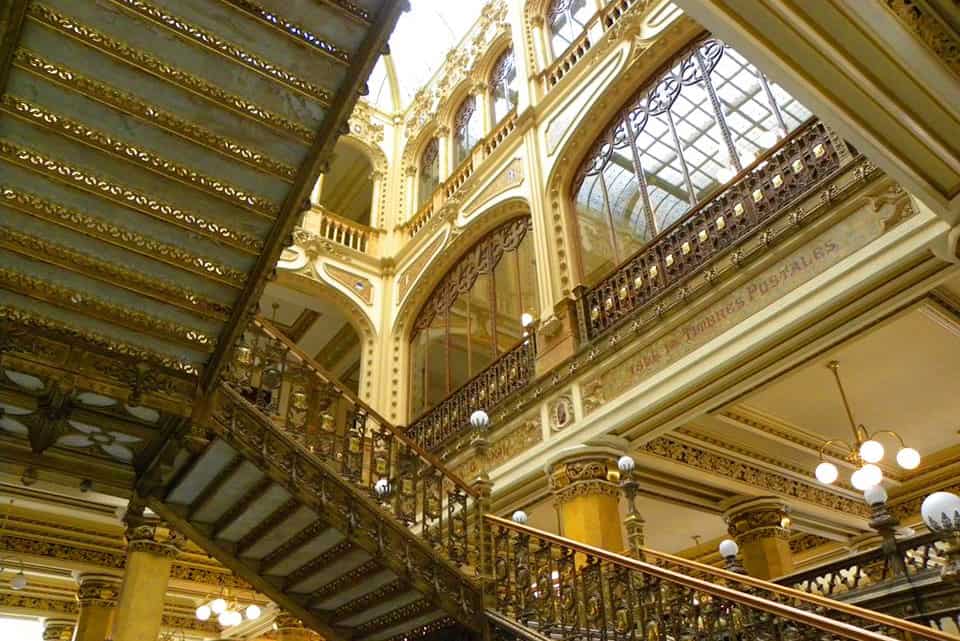 .
---
---
.
Sights, colors and food in Mexico City
There's lots to see in Mexico City and we enjoyed walking around and seeing the sights. Here are a few photos from the Historical Center.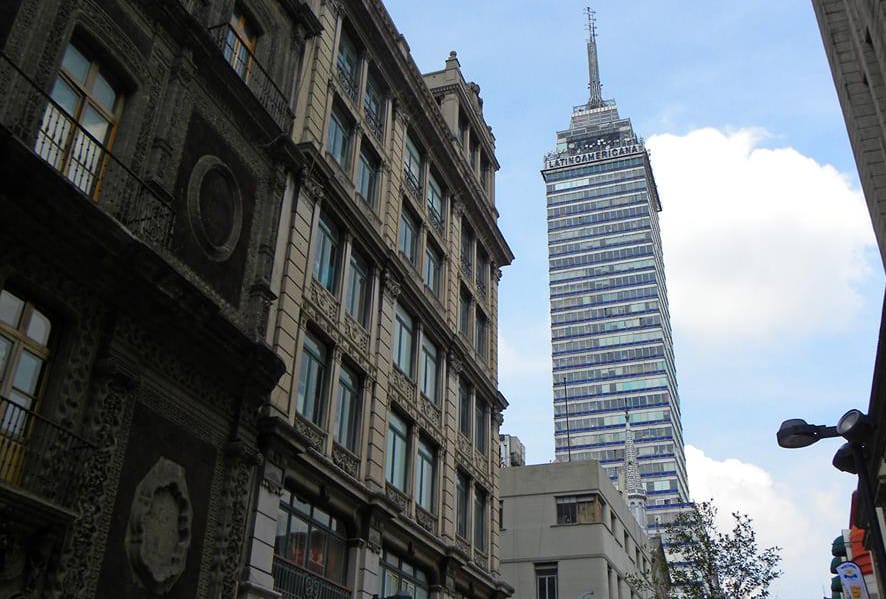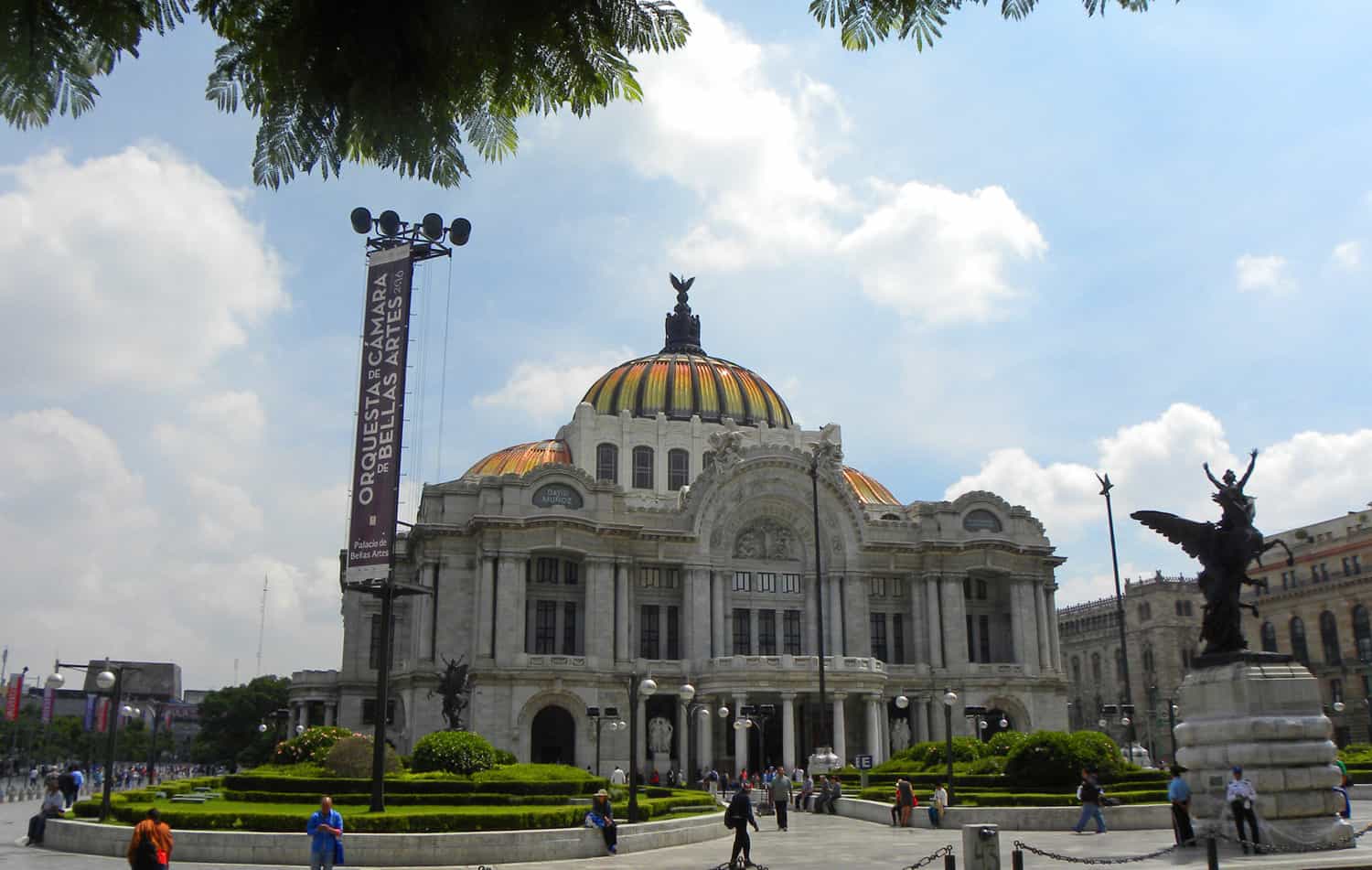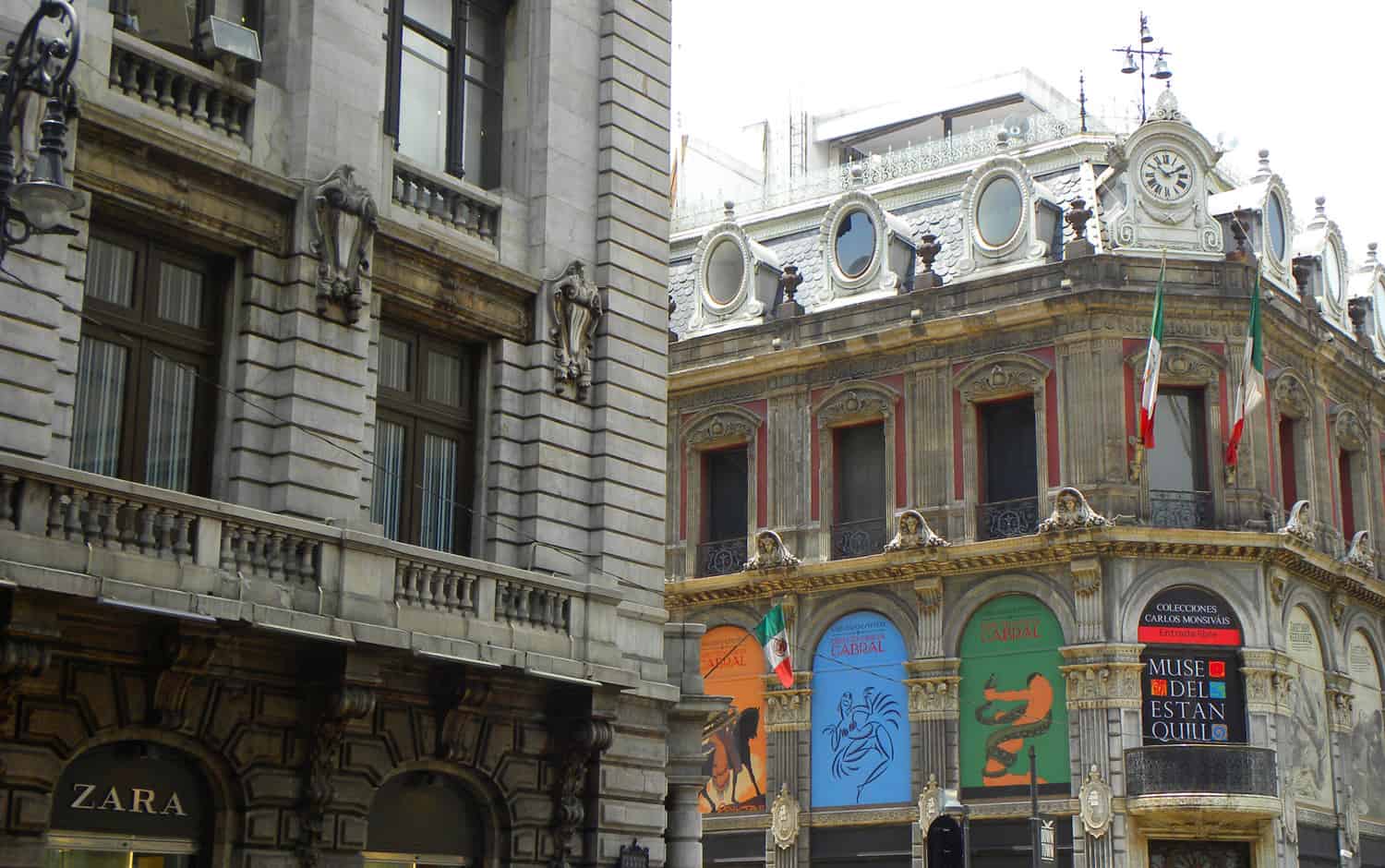 Above: Typical buildings you'll see in the historic center.
---
---
A few odd and colorful sights we encountered walking around.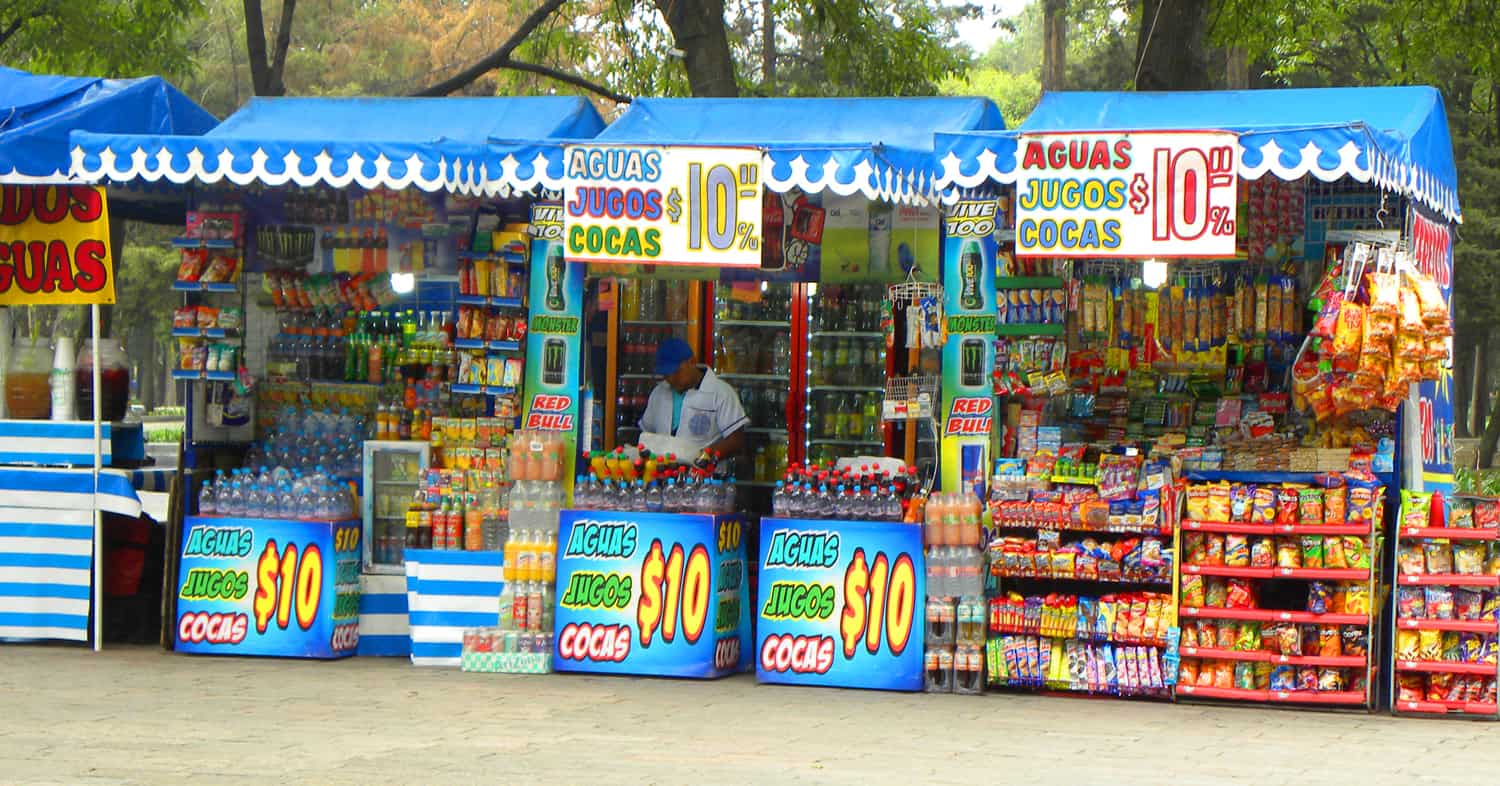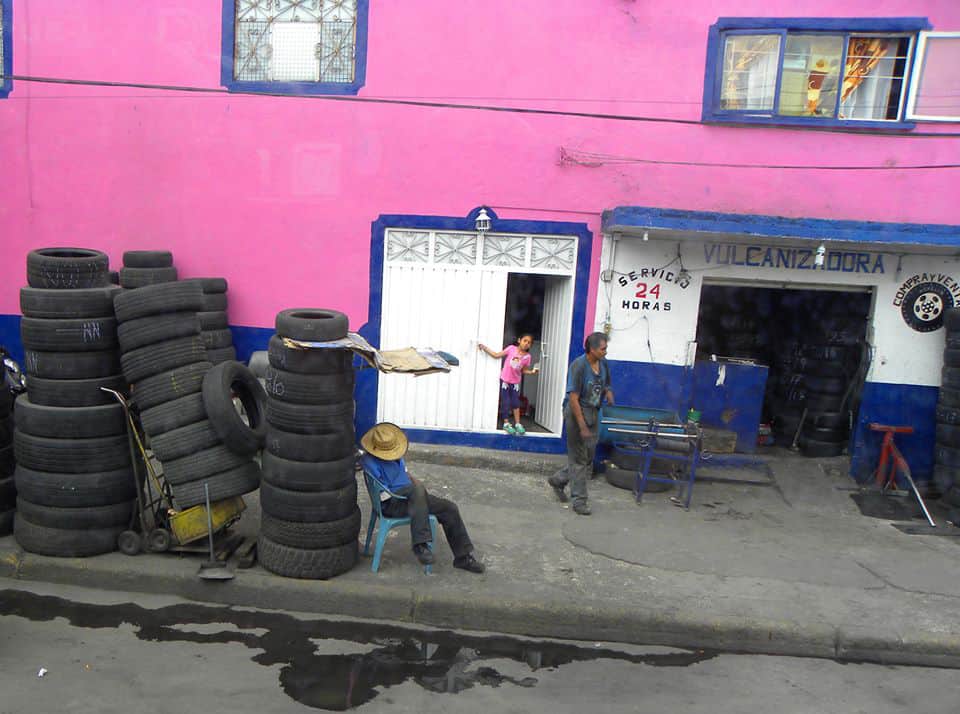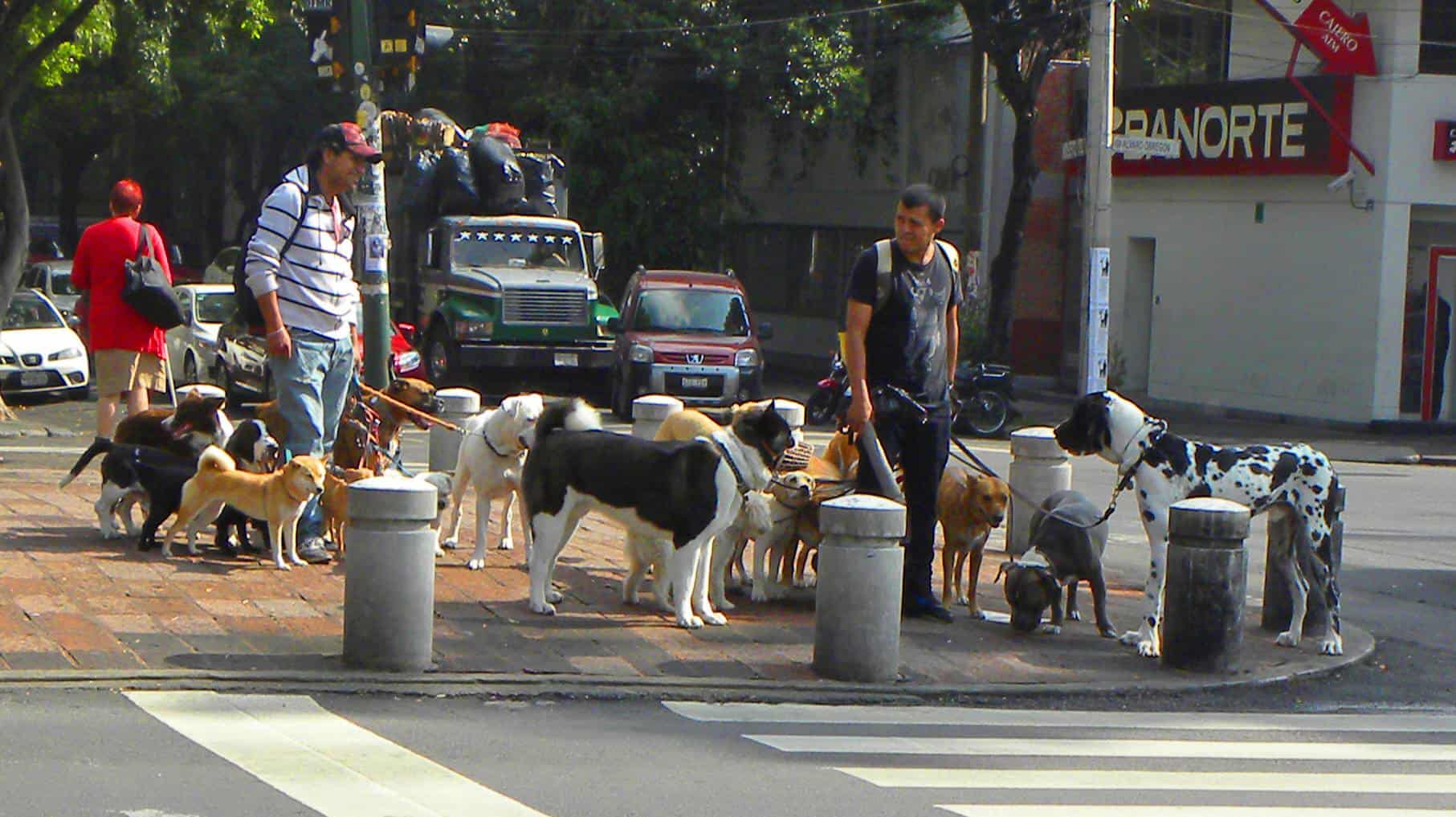 .
We took the metro to get around this time and never had any issues. Easily the quickest and most cost effective way to get around.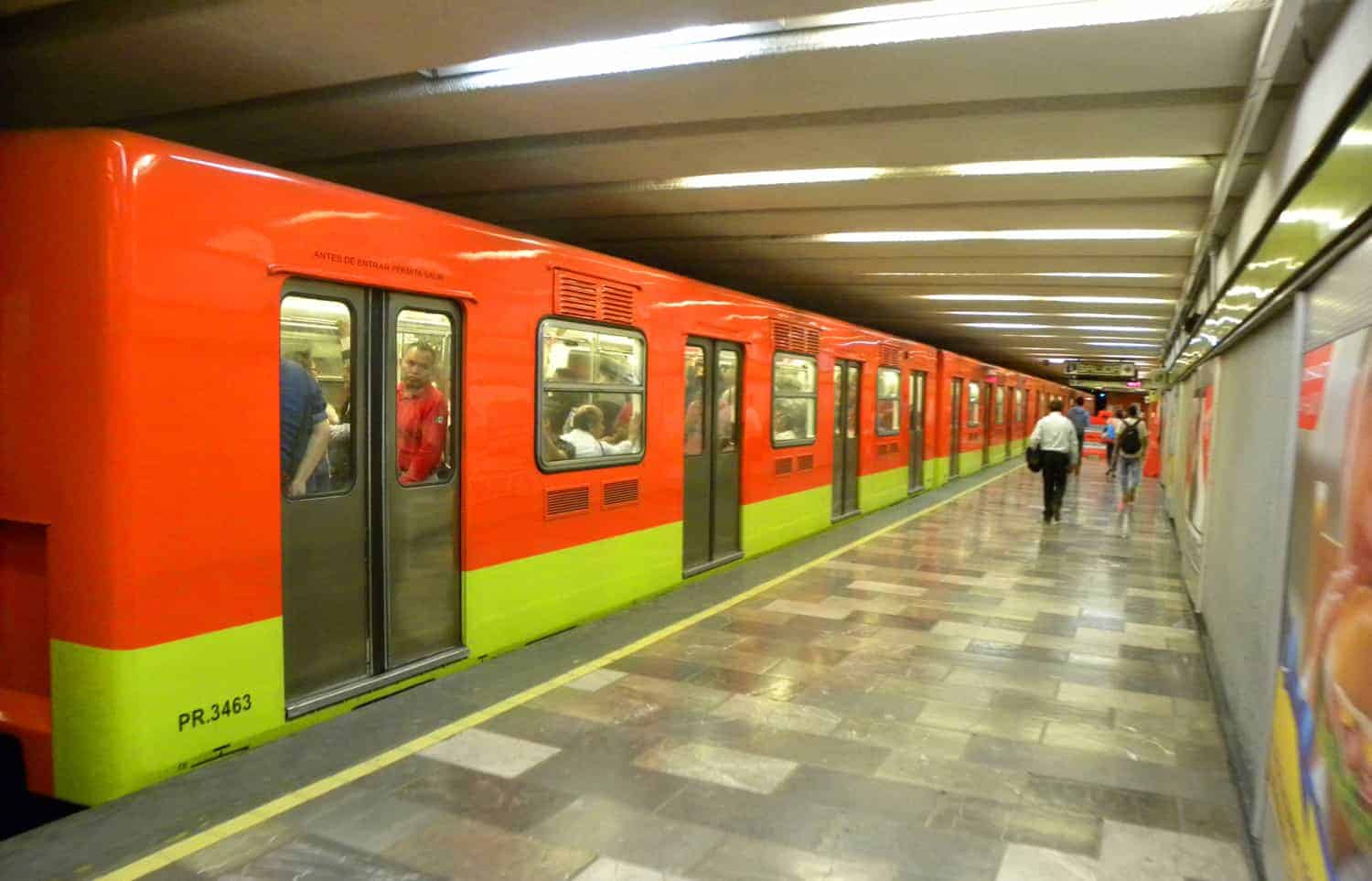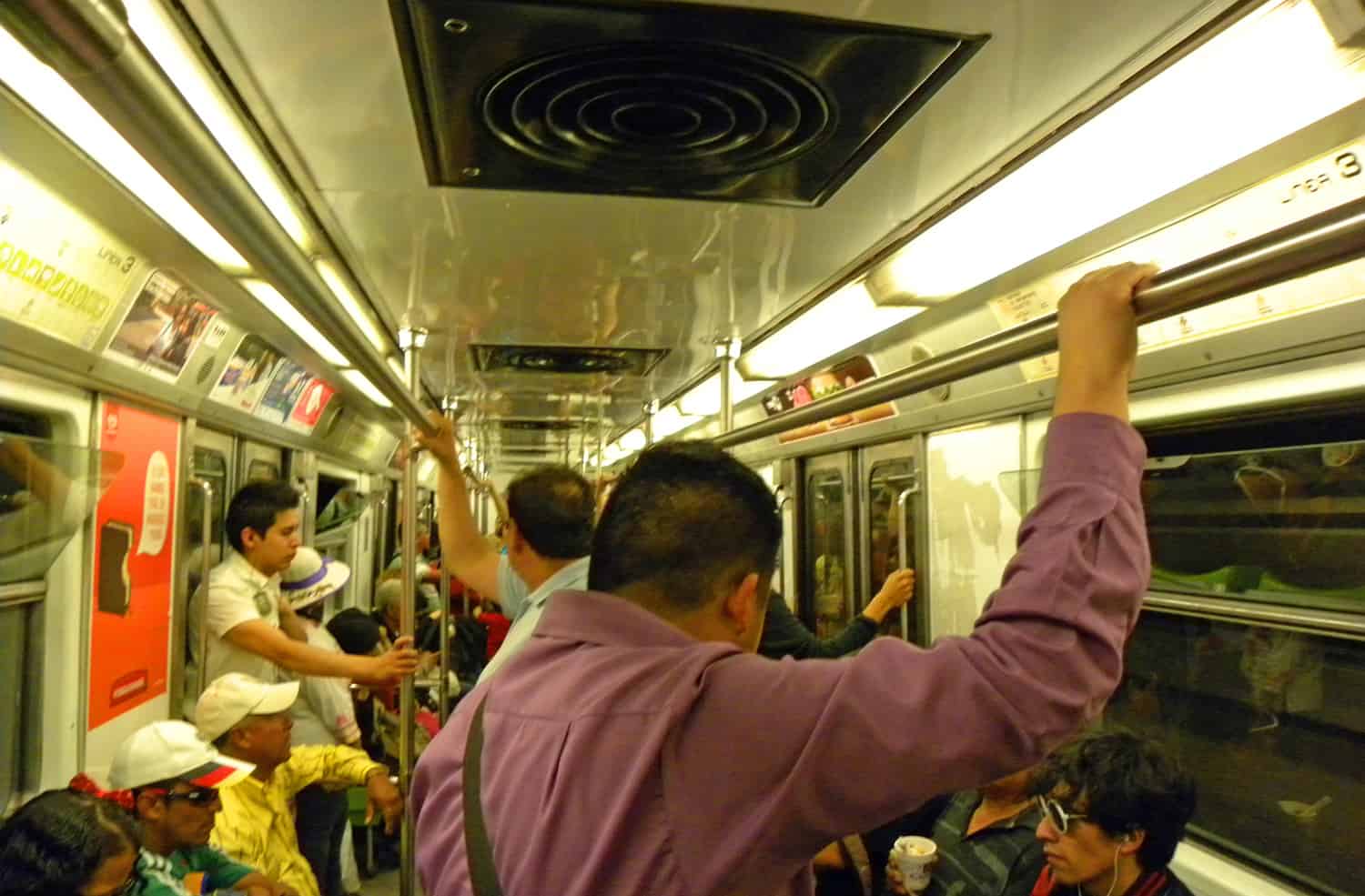 ---
---

.
What's Mexico without the food? Here are a few photos of Taquerias, Tacos, and Huevos Mexicana.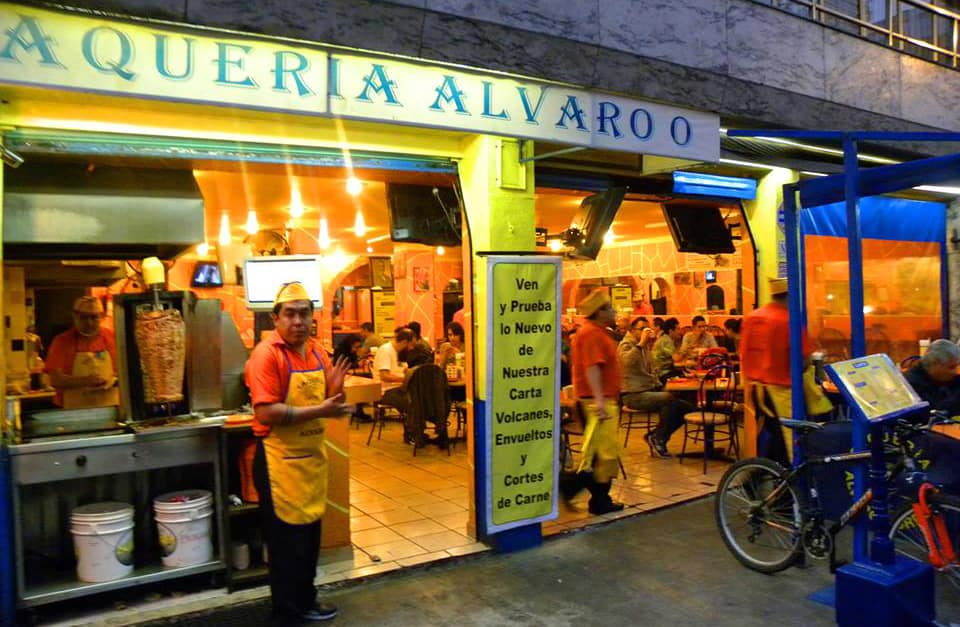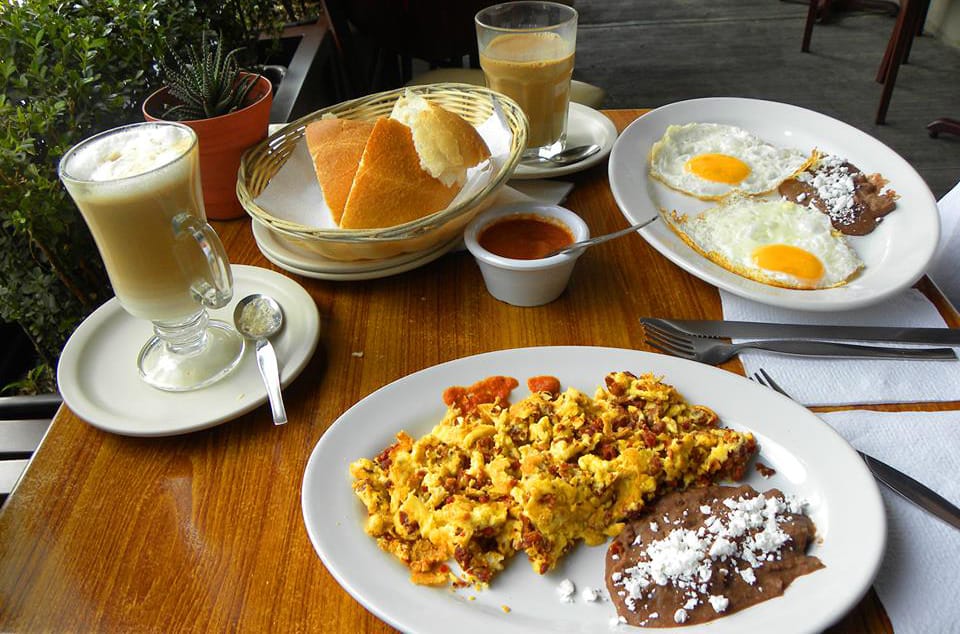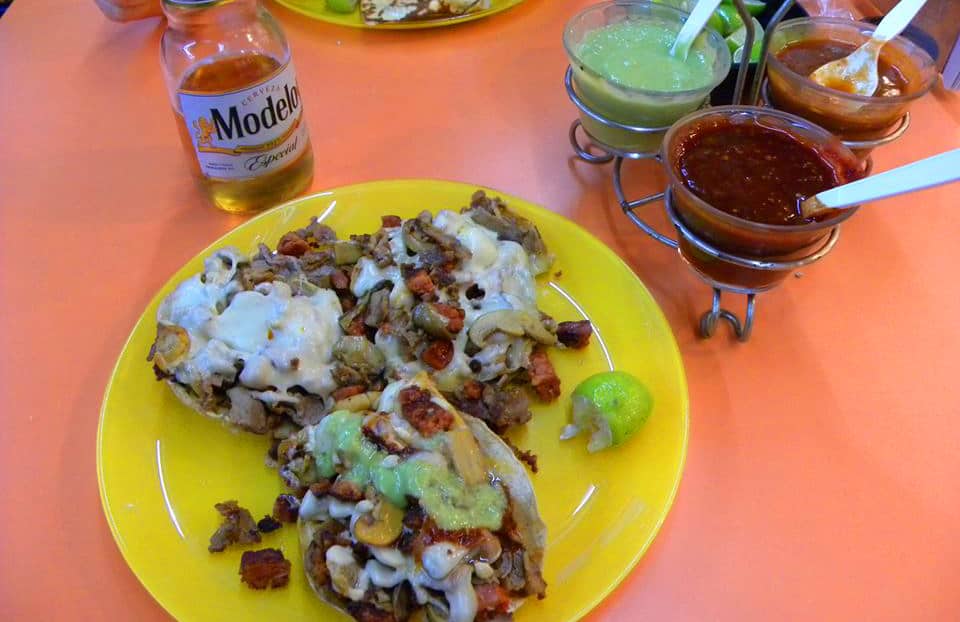 ---
---
Practical Information
– We stayed in this 2-bedroom apartment in the Roma Norte neighborhood of Mexico City. Recommended. If you haven't signed up for Airbnb you can sign up using our link and save $35 USD on your first stay. The neighborhood is full of leafy, shady streets, cafes and restaurants of all kinds.
– Recommended hotels in the Roma Norte area: Casa Colima and Hotel MX Roma.
– To get to Teotihuacan. Take the metro (5 pesos – dirt cheap!) to the Autobuses del Norte bus station. When you walk in, go to your left. At the end there's a "Autobuses Teotihuacan" counter where you'll pay 80 pesos to get to Teotihuacan. Buses leave every 15 min and it takes roughly an hour to get there. As recommended by Tony above, enter through Gate 3 and avoid the disappointing experience we had.
– To get the the National Museum of Anthropology. Located in Chapultepec Park, huge green space where you'll find many of Mexico City's museums. Chapultepec metro is not too far away if you chose to take the metro. If taking the Hop On/Hop off bus, there's a stop here (taking the Hop On/Hop Off something I recommend in Mexico City – we took it last time and I wrote about it here).
– To get to the Frida Museum. It's a bit outside the center so we took the metro to the Coyoacan metro station. From there it was a 15 minute walk to the house in a residential neighborhood. You'll see quite a lot of signs pointing you the right way. Or take this tour that I mention up top in the Frida museum section.
– The postal Museum. Across from the Museo Nacional De Arte, a block from Palacio de Bellas Artes (In the Historical Center).
– Taxis in Mexico City are numerous and very inexpensive. Traffic can be very bad however and I suggest taking the metro if you can.
Related: Some Essential Tips on Mexico City (and lots of photos)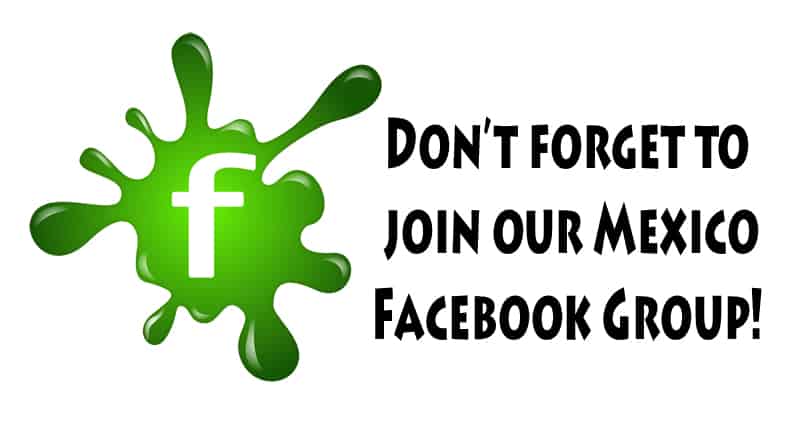 Ps. If you find our blog helpful, please consider using our links to book your flights, hotels, tours, and car rentals. Have a look at our Travel Resources page.