Travel Bloggers on Tourist Traps and Disappointing Places
This post was inspired by our very uninspiring visit to Bran Castle last week. How is it that some places attract the tourist hordes while other places, similar or even better, get very few tourists?
I reached out to a few of our favorite bloggers and asked them simply: What destinations do you think are really just tourist traps and what would you recommend instead? It doesn't have to be a site, it can be a country, a popular destination spot, etc. A place that really disappointed you.
I got some interesting and colourful answers.
Mine is a highly unpopular opinion, however Paris was the most disappointing travel experience for me, mainly due to the hype. People rave about Paris. They talk deliriously about its beauty, and the city is put on a pedestal which I sadly felt was too far detached from reality. The city of love is, in my opinion, a real tourist trap and I would recommend anywhere else in France instead.
To its credit, Paris can be viewed as a great city when you consider there are a fantastic range of historical attractions, the architecture is gorgeous, and it's an authentic European experience. But it certainly doesn't live up to the hype of "the most romantic city in the world". I arrived with expectations which were way too high. I expected magic. I expected to fall in love. I expected the city to woo me in a way I had never been woo-ed before. But what I found was a city not dissimilar to any other in Europe.

I thought Paris was fairly dirty, that the locals were rude, and that there was too much tourism to make for an enjoyable experience. Attractions were crowded, and you couldn't escape street vendors selling tacky souvenirs. I felt a huge anti-climax in traveling to Paris, and after having given it a second and third shot to "woo" me and change my mind, it never did.
You can read more about my adventures in Paris here.
You can also follow Mapping Megan on facebook.
.
---
---
.
In my opinion, the most overrated tourist trap of all the places I've been to is Bangkok, Thailand. Of course, I had some expectations prior to coming to Bangkok and I didn't have a hope that it was going to be an off the beaten path destination. There are some touristy places that I really loved (like Prague or the Greek islands) but any nice feelings or excitement about Bangkok were shattered on the very first day.
My friends and I were constantly given wrong information – even in the official tourist offices – and because of that we missed a ferry and were scammed numerous times. We were also threatened with murder by a local man who showed us some gruesome photos of mutilated/beheaded bodies and warned us that we were unwanted inThailand,saying if we don't leave the same will happen to us. The reason? We hadn't taken our shoes at the right place when entering a temple.
Yes, I know we should be prepared for scams, but do you really want this on your holidays? Do you want to try to avoid being scammed at all times and perceive anyone who approaches you as a con artist? The number of rude people in Bangkok also exceeded any norms – in the guest house, in the streets, everywhere. It seemed as if we were just pests for the locals! But what shocked me the most was the complete lack of authenticity – it turned out that those famous insects that are supposedly eaten as a snack in Thailand are on display only for the tourists (who are charged for taking a photo)! No local actually have them for dinner. And the drunk western tourists everywhere – yes I know, it's a touristic place but where are the locals enjoying their free time? Like in Prague or Rome? It seems, in Thailand, popular places had three types of locals: con artists, rude traders/receptionists and lady boys.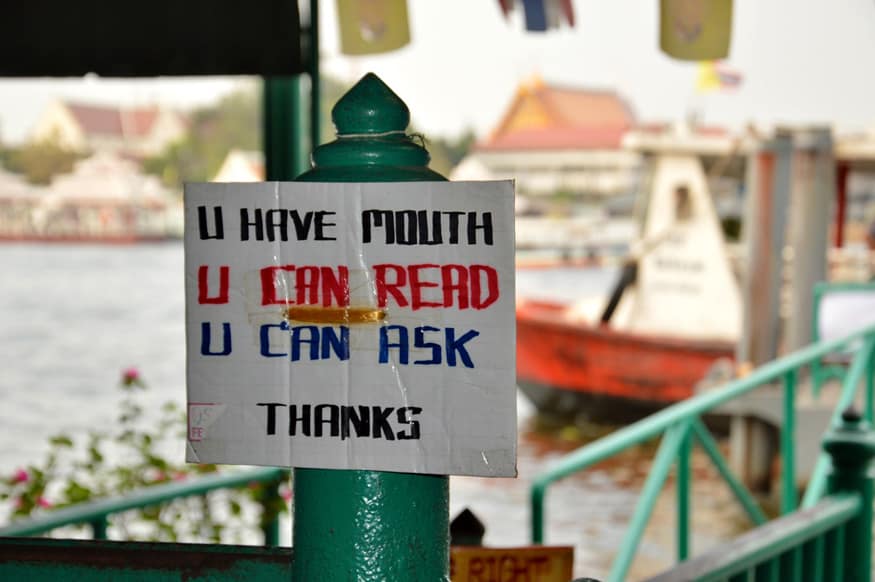 I don't understand how such a place has so much recognition in the media.
Read about my experience in Bangkok here.
.
As an alternative, I'd like to talk about Albania – a country whose reputation in the western media is really poor (comparing to 'Amazing Thailand"). But, as it turned out, in Albania I wasn't scammed or pushed to buy anything I didn't want. Not even once. Me and my friend were invited to a bar on the beach by the local people, offered free drinks, given Brazilian T-shirts (it was the time of the World Cup) and free accommodation!
Not too mention that Albania has beaches as nice as in Thailand but completely unspoiled, without resorts and hordes of drunken tourists (who've turned the beach in Thailand during the full moon party into a septic tank urinating everywhere). In Albania, it was only us and the perfection of nature.
Why is that that no one knows about it? No one has any idea that Albania has white sand paradise beaches with crystal clear turquoise sea, UNESCO ancient ruins, cozy coastal villages, beautiful towns with architecture unique Europe-wide, spectacular mountains, Blue Eye lake which is the clearest I've ever seen and even Osum canyon perfect for rafting! Why are people not curious to discover something new and unknown instead of just following and relying on the travel brochures and what the media advertises as "trendy" destinations?
Have a look at my posts and experiences in Albania here.
You can also follow Adventurous Travels on facebook.
---
---
---
.
.
Overrated: Prime Meridian in Greenwich, England
For many London tourists, a trip to the Royal Borough of Greenwich is essential – as it was for us during our visit. The claim to fame is the Prime Meridian: the 0 Longitude Line that marks the beginning of time. When we arrived, the city was choked with tourists, but we followed the herd along the path to Royal Observatory that sits at the top of the hill. Rather than proudly celebrating the invisible line with a public monument, it's tucked behind an iron gate, only to be visited with a ticket. Tourists queue for the pricy admission – £9.50 ($15 USD) – to enter the courtyard (and stand in yet another line) to have their photo taken by the marker as they stand straddling the Eastern and Western Hemisphere.
The exorbitant price was enough to make us scoff at participating in what seemed more like an ordeal than an actual sight. However, the real tipping point of this tourist scam is the fact that the marker is not on the Prime Meridian! As technology has advanced, it has been proven that the 0 Longitude Line is about 100 meters away from where the Royal Observatory monument is, yet they continue to charge the fee and promote the spectacle (a complete farce!).
Our advice: Go to Greenwich and enjoy the free sections of the Royal Observatory, which are quite impressive. If seeing the monument is a must, save yourself the price of the ticket and simply peer at it through the gate. If being in two hemispheres at one time is what you're after, use the GPS on your phone and head east to find 0 Longitude.
Our post on Greenwich, England.
You can also follow Jet Setting Fools on facebook.
.
---
---
.
Colosseum, Rome
The Colosseum was once an arena made glorious by the exploitation of victims. Yet today, for me at least, the iconic amphitheatre has become a victim itself. Of its own success. Unsurprisingly a visit to the Colosseum is at the top of most Rome itineraries, and being a bit of a romantic (and a history nerd as well) I was eagerly anticipating travelling back in time at this well-known icon.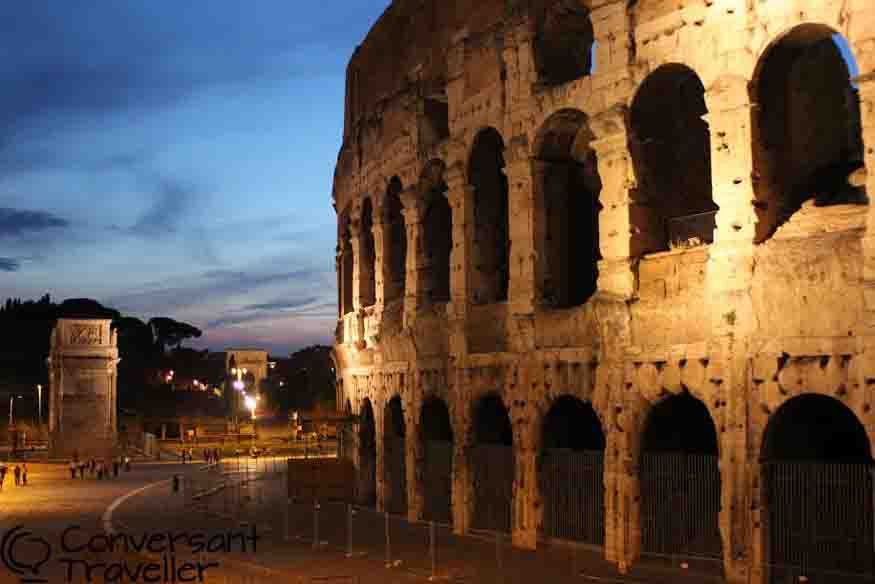 Yet rather than photogenic crumbling arches, and the excitement of wondering which ancient hands had once touched the stones now beneath my fingers, it all felt rather modern. Of course repairs have been necessary to combat the ravages of time, but I felt I was just looking at a load of concrete rather than connecting with the Caesars and gladiators of old. I was disappointed that only two levels were open to explore, and to see the lower tunnels where the fighters were held required an additional ticket on an evening tour. Add in the crowds jostling for elbow room and the whole experience was an anti-climax. In fact it was a bit dull.
A far better alternative when you're in town is the Roman Forum and Palatine Hill. The birthplace of the Eternal City. The ruins are equally famous but still manage to retain the magic. It was here that we finally found the sense of walking through history that for us, the Colosseum had lacked. Plus the site is large enough to absorb the crowds so it's a winner all round.
You can read more about my adventures in Italy here.
You can also follow Conversant Traveller on facebook.

.
---
---
Most over-hyped Thai island – Koh Tao.
When researching our last trip to Thailand, we'd read that the island of Koh Tao (which means "turtle island" in Thai) has some of the country's best snorkeling and scuba diving. Current guide books still rave about its underwater action! We love blowing bubbles underwater and seeing coral reefs and sea creatures whenever we can. So as part of our visit to the larger island of Koh Samui – where we had assignments from a Canadian magazine to write a couple of luxury hotel reviews – we decided to tack on a few days in Koh Tao (a two-hour passenger ferry ride away from Koh Samui).
We lucked out in choosing a sweet bungalow resort right on the beach (Sensi Paradise).
But we didn't luck out with the snorkeling on Koh Tao. Where were the tropical fish? Where was the tangle of neon-colored coral? On our full-day boat tour around the island, we stopped at several snorkeling spots, but we saw few fish and much of the coral was dead. We were relieved that we hadn't signed up for a more expensive diving trip – as then we would have been really disappointed!
On a previous visit to Thailand, we stayed on Koh Lanta, where we took a scuba diving trip to the uninhabited islands of Koh Haa. We saw beautiful coral gardens and sea caves, as well as lionfish, giant moray eels, tiny sea horses and schools of silver barracuda. (We also think Koh Lanta has prettier beaches than Koh Tao.) You can read about this visit of ours to Thailand here – think sea canoeing through caves, twisty Thai massages, bicycling around ancient temples and more.
But visit Koh Lanta soon! A bridge is being built to connect Koh Lanta with the mainland – and that will mean the island will get busier.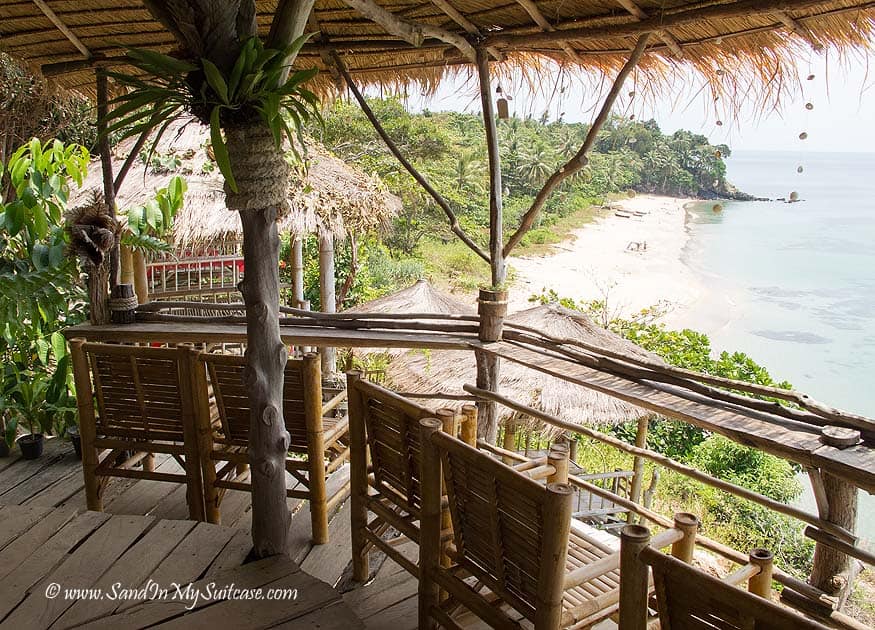 You can also follow Sand in my Suitcase on facebook.
.
---
---
.
Kill the messenger, but Amsterdam is meh if you're over 25. It's overpriced, over hyped and over everything. It might have to do with the high expectations one has from all the stories from people that have been there. I expect a lot of people are let down, but don't dare to speak lest they be mocked 🙂 . Ghent on the other hand is understated elegance. You can experience the same for less in Ghent.
The canals are plentiful in the Flemish city, just like in Amsterdam. Take a boat ride along the beautiful canals and you'd swear you were in Amsterdam or Venice, but without the crowds.
Party: lots of breweries in Ghent. It's a college town, so plenty of hip young people about. Did you know in Belgium, if you're over 18, you can legally have a certain amount of marijuana? No need to go to the coffee houses. Go by St Michael's bridge, and you will certainly smell it.
Museums: Yep..plenty of them in Ghent too.
Colorful Houses: Yes…yes..and yes..
Bike culture: goes without saying. They definitely have that in common
Red light district – Nope! None in Ghent. If that's your thing, then l guess Amsterdam is for you. All l saw were tired looking, dead in the eyes prostitutes and lots of guys who just gawked, passed by and headed for the pubs. Sex trafficking is big there, so please look for "pimp free establishments" if you decide to use the services. I doubt many do, but they tell the stories anyway 🙂 . My post on Amsterdam.
Ghent has awesome food and quite a selection of eclectic restaurants. It is also drop dead gorgeous, like a fairy tale land. It is more wallet friendly, and a 30 minute train ride brings you to sister city Bruges. Boom!!!
You can also follow Next Bite of Life on Facebook.
.
---
---
The Marfa Lights in Texas are unexplained mysterious lights that reportedly appear in the nighttime sky nine miles east of the West Texas town of Marfa. They have been a phenomena in West Texas for so long that they've become somewhat of a tourist attraction.
Are they from a UFO, atmospheric disturbances, car lights or perhaps just a means of attracting visitors? A few years back the town even built a plush viewing stand along Highway 90 to view the mysterious lights. So that's how we found ourselves standing in the desert on a brisk autumn evening to see for ourselves.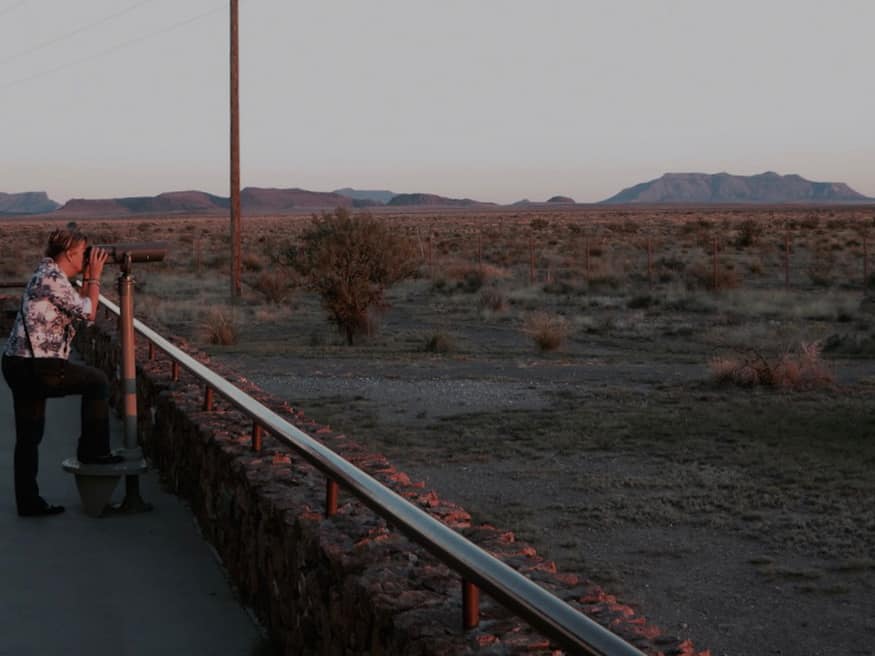 The first thing we noticed was that in the direction where the lights would magically appear after sunset there was a road heading off over the horizon. My cousin Mark who is a Texan was skeptical about the lights and had warned me ahead of time, "You know it's just car lights." But what about cowboys who reported the lights in the 19th century? Mark scoffed at the notion.
So we stood there waiting for the sun to stop playing footsie with the horizon and disappear from view. About twenty people were gathered around, some of them descending from RVs for this festive occasion. The sun finally bade farewell and we all stood there . . . waiting . . . waiting . . .waiting. After an hour the crowd started to peter out until we were the only ones remaining.
After a while a car pulled off the highway and the people got out, saw what we knew at this point were just headlights in the distance and exclaimed, "Cool! We saw the lights!" They got back in the car and hit the open road, perhaps adding to the legend of the Marfa Lights with tales of their "sighting."
As for us, we had turned down a chance to go to the nearby McDonald Observatory to see some real lights of the celestial variety. You know, stars and planets. Marfa itself was pretty cool with a history that includes the filming location of the James Dean film Giant. But if we're ever passing through West Texas again and want to see lights in the sky we'll head straight to the Observatory.
Larissa and Michael Milne have been global nomads since 2011. They write about their journey at www.ChangesInLongitude.com. You can also follow them on their facebook page.
.
---
---
.
Himeji Castle is widely considered to be Japan's finest castle. In many ways it is. Freshly restored, its bright white exterior is quite elegant, especially when surrounded by cherry blossoms in the spring.
However, the "tour" of the castle was one of our biggest travel disappointments. After standing in line for hours, we finally entered the castle and were disappointed to find that it was nothing but floor after floor of empty wooden rooms. There was nothing on display and no information boards. Instead we just were funneled through the bare rooms at a snail's pace, shoulder to shoulder with hundreds of other visitors.
To be fair, we did visit on opening weekend after the castle had been closed for five years for restoration work. Maybe it isn't always dreadfully busy. Either way, we were expecting to see more on the inside and leave with a better sense of day-to-day life in the castle.
As far as castles in Japan go, we much preferred Hiroshima Castle. The exterior was also very beautiful, but the interior had much more to offer. There were exhibits sharing information about the castle's history and displays depicting what life was like in a castle-town. Overall, we found our visit to Hiroshima Castle much more enriching.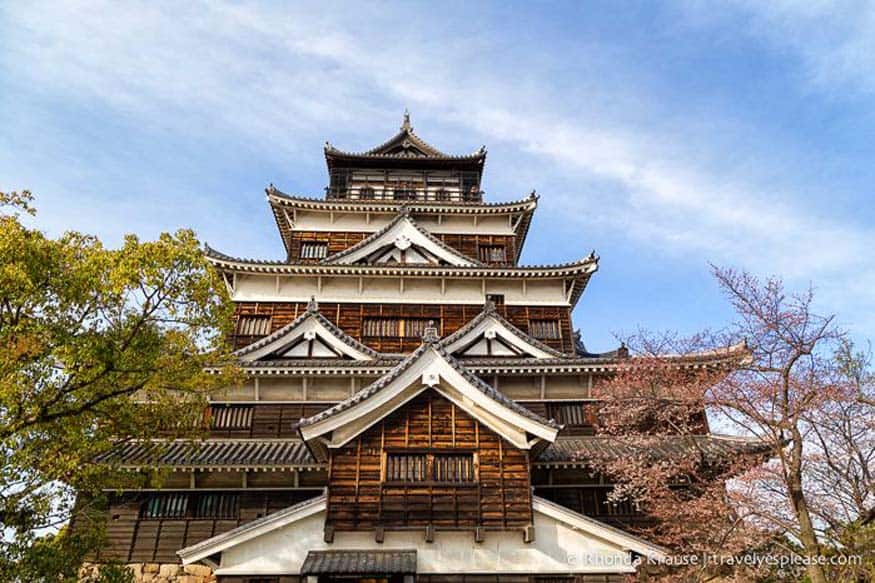 You can also follow Travel Yes Please on facebook.
.
---
---
.
North Goa vs South Goa
Whenever travelers think of idyllic beaches in India, Goa comes to mind. But the truth is that the Goan coastline can range from over-crowded and unattractive, to amazingly blissful.
If you were to travel from the other side of the world to spend some relaxing time at the beach in Goa, and you were to stick to the famous names up North such as Baga or Calangute, chances are you'd be disappointed. If you're looking to party, pay inflated prices for water-sports that are polluting the waters you plan to bath in or even if you enjoy seeing stretches of once upon a time paradise-like sands covered with sun loungers and people all over the place then, sure, North Goa is for you! Those beaches are indeed interesting for people-watching but, if you ask me, as a beach destination, North Goa is pretty overrated.
Our detailed post on North Goa.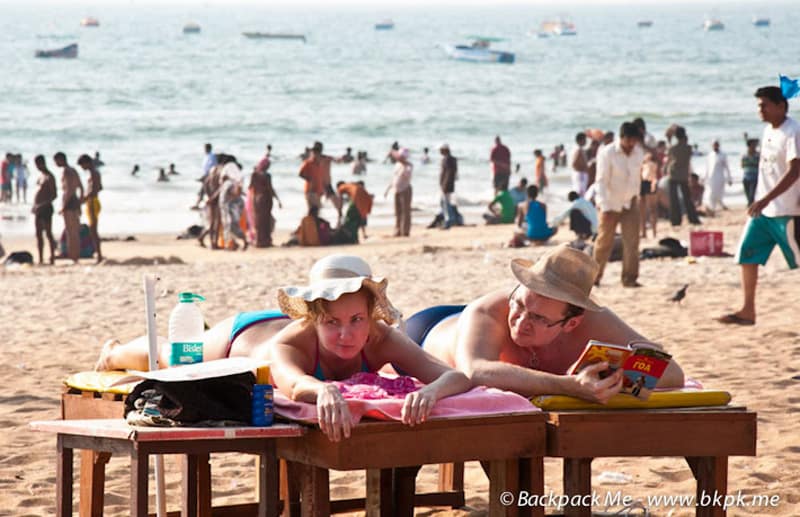 In my opinion, South Goa is where the magic happens. The southern beaches (such as Palolem or Agonda) offer a much more soothing atmosphere, while still being pretty happening. No wonder we keep on going back time after time! Maybe you won't get to rave all night long down there, but you'll enjoy a much more inviting waterfront, with clear warm waters you'll only want to get out of when you get hungry. And, because food always tastes better with your toes dipped in the sand, most restaurants in South Goa put their tables on the beach particularly at night, when candle lit dinners become the standard. South Goa tends to offer better value for money accommodation too – think huts at the beach, as there's nothing really fancy around. And even though the tourists in the South are mostly gora (that is "white people", as Indians say), the truth is that when it comes to a beach vacation to unwind, South Goa is one of your best bets in India!
.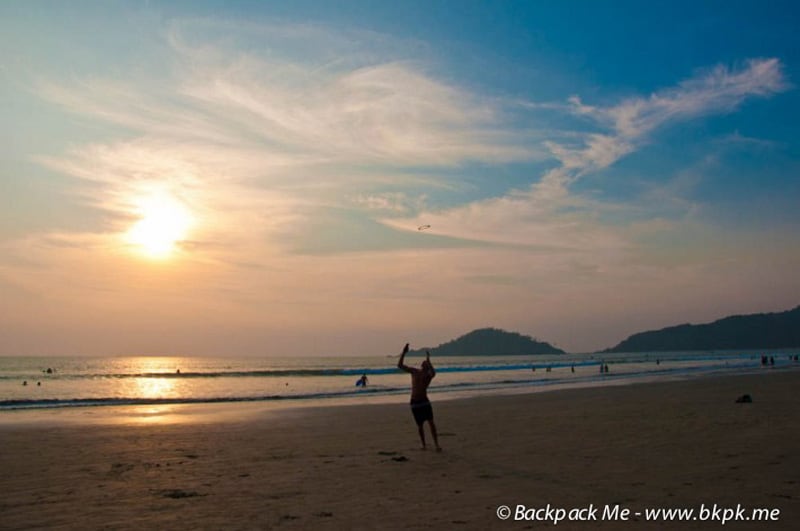 Please note: most beaches in Goa see cows lounging around on a daily basis.. North or South, it's still Incredible India for everyone to enjoy!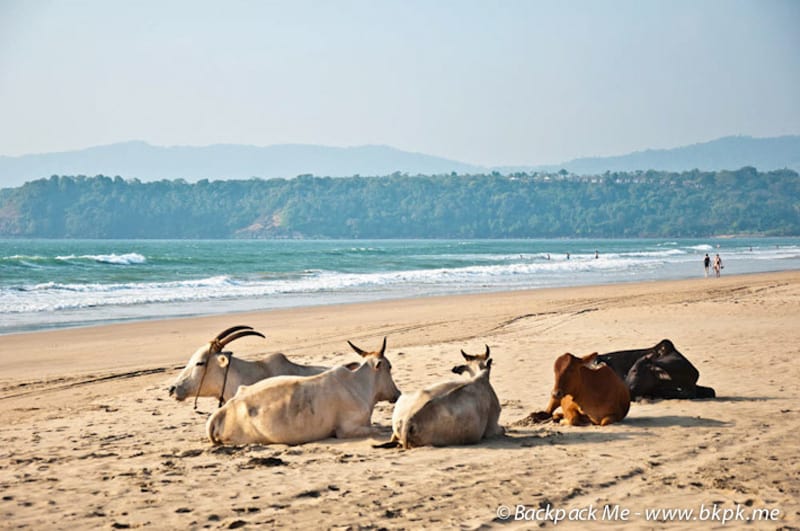 You can also follow Backpack ME on facebook.
.
---
---
.
It's on every Parisian postcard, and is the consistent image that comes to mind whenever you think of Paris, but is a visit to the Eiffel tower everything you'd imagine it to be? An important thing to keep in mind, is that the Eiffel tower is Paris's most visited attraction!
I played the tourist role well on my first visit to Paris, waiting in long lines for the chance to cross hot spots off of my bucket-list. I had visions of climbing to the top of the Eiffel tower, peacefully enjoying my surroundings, and taking in phenomenal views from one of Paris's tallest (and by far its most famous) structure. Reality, however, was quite different. I fought my way through swarms of tourists, working hard to ignore aggressive vendors pushing me to purchase souvenir trinkets. When I finally made it to the top, I felt hurried and chased away by the never ending flow of people shoving their way to the best photo opportunity. Needless to say, it was not my ideal scenario.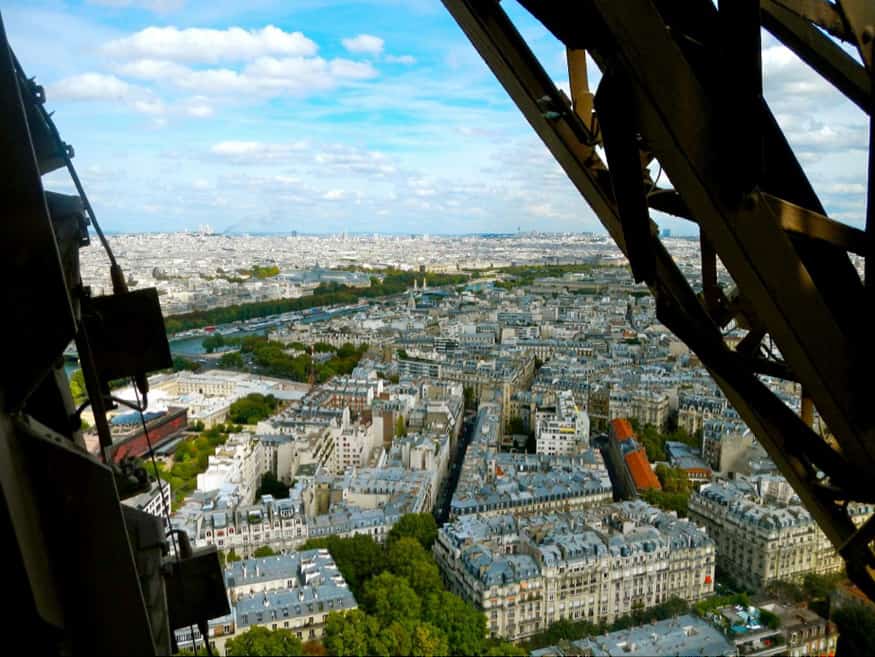 While the Eiffel tower is on nearly every travelers Paris to-do list, there are better ways to tackle this hot spot, if you must! I recommend a picnic in the park beneath the tower – take advantage of Paris's wonderful markets and bakeries. Grab pate, baguettes and wine, and make the Champ de Mars your lunch stop for a grand experience with the tower. Take in the magnificence from ground level while enjoying the Parisian sun.
Still want to take in views from the top? If you're set on ascending Eiffel, it's definitely worth it to splurge on a fancy lunch or dinner. Make sure to plan ahead and make a reservation at Le Jules Verne. Not only will you be able to skip the line (taking a private elevator up the tower), but you'll enjoy a Michelin Starred meal in a truly breathtaking setting.
Looking for an even more unique view? Eiffel has the height, the history, and certainly makes for a dramatic entrance. However, if you're looking for a more relaxed experience, and won't miss the seas of swarming tourists and fees, head to the 6th floor rooftop of Galleries Lafayette Mall. This hidden gem has views across all of Paris, including a picture perfect Eiffel in the distance.
Just follow the escalators up, all the way to the top of the mall, and enjoy the relaxing (free entry) café setting. You can bring your own lunch, or order food and drinks from the roof-top restaurant, all while enjoying the perfect Parisian panorama.
More on Paris (a city we actually love).
You can also follow Best World Yet on facebook.
.
.
---
---
.
None of the bloggers above knew what destinations the others were writing about so it was interesting to see some of the overlaps, most notably on Paris.
.
We've had a lot of our own misadventures. Top Tourist Traps and Disappointments on our list?
Let's start with the one that inspired this post: Bran Castle in Romania. What a tourist trap…..go to Peles Castle instead. Much more impressive.
Costa Rica was disappointing to us: over hyped, expensive, and overrun by foreigners…go to Nicaragua instead for something a little bit more off the beaten track.
Lucerne (Switzerland) sticks out as one of our most expensive, most over-rated cities we've been…but we loved nearby Lauterbrunnen in the Berner Oberland.
In Tuscany, most people go to Pisa…Siena is, in our opinion, much more impressive. See Pisa as a day trip only.
But the most disappointing place we've been? Rio de Janeiro. I didn't enjoy it one bit. I would go to Cartagena ten times over before ever going back to Rio (or Brazil in general).
So

your turn

. What is the worst tourist trap and/or most disappointing place you've been?
.
Ps. If you find our blog helpful, please consider using our links to book your flights, hotels, tours, and car rentals. Have a look at our Travel Resources page.