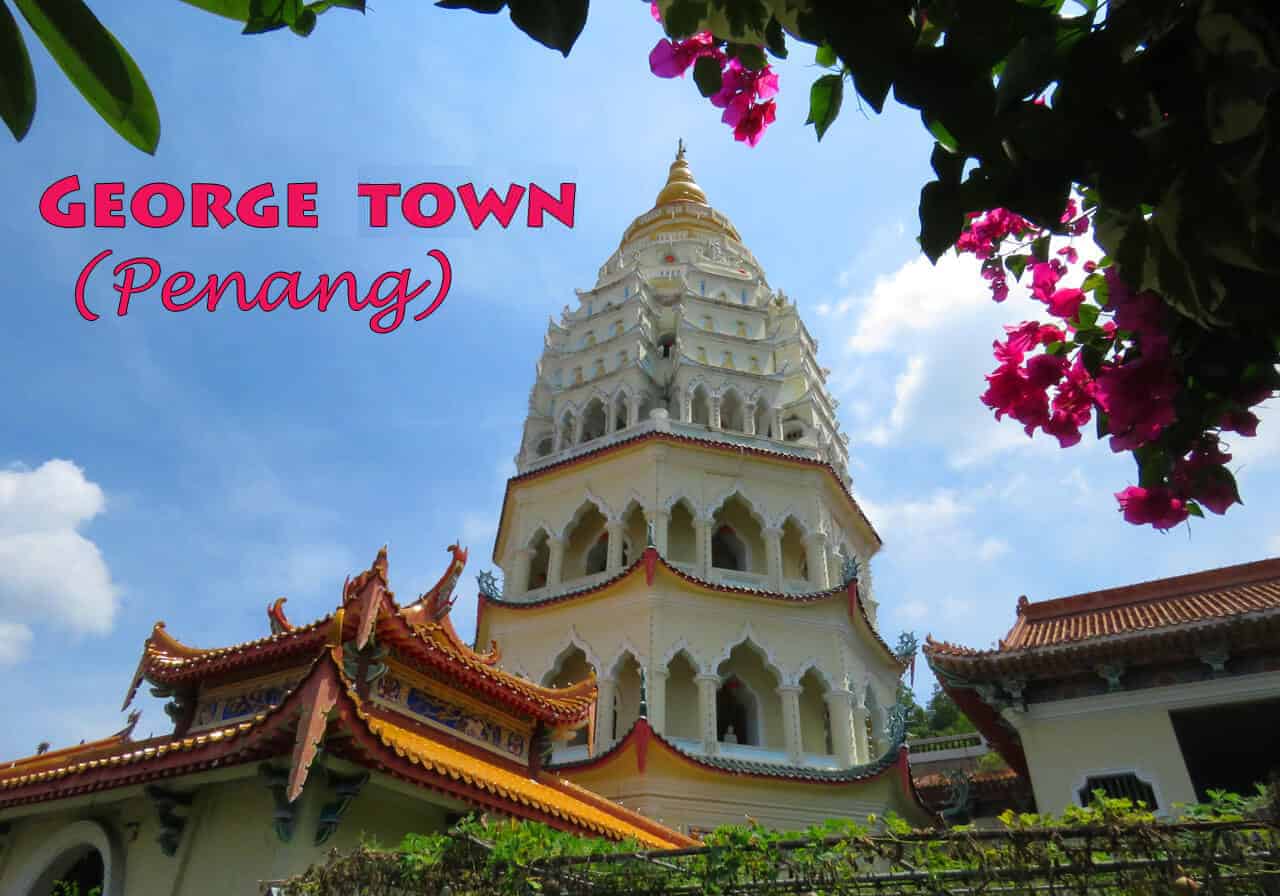 I feel bad writing this post. We've had quite a few people tell us that they really like George Town. Some of them were the same people that told us that they loved Prachuap Khiri Khan (and they were right. We also loved it). But we just didn't feel the same way about George Town, the capital of Penang.
First of all, I should say that I had visited George Town 17 years ago. It had been a strange experience: there I was, arriving in "conservative" Malaysia and within hours of setting foot on the ground I had been offered free blowjobs by homosexual men and erotic massages by Chinese rickshaw drivers. I hadn't expected that. Other than that, I remember beautiful temples, great Indian food, a friendly and ethnically-diverse population, and amazing sunsets. I also remember it being one of the hottest places I've ever been.
I'll get to my thoughts/impressions of George Town this time around a little further down.
---
---
George Town is a UNESCO Heritage Site, granted because of its well-preserved heritage buildings. There's a British fort and a few colonial-era government buildings and churches. But when I think of George Town I think of the beautiful Chinese shop houses that line the streets of the old town. These days many have been renovated into boutique hotels, bars and restaurants. Amidst these Chinese shop houses you'll see a house of worship on almost every street: a mosque, or a Chinese or Hindu temple. I think the racial and cultural mix make Malaysia special and this is especially true of Penang. Besides the Chinese shop houses and the temples, another attraction for many visitors is the street art (which wasn't around when I came here in 2001). You'll see many tourists walking around, map in hand, hunting down street art.
.
A few photos of what I'm talking about:


.




.
;

1. Chinese Shop Houses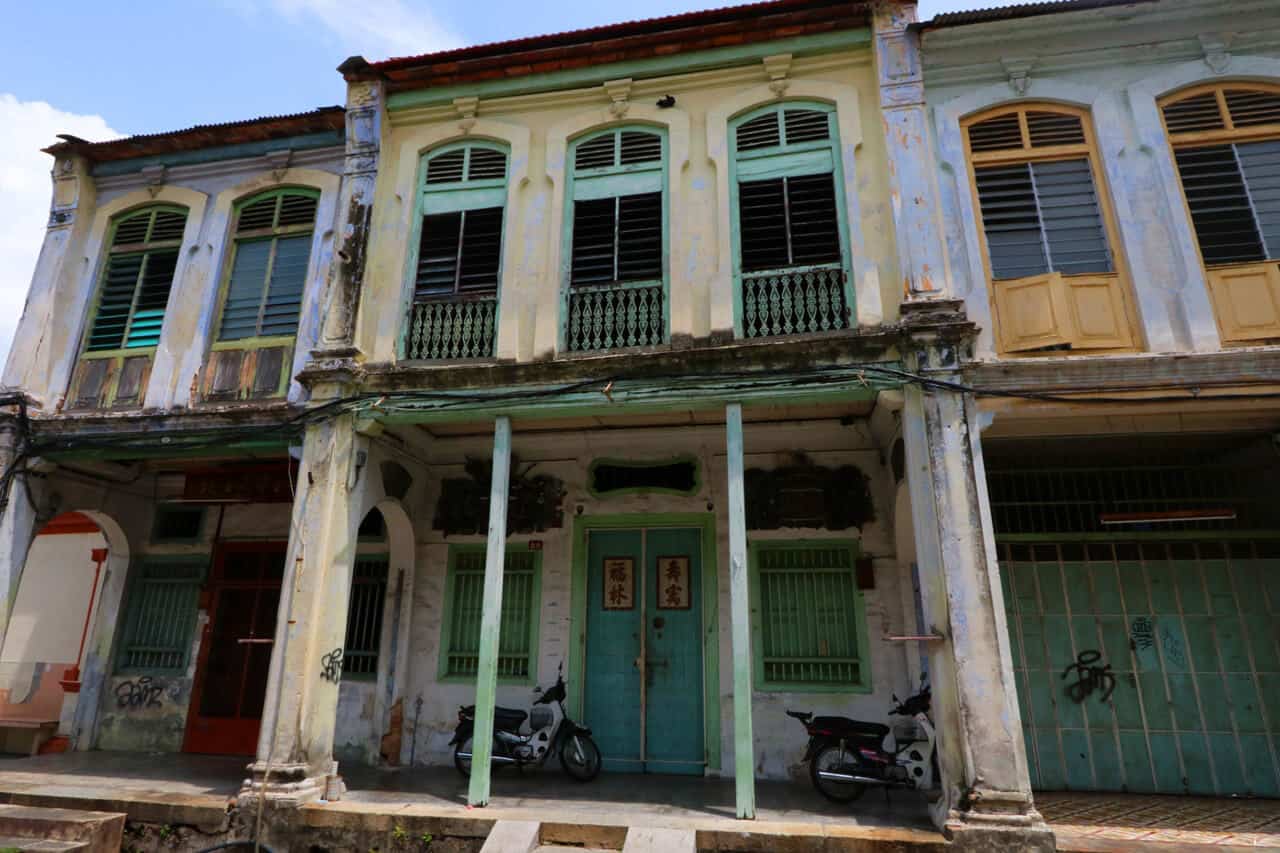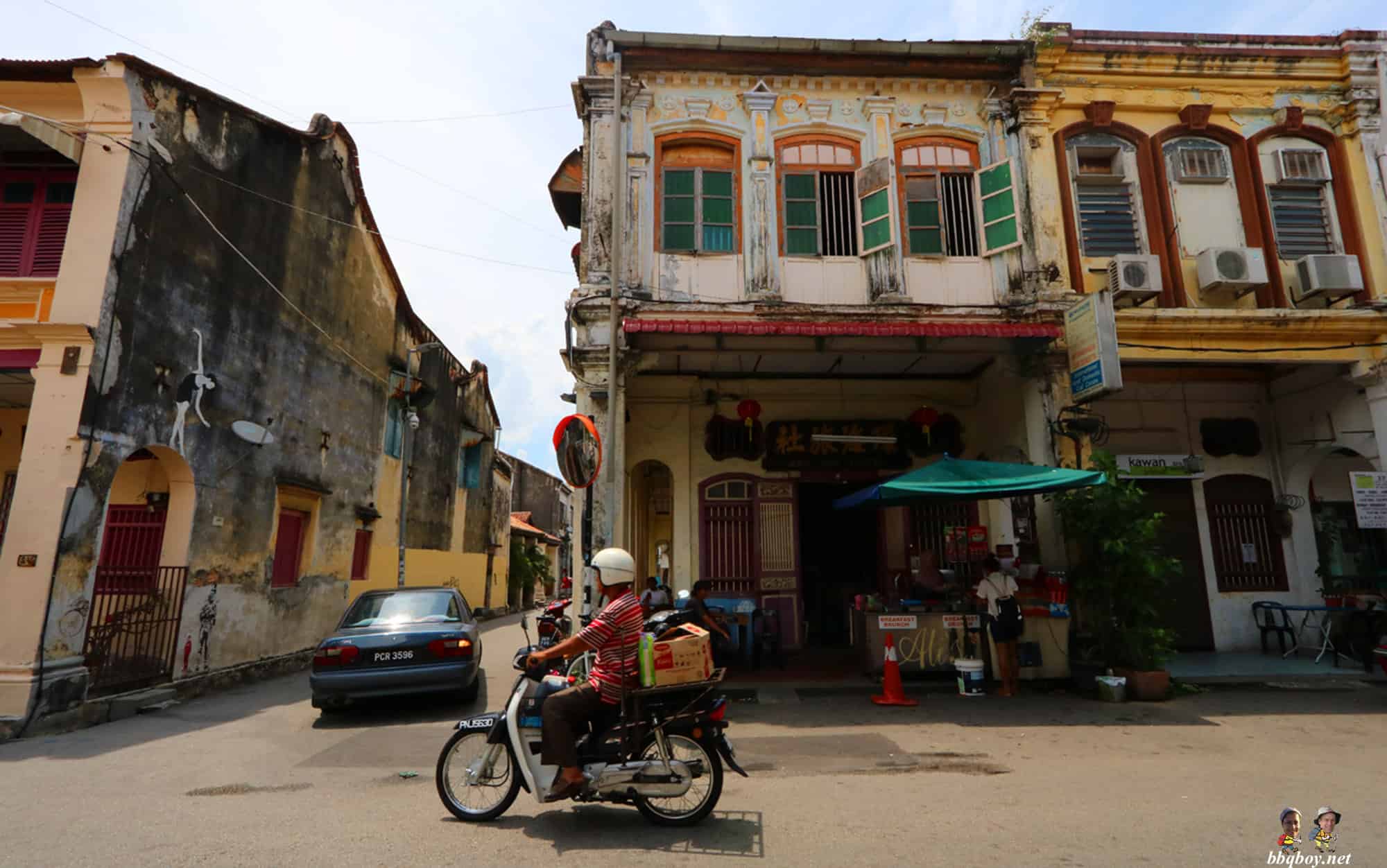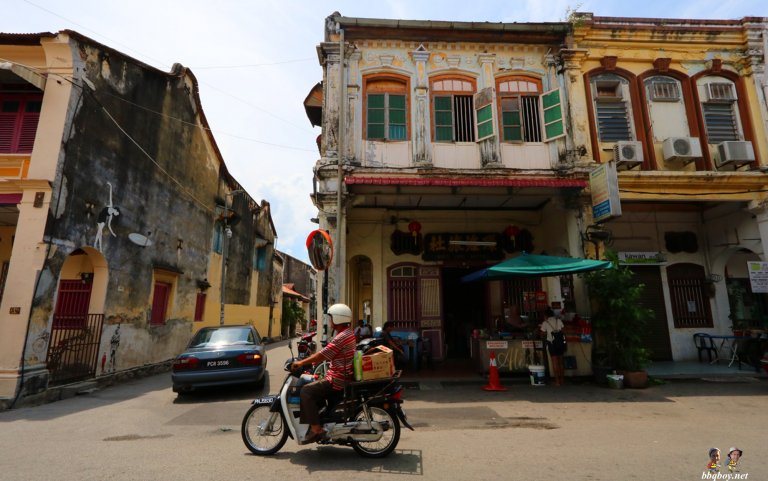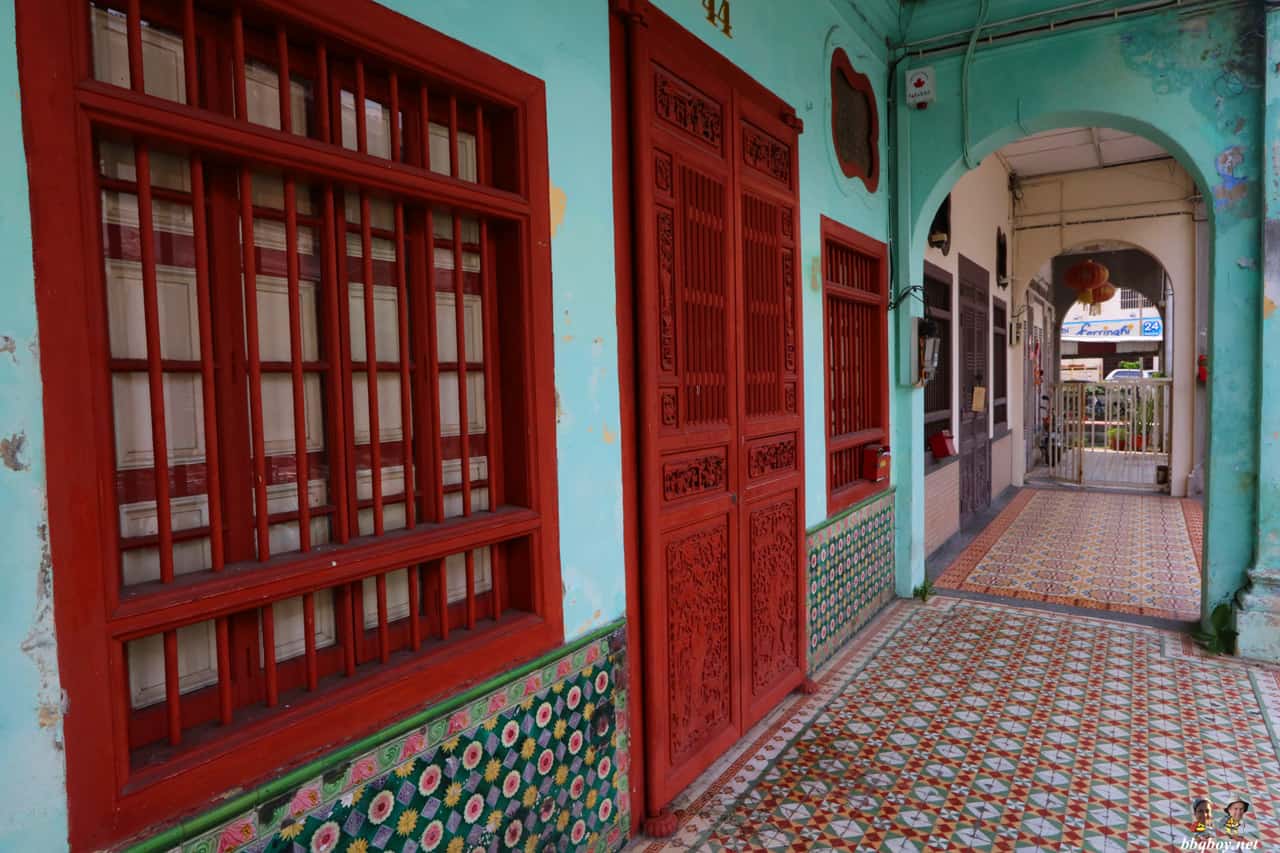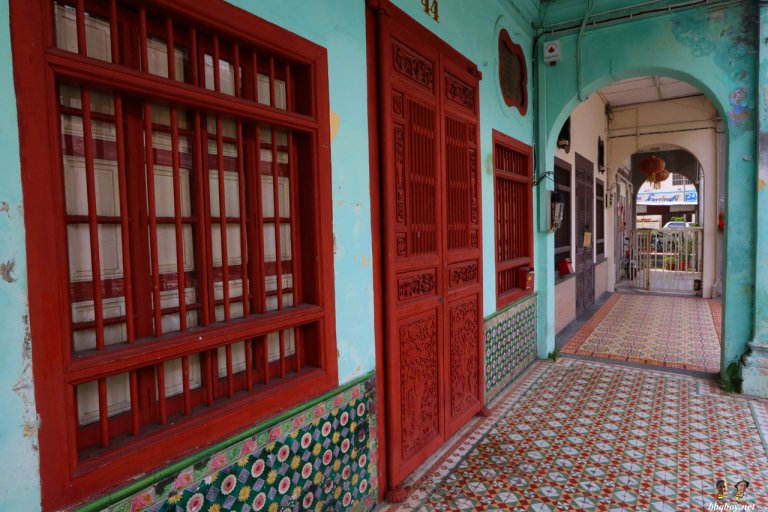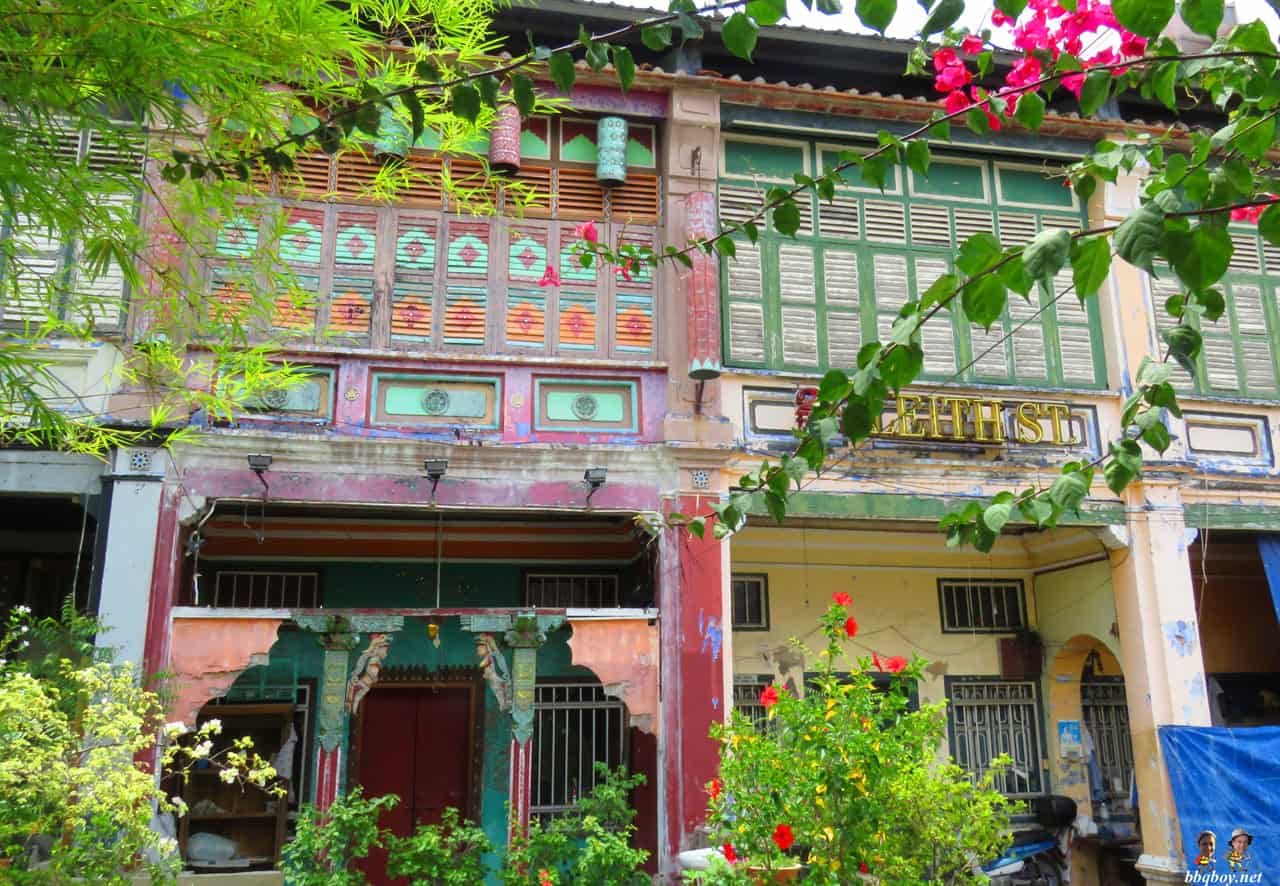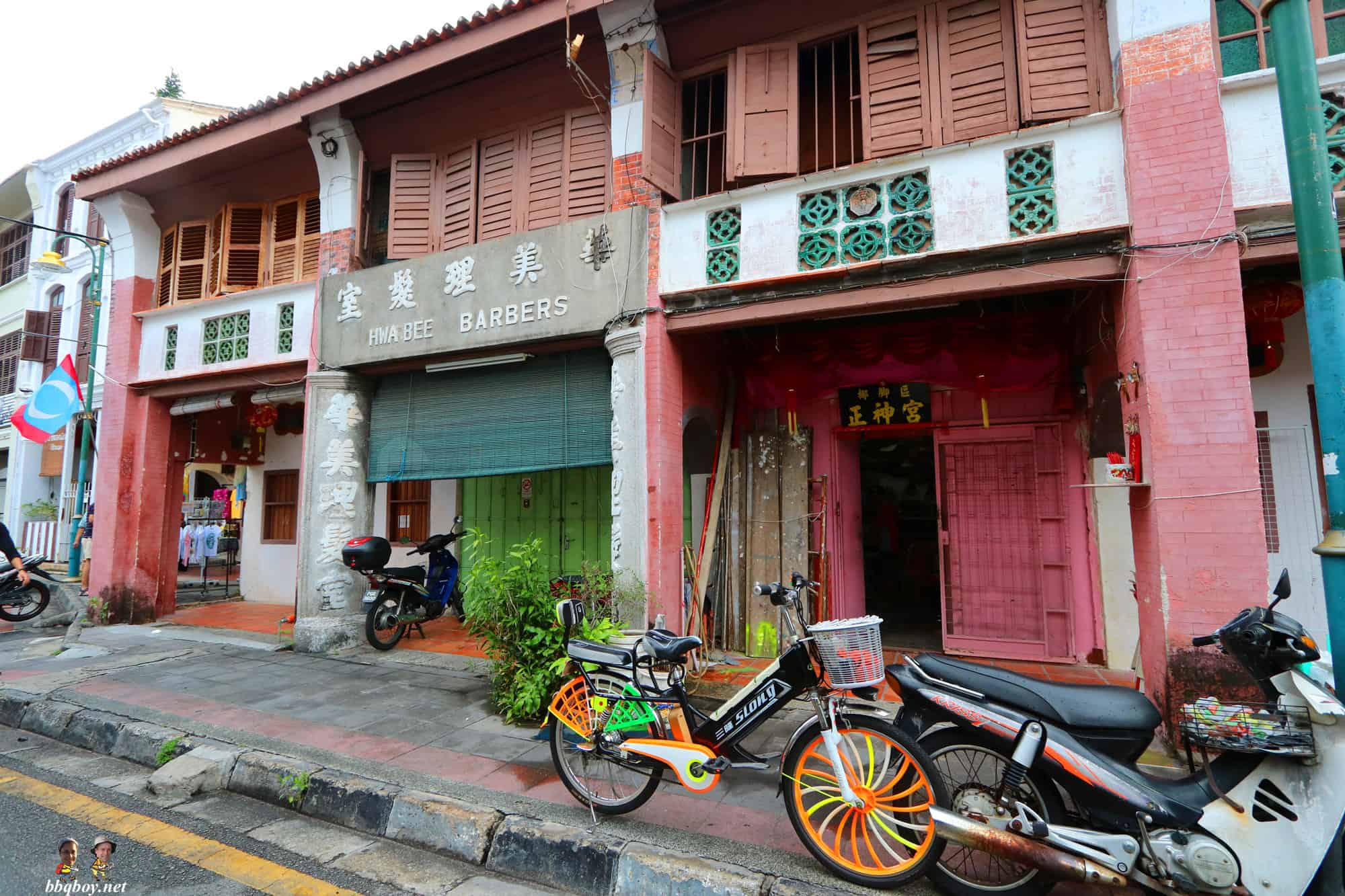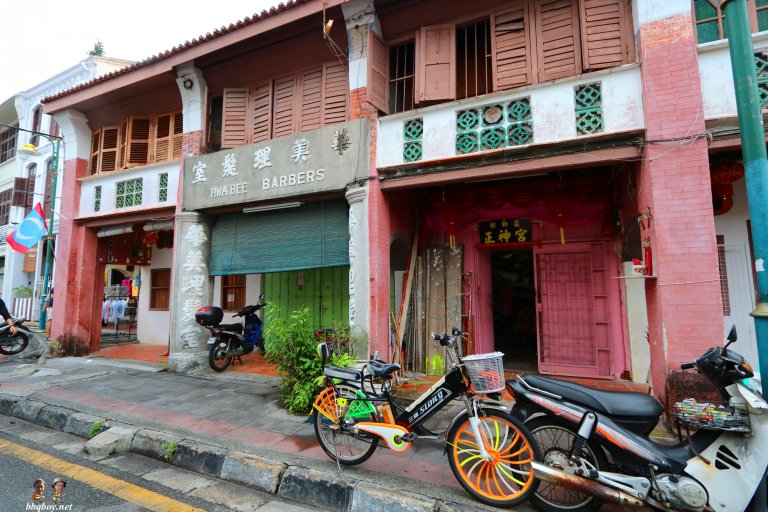 ---
---
2. Temples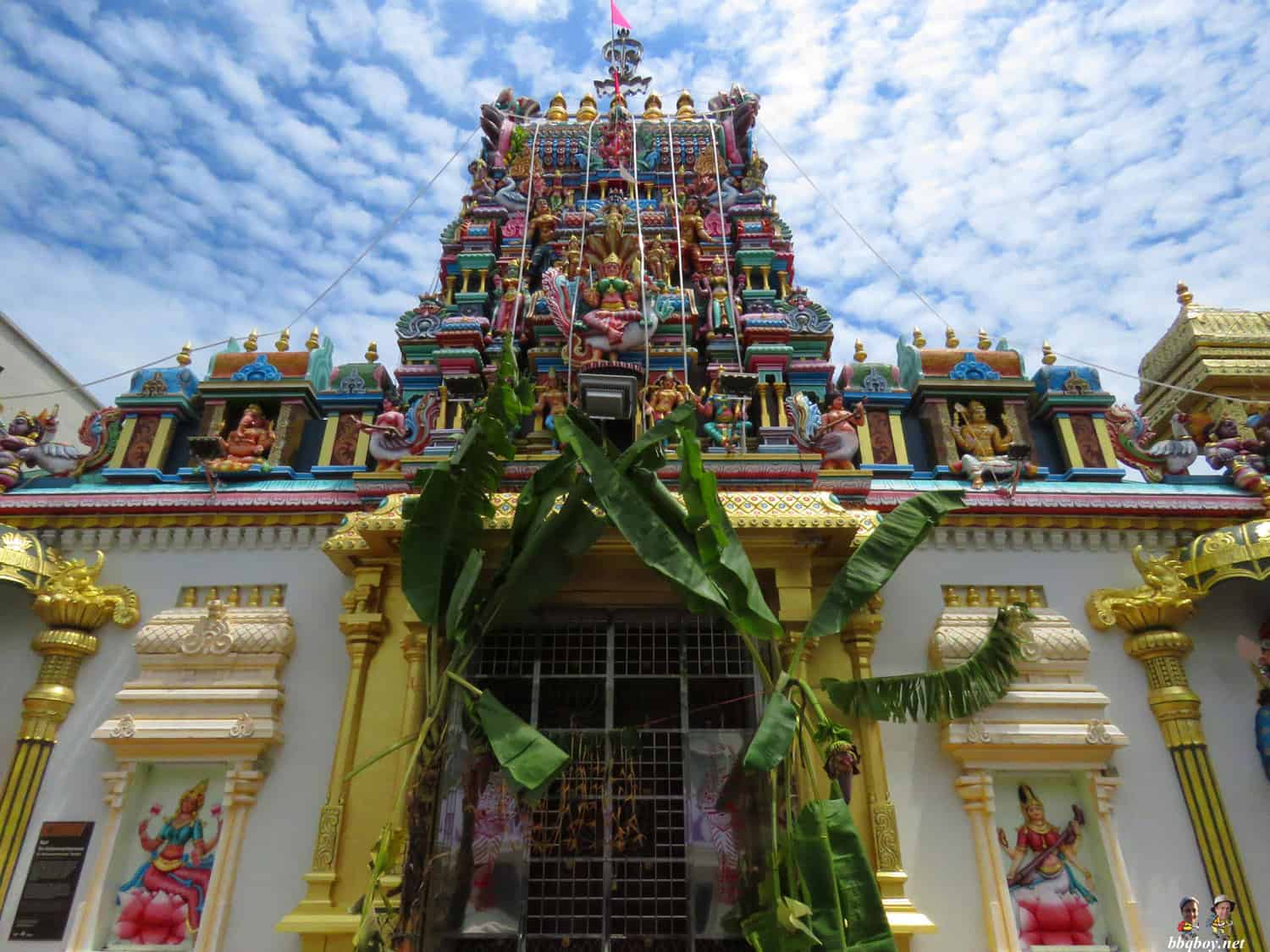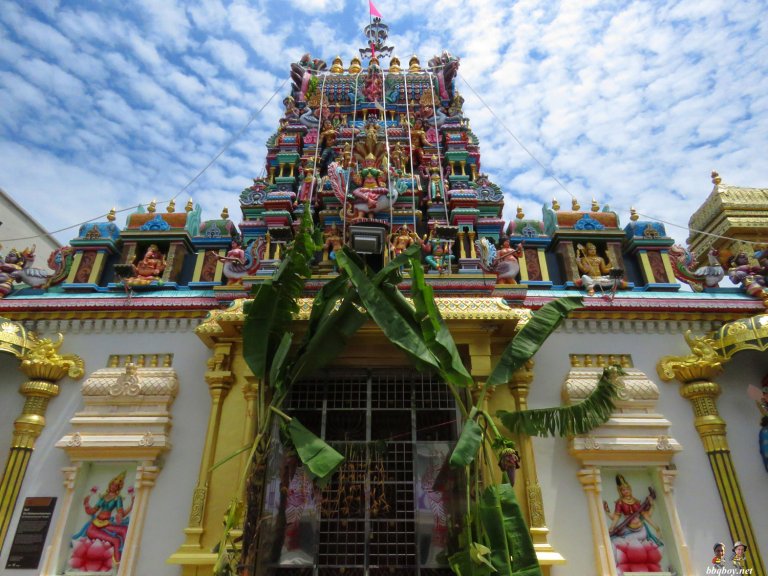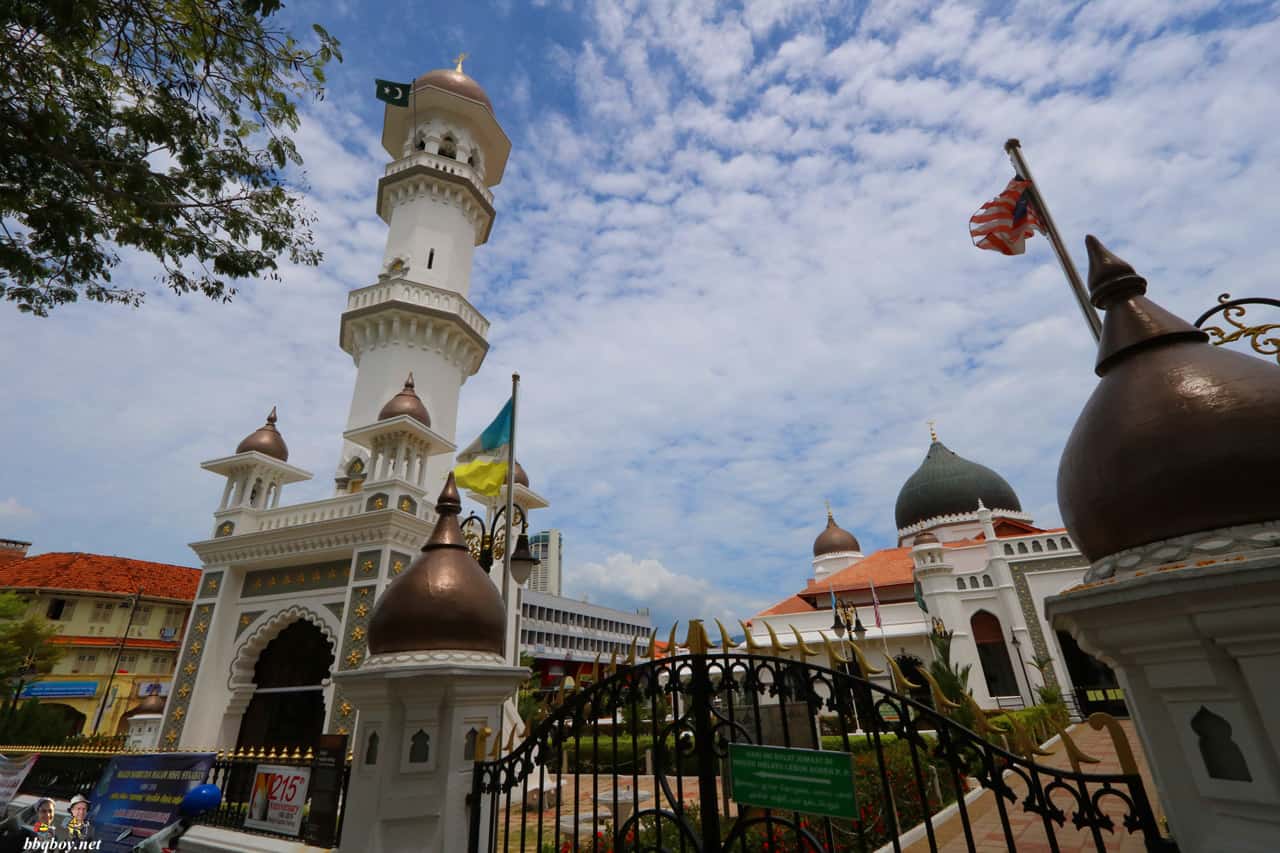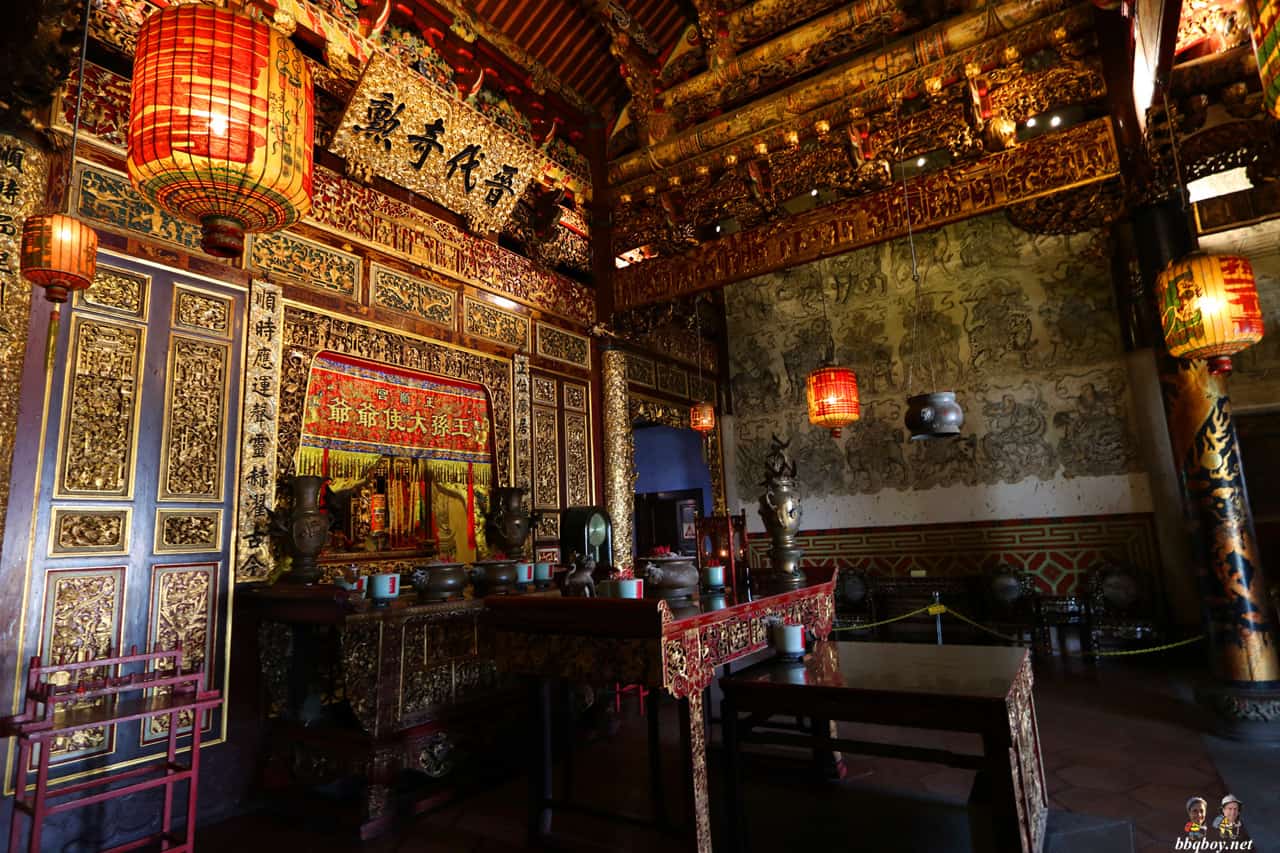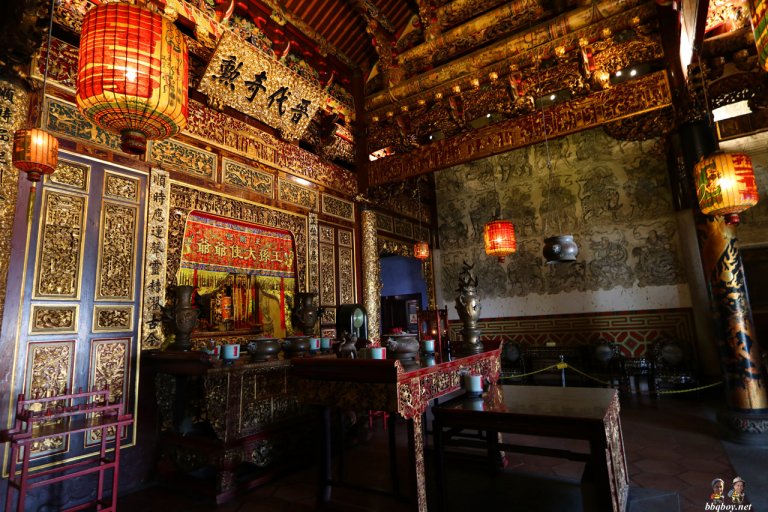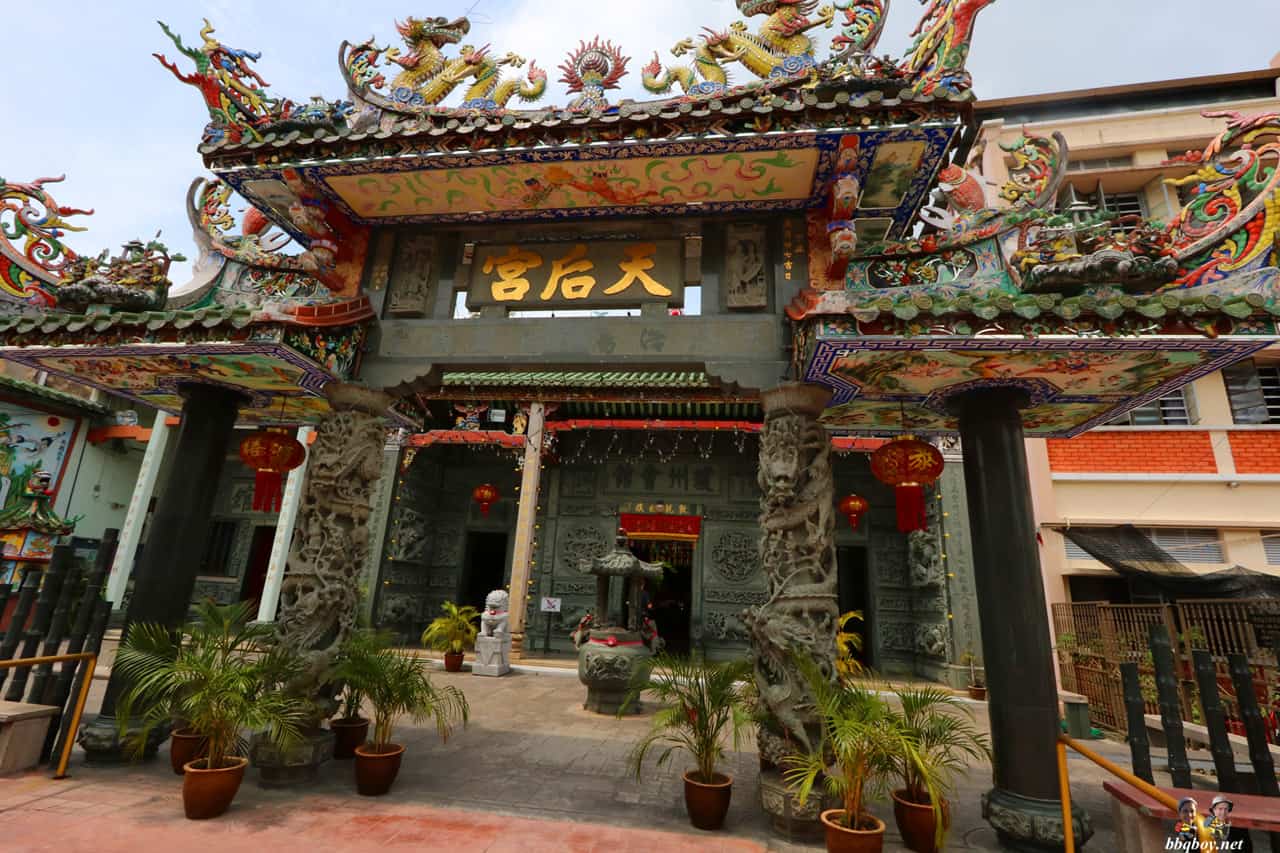 .
.
---
---
'

3. Street Art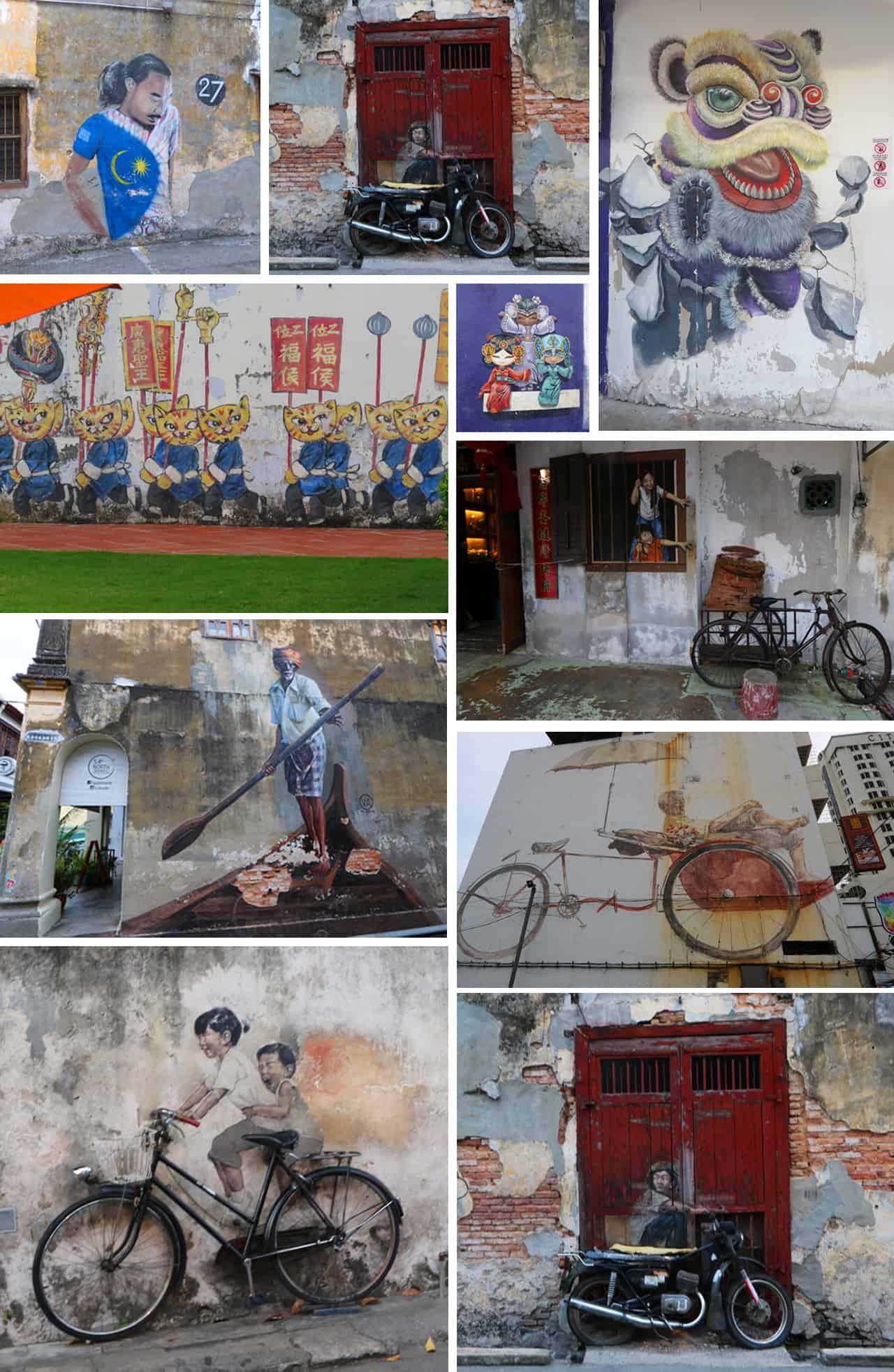 .
.
.

---
---
More Temples
.
There's more to see outside the downtown core. In fact, I think the most interesting temples are outside the city center.
There's a Burmese temple (Dhammikarama Burmese Temple). It's one of the more colourful temples you'll ever see. Across the street from it is a Thai temple (Wat Chayamangkalaram). But the highlight of all temples is Kek Lok Si temple, a Chinese Buddhist temple. It is the largest Buddhist temple in Malaysia.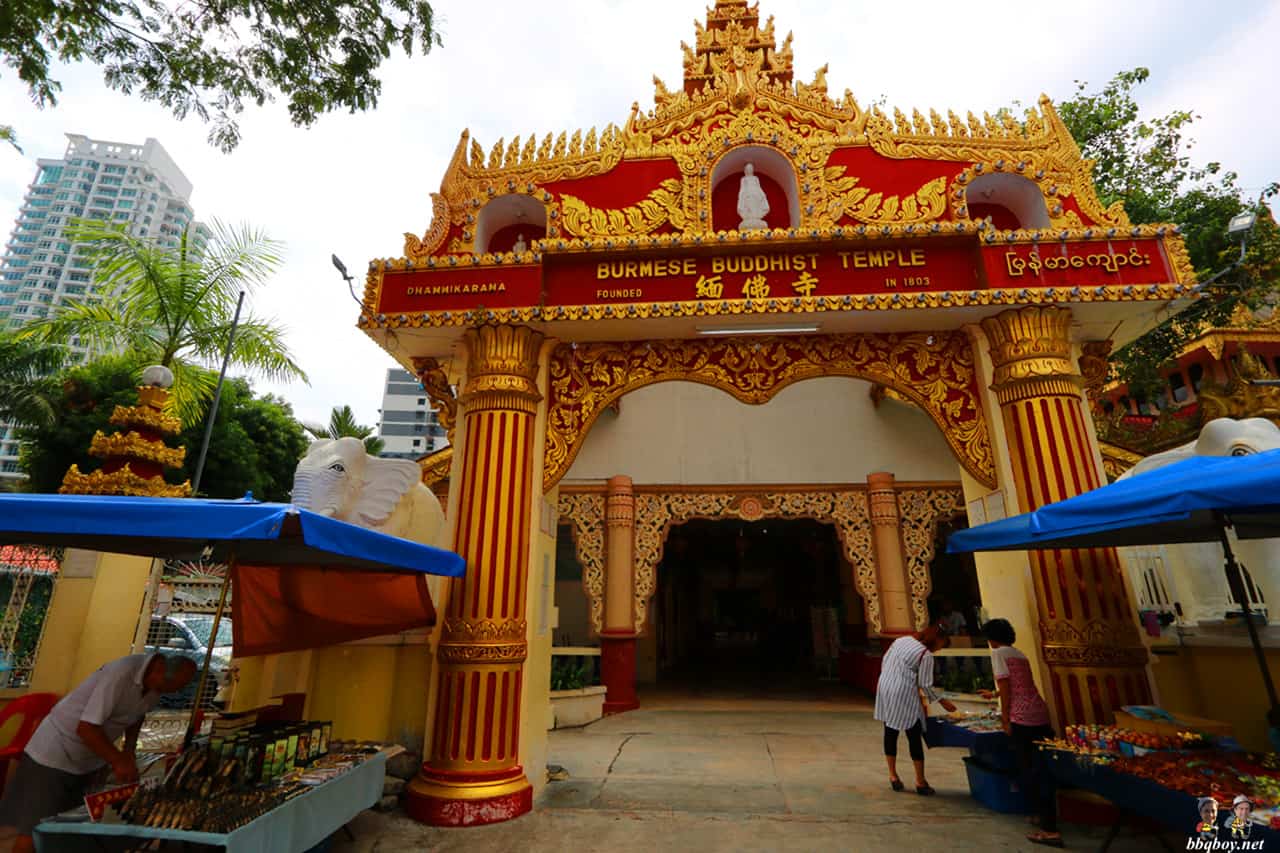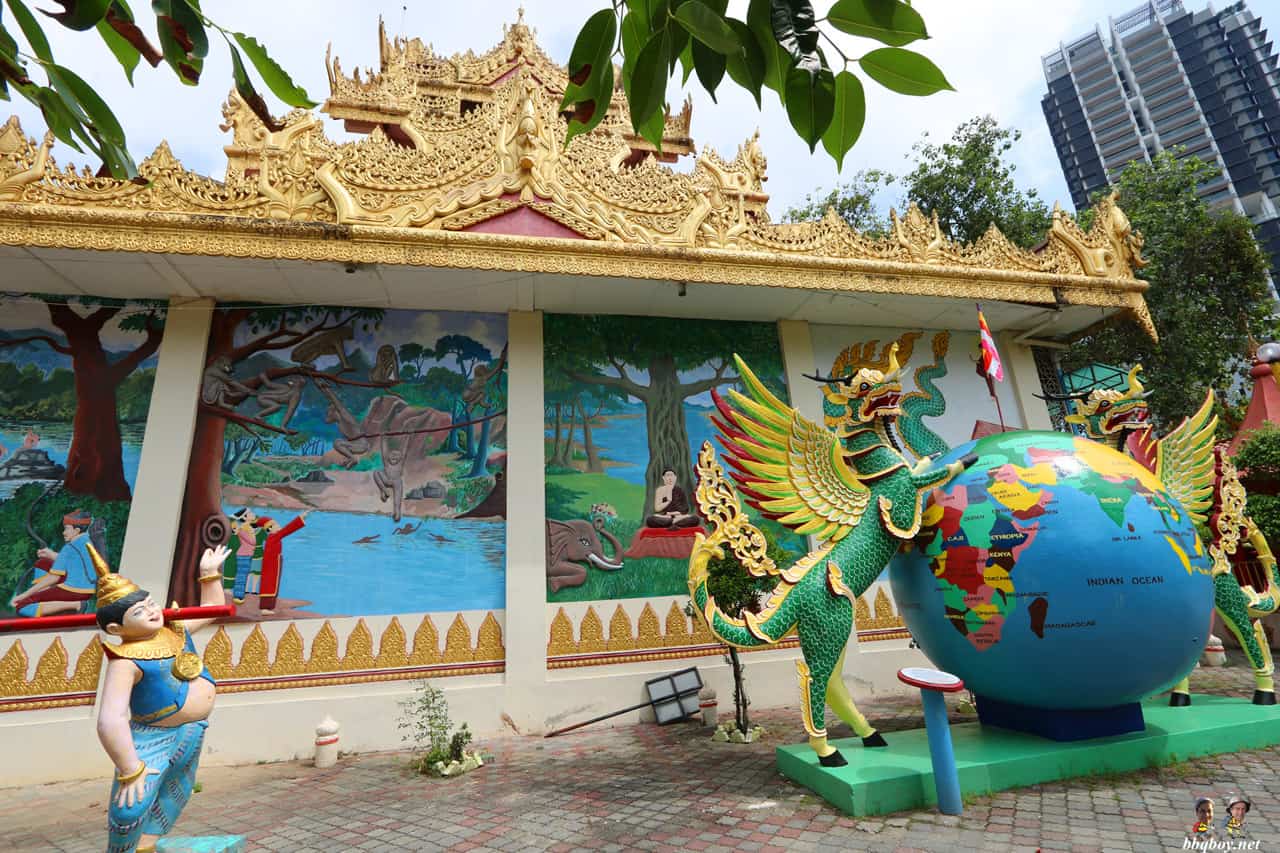 .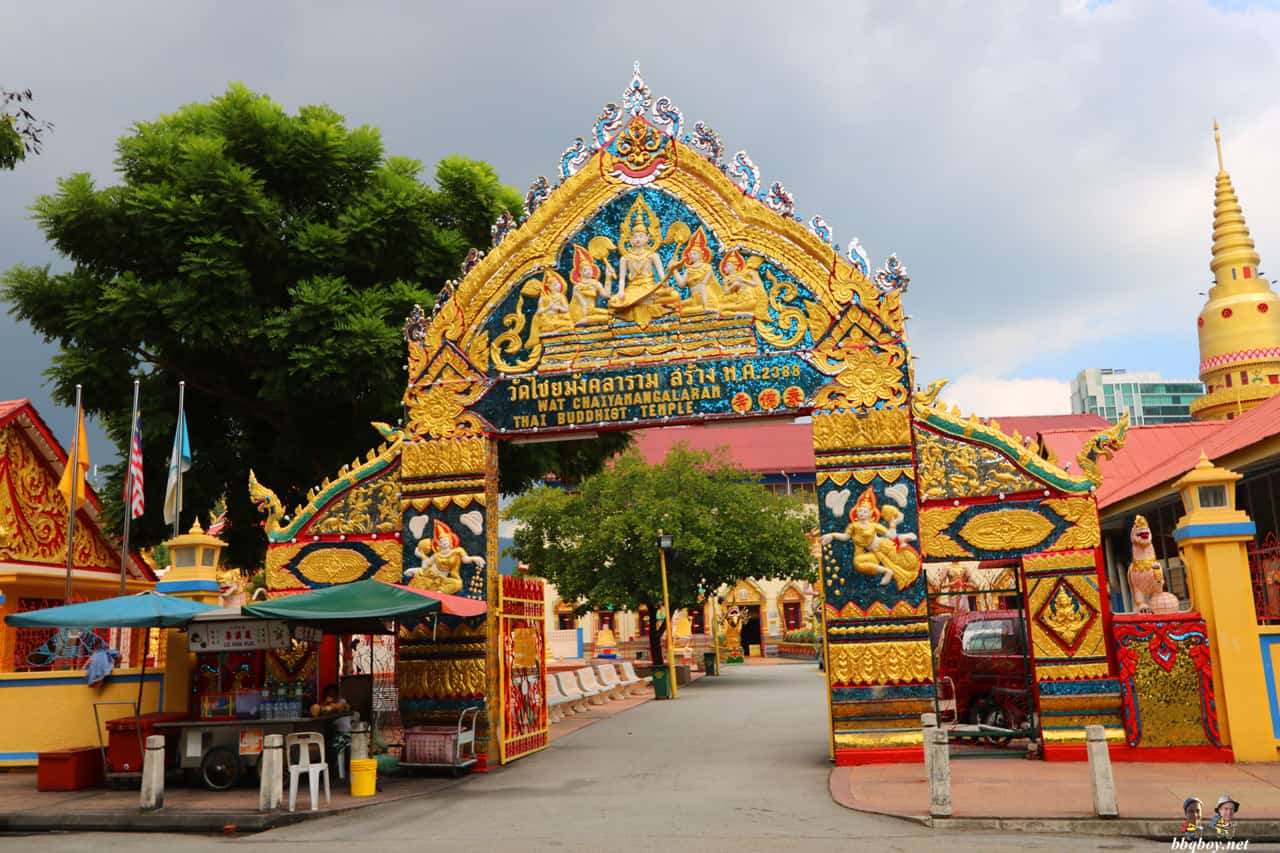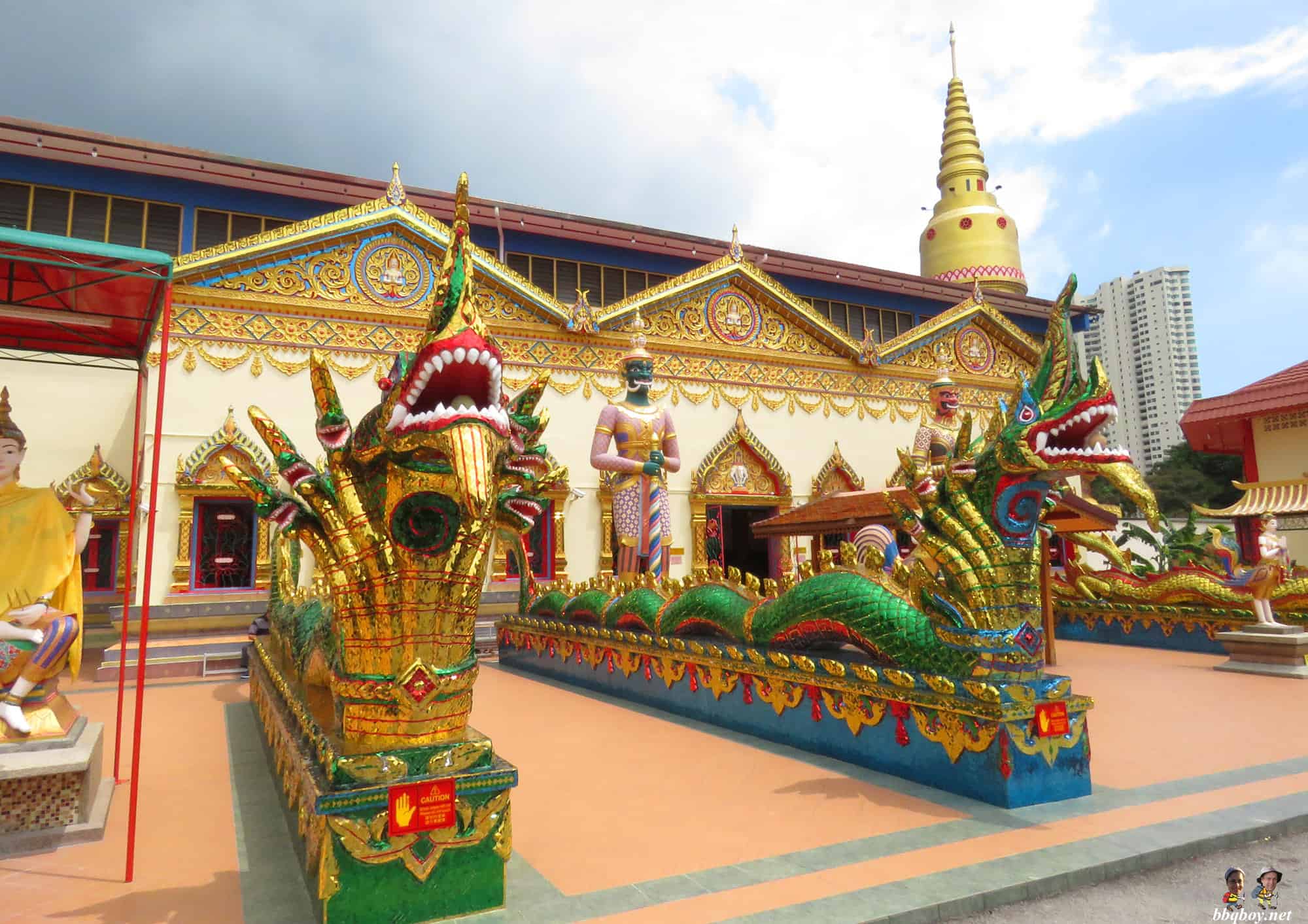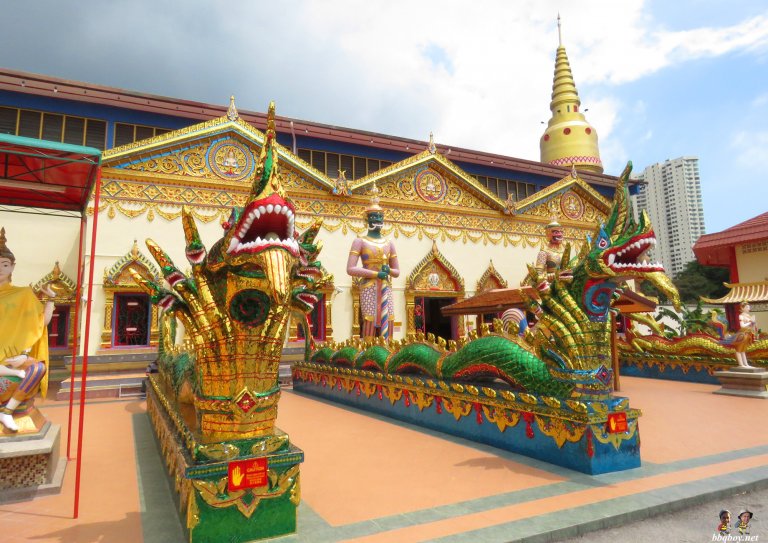 .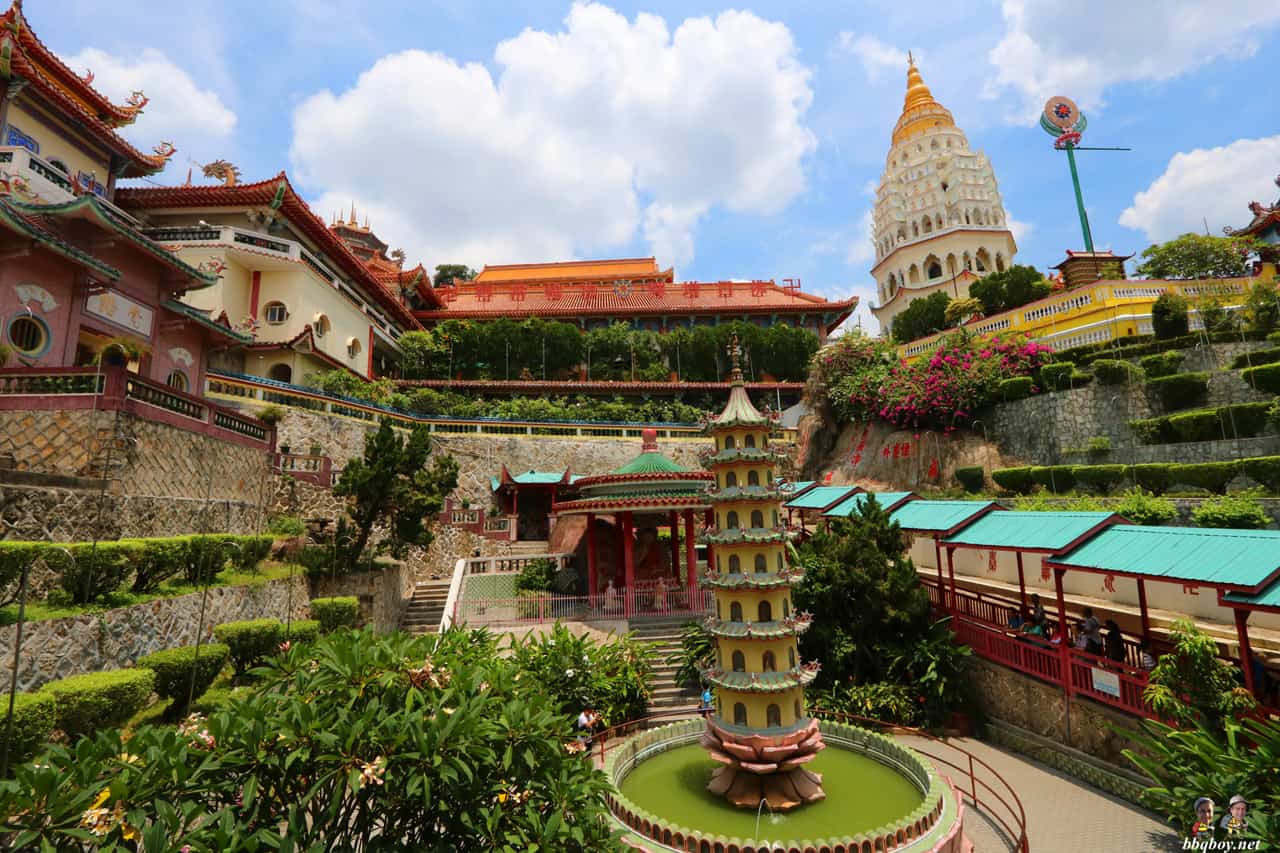 .
---
---
.
The above all make George Town an interesting visit. You should visit George Town.
But they didn't make us love it.


.
What struck me this time around is how George Town has grown compared to my visit back in 2001. Today it's much bigger and busier. There's a lot of traffic. I have memories of walking around the old town discovering the streets. There were small, rustic-type cafés and restaurants. There was a lot of charm to George Town. This time around, I felt that George Town was overwhelming. Walking around meant constantly dodging traffic. Sidewalks are an obstacle course, a place where people park motorcycles or bikes*.
* looking at the photos above you might be saying "what the heck are you talking about Frank? There's nobody and no traffic in your photos". Maybe I didn't do a very good job capturing the realities…
Another thing that really stuck out at me when I came to George Town in 2001 were the people. I met incredibly friendly, honest people on that trip. I remember asking a lady at the hotel reception about hiking. Well, she had invited me for a hike and the next day we had hiked through the Botanical gardens and up Penang Hill. I had gone to a Malay barber shop and the next man in line had given his place to me "you are on vacation. I'm in no rush". He had insisted.
Today that would not happen (I think there are very few places today where that would happen). George Town is now very well know and very much visited. Being a foreigner no longer makes you the subject of extra consideration.
---
---
I just think that a lot of charm has been lost in the 17 years since I was last in Penang. In one of the museums I saw a photo of what the city had been in the late 1900's. The city had the same older buildings. But the streets were almost empty, there was little traffic. Today the center is just choked with cars, buses and motorcycles. It just makes you realize that cities like George Town were just not meant for traffic like that.
.
It's not George Town's fault, it's just a reflection of progress.


.
*I'm going to write about Ipoh on my next post. We really liked Ipoh, more than George Town. And while some people say Ipoh might be "the next George Town" I don't think that's quite true. It has some of the same elements – but it just can't compare to George Town when it comes to the buildings of the old town, the street art, or the temples. So don't skip George Town for Ipoh. Ipoh, on the other hand, has other qualities that really impressed us.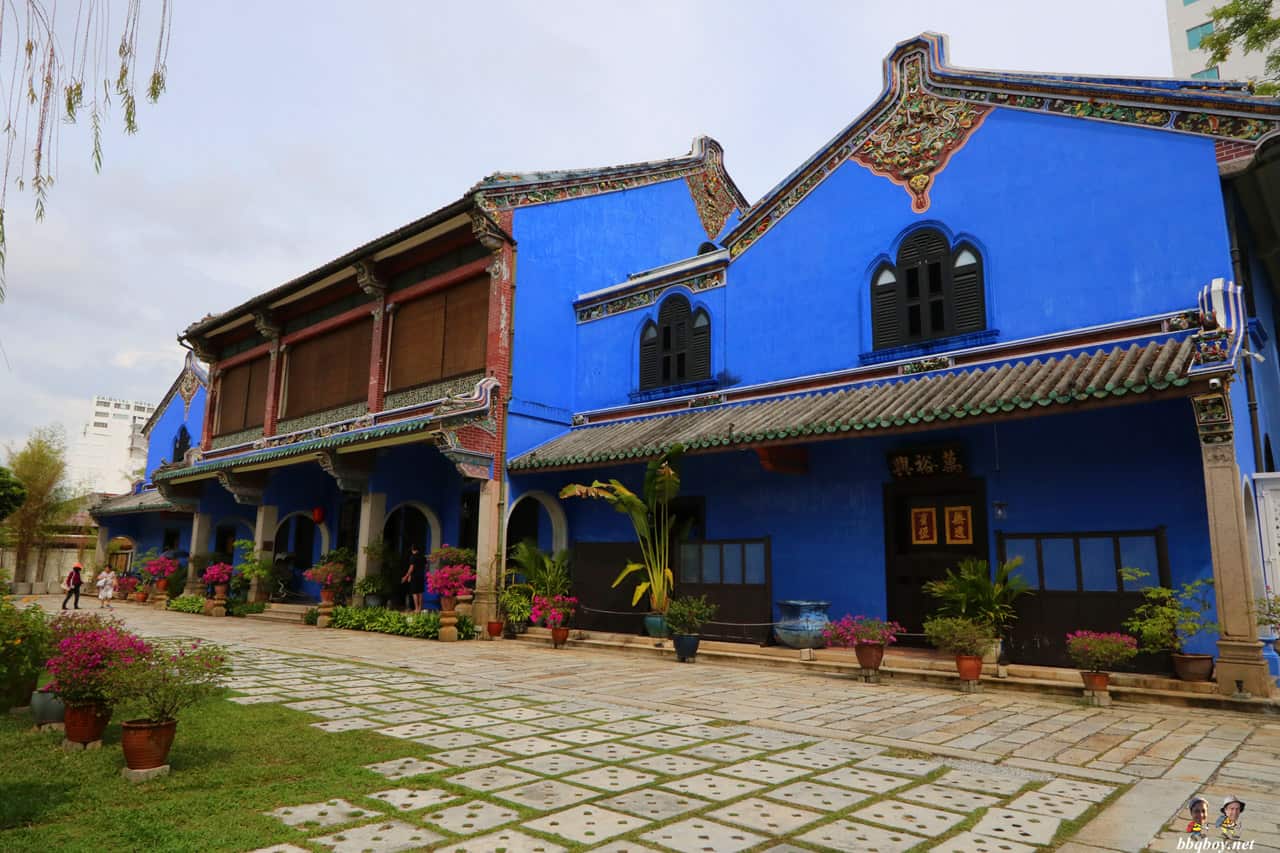 ---
---
Tips and Recommendations (the good and the bad)
– Fort Cornwallis. This has to be the most boring fort in the history of forts. Don't pay to go in, it's overpriced and not worth it. Honestly, the whole colonial area is a bit disappointing. 17 years ago the colourful rickshaws would be parked by the fort. It gave the area a bit of character. Today there are some grey buildings where the rickshaws used to be and it all feels depressing and dead.
– 2nd worst tour: Cheong Fatt Tze Mansion (the Blue Mansion). Just terribly boring tour. Instead, visit on your own and have lunch there or have a drink at the bar. It's a beautiful building. But the tour…
– On the other hand,the Khoo Kongsi Chinese clan temple is really worth a visit. Beautiful.
– The temples outside the center are all must-see's in our opinion: Dhammikarama Burmese Temple, Wat Chayamangkalaram (Thai temple). And of course Kek Lok Si temple.
– Penang Hill and the Botanical Gardens are both worth a visit. But this time around we came at the hottest time of the year and didn't feel like hiking around.
– Street art. We enjoyed walking the streets looking at the street art.

Practical info

–

Accommodation

. We stayed at the Chulia Mansion while in George Town. Very nice hotel, great location, nice buffet breakfast.
.

.
.
So my thoughts?
Yes, George Town is worth a visit. But make it for a couple of days, not a week (we stayed a week. It was too much). Instead try to make a little extra time for lesser known and quieter places (like Ipoh for example).
.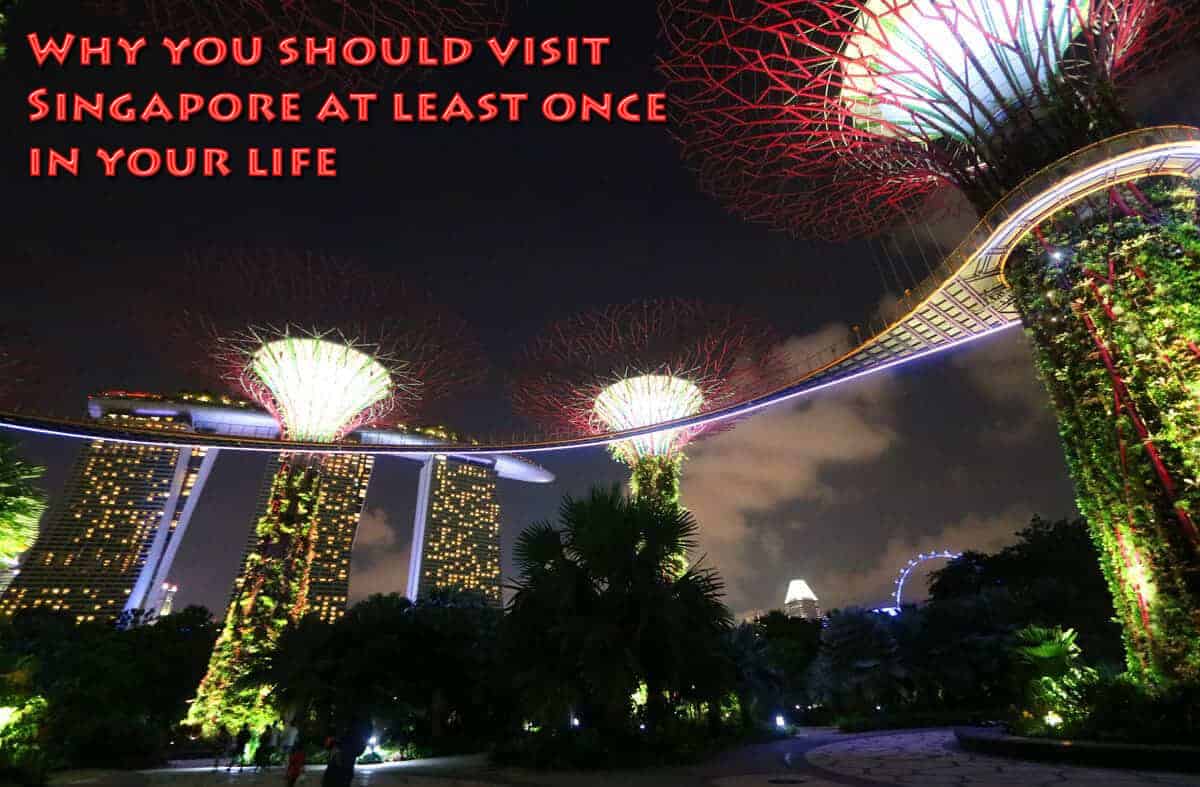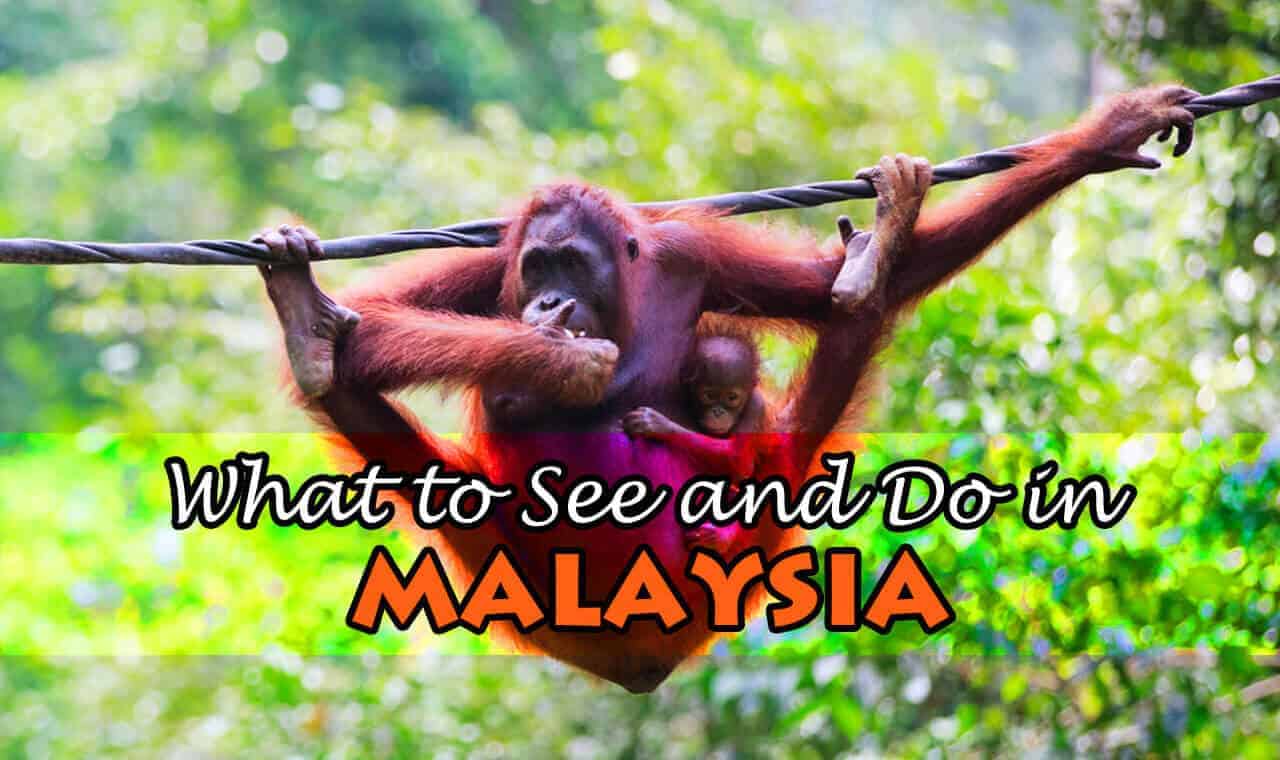 Ps. If you find our blog helpful, please consider using our links to book your flights, hotels, tours, and car rentals. Have a look at our Travel Resources page.