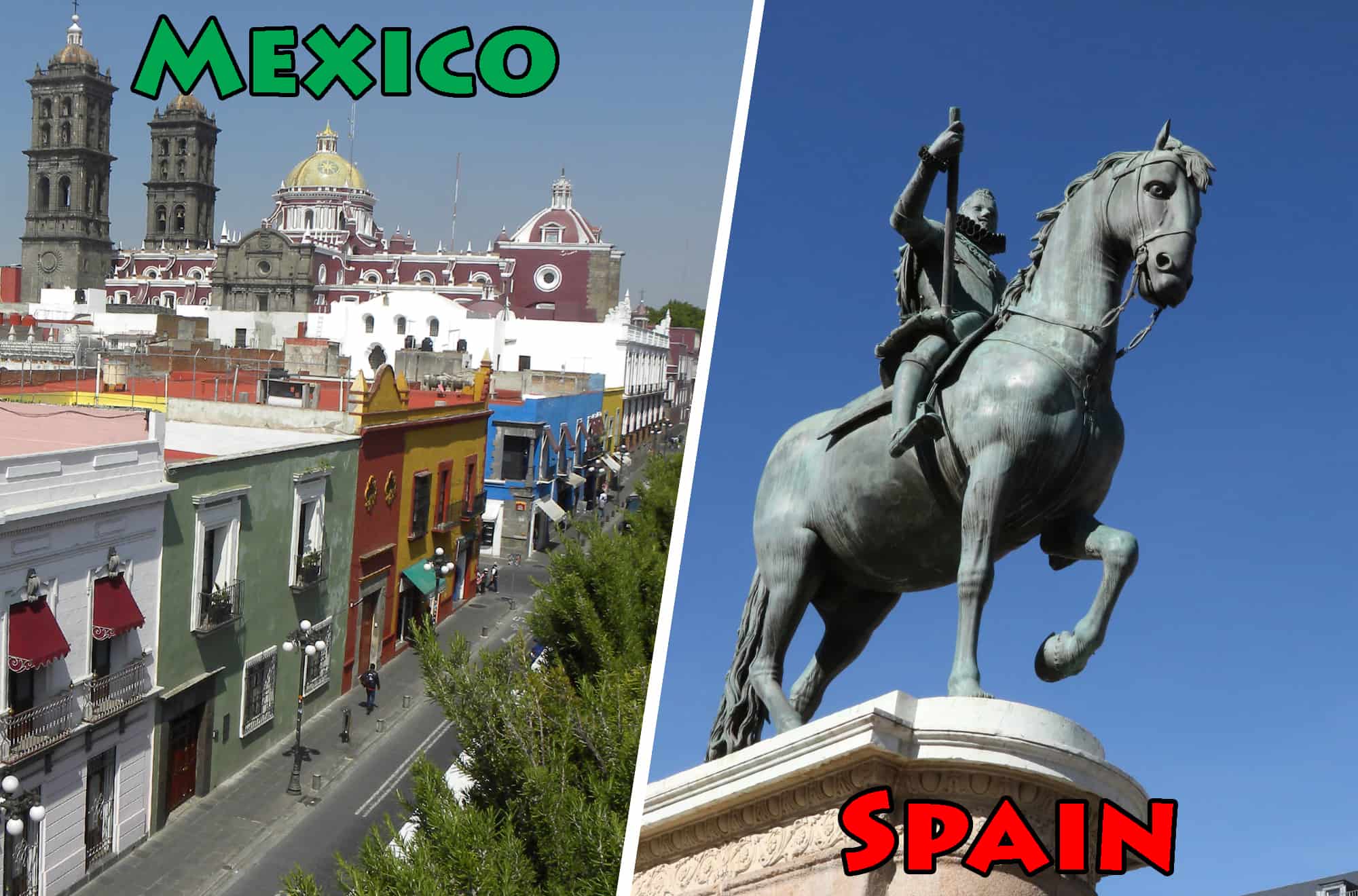 Where to retire: Mexico or Spain?
Mexico is the top retirement destination for Americans and Canadians. I know a lot of people who retire there, including my mother who decided to make Mexico home after 10 years in Thailand.
But Mexico isn't for everyone. Some people (like us) decided to retire in Spain, one of the most popular European destinations for North Americans. But isn't for everyone either.
This post will compare Mexico and Spain as retirement destinations, weighing the Pros and Cons of each.
I've asked Jen, a Canadian expat who's lived in Mexico, to contribute her thoughts. She's looking to leave Mexico for Spain.
I weigh in my own opinions further below. I've lived in Spain for a few years now but I go to Mexico every year (as I say, my mom lives there) and I'll admit that there are things about Mexico I really like. Would ever consider living there? Maybe…
There're no right or wrong answers here, the country you prefer to live in will most likely depend on what's most important to you. Feel free to share your thoughts in the comments section at the bottom of this post.
---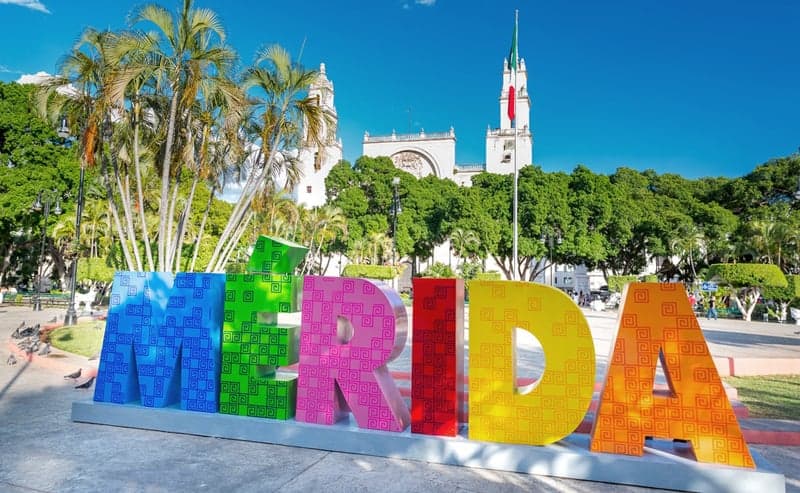 Thoughts on Mexico from a Canadian expat living in Mérida
Jen and her husband left Calgary in 2020 and moved to Mérida. We 'met' on the blog earlier this year when she indicated that they would be looking to move to Spain within the next few years. It led to a wider discussion of "Why Spain? What's wrong with Mexico?".
I asked her some specific questions on that subject.
Hi Jen! You'll lived in Mexico a year now. Can you tell us the Pros of Mexico as a retirement base?
Asides from the affordability of Mexico, obviously the number one Pro is the weather. Where I live in Merida the summers can be a challenge but honestly I do not find it as bad as some people make it out to be. Even at its hottest we can still have lovely evenings spent outside either waiting on a patio for supper or walking in one of the many parks around the city. Another pro: there are so many activities to do, just last week we did a tour that took us out at night onto the ocean to a small island so we can see the bioluminescence. Scuba diving is easy to get to from here. We are just a four-hour bus ride from some amazing diving in Isla Mujeres.
Health care here so far has been amazing, and easy to find. My husband needed something done and from doctor to procedure it was just a couple of days which is great (note: we are both 51 and pay $250/month to VUMI for the two of us).
I think when considering a place to retire you need to find a place that feeds your mind – exploring the history and museums here is great for that. The local art scene is thriving so you can always find things to feed your mental appetite.
We also enjoy that Merida has many of the same amenities as in Canada when it comes to retail, maybe one day we will live somewhere that does not have the usual stores. But as our first move away from Canada it was important to us that we knew some of the companies we were buying goods from.
---
---
How about the Cons of Mexico as a retirement base. What don't you like or have had a hard time adjusting to?
The biggest con I have, and some people will come at me for this, is that I was amazed how quickly I got tired of Mexican food. Is it amazing? YES. Can I eat it on a regular basis? NO. Here food from other countries is just not great. An example would be Chinese food. Here it is not good, and it being not good is a common thread in some online expat groups here. I have traveled all over this world and had food from all over the world so yes I can compare Chinese food from China, Canada, the US and even Chinese food made in France.
Another one is the trash and this may be odd but also things like sidewalks*. There is no continuity in the sidewalks here, Centro is beautiful but such uneven sidewalks and such makes it not a great place for older people. I have witnessed people fall and have so myself. In a lot of places that is just not a worry. Trash is an issue as well.
*Editors note: bang on about the sidewalks. For old people (including my mom living in San Miguel de Allende), the uneven sidewalks and cobblestoned streets are a real danger.
Another is transit. Basically nonexistent here in Merida, there is a national bus that is decent for taking to other parts, we have to Cancun a few times now, and they are currently building a train so we shall see how that changes things.
Lastly safety, although Merida lists high on a world index for safety other places here in Mexico so not. We have had local friends tell us that they did not even feel safe in Playa Del Carmen and Tulum recently. Although I know that crime exists in Europe I just know for us it will be a safer choice as we never intended to stay forever here in Merida.
---
---
You've mentioned Spain. Why Spain? How do you see your life in Spain and how do you think it will be different from your reality in Mexico?
One of the reasons for moving to Spain is the language. I have been learning Spanish for some time now and will continue as long as I am in Merida so it makes sense to me to move to another Spanish-speaking country. Also, something we love about European cities are the transit systems. Europe in general just has a better transportation system within its cities and how easy it is to get to other countries and cities by train. Also we have been looking already at real estate there along the Mediterranean Sea and find it a lot more appealing that ocean living here in Mexico. We want to find a beach town with good access for us to travel all over Europe. It would be easy for us to not have a car. We envision active days of exploring with weekend getaways to other places. That will be the biggest thing for us, having getaways to other countries. Could Spain be our forever? Who knows. We still have the thought that one day we may live in Japan, Thailand or Vietnam. Life is short and I am going to live loads of places on this beautiful planet.
Thanks Jen!
---
---
My perspective as someone living in Spain
We've lived in Spain now for almost 3 years. But over the last 10 years I've also done a lot of travelling around Mexico. My perspective has also been shaped by my mother who lives there.
Things that pop to mind when comparing the Spain to Mexico.
The Pros of Spain as a retirement base
We're in Europe. We can be anywhere on this continent within a few hours, visiting some of our favorite cities and countries. We love travel and we love variety so for us that's a big thing. Europe is incredible …and that includes Spain which has tons of history and amazing highlights.
Healthcare. One of the best and most affordable medical systems in the world. Note: we're both 57 years old and pay 56 Euros/month each for our private coverage which basically covers us for anything (as we found out, it even covers our yearly dental cleanings). Foreigners have the option of switching to the public system after a year of temporary residency – a great thing if you have any existing pre-conditions where you can't get private coverage. It's known as Convenio Especial. If you're under 65 you'll pay 65 Euros/month, if you're over 65 you'll pay 157 Euros/month. That's the maximum you'll pay for healthcare in Spain.
The important thing is that you won't go bankrupt in Spain because of an accident or unexpected operation.
Safety. We feel safe in Spain (and Europe in general). Sure, things happen: there are break-ins, pickpocketing (mostly in the bigger cities), and squatters*. But you can walk just about anywhere at any time and you're safe.
*Did you know that a squatter can come and occupy your home in Spain and you can't have him/her/them evicted? You'll probably have to pay them thousands to leave your home. It's crazy and one of the most ridiculous things I've seen anywhere. See this article.
Infrastructure & Cleanliness. Spain is a 1st world country with good infrastructure. High speed trains crisscross the country, the medium and large cities have large airports with plenty of international connections, highways are modern and plentiful. Spain can be considered "clean" by most comparisons – I remember on my most recent trip coming back from Mexico taking the bus from Malaga to Nerja and thinking "wow, I never realized how clean Spain is". Spending 3 weeks in a developing country will do that to you.
People. Maybe "People" shouldn't be on my list of comparables. The Spanish are welcoming and open-minded. As much as the Mexicans? Maybe not (but the Mexicans are in a whole other league of friendly). But I wanted to mention that Spanish really are very hospitable and tolerant people. I don't know any other nationality in Europe that matches them.
---
---
The Negatives of Spain
The biggest problems most foreigners have with Spain are related to taxes and bureaucracy.
Taxes. The greatest complaint I get is about taxes and most of the complainers are Americans. Tax rates in Spain are much higher than in the United States and Americans choosing to reside in Spain will most likely have to file taxes in Spain and pay extra to the Spanish government on the incremental tax rates. More here: Do Americans and Canadians living in Spain have to file taxes?
The other tax topic that people always bring up is the Wealth Tax. Some good news: as of September 2022 there is no longer any wealth tax in Andalusia. Expect that to spread to other parts of Spain as governments try to attract more wealthy investors.
Still, Spain is not a welcoming place when it comes to taxes. So if you're even thinking of moving to Spain you should do some tax planning in advance to figure out if it's worth it to you.
Red Tape. Retirees thinking of starting businesses (either 'real' or online) are often frustrated by the bureaucratic red tape and expenses involved in Spain. If you want to be self-employed, for example, you are subject to the autonomo rules which require you to pay social security to the government (about 300 Euros/mo, no matter if you make any money from your business) and present quarterly VAT returns to the Agencia Tributaria (the government tax agency). And you still have to pay taxes which start at 19% and can go as high as 47%. For many people, it's just not worth even thinking of opening a business.
Service: People complain about service in Mexico which I always find odd (everything is always open in Mexico, even on Sundays). But maybe that's because I live in Spain where, in addition to poor service (customer service? What is that?), businesses close between 2 – 5 pm, banks literally work "banking hours" (closing at 2pm) and few businesses work on Sundays (even on Saturdays some businesses are closed).
Immigrating to Spain: It's complicated and requires you to apply from your home country. It requires a lot of paperwork, economic means, and you might not be able to work in the country for 5 years (depending on the visa). It's not easy. See my Guide to the Spanish Non-Lucrative Visa.
---
---
The Pros of Mexico as a retirement base
Mexico is vibrant. It strikes me every time I go to Mexico. It's younger, the people are hardworking, markets are colourful. It's much more business friendly with lower taxes and less bureaucratic red tape. People are welcoming and always willing to talk. There's an energy that you don't see in many places…and it never shuts down. When you leave Mexico you somehow feel that the 'energy dial' in your brain has been turned down.
The Food. Fantastic food everywhere. One of the world's great cuisines and one that is also vegetarian-friendly (unlike Spain).
The Cost of Living. You can live much cheaper in Mexico than you can in Canada, the US or even Spain.
Related: Jen on her cost of living in Mérida (Mexico)
Related: Our cost of living in Nerja (Spain)
Closer to home. For many people being closer to home (ie. the US or Canada) is a huge thing. You're also in the same time zone. I admit one of the things I miss living in Spain is watching my North American sports. I wish I could watch a hockey game in prime time.
Immigrating to Mexico: Much easier than Spain. You can get temporary residence upon arrival in Mexico (and work in Mexico!) and after 4 years apply for permanent residency. Or, if you intend to retire in Mexico (and not work), you can get Mexican permanent residency right away (like in Spain you have to show economic means. But unlike Spain you don't have to wait 5 years to get permanent residency). More info on immigrating to Mexico.
---
---
The Negatives of Mexico
Healthcare. And this all depends on your perspective. If you're American you'll probably find private health care in Mexico very affordable and of excellent quality. If getting insurance, expect to pay about $150 US/mo in your 50's (which can go to $500 US/mo in your 60's). Many people feel better getting health insurance to cover them for "the big stuff".
For the "little" stuff, Mexico has a lot of private clinics that are very affordable. My mom has gotten checkups, massage treatments and physiotherapy and it'll often cost about 900 pesos or $45/US per visit. Medication is also quite affordable. Pharmacies also usually have a walk-in clinic attached to them which are also inexpensive.
Have a look at this video which discusses private health care and costs in Mexico (note: the video is a year old and my mom is of the opinion that costs listed are understated. Pad the costs in the video a little).
As I say, it all depends on your perspective. Canadians or Europeans will find the cost of private insurance and operations in private hospitals very expensive. An operation that includes an overnight stay in a hospital might cost you about 50,000 pesos (or $2500 US) for example if you don't have any insurance coverage. If you have anything serious the costs can add up fast.
Mexico does have national healthcare but it's not great and many services are often limited to the bigger cities. You might have to wait a very long time for treatment. For many retirees, as well as Mexicans with the means, national healthcare is not an option.
And what do you do when you're over 70 and can no longer get coverage from insurance companies? Or if you have pre-existing conditions and can't get private insurance or IMSS?
This post covers the different heathcare options available in Mexico. It does a good job giving you an overview but again, prices are outdated. Add about 25% to the prices listed there.
My point: healthcare can take a big chunk out of your retirement budget if things go wrong. That's a scary thing and (from where I'm sitting) a big negative about choosing Mexico as a place to retire.
Safety & Corruption. The media exaggerates the dangers of Mexico. Still, chances of being mugged or broken into are higher than in Spain. Personally, my biggest fear when it comes to Mexico is who to turn to when something does happen? I keep hearing stories of police and/or lawyers who turn a blind eye when retirees have issues with crime.
Mexico is a developing country. There's a huge wealth disparity, lots of poverty, towns/cities can be downright ugly. It can get to you after a while.
Homogeneity and distances. I mentioned that I love the variety in Europe and the ability to be in a European country that's totally different in hours. As much as I like Mexico, I don't know if I could take just being in Mexico all the time. I know it's a huge country and I know there's a lot of diversity between regions. But in comparison to Europe, one part of Mexico is very similar to another part of Mexico. And you have to do so much travelling to get anywhere – my mom for example lives in San Miguel de Allende. It takes 5 hours to get there from Mexico City. In Spain I could have flown to Prague and be on my 2nd beer in that time.
For me, right now, it's a big negative.
Sometimes it's the little things. Lissette is curious about Mexico and she wasn't too fazed when reading the above. Until I mentioned not being able to flush your toilet paper. "What?! I can't flush toilet paper? I don't think I could live with that!"
---
---
Summing it up:
When I think of Spain I think developed, safe, friendly people, European history, great wines, tapas, old population, bureaucratic, not business friendly and economically stagnant.
When I think of Mexico I think exotic, dynamic, young, great cuisine, developing, incredibly friendly people, unstable (as opposed to unsafe). A country of the future.
The above are what come to mind to me when comparing Mexico and Spain. They're both great countries to retire for different reasons… but neither place is perfect and what's best for you might depend on what you're looking for and/or what you can't live with.
Your thoughts – Mexico or Spain?
Related:

The Best & Worst places for Expats (2023)