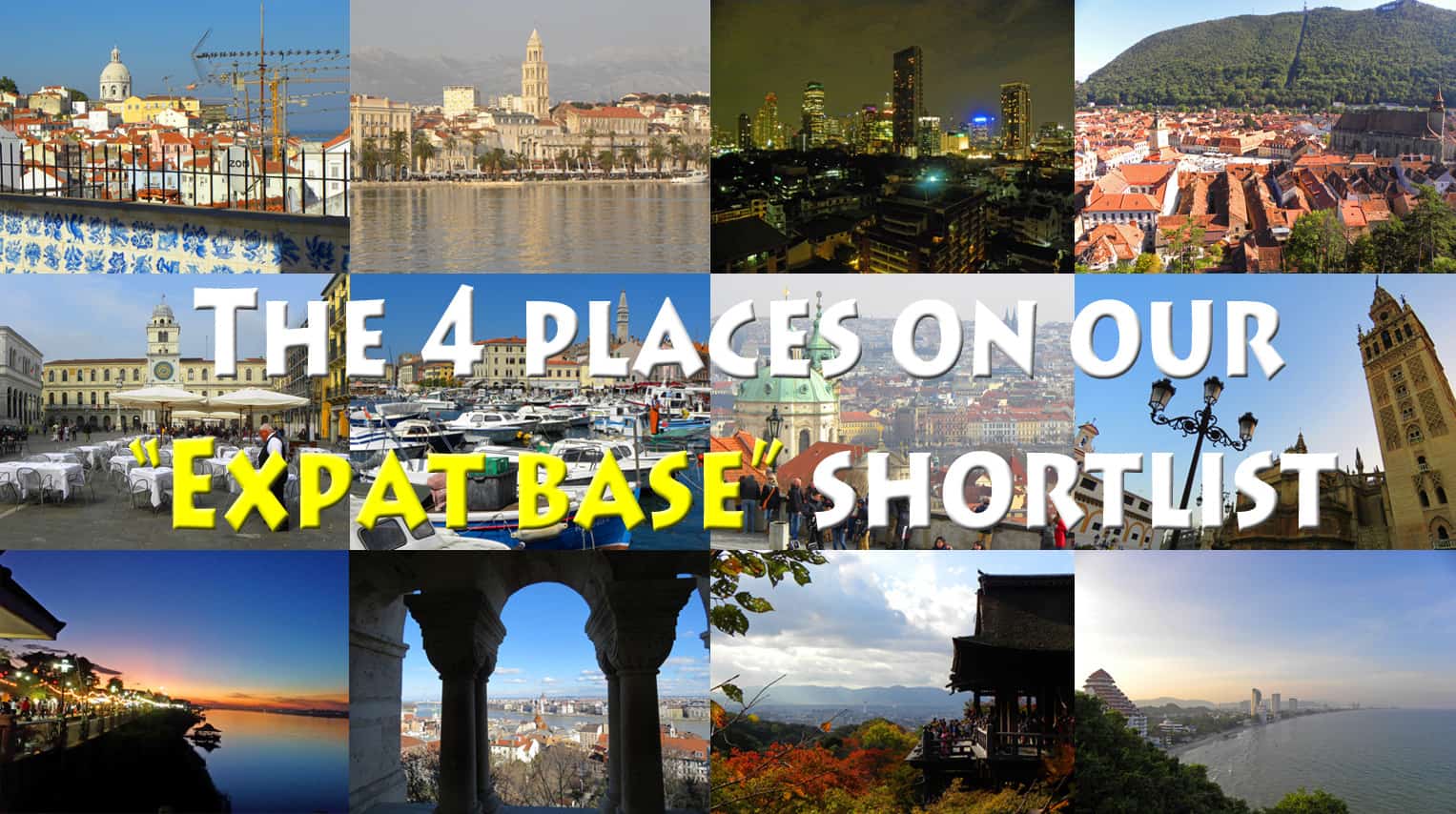 The 4 places on our "Expat base" shortlist
I guess it's a natural progression – working the 9-5 lifestyle, leaving it all to travel full-time, followed by the inevitable…finding a base somewhere.
We're not quite there yet but, after 2 ½ years of full-time travel, this might be the year we actually sign a lease somewhere. It is in no way a rejection of the full-time travel lifestyle – we love travelling and exploring different places as much as ever.
But after a while you get sick of living out of a suitcase and having to lug your belongings with you around the world. You also want to have your own "stuff" again. Although living in other people's apartments is a novelty at first, at a certain point you want some of your own furniture, you want a few of your personal items on the walls. I'd love to have my own bike again. Finally, taking a break from travelling means you can maybe take a class or make some friends. In short, there are many reasons why full-time travellers eventually get themselves a base somewhere.
---
---
More can be written about the above and I'll probably do that sometime. But this post is about where we would get a base. That's a dilemma every traveller goes through as well. The great thing is that travelling as we have the last few years has made us realize the criteria that makes us happy. If you had asked us about our ideas for a base before we started our life of travel it would have been very different than the list you'll see below.
Top Photo – over the last 2 ½ years we've spent at least a month in the 12 places featured in the image at the top of this post: Lisbon (Portugal) , Split (Croatia), Bangkok (Thailand), Brasov (Romania), Padova (Italy), Rovinj (Croatia), Prague (Czech Republic), Sevilla (Spain), Nong Khai (Thailand), Budapest (Hungary), Kyoto (Japan), and Hua Hin (Thailand). We also spent 3 months in Cape Town (South Africa).
.
---
---
Here is our shortlist of places – our Top 4 places – that we have considered as bases, counting down to our favorite.
.
4. Budapest (Hungary)
We've been to Budapest twice now: for 2 months in the summer of 2015 and for 1 month in February of 2016. It actually took us a while to appreciate the city, we found it a bit gritty and dirty at first. But it has grown on us and it is one of those cities we always enjoy coming back to.
Pros
– Vibrant, international city with good food.
– We really like the Hungarians. Very Friendly and we've found the level of English good.
– Inexpensive compared to most of Western Europe, much cheaper than Canada
– great transport system
– a charming city with lots of culture
– easy access to both Western Europe and the Balkans. Ideally situated (for us). Cheap flights back to Canada
– Can find anything in Budapest (shopping, fitness centers, yoga).
Cons/doubts
– It might be too "young" for us. Lots of young tourists come here just to get drunk. We enjoy the ruin bars but I think that whole scene would get old really fast. Reminds me of Montreal where we lived for 25+ years: great city with vibrant nightlife. But we've outgrown that and we find Montreal "too young" as well.
– Gray, cold winter.
Budapest is one of our favorite places and it certainly would be no sacrifice living here for a while. Could we love it long term? I don't know. There are a few places however that rank ahead of it.
---
---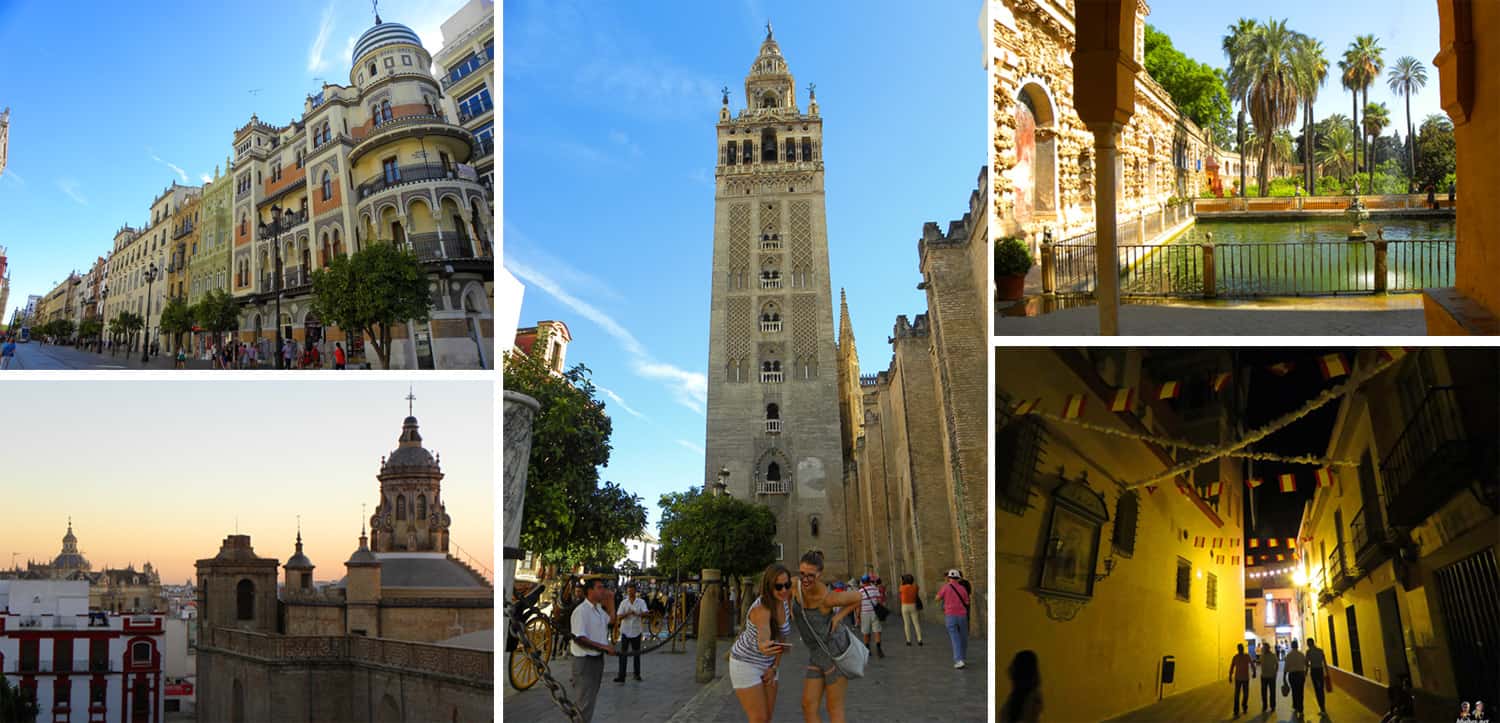 3. Sevilla (Spain)
We spent 2 months in Sevilla this summer and the time flew. We really loved it, we felt we really "lived" in Spain. In many ways Sevilla makes the most sense of any of the 4 places on this list because Lissette and I both speak Spanish. It would be ridiculously easy to make friends here – we found the Sevillanos outgoing and curious and made a few friends in our short time here. We also loved the lifestyle and could easily adjust to those late Spanish hours. It is the most "logical" place on our shortlist.
Pros
– The language factor. Speaking Spanish, we could easily live here. People are outgoing.
– One of the cheapest places in Western Europe, just a touch more expensive (maybe 10%) than Budapest (or Prague).
– We like the late lifestyle, Spaniards are always ready for a party.
– We found Sevilla a fantastic base and we were situated next to the best fitness center we've ever been to (Viding, in Macarena).
– Of the 4 places on our shortlist, Sevilla is the closest to Canada/Mexico should we ever need to get back for a family emergency.
Cons
– Local transport not great: Sevilla's old town is a maze of small streets and getting around anywhere central takes time.
– One of the hottest places in Europe. We don't like it too hot…and Sevilla is at times unbearable.
We both loved Sevilla but I might have loved it more than Lissette. She has a deep love for Central and Eastern Europe and doesn't have the same room in her heart for Spain as I do. For now. But we're not done visiting Sevilla or Spain. Unlike all the other places on this list, we've only been here once and it might take a few more visits to get deeper feelings for it.
.
---
---
.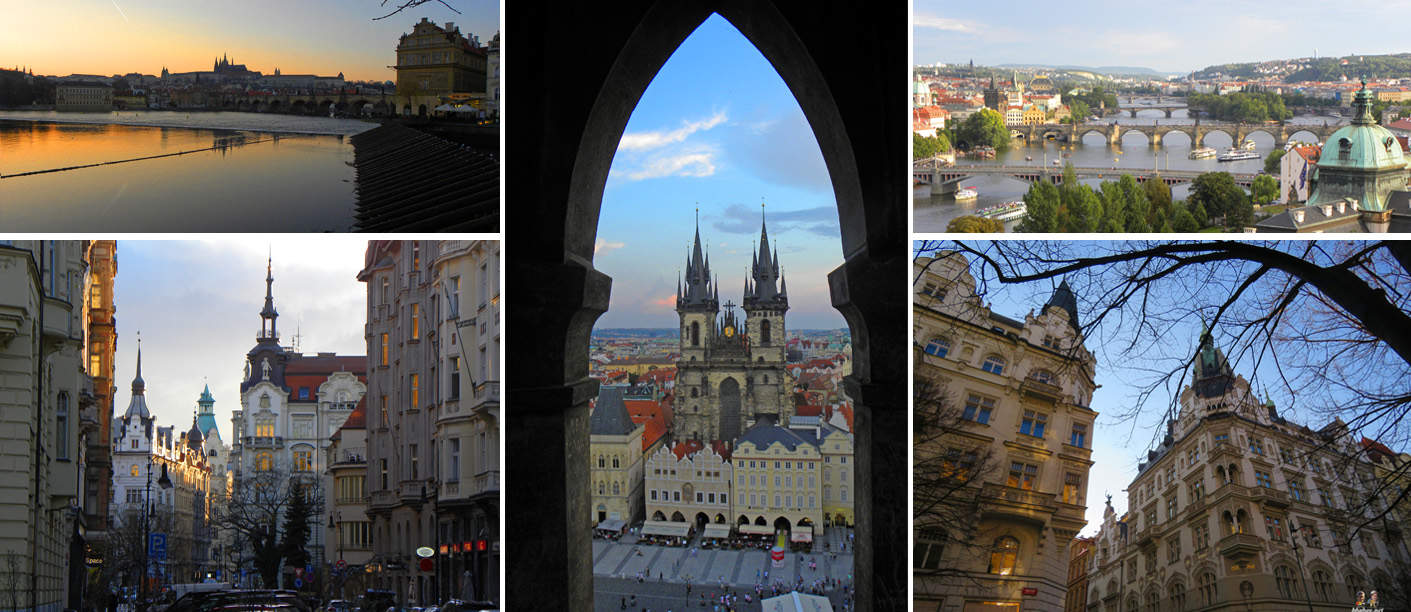 2. Prague (Czech Republic)
We always go back and forth about which is city we would live in given the choice: Budapest or Prague? Right now, after a 1 month stay in March (we had previously stayed in Prague 3 months back in 2014) our choice would be Prague by the slimmest of margins. It's not that we love Prague more than Budapest, we just feel that it would fit us more.
Pros
– As inexpensive as Budapest.
– Great beer
– beautiful city, maybe the most beautiful city we've visited anywhere
– fantastic transport system
– A good-sized and well-organized Expat community.
– Next to Germany, one of our favorite countries.
Cons
– We don't find the people that warm (not as warm as the Hungarians). We found them friendlier the last time we went in March – maybe they just get sick of foreigners in summer.
– English not widely spoken (less so than in Budapest)
– Tourists. Too many tourists.
– like Budapest, it has a gray, cold winter.
Prague was the place where we started our full-time travels in 2014 and is a regular stopover for us. We come here once a year to get dental work done and get our yearly medical checkups. It would be very easy to spend more time here. Love Prague as a base.
.
---
---
1. Split (Croatia)
Until a few years ago I had never heard of Split. In many ways it is the least logical of the 4 places on this list…on the other hand, it is the place that we feel the most in our hearts.
We've been in Split twice now (2 months in the spring of 2015, 2 months in the summer of 2016). It is just the right size for us, a medium-sized city that feels much smaller. It has the coast on one side, mountains on the other. I'll never forget the first time I saw that mountain range extending down the coast. For someone who enjoys hiking it is paradise. Split's old center dates back to the Romans and is incredibly well preserved. Steps away, Marjan Hill is a large park with sweeping views of everything. The people are simple, hospitable and genuine. They haven't lost their roots to the land and sea. We like them a lot.
Pros
– Incredible nature all around. Very few places beat Croatia in that respect. In Split you are surrounded by nature. It is what makes it unique among the cities on this shortlist.
– Beautiful historic center where locals still live and carry on their daily lives.
– Genuine people that we really like.
– Costs about at par with Sevilla (ie. about 10% more expensive than Prague/Budapest)
– We really love the Balkans. Having Split as a base would allow us to explore this region in more depth.
Cons
– The least developed of the 4 places in this list
– public transport is bad
– Very hot in mid-summer, also crowded with tourists.
Split is the place that calls to us the most and we've already started looking at all the details required to make this a base.
.

This doesn't mean the end of travelling for us. It just means that we would have a base – a temporary home – that we can come back whenever we want. We might even consider renting it out on Airbnb whenever we are travelling. We still want to travel at least 6 months of the year.
---
---
.
Ps. If you find our blog helpful, please consider using our links to book your flights, hotels, tours, and car rentals. Have a look at our Travel Resources page.