8 reasons to go to South Africa.
It's been over 5 years since we left Montreal to travel full-time. In those 5 years there is one country that I fell in love with more than any other – South Africa. This post focuses on 8 reasons you have to go to South Africa.
1. The most incredible landscapes / Heaven for Hiking & Adventure
I hiked Table Mountain up 3 times, Lion's Head once. I paraglided from Signal Hill. Lissette bungeed off the Bloukrans bridge, the highest bridge bungee jump in the world. We drove through one of the most scenic (and dangerous) mountain passes in the world (the Swartburg Pass) and through the semi-desert landscapes of the Karoo. Our 3 months in South Africa were highlighted by the most incredible coastal geography we've ever seen. South Africa is, in my opinion, the most gorgeous country anywhere and is heaven for anyone who enjoys outdoor activities. See here for 5 of the best hikes in South Africa.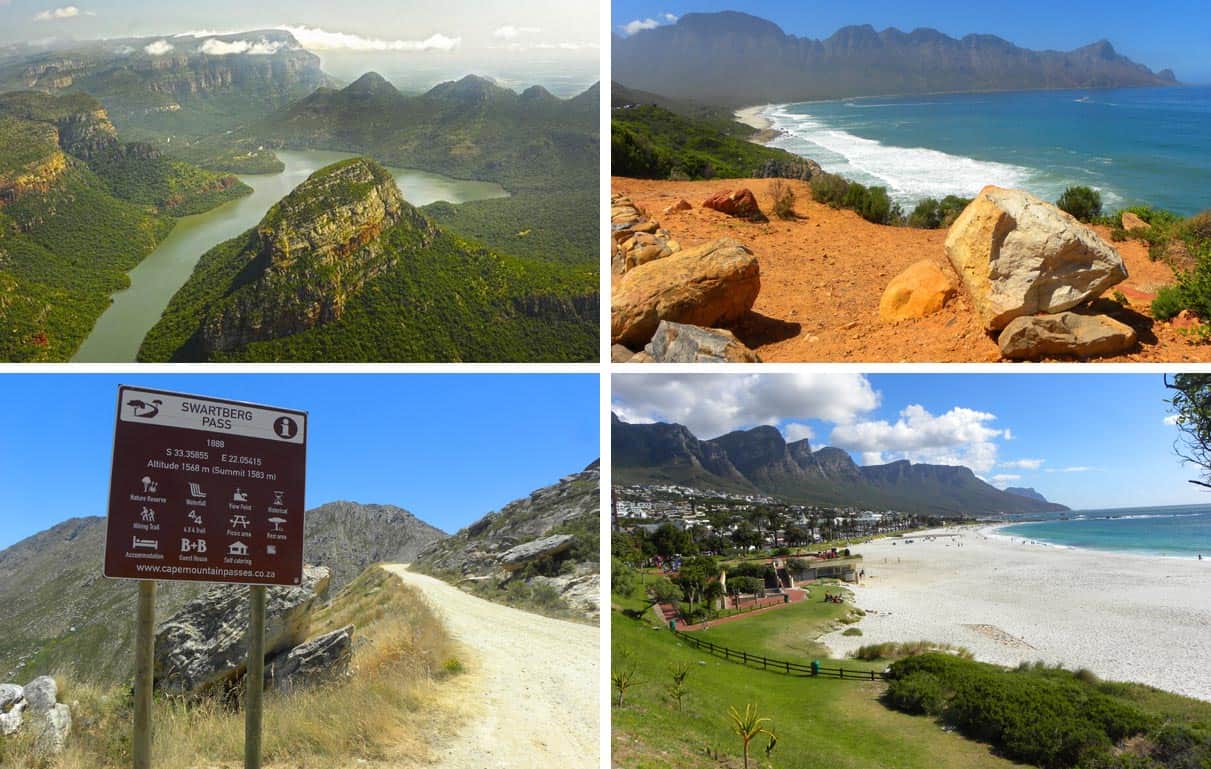 ---
---
2. Vineyards and Wine
We've drunk a lot of wine and visiting a lot of vineyards in our lifetimes. We've never seen vineyards like those in South Africa. South Africa has the oldest wine industry outside of Europe and the Mediterranean, featuring Chardonnays, Pinot Noir, Merlot, Cinsault, Riesling, Shiraz, Sauvignon Blanc, Cabernet Sauvignon and – my favorite – Pinotage. In fact, South Africa was the 7th largest producer of wines in the world in 2017.
There are tons of places to experience great wines, especially in the Cape region. The easiest is taking the Hop On, Hop Off sightseeing bus from Cape Town to Groot Constantia where you can have a great (and really affordable) meal with fantastic wines. We took a weekend to drive through the vineyards at Stellenbosch and Franschhoek, an incredibly beautiful region full of South Africa's best wineries (including Boschendal. Go anywhere in the world and you'll find a Boschendal wine on the shelves). Go further inland over the mountains and into the Little Karoo and you'll hit route 62 – which happens to be the longest wine route in the world. Too lazy to go anywhere? Go to the local supermarket and you'll find shelves upon shelves of fantastic South African wines, most in the $6-10 USD range. South Africa is wine heaven.
3. Incredible plants and flowers
South African's plants and flowers are incredible. We've never seen anything like it. The country only occupies 0.08% of the world's surface, but it has the most diverse and unique floral kingdom in the world and 70% of the Cape floral kingdom occurs nowhere else on earth. You'll see it everywhere: Jacarandas on the streets, fynbos in the hills and mountains (Table Mountain alone has 1,500 types on fynbos), and Birds of Paradise growing wild. The incredible King Protea is South Africa's national flower. Go to the Kirstenbosch Botanical Gardens in Cape Town – it is considered one of the Top 5 Botanical Gardens in the World. Everywhere you go in South Africa you'll see a rainbow of colourful plant life. It amazed us.
---
---
4. Safari / The Big 5
South Africa has the big 5: the lion, leopard, elephant, rhinoceros and the Cape Buffalo. South Africa is not the only country in Africa to have these 5 animals – but no country has the breathtaking safari experiences available in South Africa. At the bottom end of the range, you can stay in a National Park or wild animal reserve. All have accommodations ranging from1-bedroom to multiple-bedroom bungalows. They come with a braai (outside barbecue) which is cleaned and resupplied with wood every day. Private game reserves surround most of the National Game Parks, like Kruger, and offer luxury comfort in lodges. They'll include safaris, breakfast, sunset "sundowner" drinks and snacks at a waterhole and top-notch gourmet meals centred on South African cuisine and game dishes. Most will also add-ons like hot-balloon rides, bush treks by foot, on horse (and even on elephants!). If you want to experience African wildlife no place compares to South Africa.
5. Cradle of Humankind
The Cradle of Humankind is a UNESCO World Heritage Site near Johannesburg. The site has the largest, as well as some of the oldest, number of hominin fossils ever unearthed. Some date back 3.5 million years. The complex lies in a 47,000 hectare area and includes 3 major sites including the Sterkfontein Caves, a famous site where over 1000 hominid fossils have been unearthed. The Cradle of Humankind is one of the most popular tourist sites in all of Africa.
---
---
6. Diverse cultures
You'll find tons of diversity in South Africa including 11 African tribes (the Zulu and Xhosa being the largest), two "white African tribes" (Afrikaans and English), a large Indian contingent (split pretty equally between Hindu and Muslim groups) and over 6 million 'coloured' (mulattos) originating from the mixing of the original Dutch settlers, their Malay (Indonesian) slaves brought to the Cape, and the indigenous Hottentots. Go to the Muslim Bo Kaap district in Cape Town to see Africa's most colourful district. Visit the incredible Ndebele tribes near Pretoria to see their painted houses and incredible beadwork. Pay a visit to Shakaland in Kwazulu-Natal to see the fiercest of the African tribes, the Zulus. For over 40 years they fought off British colonialism. Even after losing they never accepted defeat and were never subservient to the British – who in the end had to bring in indentured labour from India and Malaysia . South Africa is culturally rich and diverse.
7. South Africa is a surprising Foodie destination
We ate better in South Africa than anywhere on our travels.
South African cuisine is locally focused but also really international. You can find the usual things: steaks, pizza, pasta, hamburgers etc. But you can also find game dishes, such as ostrich, warthog, kudu or springbok filets or medallions as well as traditional Cape Malay cuisine (usually a spicy mix of Indian, Indonesian and Dutch cuisine. With the large Indian community, you can also find Indian cuisine anywhere. You'll find fresh fish, sushi, as well as traditional tribal cuisine. Try peri-peri chicken, have 'braai'(BBQ) and spread on all the different condiments that South Africans love to use on their food. Don't forget the incredible wines and local beers (Windhoek is my personal favorite).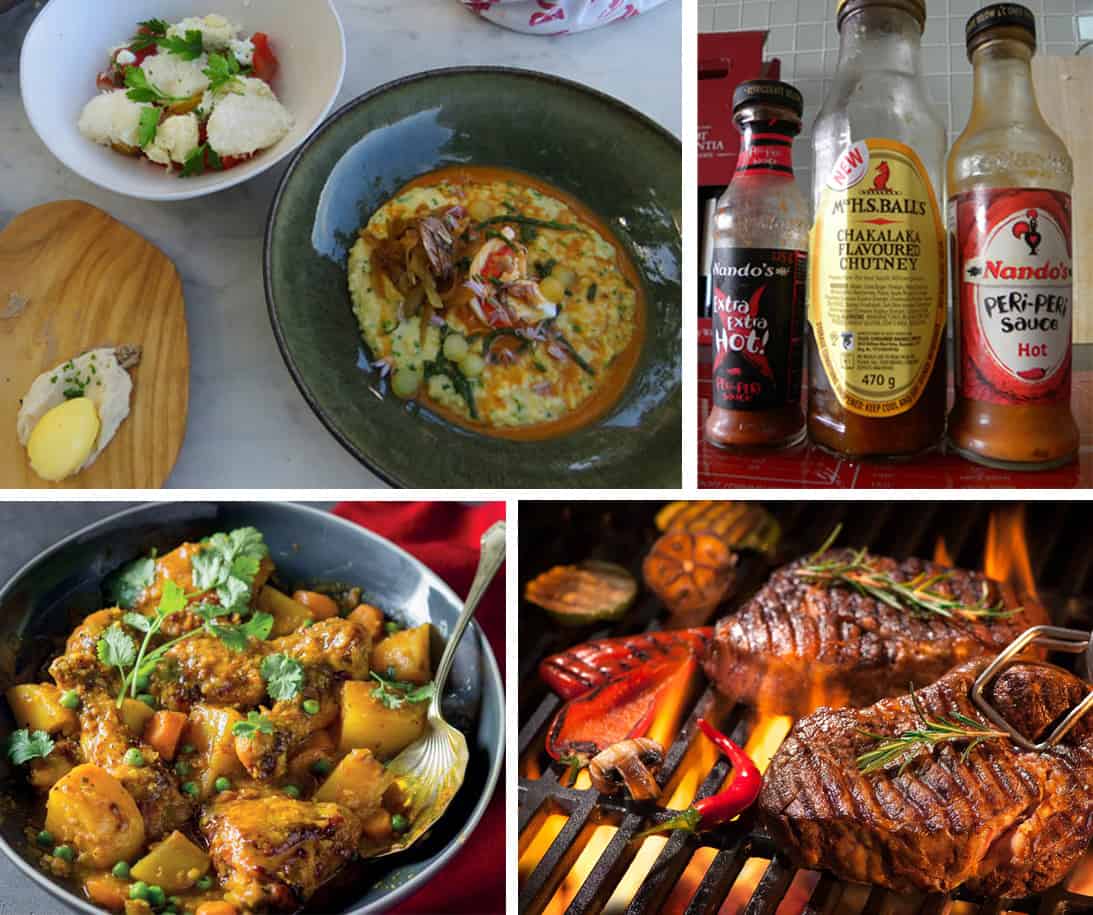 8. Table Mountain
Table Mountain is one of the World's Wonders. It is also the oldest mountain in the world.
There is no other mountain like it. The top of the mountain is flat and you can walk around, admiring the incredible views of Cape Town on one side, the Twelve Apostles on the other. You'll be looking over 2 Oceans (the Indian and the Atlantic), a spectacular coastline, and Robben Island off in the distance. You'll encounter the "Dassie", a funny looking creature that looks like an earless rabbit. It lives in the nooks and crannies of Table Mountain.
You can take the Cable Car up Table Mountain. That alone is an experience. But you can also hike up – there are lots of hiking trails of varying degrees of difficulty (see this post on the crazy India Venster hike that I did).
Table Mountain might well be the most incredible geographical wonder you may experience in your life.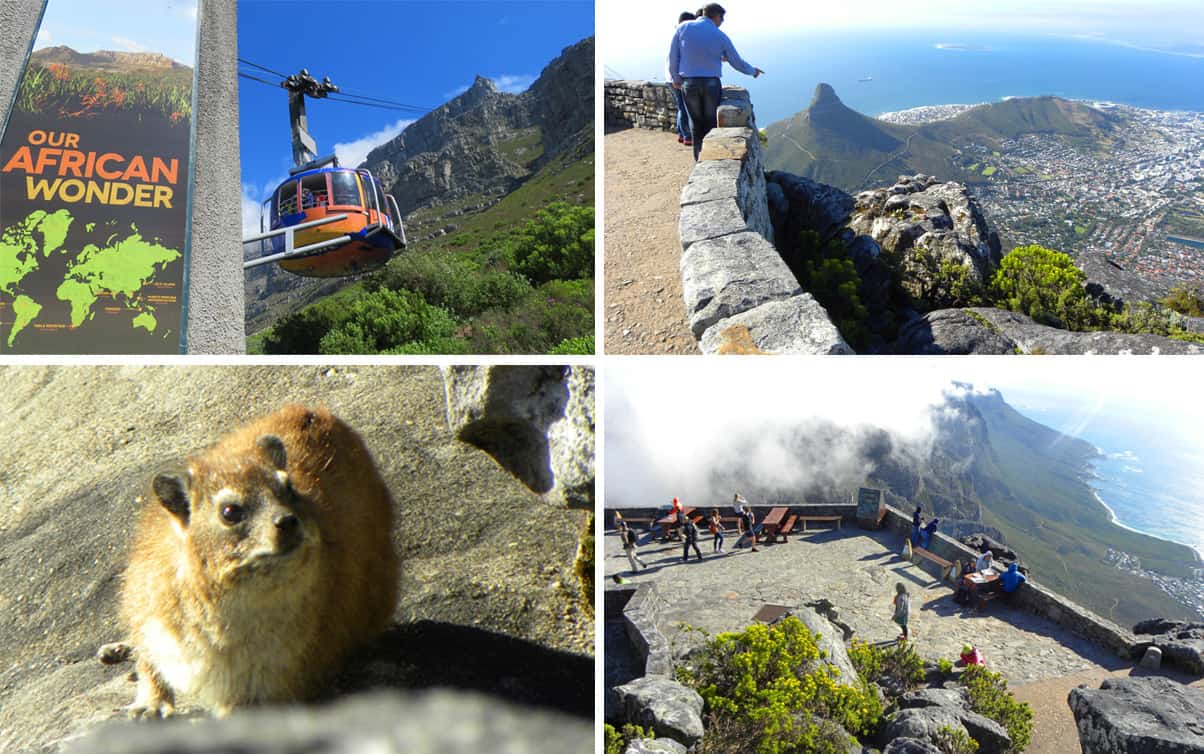 ---
---
Have you been to South Africa?
PS. Looking to book flights, hotels, tours, or rent a car? Have a look at our Travel Resources page.