Back in Spain on a non-lucrative residence Visa
October 4, 2020
We're back in Spain!
I've kept it quiet because we didn't want to jinx it – but just a few weeks ago the Spanish consulate confirmed that our applications for the Non-Lucrative Visa were approved. We booked our flights right away and flew back just a few days ago. This has been a crappy year – but our whole mission this year was to work on getting a Spanish Visa and despite everything we've achieved it. Today we're sitting on our rooftop terrace in a small town near Malaga, drinking a bottle of wine and looking at the sun setting over the coast. We're extremely happy.
PS. On our next post I have a detailed guide to everything you need to know about the Spanish non-lucrative Visa.
Spain and Covid
A few people have mentioned that Spain's cases of the virus have skyrocketed and questioned us going back. It's true that cases have gone up. But cases are going up everywhere and even Montreal, where we were just a few days ago, has had a large recent increase. In fact, the day we left all bars and restaurants in the city were ordered closed. That's right. Montreal is one of the few cities in the world right now where bars and restaurants have been ordered shut.
While we've been very careful to follow rules neither of us believes in changing all our plans because of Covid. You still have to live. For us it just means being vigilant and doing our best to stay safe: wearing masks, washing hands, always carrying our bottles of gel with us and sanitizing our hands every once in a while. You can only do your best.
Flying again
We flew with TAP (the Portuguese airline) this time around. Their Montreal – Lisbon – Malaga route offered the best connection and prices. Pre-Covid you could fly Montreal – Malaga direct with Air Transat but as of right now they're not flying (my father mentioned buying Montreal – Paris tickets just before the virus hit. Air Transat cancelled their flights and he still hasn't gotten his money back. Shame on them…).
Just after having bought my tickets with TAP I came across an article stating that visitors to Portugal need to produce a negative Covid test done within 72 hours of the scheduled flight. I called TAP to get a clearer understanding of this. What I was told was that if visiting Portugal you need the test…but as we were in transit through Portugal and leaving the same day (for Spain) we were not required the test.
New since the last time we flew in July: back then your temperature was checked at the boarding gates by a handheld sensor. This time our temperatures were gauged by a camera over 10 feet away and it was done as we were walking into the airport! We weren't even aware our temperature was being taken and wouldn't have known if an agent hadn't told us "Congratulations, your temperature is normal". Pretty amazing.
On that note: Lissette is always worried about her temperature because she's a warm-blooded person. She's always hot and gets uncomfortable in heat. But despite being "hot" she's come in at 36C (normal) when being monitored. So if you're like her: don't worry, being warm-blooded doesn't necessarily translate to having a high temperature. I, on the hand, came in at 35C which I was told verged on hypothermia. Unlike Lissette, I don't handle cold very well.
Anyway, to my surprise, the TAP flight from Montreal was full (unlike our flight to Montreal from Paris in early July which flew at about 35% capacity). As the guy sitting next to me said "no social distancing going on here…". I was also surprised that TAP flies an Airbus 321 on this route – the A321 is usually used on regional routes and not on trans-Atlantic routes. A good article on TAP and its new Montreal – Lisbon route.
Despite being full it was a good flight despite a bit of turbulence (the reason I get nervous on smaller planes doing trans-Atlantic routes). It took 6 hours to Lisbon. We had a 6 hour wait at the Lisbon airport, then flew a prop plane (an ATR 72) for the 90 minute flight to Malaga.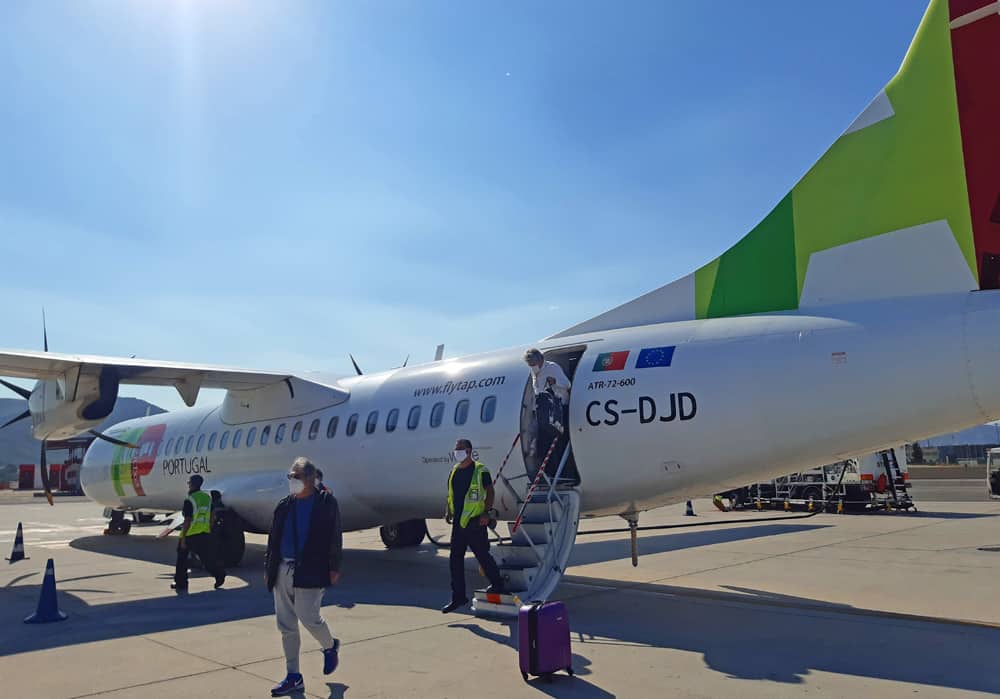 Overall a good experience. And unlike last time where we paid $1200 CAD (about $$880 US) each for a 1 way trip Madrid – Paris – Montreal with Air France, this time we paid $500 each ($375 US) each 1 way Montreal – Lisbon – Malaga (including seat reservations & checked luggage) with TAP. Really, I can't see a pattern – prices are all over the place depending on the airline, date, and destination. That could be due to the lower volume of trans-Atlantic flights (still down about 75% from this time last year) and demand on particular flights.
Best movie seen on the plane: A beautiful day in the Neighborhood. One of the best movies we've seen in a while.
Upcoming Blogging changes
Being back in Spain and with our futures linked to this country, I'll be writing a lot more about Spain going forward. I'll also be writing in much greater detail – today for example I started taking notes on different Spanish wines available at supermarkets. We're drinking a Arteso Crianza Rioja tonight which costs 4.50 Euro at Mercadona. I'll eventually had a large database of wines and I'll be writing my tips on the best value wines you can find. We like good wines and drink a bit of wine every night – a good quality to price ratio is important to us.
Anyway, my point is that although we'll still be doing a lot of travelling in other countries, we'll be concentrating on Spain in greater detail and quantity in the next few years. Which makes me wonder if I should start a 2nd blog focused exclusively on Spain.
So possible names for a Spanish blog name? I'm open to suggestions.
Dumbest comment of the week
Congratulations to Sam for the dumbest comment of the week on my post on Hua Hin:
As a fellow Canadian I know Frank & Lissette are the kind of lefty liberal morons who voted for Trudeau…twice. They didn't like Hua Hin because it actually caters to men. This is intolerable in the lefty mindset.
It's dumb on a lot of levels but made even dumber by the fact that I have a post on Thai prostitution on the blog. And Jeez, we watch RuPaul's Drag Race, a show about gay men dressing up as drag queens. We really couldn't care less who has sex with who as long as it's between consenting adults.
But the reason I point it out is that the current political climate is bringing out a lot of right wing idiots out of the closet. I've had more of the above type of comments in the last little while than ever before. Some are like the above, others include 4 letter words and racist speech. When comments are full of hate or of no value to anyone I just delete them. But I sometimes like to leave a few just so readers get an idea of alternative viewpoints.
Future base
I mentioned previously that Granada is at the top on our list of where to live in Spain. But we're not ready to decide yet and are still exploring.
For the next few weeks we'll be exploring a few towns along the Costa del Sol. We'll spend time on the beach and I'm planning on doing some hiking during our stay. I'll be writing a lot more about that in the near future.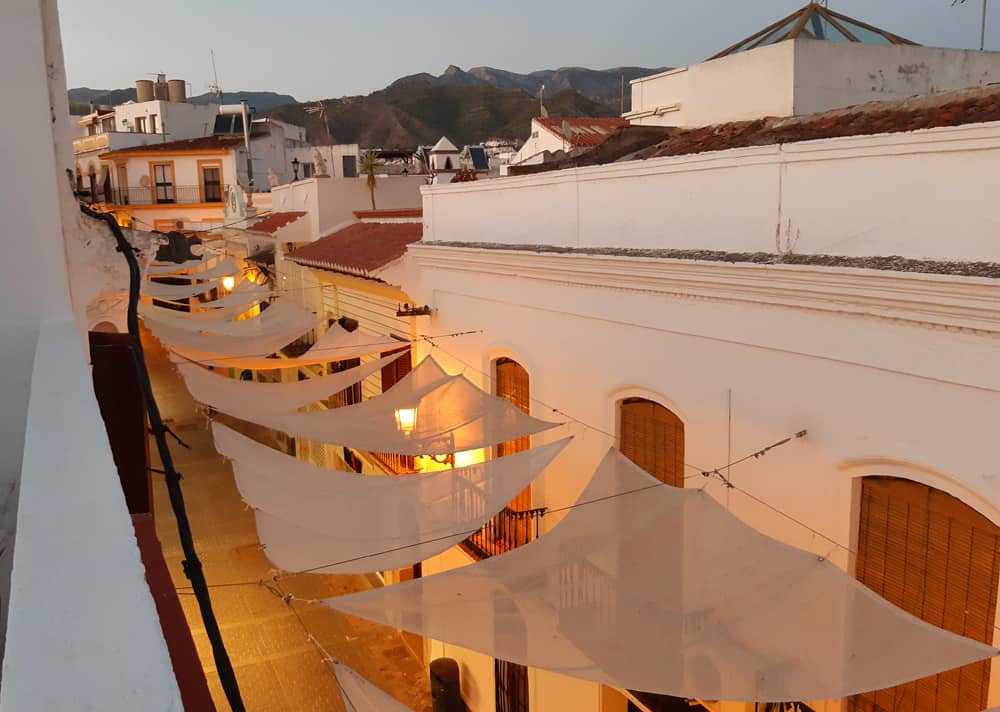 Finally…
Conflict is never funny but, having lived a year in the Balkans (and even more travelling throughout the Balkans), I had to laugh at the how accurately Balkan "differences" are portrayed in this video.
Thanks for Reading!
Ps. See all our Newsletters here.