The World's Best Airbnb host.
I'll usually do a post on a city and at the bottom mention where we stayed. This time I'll do it the other way around. Because how we felt about Rovinj was totally eclipsed by the incredible, fantastic, amazing and extraordinary Croatian family that hosted us. I've never done a post uniquely addressing a place of accommodation so this is a first.
We stayed a total of 5 weeks in Marina's apartment. On the first day we were treated to a full meal (made by Marina) served to us on our balcony. She's a professional chef by the way. As we would find out, nothing you eat in Rovinj will compare to her cooking. Throughout our stay there were surprises: strawberries or salad left at our door, home-made crepes with (of course) home-made jam, home-made cakes, a large fish platter, seafood soup, a spinach dish, risotto…I could go on and on with all the food she plied us with over 5 weeks.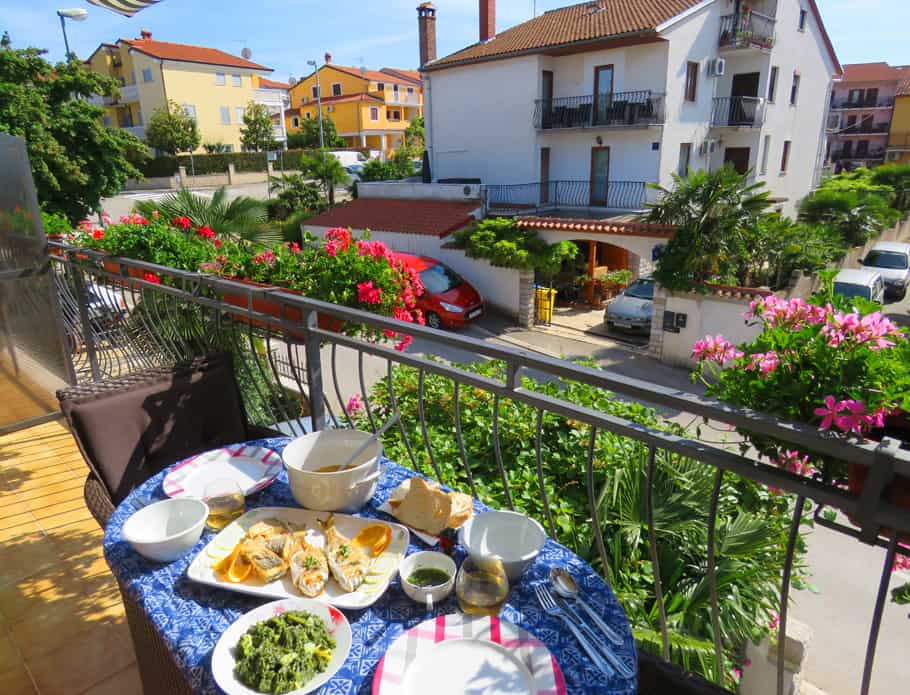 ---
---
.
Like many Croatian families our hosts had several jobs. Marina runs the apartment and works 4 days a week as a chef. Her husband Patryk has a full-time job in a factory and also runs his own vegetable farm. He also produces and sells his own wine which, as we would find out, is twice as good and half the price of anything sold in stores (we would leave Rovinj with 3 cases of his wine). Patryk's mom, who lives downstairs, works with him on the farm and sells the produce in Rovinj's vegetable market.
Below: some of the treats that Marina surprised us with over the course of 5 weeks…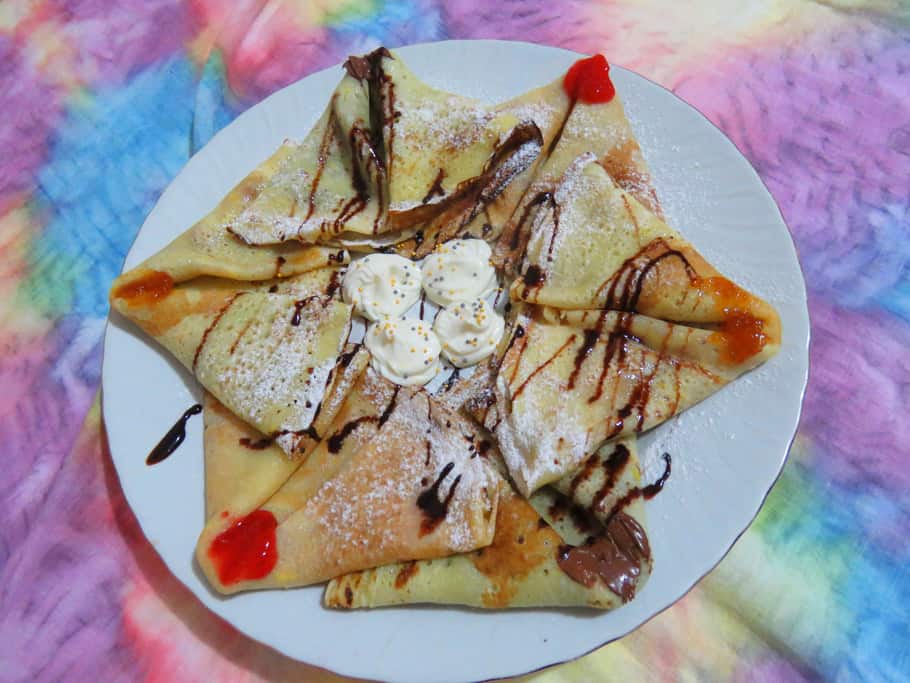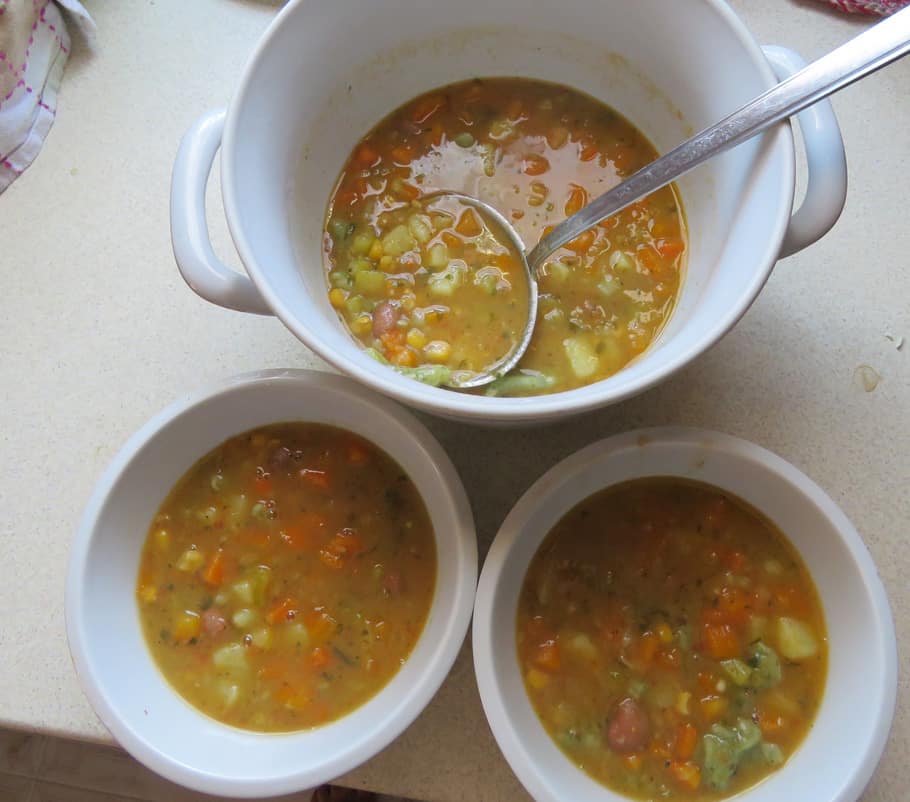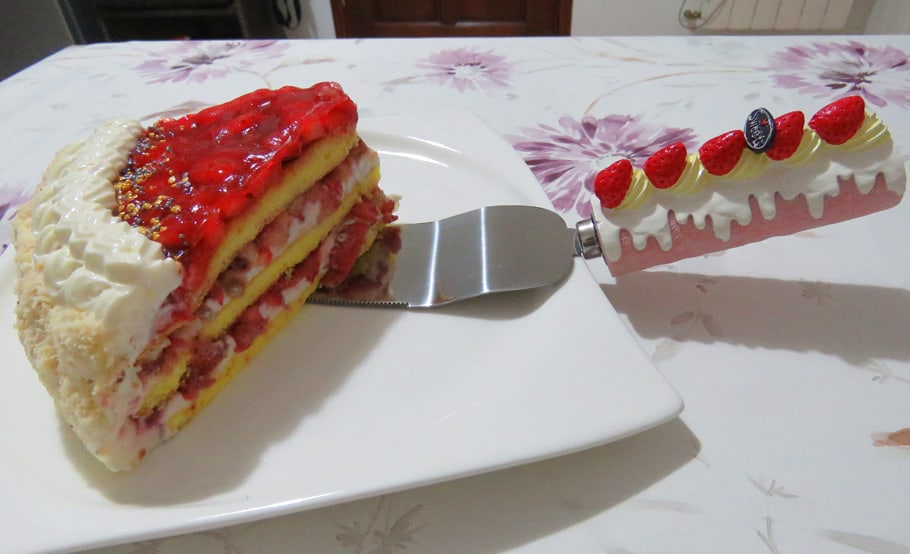 ---
---
.
But it was about more than giving us food. Patryk picked us up in Trieste (90 min away) to bring us to Rovinj. He offered to take us on a boat ride around the harbor during a day off. On another day we rode bicycles down to the center and he gave us a tour of the town, visiting the Batana museum and going for ice cream. Marina's 17 year old son Kristian would regularly come by to check that we were happy but that was usually a pretense for long talks about cars, school, travelling, and girls. On our last day he invited us out for coffee in a neighboring café. A couple of times a week we would go to the vegetable market in Rovinj's old town and visit "Mama", buying our salad, potatoes and strawberries. She would always throw in a few freebies.
.
Summing it up, they were the most genuinely generous people we have ever met and this was much more than an Airbnb experience* – we actually felt that for 5 weeks we were taken in as part of the family. When we left there were tears all around. We've promised to be back.
* We booked Marina's apartment through Airbnb but she also does bookings directly which saves you money (that's what we'll do next time). You can write her at: [email protected] See more of the apartment on her Airbnb page.
If you still haven't signed up with Airbnb, sign up using our link – you'll save the equivalent of $35 US on your first stay.
---
---
In 2 years of full-time travel we have never had a host that can compare to Marina. Even comparing to other Airbnb stays is not fair because it sets an impossible standard. What other hosts are chefs? Or make their own wine? Or can supply guests with vegetables from their own garden? It's an experience that we know will never be replicated.
Other great things about her place: Marina provides a service superior to a 5 star hotel. It is immaculately clean, with all kinds of linens, blankets and towels. She will always give you refresher towels, bed sheets and even carpets. Everything smells great. The bed is incredibly comfortable, the balcony is a nice place to sit with an afternoon drink. Everything you could ever need for the kitchen. She also provides guests with bicycles and I loved riding around town and to the neighboring park and beaches. Just a fantastic stay.
A final word on Croatian hospitality. Is it a coincidence that our best 2 Airbnb experiences over the past 2 years have been in Croatia? (the other was our Split apartment which you can read about here). I don't think so. Croatians are incredibly hospitable and generous people. We always try to give back as much as we receive but with Croatians it is sometimes hard to keep up

.
.
A few photos of Rovinj
The above is just a teaser, have a look at this post on beautiful Rovinj.
Ps. If you find our blog helpful, please consider using our links to book your flights, hotels, tours, and car rentals. Have a look at our Travel Resources page.