Why can't expats and locals get along?
When we first moved to Spain we befriended a local taxi driver. He had been recommended to us by the owner of our Airbnb and we used him on our first commute to Nerja. I'll call him "Luis".
"Luis" was a nice guy. We practiced our Spanish on that first drive, although we both speak the language it had been a few years and we were a bit rusty (we would later find out he speaks perfect English. But we didn't know that at the time).
A few months later we had to use him a lot. We were up to our necks in Spanish bureaucracy and had to make several trips to the foreigner's office in Antequera (over an hour away). It was during the peak of Covid and unofficial travel between provinces wasn't allowed. Taking the taxi was the easiest way.
We got to know him on those trips.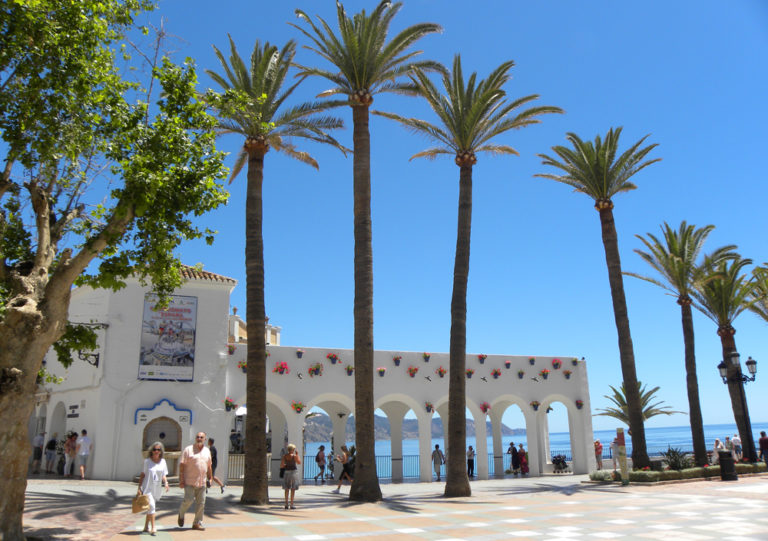 ---
---
He would tell us about "the Expats". The British/Irish who come to Spain's Costa del Sol for cheap beer, sun and to hang around with their cliques of British/Irish friends. Besides getting drunk (their favorite activity), they have no interest in assimilating and rarely learn any Spanish. The Germans in Torrox (right next to Nerja) are no better. They have a tight community and many don't speak Spanish OR English. He wasn't crazy about people from the Nordic countries either, calling them cold and suspicious. You couldn't help them with their bag, said Luis, they would suddenly tense up, thinking that he would either steal the bag or ask for an extravagant tip.
Despite his opinions, we had a lot in common with Luis and thought he would be our first friend/acquaintance in Nerja. After one of our trips to Antequera he gave us a large cannister of olive oil (from the Jaén region) and a large jug of homemade wine from Malaga.
But when the restrictions surrounding Covid ended, so did our relationship. We wrote him a few times for some short trips in the region. But we never heard back. At first we thought that he must be busy with the influx of tourists. Then we started to wonder if we had somehow offended him.
Eventually we came to the conclusion that maybe he just didn't want to have Expat "friends".
---
---
We had locals as friends and acquaintances when we lived in both Croatia and Thailand. In many places it's quite easy to make local friends. Locals are usually curious about foreigners and are often very open to having foreign friends. In Croatia we were always invited over for dinner by locals we knew. I had a couple of Croatian friends that I would go hiking with. Even in Spain, spending several months in Seville and León, we became friends with locals. It was easy.
But we've realized that the more Expats there are in a place, the harder it is to make local friends. We see this here in Nerja. Yes, locals are friendly – but the more expats there are in a community, the greater the divide and stress between expats and locals. And sometimes you see little microaggressions pop up in daily interactions that make you realize that real feelings about foreigners are often hidden (oftentimes barely hidden) under the surface. Sometimes it's when getting to know someone like "Luis" that you get to know what locals really think of foreigners (and most likely of you. Now I'm wondering what he's saying about us…).
We've lived in Nerja almost 2 years now and it's a foregone conclusion that we'll never make local friends here. Sure, we have locals we talk to at the store. Nice, friendly people. But they'll never be friends. The thing about places like Nerja is that the more expats there are, the more people tend to socialize within their cliques: the Irish with the Irish, the Scandinavians with the Scandinavians, the Spanish with the Spanish…
---
---
I reflected on the above after a few recent events involving San Miguel de Allende (Mexico), another place with a lot of Expats. I've previously described that town as "Mexico-lite".
The first event was a comment I received a few weeks. But unlike most of the people giving me shit for calling SMA "Mexico-lite", he came at me from a whole different angle:
We have lived in San Miguel de Allende for 17 yrs….in my experience after traveling all over Mexico (which you could do up to 6 or 7 yrs ago) it is one of the best places in the country ….and what made it that way were the gringos who protected it…..they were the ones that protested when a beautiful historic building was going to be torn down by some Mexican developer, when a Mac Donald's tried to occupy a lovely old building in the Jardin, when a Mexican businessman from Mexico City wanted to open discos all over town, and the gringos won….never did I ever see a local Mexican in the protests…SMA would of become yet another trashy, dangerous hell hole without the foreigners that loved and appreciated it….not only did they save the historic centro but they create and finance a great library and backed numerous charities that feed and built houses for the poor in the countryside and set up schools for orphans and local kids who wanted to learn English to get better paying jobs ….plus their outcries were responsible for the Mexican government sending the national guard to keep the cartels at bay here which made it a very safe place to live in a country whose crime rate is soaring under the direction of a president who feels that criminals should be treated with kid gloves.
---
---
Yikes. So is that what Expats in Mexico think of the Mexicans? There's some truth to parts of the above. Americans do deserve credit for saving San Miguel de Allende. But did they do it for Mexicans or for themselves? And it wouldn't have happened without the Mexican government allowing it to happen.
But my take on the comment is that it is condescending and reeks of colonialism. If someone thinks so lowly of Mexico and Mexicans maybe they should go back to where they come from. And if you're Mexican and you meet someone with an attitude like the above, how are you going to feel about foreigners in general?
---
---
The 2nd event had to do with a volunteer group my mother was a part of in San Miguel de Allende. They administered a non-profit clothing center in SMA that helped fund an old age home. Once a week my mom would go there and organize, price, and tend the register for the charity. All the volunteers were Expats. What could be wrong with that, right? They're just helping out the local community.
Well, last week the Board of the non-profit decided to terminate the relationship with the Expat group. From now on, all volunteers will be Mexican. It left the Expats in disbelief and a bit of anger.
The gang of Expat old ladies are now looking for a new cause they can contribute to.
Why would the Board of a non-profit do something like that? I don't know. I don't have feet on the ground in San Miguel de Allende. I don't know if there are local tensions…But I find it a shame. Why couldn't the Board maybe include volunteers who are both expat and locals? Why is it always "we" or "them"?
---
---
So why can't expats and locals get along?
In actual fact they often do, case in point our experiences in Croatia. In many places Expats leave a small footprint and assimilate into the local community.
In my opinion, the problem happens when a place attracts too many Expats. They come in with their money and change a place, often leaving locals priced-out and feeling like 2nd class citizens in their own city/country. The thing is, I think many (most?) expats come in with good intentions and a willingness to integrate and help the local community.
But, in the end, maybe good intentions don't matter if we're just making the locals resent us by just being there?
What do you think?