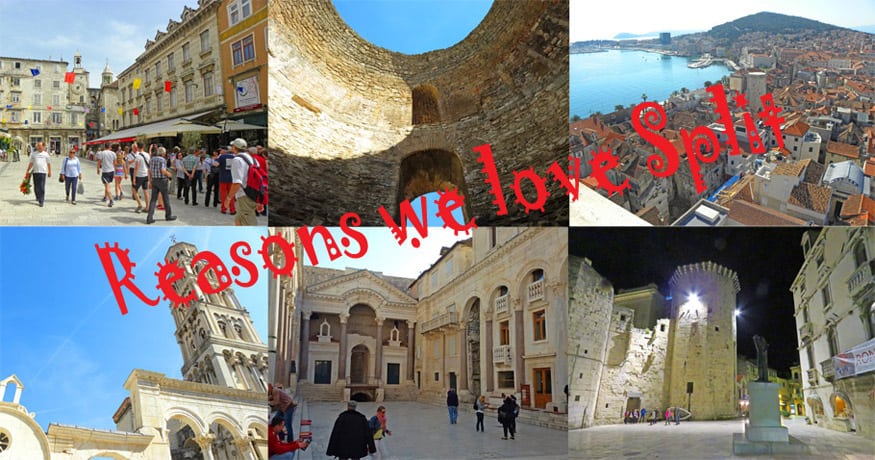 Our 2 month stay in Split has been the highlight of our first year of travel. For slow travellers like us, it has been a perfect base.
This post recounts our stay in Split and covers all our favorite things about the city: sights and activities, our favorite restaurants, and a few stories of the people we met along the way. I've included lots of photos to show you what a special place Split is.
We arrived in Split on Easter weekend. The 1st thing that hits you as a first-time visitor to this region is the rugged topography. A bare, impenetrable mountain range skirts the coast, ranging from Northern Dalmatia down to Dubrovnik and across the border into Montenegro. It is some of the most dramatic scenery you will see anywhere.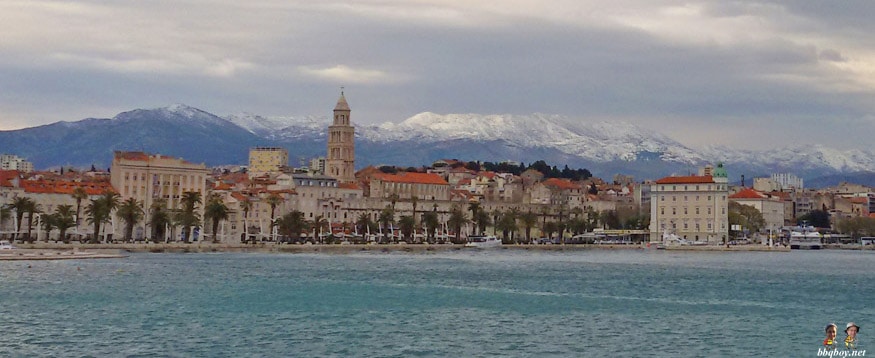 Above: It was actually pretty cold when we arrived in Split on April 3rd. Look at the snow on the mountains!
The 2nd thing we noticed were the laid-back people. After the constant hustling and scamming of taxis in the Czech Republic and Thailand, I was a bit aggressive with the taxi driver when asking him how much it would cost to get to the city from the airport. The middle-aged man just kind of shrugged and said "meter, maybe about 40 Euro". Oh, ok, a meter.
.
I'll write more later about our fabulous Airbnb host. For now I just want to recount the story of our arrival. Vedran met us at our meeting point. He looks a bit rough and we weren't sure at first if he was friendly. He brought us to the apartment where 'Mama' was waiting for us. A beautiful, warm lady, she had cooked us an Easter meal of fish and potatoes. She had also bought us an Easter cake. In the fridge was a large bottle of beer. We talked with them for 15 minutes, sitting at their kitchen table. After a year of staying in various Airbnb apartments, it was the warmest reception anyone had given us. The food and beer ended up being a blessing – because nothing was open Good Friday. Absolutely nothing. We found out that Croatians take their religious holidays seriously.
Atmosphere and Highlights
What makes Split special is that it is a real, functioning city within the boundaries of what was a palace. I've covered Diocletian's Palace in great detail here. While there are other Unesco World Heritage sites in Croatia, Split's has the largest urban center and is the only one that doesn't feel like a 'tourist' town. You can sit at a square and have a beer along with locals, find grocery stores within the palace walls, and still encounter cafes and restaurants where the majority of the clientele are locals and not tourists. I got a haircut at a small place within the palace that only cost me $8. Things are changing, Split has become more touristy in recent years. But for the most part you can still wander around town and find everyday stuff you need. It's not Dubrovnik where every establishment is either a souvenir shop, brand name designer store, restaurant or gelato stand.
.
The thing with Split is that even when you've seen all the sights of the palace, it is an enjoyable place to walk around, have a coffee or beer on a square, or to just sit on the Riva watching all the people action.
Below: A few photos from the Riva
Ok, what else is there to do in Split after you've explored Diocletian's Palace (including the bell tower) and the rest of the old town?
– Visit Marjan Hill. The lookout is a 10-15 minute walk up depending on what kind of shape you're in. Come here to get the best views of the city. Marjan Hill is the "green lung" of the city and a great place to come for a walk and/or jog.
Below: the lookout on Marjan Hill.
.
– Walk around the harbor (not in the direction of the large boats, the other way) towards Sustipan Park at the promontory of the harbor. It's a nice walk and when you get to Sustipan Park you'll be looking right out at the sea. A very pretty spot with cypress trees, benches, monuments and a tiny old church. Looking towards the city you'll see all the boats in the harbor and have some great views of the palace and bell tower.
.
– In the same direction as Sustipan Park but just a little further is the Ivan Meštrović Gallery. Meštrović was one of the greatest sculptors in the world and he built his family home/working studio in Split on a spot overlooking the sea. It's a beautiful building and he has some phenomenal pieces on display (you'll see his work all over Croatia). Our guide didn't say many good things about the museums in Split – but said that the Meštrović Gallery is a definite 'must see'.
– The other museum worth seeing is the City Museum in the palace walls. Lots of history in a beautiful building.
.Above: On the map, you can see the extent of the Roman Empire during the time of Diocletian (244 – 313 AD)
The above may not seem like a lot of things to do. A tourist rushing through can see all of the above in a couple of days. As slow travellers who also work while travelling, we feel that we 'lived' in Split. We made Split home, frequenting the cafes and bars and discovering a few restaurants that became favorites (further below). Split also became an excellent base to explore nearby attractions (Trogir, Omiš, Mount Mosor) as well as some further away (Dubrovnik, Mostar, Kotor). In fact we missed a lot of places that are within easy reach of Split, historical sites such as Klis Fortress and Salona as well as all the nearby islands of Hvar, Brač, and Vis. I can't believe we spent 2 months in Croatia without seeing any of the islands or once stepping on a ferry. All reasons to come back to Split. My point is that there is lots to see in the Split area.
Restaurants in Split
Croatian food, when done right, is just fabulous. If you're sick of Central European meat and potatoes you'll find yourself in heaven on the Croatian Coast. Fresh fish, scampi, squid, oysters, octopus and mussels. Zucchini, eggplant, tomatoes, cucumbers, asparagus, and all kind of peas and beans. You can get fantastic risotto. You'll also find pasta and pizza everywhere.
We came across a couple of fantastic restaurants in Split which I'll list here. We also came across many mediocre restaurants as well as a couple that were just plain bad.
Two great restaurants where you can't go wrong:
1) Konoba Matejuska (Note: now closed but the owners have opened Konoba Fetivi across the street which is just as good)
Our favorite and it happened to be about a 1 minute walk from our front door. Below is the food from our first visit. The 2nd time coming here I had a tuna steak, something I've never liked anywhere else. Fantastic. Lissette had an incredible black squid risotto.
2) Konoba Marjan.
Right next to Konoba Matejuska. Food equally good, which means fantastic. Konoba Matejuska edges out Konoba Marjan by a fraction just because of a cozier ambiance and friendlier service.
We found the quality dropped off sharply after these 2 restaurants. Konoba Sperun and Konoba Korta were mediocre. Buffet Fife, which everyone tells you is great (and which was packed with tourists when we came) was a horrible eating experience with the worst service in Split.
.
People
People are what make a place special. I mentioned Vedran, our Airbnb host. Besides the great reception on arrival, he helped us out when our hard drive was down (a friend of his had it replaced within 24 hours), his Mama baked Lissette a birthday cake (and bought her a bottle of wine), and he invited me on a hike up Mount Mosor with his best friend Goran. He even accompanied me on the hike to the Starigrad in Omiš. It didn't end there; on our last weekend we all went drinking, Lissette included, until the early hours of the morning.
Below: Lissette's cake and wine, Goran showing off his tiny Filipino phone, eating beans with Vedran and Goran.
We've met some great people on Airbnb but nobody has gone above and beyond like Vedran did. When saying goodbye on the last day, he gave us a little mascot to take with us on our travels. You'll see him from time to time on our photos. We're thinking of calling him "Crazy Bastard". That seems to be what everyone calls Vedran. So we're bringing a little bit of Split with us on our travels 🙂 .
Below: Crazy Bastard in Ljubljana, Slovenia
Generally speaking, people in Split weren't instantly friendly. But a couple of times at the local grocery store, or Laundromat, or at a favorite café, bar or restaurant and we would make friends. We found people very relaxed and easygoing. We'll miss the people of Split.
So why did we love Split? It was a bit of everything above. Lissette says it's 'Kismet'; everything coming together perfectly at the right time in the right place. With the right people. For Lissette it is often about the people. She fell in love with 'Mama' from the first day and it opened her heart to Split. It is often about the vibe for Lissette and for her Split has a special vibe. For me it was several things. The landscapes are stunning and different than anywhere I'd ever been. I love the hiking here. If I lived in Split I'd be a regular in the mountains. I love the food. And the people. Travelling as we have I haven't made many friends over the past year so meeting Vedran and Goran and doing manly stuff like hiking, drinking, and eating beans and sausages were things that stick out for me. We both love Split 🙂
Have you been to Split? What did you think of it? Have you been to a place (for an extended period of time) that you fell in love with?
——————————————————————————————————————————————————————————————-
If you haven't subscribed yet and want to get our posts and newsletters sent to your email, just insert your email address below: