24 hours in Munich Germany.
I've been to Munich several times, having seen it change from a sleepy, regional capital to a vibrant, dynamic and cosmopolitan city.
On this trip I had 24 hours in Munich, fitting it between a few days in Regensburg (a very underrated Bavarian city) and Fussen (the home of famous Neuschwanstein Castle).
So what to do if you only have 24 hours in Munich?
---
Munich; brief history and interesting facts;
-City was founded in 1158, city status in 1175. Prospered from the trading and taxing of salt originating from Salzburg on its way to Augsburg.
-Black Plague (12 outbreaks between 1349 – 1495) killed between 30-60% of population. As in many places in Europe, Jews, lepers, and beggars were blamed for carrying the disease.
-Frauenkirche (Church of our Lady) is largest church in Munich. Building started in 1468, took 20 years to complete. Built over the grave of Ludwig IV.
-Michaelskirche (St. Michael's Church) built between 1583 and 1597. One of first Renaissance buildings north of the Alps.
-Hofbrauhaus; was built in 1589 as the royal brewery of the Kingdom of Bavaria. Was one of beer halls used by the Nazi party to hold functions. Hitler spoke here, it was also the location of some of the first violent attacks against Jews.
-Bubonic Plague (1634-1635) killed one third of Munich's citizens.
-Munich was Nazi base, first when it tried taking control in 1923 (failed – Hitler was jailed) and later when it took power in 1933.
Interesting – Knowing the city would be bombed and destroyed, the Nazis took photographs of all historical buildings when WWII was coming to end. All the restoration work was based on the Nazi photographs.

---
---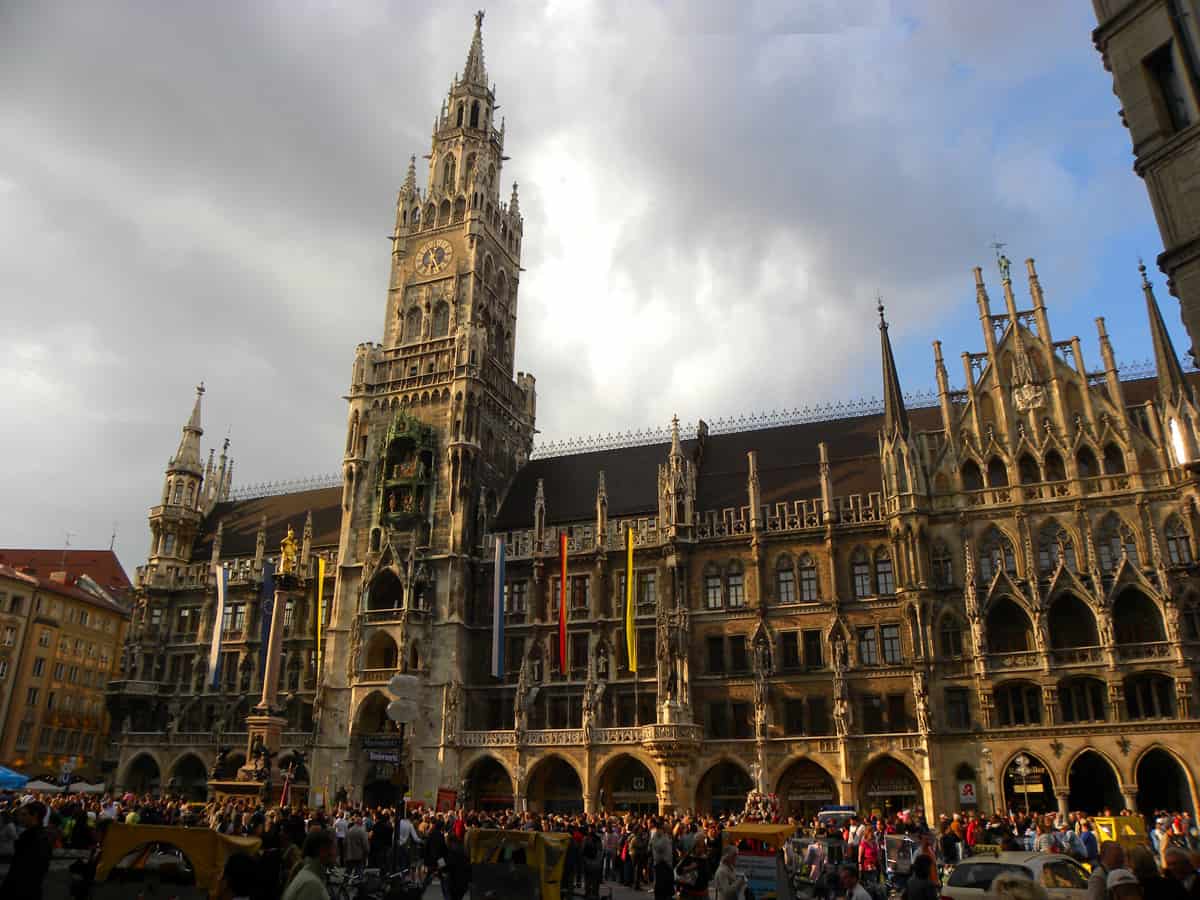 .
Highlights of a day in Munich
I met Lissette at 5:30 am at the airport, she had flown in from Montreal. I had 24 hours to show her the best of Munich.
We spent that day exploring most of the "to do" sites in Munich: strolling from the main train station down Neuhauser Strasse to the Marienplatz (Munich's beautiful main square). There you'll see the gorgeous Neues Rathous (New Town Hall). We visited the Viktualienmark (the colourful market square), walking up to Odeonsplatz where we saw the Felderrnhalle (Hitler made some of his speeches here) and the Theatine Church (the mustard coloured church next to the Felderrnhalle). We went up the stairs of Peterskirche for great views of the city, visited the Alte Pinakothek (one of Europe's best art galleries featuring paintings from Middle Ages to beginning of 19th century. Recommended). We visited a few churches: the Frauenkirche (a gothic church dating back to the late 1400's) and the beautiful rococo Asam Church. We finished the day going to the Englisher Gardens to get buzzed on liter glasses of beer.
The above are the absolute highlights of Munich and can be visited in one day if starting out early.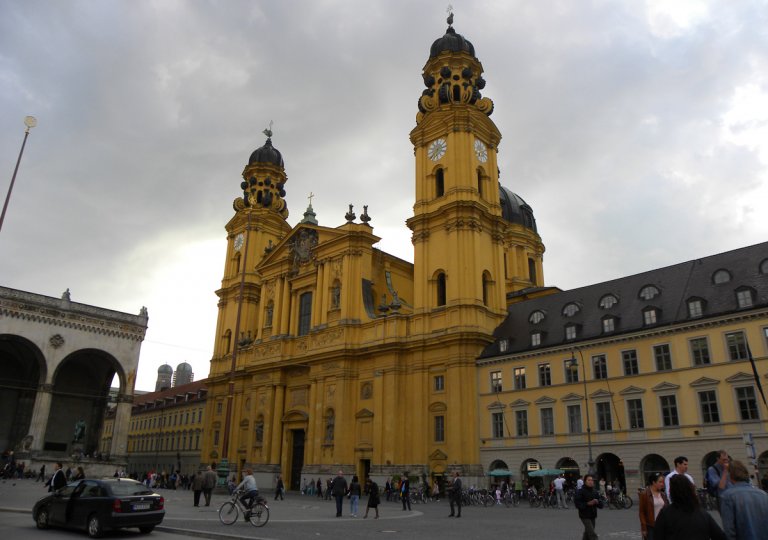 ---
---
Tours
Some fun and informative tours.
Accommodation
We stayed at Hotel Eder in Munich. It met our needs – very clean, in a convenient location, not too expensive (about 90 euros a night), good breakfasts. It was charmingly Bavarian. Right next to the train station which made it very handy. I would stay here again if on a short stay.
Flying in
Munich Airport (airport code: MUC) is located 28 km north of Munich near the town of Freising. The S-Bahn takes you to the center of Munich in 45 minutes and costs 12 Euros.
Have you been to Munich?
---
---

.Ps. If you find our blog helpful, please consider using our links to book your flights, hotels, tours, and car rentals. Have a look at our Travel Resources page.