A year of Airbnb apartments
We had never used Airbnb before last summer. Move the clock forward and we've stayed 196 nights of the past year in a total of 15 Airbnb apartments. I don't know how we would travel the way we do without Airbnb.
In this post I'll feature our favorite Airbnb apartment stays over the past year (you'll see lots of photos below). They were all exceptional in different ways, from the locals we met to the apartments themselves. But first I'll explain a bit about Airbnb.
Many people have never heard of Airbnb or have heard the name but know nothing about it. I've had people saying 'you stay in what?!?' with a confused look on their face. I had a friend a few weeks ago who said we travelled 'like backpackers' (yeah, you know who you are

). And I realized that I haven't done a good job of explaining where we stay or what Airbnb apartments are all about.
Simply put, Airbnb apartments are apartments that people have put up for rental on the Airbnb site. As we've found out over the past year, these people cover the whole range of the spectrum.
– Families who have 2nd apartments who rent them out to travellers.
– 'Professional' apartments.
– 'Lived in' apartments that are rented out for short stays (we've learned to avoid this category of apartments).
You can find anything from a room in somebody's house, to your own apartment in the center of town, to a luxury Penthouse suite with your own swimming pool. Like anything else, the possibilities are endless and only determined by what you want to pay and where you want to go.
.
There are many reasons we love Airbnb apartments and why they are ideal for slow travellers like us: 1) they come furnished, 2) They have kitchens (unlike hotel rooms), 3) It is very easy to book and pay for online, 4) flexible stays and affordable monthly rates, 5) you can live in interesting neighborhoods around the world, 6) No strings attached – you pay your fee and that's it (no phone bills, utilities, etc.), 7) If we don't like the apartment, even if we've paid a month up front, we can cancel and automatically get refunded for nights not spent, 8) you meet interesting locals, some of whom might even become friends, 9) different, original apartments. Not like a hotel room which basically looks the same everywhere you go. It's actually fun being in a different place and seeing how locals live.
I think reasons 8 and 9 are the reasons, on top of everything else, why we enjoy Airbnb so much.
---
---
Our favorite stays over the last year




.



All the places I'm going to list were great, often for very different reasons. Some we stayed in for a couple of months, others may have been for just a couple of nights. 9 places made our list. I'll describe what we liked so much about each as well as a few minuses that are always good to know. But you can't go wrong with any of the places below. At the very bottom of this post we'll tell you our picks as our very, very favorite places.
* I've listed what we paid below. But keep in mind that the longer you stay, the better rate you'll get. Short term stays will always be more expensive on a nightly basis. My formula for calculating cost on a nightly basis = Total cost paid (including cleaning fees and Airbnb fees) divided by the number of nights. Nothing's missing, all out of pocket costs are included. Note that these prices are in Canadian dollars, discount what I have by about 20% if wanting to get the USD equivalent (example: $50 CAD equals about $40 USD).


In order of when we visited:
.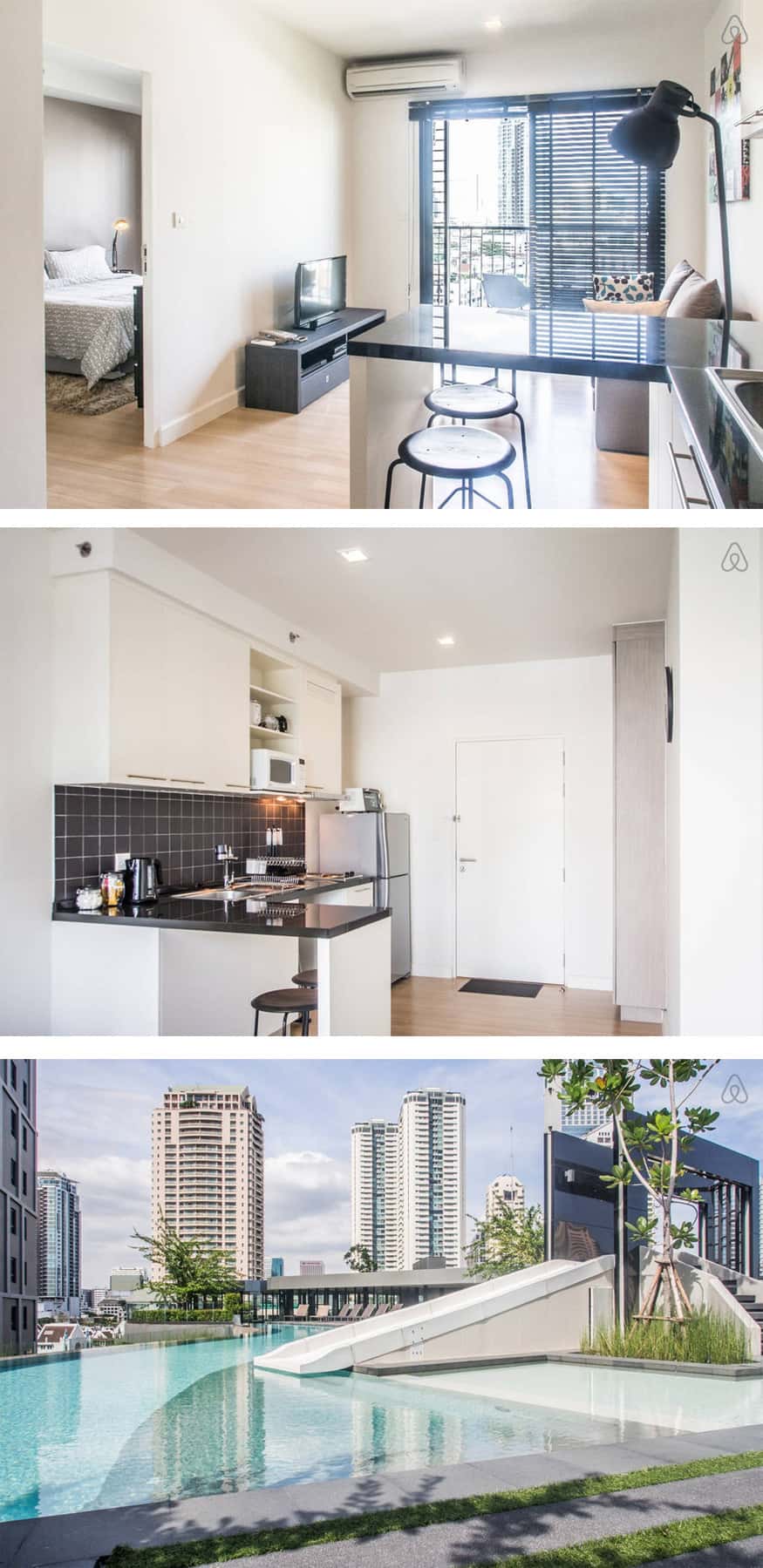 This apartment was our first overseas stay with Airbnb. Bangkok is not the cleanest city and I was willing to pay a bit more to have a clean place with a bit of luxury. This place has it. Pros: strong wifi, quality furniture, good storage space. Modern and clean. The building itself was fantastic with a huge pool (where we swam every day) as well as a good workout room. There is an excellent restaurant right next to the building (Petra restaurant). Cons: no oven, so you can't do your own cooking, far (20 minutes walk) from the nearest Skytrain station. But taxis are plentiful. Pricey (we stayed 10 nights for $75 Canadian/night) and the host's rates for longer stays were a bit on the high side. Still an excellent location if you're in Bangkok for a short time and want to be centrally located.
---
---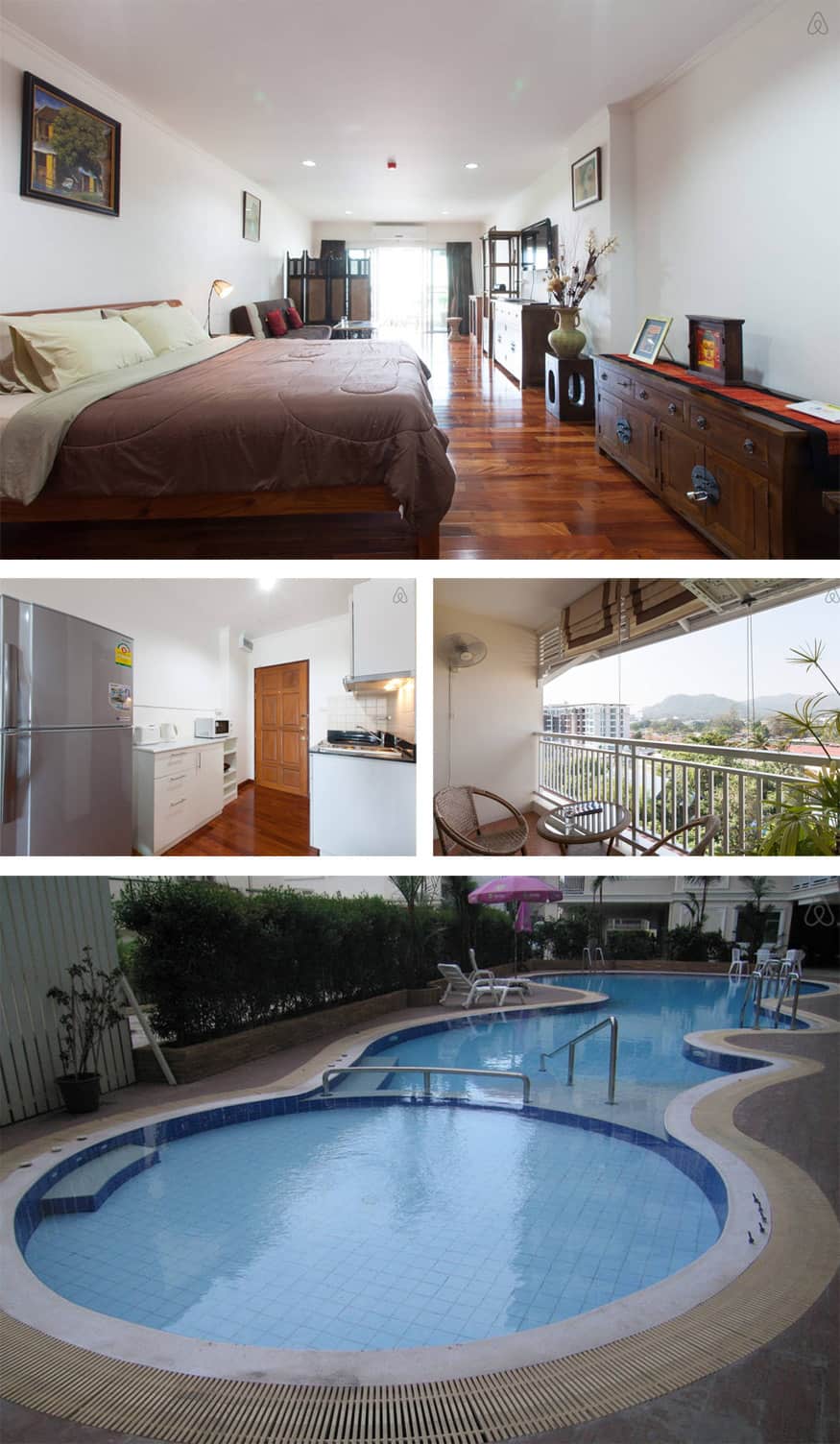 This apartment was the best furnished of any apartment we stayed in during the year. Beautiful teak furniture, authentic Thai decorations. A very tastefully done place. We didn't like Hua Hin but this apartment was an oasis. Loved it and didn't want to leave the apartment. Pros: the gorgeous apartment, a fantastic balcony with views over nearby hills, 2 swimming pools in the building, very strong wifi, Wanida (the host) very responsive and nice. Decent restaurant (I-rice) close by. Cons: No laundry room in building (unless you want to pay someone to take it away and do it for you. We opted for a laundrymat 10 minutes away), nearby food options lacking, rudimentary hot stove for cooking. I think this apartment is perfect if you have your own wheels. If you have a car you can go to the fancy Tesco Lotus and stock up on everything you need. We negotiated a good rate, an average of $33 CAD over 35 nights there (it's always good to communicate with the owner before booking, sometimes you can negotiate the 'list price' down).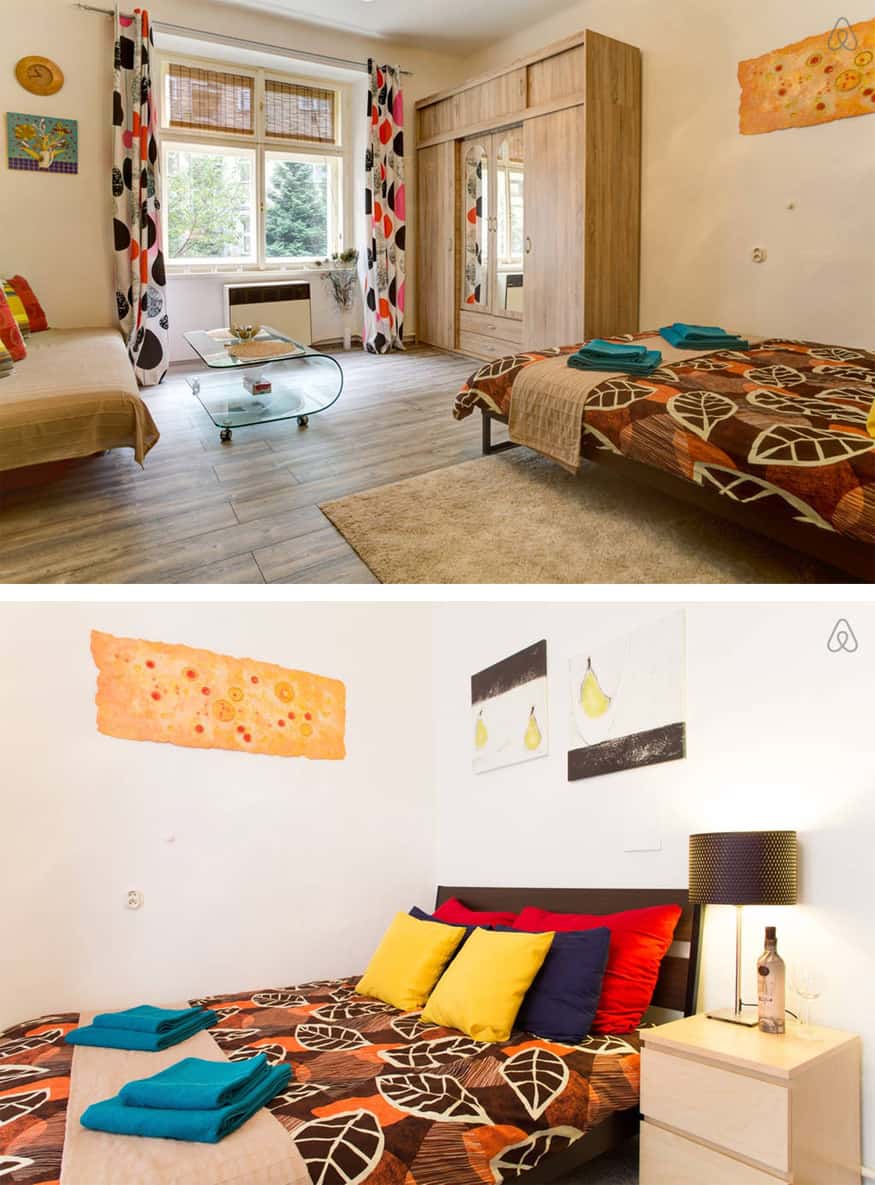 We were so happy being back in Prague. We had stayed in this city for 3 months (in a non-Airbnb apartment) the previous summer and just loved it.
We only stayed in this apartment for a week. But it was great. It is a very small studio located right in the center of Prague, steps away from everything including a great pub with the best Indian food in the city. Very comfortable with tons of charm and the young couple (Max and Zuzana) who administer it are very nice. Pros: perfect location, great price (we paid $74/night for 6 nights – that's a good price for a short stay), very comfortable, building has tons of charm. Cons: No cooking area (we used the kettle and microwave but that's it) and no washer/dryer. Because of these things, as well as the small size, it is not a long-stay place. But for a week, it is an excellent base to explore Prague. We would come back in a heartbeat.
---
---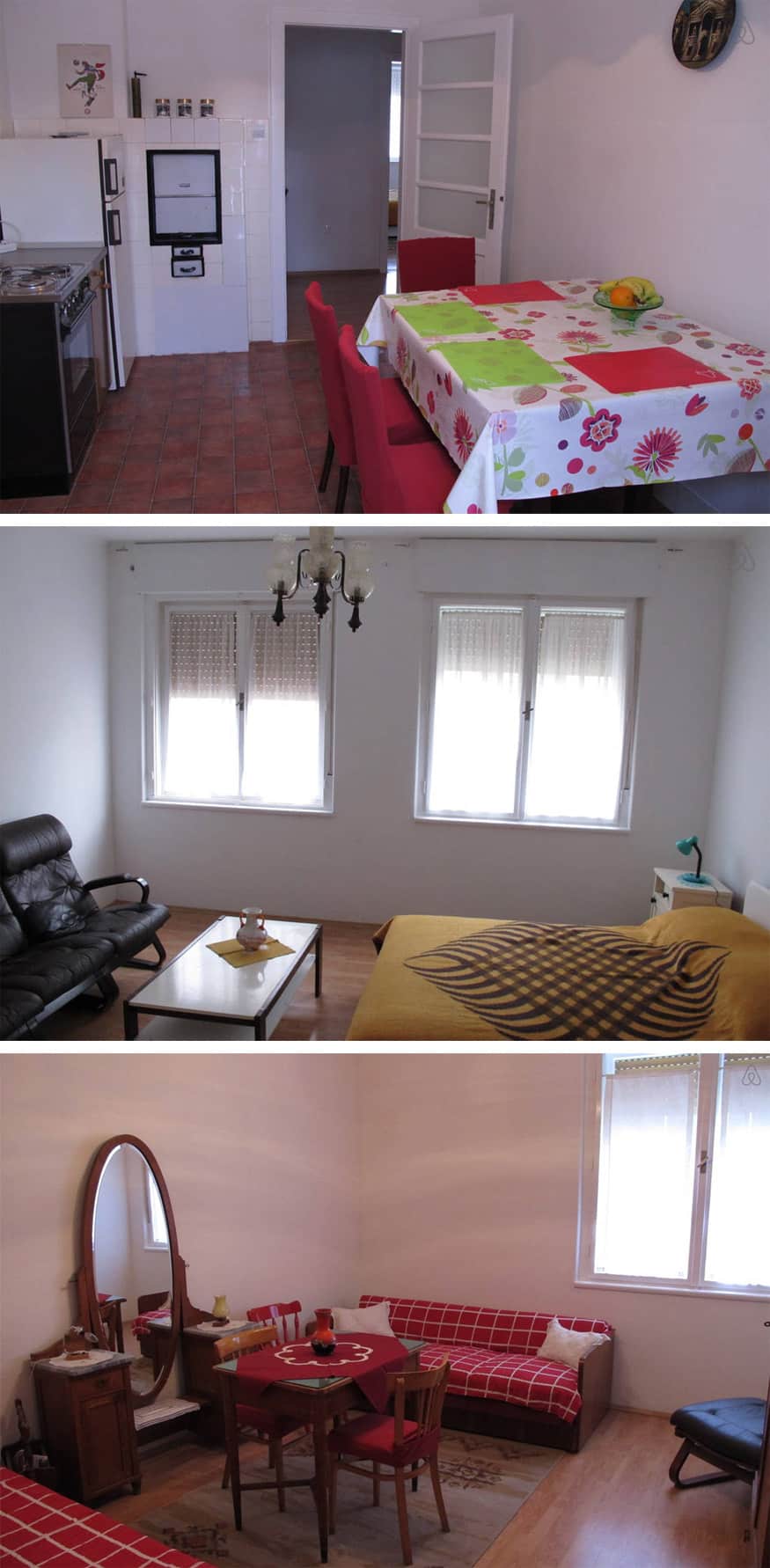 I don't know what to say about this place that I haven't already said in other places on the blog. Croatia was the highlight of our last year of travel and we loved our stay in Split.
This apartment is huge and we felt like we were living in a house. The owners, Vedran and his mom, were incredibly welcoming. We arrived on Easter weekend and his mom had cooked us a meal and bought us an Easter cake. The location is absolutely perfect. Pros: huge, clean apartment, large and well stocked kitchen, location right at end of the seaside promenade and next to some of the city's best restaurants, great hosts, very comfortable bed(s), airy, well ventilated, good AC when needed. Strong wifi. There's a laundromat downstairs, the apartment has a large balcony where you can have a drink while listening to the music from the church next door. Cons: rustic but charming bathroom. Oh, and the price was excellent, averaging $32/night for our 59 nights there. Perfect for a long stay, also perfect if you have a family and need more room. We would not dream of staying anywhere else in Split and we will be back.
Update: the apartment is no longer on the market.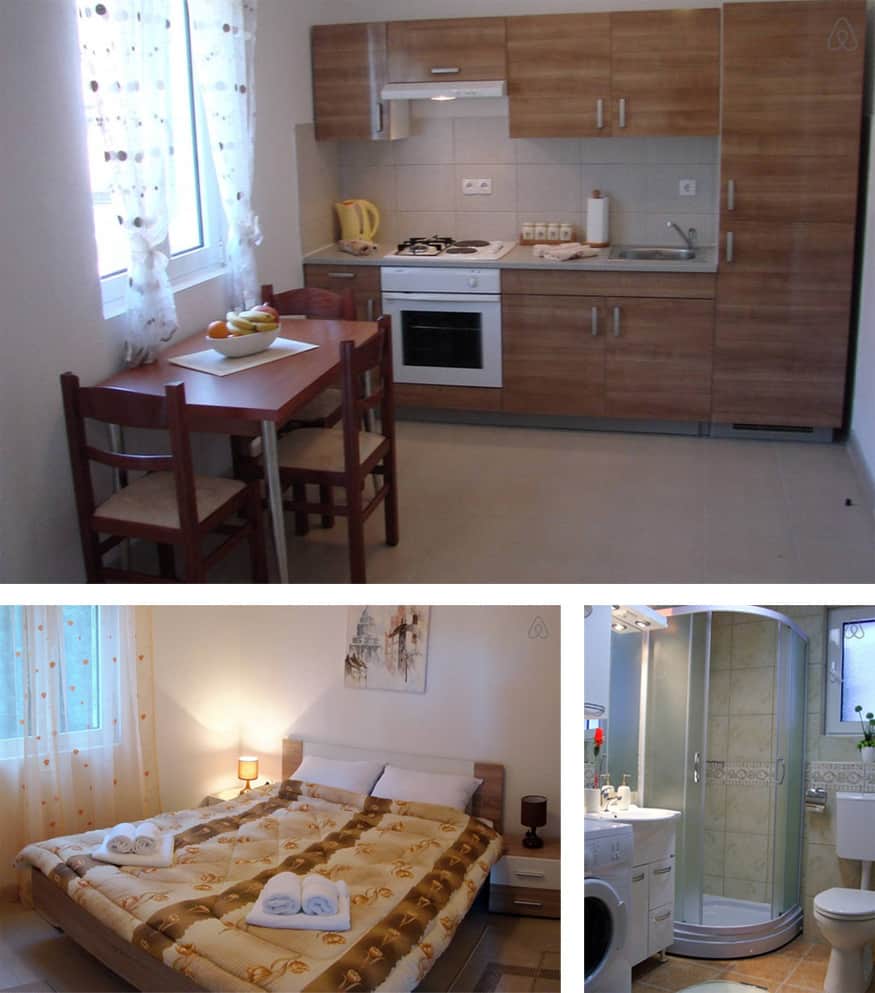 Kotor was one of the most impressive places we visited this year. See why here.
We had arranged to stay in this apartment for 3 days. We ended up extending our stay by a couple of days because we loved both the apartment and the town. Pros: Clean, large, well-equipped apartment with all the appliances, very friendly host (Rada met us at the bus station, a very nice woman), close to a large grocery store, also a 5 minute walk to Kotor's old town. We had our own balcony plus a large shared terrace (with no one to share it with). Fantastic. Cons: The apartment is situated about 200 feet behind the bus station (which is a plus) but at times the buses let their engines idle and you can smell the diesel. It's a small negative however as the station gets very quiet in the evening. Excellent place and good price (average $60/night for 5 nights).
---
---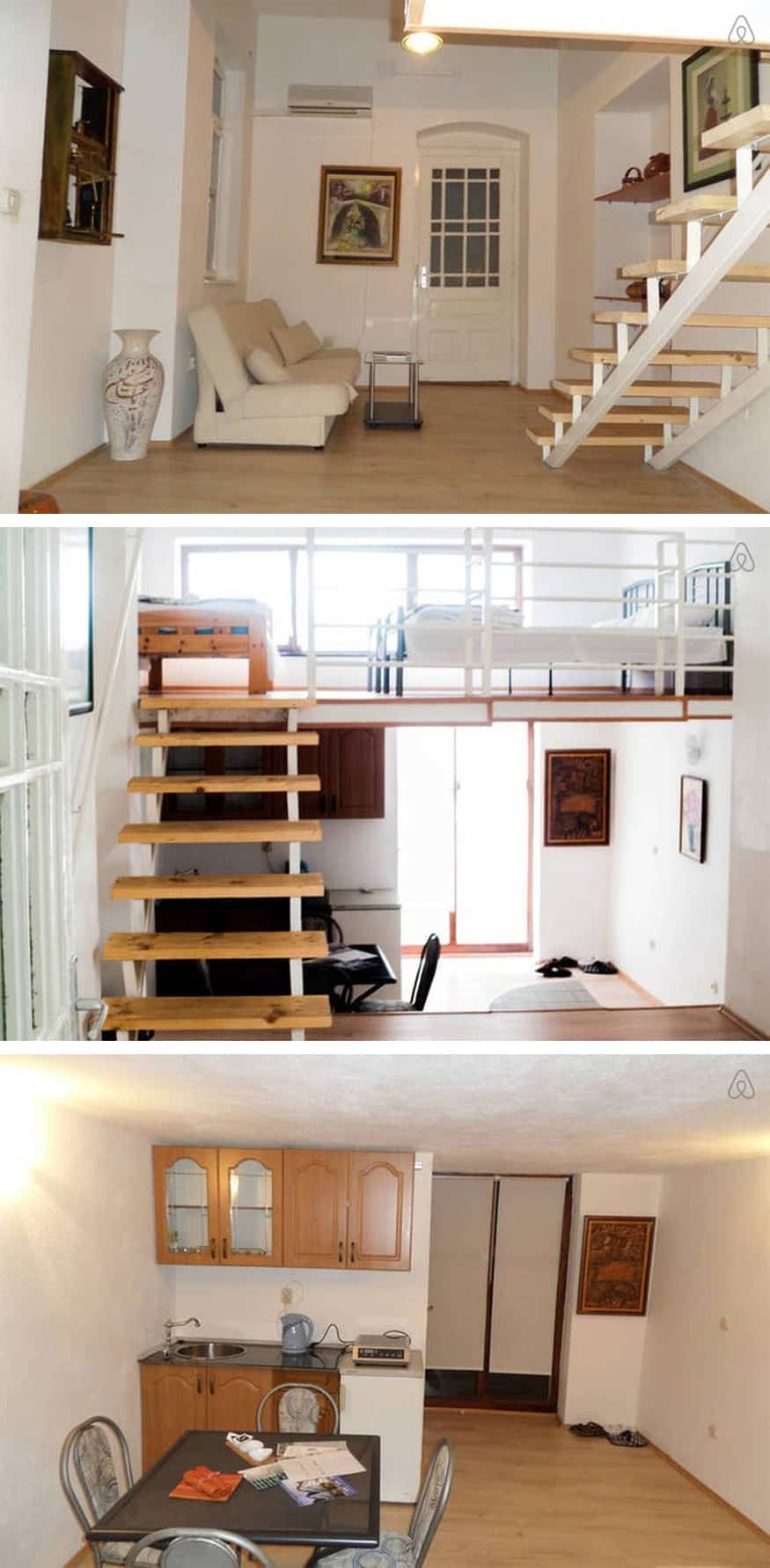 We had a short 2 day stay in Mostar. But what an interesting city it is.
This wasn't the most beautiful apartment of all the places we stayed. But were greeted fantastically by the father of the official 'host' you see on the site. He brought us Turkish coffee with cookies, even picking/driving us to the bus station. Airbnb owners take note: these things may not seem like a big deal, but they make a HUGE difference for a traveller. For this reason this apartment makes it on our list.
Pros: Great host, great central location, well-decorated with traditional Turkish momentos which adds a lot of charm. Comfortable beds. Rustic but in a good way. Cons: the biggest negative for us was cigarette smoke blowing in from a neighbor. The stairs to the bedroom are dangerous – I got up in the middle of the night and fell off the bottom stair, crashing into the glass coffee table. Had a small puncture on my arm but it could have been much worse. Despite that, a memorable stay in a wonderful town. Also a good price, averaging $45 CAD for the 2 nights there.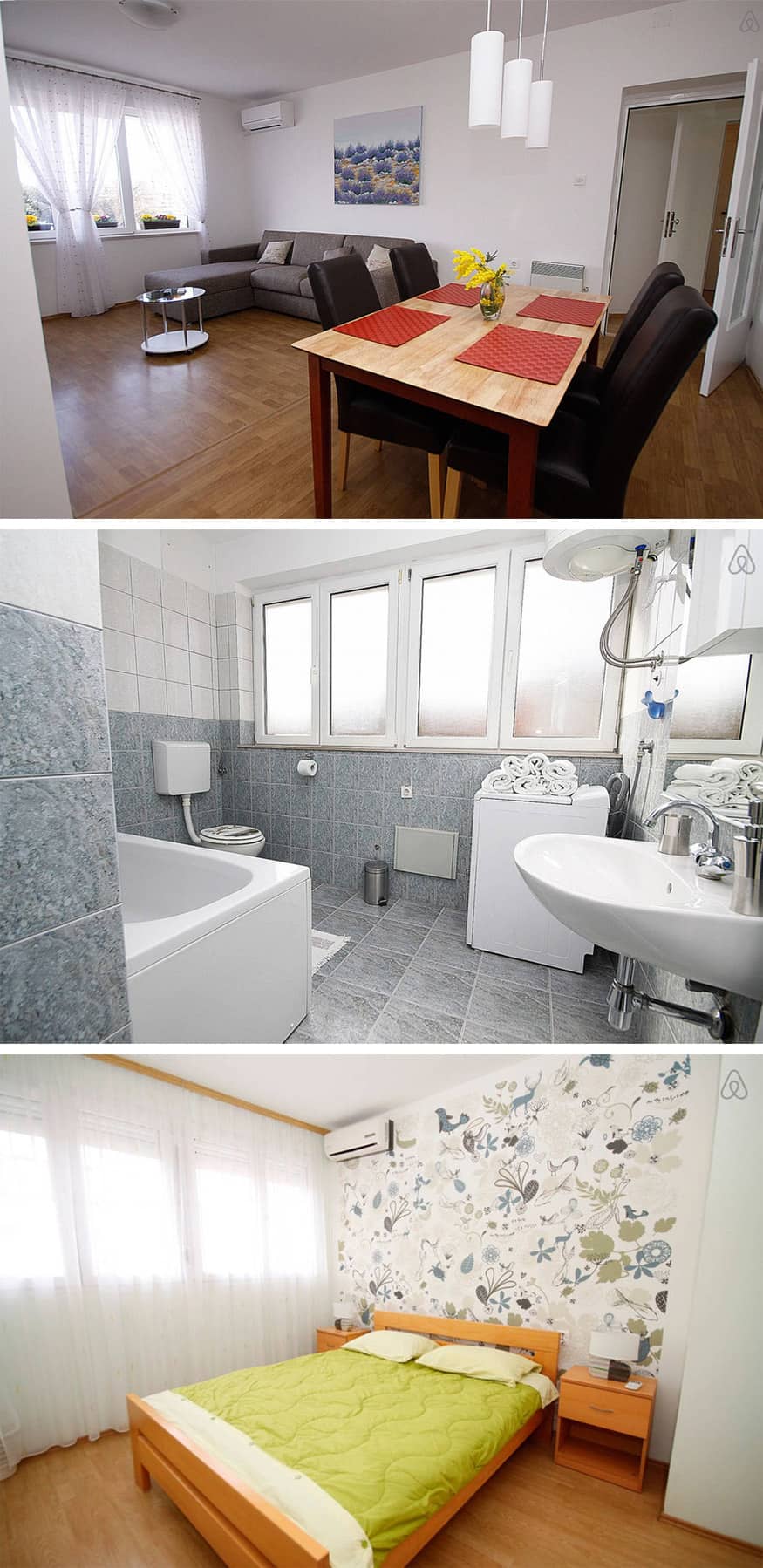 This apartment is the best equipped, most modern, nicest apartment of any apartment on this list. Incredibly functional, it is perfect for a long-term stay in this pretty town. Fantastic job by the host in re-creating all the comforts of home.
Pros: Modern kitchen, modern bathroom, very spacious, luxurious, comfortable, a large balcony with great views where you can have a drink and enjoy the sunset. Flat screen TV, DVD, great wifi. Grocery store very close by, fruit/vegetable market right below. Really, I don't know what to say – we could move in tomorrow and live here, it is pretty close to perfect. One Con: 5th floor and 90 steps to get up here. Price was excellent, averaging $63 CAD/night for 2 nights.
---
---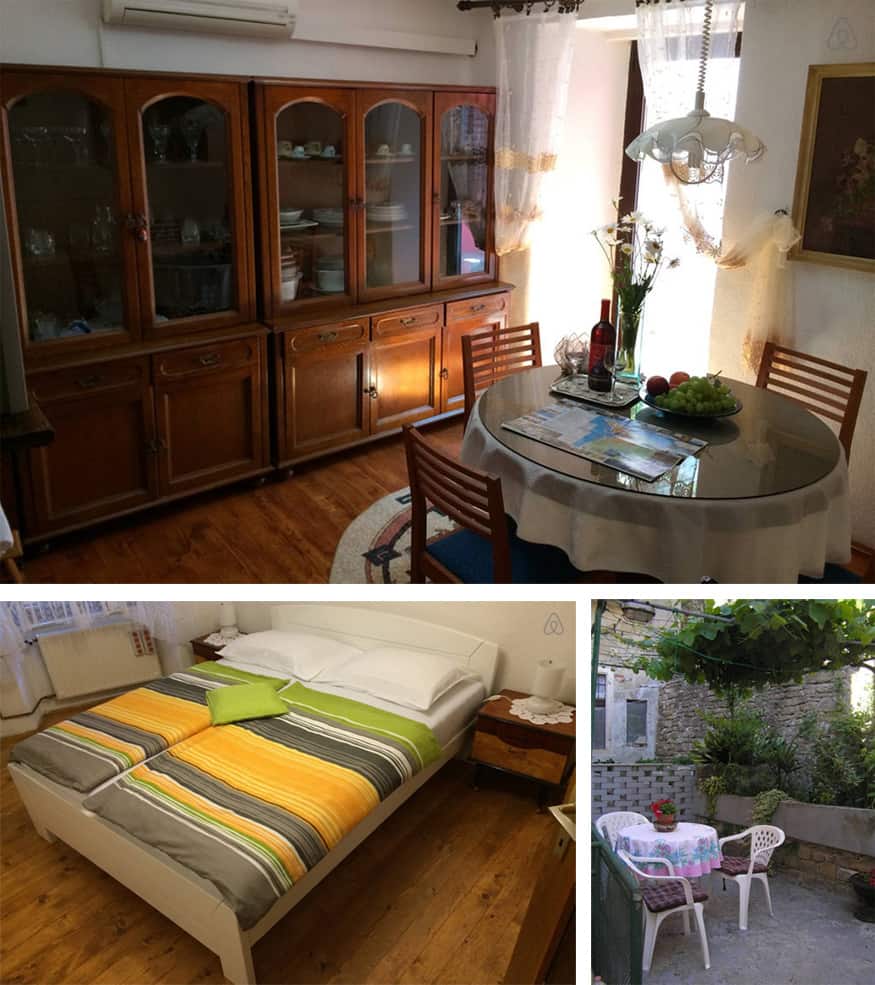 This apartment wins the award for the most charm. We, especially Lissette, loved this place.
I've only featured a few photos above. The apartment is very large, with a bedroom, kitchen, and dining room on the ground floor. The 2nd floor (which we didn't use) has a 2nd bedroom, a living room/playroom, and access to a large patio with a garden. It's a HUGE space, ideal for a family. It was owned by the grandparents of the young hosts (incredibly friendly people) and is a little dated with lots of little nooks and crannies and old-fashioned furniture. But that just makes it charming. We had 3 nights here and slept wonderfully. That won major points with us.
Pros: Very large and charming in a old building steps from the main square, great hosts (Barbara and Erik who took the trouble to meet us at the bus station and help us with our bags), very good wifi and AC, large garden, well stocked kitchen. Cons: Older house, some things could be updated. Didn't bother us however. We really enjoyed this spot, very peaceful. Paid an average of $86 CAD for 3 nights. Very highly recommended, especially if you are travelling with family.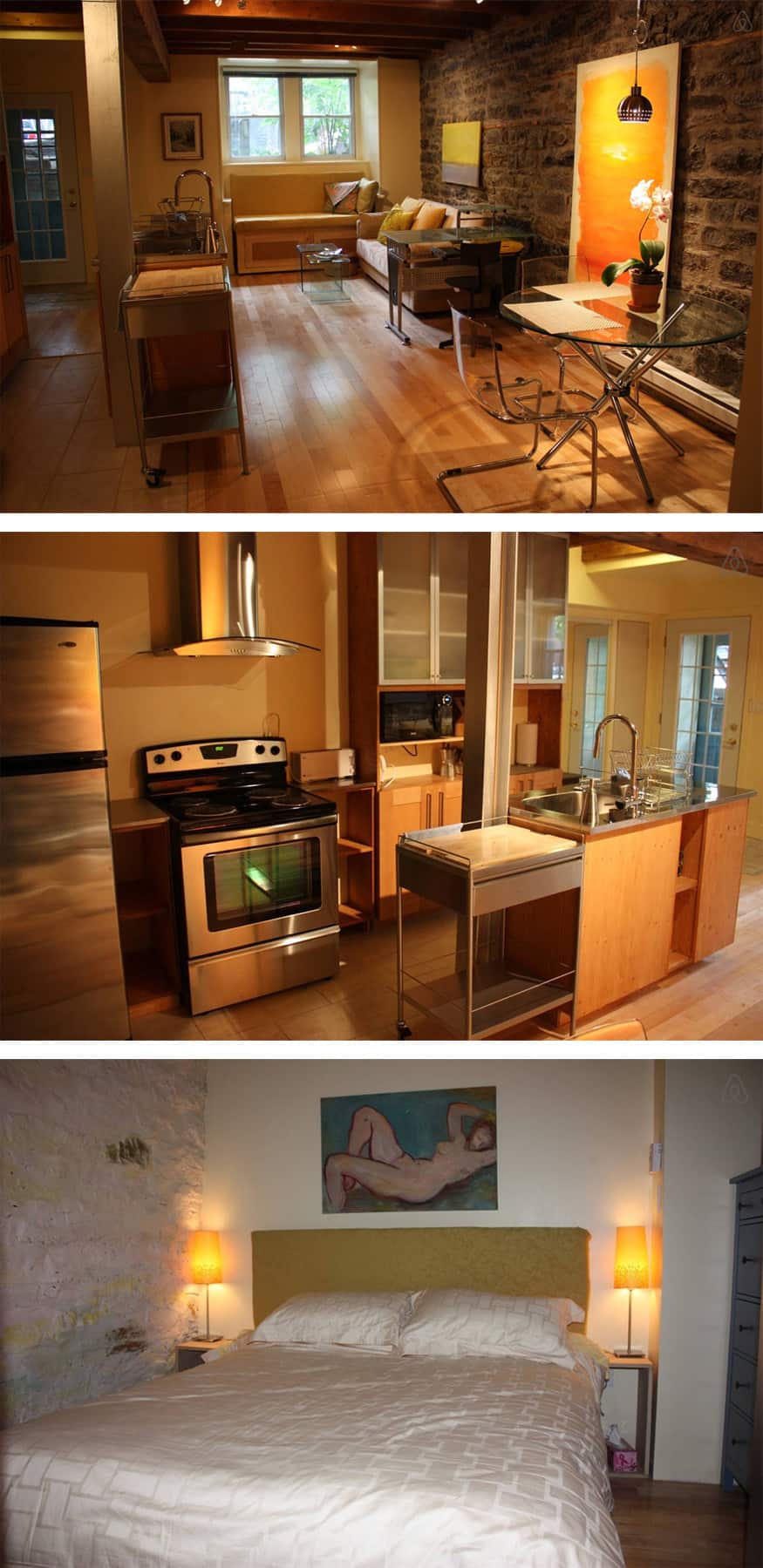 When we came back to Montreal, we had to find a place to stay for a month. This apartment was perfect.
It is located on Avenue Laval, one of the prettiest little streets in Montreal located on the lower Plateau Mont-Royal. Next to avenue Duluth, it is surrounded by restaurants, bars, stores and is ideally located between downtown and the heart of the Plateau.
Pros: ideal location, clean, super well-equipped kitchen. Very comfortable. The host, Li Ke is a quiet but friendly man who is a musician for the Montreal symphony orchestra – sometimes you'll hear beautiful cello music coming in from upstairs. Very good price for Montreal, we paid an average of $49/night for 40 nights. Cons: The apartment is in a semi-basement and you don't get much outside light. Overall excellent, we wouldn't go anywhere else in Montreal. Note: Li Ke rents for a minimum 1 month.
.
Note: Photo Credits above to Airbnb.
---
---
Our Top 3 picks
Lissette and I argued about this. It wasn't just about the best apartment. A bunch of other factors went into deciding our Top 3. For Lissette the most important things were the hosts, the general environment (things just outside the apartment), and the wifi. She has problems sleeping at times, so quality of sleep is very high on her list. I do most of the cooking and grocery shopping so important things for me were the state of the kitchen, the availability and quality of shopping nearby, wifi, and the comfort and functionality of the apartment (ie. all the "Practical stuff"). But also important is a good host…as I said before, a nice, helpful host who prepares information for you in advance and who helps you with questions you may have is an extra couple of stars right off the bat. In the end, it is that personal experience that differentiates an Airbnb stay from just staying in a hotel (and putting up with miserable staff who make a face when you ask stupid questions). A good Airbnb host will leave you a map of the city, point out where to shop in the immediate vicinity, recommend some good local restaurants in the neighborhood. It's what makes Airbnb a personal experience.
Anyway, our Top 3:
3. Piran. Great hosts, a charming apartment, a wonderful location in a beautiful town. And we slept great. We only stayed 3 nights, they might have come up even higher had we gotten to spend more time there (Note: it narrowly edged out the apartment in Kotor which was equally fabulous).
2. Zadar. Despite the 90 steps, a fabulous apartment with everything you need in and out of the apartment. If it was only about the 'best apartment', it would be the winner. Perfect for a long-term stay.
1. Split. Of course, could there be any other? We stayed 2 months here and enjoyed the apartment and the city tremendously. Even became friends with Vedran our host. We'll always remember when the hard disk on our computer crashed: that same day he had a friend come and look at it. The next day it was fixed. He brought Lissette a birthday cake that his mom had cooked. He always supplied us with tourist information, even invited me to go hiking (here and here). He was the perfect Airbnb host.
All the above represented unique experiences with both locals and apartments. Not every experience was perfect, I've written about a few that weren't too great at all (like this and this). Overall however, our Airbnb experiences greatly added to our overall travel experience.
---
---
Do you have a great Airbnb stories that you want to share?
.
Want to try out Airbnb? If so sign up using this link. You'll save $35 USD (or $45 CAD) on your first stay.