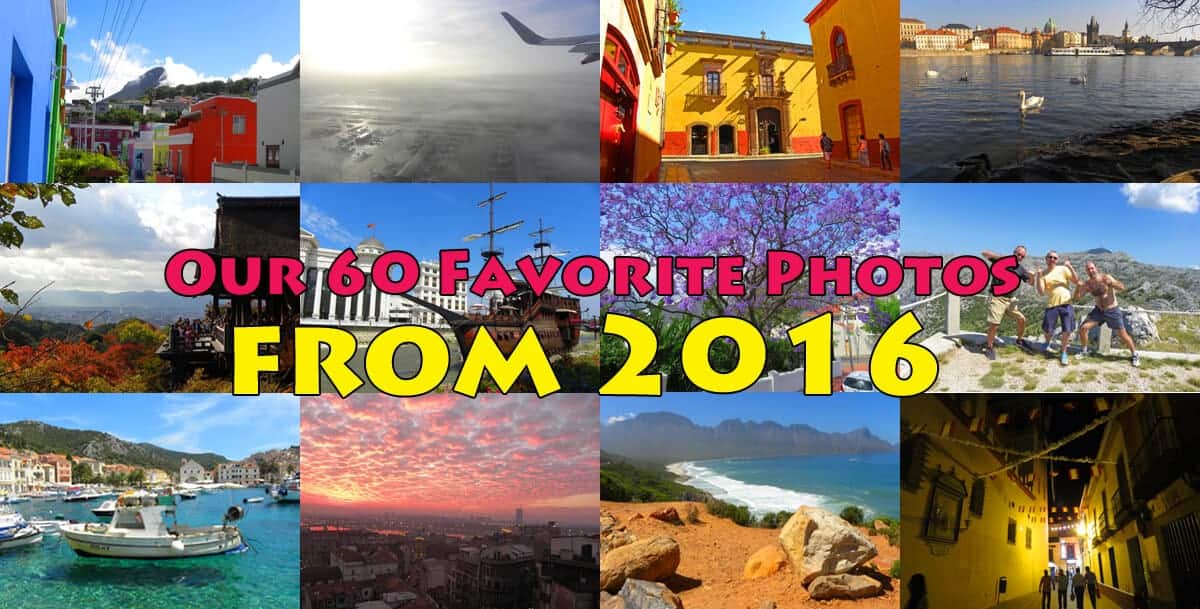 Our Favorite Photos from a year of travel
A couple of weeks ago I did a wrap-up of our favorite (and not-so-favorite) places visited in 2016. We took so many photos in 2016 that we decided to go through them and choose our favorites from the year.
"Favorite" photos doesn't necessarily mean "best" photos. "Favorite" can mean a place that holds a special memory (like that dog lying at Lissette's feet) or a place that was just overall a special place (Cape Town was for me "that special place").
.
Anyway, here goes: Our favorite photos of the year:
60. Bo Kaap neighborhood, Cape Town
I loved Cape Town and this neighborhood was really special. I look at this photo and I get nostalgic for South Africa, that's how much I was crazy the place. More on Bo Kaap here.
59. Heathrow Airport
I'm a fan of photos from a plane window. This one was taken taking off from London's Heathrow airport on the way to Bucharest. Love the mist and all the planes below.
The photo was part of a very long 34 hours travelling Cape Town – London – Bucharest – Budapest including a 16 hour train ride from hell. I wrote about it here.
58. Prague, Czech Republic
This photo was taken in Prague where we spent the month of March (we like to get our dental work there, it costs about half of what it would in Canada). March is actually a great month to be in Prague and we found the city very photogenic this time of year. This was our 3rd time in Prague and I think we took some of our best photos of the city this time around.
57. San Miguel de Allende, Mexico
Mexico is the most colourful country in the world. This is San Miguel de Allende, in central Mexico. More here.
56. Chain Bridge, Budapest
We spent the month on February in Budapest. Although it was never really cold (well, compared to Canada) it was often foggy and sometimes you couldn't even see the other side of the Danube river. This is the Chain bridge covered in fog.
We've spent lots of time in Budapest. This post was written after spending 2 months there in 2015 and includes photos of the highlights of the city.
55. Sevilla, Spain
This is a photo of the Metropol Parasol in Sevilla, Spain. We spent 2 months this summer in Sevilla and absolutely loved it. The Metropol Parasol is billed as the largest wooden structure in the world and you can take an elevator ride up top for great views over the city.
Sevilla is a place I miss. If you want to read more about it and the things to see in the city, I've got a post on it here.
---
---
54. Skopje, Macedonia
This photo was taken in Skopje, the capital of the country of Macedonia (also known as FYROM, short for Former Yugoslav Republic Of Macedonia). Skopje is strange, where else would you see a pirate ship on a river in a land-locked country?
People like strange, I think it explains why our post on Skopje was our most popular among readers this year.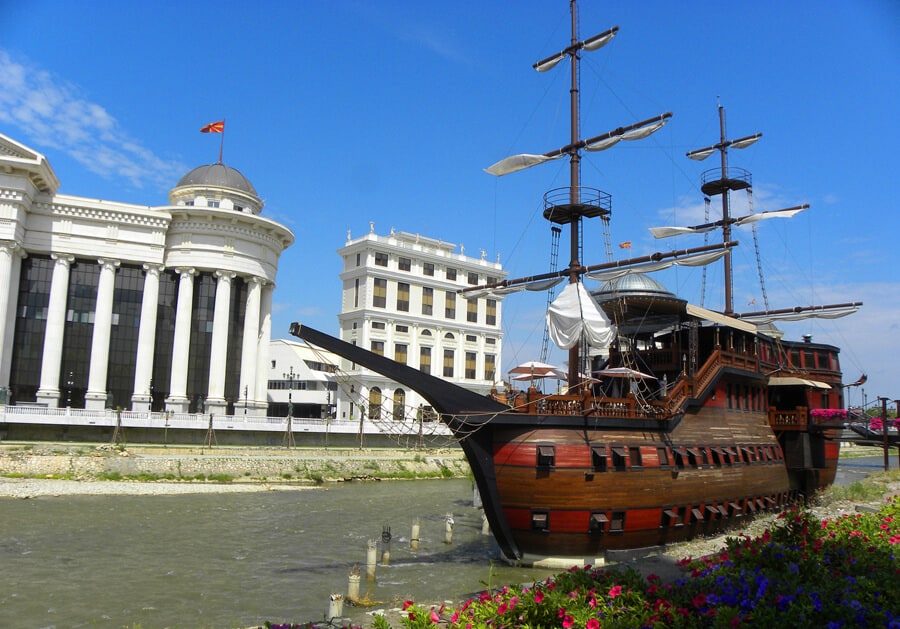 53. Over the Albania coast
Another 'View from a Plane' photo. This is the rugged coast of Albania, which we crossed flying Istanbul to Lisbon in late July.
52. Guanajuato, Mexico
This is a photo of Guanajuato. Most people don't know about it because it is in Mexico. Gorgeous place. I chose this photo but honestly I could have chosen almost any other photo in this post.
51. Mt. Biokovo, Croatia
This photo was taken after driving to the top of Mt. Biokovo, one of Croatia's highest peaks. The road itself is the highest road in Croatia. The views are INCREDIBLE as you'll see in the attached post. This photo was taken with Croatian friends Goran and Vedran.
50. Prague
Lissette took this photo in Prague, one of our favorite cities. It's not the most interesting of photos and wouldn't have made it here if it wasn't for the guy walking around in shorts. Love his confidence and the colour he adds to an otherwise monotone background. He's the reason we love this photo.
49. Cape Town, South Africa
Jacaranda tree in Cape Town. The Cape area of South Africa has the most plant diversity of any place on earth and you can see that walking around the city.
The best place to see Cape Town's flora is at the Kirstenbosch Botanical Gardens, one of the top botanical gardens in the world. It also has a spectacular location at the base of Table Mountain. More here.
---
---
48. Split, Croatia
Split is going to be featured a few times in the list of our favorite photos of 2016. This one, of the bell tower of Saint Domnius, was taken by Lissette this summer. Split has a spectacular old town which I've written about here.
47. Bamberg, Germany
We were in Bamberg in March. It is a fairy tale town located in the Franconia region of Germany, about the most charming place we've been with THE best beer of any place in the world.
More about this town here.
46. Venice, Italy
We were in Italy for a month in April using Padova as a base in the Veneto region. One of the places we visited was Venice, our 2nd time there.
Venice is incredibly photogenic. This photo (again taken by Lissette) didn't even make it on this post. But I love it, it is so typically Venice.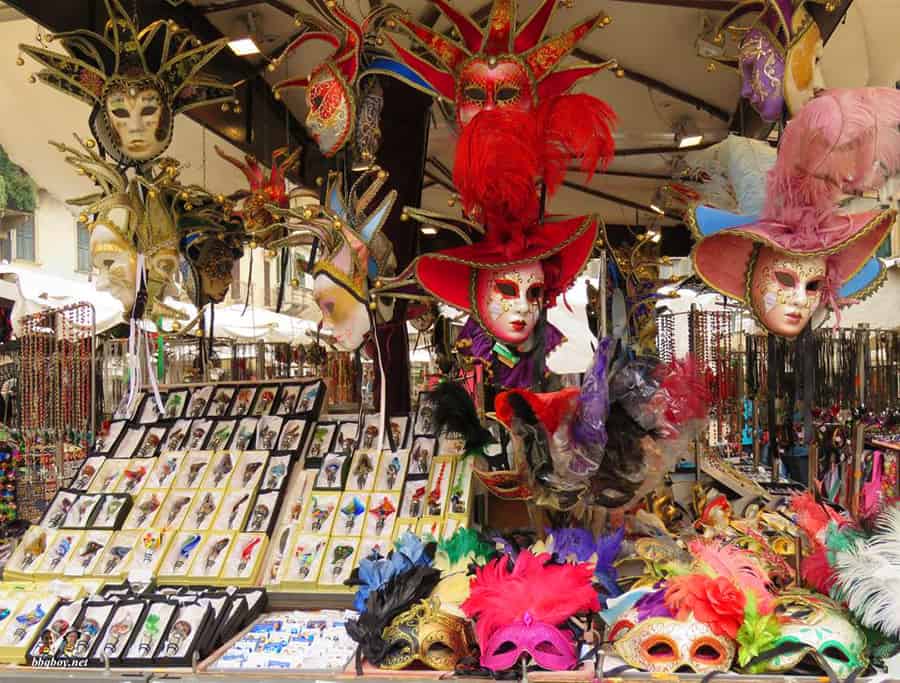 .
45. Patzcuaro, Mexico
Little girl on pony and proud father, Patzcuaro, Mexico.
Patzcuaro is a really pretty little town, one of Mexico's "Pueblo Magicos". More here.
.

44. Lisbon, Portugal
Steps in Lisbon, Portugal.
We spent August in Lisbon and really just didn't connect with the city. My post on Lisbon was my most commented on post this year, many people weren't happy with me.
43. Rovinj, Croatia
We spent the month of May in Rovinj, up in northern Croatia. Really pretty place and a great spot to visit Istria. It also has great sunsets. More here.
---
---
42. Tokyo, Japan
The two major highlights of Asakusa (Tokyo) in one photo: The Sensoji Temple and the Tokyo Skytree.
The Asakusa area ended up being our favorite area of Tokyo. More about that here.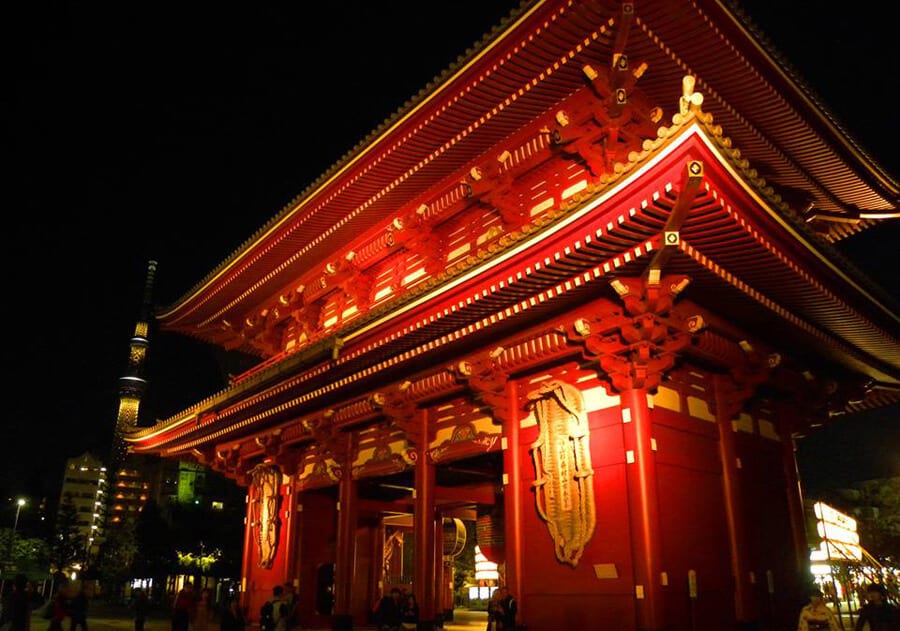 41. The Vatican, Rome
Lissette's always wanted to see St. Peter's Basilica. In May we had our first ever visit to Rome and saw the basilica firsthand (below is the fountain in St. Peter's square with the basilica in the background)
A lot of people complain about Rome. We really enjoyed it, I think it's just a question of planning. More.
40. Kyoto, Japan
Interesting streetlights and wires in Kyoto, Japan. Highlights of Kyoto.
39. Cape Town, South Africa
I love Cape Town and this photo includes many of the things I love about it: Table Mountain, magical sunsets, and a beautiful warm breeze blowing through that giant Palm tree across the street from where we stayed for 3 months.
Lissette liked South Africa but didn't have the same love for it that I had. I summed up our feelings here.
38. Somewhere in Romania
The desolate countryside of Romania taken on that 16 hr train ride from hell in January of 2016 (we were going from Bucharest to Budapest).
We only spent 12 hours in Romania but in many ways it was enough. I wrote about that on this newsletter.
37. Hvar, Croatia.
Lots of purple.
This photo was taken by Spanky when we visited the island of Hvar (Croatia), an hour's ride by ferry from Split.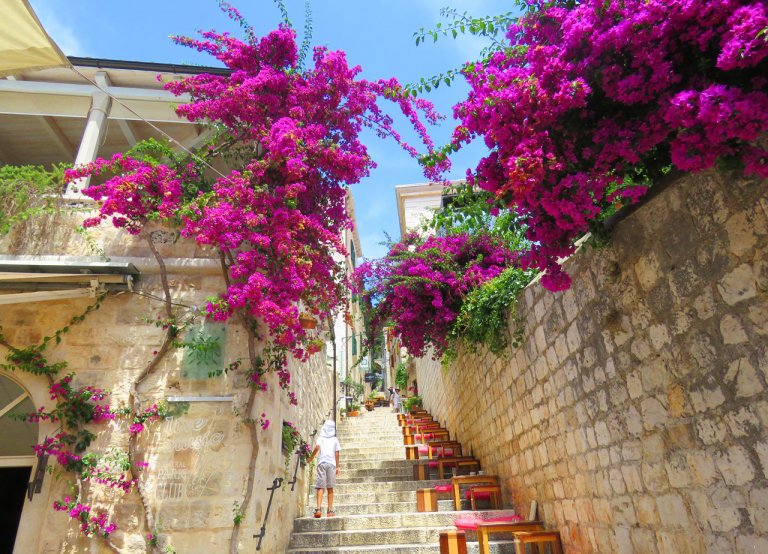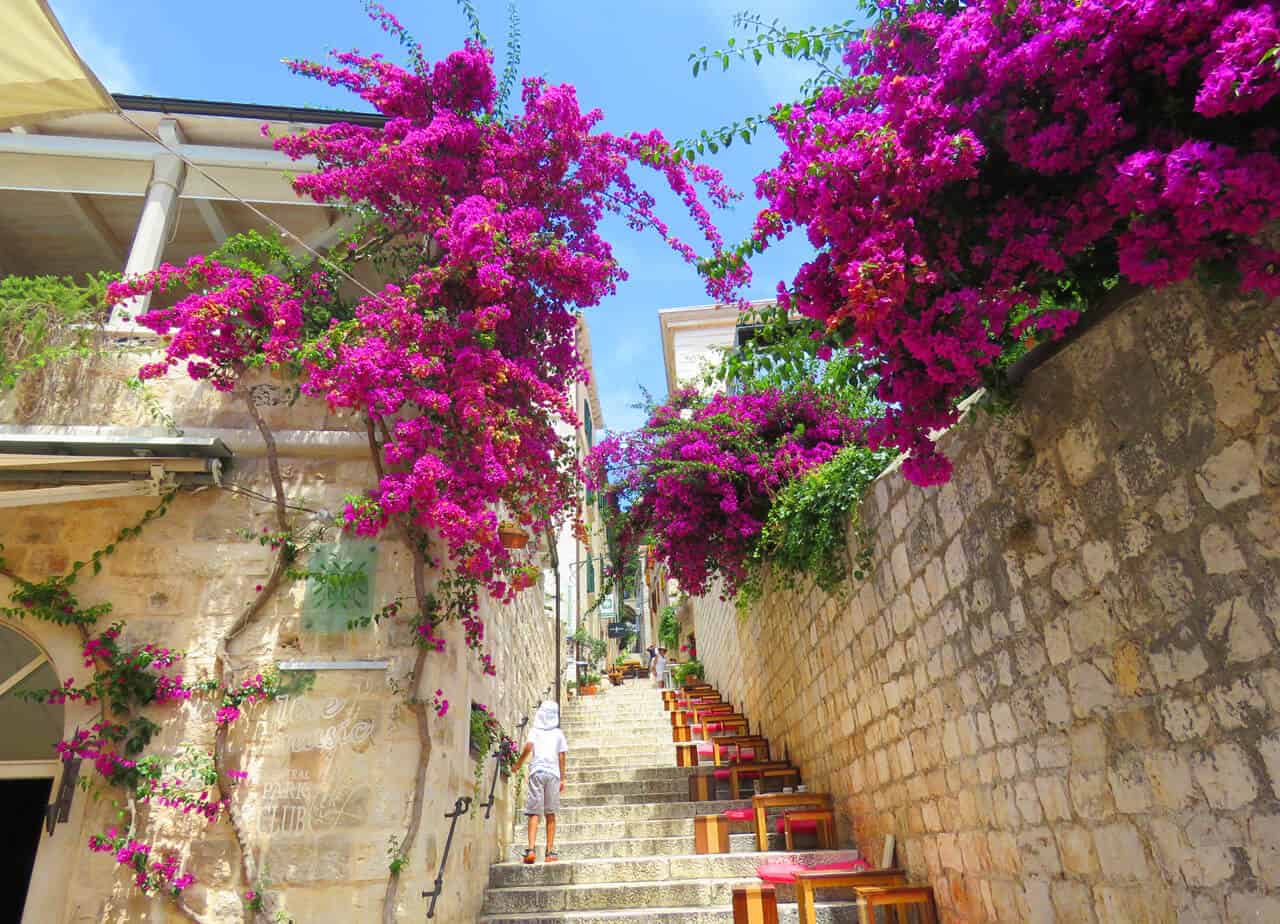 ---
---
36. Kyoto, Japan.
Golden Pavillion in Kyoto, Japan. Also snapped by Spanky. Highlights of Kyoto.
35. Budapest, Hungary
Fog in front of the Hungarian Parliament building (photo taken in February when we stayed in Budapest for a month)
34. Knysna, Garden Route, South Africa
Another spectacular place in South Africa. Over 2 weeks, we drove 2000 km and saw some of the most spectacular geography we've seen anywhere. More here.
.
33. Prague, Czech Republic
Crazy Bastard with the good soldier Švejk at one of our favorite viewpoints in Prague.
We spent the month of March in Prague and it was as beautiful as ever.
32. Split, Croatia
Split, Croatia in August. One of our favorite places anywhere.
31. Venice, Italy
There's something I like about these waiters – this is at one of those overpriced cafes in Venice where they charge you for the music. I remember falling for it on our first trip to Venice back in 2008, paid about $40 for two cups of coffee.
We were back in Venice this year and it was as beautiful as ever. And this time we knew better about those cafes on St. Mark's square.
---
---
30. Kyoto, Japan
Lady lighting candles at a temple in Kyoto. Snapped by Lissette (the last Venice photo was as well – she's much better at taking photos of people than I am).
29. Hvar, Croatia
Harbor, Hvar town (Croatia).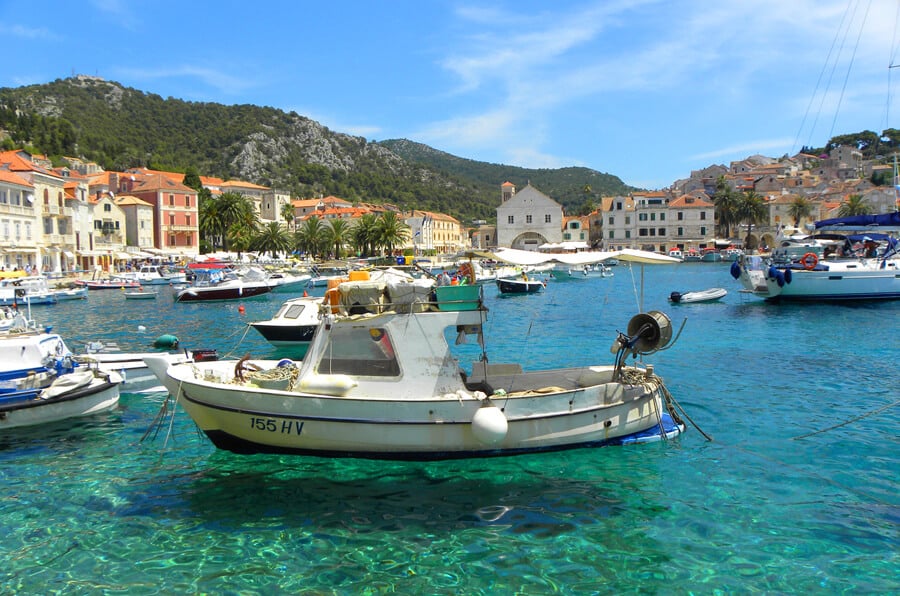 28. Skopje, Macedonia
Skopje, Macedonia – one of the most interesting places we visited in 2016. Our post on Skopje also brought the most traffic to the blog last year.
27. Rovinj, Croatia
Rovinj, Croatia – Lissette snapped this photo. Rovinj isn't a big place, but it's really pretty and incredibly colourful. We spent 5 weeks here in May of 2016. More here.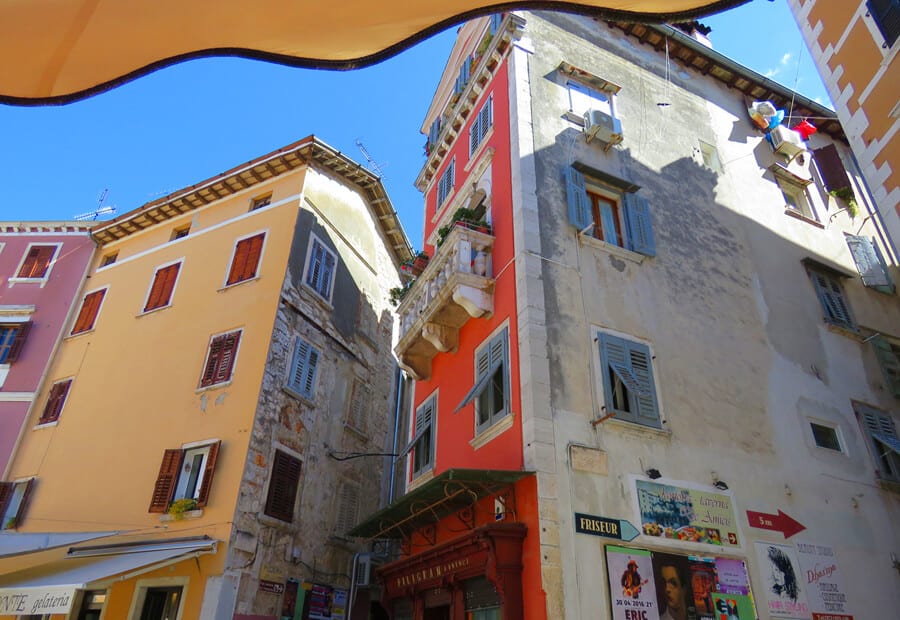 26. Prague, Czech Republic
We spent the month of March. I've already posted a few photos of Prague – it has to be one of the most photogenic places anywhere. This (kind of weird) sunset photo features a tram and Prague castle in the background. Lots more photos of Prague in this post.
.

25. Kyoto, Japan
The Kiyomizudera Temple in Kyoto was one of the most beautiful temples we saw in Japan and the views are especially stunning in Autumn. In the background you see the Kyoto Tower, which sits right across from the train station.
.

24. Cape Town, South Africa
The views of the 12 Apostles from Camps Bay, Cape Town, South Africa. Love, love, love these views of the 12 Apostles.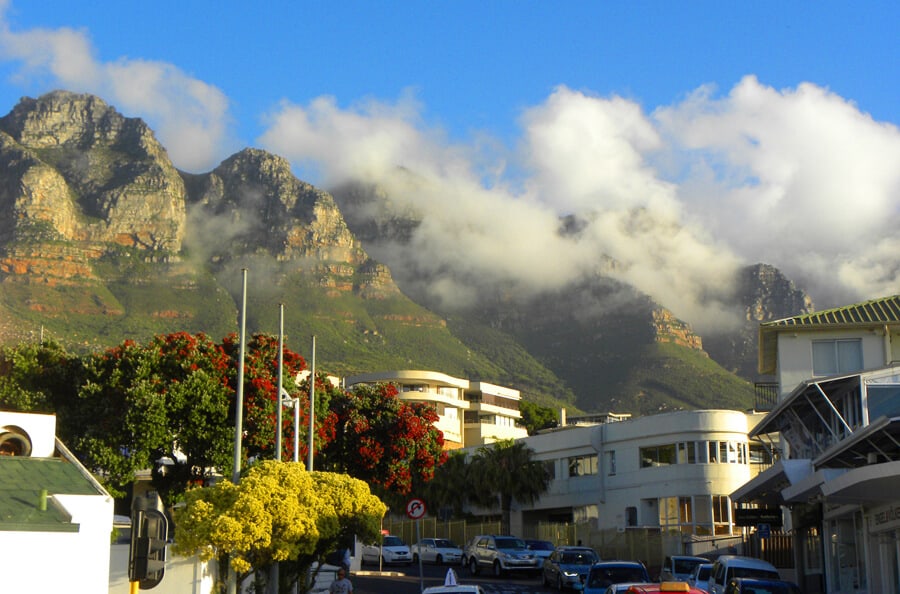 .
---
---
23. Split, Croatia
A warm summer's day in Split and a barbecue at a friend's house. Lots of grilled meats, fish and vegetables along with Ožujsko beer and rakija (moonshine). Typical Croatian barbecue. Good times!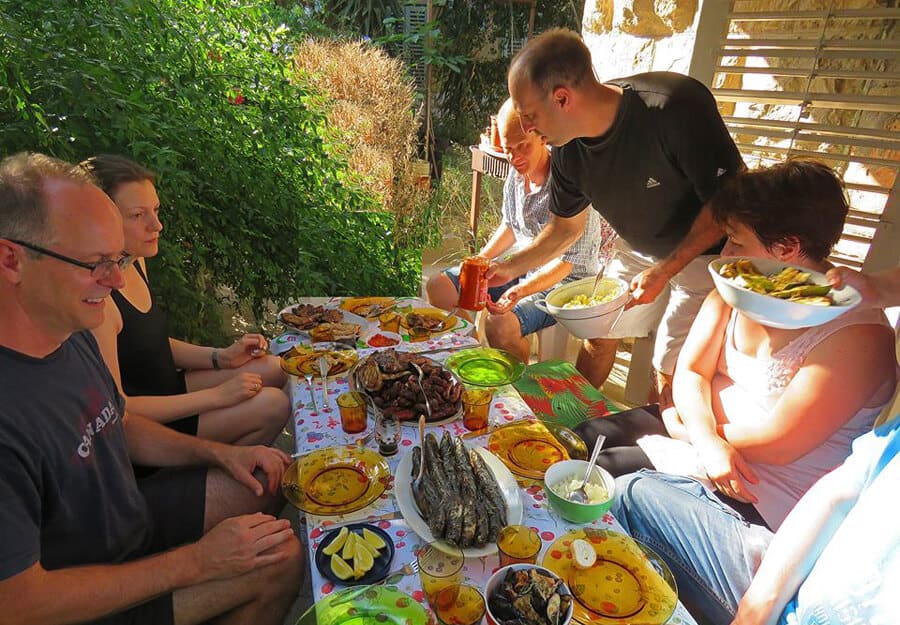 22. Belgrade, Serbia
Stunning sunset over Belgrade, Serbia in December. We didn't know what to expect, but we really enjoyed Belgrade. More here.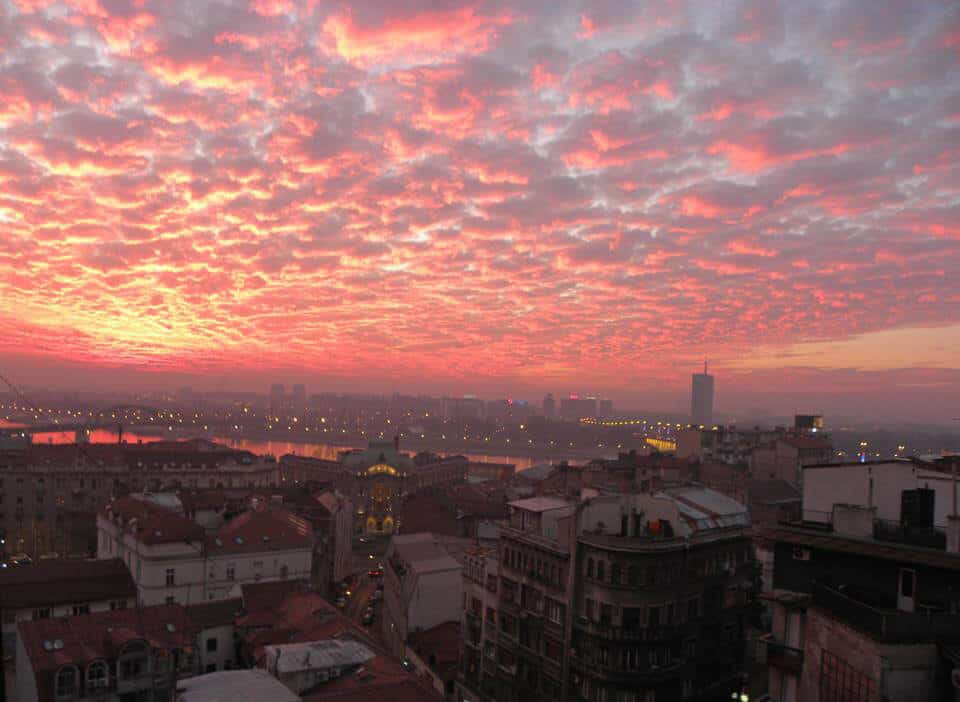 .

21. Kyoto, Japan
Photo taken by Lissette in Kyoto. She calls this one the "Kimono pileup". I wrote a post about the love of selfies/photos in Japan here.
20. Table Mountain, Cape Town, South Africa
Setting sun on Table Mountain in Cape Town taken from the veranda of the apartment where we stayed for 2 months. If you look really hard you'll see the cable line for the funicular.
More photos of incredible Table Mountain here.
19. Dog in Split
Dog in Split, taken by Lissette. Why a dog on our favorite photos of 2016? Lissette is scared of dogs. In August she decided to take a walk up Marjan Hill – and this guy came out of nowhere and ran up to her. He just wanted to be her friend and, when she sat down on a bench, he just decided to lay there next to her. It (kind of) helped her get over her fear of dogs.
18. Koelbaai, South Africa
I've seen different versions of this photo, with the spot usually labelled as "Hermanus". It's not Hermanus however (Hermanus is further up the coast) but Koelbaai in the Overberg (about an hour's drive northeast of Cape Town). It is an incredible beautiful, scenic spot.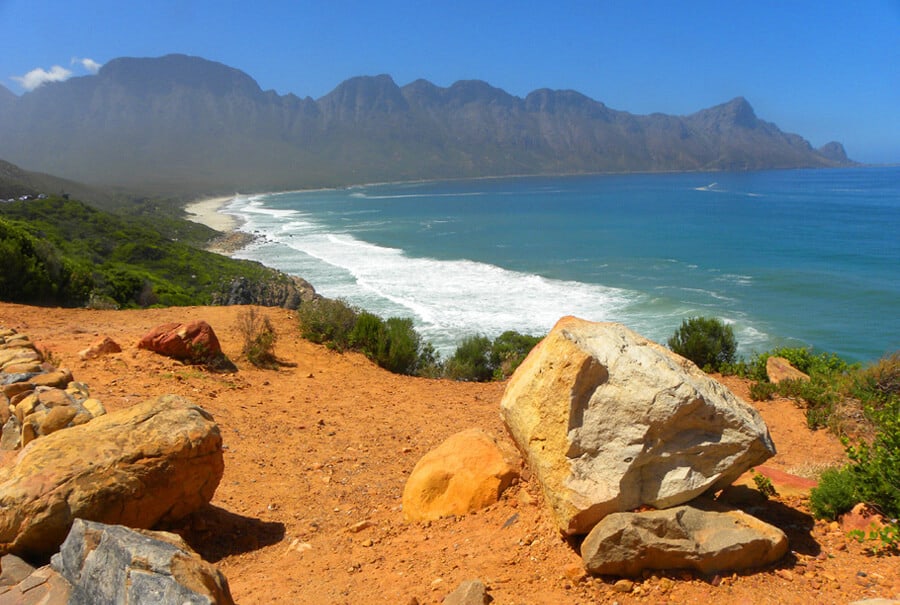 ---
---
17. Prague, Czech Republic.
Yes, I know – I probably have too many photos of Prague. But we love Prague (it's where we started travelling full-time almost 3 years ago) and this photo captures the atmosphere on a cool evening in March.
16. View of Split, Croatia
It's not the most exciting photo. So why is it here? We came up the bell tower of St. Domnius a few years ago and Lissette freaked. A lot of people freak out coming up this tower because of the 'openness' of the interior column of the tower. See here to understand what I'm talking about. So last year, while I was in Mexico, Lissette got up the courage and came back up here by herself. This photo is her memory of making it to the top.
15. Swartberg Pass, South Africa
This photo has special memories. That's our rental car on the Swartberg Pass in South Africa. It is one of the most scenic and also scariest mountain passes we've ever gone over. But if you're ever in the Klein Karoo region of South Africa you HAVE to experience this drive, it is spectacular. More.
14. Skopje, Macedonia
Lissette's photo – a hot summer's night in Skopje, Macedonia. That statue of Alexander the Great is 22m high, the centerpiece in the "Skopje 2014" plan to spruce up the city. More.
13. Split, Croatia
Roman guards in Split, posing with Crazy Bastard.
Lots of photos of Split's incredible Diocletian's palace here.
12. Marjan Hill views, Split, Croatia.
Views from Marjan Hill on a hot, humid day in July. Marjan Hill is one of our favorite spots in Split and there's nothing better than coming here for the views and having a beer or coffee at the café right next to the lookout.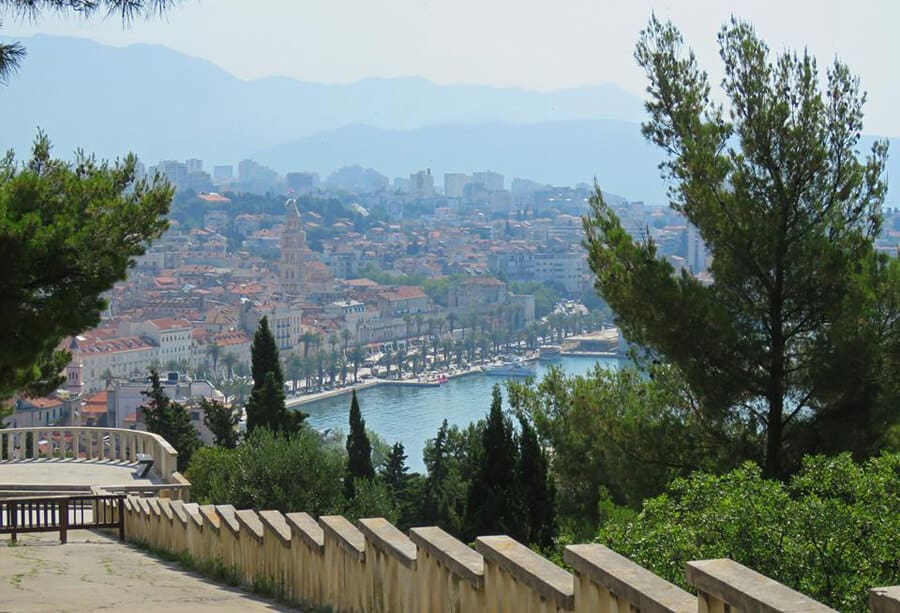 ---
---
11. Tokyo, Japan.
The Sensoji Temple in Tokyo at night.
More on the Sensoji Temple here, one of Tokyo's highlights.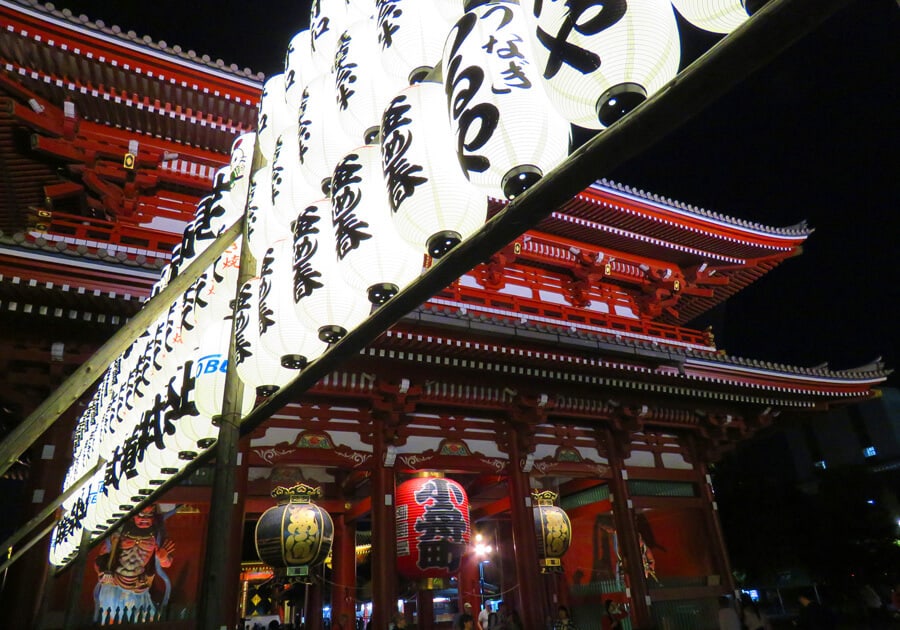 .
10. Table Mountain, Cape Town
One of the most incredible geographic highlights in the world. Seeing it for the first time we were blown away (almost literally, it was very windy on this day). I did several hikes up Table Mountain during our 3 months in Cape Town and it was always stunning.
I love this photo taken on that first visit.
9. Matsumoto Castle, Japan
View from Matsumoto Castle, Japan. Taken by Lissette. I love the effect of the roof…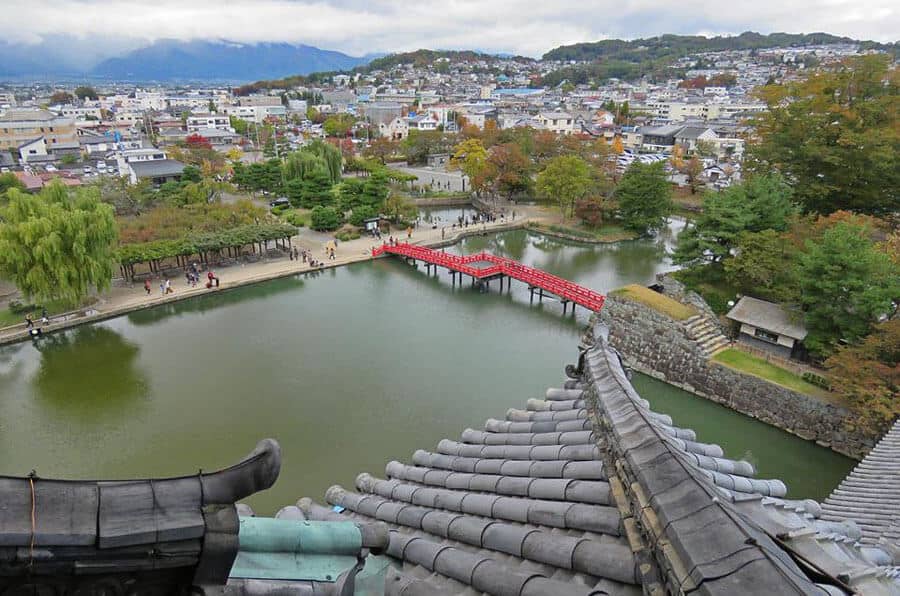 .
8. Guanajuato, Mexico
It's an incredible place and the views over town from the Pipila statue viewpoint are spectacular. More. One of the most beautiful places I've been to.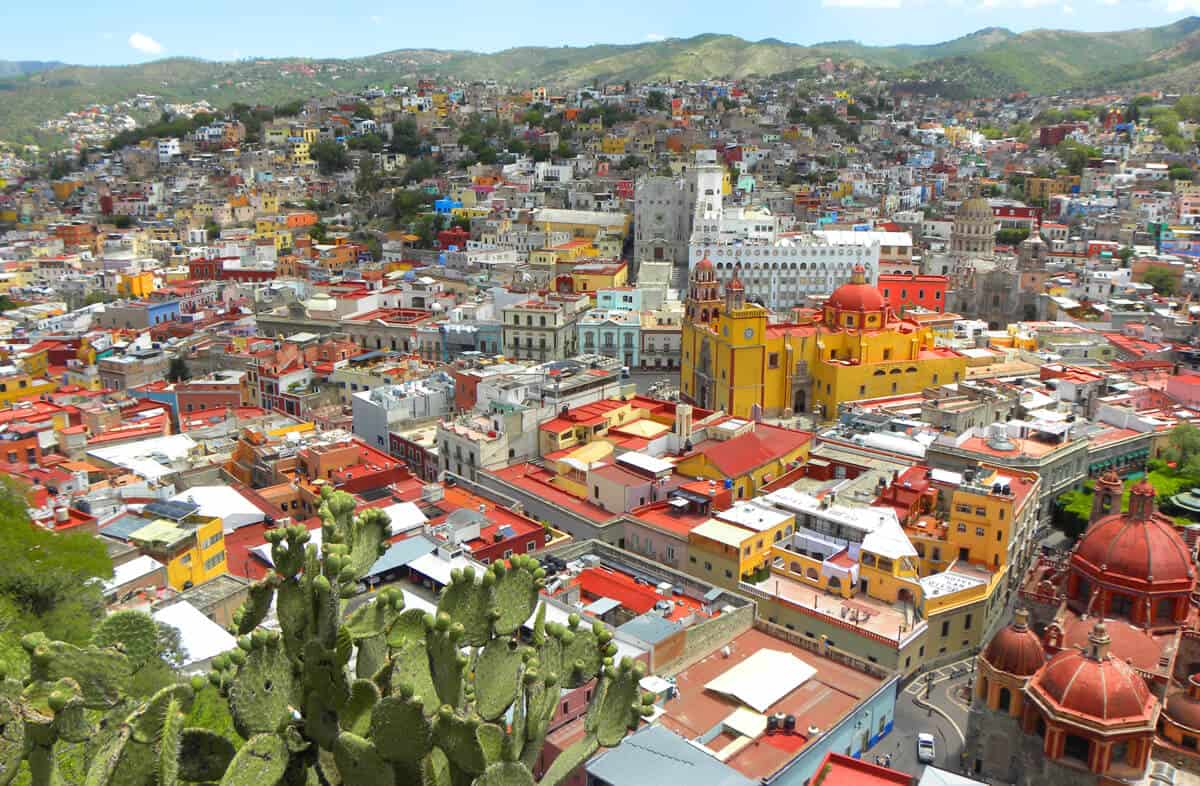 .

7. Bamberg, Germany
The typical German town of Bamberg, home to what we think is the best beer in the world. We spent 2 weeks here in February and will be back someday. More on Bamberg.
6. Mt. Biokovo, Croatia
My favorite photo from one of the most spectacular spots visited in 2016. This view is from Vošac lookout on Mt. Biokovo and the views are looking down the Central Dalmatian coast towards Split.
More on Mt. Biokovo, one of the highest peaks in Croatia (you can drive to St. Jure viewpoint which is the highest driveable peak in the country).
.
5. Table Mountain, Cape Town
Views from the cable car station on table Mountain, Cape Town.
There's a reason I put this photo right after the one featured in #6: How similar is the geography in South Africa to that in Croatia? I love the combination of sea and mountains in both. They are the two most scenic places we visited in 2016.
---
---
.
4. Sevilla, Spain
I love this photo because it just represents everything we experienced there: warm nights walking the old city, drinking wine, eating tapas and seeing lots of beautiful churches. Sevilla was a perfect base for slow travellers like us and we loved our time there. Our thoughts on Sevilla.
.

3. Split, Croatia
Technically it's not the greatest photo (the bright lights on the Riva screwed with the lighting). But we love summer thunderstorms and we love Split. So it's made it in our top 3.
.
2. Skopje, Macedonia
It was our first day in Skopje, Macedonia when Lissette spotted this couple having their wedding photos taken on the new "Bridge of Civilizations" (one of many weird new structures in Skopje). Lissette loves couples getting married and went closer to take a look. She asked if she could take their photo. They said yes. This is the result. What a beautiful, exotic-looking couple. And look at that dress. Just another reason why we always come back to the Balkans.
.

1. Prague, Czech Republic


.
OUR FAVORITE PHOTO OF THE YEAR.
I've always wanted to see Prague under a layer of snow. We were here for the month of March and I had almost given up – until one night it happened. It snowed. I ran to the window of our apartment and snapped this photo. That's Prague castle in the distance.
March is actually a great time to visit Prague. The weather was variable, from a couple of wintery days to some spring-like days, we had some great sunsets, and we didn't see the tourist hordes that we've encountered in other seasons. Prague is the kind of city that's great to wander around and then stop for a beer or coffee. This was our 3rd time here and we seem to like it more every time.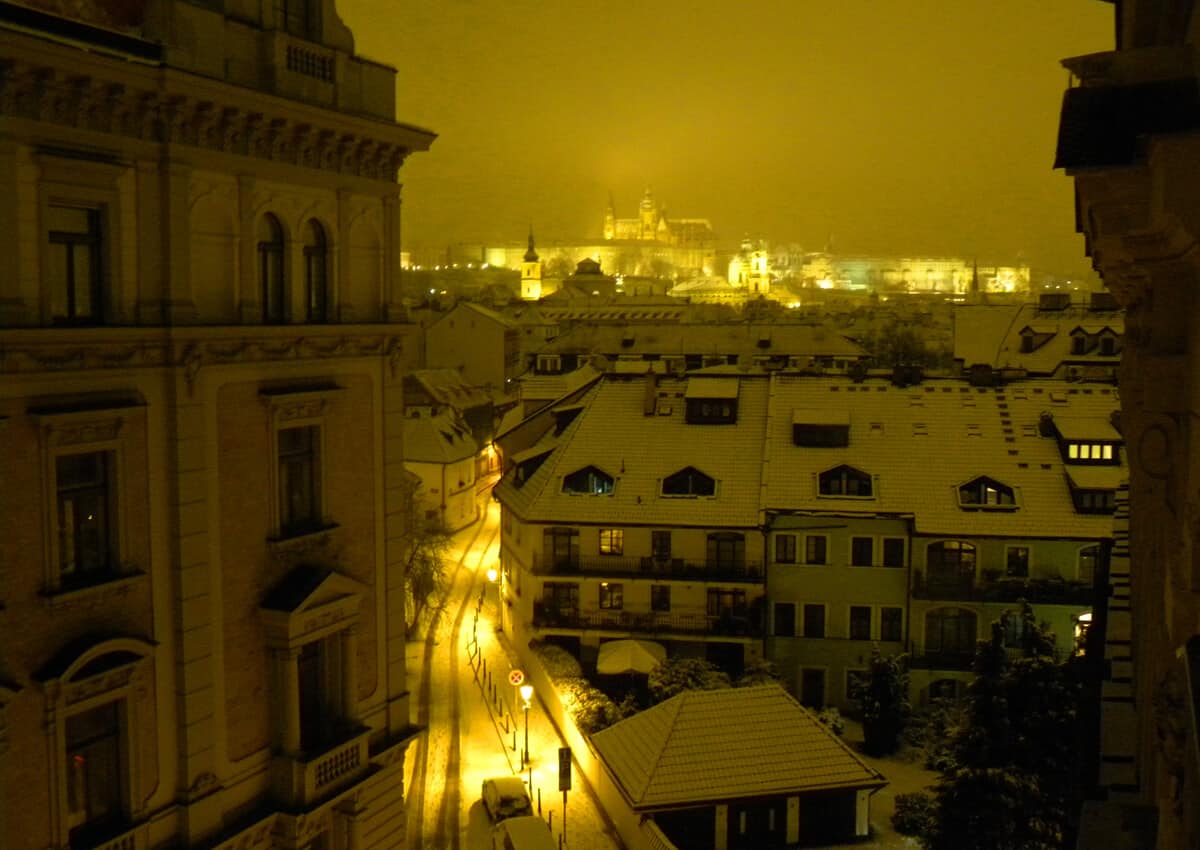 .
You can probably tell from the above that Split, Cape Town and Prague are some of the most photogenic places we visited in 2016.
Where's the most photogenic place you've been?
Ps. If you find our blog helpful, please consider using our links to book your flights, hotels, tours, and car rentals. Have a look at our Travel Resources page.