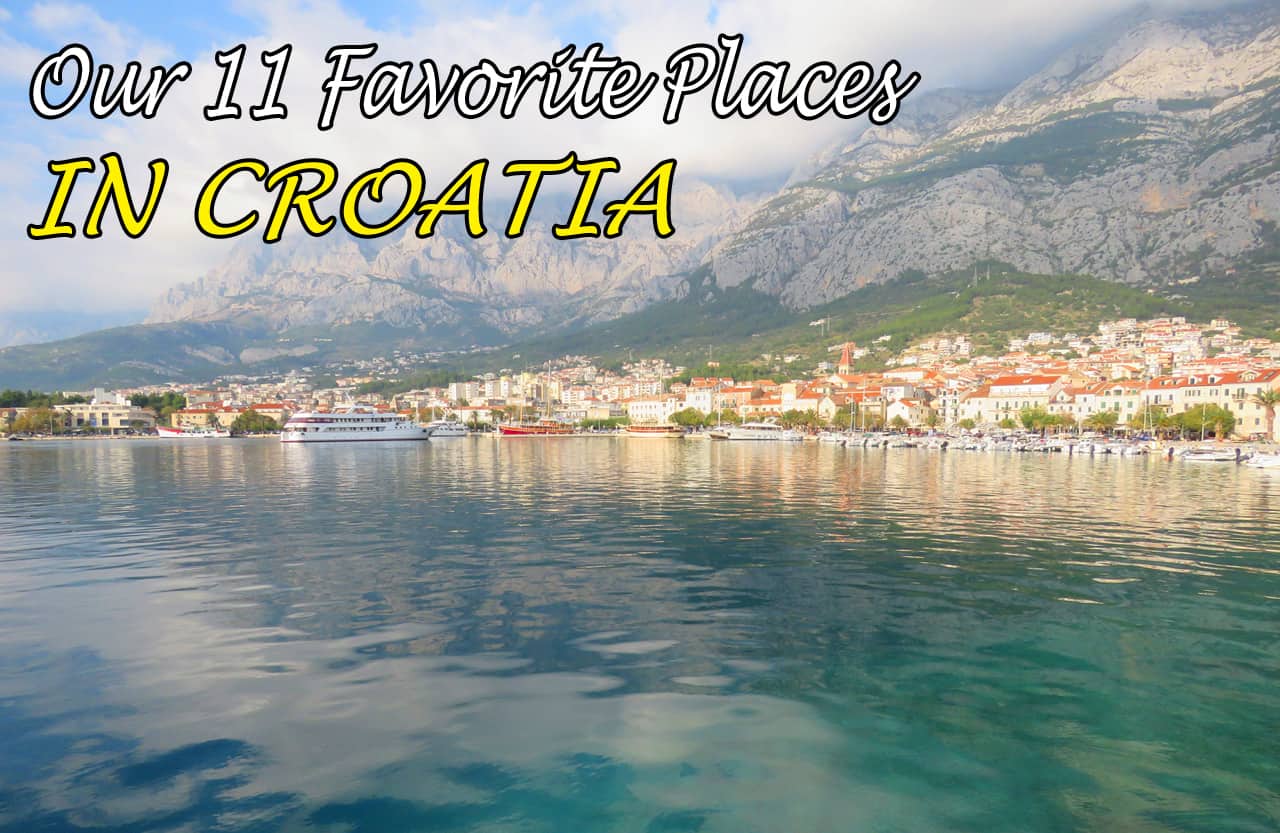 The 11 Best Places in Croatia (that you should visit)
We get a lot of private emails asking us "we are coming to Croatia in ____. What places do you recommend we visit during our stay?"
We haven't been everywhere in Croatia. For one, there are over 1,000 islands in Croatia. It would take us years to visit them all. BUT we've visited most of the major tourist spots in Croatia as well as many of the lesser known ones. So we have a bunch of favorite places that we would recommend to anyone.
.


Let's start with the most obvious.
.
'
1.
Dubrovnik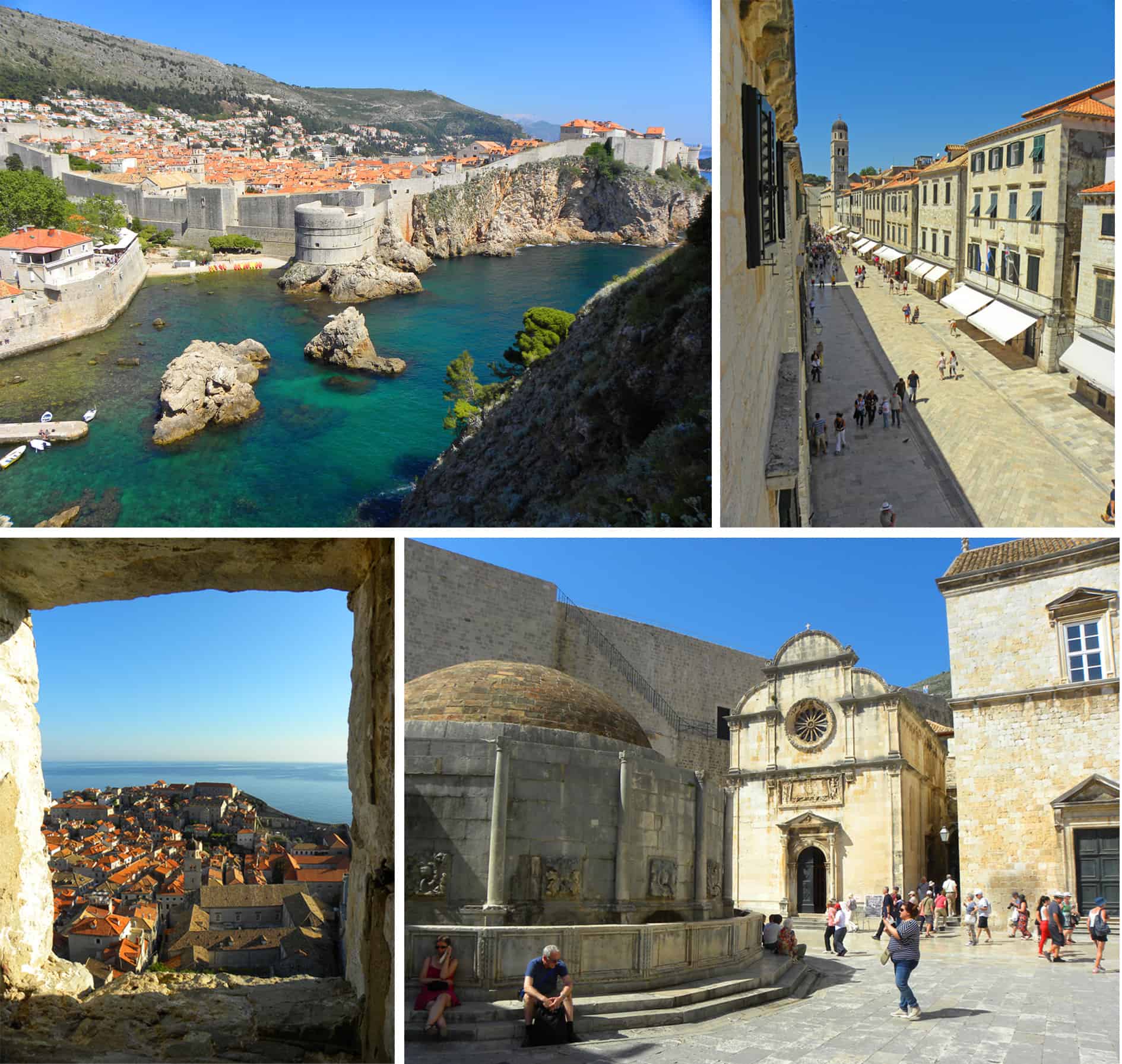 It's the most famous tourist destination in Croatia. You can't come to this country without visiting Dubrovnik. It has an incredible old town of churches, palaces and towers, all surrounded by thick defensive walls. The highlight is walking those walls – they cover a circuit of 2 km with different views of town and sea from every angle. Visit the St. Lawrence fortress and go up Srd Hill on the cable car. Dubrovnik is full of spectacular views. I will say this though – Dubrovnik is not our favorite place in Croatia. We find it's too touristy, too expensive and find that it has lost its Croatian soul. But it is definitely worth at least a weekend visit.
Highlights and Lowlights of Dubrovnik
---
---
'
2.Plitvice National Park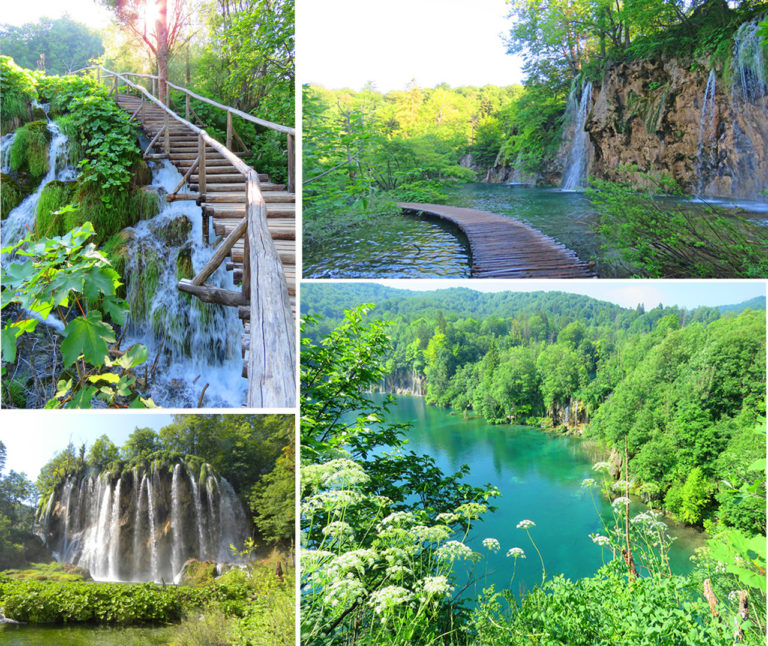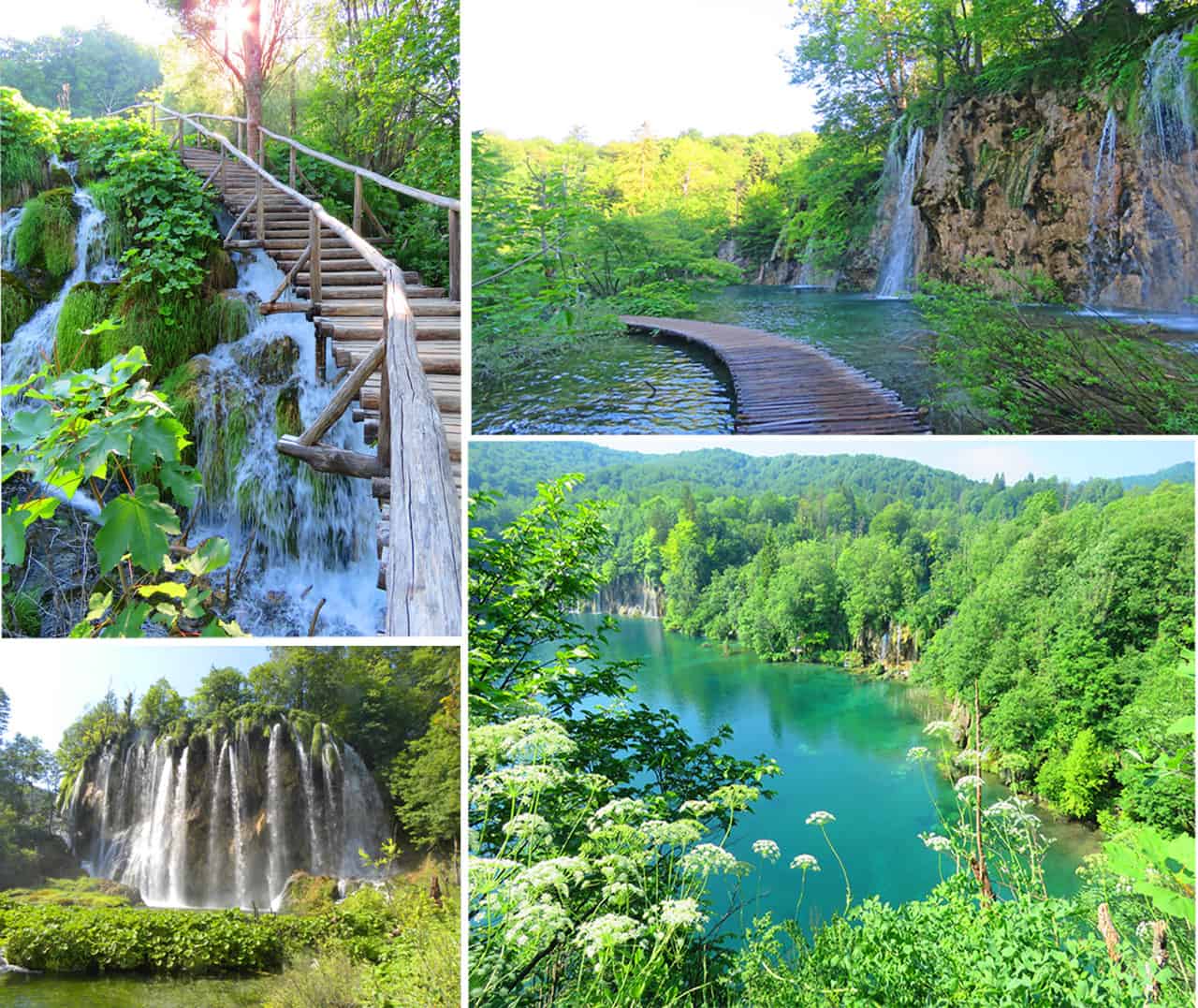 This is the most touristed inland attraction in Croatia, famous for its emerald-blue lakes and waterfalls. There are 16 lakes, all connected by trails and wooden bridges crossing fast running streams. It really is a lush, beautiful "waterworld". Our tip: 1) don't rush it. Take 2 days and explore the park at your leisure, enjoying a taste of Croatia away from the coast 2) avoid summer – Plitvice gets PACKED with tourists.
Plitvice Lakes: Impressions, Tips, and Regrets
'

3. Split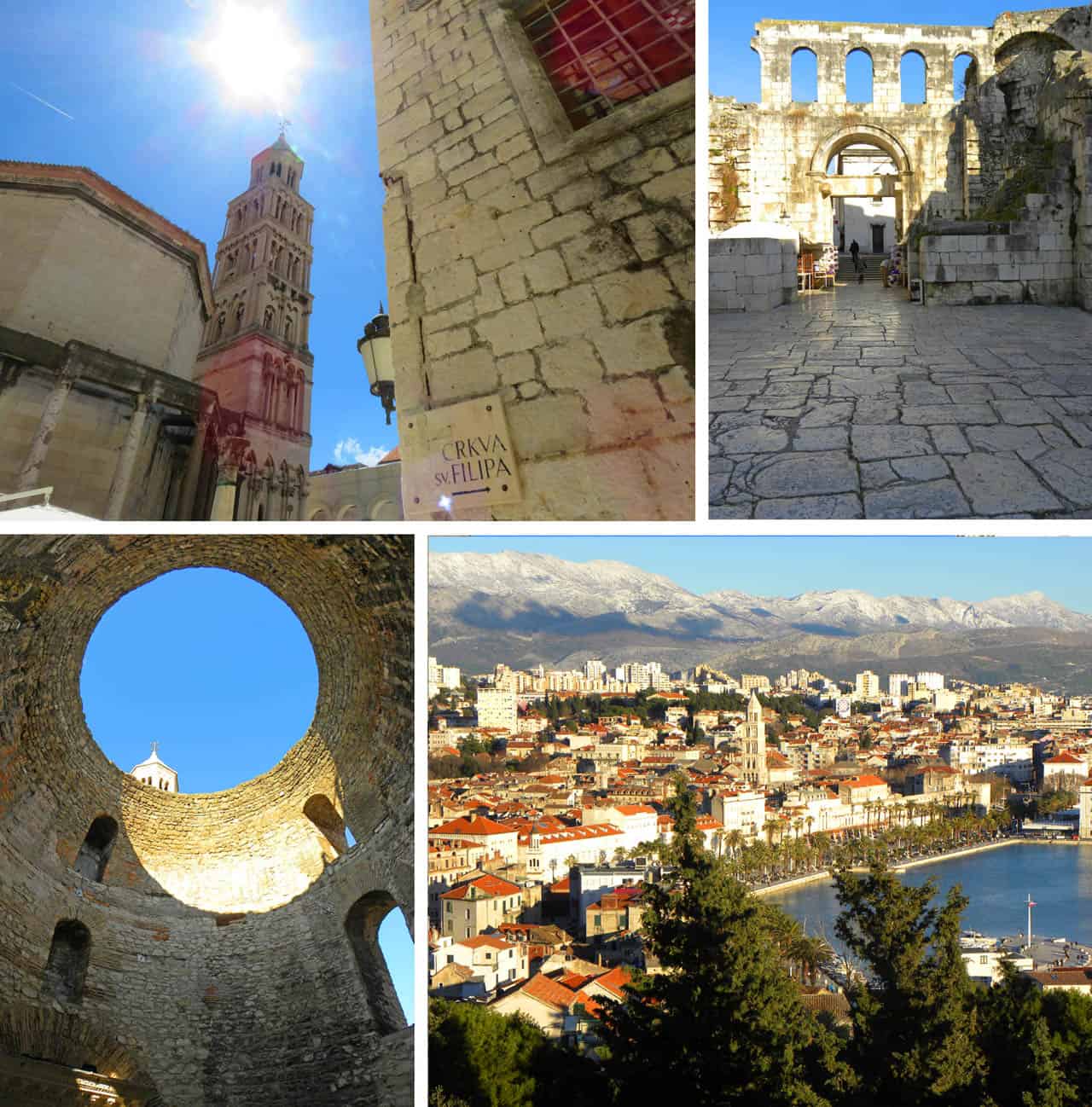 Split is Croatia's 2nd largest city (after Zagreb) but in reality feels like a town (it has a population of about 250,000). Split is famous for Diocletian's Palace, built by the Roman Emperor Diocletian. The palace comprises of most of the old town – it is essentially a walled city accessed through four huge gates. Within the walls you'll find churches, palaces and squares including the Peristyle: the main square which features an arcaded courtyard and looks out over St. Domnius Cathedral and its magnificent bell tower (which you can climb). Besides the palace, Split has the Riva (the promenade along the harbour) and Marjan Hill (a large city park with glorious views over the city). Like Dubrovnik and Plitvice National Park, Split is a UNESCO Heritage site.
It's no secret that Split is our favorite place in Croatia. Firstly, it hasn't sold its soul the way Dubrovnik has – you'll still see locals living/shopping/eating in the city center. It is still a real city. Secondly: it's the best base from which to visit both the islands and the Dalmatian interior. There's lots to see in the area.
---
---
'
4. Rovinj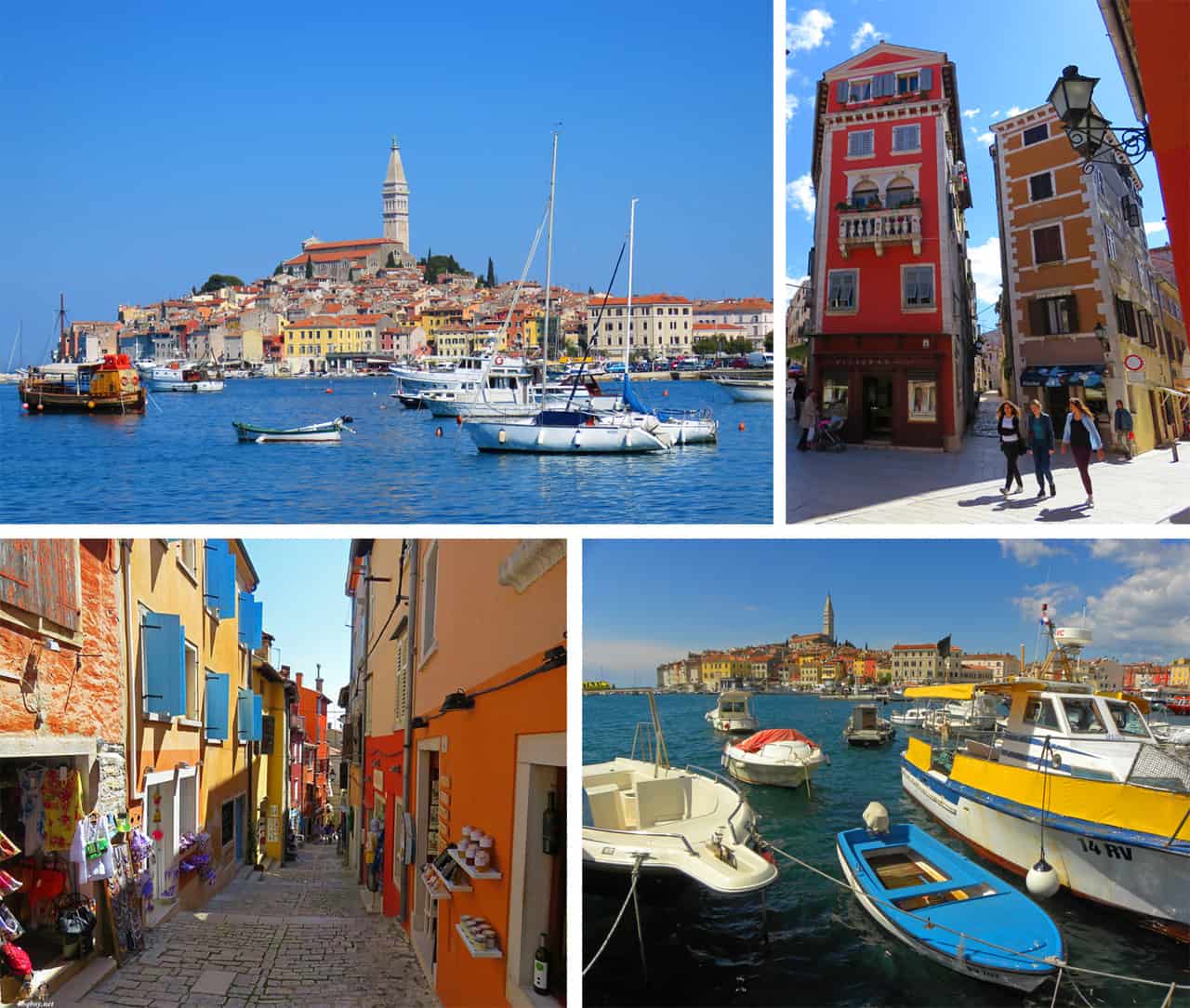 Located in Istria (northeastern Croatia), Rovinj is the jewel of this region. It is small town that sticks out into the sea (it used to be an island). In the middle of town, on a hill, is the Church of St. Euphemia. Its bell tower is prominent and can be seen miles away. Rovinj is just about the prettiest place you'll see anywhere, with pastel-coloured buildings, windy alleys, and fishing boats in the harbour. It's also known for its glorious sunsets.
If you are on a rushed schedule, 1 day will be enough to explore Rovinj. But if you have time, Rovinj is the kind of place you might want to stay awhile. Besides the old town, there are beaches as well as great cycling opportunities very close to town. Rovinj also makes a great base for exploring nearby coastal towns such as Pula, Porec, and Novigrad, as well as the hilltowns of Istria.
'
5. Hvar Town (Island of Hvar)
If you are limited on time and want to visit at least one Croatian island it should probably be Hvar. It is the most popular of the Croatian islands and can get quite busy in the summer. This popularity is due to 1) its reputation as a party island, 2) its beauty, 3) its historical attractions (Venetian-era buildings, plus a wonderful fortress overlooking the town). It really is a beautiful place. Hvar Town can easily be visited on a day trip from Split.
(if you're looking for a different kind of island experience, I've got a few others further down the list).
The Top 5 above usually make everybody's "Top 5 Croatia" list. The next 6 Places are less obvious and not everyone will agree with our selection – but we love each for different reasons and think they complete and complement the first five places on the list.
.
'

6. Makarska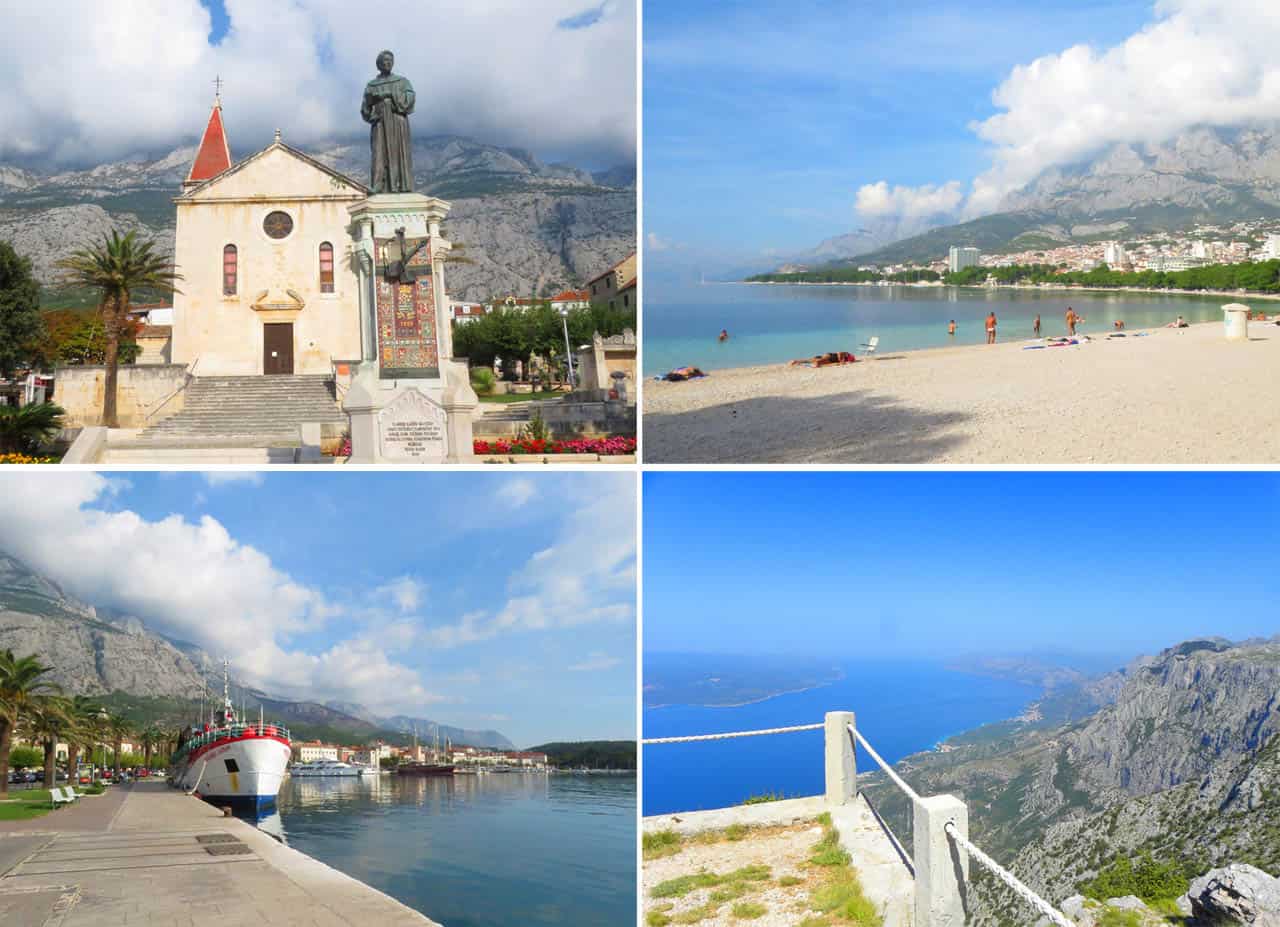 Makarska, in our opinion, has the most spectacular coastal geography in Croatia. It is a small town known mostly for its beaches (some of the best in Croatia) and for its location at the foot of Mt.Biokovo, Croatia's 2nd highest mountain. The town itself is pretty but, apart from the main square, doesn't feature any significant attractions. Instead, Makarska is the place to enjoy nature: lying on the beach, enjoying the views, hiking and biking along the trails around town. If you're feeling adventurous you can hike or drive up Mt. Biokovo – It's a National Park with full of INCREDIBLE viewpoints, educational trails, as well as historical attractions.
Photo Essay showing why you HAVE to visit Makarska
Driving Spectacular Mt. Biokovo
---
---
'
7. Šibenik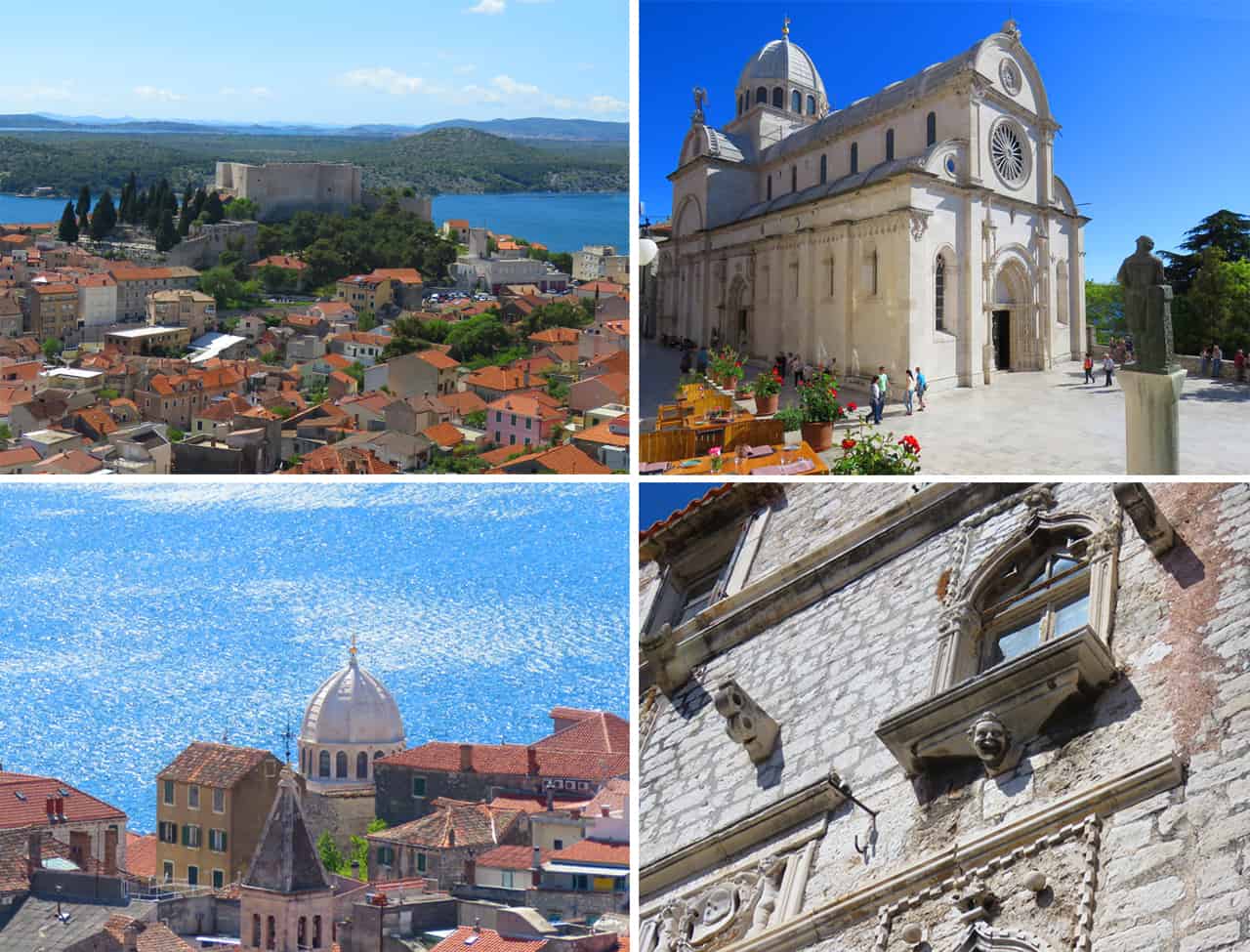 Šibenik is often overlooked by visitors to Croatia (Zadar, an hour up the coast, gets more tourists). So why is Šibenik special? Firstly, it has the Cathedral of St. James, a UNESCO World Heritage site. I personally think it is the most impressive church exterior in Croatia. Across the square (and it's a really gorgeous square) is the impressive Town Hall built in typical Venetian-loggia style. Steps away is the Church of Santa Barbara. The old town is built on a hill and there are lots of steps and narrow winding alleys. They'll lead you to St Michael's Fortress at the top of the hill from where you'll have great views of town and the sea and islands beyond. A 20 minute walk inland brings you to 2 other fortresses, both with equally stunning views. A 4th fortress (St Nicholas' Fortress) is a few kilometers out of town, guarding the channel that leads to the city. Šibenik is not the place for beaches – but if you're looking for history and architecture it's very impressive.
'
8. Town of Bol (Island of Brač)
Brač is a beautiful island with a couple of nature spots that have made it famous. Both are near the small and charming town of Bol. The first is Zlatni Rat beach, the most famous beach in Croatia. The beach is an almost-triangular spit of smooth white pebbles that extend out into the sea, the water on either side clear. It's a beautiful beach. The second natural attraction is Vidova Gora, the highest peak in the Adriatic Islands at 780 m. You can hike up in 2 hours and enjoy views looking straight down at Zlatni Rat.
Bol itself is a little town and many visitors come for the relaxed lifestyle. There's a 2km path leading from Bol to Zlatni Rat lined with nice hotels, resorts and other beaches. Tip: there's a fantastic winery in the center of Bol called Stina – go there for some wine tasting.
Bol has something for everyone, whether it is to explore for a few days or to have a prolonged beach holiday. It is not as crazy as Hvar Town and has more attractions than Vis Town.
Why Bol should be on your list of Places to Visit in Croatia
Hiking Vidova Gora from Bol.
---
---
'
9. Vis Town, Vis Island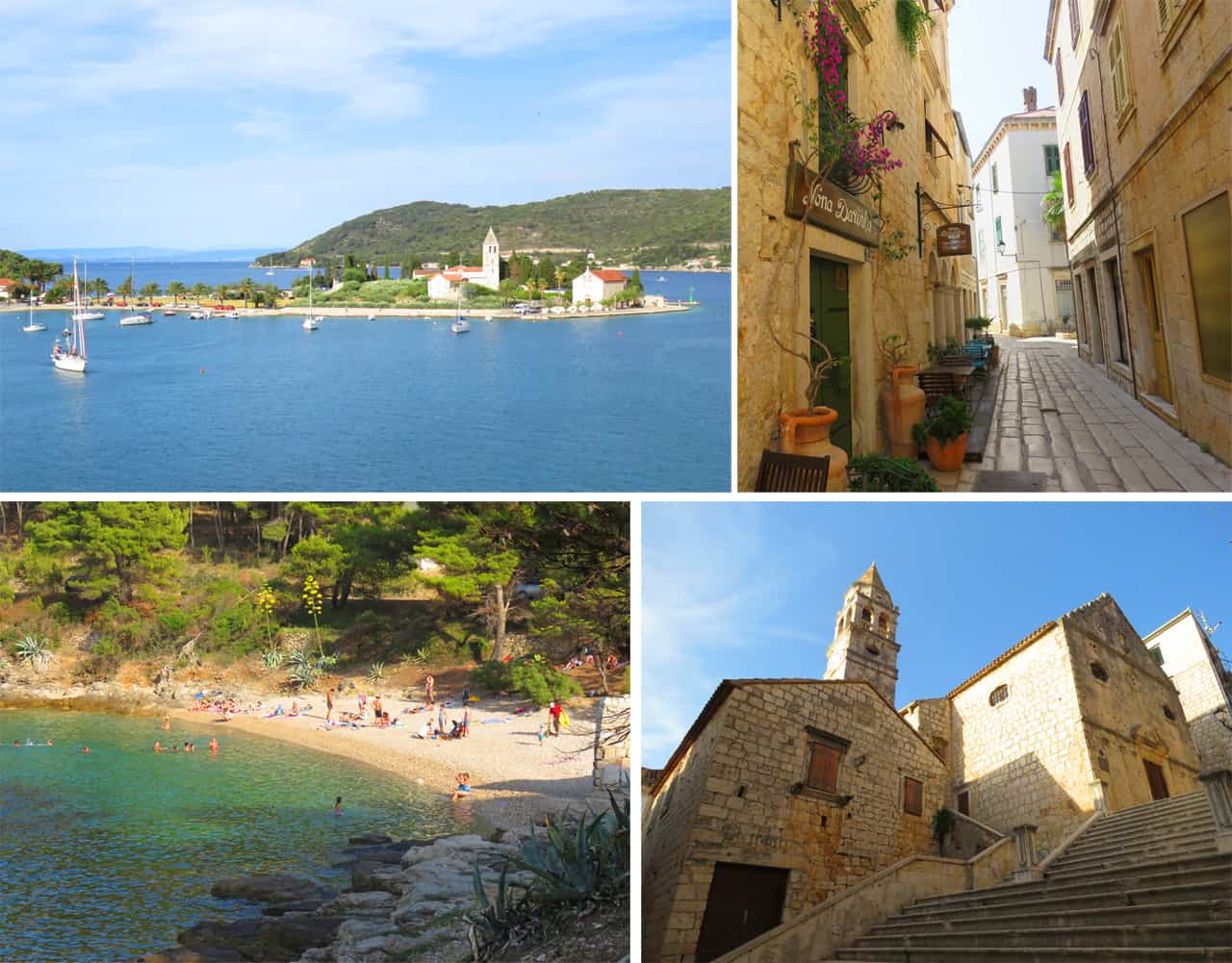 If you ask a Croatian which is their favorite island many will say Vis. Compared to both Hvar and Brac, Vis is really laid back. When Spanky needed a break last summer she came here for 10 days and fell into the island lifestyle. She loved it. Vis town is pretty and extends along a bay overshadowed by large hills. Further along you'll find little bays with beautiful beaches and pine forest. If you want a relaxing Croatian island this is the best destination on this list. It's still Spanky's favorite island.
'

10. Omiš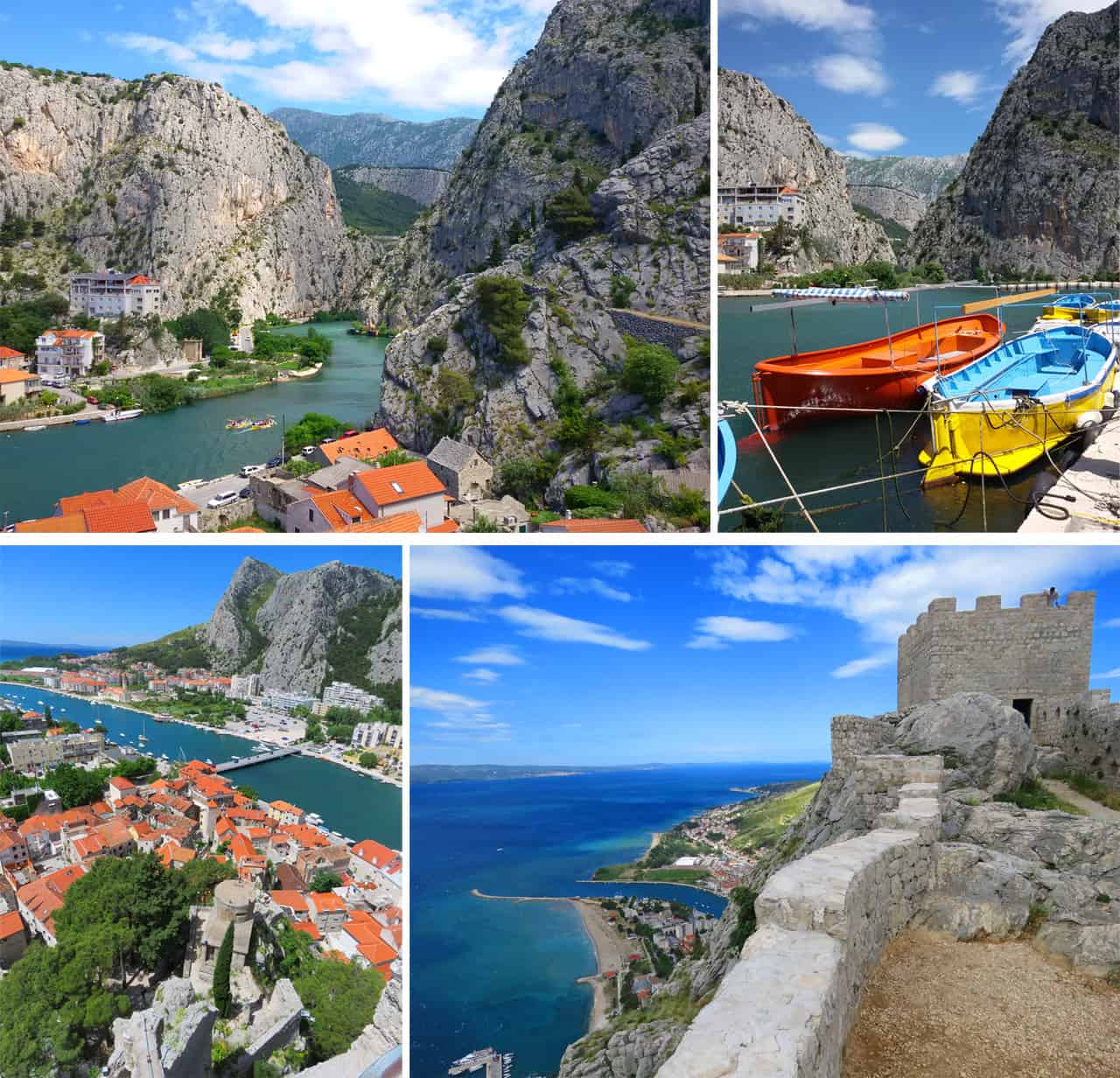 About halfway between Split and Makarska is the small town of Omiš. You can't miss it – you'll pass over a river (the Cetina river) and see huge cliffs rising on either side of the gorge. It's very dramatic scenery.
Omiš is known as the Adventure Capital of Croatia. You can do ziplining here (Croatia's longest ziplining), some canyoning, climbing, white water rafting as well as hiking. At the top of one of the cliffs, looking straight down, is the Starigrad Fortress which you can hike up in 45 minutes.
The town itself is small and picturesque, with a 2nd fort (the Mirabella Fortress) that is worth a visit. There is also a very nice beach in town.
I always love Omiš. It's only 30 minutes by bus from Split so I've been here quite a few times for hiking and ziplining.
A Visit to Omiš, Croatia's Adventure Capital
'
11. Trogir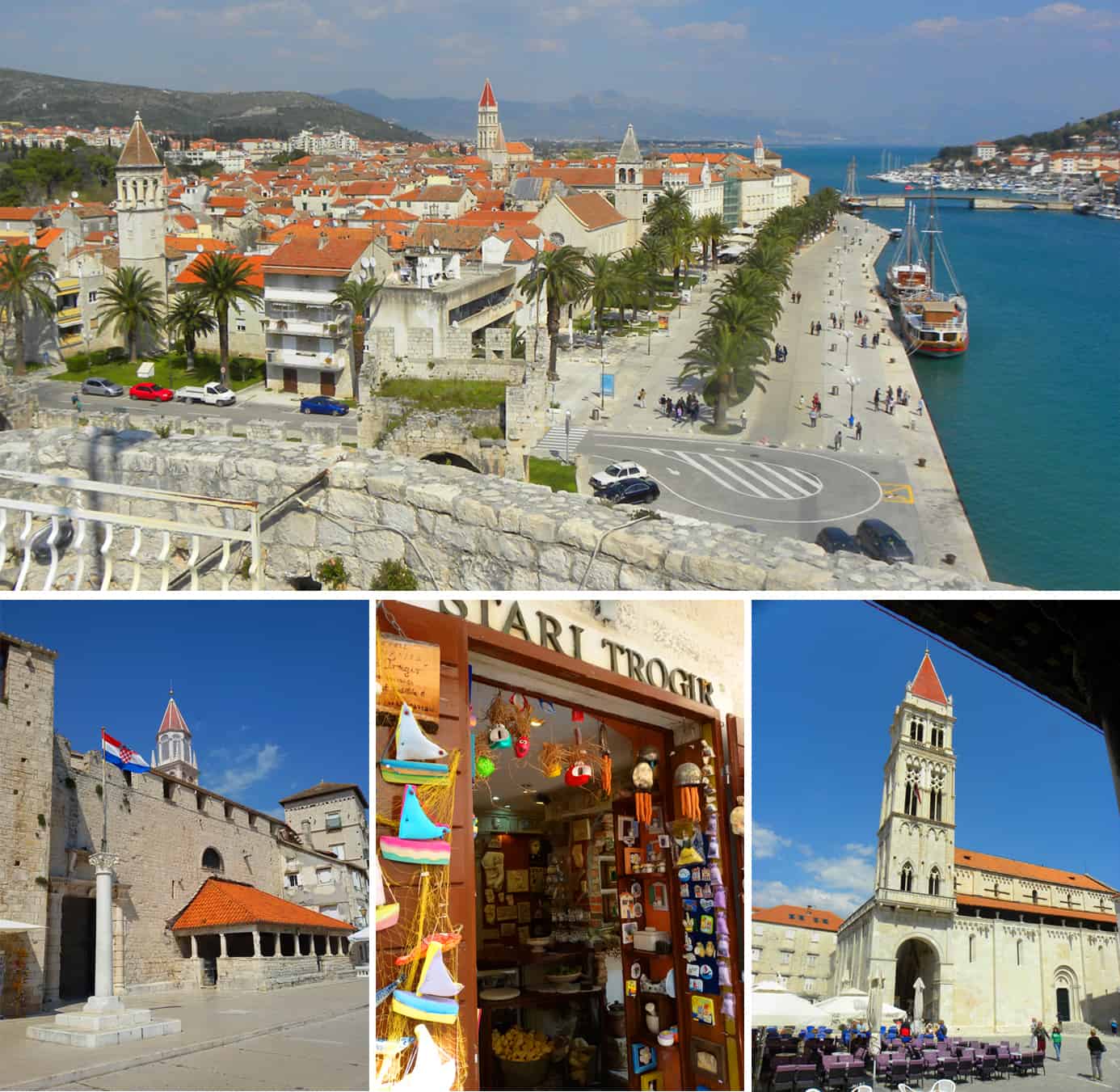 Trogir is a small town with a huge concentration of attractions for a place of its size. It has a famous Cathedral, a belltower (that you can climb), a fortress, a seaside promenade, and a whole bunch of churches within a walled old town. Trogir is a UNESCO World Heritage Site and is incredible well preserved. Walk around in the evening or the off season and you'll feel that you've stepped back to Venetian times.
Trogir is about 40 minutes up the coast from Split and is worth a day trip.
.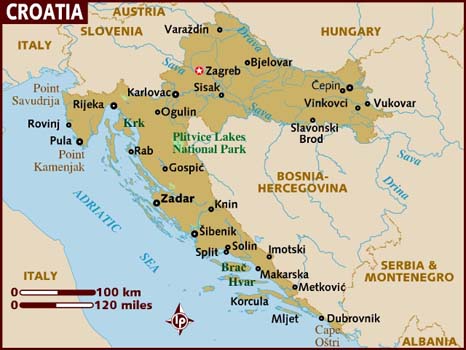 ---
---
Notable Omissions from my List
I've done the list above keeping in mind that most people don't have time to visit many places during a vacation. Even 11 is stretching it. But I've tried to include a bit of everything: history, nature, adventure, beach, party places and quieter places. There's something for everyone. Below are a few other places that tourists head to…
Korcula – Korcula Town is beautiful, both because of the historical old town (it's nicknamed "Little Dubrovnik") and the combination of sea and mountains. More here.
Krka – we haven't been to Krka National Park (which has some of the same lakes and waterfalls that Plitvice has). If you can't make it to Plitvice you should definitely try to visit Krka.
Mljet – we haven't been to Mljet island either but have heard great things.
Pula – Pula is worth visiting for its famous amphitheatre. Apart from that, it's really not a very attractive town. Stay in Rovinj and visit Pula on a day trip. More here.
Ston – Famous for its town walls, the longest defensive structure in Europe. Sometimes referred to as "The European Walls of China". It's been on our list of places to see but we haven't made it yet.
Zadar – Gets a lot of attention from visitors. It has some nice historical attractions but when it comes down to it I just think Šibenik is more interesting. And since I can't include every single place….(our post on Zadar).
Zagreb – How can I leave Croatia's capital off the list? Zagreb is a Central European city by character, its not the sea and mountains most people associate with Croatia. If you are passing through Zagreb you should stop for a day. It's a nice city. But it's not one of our favorite Croatian places. (our post on Zagreb).
Many more destinations as well as our experience getting residency in Croatia on our Croatia page.
What are your favorite Places in Croatia?
---
---

Ps. If you find our blog helpful, please consider using our links to book your flights, hotels, tours, and car rentals. Have a look at our Travel Resources page.