We kind of had a premonition that things would be a bit poopie this year when someone broke our toilet seat at last year's New Years Eve Party. A few weeks later we lost our Split apartment, which changed the course of this year.
It's been a year of ups and downs, of bedbugs and bats and women waving their fists at me. But it's also been a year of new destinations and new favorites.
* For those unfamiliar with our blog: we are slow travellers, travelling and working at the same time. We like to stay somewhere 1-2 months, trying to fit in and getting to know a place. As I write this, in the last week of 2018, we've been at it 4 ½ years.
I always say that I do these year end posts as much for ouselves as I do for readers. It allows me to remember and reflect on the past year: the places we visited, the highs and lows, and the unexpected events. And I always like looking at the previous year's post because oftentimes our year didn't turn out the way we had planned. Here's last year post.
A quick summary of 2018
January and February – Split (Croatia)
Our plan had been to keep our Split apartment as a base, renting it when we weren't there and living there the rest of the year. When the owner died in January, the inheritor told us he wanted to sell at the end of our lease (ie. end of February). We had already decided (a month before) that permanent residency in Croatia was something that we weren't ready for. Now, losing the apartment, we decided that Croatia just wasn't meant to be. We put all our stuff in storage. Our future base will be somewhere else. Still, it was sad because we loved Split.
March, April, May – Thailand, Malaysia, Singapore
After all the administrative things we had done in Croatia, it was nice to be back to travelling and living out of a suitcase. We loved our first month in Chiang Mai (Thailand) and one of the reasons was the Muay Thai training we did. In our 2nd month, we travelled from Chiang Mai all the way to Singapore, most of it by train. Lots of stops along the way: Sukhothai, Ayutthaya, Bangkok, Pattaya, Prachuap Khiri Khan, Hat Yai (the above all in Thailand) and then Georgetown (Penang), Ipoh, and Malacca (in Malaysia). We found the Malaysians very friendly and would like to revisit one day.
We arrived in Singapore in early May, spent a few days, then flew back to Chiang Mai to finish off our time in SEA.
---
---
June – Brno (with a stop in Doha)
We had a memorable stop in Doha (Qatar) on our way back to Europe. Many people don't know this, but if you are flying Qatar Airways and have more than 12 hours in transit you can get a free hotel stay. So we were in Doha for 13 hours and enjoyed one of the nicest hotels we've ever stayed in – for free. We also did a bit of exploring and what we saw looked interesting. But it was 44C , very humid, and it was Ramadan. Everything was closed. We were happy to have that room and spent most of our time in it.
I had long been curious about the Moravian part of the Czech Republic. Brno is a nice city and was our base for a month. That's a long time in Brno. But it was nice being back in Europe and we watched the World Cup in bars (France beat Croatia in the final) and did some sightseeing in Moravia. And drank some great Moravian wines. We visited Mikulov, Lednice, and Olomouc, all nice towns that most people are not familiar with.
July – Krakow
Our 1st visit to Poland. We didn't enjoy Krakow at all and honestly don't understand the fuss about it. I wrote about our stay and of course it was one of the most commented upon posts in 2018. I've learned as a blogger that you can write 99 positive posts and won't have anyone reading them. Throw in a negative post and everyone is reading it.
Anyway, we won't be going back to Poland.
August and September – Lviv and Kiev (Ukraine)
The highlights of our year of travel.
We absolutely loved Lviv. Pretty city, nice people. Just tons of charm. We didn't have a very nice apartment and usually that affects our experience. Not in Lviv. We just really love this city. We wrote a post here questioning if it is the most underrated city in Europe. It was a popular post and coming off the heels of the Krakow post it felt good to be loved. I also wrote a very detailed guide on Lviv here (bit too much detail maybe, it didn't do so well. But if you're going it'll help you out).
We didn't love Kiev as much. It's a big city and has a big city atmosphere. But we were absolutely blown away by some of the highlights. The Orthodox churches and Soviet-era monuments are just incredible. It's also a very green city. A post on its highlights here.
We really enjoyed our time in Ukraine and want to come back.
---
---
October – Prague
Our usual medical/dental checkups in Prague. We come back every year and it's the closest thing to home. Happily all went well. No health issues.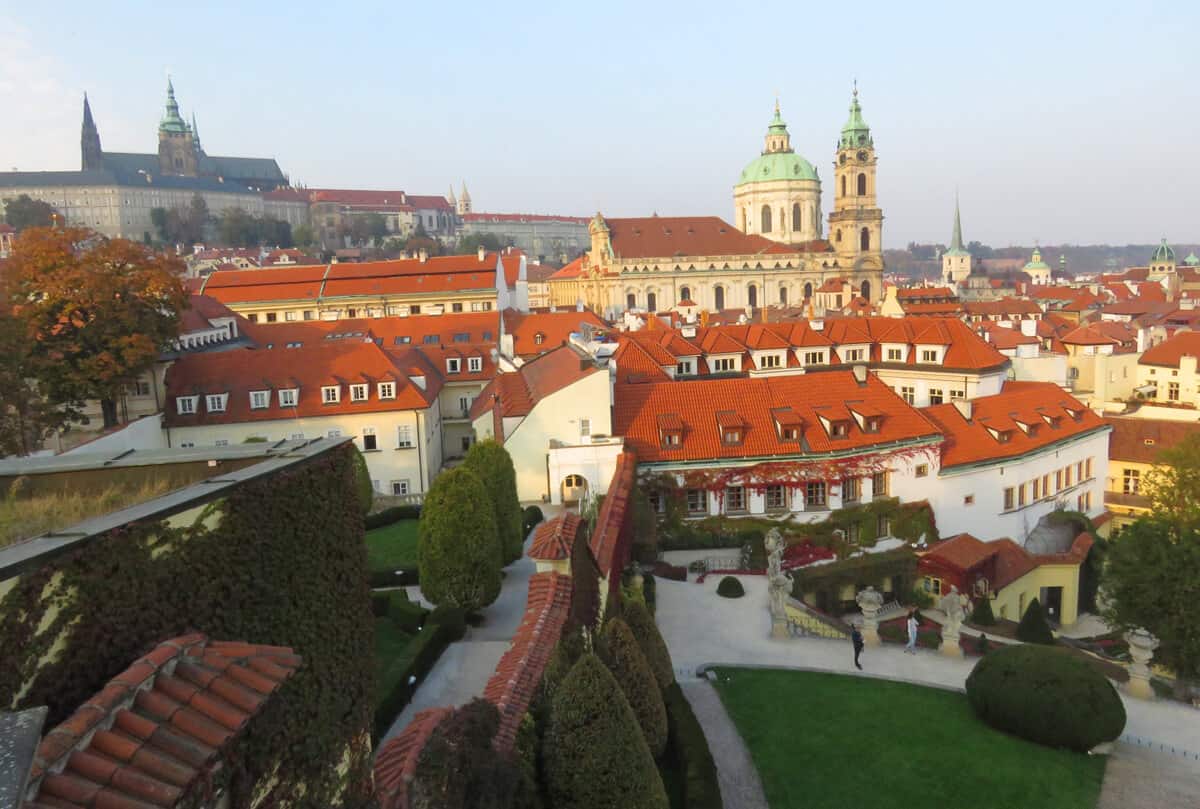 November and December – Lissette in Croatia, me in Budapest/Mexico/Montreal/Morocco
Lissette and I try to build in some solo time every year. This year we were apart 2 months which is the longest we've ever been separated.
Lissette went to the place she loves most. Split. It's still in her heart and she has a hard time letting go.
I was all over the place. The timing was all based on my son's graduation from University. His commencement ceremony was in mid-November. I sandwiched it between a trip to see my Mom in Mexico in early November and a long 5-week solo trip to Morocco (that started November 26).
I always love visiting my mom in Mexico. She lives in San Miguel de Allende and that's where we spent most of our time. We also spent a bit of time in Mexico City and Guanajuato (both places I've previously visited).
I was in Montreal mid-November and it was the coldest November in recorded history. One day it was -25 C with the wind shield. For November that's really cold. But it was all worth it seeing my son get up on the podium and receive his diploma (Bachelor of Commerce with a Major in Finance). Very proud.
I flew back to Europe and spent a day in Budapest (a city we know well). Then it was those 5 weeks in Morocco. I'm still processing it all and have a few more posts coming up. I saw some spectacular geography and had some incredible experiences. Did I love Morocco? Not really. But I'm happy I went.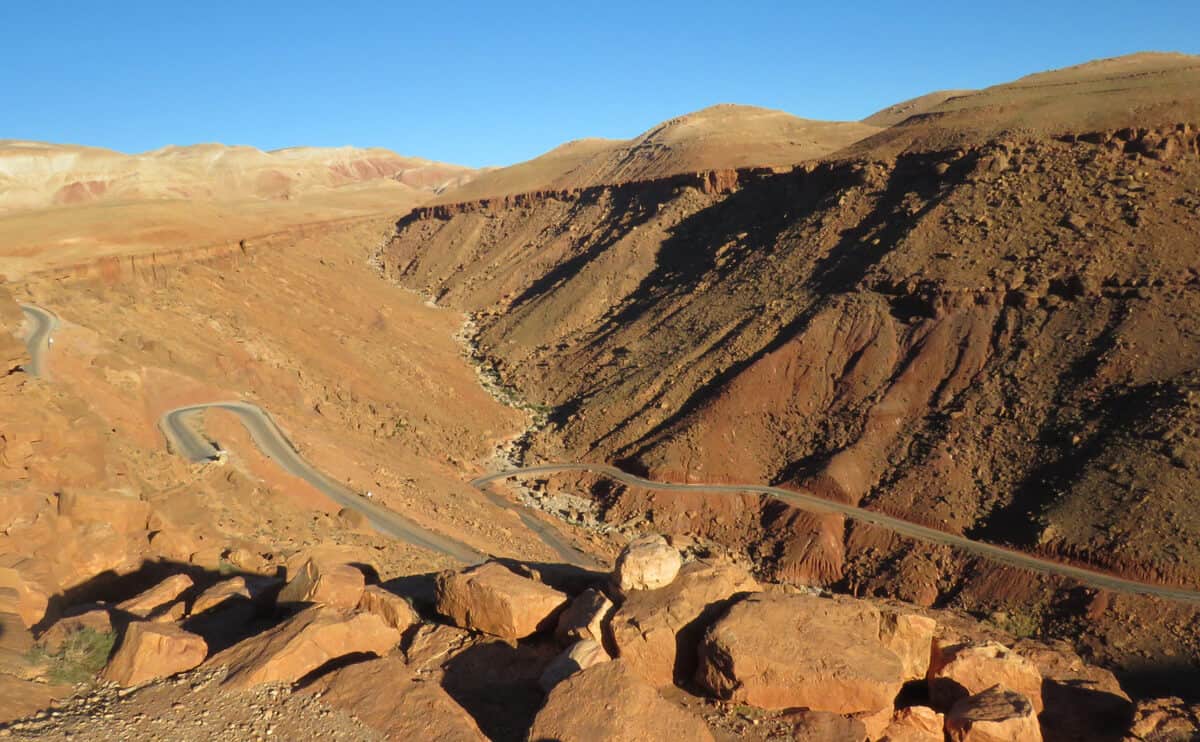 I flew back to Budapest on December 31st, spent New Year's at the Budapest Airport hotel (Ibis Styles – excellent) and on January 1st I took the bus Budapest – Zagreb – Split.
It was REALLY nice seeing Lissette after 2 months apart.
So that was our year.
---
---
Best of / Worse of / The Weird & the Memorable
The Weird & the Memorable
1) The bat. Waking up in the middle of the night to loud, thrashing noises. Turn on the light and there's a big bat in the room flying circles about our heads. It bangs into doors and walls but it keeps going, around and around the room. I open the door to the kitchen, get it in there (and close the bedroom door), but it's a tiny space and he's flying just a foot or two above my head. He ends up on the top of the fridge, and then after flying around some more, above the cabinets. I open an outside door and with the help of a broom I direct him towards the door. He flies out unharmed. That was in our apartment in Lviv.
2) Angry Woman #1. Same apartment. We had an upstairs neighbour who's got mental issues. Whenever we see her she yells at me from across the street. One day I run into her in the hallway and she's waving her fist at me like she's going to punch me. We find out later from the owner that she was brutally raped as a child and developed a psychotic disorder. On top of my other attributes, I guess it's true what Lissette says. I've got a face everyone wants to punch.
3) Angry Woman #2. Frankfurt Airport. Waiting to have by bag examined by overzealous security when an angry German woman comes right up to me and accuses me of "being a liberal" and letting all the immigrants in. I wrote about that in this post.
4) Vomit. Taking the early morning bus from Chefchaouen to Casablanca. A 6 hour ride. Bus leaves at 7 am and half the bus is comprised of Chinese (the Chinese have discovered Chefchaouen because it is PACKED with Chinese tourists). An hour in, I hear the unmistakable sound of someone throwing up, vomit hitting the ground. All it takes is one sideways look to see that it's a guy across the aisle, one row back. That was bucketful of vomit #1. Four more would follow in quick succession. Vomit is running down the aisle towards the driver like a river. Luckily enough we were 2 minutes from a scheduled stop. Everyone evacuates the bus and some poor guy with a bucket and a mop spends half an hour cleaning up vomit (which by this point had pooled around the driver's seat area).
Was I descriptive enough? Since then, every time I hear something splashing I imagine it's a Chinese guy throwing up behind me.
The other day I'm recounting the story to a British guy in Essouira. "What, he must have had food poisoning" the British guy says.
"No, no" says I, "he was eating again an hour later, stuffing his face with chips".
---
---
Our Canadian Moment
I had just written about our love for Lviv. Our post is retweeted by the Canadian Ambassador to the Ukraine. He then writes me and invites us to a "Canadian Party" that night (we were in Kiev so it was perfect). Really nice guy and he introduces us around to people. Nobody really cares through about a bunch of bloggers. We drink some Canadian beer. We left a bit early and found out the next day that we had won the big door prize – a bottle of Crown Royal Northern Harvest rye whiskey ("the best rye whiskey in the world" according to the guy in charge of the lottery). We went back to the Embassy and picked up our bottle. We felt pretty proud sweeping in and winning that door prize from a bunch of unsuspecting fellow Canadians…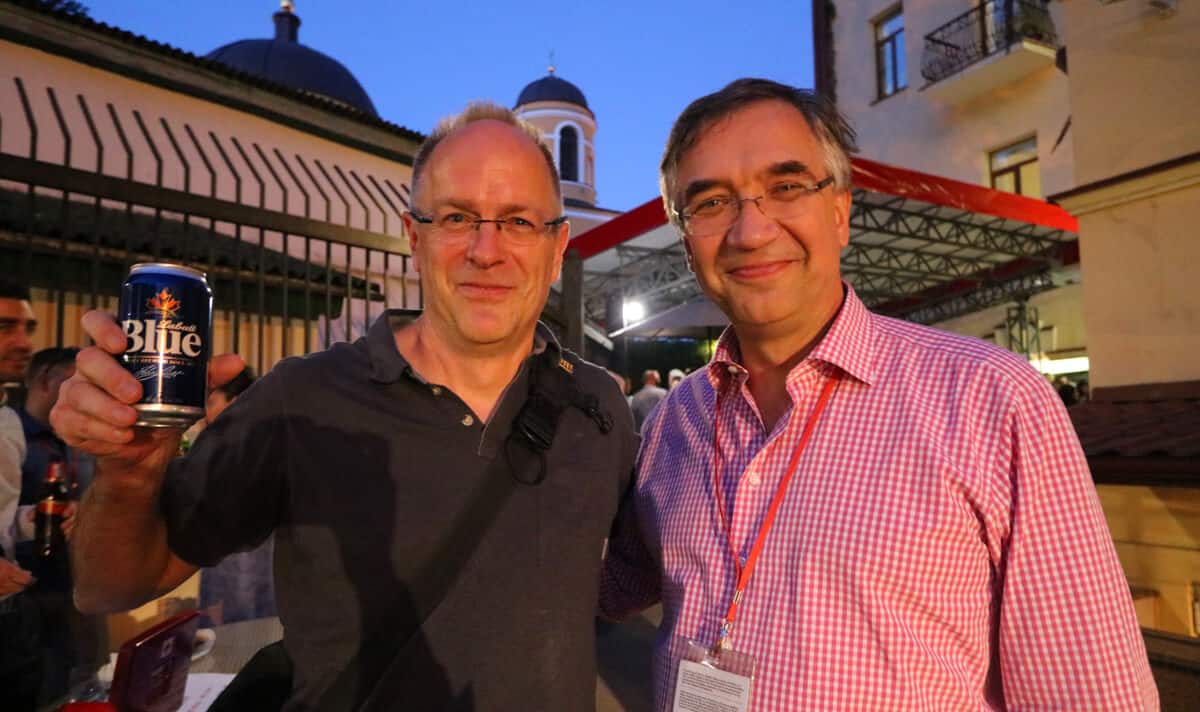 Prettiest Towns visited
Olomouc (Czech Republic) and Chefchaouen. I've got a post coming up soon on Chefchaouen. Also Guanajuato which I've been to previously.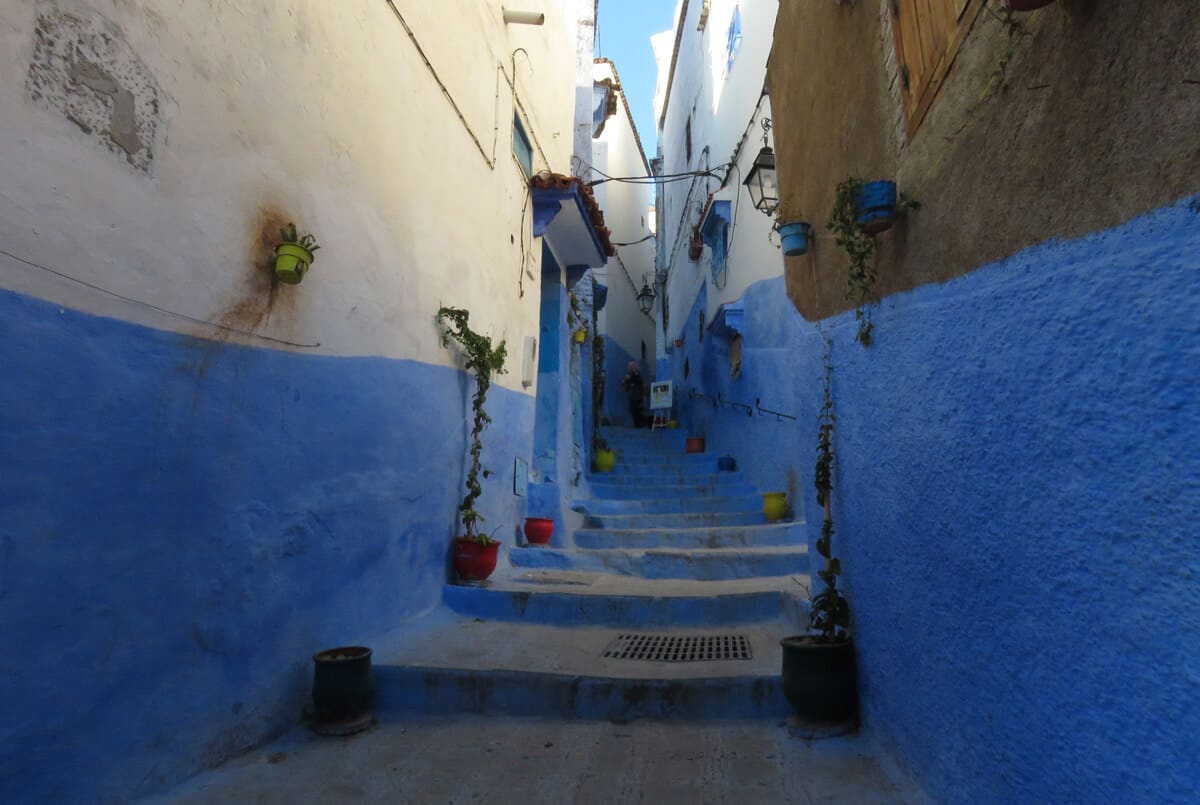 Above: The blue town of Chefchaouen

Best Food
I always tell Lissette that if I had to settle for one type of food to live off the rest of my life it would be Thai. I never get tired of Thai food. I love Indian food but that's a craving I get every 10 days or so, could never eat it all the time. But Thai I could. My other favorite food of the year is Mexican food which I also always love.
The Place we visited in 2018 where we could live
Lviv. We really loved it, it's our kind of town. Having said that, we've never visited in winter…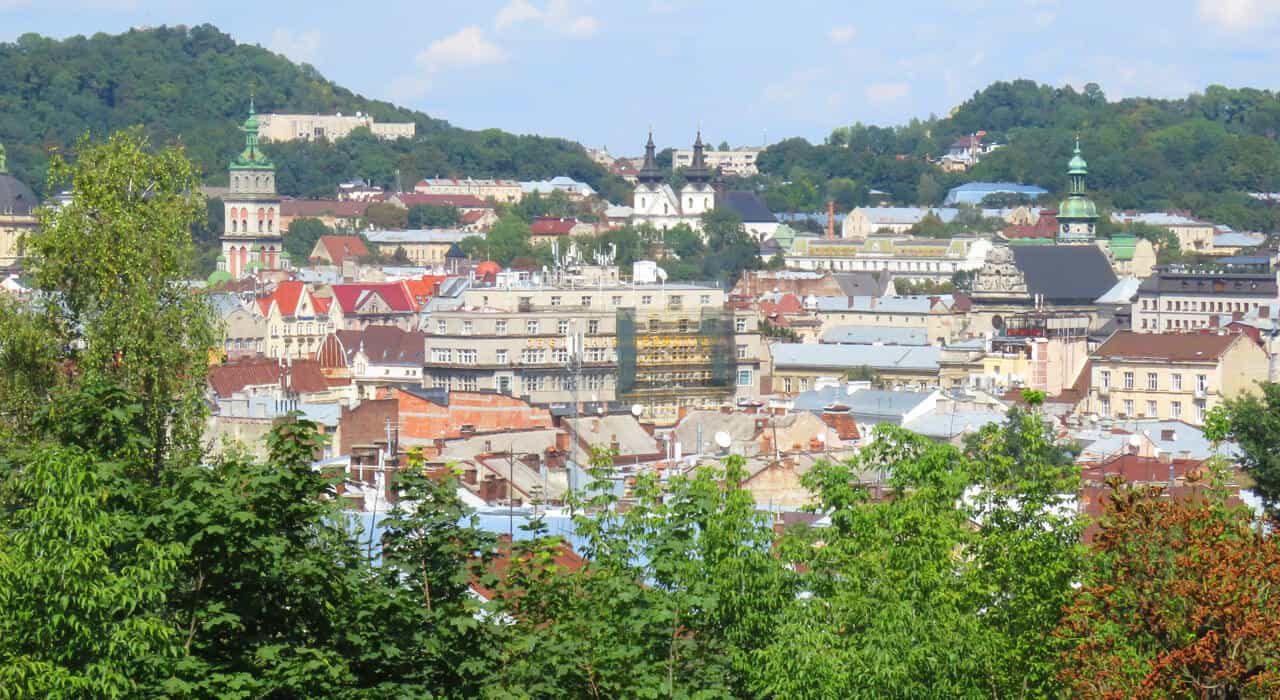 Place with the most Spectacular Sights
Kiev. As you see in this post.
Place with the most Spectacular Geography
Morocco. A lot of natural beauty, so much so that it almost compares to South Africa (which I think is the ultimate as far as spectacular geography goes).
Best Party
Songkran in Pattaya. Great fun.
Bedbugs
I got bitten by bedbugs in Chefchaouen. We've been lucky over the last 4+ years but 2018 was the year I got introduced to bedbugs. Twice this year I've been the victim of bedbugs.
Best Activity we did in 2018
Our month of doing Muay Thai training in Chiang Mai. Got in good shape, met nice people, and had a really fun time. Its something I wish I had done earlier in life.
---
---
Best Coffee
Ukraine. We never expected such a coffee culture in Ukraine. But it's everywhere and it's good and inexpensive.
Biggest disappointment
Krakow. We were looking forward to Poland and Krakow is supposed to be the highlight in Poland.
But…
In Krakow we found 2 places we loved. 1) Taste of India restaurant. Best Indian food either of us have had in our lives. And we've eaten a lot of Indian food. 2) Wodka Café Bar for incredible Vodka. We were having a bad day and Lissette was pissed as shit at me. That was the day she told me that I should start planning my solo trip. And not just for one month. We went there and ended up getting drunk on the vodka tasting menu. Who knew vodka could be so good. And then, totally plastered, we went to the Indian restaurant. We never get drunk but that day was an exception. Sometimes you just have to.
Numbers
A few numbers from 2018. Countries visited: 12 for me (Croatia, Thailand, Malaysia, Singapore, Qatar, Czech Republic, Poland, Ukraine, Mexico, Canada, Hungary, Morocco). Flights: 16. Accommodation: Nights in Airbnb apartments 166, nights in hotels 109 (which is high for us), nights in our Split apartment 90.
Above: Vodka tasting in Krakow
Blogging
I had a total blog overhaul this year. In May I changed the theme of this blog for a totally new look (after 4 years of the old look). The last 3 months have been spent changing/updating all my old posts and Destination Guides. This was done mostly to optimize the look of those old posts within the new theme as well as to make the guides more informative.
One of the things I started doing over the last few months has been to include affiliate links in our posts, links like Booking.com, Getyourguide, or Expedia. For readers, those affiliate links don't change anything – in fact they add value to those looking to book a hotel, reserve a tour, or book a flight. They're all companies that we use ourselves.
So if you enjoy this blog please consider using these links (see our Travel Resources page). We get a small commission out of it, it doesn't cost you a cent, and it keeps Spanky happy knowing that the hours I spend on this blog are actually constructive. When Spanky is happy I'm allowed to write all this free content. When she isn't happy I have to wash dishes or do laundry.
PS. Thank you to all the people who have already done this. Sometimes as a blogger you wonder if anyone is actually reading your material. The response has been great and that's heart warming.
---
---
Looking forward to 2019
Jan – April
Later this month we'll take the ferry from Split to Ancona and then the train south to Puglia. It's a region of Italy we've never been and we'll be there for a month. We'll then take the ferry back across the Adriatic to the Greek Island of Corfu. After a bit of time there, we'll cut across northern Greece to Thessaloniki, which I'm told is another interesting city. From here we are on the main train routes and we'll slowly make our way to Istanbul, with stops along the way in Sofia and Plovdiv (both in Bulgaria). We're aiming to be in Istanbul in late March or April. We have no idea at this point how long we'll be in Istanbul or Turkey. I think we'll see how we feel about it.
Apr – Dec ??
We had a lot of plans for this year that included France, Germany and possibly the UK. Georgia and Armenia have also been in our plans. And we hoped to be back in Ukraine in the summer (a good place to "park" during the July/August invasion of tourists all over Europe). But nothing is planned. More than any other year, I'm a bit nervous planning too far out. Part of it is the political situation in parts of Europe, part of it is economics. I think it might be a rocky year on many fronts so we're keeping all options open for now…
Any suggestions? Are there any places you are going in 2019 that you're really excited about?
All the Best in 2019. Thank you for continuing to read our blog!