Looking back at 2019… and forward to 2020
I love doing these year end wrap-up posts. It's about looking back at the year, remembering the good and the bad, taking stock of where we are in our lives of travel and planning for the future. I often like looking back at these posts and seeing how closely our plans matched reality. We've had a few years where circumstances occurred that totally changed the course of the year. Here's last year's post.
I expect 2020 will be a very different kind of year. Honestly it's time. I'll cover that further down.
But first a wrap up of our year.
A Quick summary of 2019
A quick snapshot of our year of travel: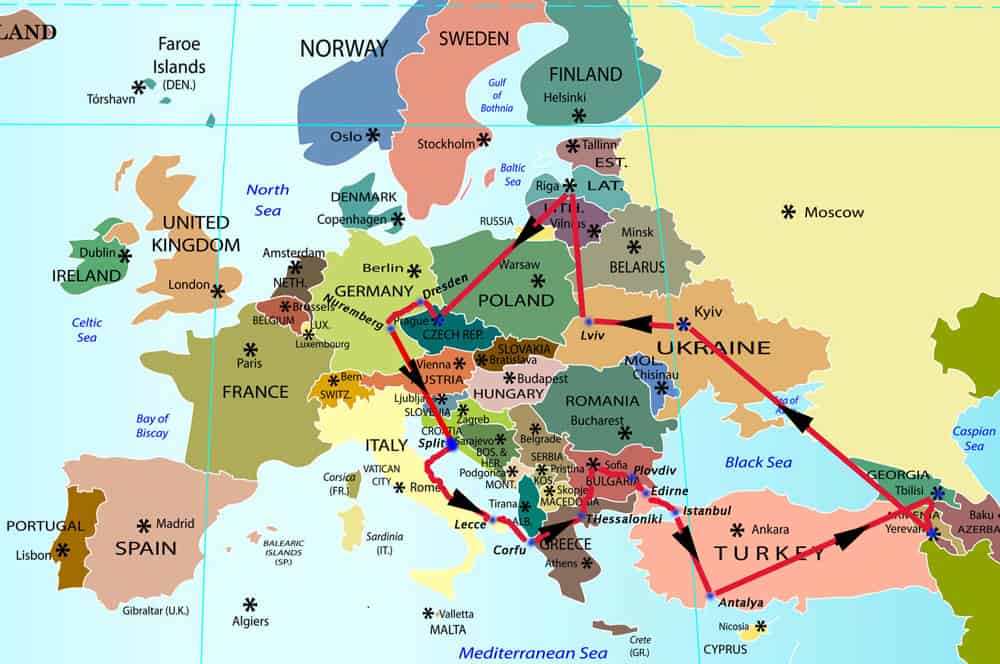 January – Split (Croatia)
On the 1st of January I arrived in Split after 2 months spent travelling through Mexico and Morocco. There I joined Lissette. Split has always been Lissette's preferred home while I travel and this was our 4th stay in Split (not counting 2017 when we lived here most of the year).
February – Lecce (Italy)
In late January we took the ferry from Split across the Adriatic to Ancona (Italy), then the train down to Lecce. Lecce would be our home for a full month which in hindsight was long* (I'll get to that in a minute). But it's a really pretty city which we enjoyed. Lecce wins a couple of awards from us this year: 1) for the friendliest people we met. Locals in Puglia spoke little English but went out of their way for us , 2) co-winner for the best food we had: antipasti with tomatoes, eggplant, zucchini, burrata cheese, ham, horsemeat…the list goes on (the other co-winner will surprise you).
* For those unfamiliar with our blog: Lissette works worked full-time. Part of the reason we've travelled "slow" was to give her the stability to do her work. Mid-way through our stay, in February, her boss called and told her position was being downsized. She worked in a dying industry so we knew it was a question of time, but being told that "today is your last day of work" was still a bit of a shock.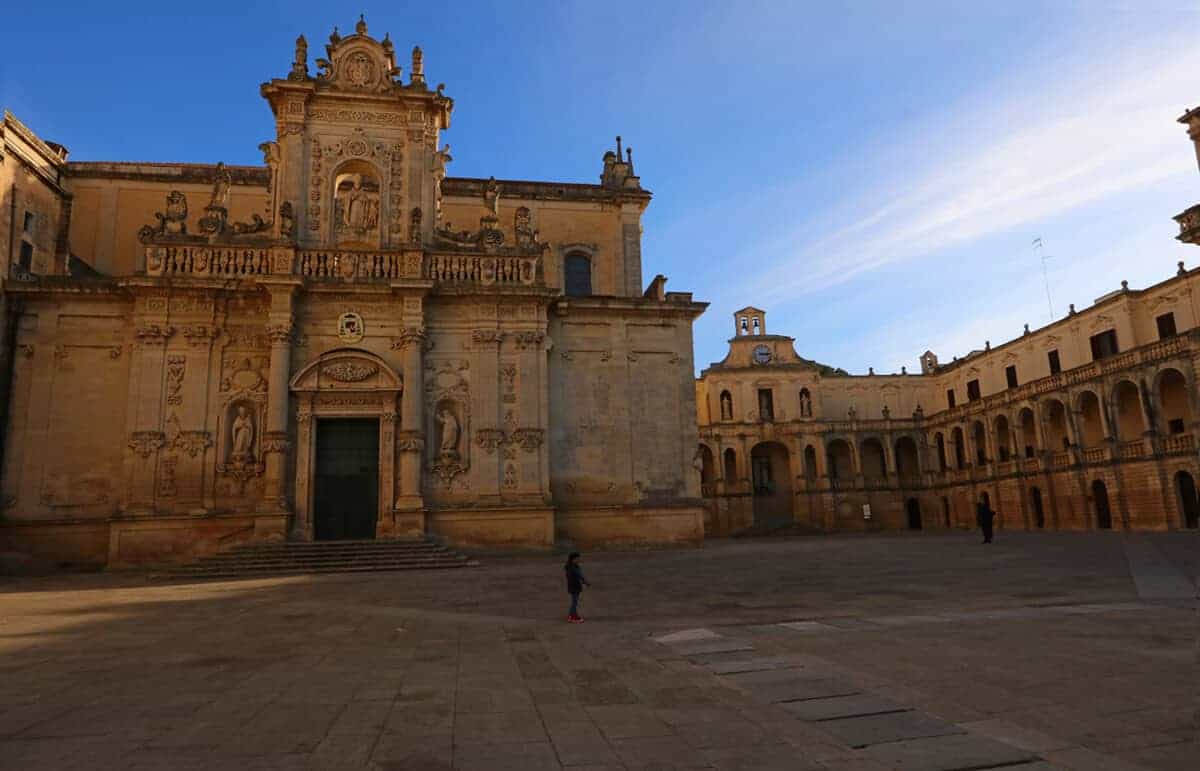 Posts that might interest you
Travel guide to the most beautiful city in Italy's Puglia region: Lecce
Towns that you should Visit in Puglia…and how they make for easy Day Trips from Lecce
Lissette losing her job meant we travelled faster and saw more places over the following months.
March – Corfu and Thessaloniki (Greece), Sofia and Plovdiv (Bulgaria), Edirne (Turkey)
Crossing the Adriatic by ferry in early March and seeing the huge, snow-capped mountains of the Albanian coastline blew my mind away. Italy is beautiful but the geography on the other side of the sea is just so much more spectacular.
Just across from Albania is the Greek island of Corfu where we stayed a week. Corfu Town is much smaller than we expected. There wasn't much to do and we were surprised to see that some of Corfu's tourist highlights were closed in the off-season. But we did a lot of walking (again, the geography is spectacular) and the weather in early March was beautiful.
A Visit to Corfu Town (Kerkyra), Greece…and beyond…

From Corfu it was a ferry ride and bus to the city of Thessaloniki. Thessaloniki is, from a tourist's perspective, not that interesting (save for a few Roman-era highlights). But that also makes it a genuine place to visit and we met some nice people and had some great food.
Reasons to visit Thessaloniki (Greece)
The major reasons we were in Thessaloniki was to take the train north into Bulgaria. The journey from Thessaloniki to Sofia was an adventure in itself, requiring 3 trains and 2 buses. What we love about travelling overland (versus flying) is seeing some of the dramatic changes in geography and we saw that on this journey when we crossed the mountain range lining the Greece/Bulgarian border* (did you know that Bulgaria is a very popular – and inexpensive – ski destination? We didn't).
It's easy to forget the impact of geography on the political maps we see today. We saw quite a few examples of that this year including Greece/Bulgaria, Georgia/Russia, and Georgia/Armenia. All have huge mountains on their borders.
Sofia was a highlight of this trip. We didn't expect such an attractive, comfortable, or impressive city. And its highlights are a mix from Roman, Ottoman, and Soviet periods.
After Sofia we continued on to Plovdiv, the co-winner of the designation of European City of Culture of 2019.
We stayed a week in Plovdiv in an apartment that set the record for the cheapest Airbnb apartment that we've ever stayed in. $170 CAD (that's $130 US) for a week. The apartment was actually very nice and the host incredibly friendly.
I'm not going to tell you that we loved Plovdiv. It was nice and, as expected, a bit touristy. There are some impressive Roman-era ruins.
Plovdiv and comparing it to Sofia
Sometimes it's surprising how complicated it is to get from one place to another. This was the case going from Plovdiv to Edirne (Turkey). The bus dropped us off right across the border. We had to take a taxi from the border to Edirne (a 20 minute ride).
Edirne was one of the biggest surprises of the year, a pretty Turkish city with incredible mosques.
Sometimes countries blend into each other, borders not meaning much. That's true for much of the Balkans. But crossing into Turkey from Bulgaria was dramatic. Suddenly the level of English spoken falls dramatically, everyone is a chain smoker (they're not light when it comes to smoking in Bulgaria or any Balkan country but in Turkey they take it to a whole other level), alcohol is really hard to find, and you'll see only men sitting around in cafes. We were suddenly in a whole different world.
Edirne is incredibly impressive though and we were happy to have stopped here.
What to See in Edirne (Turkey)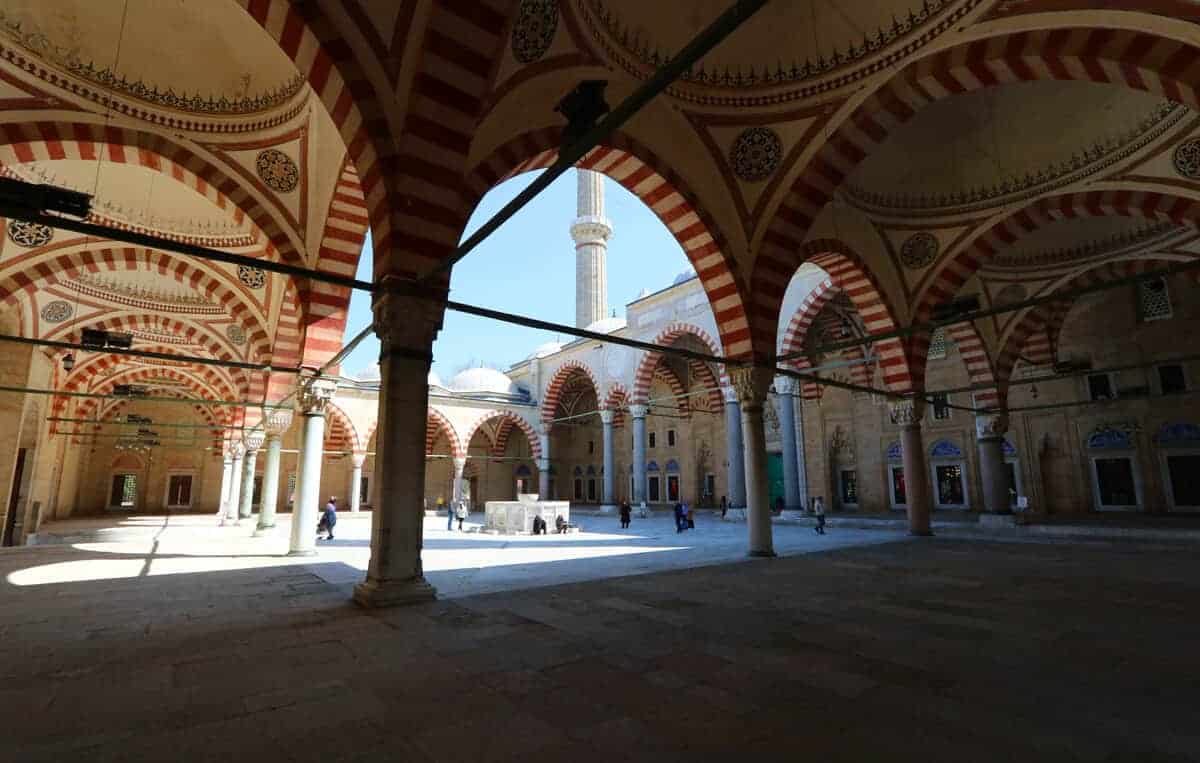 ---
---

April – Istanbul and Antalya (Turkey)
After a few cancelled trips to Istanbul (due to world events and coup attempts) we finally made it in 2019.
Istanbul is a stimulating city and we spent our week exploring from dusk 'til dawn. Highlights included the Hagia Sophia, Süleymaniye Mosque, Grand Bazaar and Spice Market (I didn't include the Blue Mosque in that list only because it was undergoing intensive restoration). We ate a lot of baklava which is now one of my favorite things in the world (when I worked in Montreal we had a vendor bring us baklava every Christmas. It was very different baklava and I never liked it. Turkish baklava is very different).
What to see (and what to skip) in Istanbul
Antalya might be the biggest planning mistake I made during the year. We both needed a bit of a break after all the travelling we had done and preliminary reading had suggested that Antalya might be a good place for a longer stay. The setting is beautiful – but we honestly found the city boring and overly touristy. Good for a short tourist visit but not for our mode of travel.
Looking back, we should have spend 3 weeks in Istanbul and 1 week in Antalya instead of the other way around. That's the magic of hindsight.
Why you might like Antalya (Turkey)…and why it disappointed us
May & June – Tbilisi (Georgia) & Yerevan (Armenia)
I've always been curious about the Caucasus region. We spent 2 months in both Georgia and Armenia and I guess what struck me is how different both are from each other. And whereas most people talk about Georgia (which gets quite a lot of tourists) I think we actually preferred Armenia. But, as I say, we found both to be quite different which made them both interesting.
Memories: Georgia: very friendly people with a good level of English, strange written language which looks like Cambodian, wooden buildings, a hilly capital city (Tbilisi), stray dogs, strange sounding food (Khachapuri, Khinkali, and Churchkhela), and over-rated wine (sorry…). The snow-capped northern region near the Russian border is beautiful with some incredible highlights. Armenia: cosmopolitan capital (Yerevan), impressive churches on remote hilltops, excellent food and incredible cognac, Russian monuments, close ties with Russia (vs Georgia which has very negative views towards Russia).
Oh, and Armenia is the co-winner of our best food award for the year (along with Lecce in Puglia). Like in Lecce, they do wonderful things with vegetables (grilled eggplant, mushrooms, cherry tomatoes) incorporating nuts, dried fruit, grilled meats and lavash bread. The trout from Lake Sevan is excellent. Right next to our apartment (a horrible experience which I wrote about here) was a little takeout restaurant that did only salads and vegetable dishes. We never though we'd eat so well in Armenia.

During our 2 months in the region we worked with a local tour company and toured much of the highlights in the countryside which was also a highlight. Overall we enjoyed our time in Georgia and Armenia.
Is Tbilisi really a place you want to visit? Impressions, Observations, and lots of photos
Visiting Georgia's Far North
Tbilisi to Yerevan by train. Is it worth doing?
Why Visit Yerevan? And why it's proof that people don't know what they're talking about…
6 Must See Attractions in Armenia
---
---
July, August, September – Lviv (Ukraine)
We had loved our month's stay in Lviv in 2018 and had decided to come back this year. We actually booked an Airbnb apartment back in February (we never do that. I usually never book any place more than 1 month in advance).
I'd love to say that we did a lot during our summer in Lviv but that wouldn't be true. We just lived. And spent lots of time getting in shape at the gym and making friends. It was great.
Why we loved our Summer in Lviv (in photos)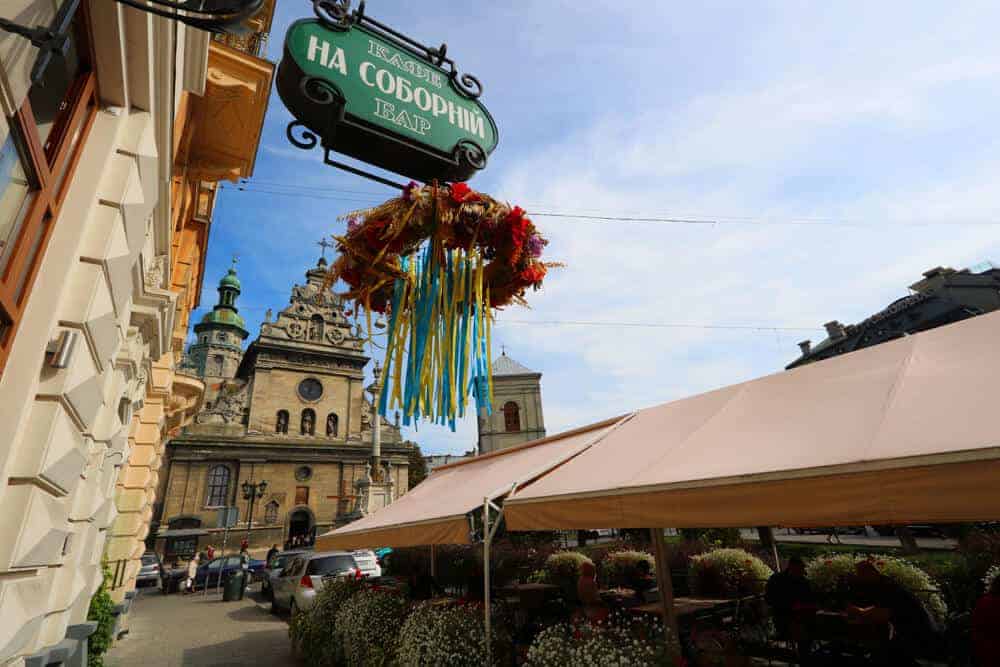 October – Prague. Then Germany/Split
Lissette and I spent 3 days in Prague, a city we always love. But I have to say one thing – we've never seen as many tourists as we saw this time around. The demographics of tourism are changing and nowhere is this more evident than Prague. It was the first time where I actually thought it was too much. Luckily for us we spent most of our time outside the center doing a few necessary things like getting a new phone and having a camera lens fixed. We've always stopped in Prague for medical/dental and equipment needs.
We said our goodbyes – Lissette flying to Split while I took the bus to Germany to meet my mom (every year we try to get together somewhere). This year it was 2 weeks in the ex-East German states of Thuringia and Saxony. Towns and cities like Erfurt, Weimar, Leipzig and Dresden. We also explored Coburg and Nuremberg in Franconia. Germany will always be one of my favorite countries.
November & December – Mostar and Sarajevo (Bosnia and Herzegovina) and Split (Croatia)
We've spent the last 2 months in Croatia, interrupted by 10 days in Mostar and Sarajevo. It actually completed a circle of travelling, coming back to the same place we had started the year.
I actually didn't want to come back to Split again this year. I couldn't put my finger on why until Lissette pointed it out to me – we've spent the last 3 holidays seasons in Split.
Honestly I think it's time to put Split behind us and I think it's starting to sink in with Lissette as well. I'll be writing more on that in the next little while. When we leave here in a few days it might be our final goodbye.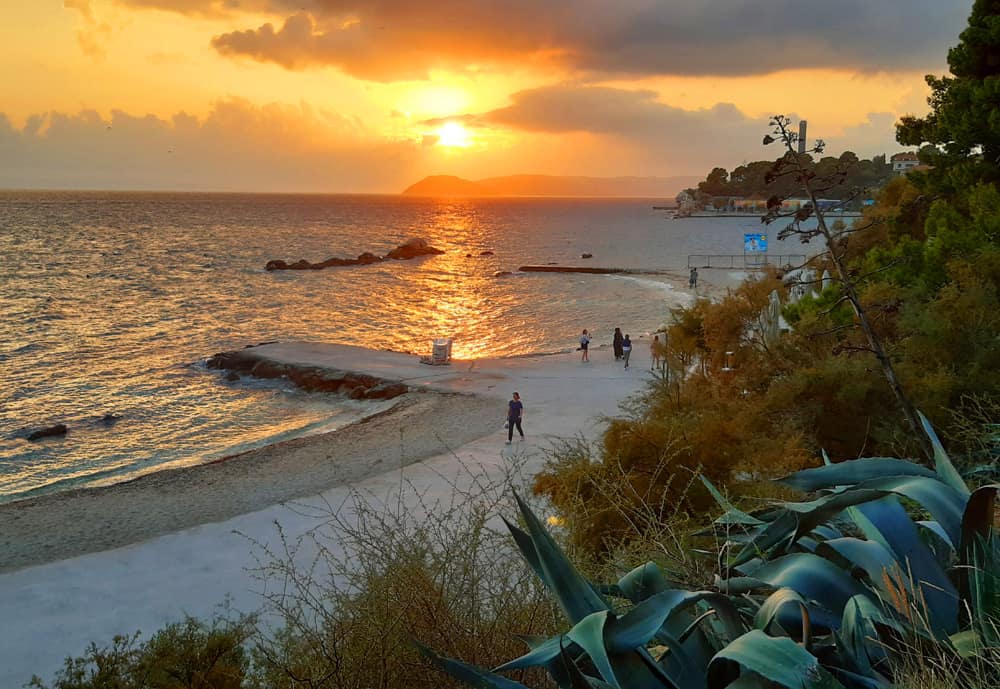 ---
---
Plans for 2020
So what's the big change for 2020? We're going to work towards getting residency in Spain.
Lissette and I are both 52. We both want permanent residency in Europe and Spain is the most logical country (we both speak Spanish in varying degrees). With immigration laws tightening up everywhere we decided that 2020 would be the year to do it.
In the next few days we'll be leaving Split and heading to Dubrovnik, a place we haven't seen since 2015. Then it'll be across the border to Montenegro where we'll spend a week in Kotor, Budva and Bar before taking the famous Bar to Belgrade train (one of the most scenic train rides in the world). We'll spend a few weeks in Serbia, visiting Novi Sad and Subotica before making our way to Budapest at the very end of January.
February 1st we'll be flying to Spain.
We'll be 3 months in Spain. The first month will be spent visiting different towns/cities with the goal of figuring out where we can see ourselves living. Right now we have 6 places at the top of our list. The following 2 months will be spent renting an apartment and getting the paperwork required to apply for a Spanish non-Lucrative Residence Visa.
Note: I'll have a post coming up on the places at the top of our list along with the pros/cons associated with each. We'll have a lot of posts on Spain in 2020.
In late April we'll head to Montreal to get more paperwork done and to apply for our Spanish Visa. It'll be weird especially for Lissette who hasn't been back in 5 years. The Visa usually takes anywhere from 3 weeks to 3 months so instead of waiting around we're planning to go on a cross-country tour of Canada. While we've done a lot of travelling, we haven't seen much of our own country.
We're hoping, all going well, that we'll be back in Spain in July or August. Then it'll be more paperwork and settling into whatever apartment we have wherever that might be.
So there are a lot of things up in the air right now which will determine what happens in the 2nd half of 2020.
One thing for sure: we won't stop travelling. It's something we've shaken hands on. So while much of 2020 might be focused on Spain there are going to be a lot of other destinations in the works.
All the best to everyone for 2020!
Ps. If you find our blog helpful, please consider using our links to book your flights, hotels, tours, and car rentals. Have a look at our Travel Resources page.