Highlights of our first year of Full-time Travel
The end of July 2015 marks the 1 year anniversary of us leaving Montreal. Since then we've done a lot of travelling and experienced many things. This post sums it up with some of our favorite photos as well as recollections of highlights, lowlights, surprises, things learned as well as all kinds of weird stuff experienced over a year of full-time travel.
.
First, a quick summary of our year with some favorite photos:
.
Prague, Czech Republic
Prague was the first spot we visited in July of 2014. It was not a place we ever really aspired to go – but we were offered a great (and inexpensive) apartment in the suburbs of Prague which we couldn't turn down. We spent 3 months there and ended up loving Prague. The people are not the warmest, the food not the most vegetarian-friendly (Spanky doesn't eat meat), but the city is filled with the types of buildings you see above. No kidding, Prague is like a storybook come to life. We also loved the beer, parks, and cafes. And it's inexpensive. We came back in late-March 2015 and fell in love with it all over again. Prague is a place that I think we will always come back to.
Posts on Prague on the blog:
Our Apartment in Prague, the cost of Booze, Air Transat, and other stuff…
A Walking Tour of Prague's Old Town. And things to consider when choosing a guide
The Prague Ghost Tour – the Creepy way to see Prague by night
Photo Essay on Prague: the Charles Bridge, Little Quarter, and Prague Castle
A Review of the "Xenophobe's guide to the Czechs"
'Ahoy!!' Why you would be mistaken to think that the Czech Republic is a great seafaring nation
Prague – Painting a Brick for a good cause
One month in Prague. Experiences, impressions, tips and resources
Photo Essay – Prague's most scenic walk
Prague Zoo – a 'must-see' for anyone visiting Prague with Children
Nationalities on the friendliness scale. Case study: Germans and Czechs
Photo Essay – The Towers of Prague
50 Things to do in Prague
.
.
Český Krumlov, Czech Republic
We visited Český Krumlov in August of 2014 and spent 5 days here. It is touristy but full of charm. We would recommend not missing this town if going to the Czech Republic.
Český Krumlov, Czech Republic – Photo Essay and tourist information
.
.
Kutná Hora, Czech Republic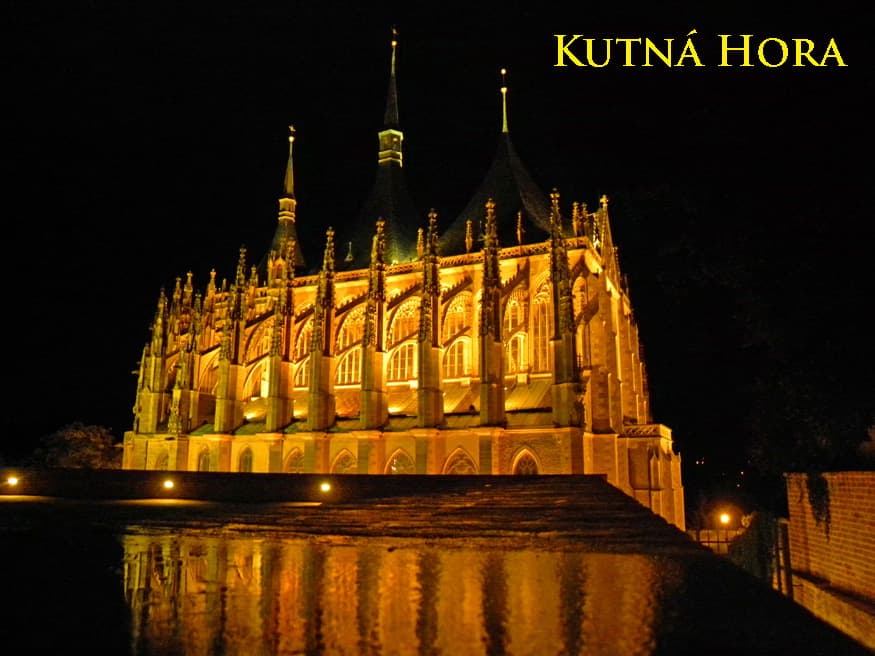 Kutná Hora was another town we visited in the Czech Republic. It is famous for the Sedlec Ossuary (the bone chapel) which brings in a lot of day trippers from Prague – the highlight for us however was a very pretty little town with the 2nd largest church in the country. We ended up staying here a couple of nights.
Kutná Hora and the Sedlec Ossuary – Photo Essay and Travel Tips
.
.
Dresden, Germany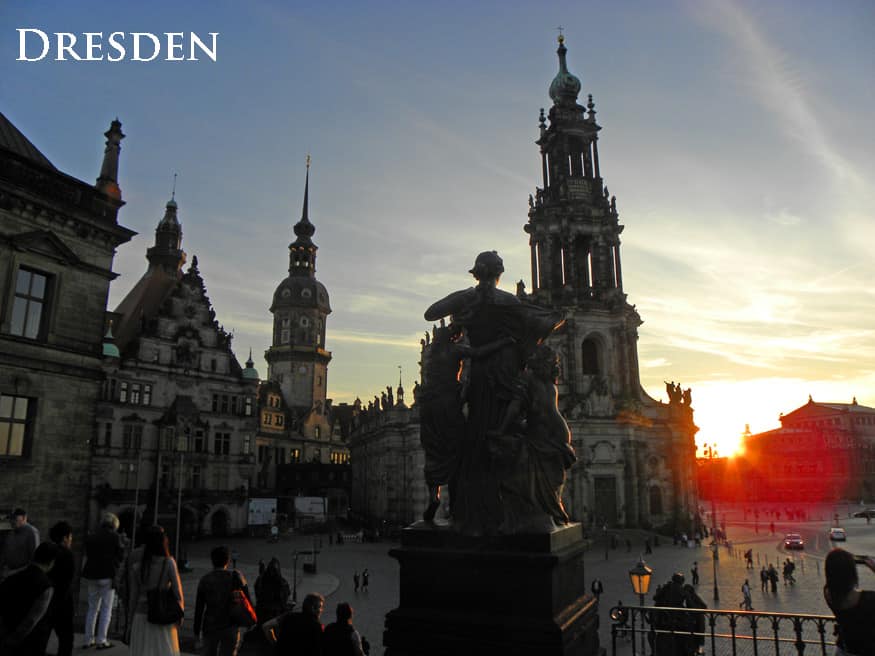 We spent 4 days in Dresden last August and were blown away by this small city. I don't know why nobody talks about Dresden. It is a stunning city with incredible monuments everywhere you turn.
10 things to see and do in Dresden, Germany
Nationalities on the friendliness scale. Case study: Germans and Czechs
.
.
Bangkok, Thailand
In October 2014 we left Europe for Thailand. We were excited to be back in Bangkok and originally thought we'd make it home for a couple of months. We really wanted to get to know the city. We ended up staying 3 weeks.
Everything IS Personal. And why you can't love every place you visit…
Bangkok: Me luv you not so long time
You can call me fat. Just don't call me Chinese
Prostitution, Trafficking and the myth of "Asian Values"
.
.
Hua Hin, Thailand
We spent last November in Hua Hin, a popular seaside resort a couple of hours south of Bangkok. We were there 5 weeks – and couldn't wait to leave. At this point we were starting to question how we felt about Thailand.
Loy Krathong in Hua Hin – Video
Saving elephants one at a time at the Hutsadin Elephant Foundation
Things to consider before settling in Hua Hin, Thailand. And why it isn't for us
.
.
Siem Reap, Cambodia
We had decided that Nong Khai would be our new home in Thailand. But before going there, we took an early December vacation in Siem Reap to see the temples of Angkor Archaeological Park. Lots of tourists – but it is an amazing place. We loved our week in Cambodia
Photos of Faces and everyday life in Cambodia
Ancient Angkor and the Top 10 Temples of Angkor Archaeological Park
We're not on Holiday! Differences between vacationing and travelling explained
.
.
Nong Khai, Thailand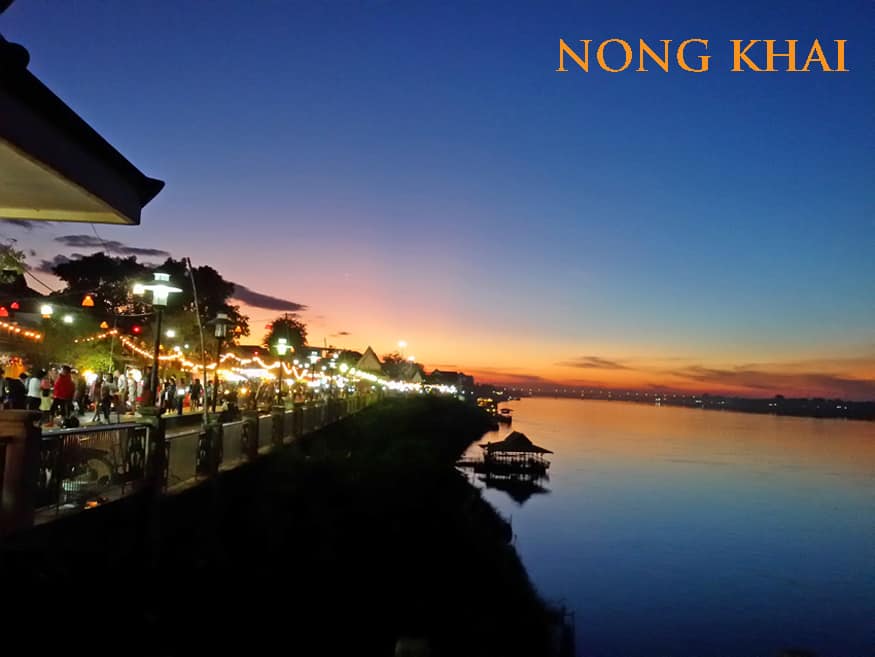 The little town of Nong Khai, right on the Mekong river (with Laos on the other side), ended up being our saviour in Thailand. We loved this little town and ended up spending 4 months here (early December 2014 – late March 2015). With a cheapo apartment costing $300/mo, we saved a lot of money. If we come back to Thailand for any significant amount of time, it would probably be here.
Photos of Nong Khai, Thailand. You'll see why we love this town…
Things learned through 8 months of travel
People, Markets and crazy thing on wheels in Nong Khai, Thailand
Visiting Amazing Sala Keoku in Nong Khai, Thailand
Guide to Nong Khai, Thailand
.
.
Vientiane, Laos
We had to come to Vientiane to get a new visa for Thailand (urgg, not a fun process). But we made a little vacation of it, staying 5 nights and celebrating our anniversary in one of the city's fine restaurants. A lot of people say that Vientiane is boring, has nothing to see, blah, blah. Well, they're wrong. Vientiane is actually a sophisticated retreat when travelling in this region.
What you can expect applying for a Thai Visa in Vientiane, Laos
Why Vientiane is worth a visit
.
.
Prague, Czech Republic
I won't lie, we were incredibly happy coming back to Europe after 6 months in South East Asia. It was Easter and the weather variable – but we arrived after a 13 hour flight and the first thing we did was walk for 5 hours. We spent a week in Prague and renewed our love for the city.
How visiting Prague in early April turned into a Kinder Surprise. And some tips and recommendations
.
.
Split, Croatia
Croatia has always been on the list of places I wanted to visit. It was early April when we arrived and it would be our base for 2 months. We loved Split. We kept very busy here, travelling to close by sites (Trogir, Omiš, as well as a grueling hike up Mt. Mosor) as well as some places a bit further away (Dubrovnik, Mostar in Bosnia and Herzegovina, and Kotor in Montenegro).
The Highlights of a Visit to Diocletian's Palace – Split, Croatia
Are you proud to be (insert your nationality)? How I feel being Canadian
A Day Trip to Trogir, Croatia
Hiking Mount Mosor the "Man's Way"
A visit to Omiš, Croatia's Adventure Capital. And why it's my favorite small town in Croatia
Reasons we love Split. And why it is the perfect base for an extended stay in Croatia
Photo Essay – Split at night
.
.
Mostar, Bosnia and Herzegovina
Only 4 hours from Split by bus, Mostar feels like a piece of the Middle East transplanted in Europe. With a different religion and culture, as well as a tragic history, it was to be one of the most interesting places that we've visited. We stayed here 2 full days in early May and wished we had stayed longer.
Hate and Sadness in Mostar, Bosnia and Herzegovina
The pretty side of Mostar, Bosnia and Herzegovina
.
.
Dubrovnik, Croatia
Dubrovnik is Croatia's most popular tourist destination. We came in mid-May on a trip south that would also include Kotor. While Dubrovnik is stunning, it didn't win us over. We stayed 3 days and enjoyed the city – but left knowing we will probably never come back.
Highlights and Lowlights of Dubrovnik, Croatia
.
.
Kotor, Montenegro
We loved Kotor. The geography of Kotor Bay is some of the most impressive I've seen anywhere. Kotor itself has the unpolished charm that was missing in Dubrovnik. We stayed 5 days and have vowed to come back one day.
Photo Essay. Why Kotor, Montenegro, totally blew us away
The stunning beauty of Kotor Bay in Perast, Montenegro
.
.
Plitvice Lakes, Croatia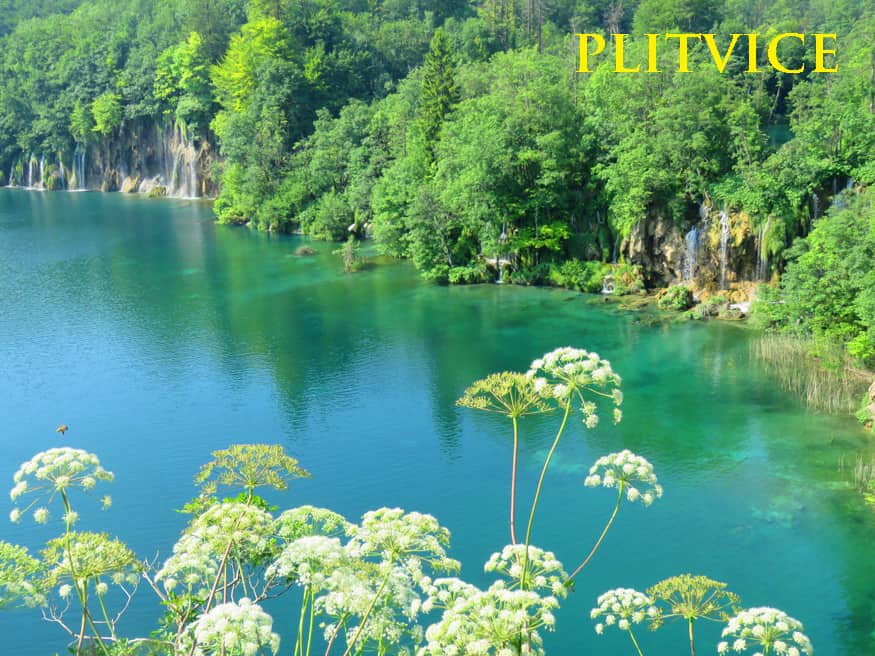 After 2 months in Split, we left in early June. We would have an intense 2 week trip through northern Croatia and Slovenia, culminating in Venice where we would fly back 'home' to Montreal. One of our first stops was in beautiful Plitvice Lakes National Park, one of Europe's most popular parks. We stayed only one night, something we regret. It is a place that deserves more time.
Plitvice Lakes: Impressions, Tips and Regrets
.
.
Zagreb, Croatia
A couple of hours from Plitvice, Zagreb (Croatia's capital city) didn't get off to a good start. It felt different. We had left the Balkans and were now in Central Europe. But Zagreb, although a bit gritty, has its charms and we got to appreciate it. Maybe not enough to ever come back but at least enough to not avoid if ever passing through…
Zagreb: Scams, graffiti, and pleasant surprises
.
.
Ljubljana, Slovenia
One of Europe's smallest, prettiest, cleanest (and weirdest) capital cities. "Charming" is the word that always comes to mind when thinking of Ljubljana. We only stayed 2 nights but really appreciated our stay here.
A Visit to the Charming City of Ljubljana, Slovenia
.
.
Piran, Slovenia
Piran was our last multiple-night stay in Europe before heading back to Montreal. It's known as Slovenia's 'Coastal Jewel', a small town built on a peninsula that sticks out into the Adriatic Sea. Only 30km from the Italian border (and 3 hours from Venice) it is a gorgeous little town.
Piran, Slovenia's Coastal Jewel
.
.
Montreal, Canada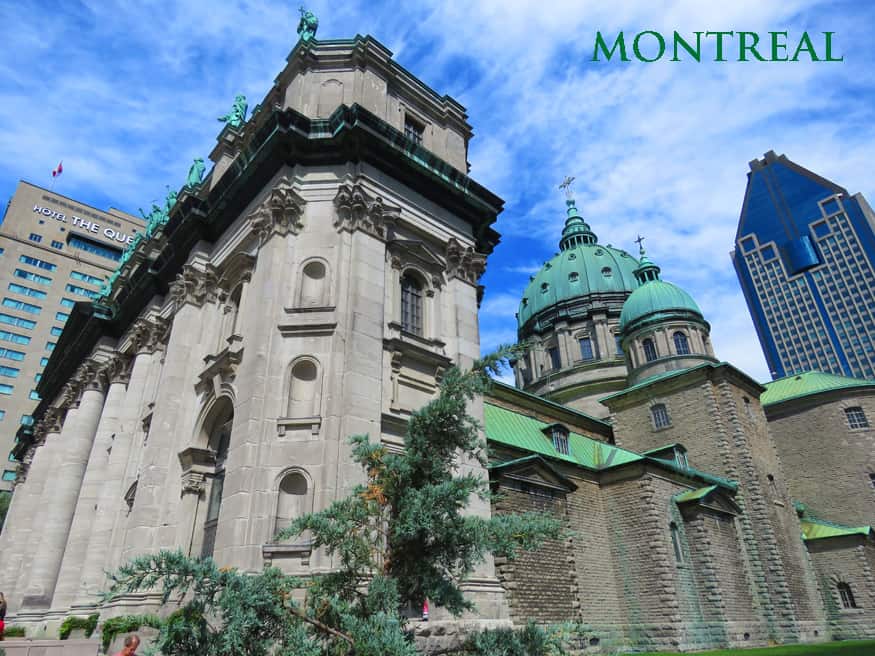 We came home to Montreal in Mid-June. It was an administrative stop more than anything: our 6 weeks there were spent catching up with doctors and dentists, getting governmental paperwork done, buying new luggage and a new computer, and seeing friends and work colleagues. I also took a week during this period to visit my mom in Mexico. It was a really busy time doing a lot of the boring and tedious stuff we've been avoiding over the past year.
Being Back 'home' in Montreal after a year of Travel. Observations and reflections
Cost breakdown: Montreal Vs Prague Vs Bangkok
.
.
San Miguel de Allende, Mexico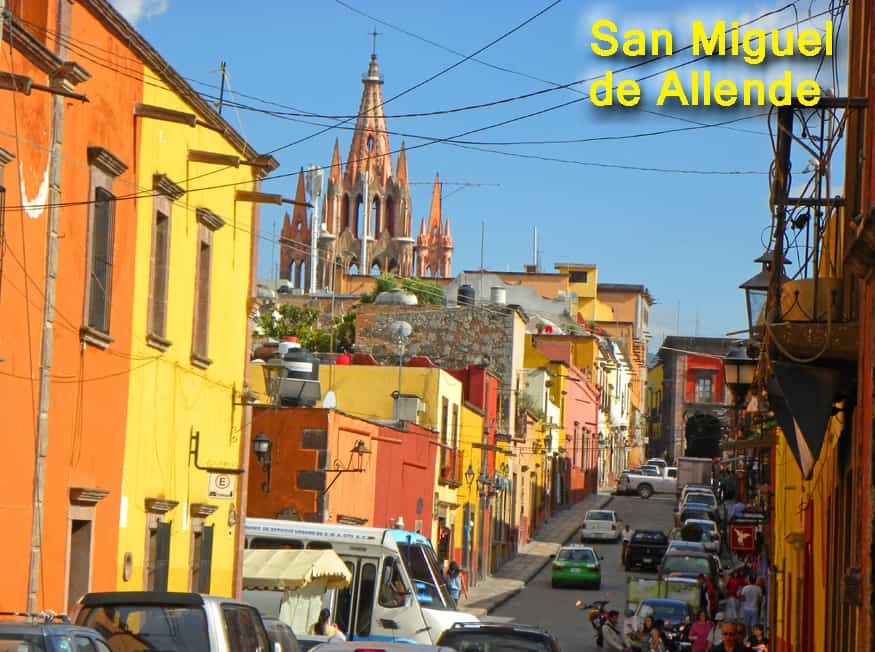 Coming to San Miguel to visit my mom was a bit of a break from all the stuff I had to do in Montreal. I always love my yearly trips to Mexico, it's become one of my favorite countries. San Miguel itself was not my favorite Mexican town. But that changed on this visit.
Changing my mind about San Miguel de Allende, Mexico
.
The above covers all the places we've been between July 2014 and July 2015.
.
.
Highlights/lowlights, surprises, things learned & weird stuff experienced over the last year


.
Looking back a year, it all seems a bit like a blur. I didn't want to do the usual boring 'highlights of the year' post so I've included a whole bunch of categories below, things that we remember vividly or with fondness, as well as things that we've realized or learned over the year.
.
Scariest things that happened during the year.
I start with this because a lot of people are afraid of all the things that can possibly happen to them when they are travelling. Well, honestly nothing too scary or bad happened. We never got sick (never threw up or even had the runs), never got robbed or threatened, never got close to getting run over. All our scariest things in order:
1. Crazy storm in the middle of the night in Nong Khai. It was a mini typhoon. We thought the roof would blow off and the windows break because of the force of the wind and rain. It didn't happen. But it happened to the building next to ours.
2. The day we got a visit from a Tokay in Nong Khai. We had heard about these lizards (they can be a bit mean-spirited and have a painful bite) but had never seen one before looking out the window and seeing one trying to get in through the screen. This one wasn't so big, we would see a much larger one later…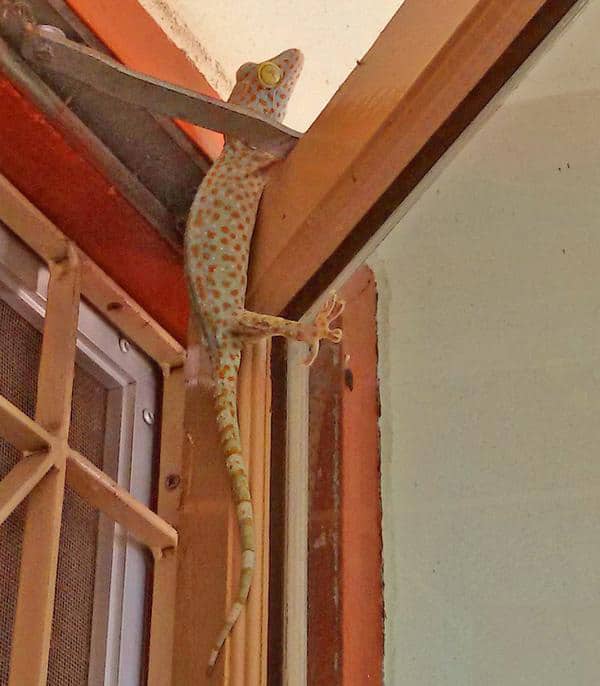 3. Mean white dog barking at us in Hua Hin. It was the middle of the night and we were coming down an alley – he was on the corner where the street met the alley and saw us coming and charged us aggressively. We ignored him and he followed us, barking at our heels until called away by its owner. No big deal but Lissette was traumatized about going out at night after that.
4. The Raccoon that chased Lissette in Montreal. She was on Mont-Royal walking and taking photos when she came up on the large raccoon below. He must have thought that she was offering food because he started chasing after her. She got away.
5. The Airbnb apartment in Mostar where I got up in the middle of the night to go to the bathroom. Misjudged the stairs in the dark and fell off the last stair, crashing into the side of the glass coffee table. Got a bit of a puncture in the shoulder – wasn't much of anything but was one of those things that could have been a lot worse.
Below: the stairs and that coffee table
And that's it for scary stuff.
.
.




Biggest Surprises
.
We've learned that there are always surprises everywhere you go. People will tell you things and you may expect them but then still be surprised by an aspect of life somewhere. Or sometimes it'll be something that you've never heard of or read about a place.
We'll start with positive surprises:
1. How much Czechs love their dogs. I was told that the Czechs love their dogs. But I never expected to see dogs on public transport, dogs in cafes and restaurants, or even dogs in supermarkets. Czechs take their dogs almost anywhere and they are incredibly well behaved. I think a lot of places could learn from the Czech Republic and their treatment of dogs. I've joked before that the dog is the favorite member of the family in the Czech Republic. I really think it's true.
Below, outside church. One of the few times we ever saw a dog tied up anywhere in the Czech Republic. Look at his body language, it's like "I'm so depressed, I can't believe they left me outside.."

.
2. How inexpensive Prague is. We had heard that Prague was cheap – but we didn't expect it to be this cheap. Over 3 months, we averaged monthly expenses slightly less than $1500 CAD a month (we were there last summer when the CAD was roughly at par with the USD). Yes,we were in the suburbs and yes, we had a great deal on an apartment. To put it in perspective, Prague was much cheaper than Bangkok and Hua Hin. Only Nong Khai, in Northern Thailand, was cheaper (and only by $100/month).
Below: $12 total for 1 bottle of red wine, 1 bottle of white, and 4 cans of beer (500ml). Party time!
Negative surprises:
We were really looking forward to coming back to Thailand. I've been 5 times, Lissette once. In 2008 Lissette and I explored for a month and had a great time. So we had high expectations. But vacationing in Thailand is different from 'living' in Thailand and it got to us. The heat, pollution, the cockroaches and rats, the stray dogs, the lack of kitchens in apartments (most places have at most a very rudimentary kitchen). The lack of sidewalks. We found living here hard. We also got bored – sure, it's fun to go island hopping on vacation, but being in one place for a longer stretch of time we found ourselves unmotivated to go out. We also found it more expensive than we remembered. Bangkok and Hua Hin were big disappointments. It was only in Nong Khai that we remembered some of the reasons we loved Thailand. Overall however, we couldn't wait to get back to Europe.
Below: road (and sidewalk??) in Hua Hin.
.
.
Best Hikes.
This is my category. I love hiking. The best hikes of the past year were definitely in the Balkans. The topography is rugged and the views amazing almost everywhere you go. I had 3 very memorable hikes:
1) The 45 minute hike to the Fortress of St. John in Kotor was my favorite hike of the year. It might actually be the most memorable thing I did during our first full year of travel. The views in every direction where incredible, plus you see a small church on the way up as well the fortress at the top. I didn't want to come down.
.
2) The 3 hour hike (one way) going up Mt. Mosor in Split. Views were great, but had a particularly good time climbing with Croatian friends Vedran and Goran.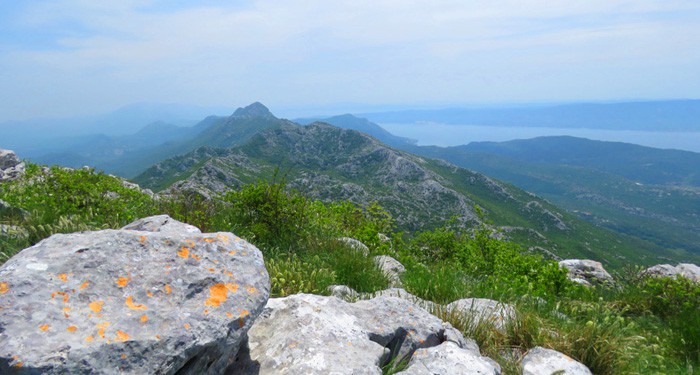 .
3) The hike up to the Starigrad fortress in Omiš, Croatia. A sheer fall on all sides, the view is dizzying.
.
.
Best Food.
I can eat Thai food 7 days a week and never get tired of it. It was our favorite food on this trip. We also enjoyed the Mediteranean cuisine along the coast in the Balkans.
Below: Massaman Curry, Nong Khai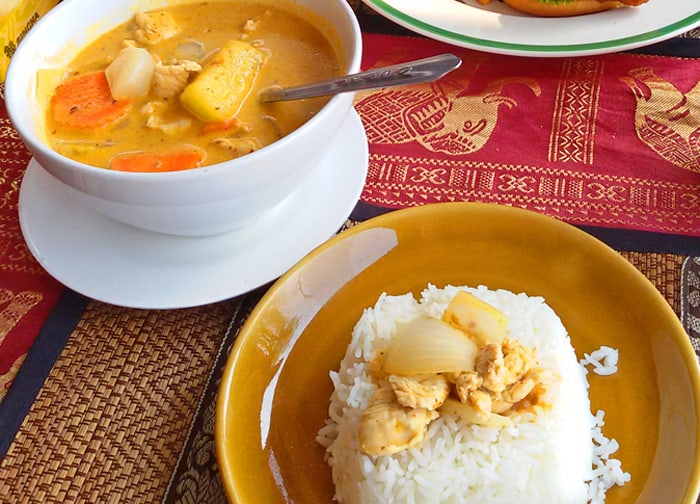 .
Below: Fish at Konoba Marjan in Split, Croatia
.
"Hot Tamale"
This is Lissette's category and it refers to the best-looking people (i.e men) on our last year of travel. The winners:
Yup, Croatian men because of their dark looks and firm butts (you'd have a firm butt too if you had to climb all the stairs they have in Croatia).
.
.
Funny/Strange sightings over the last year.
Thailand especially is a good place to see things you don't usually spot in the West.
1) Tesco Lotus in Nong Khai, where you can find Black Cock on the shelves.
2) Strange t-shirts in Thailand…
.
3. Three dogs in a Tuk-tuk.
.
4) sleeping dog getting laughed at by sheep.
5) Buddha store. Where monks come to buy buddhas….and penises I guess..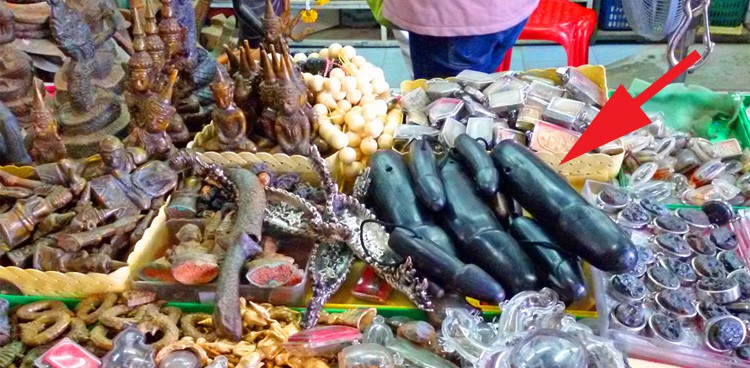 .
Worst Tourists encountered during the year
We saw lots of inappropriate tourist behaviour during the year, from drunk British kids drinking it up (and puking and fighting) in Prague, to Americans sitting on 1000 year-old monuments in Angkor Wat Archaeological Park. But the worst tourists we encountered? South Koreans. Whether pushing and shoving to get their selfies at Angkor Wat or wandering the streets of Split without considering the personal space of others, they were the worse. Our driver in Siem Reap confirmed it when I asked him if they were Chinese. "Chinese? No, 2nd worse. Worse are Koreans". Interesting.
Tourists at Angkor Wat. Classy.
Korean selfie in Split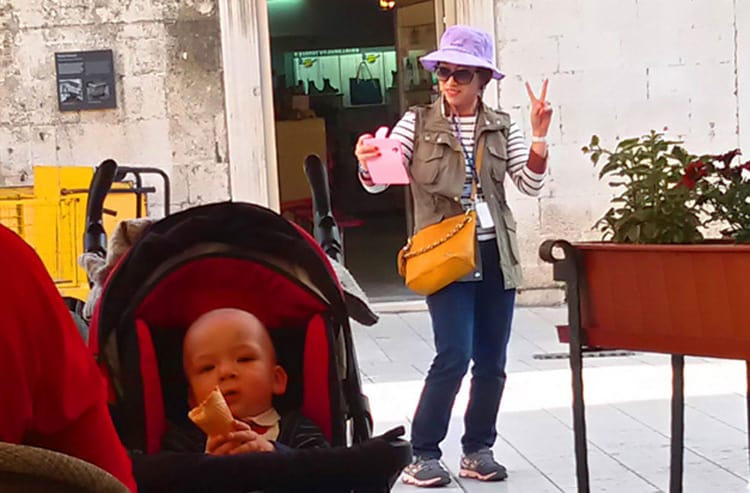 Biggest Issues when Travelling
The 3 biggest issues for us as slow travellers:
1) Food. Availability, accessibility, cooking facilities. Arriving somewhere and finding a grocery store is often a challenge. Another is finding ingredients that you're used to at home or being able to understand what you are looking at on store shelves where labelling will usually not include any English (dairy products often confusing: I've bought butter milk instead of regular milk, or sour creme instead of yogurt). Then there's your accommodation which may not have the amenities you need to cook. Food is almost always a challenge until you get used to a place.
2). Sleep. Getting used to different beds. It's amazing all the little things that can affect your sleep, particularly for Lissette.
3) Accommodation Options for the 1-3 month traveller. As slow travellers we are often restricted by what accommodation we can find. Airbnb is fantastic (I did a post on our Airbnb apartments over the past year) but in some places, particularly in Asia, Airbnb is not widespread. It is particularly difficult for the 1-3 months traveller who wants the amenities of a furnished apartment – many places will not rent out apartments to people for periods of less than 6 months.
.
.
Things we miss most from home
We thought about this and the results are pathetic:
Lissette: my blanket.
Me: Indian food from my favorite restaurant, watching hockey games on Saturday nights, our kitchen.
The Sacrifices of our lifestyle
Some relationships fall away. People maybe 'don't get' why you want to travel or are jealous or maybe the relationship wasn't strong enough to endure the distance. Other relationships are renewed: some people find us more interesting now then they did when we lived a regular life at home.
.
.
Why we do it
We love the liberation and freedom. It's great to live in another city and meet new people…but we're also always excited to move on to another place. Maybe we'll tire of that one day but for now we enjoy our freedom.
.
.
If we could return to a place today, where would it be?
We both agree that Split (Croatia) was our preferred slow travel base last year.
If Lissette could go back somewhere right now it would be Split. For me, it would be Kotor (Montenegro). I loved the geography and would like to explore more of the area.
Below: Kotor, Montenegro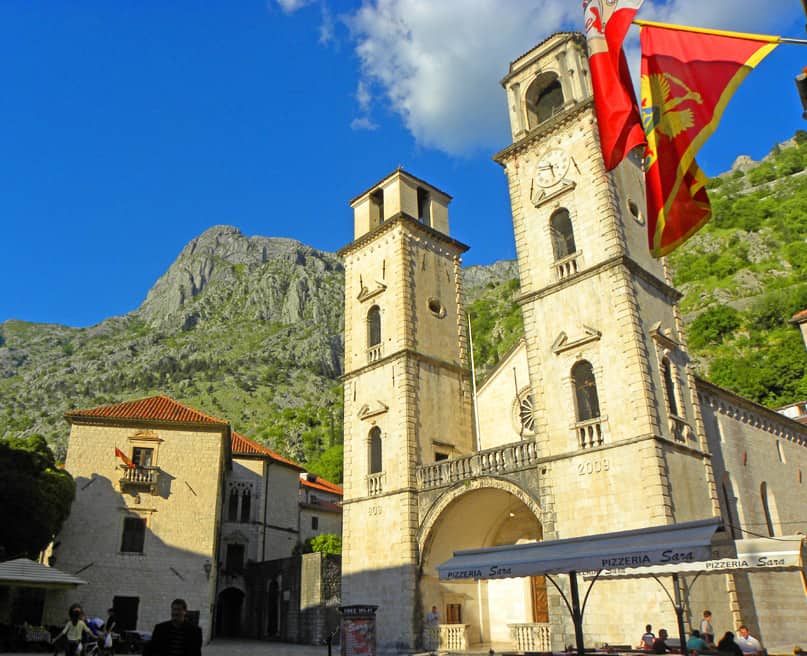 Things we've learned
– There are more things that connect you to other people around the world than there are things that differentiate you. The rest of the world is not that different and the majority of people are kind and helpful. We've met many nice people over the last year.
– Taxi drivers are your worst enemy.
– Accommodation is always important. But even the most simple place can be decorated and made into a temporary home with a few items of comfort. For us those are: 1) our own sheets, 2) Sarongs (which can serve as table clothes, curtains, or to just add a bit of colour to a drab place).
Below: our very basic apartment in Nong Khai made a little happier with the help of some colour.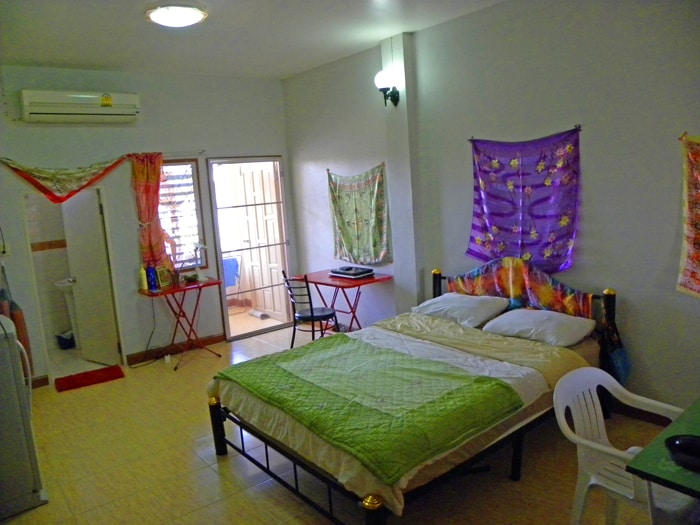 – Fast travel is no longer for us. We realized that when doing that sprint through Northern Croatia and Slovenia to Venice. We much prefer taking it slow; we get to know a place better and we can explore it without the stress of deadlines.
.
.
Mistakes we've corrected going into Year 2 of travel
,
– Our luggage. This was me a couple of months ago:
This year we're travelling with some rolling bags and a couple of standard backpacks. Nothing more.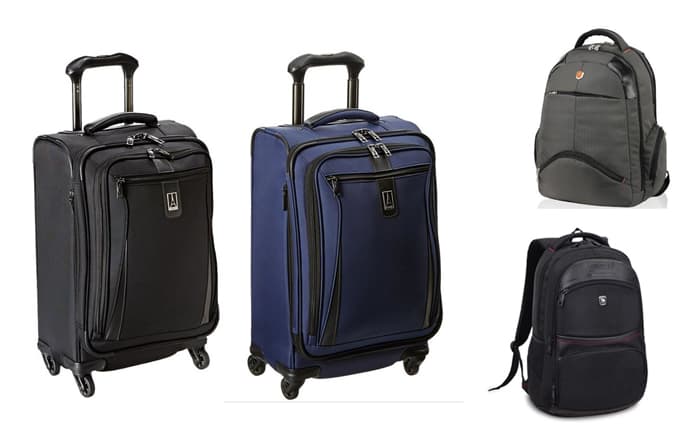 – We're changing our diet. Last year we compensated for the difficulties of food and cooking by making too much pasta (easiest thing to find and make) or pizza. They made us fat and raised our sugar levels. We've started year 2 fixing that (more on our next post).
– We're going to Travel Slow. We found ourselves getting stressed and fighting when we tried to do too much. Unless its for a weekend getaway, all our travelling will be of the slow kind.
.
The above are some of the things that stick out most from our first year.
Thanks for reading!
Ps. If you find our blog helpful, please consider using our links to book your flights, hotels, tours, and car rentals. Have a look at our Travel Resources page.